Community Features
The "Events and Activities" for the month are below these featured stories!
---
Here's Jasper Shaw and his wife Betty, standing in the kitchen at Bertie Lou's. Betty worked there for nearly 29 years, working the counter well into her late 70's. Her specialties were serving hot coffee and homemade pie – and taking no smart talk from any of the customers. (Courtesy of Daniel Gaard and Robert Erickson)
SOUTHEAST HISTORY
Sellwood's 'Bertie Lou's': One of Portland's last true diners

By DANA BECK
Special to THE BEE
In the corner of Sellwood where Spokane Street meets S.E. 17th is a quirky breakfast café called Bertie Lou's.
It's not any bigger than a studio apartment, and is built onto the front of a house. It offers seven tables – in addition to a half-moon-shaped counter with its backless stools, where customers can converse with the short-order cooks who are busy in the kitchen.
Waitresses have to squeeze through customers and other staff while delivering a steaming plate of ham steak and eggs, or perhaps a three-cheese omelet sprinkled with pepper jack cheese. Arriving customers have to wait for a seat outside on the sidewalk, since there isn't any room inside for a waiting area.
Bertie Lou's opened in 1945, a time when over 97,000 men were working at Portland's Kaiser Shipyards. Many of the workers were boarding in Clackamas County, and had to travel through Sellwood on their way to work – so it wasn't unusual for Bertie Lou's to be their first stop before the horn signaled the start of their day at the 'yards.
As reported in one of our previous history stories in THE BEE, the now-gone Kellogg Creek Housing Development opened in 1942, with over 100 homes occupying the land, and was just a mere twenty blocks south of Bertie Lou's. It was almost a daily ritual for workers coming and going from the Kellogg housing area at all times of the day and night to stop in for a bite at Bertie Lou's. In addition to breakfast, the diner served lunch from noon until 8 p.m.
When it opened, the little luncheonette had only nine seats and a counter, with no tables available for extra seating. Customers often ordered a brown-bag lunch to go, stopped for a quick morning coffee to start their workday, or to end the evening with a piece of pie.
According to local legend, H.E. Hall presented the dainty diner as a graduation present to his two daughters. The café was named in their honor – Bertie and Lou. But there the mystery deepens. In a 1945 December issue of the THE BEE, an ad for the eatery announces "I'm hurrying to Bertie Lews for a meal that really hits the spot." Either it was a typo by the newspaper, or the owner of the business decided to rename it Bertie Lou's in the following year. Whatever the case may be, the name today remains what it was in 1946.
Small in size, the space rented by Howard Hall was only 10 by 20 feet, so he didn't have to invest much capital in furnishing the restaurant. A barber shop adjacent to Bertie Lou's run by John Rekart was established in the 1930's, and continued until the café arrived. If the lunch counter at Bertie's was backed up with waiting customers, you could always put your name on the wait list, dash next door and get a haircut, and get back in the nick of time for your breakfast order.
If that origin story is true, evidently the girls weren't as elated over their graduation gift as H.E Hall intended – because, after three years, a new owner had taken over the business. After the end of World War II, the Kaiser Shipyards had been shut down, most of its employees had been laid off, and the workers – female and male – had gone elsewhere. The industrial and factory workers who once patronized Bertie's Diner left the state, or relocated to another section of the city closer to their new jobs.
The new owners had a similar last name, but were not related to Howard Hall. Fred and Clarice Hill struggled to keep the restaurant running for a brief time, until Betty Shaw turned up to buy them out. Betty, who was operating the diner in 1950 with her husband Jasper, would become one of the neighborhood's most memorable ladies – working behind the counter, and serving longtime residents, for the next 29 years. Bertie Lou's was the family-friendly establishment where folks gathered for weekend brunch, or shared coffee with a friend, or grabbed an empty stool for a slice of the award-winning County Fair apple pie.
Back during the war, Betty herself had worked in the shipyards as a welder, and previously had grown up in the Oak Grove neighborhood, south of Milwaukie. It wouldn't be surprising to many that Bertie Lou's was the first place she stopped before off heading out to her own job the shipyards. Sitting at the counter with a hot beverage in hand, she may well have dreamed of owning her own restaurant, and making sure that homemade pie was on the menu.
Now, with Betty and Jasper in charge, Bertie Lou's became a Sellwood institution over the years. Baked pies were a lunchtime specialty, and were kept in a three-tiered glass case at the end of the tiny customer counter. Helping build her reputation as a character, many residents who visited the café remarked on her caustic attitude. If a customer was too demanding when placing an order, or brought a herd of undisciplined children into to the café, she would simply refuse to serve them a meal. Apparently, Betty wasn't worried about restaurant reviews when she was on duty, but people still continued to support her neighborhood café.
Betty continued to run Bertie Lou's well into her seventies, when her health and her busy work schedule started catching up with her. She began to start looking for a potential new proprietor who would keep the longtime restaurant in the neighborhood, and wouldn't change the name.
Eventually Janet Taylor, who had waitressed there for six years and had worked with Betty, decided to buy the classic diner. But Betty died before the sale papers could be signed, and it looked like the popular café that everyone knew might have to close. Worse yet, Betty and Jasper had no relatives to inherit their possessions, so all of their property was simply willed to friends.
But, happily, these friends of Betty's happened to be the boss of Janet's husband, Jeff. Knowing that Betty had indeed wished the Taylors to purchase her café, a contract was prepared to sell them Bertie Lou's as well as the house that was attached to the rear of the tiny restaurant.
So, by 1980, the Taylors were the new owners, and Janet became the waitress, assistant cook, and bookkeeper for the business. Janet spent endless hours baking and preparing the food in their attached house, destined to be served from the diner's kitchen the next morning.
As mentioned in the "Living" section of the Oregonian newspaper in 1987, Janet offered homemade buttermilk biscuits and cinnamon rolls to morning customers. However, the menu was changing from homestyle lunches to food typically found in the fast-serve restaurants of the time – sandwiches, soups, and hamburgers – and everything on the menu was available for less than $5.00. The breakfast specialty became the "Famous Monty's Omelet", which consisted of hamburger, tomatoes, and onions, without any cheese. But once again, change was on the way.
In 1985, Harriet Fasenfest rented Bertie Lou's from the Taylor family. Fasenfest overhauled the old standard breakfast of hotcakes and hash browns, introducing some of her favorite recipes, which included blueberry and gingerbread pancakes. Customers were treated to unconventional items like scrambled eggs with smoked salmon, pancakes with apple compote, and even lemon waffles. Weekends found a line forming at the glass door composed of people who didn't even live in the community, but wanting to taste the sensational new breakfasts. Although a single mother, with one child and absolutely no restaurant experience, Fasenfest took the Sellwood and Westmoreland diners by storm.
Menus were decorated in pink and aqua, and orders were taken by a waitstaff dressed in the same colors. Gone was the atmosphere of an old diner with a grumpy waitress who wore a dirty apron. Harriet Fasenfest changed Bertie Lou's from being "just a diner" into a top gourmet experience!
The energetic and creative Fasenfest planned on turning the tiny café into a franchise, envisioning a succession of small diners built across the country to be called "Harriet's Eat Now Café". She was successful in establishing the "Groundswell Café" and two "Harriet's Eat Now Cafés" in Portland. One of the Harriet's Eat Now Cafés was also located in Sellwood, and the other was in Old Town in Northwest Portland.
For the previous 40 years the little luncheonette could only offer nine built-in stools for its customers, with no tables available at which to sit down. Fasenfest decided that Bertie Lou's needed a total makeover, and that this could only be accomplished by opening up the southern section of the structure that once housed various barbershops, a chimney sweep, an electrical store, and other assorted shops throughout its history.

The additional space gained by the expansion increased the customer serving area by one third, and clientele no longer left in haste because of the long wait time for an available seat at the counter.
Alas, Fasenfest's career and entrepreneurial skills in Portland were doomed to end suddenly. Now that Bertie Lou's was successfully drawing customers as it once did, Janet Taylor decided to return and take over the café that she had rented out to Harriet on a temporary basis. When Harriet Fasenfest found herself unable to purchase the diner, she moved to Georgia with her new husband, where she continued her career in the restaurant field, along with gardening, teaching, and writing.
Entering the 1990's, more of Portland's small diners began closing, as fast food restaurants such as McDonalds, Burger King, Burgerville, and Mike's Drive In nearby on 17th Avenue as well as in Milwaukie, grew in popularity. Many new customers preferred sitting alone at a table with their computers rather than having a casual get together with family and friends.
In 2001, Robert Erickson bought the tiny café from Alexandria Osmer, who had by then operated Bertie's for five years. Robert was intrigued that, over its 55-year history, in good times and bad, Bertie Lou's had always drawn a crowd.
He revamped the menu, adding Eggs Benedict, Omelets, and Scramble specialties, and created a campy menu with the expectation that customers would read it from front to back. "I wanted a menu for customers who weren't sure what they wanted to eat, but would know what to order once they finished reading it," he explained in a recent phone interview.
This writer's favorite is the "Reverend Mike special". The story goes that Mike was a cook at Bertie Lou's, but also an ordained minister. And reportedly, Reverend Mike even performed a wedding at the café. Considering the space available in the café, the guest list must have been very short.
Today, the latest owner, Daniel Gaard, tells us that he came on board as a weekend cook working for Robert at Bertie Lou's. During his years as right-hand man to the owner, Robert kept suggesting to Daniel that he buy Bertie Lou's, and continue its tradition of being one of Portland's last little diners in the city. He finally did, and he hasn't changed much on the menu, in the belief that he shouldn't be changing things that the customers come for. "And, if visitors want to know what the daily special is, they'll have to stop by the café," he says.
In the summertime, additional tables and wooden benches are available for customers outside on the sidewalk, where 15 to 20 guests can be served. But beware – they do fill up fast because, as we all know, when the sun comes out in Oregon, outside seating is at a premium.

So as you see, Bertie Lou's is much more than just a breakfast or lunch stop; it's a place to sit down and find out about the person sitting next to you. And Daniel and his waitstaff can fill you in on the latest local events and happenings in the community. The little diner is full of stories and tales. As Robert Erickson remarks, "When you dine at Bertie Lou's, you get a feel of what the Sellwood community is like."
---
Milo, Phoebe, and Melanie Foster celebrate father and husband Shawn – who died a year ago from gun violence – with a hand-decorated portrait made with the help of project artist Max Collins of Hallow Studios. (Photo by David F. Ashton)
'Memorial Murals', 5K walk, benefit nonprofit Dougy Center
By DAVID F. ASHTON
For THE BEE
Along with the 200 people who had registered in advance to participate in the event, dozens of people walked in to the Duniway Elementary School playground and signed up on the spot to join the "Celebrate Silas Memorial 5K" on Sunday morning, March 3.
"This walk/run event – and the art installation of 68 memorial portraits created by Dougy Center participants and community members, to honor a deceased loved one – has grown considerably, thanks to a grant from the Regional Arts & Culture Council (RACC)," said Brennan Wood, the Executive Director of The Dougy Center for Grieving Children and Families.
The 5K walk and run honors Silas Bogdanovic, who died a week after his first birthday, its founder Jodie Brauer told THE BEE. "This is the eighth year for this – it started as a way for us to deal with losing Silas; and it's the sixth year that we've partnered with The Dougy Center."
The day has grown into much more than just a memorial for her son, Brauer acknowledged. "Seeing people coming together to celebrate people they've lost, both by participating in the 5K or showing hand-colored portraits of deceased loved one, is amazing and inspiring to me.
"While it helps me create meaning out of my own loss, it also helps create space for people to remember their loved ones who have died," Brauer reflected. "As a community, I don't think we do enough of this – providing space for communal grief."
It's also a fundraiser for The Dougy Center on S.E. 52nd Avenue, and this year will jhave raises more than $14,000 to support local grieving families. "This will provide services for ten grieving kids and families, right here Southeast Portland," Wood pointed out.
After fueling up on donated sandwiches of whole wheat bread, nut butter, and bananas, along with coffee and hot chocolate, the group set out northbound on Reed College Place, over to the Portland Rhododendron Gardens on S.E. 28th, and back.
To learn more about The Dougy Center, go online – https://www.dougy.org.
---
Stone soup anyone? This delicious-looking bowl that Donna Ernst, an Oregon Agate and Mineral Society member, holds is made of Texas river rock and Mississippi mud. All the "food" on this dinner table is actually rocks and minerals, she says. (Photo by David F. Ashton)
SE Portland agate show at OMSI really 'rocks'
By DAVID F. ASHTON
For THE BEE
Established in 1933, making it one of the oldest groups of its kind in the United States, the Oregon Agate and Mineral Society (OAMS) held its 68th Annual exhibition and sale on the weekend of February 23 at Southeast's Oregon Museum of Science and Industry, just north of the Ross Island Bridge.
Standout features included the Oregon State Seal created from a large variety of Oregon stones an active Kids' Corner; and hand-crafted jewelry and window hangings made by OAMS club members.
"This is an outstanding exhibit of all different kinds of rocks and minerals that twenty of our members have put on display," explained one of its organizers, Doug Wheaton. "Some people come here just to look, and when they do, they get an idea of the beauty and the creativity in rocks that God has created."
"Rock enthusiasts come to the show because we have many unique and special rocks and minerals for sale, both 'finished' and in their natural state," Wheaton added.
It's like going on an "Easter Egg hunt" every time the members head out for a field trip, some of which Wheaton leads if weather permits, he said.
At the exhibit, OAMS demonstrated the equipment and processes used to prepare rocks for display.
As a longtime partner to the science museum, the group donates the proceeds of these shows to OMSI's Hancock Field Station, located in Central Oregon's John Day River Valley – an area world-renowned for its fossil-rich rock.
If you are "ready to rock", learn more about Oregon Agate and Mineral Society at their website – http://www.oregonagate.org.
---
At the Mustard Seed Thrift Store in Woodstock, David Groff brings "lightly used" athletic shoes to All Saints' volunteers Sonja Miller and Micky Keiter – for them to add to "St. Francis Closet". (Elizabeth Ussher Groff)
Woodstock's Mustard Seed Thrift Store also serves the 'houseless'
By ELIZABETH USSHER GROFF
for THE BEE
People without a home or car can spend a lot of time out in the elements, walking from one destination to another. Shoes wear out, and may be difficult to replace, but in the Woodstock neighborhood there is a place that has free shoes for those in need.
The all-volunteer-run Mustard Seed Thrift Store in the basement of All Saints' Episcopal Church, 4033 S.E. Woodstock Boulevard, has set aside a room, called "St. Francis Closet". In this room are clothes, shoes, and socks donated by church members or neighbors – and they are reserved for those who cannot afford to pay for such things. Some of the people who eat at the "hospitality meal" upstairs on Saturdays stop by the thrift store afterwards.
A recent big donor of shoes to the Mustard Seed was the coach of a Portland running club called "Team Red Lizard". Coach Rick Lovett says that "serious runners" don't wear their shoes for very long, because they require the soles and shoe infrastructure to perform at a demanding level. Consequently, many of the shoes appear to be in very good shape.
Lovett, who is a member of Westminster Presbyterian Church – by coincidence the same church that Woodstock resident David Groff attends – gives the excess shoes to Groff to take to Operation Nightwatch, where Groff serves on the Board. (Nightwatch is an organization that provides a "hospitality living room" experience in a downtown church three evenings a week for people who are "houseless" or are living in low-income hotels or housing downtown.)
However, so many bags of shoes have been donated there each month that Groff has started donating some of the excess to the Mustard Seed Thrift Store for "St. Francis Closet". The items in this room also include blankets and toiletries.
Woodstock resident and All Saints' member Sonja Miller helps organize the Mustard Seed Book Nook, and coordinates with Deacon Kathleen Borsch to stock "St. Francis Closet". Miller says, "The shoes are a great gift for those who can't afford to buy shoes."
Occasionally some pairs of shoes end up in the Mustard Seed's general store, where prices are very inexpensive. All profits from such sales are used for church and community service projects.
The "Mustard Seed" hours are Friday and Saturday, 11 a.m. to 3 p.m. The entrance is at the basement door on the west side of the church – S.E. 41st and Woodstock Boulevard.
---
In the Reed neighborhood, volunteers were putting the finishing touches on a tree they'd just planted. (Photo by David F. Ashton)
'Tree Friends' plant in Reed, Mt. Scott-Arleta
By DAVID F. ASHTON
For THE BEE
As a result of the February winter storm that cancelled their planting, Friends of Trees (FoT) volunteers gathered for the makeup planting in Inner Southeast Portland – their last of the season, on March 30.
In the parking lot of Kern Park Christian Church on S.E. Holgate Boulevard, trees were staged to be planted. Inside the church, some two dozen volunteers ate breakfast and drank coffee while receiving instructions from Friends of Trees Neighborhood Trees Specialist Ian Bonham.
"The mission of Friends of Trees is to inspire stewardship of the urban forest through providing volunteer opportunities, education around planting trees, and tree care," Bonham told THE BEE after the orientation.
"We're planning about fifty trees today," Bonham said. "Many of the 160 trees we'd planned to plant in February are 'street trees' [in parking strip areas]; so, today, we're planting trees in the yards of people who requested them."
When volunteer crews arrived at the locations, they found freshly dug holes – for the placement of the new trees – and got to work.
For more information about Friends of Trees, including how to get a tree for your own yard or streetside, go online – https://www.friendsoftrees.org.
---
ENA Tree Committee members Catherine Mushel, Matt McGraw, Jerry Beatty, Friends of Trees Neighborhood Tree Specialist Michelle Yasutake, Tren Haselton, Tim Moore, and Carlotta Richard think this wide parking strip is just the right spot for a large tree that can live for 100 years or more. (Photo by David F. Ashton)
'100 x 100 Trees' program planned in Eastmoreland
By DAVID F. ASHTON
For THE BEE
The Eastmoreland neighborhood has a tree canopy that's the envy of many Portland residential areas. But, members of the Eastmoreland Neighborhood Association (ENA) Tree Committee are not resting on their laurels.
"We're kicking off a campaign at our May ENA meeting that we're calling '100 Trees for 100 Years' or, more briefly, 'Eastmoreland 100 x 100'," reported Catherine Mushel for the committee.
The campaign goes well beyond merely planting more street trees in the right-of-way, Mushel said. "We are strategizing ways for people keep people reminded to water and take care of their trees, even after a house sells, so the next owner will then take care of the trees."
In 2011, and again in 2018, volunteers took a "tree inventory" of Eastmoreland and discovered there were just over 4,000 spaces for trees – and only about 3,000 trees. "Last's summer re-inventory showed that we hadn't made much of a dent in the vacant tree spaces that we had," Mushel told THE BEE.
So, the committee is working with Friends of Trees and Portland Parks & Recreation Urban Forestry to further "green" the neighborhood.
After the committee rolls out the program at the upcoming ENA meeting, neighbors will be canvassing the neighborhood, street by street, to contact homeowners whose parking strips have an ideal space for new trees.
"Then, we'll have a Friends of Trees planting this fall or winter," Mushel said.
Eastmoreland residents, or others who are interested, can see an interactive map of where trees are now located – and where the candidate sites for new trees are – online at https://streettrees.eastmorelandpdx.org
"People can contact us through the ENA's website – http://www.eastmorelandpdx.org – and we'll be promoting it in the ENA Newsletter – and we'll welcome volunteers for canvassing the neighborhood this summer," Mushel concluded.
---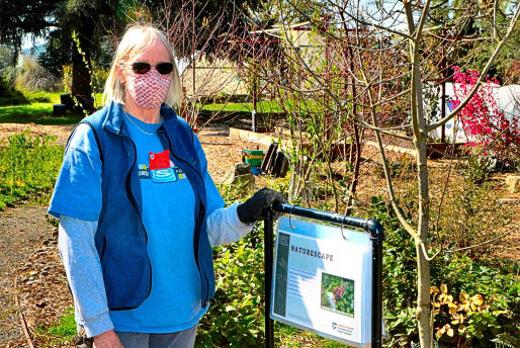 Learning by doing, these folks are "Planting a Square Foot Garden" in the Multnomah County Master Gardeners Demonstration Garden. (Photo by David F. Ashton)
Master Gardeners demo 'Square Foot Garden'
By DAVID F. ASHTON
For THE BEE
With the arrival of springtime, activities are increasing at the Multnomah County Master Gardeners' Demonstration Garden, in the Brentwood-Darlington neighborhood – across the street from Lane Middle School.
After a stormy morning, on Saturday, April 6, the sun came out to shine on a dozen people came to the orientation for new Master Gardner volunteers.
"We are hoping to recruit more gardeners to our program," said Oregon State Extension Service certified Master Gardener Jean Edmison.
"Part of what we do is teaching and answer gardening questions," Edmison said. "And also, supply a tremendous amount of fresh produce to food banks and other organizations here in inner Southeast Portland helping to solve the 'food desert' problem here in our neighborhoods."
After the introduction and orientation, Master Gardener Judy Battles led a demonstration called "Planting a Square Foot Garden" – a model developed by Mel Bartholomew, and explained in a book he originally published in 1981.
"This type of gardening can yield up to 110 pounds of produce a year!" Battles told the class.
"There's definitely a thought process and a technique that goes into this," Battles explained. "For example, as you harvest, you need to replace that crop with 'starts', instead of seeds so they get sunlight."
After a little more instruction, the group began putting what they'd learned into practice by planting their own square foot garden plots.
Interested in gardening? Learn more online – http://www.multnomahmastergardeners.org.
---
Foster-Powell gardener Nicole Obog, at left, poses with new plant starts, along with Coordinator Stacey Keller, upcoming Garden Manager Amanda King, and gardener Loren Bennett. (Photo by Rita A. Leonard)
Foster-Powell Community Garden raises money with plant sale
By RITA A. LEONARD
For THE BEE
On April 14, the Foster-Powell Community Garden celebrated Earth Day with their annual plant sale and fundraiser. This year there were over 100 donations of plants from local gardeners, most offered for sale for just one dollar each. There were also a few large shrubs for sale – including lilacs, fuchsias, and voodoo lilies. Coordinator Stacey Keller, who will soon turn over her job as Garden Manager to Amanda King, helped organize the raffle table.
"The Foster-Powell Community Garden was founded in 2013," reminded Keller. "The garden is sited on top of an asphalt pad left from a former gas station. We get our water from two huge 2,500-gallon cisterns near the tool shed, and we use the water for our raised beds here." The precise location is at the intersection of S.E. 62nd Avenue and Powell Boulevard.
Amanda King joined in, "It's a wonderful place to meet neighborhood friends, and make gardening connections." Scores of shoppers explored the garden, purchasing iris, tomatoes, sunflowers, herbs, sedge, mints, and mugwort and sunchoke tubers, among many other plants.
Large yellow-green euphorbia blooms brightened up the early garden, along with a new large copper-and-wine-bottle garden sculpture near the front gate. A poster that hung on the wooden-flower bedecked fence advertised coming events: Work parties, a harvest party, and a potluck.
Families and dog walkers chatted and explored the garden, snacking and trading information and local news. Shoppers chose boxes of new plants to try out at home. "We have house plants, ground cover, and some plants for gardens and yards," smiled King. "These were all donated by local gardeners and Portland Nursery. We're pleased with the ongoing support for our unique community garden, and the joys and produce that it provides."
---
Community volunteer extraordinaire Peggy McCafferty – standing in front of the Woodstock New Seasons store, which provides her with her "day job". (Photo by Becky Luening)
Peggy McCafferty: Farmers Market mainstay in Woodstock
By BECKY LUENING
For THE BEE
Early on, in her seven-year tenure as the Woodstock Farmers Market's Volunteer Coordinator, Peggy McCafferty was inspired to make a coffee cake for the volunteers to enjoy during the Sunday morning market setups. Picture a spice cake with crumble topping and caramel glaze, delivered warm from the oven, and it's easy to see why her Farmers Market Coffee Cake was an instant hit. And thanks to Peggy, it became a thing volunteers looked forward to every market morning for seven seasons straight.
The Farmers Market Board, staff, and volunteers stay busy – from May, when they begin preparing for market opening, through November, when they put the market to bed for the year. The market season averages a 22-week run, from the first Sunday in June to the last Sunday in October, plus an encore market on the Sunday before Thanksgiving. Do the math: Seven times 22 is 154 coffee cakes to bake – certainly a labor of love!
Peggy readily admits her love for the Market. She jumped in as a volunteer when the Market first began in 2010, helping out on market days and contributing graphics skills to produce promotional posters, flyers, and ads. By the second season, she had snagged the Volunteer Coordinator position – one of the few paid positions with the market, duties for which include managing the token and SNAP-matching program. Although the pay was low and the job part-time and seasonal, Peggy was richly rewarded by becoming an integral part of the community that makes up the weekly market.
She had never coordinated volunteers before, but it didn't take long to figure out what was needed: "Give people a way to be useful. Make sure you're not wasting anyone's time, by learning how many volunteers are actually needed for specific tasks. And make sure you let them know they are appreciated."

One secret to Peggy's success as a community organizer is her non-competitive attitude. "Let's make it great for everybody," is how she approaches her work, and her life. "For me," she says, "the most important thing is being honest and kind."
Wanting to make best use of volunteer hours got her thinking about cutting unnecessary, time-consuming tasks. It was her idea to leave the outer covers off the canopies when they were folded down and put away, saving the time it would take to put them on and take them off each week. And when she saw that a big, bulky band shell used to boost music performances was no longer necessary, she made arrangements to donate it to Lewis School, eliminating another time-consuming set-up task.
As token program manager, too, she came up with creative solutions, like using an old silverware tray, "which seemed designed for the purpose", for sorting and storing the wooden tokens.
Peggy's involvement with the Market gave her the opportunity to collaborate with other neighborhood organizations, building goodwill in the community. The best example of this is the Woodstock Hallowe'en tradition in which all the groups planning activities – the Woodstock Farmers Market, the Woodstock Library, the Woodstock Neighborhood Association, and the Woodstock Community Business Association and its members – share advertising, a collaboration that has more often than not benefitted from Peggy's donation of graphic design.

Another important aspect of Peggy's community connectedness is her employment with New Seasons Woodstock, where she has worked since the store opened in the fall of 2015. She started as a lead cashier, and two years later landed the "weird magical job" of Community Coordinator at the store.
New Seasons is known for investing in the local community, and the Woodstock store helps out with all kinds of different causes by giving out $300 worth of in-kind or gift-card donations to local organizations each month. So part of Peggy's job is figuring out how to distribute all those giveaways through community channels.

Her neighborhood connectedness allows her to make some allocations ahead of being solicited; for example, she was able to reserve a $75 in-kind donation of vegetable starts for the Woodstock Neighborhood Association's annual plant sale coming up on May 11.
Woodstock Farmers Market Changes and Challenges
Her New Seasons job shift was a good one; and this winter, Peggy decided it was time to shift her role in the Farmers Market as well. So when the Market kicks off its ninth season on June 2nd, Peggy will no longer be Volunteer Coordinator and Token/SNAP & Token Program Manager. "My leaving gives someone else the chance to come in with fresh new eyes and an enthusiastic, heat-loving attitude, and shake things up."
And that someone turns out to be Anna Curtin – coincidentally, another employee of New Seasons, who comes with significant farmers-market experience, including at PSU. Anna told THE BEE, "I am excited to apply my Portland-area market experience in this new setting, building on the hard work that Peggy and so many others have invested in making WFM a neighborhood institution. It's an example of what an ideal market can be – a connector of people, businesses, and community at the grassroots level."
WFM Market Manager Emily Murnen affirmed that "Peggy has truly connected the community through her work at the farmers market. People are drawn in by her humor, energy and genuine caring, and . . . she has enabled other people to feel connected to the community and invested in the neighborhood. We are beyond grateful that she has been involved with the market since the beginning, and that she will remain involved."
And indeed, Peggy remains with the Farmers Market – and her new volunteer position is Development Chair. This, of course, means fundraising; and while she doesn't like asking for money, Peggy says for the Market – it's an easy ask. The Market collects stall fees from vendors, but is committed to keeping rates at an affordable level, and a lot more money than that is needed to run the market. The approximately $12,000 that the Market makes up in sponsorships each year helps cover the expenses of garbage, portable toilets, insurance, music, equipment, and part-time seasonal staff.
Additionally, the Market raises a separate pot of money to provide $10 SNAP matching, increasing the purchasing power for neighbors using SNAP EBT cards. SNAP stands for Supplemental Nutrition Assistance Program, a federal program that helps struggling households stretch their food budget. Someone with a SNAP card can trade electronic funds for tokens to be spent on fresh fruits and vegetables, and the Market will match the amount they spend up to $10. This also benefits the Market's small local farms, many of which are women-owned.
Fundraising for the 2019 SNAP matching is already well on its way, with several thousand dollars raised, in addition to $400 rolled over from last year. The Market will commence a big fundraising push in May and June, as it gets ready to open.
Nicki Passarella, co-owner of Amica Farm along with Irina Schabram, is one of the Market's newest Board Members. As the first market vendor to have a seat on the board since its founding, Nicki brings valuable insights. The Board feels solid, but is currently at a low ebb, numbers-wise, with only six members – so they are actively seeking a few more, preferring candidates with skills in fundraising, marketing, and social media.
Peggy promises that Board Members are put to work, doing fundraising, planning budgets, and contributing a lot of legwork at the markets, and they are expected to make financial contributions as well. Collectively, their blind donations add up to $1,500 annually. Plus they have the pleasure of working with Community Connector Extraordinaire Peggy McCafferty!
---
Before the "Won't You Be My Neighbor?" discussion began, Brentwood-Darlington neighbors greeted one another while getting refreshments. (Photo by David F. Ashton)
'Be My Neighbor' workshop in Brentwood-Darlington
By DAVID F. ASHTON
For THE BEE
It wasn't an ordinary neighborhood association meeting that brought a group of residents to Brentwood-Darlington Community Center on the evening of March 19.
They came to participate in a hosted discussion called "Won't You Be My Neighbor? How Relationships Affect the Places We Live".
"We invited this program to our neighborhood because we need to connect with our neighbors," explained Brentwood Darlington Neighborhood Association Chair Chelsea Powers. "This workshop gives us a space to do this, and leads to conversations – getting our residents productively talking, in ways they otherwise might not have thought about."
The meeting's facilitator, Jen Mitas, told THE BEE that she offers this 90 minute workshop to groups and communities all over Oregon, to "facilitate conversations about big questions". It's underwritten by Oregon Humanities' "The Conversation Project".
"A couple of these 'big questions' include: 'What does it mean to be inclusive?' 'What does it mean to be a good neighbor?' The best thing that can come from something like this is leaving people reflecting on how to go a little deeper into their neighborhoods and into their relationships with their neighbors."
As the workshop began, Mitas asked, "What is something you would want your neighbors to know about you?"
As a group, the attendees delved into questions such as:
How well do you know your neighbors?

What is neighborliness?

What is missing from our neighborhood?

How might we collaborate with our neighbors to fill some of those gaps?
Participants didn't leave the meeting with any pat answers; but many of them took away new ideas about how to get people talking about things that will benefit everyone in the neighborhood.
Other Inner Southeast Portland neighborhoods interested in hosting this same program can get more information by contacting at Muz Afzal at "Southeast Uplift" via e-mail – muz@seuplift.org.
---
Woodstock resident George Armantrout won several ribbons for his daffodils on display. (Photo by Rita A. Leonard)
April showers greet Rhododendron Garden's rhody and daffodil show
By RITA A. LEONARD
For THE BEE
Again this year, April's early Rhododendron Plant Show and Sale was combined with the Oregon Daffodil Society's Show, at the Crystal Springs Rhododendron Garden on S.E. 28th Avenue, just west of the Reed College campus. The wettest week of the year to date did not deter the many who came.
Free admission and spring colors lured visitors from near and far to explore the scenic views throughout the famed Rhododendron Garden and the spectacular displays in the Exhibit Hall. A small new graveled beach at the west end of the low bridge provided new access to visitors and waterfowl.
The April 6-7 event showcased specimens of rhodies and daffodils under a display of colorful umbrellas hanging from the ceiling of the Exhibit Hall. Daffodil Show Chair teve Vinisky, owner of Cherry Creek Daffodils in Sherwood, entertained visitors with a constant patter of humorous comments.
"The Oregon Daffodil Society is about 32 years old, but this is our 8th or 9th Show combined here with the Rhododendron Show and Sale," he commented. "We judged about 450 specimens in 13 divisions of daffodils this year. We're happy to have the entire display under cover, since high winds wreaked havoc with our displays in other years."
Judge Theresa Fritchle smiled, "This has been an excellent show, with good quality flowers. We look for form, flower condition, and color among the different divisions. 'Best in Show' this year was awarded to Elise Havens for Euphonic Bells, an unusual type of daffodil with three pendant flowers on one stem. To learn more about daffodils, go online – http://www.daffodilsusa.org".
Cindy Emery, one of the six certified judges on site, helped sell dozens of multicolored daffodil species at the front table. She remarked, "There are thousands of different varieties of daffodils around the world, but new ones are constantly being developed. One variety, Telemonius plenus, was recognized in 1620. Woodstock resident George Armantrout, who won several ribbons this year, develops daffodils locally. Steve Vinisky, who is internationally famous among daffodil growers, regularly introduces new varieties."
Volunteers from the Crystal Springs Rhododendron Garden assisted shoppers in a display down the path from the Exhibit Hall, transporting larger specimens by electric car up to the parking lot. All proceeds from the sale will benefit the garden.

Apart from the main event in the exhibit hall, visitors roamed the paths, appreciating waterfalls, waterfowl, and blooms of magnolias, anemones, bulb flowers, and Christmas roses.

Still to come, on May 11 and 12 at the Rhododendron Garden, is the annual "Mother's Day Rhododendron Show and Sale" presented by the Portland Chapter of the American Rhododendron Society. Sale hours are 9 to 5 both days; show hours are noon to 5 Saturday and 9 to 5 Sunday. For more, go online – http://www.rhodies.org.
---
Christopher Bacher, Woodstock resident and Southeast Uplift representative to the Woodstock Neighborhood Association, plans to divide a bed full of shallots to contribute to the WNA Plant Sale on May 11th. (Photo by Elizabeth Ussher Groff)
Workshop tips for dividing plants in early spring and fall
By ELIZABETH USSHER GROFF
For THE BEE
On the first Saturday in April, a plant-dividing workshop sponsored by the Woodstock Neighborhood Association took place inside the Woodstock Community Center. While plant dividing may sound simple, Brentwood-Darlington resident Melba Jade shared tips from decades of experience. Small things like improper soil moisture and root/leaf balance can make plant dividing tricky.
She offered these tips for dividing plants in early spring or early fall for a plant sale – or for expanding one's own garden:
Prepare well, using a tarp to prevent mess. Have all tools and containers on hand.

Don't dig plants when soil is very wet. Wait for soil to be just "damp", in order to prevent compaction.

A plant cannot support more top than it has roots. Since some roots are destroyed in digging and dividing, carefully remove some top growth to balance the plant.

Leave the biggest and best roots, and don't disturb the interior of the root ball. Fork under the entire root zone if possible.

Put plants on the tarp and use knives, sharp shovels, and pruners to make divisions. Use old discarded black construction tarps, or reuse old tarps for "Earth's sake".

Get divisions into pots or new holes as quickly as possible.

If plants are put into pots, place on bricks to slow down the invasion of slugs.

Make sure roots are spread out. Some plants (larger, woody types) may require that you make a firm cone of dirt in the center on which to spread the roots. Gently backfill soil into all areas, firming with your hands.

Water slowly right away. Make sure the plants don't sink after the first rain.

If transplanting into containers, keep containers or pots out of direct sun until plants show signs of life. Sun-requiring plants can then be moved into some sun, but plastic pots should be shaded.

To see if pots with newly placed plants need watering, pick up and judge by weight. Do not fertilize at this time. Use compost as a top dressing in lieu of fertilizer.
Whether or not dividing is necessary depends on the kind of plant, and the gardener's preference. Peonies do not necessarily need to be divided, nor do hostas or ferns if they continue to thrive in clumps. Instructions for dividing particular plants are available online.
Avoid invasive plants. The city has compiled online lists of invasive and noxious plants. You may wish to "tolerate" them, but neighbors and other parts of your garden might instead be forced to contend with them. Less experienced gardeners may not notice signs of problems early on.
As the workshop ended, a few people showed Melba some plants from their gardens that they wanted her to identify.
This year, any plant dividing will undoubtedly be done in daily drizzle. Gardeners may pot plants later than usual, but following the above tips can make them grow better after they are divided.
For the Woodstock Neighborhood Association's Saturday, May 11th pre-Mother's-Day plant sale at the Woodstock Community Center, check the website WNA for more information: http://www.woodstockpdx.org.
---
Southeast Events and Activities
MAY 4
The Brooklyn Neighborhood "Clean Up and Haul Away": This neighborhood cleanup will be held from 9 a.m. to 2 p.m. on the corner of S.E. 16th and Center Street in the Brooklyn neighborhood. Volunteers are needed for 2-hour shifts. For information, call 971/222-9454.

Inner Southeast Plant Swap and Potting Party: Sellwood's Mark Lakeman, of the City Repair Project, announces a Plant Swap and Potting Party today, 10 a.m. - 1 p.m., at 2735 S.E. 30th Avenue, open to the public – as City Repair's Permaculture Team "shares the abundance of our plants with one-another and community sites we serve! If you have any extra starts, from veggies to herbs to natives, bring them on over! The garden site is a nursery and storage site for plants that will be used for the Village Building Convergence in Portland. Additionally, if you're needing some personal plants feel free to take some! We'll have snacks, good people, and some plants we'll need help potting up, plus any miscellaneous nursery support."
MAY 5
Sellwood Middle School 5K fundraiser this morning: The Sellwood Middle School Foundation presents "Cinco de Sellwood: a Run/Walk for Education" today; the annual race will start and end at Sellwood Middle School. The race course is an out and back through the neighborhood, and onto the Springwater Corridor. Register to participate online – https://sellwoodmiddle.ejoinme.org – or be at the school to register in person at 8:30 a.m. The Kids' "Fun Run or Walk 1K" starts at 9:30 with paid registration, and the main event – the 5K Run or Walk – begins at 10 a.m.
MAY 6
"Legos @ the Library" in Sellwood today: Bring your mad Lego skills to the Sellwood Branch Library this afternoon, 3-4 p.m., and let your imagination flow. Bricks and supplies provided. Donations welcome. For kids ages 5-11. Also offered on May 20 at the same hours. Free; but space is limited, so come early to be sure of a space. The library is on the corner of S.E. 13th and Bidwell Street.
MAY 9
St Agatha Salad Luncheon and Fashion Show: The St. Agatha Altar Society's annual public fundraiser, its Salad Luncheon and Fashion Show, is noon today in the St. Agatha Parish Hall, 7959 S.E. 15th Avenue in Sellwood. Tickets are $15 each, and reservations or tickets are required for admission – so call Cathy Bernt for yours: 503/775-5839. Fashions are courtesy of Christopher & Banks.
MAY 10
Last chance to donate plants for Woodstock sale: Today you can still bring plant donations to the Woodstock Community Center, 5905 S.E. 43rd, from noon until 5 p.m. today – for the annual benefit plant sale tomorrow. (See below.) Proceeds help keep the Community Center open in Woodstock.

MAY 11
Woodstock Community Center Annual Plant Sale: Today, from 9 a.m. to 3 p.m., shop for plants for your home or garden at the Woodstock Community Center, which the proceeds of the sale benefit. All the plants come from local gardens. Great prices for berries, shrubs, perennials, trees, and more. Shelly Keach will have sedum planters for sale; Woodstock metal artist Jill Torberson will offer her welded garden sculptures. The Center is across from Bi-Mart and just north of Woodstock Boulevard, at 5905 S.E. 43rd Avenue. For more information, go online – http://www.woodstockpdx.org.
Mother's Day Show and Sale at Rhody Garden: The Portland Chapter of the American Rhododendron Society presents its annual Mother's Day Show and Sale today and tomorrow, at the Crystal Springs Rhododendron Garden, just north of Woodstock Boulevard on S.E. 28th, across from Reed College. The sale is 9 to 5 both days; the show is noon to 5 today, and 9i to 5 tomorrow. For more, go online – http://www.rhodies.org.
Kids – "Read to the Dogs" this afternoon in Woodstock: This afternoon, 2-3 p.m., at the Woodstock Branch Library, come improve your reading skills and make a new friend by reading aloud to a therapy dog. The dogs and handlers are from the Alliance of Therapy Dogs, Dove Lewis Portland Area Canine Therapy Teams, and Pet Partners®. Free, but registration is required – call 503/988-5123. (A second opportunity to do this occurs on Wednesday, May 15, 3-4 p.m.) The library is on the corner of S.E. 49th and Woodstock Boulevard.
MAY 13
Sellwood-Moreland Crafting Circle at the Sellwood Library: This evening, 6:30-7:30 p.m., adults and families are invited to join fellow crafty companions for knitting, crocheting, fabric crafting, and paper crafting. Create and converse together. All ages, abilities, and projects welcome. Free, but space is limited, so come a little early to be sure of a spot to participate. The library is on the corner of S.E. Bidwell Street and 13th.
MAY 18
Sellwood-Westmoreland neighborhood cleanup today: The oldest continuous annual neighborhood cleanup in the State of Oregon celebrates its 40th anniversary this year – today, 9 a.m. to 2 p.m., in the south parking lot of Westmoreland Park. Accepted are all your throw-away junk, clean dimensional wood, yard debris, appliances, tires, unwanted furniture, metal, aluminum, even Styrofoam – in the form of blocks or bagged peanuts types, but no meat tray types. Free geek personnel on site for E-waste assessment and processing; E-waste accepted from households only, not businesses. Separate donation requested for E-waste. NO CONSTRUCTION/DEMOLITION MATERIALS, NO METRO-PROHIBITED MATERIALS, NO MATERIALS POSSIBLY CONTAINING ASBESTOS. Proof of Selwood/Westmoreland residency required at site – driver's license or utility bill. Fee for dumping $10-20 for small load, $20-30 for medium load, $35 for large load, $45+ for extra-large loads, $15 extra charge for appliances containing Freon. Up to five tires accepted free per vehicle. Event made possible by the SMILE neighborhood association, Heiberg Garbage and Reycling, and participating merchants.

MAY 19
Ardenwald/Johnson Creek Neighborhood Plant Sale: From 10 a.m. to 5 p.m. today in the Ardenwald neighborhood – up Bybee east of McLoughlin into Milwaukie, at 3012 S.E. Balfour Street, this annual plant sale takes place today – to raise funds for a new, but undeveloped, neighborhood park on Balfour Street. To date, the neighborhood has raised over $10,000 towards the development of the park, and a master plan has been completed and approved; but a lot more money is needed. Plants for the sale have been donated by neighbors, and there are many native plants, grasses, trees, shrubs, perennials, annuals, herbs, and veggie starts that are waiting to go home with you. Contact Lisa at 503/754-1655 if you have any questions. Otherwise, see you at the plant sale today.
MAY 21
Sellwood Red Cross Blood Drive: This morning, 10 a.m. to 1 p.m., the Red Cross is holding a blood drive at Sellwood Baptist Church, 1104 S.E. Spokane Street, open to everyone. "The Portland Press" is offering a coupon for a delicious pressed waffle sandwich at its food cart in Piknik Park, nearby on S.E. 11th and Tacoma, to all donors at today's Sellwood blood drive. Walk-in blood donors accommodated at the blood drive as space permits, but for convenience it is suggested to call the Red Cross to make an appointment – 1-800/733-2767 – or go online to: http://www.redcrossblood.org, and enter sponsor code Sellwood.
"Pageturners" Book Group for adults tonight in Woodstock: Read "Homegoing" by Yaa Gyasi. Then go to the Woodstock Branch Library, 6:30-7:45 p.m. tonight, to engage in conversation about books and get to know your neighbors. Free. Sponsored by the Friends of the Library. The library is on the corner of S.E. Woodstock Boulevard at 49th Avenue.
MAY 31
Benefit Rummage Sale today and tomorrow: St. Anthony of Padua Church, Portland, at 7920 S.E. 79th Avenue, is having its annual Altar Society Rummage Sale today and tomorrow – 9 to 4 each day. "Great bargains" are promised, and refreshments will be available. For more information, call 503/775-6863.

JUNE 1
Giant Lego exhibit from Southeast, at the Zoo: Southeast Portland Lego Physics teacher Jane Kenney leads her OES students in presenting their latest "designed and built from scratch, not from kits" Lego exhibit at the Oregon Zoo, 10-5 today and tomorrow. The centerpiece as always is the new Lego Logo Board, a sequenced and motorized story-telling construction designed, programmed, and built by the students to animate a story they themselves created. No additional charge after Zoo admission. The Zoo is on the Sunset Highway west out of downtown Portland; follow the exit signs.
SCROLL DOWN FOR THE LIST OF COMMUNITY HOTLINKS -- AND USEFUL, AND JUST PLAIN

FUN

HOTLINKS -- IMMEDIATELY BELOW!
Useful HotLinks:
Your Personal "Internet Toolkit"!


Charles Schulz's "PEANUTS" comic strip daily!

Portland area freeway and highway traffic cameras

Portland Police

Latest Portland region radar weather map

Portland Public Schools

Multnomah County's official SELLWOOD BRIDGE website

Click here for the official correct time!

Oaks Amusement Park

Association of Home Business (meets in Sellwood)

Local, established, unaffiliated leads and referrals group for businesspeople; some categories open

Weekly updates on area road and bridge construction

Translate text into another language

Look up a ZIP code to any U.S. address anywhere

Free on-line PC virus checkup

Free antivirus program for PC's; download (and regularly update it!!) by clicking here

Computer virus and worm information, and removal tools

PC acting odd, redirecting your home page, calling up pages you didn't want--but you can't find a virus? You may have SPYWARE on your computer; especially if you go to game or music sites. Click here to download the FREE LavaSoft AdAware program, and run it regularly!

What AdAware doesn't catch, "Malwarebytes" may! PC's--particularly those used for music downloads and online game playing--MUST download these free programs and run them often, to avoid major spyware problems with your computer!

Check for Internet hoaxes, scams, etc.

Here's more on the latest scams!

ADOBE ACROBAT is one of the most useful Internet document reading tools. Download it here, free; save to your computer, click to open, and forget about it! (But decline the "optional offers" -- they are just adware

Encyclopedia Britannica online

Newspapers around the world

Stain removal directions

Convert almost any unit of measure to almost any other

Research properties in the City of Portland

Local source for high-quality Shaklee nutritionals

Note: Since THE BEE is not the operator of any of the websites presented here, we can assume no responsibility for content or consequences of any visit to them; however we, personally, have found all of them helpful, and posted them here for your reference.


---
Local News websites:
The news TODAY

Local News Daily.com

KATU, Channel 2 (Digital/HDTV broadcast channel 24)

KOIN, Channel 6 (Digital/HDTV broadcast channel 25)

KGW, Channel 8 (Digital/HDTV broadcast channel 8)

KPTV, Channel 12 (Digital/HDTV broadcast channel 12)

KRCW, Channel 32 (Digital/HDTV broadcast channel 33)

KPDX, Channel 49 (Digital/HDTV broadcast channel 30)



---