Community Features
The "Events and Activities" for the month are below these featured stories!
---
Here's Chet Keller, as most of us today remember him. Chet liked to brag that he lived all of his days in Sellwood – except when he went to college, and when he was overseas serving our country in World War II. (Courtesy of Genie Espenel and the Keller family)
SOUTHEAST HISTORY
The life of Sellwood's Chester Keller
By DANA BECK
Special to THE BEE
Let me tell you about Chet Keller.

In his hundred years in Sellwood, he rode the historic Sellwood Ferry to downtown Portland, he witnessed the opening of the original Sellwood Bridge that replaced the ferry in 1925, and he chatted with Sellwood's celebrated surgeon, Dr. John J. Sellwood. Chester Keller was his name, and he was witness to all the historical events, and all the changes in the city, that took place in his long lifetime.
And, for the past ten years, I've wanted to offer a story in THE BEE about the man who saw more changes in the neighborhood than most of us ever will. But, the ever-humble Chet Keller felt uncomfortable in the spotlight, and he preferred not to have anything published about him.
Last October 2017, Chester Keller – or Chet, as he preferred to be called – peacefully passed away, and many of us who have had the unique opportunity to know him now hope to pay tribute to him.
On November 27, 2017, some twenty five of Chet's friends and acquaintances gathered at the home of Genie Espenel, to which I was graciously invited. Together, with the help of everyone present, I was able to piece together the story of a very special person who touched us all with his whimsical humor and welcoming smiles and personality.
The Life and Times of Chet Keller
Charles and Jessie Keller moved to Sellwood around 1905. They had two children, Olive and Chester. Charles first worked as a driver for the Pioneer Soda Company, delivering beverages to stores and confectionaries using a horse and wagon. Girls and boys who lived in Sellwood loved to stop by and visit Chet and Olive because there knew there would be plenty of pop and chewing gum to be handed out by their parents.
Once the Keller family settled into a new home at the corner of S.E. 13th and Sherrett, Charles started work as a clerk behind the counter at the Red and White Store. This grocery store, owned by Roy Clifford, and was just four blocks south of the Keller residence, along the busy commercial district of Sellwood. Later Charles partnered with his good friend Henry Wahlfall to open a real estate company located next to Ditto Plumbing on S.E. 17th Avenue near Tacoma Street.
As did most other boys and girls who grew in the neighborhood, Chet found adventure around every corner. In 1925, thousands of people and autos gathered for the opening of the original Sellwood Bridge across the Willamette River. Chet was present with his Sellwood third grade class; the students sang "America the Beautiful", and the Benson High School Band played patriotic songs, followed by political speeches from the Mayor and other city officials.
On September 14, 1927, Charles Lindbergh in his famous plane, "Spirit of St. Louis", flew in to Portland for the inauguration of the city's first major airport, and Chet made sure he was there. He convinced his mother to take him out to Swan Island (where the airport was then), and together they boarded the Sellwood street car and traveled north to experience one of Portland's most dramatic aviation events.
As a ten-year-old, Chet was expected to run down to the local market and pick up whatever was needed for the evening meal. His favorite errand was buying cigars for his dad at a small cigarette stand that stood across from the Beaver Pharmacy. The Pharmacy was run by Peter and Katherine Livingston, and was a popular place for ice cream sodas and drinks. If there was any extra change left over after buying his dad's cigars, Chet knew he would be able to buy something sweet at the soda fountain. Other times Chet spent the afternoon reading about his favorite heroes in the comic section of Livingston's Soda Shop.
"Every Saturday, my mother and I went to the movie show," reminisced Chet for THE BEE, during an interview in 2003. The Sellwood Theater, at the corner of Tacoma and 13th – it's now the Columbia Sportswear Store – showed a different film each weekend for just 15 cents. "We would buy a bag of candy at the Sellwood Sweet Shop, and if you found a piece of candy wrapped in a pink wrapper you got to choose another piece free."
Chet started caddying at the Waverley Golf Club just south of Sellwood to earn extra money for those ice cream sodas and movie shows. A majority of boys who hired on as caddies at the Waverley Club came from Sellwood Primary School, and some of them became semi-professional golfers when they grew up.
Spectators and golfers could ride the Sellwood streetcar that disembarked at Golf Junction – where the original clubhouse was located, near 11th Avenue. You could either transfer to the interurban that would continue south to the small community of Milwaukie, and from there go to Clackamas and Oregon City. The interurban made an additional stop at the 6th green of the Waverley Golf Club, where the caddy shack was located. Boys under the age of sixteen would wait patiently in the shack playing cards or dice, or practicing their putting skills, until they were called upon to shag balls or to caddy for a golfer.
In 1927 you had to pay 60 cents to get a badge to be eligible to caddy at the Waverley golf course for the year. There would be 12 or 13 caddies on call at the shack, and you were refunded the badge money at the end of the year. It cost golfers 80 cents to play nine holes, and $1.20 for 18 holes.
In 1930 Chet caddied at a tournament in Astoria. To get there, he and a friend rode the trolley north to the end of the Hawthorne Bridge, where a small steamship called "The Oregon" waited for boarding passengers. For a fare of $3.00 each they clambered onto the top deck where they were given mattresses to lie on while they enjoyed the five-hour trip to Astoria. The ship stopped at every town along the way, and the two boys watched the loading and unloading of cargo and supplies that were traded along the route.
If he wasn't earning money on the golf greens, Chet delivered advertisement bills door to door to notify residents of the upcoming feature film at the Westmoreland Theater. There was also money to be made from merchants at the Sellwood Market or Brill's Dry Goods Store, who hired boys like Chet to hand out small ads on street corners.
Chet's parents usually shopped at Clifford's Cash Grocery. Clifford kept a wooden box behind the counter with the receipts he'd collected from the customers who bought groceries on account. Some of the kids in the area would buy candy from behind the counter and charge it to their parents' account without their knowledge. "I guess Clifford's didn't live up to its reputation as a cash and carry business, since Mr. Clifford accepted credit most of the time," remarked Chet, smiling.
Chet attend many events at Sellwood Park, at 7th and S.E. Miller Street; Sellwood Pharmacy sponsored a semi-pro baseball team that played there, and was at times the talk of the town. One of Chet's hobbies was keeping tabs on outstanding athletes that grew up in the area and went on to become professional sports athletes. One particular player he remembered was the hard throwing Oscar "Red" Miller, an ace pitcher for Sellwood's school champion baseball team, and after he graduated he went on to be a professional pitcher for many years.
Sellwood Park hosted many notable events, and Chet was in attendance when soccer games were being played on the field – in those days, played mostly by Scandinavian or German players. Since they didn't speak English very clearly, Chet had a hard time knowing who the players were, and what team they represented, but he enjoyed the action just the same.
Dr. Sellwood lived and worked in the neighborhood, and it wasn't unusual to hear the sound of the organ he played during church services on Sunday mornings. Dr. Sellwood bought the organ for the church, which now is in Astoria – as described by an article written by BEE historian Eileen Fitzsimons in the February, 2013, issue.
"Dr. Sellwood was very erect in his posture, and always wore a standard white surgeon's coat," recalled Chet during another interview. "He was always proud to talk about his exploits when he was treating the wounded soldiers injured during the First World War."
Dr. Sellwood and Dr. Nickelsen worked out of an office at 13th and Harney, and the parking lot on the north side was where Dr. Nickelsen's pet cheetah "Chewie" was kept. A chain link fence kept the big cat from roaming the neighborhood, but children who walked home when school was over could pass by and easily be tempted to pet the wild animal. (Cheetahs are among the most gentle of the big cats, so none of them got bitten.)
Dr. Nickelsen was Chief Surgeon in the 1950's at what was then called the Portland General Hospital (formerly the Sellwood Hospital), situated in the block just west of Sellwood Middle School. Local lore hints that Nickelsen didn't favor medicine or prescription drugs, and Chet fondly remarked that, "Most of us in the neighborhood joked that if you complained to Dr. Nickelsen that you had a sore throat, he would want to operate on you."
After graduating from Commerce High School (today, Cleveland High), Chet enrolled at the University of Oregon in Eugene. He arrived to witness the Tall Firs basketball team win the college basketball championship in 1938-39. He majored in business, and continued his love of golf by joining the University squad; he eventually lettered in golf.
Chet enjoyed his time on the university campus immensely, but a call from his mother, Jessie, announcing in 1939 that his father had died unexpectedly put a damper on his studies. When he could, he visited his mother on weekends, and spent the summer living in the Sellwood house he grew up in.
On December 7th, 1941, Japanese war planes attacked Pearl Harbor in the Hawaiian islands, and thousands of men and teenagers in Oregon signed up to fight in the war against Japan and Germany.
Instead of being drafted, Chet enlisted in the newly-formed Army Air Corps, and studied vigorously with other young men to master the basics of flight. He was chosen first among other applicants, and after being promoted to First Lieutenant he was hustled off to the East Coast, where he joined other servicemen aboard the luxury liner Queen Mary. It was yet another adventure in Chet Keller's life.
Chet recalled in later years, to his friends and caretakers, his war service overseas. Most of the transport ships that left the United States, headed for England, were usually escorted by destroyers for safety. But the Queen Mary was considered one of the fastest ships in the world, and it journeyed unescorted, arriving in England in only four days. Chet remembered what a trying time it was for the soldiers aboard the Queen Mary, and how the captain had to zig zag the ship across the Atlantic, to minimize the chances of being torpedoed by German U boats.
U.S. Military personnel were issued cigarettes, and Chet used his allotment to trade with English crewmen, who had access to more luxurious food stored aboard the ship. The ship was so crowded with servicemen that sleeping cots were stacked three high in the luxury liners' empty swimming pool.
Arriving at a small English port, the U.S. soldiers were crowded onto a train and taken to their destination. Most of the soldiers took off their helmets and used backpacks as sitting cushions on the train. When they arrived, the soldiers were rushed off the train and on to their military quarters.
It was Chet's job to count the war planes taking off on bombing missions over Germany, and again when they returned. On every mission, ground personnel waited anxiously to see who would return and who wouldn't. Sometimes longtime friends or good buddies never returned to the home airfield.
After the war was over, when Chet was discharged from the Army, and given the option of returning to Oregon by plane, train, or bus, he took the money it cost to travel by air, and went back home by bus. Chet enjoyed a leisurely sightseeing trip back to Portland, staying in the cheapest hotels or the local YMCA.
And, Chet collected pipes from every city he visited, and bought a small portion of different tobaccos sold at individual cigar stores usually found on every corner of a big city. A memorable moment included a live concert by renowned actor and jazz singer Louis Prima, which he enjoyed when stopping in at the Governor Hotel in Chicago.
Chet, working behind the desk as a bookkeeper for the Portco Corporation in Portland for over 35 years. His friends used to say that Chet had a wonderful smile that would light up a room. (Courtesy of Genie Espenel and the Keller family)
After arriving in Sellwood, and at his mother's house on Sherrett Street, Chet began work as an accountant at Portco Corporation, and also for a local Lutheran Church. The Portco Corporation was located in North Portland, and it manufactured "wood flour" that was a main ingredient in products like decks and roofs.
After his mother passed away in 1973, Chet returned to the solitary lifestyle he enjoyed the most. Television was his lifeline, and Chet spent most of his time relishing Sherlock Holmes serials, and watching football games and golf during the weekends. After his retirement, Chet devoted his time to walks in the neighborhood, or watching sporting events with his friends like Don Long and Frank Olson. When they came to see him, Chet was usually found in his huge recliner wearing a tattered robe, with a TV tray propped up against his knees and a small heater nearby to keep his feet warm.
Golfing was still a passion, and several times a week he could be found walking the greens of various golf clubs. Every year a group of ex-caddies from the Waverley Country Club, led by Sid Bryant, was given special permission by the Board to play a round at the Waverley Greens.
As the years passed, Chet spent less time outside or visiting neighbors, but block parties arranged by Genie Espenel coaxed him outside and away from his recliner from time to time. Personal caretakers like Genie, Maureen Connelly, and neighbor Kristen Long, dropped in to spend some time listening to jazz tunes on station KMHD which would lead Chet to share his various stories.
Late last October Chet Keller passed away, fulfilling his desire to die in his own house, and in his own bed.
What Chet meant to those of us who knew him was summed up well by his neighbor Kristen Long, in a section of a poem she wrote:
Chet's youthful spirit and twinkling grin
Were shared with friends galore
His gentle hands reached out to greet us;
His family were those next door!
In ending this narrative, I would like to thank the many people who came forward to share memories of Chet Keller and his days in Sellwood that I have told you here. And I apologize in advance if I missed mentioning anyone.
---
All Saints' Episcopal Church's thrift store in Woodstock has been expanding its bookstore; Sonja Miller (shown) has reorganized thousands of used books for sale. (Photo by Elizabeth Ussher Groff)
All Saints' Woodstock bookstore expands; now 'Book Nook'
By ELIZABETH USSHER GROFF
for THE BEE
For many years, the Woodstock business district has lacked a bookstore. Back in 1995, when the Woodstock Neighborhood Plan was adopted by Portland City Council, one of the business needs identified by the community was a place where people could go and browse for books.
Now the "Book Nook" helps fills that need. The newly-expanded bookstore section of the All Saints' Episcopal Church "Mustard Seed Thrift Shop", inside the church at 4033 S.E. Woodstock Boulevard, doesn't offer new books, but now has a much wider selection of used books, and at bargain prices, too.
Sonja Miller, a Woodstock resident and member of All Saints' for almost two decades, recently retired from the mental health field. Always a book lover, she decided to spend some of her retirement time helping the thrift store increase its sales by beefing up its bookshelves.
Miller noticed that there are a number of thrift stores in the area, but none was a store that sells a wide variety of books at very inexpensive prices.
|
Meantime, the Mustard Seed had had one room dedicated to books. "I noticed that the book shelves [in the Mustard Seed] had no order, so I spent a couple of weeks clearing shelves and alphabetizing. I found there were even more good books in storage than I thought. I spent most of November getting it ready."
It was a big task, but now all of the categories – mystery, fiction, non-fiction, biography, self-help, life lessons, true crime, science fiction, and classics – are alphabetized by author. Except for the paperbacks on education and the business and finance management shelved in the back room, all categories are now displayed in the main room, which is more well-lit and spacious.
"Our cookbook section has a lot of unique, one-of-a-kind cookbooks," she says. "And I saw that the children's books weren't well highlighted, so I moved them out front – and found toys, games and puzzles to add to that space."
The thrift store manager Mikki Wooldridge and her staff, all volunteers, were delighted with Miller's reorganization, and cleared more shelves for books. "It has just sort of evolved," observes Miller. "We get lots of donations but are hoping to get more science fiction, futuristic and fantasy."
"In retirement, I now read one or two books a week," remarks Miller. "I pay for the books, and then donate them back, which I would love for everyone to do. I recently read 'Water for Elephants' and 'The Help'."
The expanded bookstore, now with its own "Book Nook" name, augments All Saints' strong commitment to community. "We have the hot meals program on Saturday [which the proceeds from the bookstore help support] for about one hundred people, and if anyone comes down for clothes, we also offer them books at half-price," Miller reveals.
Hardcover books are $3, large soft paperback $2, and small paperbacks are fifty cents. The Mustard Seed thrift store and Book Nook are co-located in the basement of the historic Woodstock church. Hours are Friday and Saturday only, from 11 to 3.
---
Dave Elkin, descendant of the Rev. Thomas and Dessie Elkin, shown as he was reclaiming his family's long lost historic photos during the just-past Holiday Season. (Photo by Eileen G. Fitzsimons)
Our Christmas Wish granted – lost family photos returned!

By EILEEN G. FITZSIMONS
For THE BEE
In the pre-Christmas/January issue of THE BEE, I appealed to our readers to help me find descendants of the family of Rev. Thomas and Dessie Elkin of Sellwood.
The couple and three of their children had arrived from Kansas in 1906 – the same year THE BEE began, and one year after Oaks Amusement Park was founded – and lived in a house at 1560 S.E. Tenino Street which is still occupied.
The Rev. Elkin was a Baptist minister, but was in fragile health and died at age 68 in 1911. His widow and some of their four children (Art, Ed, Susie, and Ted) remained in their house until 1937, when Mrs. Elkin passed away. Although some of the Elkins remained in Sellwood, there are no family descendants living in the Sellwood-Westmoreland neighborhood today.
The reason for my interest in the Elkin family was a large collection of photos of their family, including two scrapbooks, dating from the late 1880s to the late 1930s, that were retrieved from a Dumpster at Sellwood Middle School in 2000. The alert school librarian, Jeurine Marshall, found them when she was doing end-of-the-school-year cleanup.

She did not recognize any of the people in the photos, or the Elkin name; nor did she witness anyone throwing them away – but she but felt they should not be discarded. She gathered them up and gave them to the SMILE History Committee, which began trying to determine to whom they belonged, and whether they could be returned. The photos were put in chronological order and copies were made for the SMILE photo collection of those that were clearly connected to Sellwood.
Armed with a sketchy outline of the Elkin family, an appeal was made in THE BEE in 2000. One response was received at that time – a phone call from a woman who had babysat one of Ted's children in the 1930's. But the woman did not know the whereabouts of any of the family by then.
In late 2016 I decided to make another attempt, and wrote a more detailed story for the last issue of THE BEE. I had not yet even received my copy of the paper when I got an email via my editor, Eric Norberg, from a reader in the Woodstock neighborhood (my copy of the paper arrived the next day).
The reader, Sylvia, has a subscription to Ancestry.com, a vast genealogical database. She had entered the Elkin family name, and a 2016 obituary for Erline Dessie (Elkin) Goodell had appeared. Erline was the first born child of Theodore (Ted) Elkin and his wife Elizabeth. She was born in Portland, but had married in California, where she lived most of her adult life.
The obituary listed her husband's name in Santa Barbara; I searched for his name, and found a business listing and a phone number. I left a phone message for Dexter Goodell, asking that he call. Two days later he did, and as I was trying explain the discovery of the photo collection, he said he would have his nephew, a descendant of Ted Elkin's son Tommy, call me. I was soon speaking with David Elkin, who had grown up in California with his father Tommy and mother Elizabeth. Dave graduated from the University of Oregon and then moved to Portland metro area in 1998, where he has since lived.
He seems to be the only Elkin family member in the region now, and he had been researching his family history, but was very excited to hear about the photographs. He had heard of Dessie Elkin, but never of her husband, the Rev. Thomas Elkin. This is probably because Dave's grandfather Ted was only three years old when his father, Rev. Elkin, died.
On Saturday, December 24, I played Santa, and was able to return the family photos to Dave. He was going to see his aunt and mother over the Holidays, and was anticipating sharing the collection with them and gathering additional information.
After the turn of the New Year, we compared our notes, but neither of us still have any idea of how the photos ended up in the Sellwood Middle School Dumpster. There were no Elkin children in the neighborhood after approximately 1950! Susie Elkin and her husband Errol Brown lived here until the mid-1960s, but had no children who could have brought the photos to school for a family history project.
Dave's father Tommy attended Llewellyn Elementary and Sellwood Middle Schools but, with his parents, he left Portland after 1951. Dave and I now speculate that the photos may have been left in the Elkin home on Tenino Street, possibly in a forgotten attic space – and the school Dumpster, just a block from the former Elkin home, presented a convenient disposal site when the house changed ownership.

Another more remote scenario is that Susie Elkin Brown brought them to the school for show-and-tell; she left her home on Lambert Street after 1966. However, it seems unlikely that the photos would have occupied valuable classroom cupboard space for almost 35 years. For the present, that mystery remains unsolved.
The important thing is that my Christmas wish came true: That the discarded photos be returned to their family. And Dave Elkin and his relatives received an unanticipated present. Of course, many thanks to Jeurine Marshall and to Sylvia, the only BEE reader who responded to my latest plea for online assistance with the search – but in this case, one is all it took.
Next month: Part III of the Elkin Family Saga, including an unprecedented 401-person climb of Mt. Hood (photographed from an airplane), and exploration of the mysterious Mantle Club.
---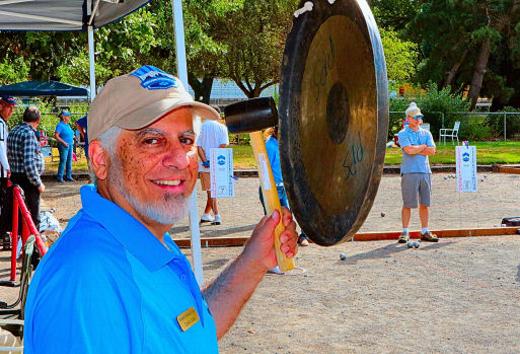 Peter Mathis, a player who came all the way from New York, throws his steel ball, working to help his team win this game of Petanque. (Photo by David F. Ashton)
Hot Petanque tourney rolls thru Westmoreland
By DAVID F. ASHTON
For THE BEE
Well before any wintry weather hit last fall, the 4th annual "Rose City Open Petanque Tournament" brought 44 teams from around the world to compete in this French-originated sport – at the north end of Westmoreland Park.
"The six-team delegation from Algeria wasn't able to come as they'd hoped, but we're hosting teams from Sweden, France, Canada – and several previous U.S. National Champions call our club their home," smiled Portland Petanque Club President Steve Walker, at the park on September 16.
Although the sport of Petanque (pronounced similarly to "pe-TONK") is more than a century old, and is one of the world's most popular games, it hasn't been an Olympic sport. However, it is slated to become an Olympic discipline in 2024, Walker said.
On the club's courts – topped with a light covering of pea gravel – teams took turns, paying no heed to the blazing sun, or the most polluted air seen in Portland recent years, from the Columbia Gorge wildfires.
"This is an easy game to pick up, but it can take a lifetime to perfect your skills. It can be played by people of all ages," Walker assured THE BEE.
The goal, he said, is to throw is to throw or roll a number of hollow steel balls (called boules) close to a little wooden ball (called the cochonnet); and, in the process, knock the opposing team's boules further away from the cochonnet.
Watching players throwing, pitching, and rolling steel balls makes Petanque look like an inexact sport. Yet, when it comes to wins and losses, many matches end up being a "game of millimeters". Players bring out their measuring tapes to determine which team scored points.
"This is the largest number of teams we've hosted at a tournament; but we have enough court space to add another six teams next year," Walker remarked.
Other than the international competition at Amelia Island, Florida – put on by that city and its county government to attract tourists – the Portland club hosts the largest independent, nonprofit, sponsored Petanque tournament in the United States.
"People say they come here because they love to play here at our club in this beautiful park, take pleasure in our hospitality, and enjoy visiting Portland," Walker reflected, adding that it's also a boon to the Portland economy with visiting players staying at B&Bs and hotels, and dining in local restaurants.
Walker said that many people come by the club's gathering in Westmoreland Park on Wednesday or Sunday afternoons, year 'round, take a lesson using the free equipment that the club provides, find they enjoy playing, and become members.
So, if you want to try your hand at the game with this world-class Petanque club, stop by 7535 S.E. 23rd Avenue and meet the players. Or, go online to their website – http://www.pdxpetanque.org.
Walker thanked their "really local" sponsors of Fat Alberts Breakfast Café, San Felipe Taqueria, Moreland Dental, Orange Line Wines, Townshend's Brew Dr. Kombucha, and Keller-Willams Realty; and their Portland metro sponsors La Provence Boulangerie & Patisserie, All Pro Electric, Allen Trust Company, Natural Stone Designs, and Avinode – for their support.
---
Alexa MacDonald of Artichoke Music holds some of the wool sock pairs recently collected for the homeless at one of their concerts. (Photo by Rita A. Leonard)
'Artichoke Music' holds sock drive; plans free Feb. 11 event
By RITA A. LEONARD
For THE BEE
Artichoke Music, which recently moved to S.E. 20th and Powell Boulevard from its longtime location on Hawthorne Boulevard, held a public sock drive for the homeless as part of its annual Holiday Concert on December 9. Attendees were asked to donate pairs of wool or wool-blend socks for the homeless when they came, which collected of dozens of pairs. These were brought to Transition Project Inc., a housing and homeless shelter nonprofit based in Northwest Portland, for delivery in the first week of January.
Artichoke's Artistic Director, Alexa MacDonald, told THE BEE, "I often give money or food to homeless people, but I've never had such a thankful response from recipients as when I gave wool socks. The advantage of wool socks is that they'll keep the wearer warm even if they get wet, which is an important consideration for those who live outdoors."
MacDonald remarked, "We're still getting acquainted with our new neighborhood, so we've teamed up with Brooklyn's Stone Barn Brandyworks for a free special event here at the Café Artichoke, on Sunday, February 11. This is an opportunity to introduce ourselves and our services to our new neighbors."
She continued, "Stone Barn distills craft brandies and spirits from regional fruit. Our February 11 'Neighborhood Showcase' will feature music by Artichoke, alternating with brandy-tasting and learning about distilling, in half hour segments, from 3 to 7 p.m.
"We want people to learn about our facilities and services. On January 2, we began our first music class of 2018, in conjunction with Brooklyn's Youth Progress Inc., an alternative high school for at-risk students at 2020 S.E. Powell Boulevard, across the street."
---
Southeast Events and Activities
FEBRUARY 20

Pageturners Book Group for adults in Woodstock:
Read "The Hundred-Year Walk – An Armenian Odyssey" by Dawn Anahid MacKeen; engage in conversation about books, exchange perspectives about characters and plot, and get to know your neighbors. It's free, this evening, 6:30-7:45 p.m. at the Woodstock Branch Library, S.E. 49th at Woodstock Boulevard. Sponsored by the Friends of the Library.
FEBRUARY 23
Fish Fry this afternoon at Holy Family in Eastmoreland: Holy Family Parish is holding a fabulous fundraising Fish Fry, with all the trimmings, late this afternoon, 4:30-8:00 p.m. in Celebration Hall, at 7425 S.E. Cesar E. Chavez Blvd. (formerly 39th), at the corner of S.E. Flavel Street. Open to the public – eat in or take-out; it's an easy dinner for the whole family.
FEBRUARY 26
Llewellyn Elementary "Connect to Kindergarten": This evening, Llewellyn Elementary School invites parents of incoming Llewellyn kindergartners to the "Connect to Kindergarten" event from 6 to 7:30 p.m. Parents, please join Principal Galati and Llewellyn staff in an introduction to our school. Free babysitting will be provided. Llewellyn is located at 6301 S.E. 14th Avenue in Westmoreland.
"Understanding Bullying" for teens in grades 6-12: This evening at the Sellwood Branch Library, learn to identify different types of bullying and cyber bullying, and analyze the three main roles that exist in bullying situations: The bully, the bullied, and the bystander. Teens will work to recognize power dynamics and the social-emotional consequences of each role. Skill building: Understand school policies that protect students, encourage students to speak up as bystanders, identify and define all the roles in a bully situation, and identify a trusted adult for help. Free. 6:30-7:30 p.m.; come a bit early, since seating is limited. The library is on S.E. 13th at Bidwell Street.

MARCH 1
Llewellyn School raffles a night at "Hamilton": Llewellyn Elementary School's PTA and Foundation are licensed by the state to raffle this prize package, to be awarded by drawing on Monday, March 19, at the school – two orchestra level seats to the March 31, 7:30 p.m. showing of "Hamilton, an American Musical" at the Keller Auditorium downtown (face value of $364.50), plus a $250 gift card for Hotel Modera and a $75 gift card to Higgins Restaurant and Bar, to make a gala night of it (value $688.50). Only 500 tickets will be sold, and each ticket costs $25. The raffle is on, today, and ends on the 18th – or earlier, if the 500 tickets are sold before that date. Must be 18 to purchase, and must be in Oregon at time of purchase. Winner will be notified by e-mail only. Tickets are for sale at – http://llewellyn.ejoinme.org/HAMILTONRAFFLETICKETS
MARCH 2
Duniway School Auction tonight; online component: With thirty percent of the proceeds directly benefiting Portland Public School's general fund in support of schools across the entire district, the Duniway Auction isn't just for the elementary school's immediate community. As for Duniway, its proceeds go to reducing classroom sizes and supporting enrichment activities – like physical education, music, and library services. All Portlanders are welcome to enjoy Duniway's Mardi Gras Masquerade tonight, but they may choose to make a difference from their living rooms instead: Auction organizers are offering an online bidding component. Members of the public can buy tickets to attend this evening, raffle tickets, or can donate directly via the auction website – https://duniway.schoolauction.net/auction2018/homepages/show – and select items are available for online bidding. The gala starts tonight at 6 p.m. at Portland's Melody Ballroom.

MARCH 3
Native Plants Workshop in Woodstock this morning: At nine this morning, at the Trinity United Methodist Church's Fellowship Hall, 3915 S.E. Steele Street, a two-and-a-half hour workshop will introduce you to common native plant communities in Portland, show examples of species that do well in similar growing conditions, and share successful planting tips that will help them thrive and more! A native plant slideshow will highlight characteristics and desired growing conditions of many local favorite native groundcovers, shrubs and trees. You'll walk away with loads of information so you can decide which native plants will work well in your yard. Registration required, but you can do so online at – https://emswcd.org/workshops-and-events/upcoming-workshops
Community Choir forming for Easter performance: Like to sing? Join Mr. Scott Presbyterian's Community Choir today and each Saturday in March to practice for an Easter performance. All ages are welcome, and no experience is necessary. Practice will be 1:00-2:30 p.m. each Saturday in March, and the performance will be Easter Sunday, April 1, 10 a.m. All rehearsals and the performance will be at Mt. Scott Presbyterian Church, S.E. 73rd and Harold Street. Questions? E-mail – mspkpres@imagina.com
MARCH 9
Atkinson School kindergarten school tour event this morning: If your child will be 5 years old by September 1 of this year, you can register for kindergarten at Atkinson Elementary School, near Franklin High, at 5800 S.E. Division Street. A school tour opportunity awaits you this morning, 9-10 am – and also on April 28 and May 26 at the same time, if more convenient. Check its school boundaries at – http://www.pps.net/Page/2379 – and for more information, call the school at 503/916-6333.
Ladybug Nature Walk in Ardenwald this morning: Portland Parks presents a "Drop-in Ladybug Nature Walk" for kids age 2 through 6 and their parents this morning at 10 a.m. in Ardenwald at the Tideman-Johnson Natural Area; meet at the restrooms near the intersection of S.E. Johnson Creek Boulevard and the Springwater Corridor Trail by 10 a.m. This guided nature walk lasts about an hour; cost is $3 to $8 per child, on a sliding scale.

Grout Elementary Silent Auction fundraiser tonight: Grout Elementary School on Holgate Boulevard is having its first-ever Silent Auction, 6-9 p.m., open to the public (age 21+, please) with food, drink, and lots of items on the (silent) auction block. This auction came about to fund the need to replace the school's existing wooden play structure that is falling apart. "The new playground is long overdue, and will be cherished by the 300+ kids at Grout Elementary, a Title 1 public school." The auction tonight is in the St. David of Wales Church community room, 2800 S.E. Harrison Street. For more information, and to buy tickets, go online: https://www.auctria.com/auction/GroutBeachBash
MARCH 10
Juggling Fun for kids, at Sellwood Library this morning: Juggling is a unique art form that's fun, meditative, and is great for hand-eye coordination. Kids and families in the session, 11-11:45 a.m. this morning, will learn how to juggle a variety of objects including balls, rings, scarves, and more. All props will be provided. The class will include group juggling games, as well as focus on individual skill levels. It's free, but you might want to come a little early, since space is limited at Sellwood Library, on the southeast corner of 13th Avenue and S.E. Bidwell Street.
MARCH 11
"Seismic Retrofitting" for adults, this afternoon at Sellwood Library: Learn the basics of how to install a seismic retrofit, 2-4 p.m. this afternoon, whether it's something you think you'd like to do yourself, or you just want to understand the basic principles. Topics covered will include the goal of seismic retrofitting, basic load calculations, earthquake insurance and what features to avoid in your next home purchase, permits, assessing foundation quality, tools, and hardware. It's free, but registration is required; register in the library, or by calling 503/988-5123. The Sellwood Branch Library is on the corner of S.E. 13th and Bidwell Street.
MARCH 15
Ladybug Nature Walk in Creston-Kenilworth this morning: Portland Paarks presents a "Drop-in Ladybug Natur4e Walk" for kids age 2 through 6 and their parents this morning at 10 a.m. in the Creston-Kenilworth neighborhood, at Kenilworth Park; meet near the playground on S.E. 32nd Avenue, one block north of Holgate Boulevard by 10 a.m. This guided nature walk lasts about an hour; cost is $3 to $8 per child, on a sliding scale.
MARCH 18
Cherry Blossom Wall Art for kids and families in Woodstock: This afternoon, 2-4 p.m. at the Woodstock Branch Library, come create unique tree branches on paper with black paint and plastic straws. Learn to fold, cut, and decorate your tree with paper 3D cherry blossoms. It's free, but this program will be presented in Chinese, and interpretation in other languages will NOT be available. The Woodstock Library is on the corner of S.E. 49th and Woodstock Boulevard.
MARCH 26
Flight and Space – Game Design Camp for Teens: It's not just a video game! It's a world with infinite possibilities built by you! Come and design flying games today through Friday, 1-3 p.m. each day at the Sellwood Library, and be a pilot in a digital world you create yourself. For teens in grades 6-12. Free, but registration is required; register in the library or by calling 503/988-5123. It's in the Sellwood Library, S.E. 13th at Bidwell Street.
"Jolts, Volts and Wires" for kids and teens, in Woodstock: Electrifying activities get students charged! Students study the nature of electricity by engineering circuits using generators, batteries, bulbs, motors, and more. Topics for this afternoon hour include generation and transmission of electricity, safety, conductivity, and circuits. Best for middle schoolers. Free at Woodstock Library, but registration is required; register in the library, or by calling 503.988.5123. There are two sessions – 2-3 p.m., and 3-4 p.m. The library is on the corner of Woodstock Boulevard and S.E. 49th Street.
MARCH 27
Secret Coders Club for kids at Sellwood Library: Kids in grades 2-5 will have fun with coding-related games and activities that encourage problem-solving, teamwork, and creativity, this afternoon from 3:30 to 4:30 p.m. at the Selwood Branch Library, S.E. 13th at Bidwell Street. It's free, but registration is required; register in the library, or by calling 503/988-5123.
MARCH 29
Seder Dinner tonight at Trinity in Woodstock: At 6:00 p.m. this evening, the community is invited to the Seder Dinner at Trinity United Methodist Church, S.E. Chavez (39th) and Steele Street – to celebrate some of the rituals that Jesus would have used in the Upper Room during the Last Supper – while we enjoy a meal together.
MARCH 30
Good Friday Worship in Woodstock: This evening at 7 p.m. the community is invited to attend "Good Friday Worship" – a traditional service of remembrance of the crucifixion of Jesus, with songs from the Trinity United Methodist Choir. The church is on the corner of S.E. Chavez (39th) and Steele Street.
MARCH 31
Westmoreland Park "Easter Egg Hunt": The longtime, traditional free Easter Egg Hunt for kids – divided into different age categories, to give all kids a chance – is at 10 a.m. SHARP this morning, sponsored by SMILE, the Sellwood-Westmoreland neighborhood association, and run by the Oaks Bottom Lions Club. Parents and kids are strongly advised to come early, to the south end of Westmoreland Park just east of the parking lot, since the start will be at 10 a.m. to the very second, and five minutes later, it's pretty much over.
APRIL 1
Sunrise Easter Service in Sellwood Riverfront Park: At 6:45 a.m. this morning, everyone is welcome to come for an Easter Sunrise Worship Service at Sellwood Riverfront Park, at the foot of S.E. Spokane Street at the Willamette River – followed by breakfast at the Sellwood Faith Community House, located at 1535 S.E. Tacoma Street.
Easter Sunday Service in Woodstock: At 10:30 a.m. this morning, the community is warmly invited to join in a grand celebration of Christ's resurrection, at Trinity United Methodist Church, S.E. Chavez (39th) and Steele Street in the Woodstock neighborhood.
SCROLL DOWN FOR THE LIST OF COMMUNITY HOTLINKS -- AND USEFUL, AND JUST PLAIN

FUN

HOTLINKS -- IMMEDIATELY BELOW!
Useful HotLinks:
Your Personal "Internet Toolkit"!


Charles Schulz's "PEANUTS" comic strip daily!

Portland area freeway and highway traffic cameras

Portland Police

Latest Portland region radar weather map

Portland Public Schools

Multnomah County's official SELLWOOD BRIDGE website

Click here for the official correct time!

Oaks Amusement Park

Association of Home Business (meets in Sellwood)

Local, established, unaffiliated leads and referrals group for businesspeople; some categories open

Weekly updates on area road and bridge construction

Translate text into another language

Look up a ZIP code to any U.S. address anywhere

Free on-line PC virus checkup

Free antivirus program for PC's; download (and regularly update it!!) by clicking here

Computer virus and worm information, and removal tools

PC acting odd, redirecting your home page, calling up pages you didn't want--but you can't find a virus? You may have SPYWARE on your computer; especially if you go to game or music sites. Click here to download the FREE LavaSoft AdAware program, and run it regularly!

What AdAware doesn't catch, "Malwarebytes" may! PC's--particularly those used for music downloads and online game playing--MUST download these free programs and run them often, to avoid major spyware problems with your computer!

Check for Internet hoaxes, scams, etc.

Here's more on the latest scams!

ADOBE ACROBAT is one of the most useful Internet document reading tools. Download it here, free; save to your computer, click to open, and forget about it! (But decline the "optional offers" -- they are just adware

Encyclopedia Britannica online

Newspapers around the world

Stain removal directions

Convert almost any unit of measure to almost any other

Research properties in the City of Portland

Local source for high-quality Shaklee nutritionals

Note: Since THE BEE is not the operator of any of the websites presented here, we can assume no responsibility for content or consequences of any visit to them; however we, personally, have found all of them helpful, and posted them here for your reference.


---
Local News websites:
The news TODAY

Local News Daily.com

KATU, Channel 2 (Digital/HDTV broadcast channel 43)

KOIN, Channel 6 (Digital/HDTV broadcast channel 40)

KGW, Channel 8 (Digital/HDTV broadcast channel 8)

KPTV, Channel 12 (Digital/HDTV broadcast channel 12)

KRCW, Channel 32 (Digital/HDTV broadcast channel 33)

KPDX, Channel 49 (Digital/HDTV broadcast channel 30)

KPAM 860 News Radio



---