Community Features
The "Events and Activities" for the month are below these featured stories!
---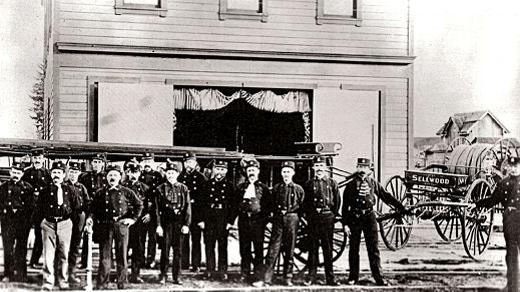 These serious-looking gentlemen, with their tight shirts and ties, were volunteers of the Sellwood Fire House. The city had no extra money to provide horses for their ladder and hose truck, so hardy young men like these were recruited from the neighborhood to haul the wagons by hand, and muscle them through the dirt streets of Sellwood, to put out fires. (Courtesy of SMILE History Committee)
SOUTHEAST HISTORY
The early years of Sellwood – 1882 to 1910
By DANA BECK
Special to THE BEE
Sure, you probably know a lot about Sellwood today – like where the best places are to have dinner; where the most popular coffee joints are; your favorite bar or hair stylist.
But do you know how Sellwood began? There have been a lot of changes in the Sellwood-Westmoreland neighborhood over the past fifteen years. New people, high-rise condos, and innovative storefronts have replaced what was a community filled with small wooden houses and workers' cottages scattered amongst false-fronted shops.
For newcomers, I think it's well past time to refresh the history behind the community they moved into.
So, let's begin by taking you back more than a century. There, in our mind's eye, we find T. A. Woods, a real estate specialist and entrepreneur, standing on a heavily timbered ridge south of Downtown Portland, looking across the Willamette River at the rural eastside.
Unlike the already-bustling town of Portland to the north, the view he sees – six miles downriver – is more tranquil. Here, under the blue skies, there is still forest, the sound of birds chirping, the occasional horse-drawn wagon, and abundant wildlife.
The settlement of Willsburg, just east of where Sellwood is today, was prospering with its sawmill, and the Oregon and California Railroad trains that passed through at least once a day. A few rudimentary workers' shacks were haphazardly strewn along the landscape on the south side of town. And what was then the Seth Lewelling fruit orchard stretched from there; with Chinese men and other workers quietly pruning and cultivating apples, prunes, cherries, and pears for local residents – as well as for shipment south to the gold miners of California in 1849.
Just northwest of Willsburg, on the bluff overlooking what now is Oaks Bottom, trees were being felled and the land was being shaped for a horse race track with bleachers, on the "City View Tract". Named for its excellent view of the city of Portland, in the following years this area would become a frenzy of action on the weekends. Grand leisure boats dropped people at the landing for the horse racing, dining, drinking, and socializing. And the new racing facility also hosted baseball and holiday celebrations.
Gazing across the Willamette at all of this, Woods envisioned it as the perfect place to start a town with small cottages and large mansions, strategically placed, with a river view and a commercial district running down to the waterfront. The Willamette River was teaming with steamboats, schooners, and a variety of other boats, providing convenient travel and trade between Oregon City, Milwaukie, and Portland – good selling points for any experienced real estate agent.
Later rumors that rails for a streetcar line could be built in that area connecting to the west side of the river were an added bonus.

As the town of Sellwood was beginning to take shape, the Eastside Railway began running on 13th Street starting in 1893. Amenities that residents would need, such as stores, temporary lodging, and other necessities, could be obtained just to the south in the town of Milwaukie until a business district took shape. Milwaukie was only a mile southeast of Sellwood, and people could travel down the dirt country road (now S.E. Milwaukie Avenue) laid out in the 1840's by Ben Stark and William Pettygrove.
T. A. Woods, after taking the lay of the land from west of the river, went on to partner with Henry L. Pittock to purchase 360 acres of land from the Reverend John Sellwood. Lots were platted, and a small boat was rented to hustle buyers across the river to its east side, where the new town of Sellwood was beginning to take shape. Plots of land could be bought through the Sellwood Real Estate Company. And there certainly was demand! T.A. Woods was inundated with people eager to buy lots, and homes were already under construction as fast as lumber could be hauled up the hill.
The town of Sellwood's first Post Office was opened in Edwin Corners' country store in 1893 on First Street. Prior to being promoted to Postmaster, Edwin probably offered to hold any correspondence and packages delivered to Sellwood for residents living in the area, or planning to do so soon. Mail and parcels were picked up on the dock at the foot of Umatilla Street which a daily ferry dropped off.
To entice families to move in, the Sellwood Real Estate Company set aside land for the Sellwood School, which opened in 1884 – followed by the construction of a Presbyterian Church. The Methodists had already established their first Sunday School in Sellwood in the previous year.
A commercial district began forming along Umatilla Street.
T.A. Woods planned on reserving the waterfront exclusively for industrial use, such as for a sawmill or grist mill. George Albers arrived on the scene and began setting up a small furniture factory by the river. Needing choice lumber for the quality chairs, tables and bed sets he planned on manufacturing at the Sellwood Furniture Company, fine-cut lumber was supplied by S.W Brown's sawmill, situated within a few feet of George Alber's factory
By the turn of the New Year in 1886, more than 200 families were already living in Sellwood, which boasted two furniture factories, one sawmill, a hotel, and three stores, two churches, and a school.
Merchants came and went – including Robert Kain, who lasted a year, and Edwin Corner, who eventually left the retail business to concentrate solely on sorting letters. Wiley Dickerson attempted to run a seasonal fruit stand, but by the following year had moved on to other enterprises. For a few years, Mrs. Margaret Randall operated a market at 11th and S.E. Umatilla Street – until she decided that renting beds, cooking meals, and tending her vegetable garden were more profitable than being a grocer. She was credited with opening the first hotel in Sellwood, which included a saloon. And, to convince people that Sellwood was a desirable place to live, Mrs. Randall offered a space above her saloon to be used as a Sunday School for children.
John W. Campbell was the first to set up a permanent grocery store – and it went on to remain open for the next 70 years. The upstairs of Campbell's Grocery was used as the meeting place for the Sellwood City Council, during the town's brief time as an independent city.
Sellwood's first City Council was introduced to its residents on March 12, 1887. Five members were assigned positions, presided over by a Council President – Sellwood never had an elected mayor. The All Volunteer City Council served close to seven years, until Sellwood was annexed into the City of Portland in 1893.
Some merchants came to stay for the duration, and others barely were able to stick it out the year. Among other short-termers were bookbinder Clark Horatio, and George P. Dorriss who was a printer. Sellwood had three shoemakers early on – Earl B. Berry; the partners of Andrew Uno and Narisse DuFresne; and H.L. Lindeleaf, who opened his own boot and shoe shop on the south side of Umatilla Street near Second Avenue.
James S. Hite and David C. Greenawalt hauled wood and river water to residents, and offered a private express delivery service for new residents needing to move furniture and other possessions to their new residences. Samuel Craig sold fresh drinking water from Crystal Springs Creek for fifteen cents a barrel, or two for a quarter. If you wanted a shave and a haircut, a visit to Frederick Redinger or Lionel Sayre was in store for you. James Wilson and Nicholas Count shoed horses, repaired wagon rims, and performed the other tasks demanded of blacksmiths.
There weren't enough patients to support a doctor or dentist in the town yet, so a visit to the local physician would require a wagon ride into Portland or Oregon City, but Dr. Otto Zistel – who moved into a home on Umatilla Street near Sellwood School – was available for home visits, when he wasn't in his office in Portland. D.S. Stryker did double duty as a dentist and doctor, and was also available to provide medicine for any ailment, or to pull a tooth.
When Reverend John Sellwood left town after selling the property he'd owned for twenty years, his heirs returned to Sellwood and established a new Episcopal Church, and donated $3,000 for the construction of the church. They not only invested in real estate, but many of the members of the Sellwood family were so enchanted with the little town they decided to stay for a century or two.
The little settlement became a favorite stopping point for seamen and their captains, being close to work and near the Willamette River. Most notable was William P. Short, who captained the "City of Sellwood" riverboat which made daily runs between Sellwood and Portland. He lived on Spokane Street. (Later in his life, Captain Short was at the wheel for the final trip of the "John P. Caples" ferry when it made its last voyage across the Willamette in 1925 as the brand new Sellwood Bridge was finally opened to motor vehicles.)
Sellwood continued to grow and prosper. Before long, a brewery was built at Marion Street at S.E. 11th, and it became the toast of the town. Residents were confident enough in the growth of their community that money was collected to plank the muddy surfaces of Umatilla and Spokane Streets.
Just south of Sellwood, an upscale development by the Cambridge Land Company was being planned, with breathtaking views along the Willamette River – and replacing with houses the fruit trees once harvested there by Henderson Llewelyn and Joe Meek in 1847. This was to be the closest that T. A. Woods would see of his vision of grand mansions built along the river.
A Volunteer Fire department was started in 1895, and the volunteers were required either to help out with chores, or pay a tax to support the fire company. The majority of residents still used wood stoves to heat their homes, and kerosene lamps were used in lieu of the electric lights that were scarce and expensive. (And there was also a belief, at the time, that you could die by touching an electrical switch!)
The "Panic of 1893" brought great hardship to the nation, in addition to the Northwest, as thousands of small banks failed. The Cambridge Land Company was among those affected, causing its development to be foreclosed upon, and what few homes had already been built were moved to another area. However, the Oregonian newspaper announced that the industrious citizens of the village of Sellwood were prospering better than other cities across the country. That news had to come from Downtown, since it wouldn't be until 1906 when Charles Ballard started the newspaper you are reading now, then called the Sellwood Bee, so residents would have a newspaper to boast about their own activities.
Things were bustling at the Sellwood Primary School; the school district hired five new teachers, and 185 pupils were reported to be attending classes.
The first decade of the Twentieth Century came to a close with the townspeople having great expectations for the future of their community, Sellwood even became a regular ferry stop along the Willamette River between Oregon City and Portland. And there we will end our recounting of the earliest history of Sellwood – Westmoreland was just starting its development at the time.
Today, only a few original homes and workers' cottages remain in Sellwood to remind us of the pioneer days. Randall's saloon is now an apartment house at 11th and Umatilla; the golden brick façade of the former Sellwood Bank at 13th Avenue, built in 1907, now rents office space to those who work at home; and the old storefront of the Home Grocery, built in 1910, is now the home of the quirky Portland Puppet Museum, at 9th and Umatilla.
Stroll the cobblestone surface at the foot of Spokane Street to get a feel for what was once the independent town of Sellwood.
---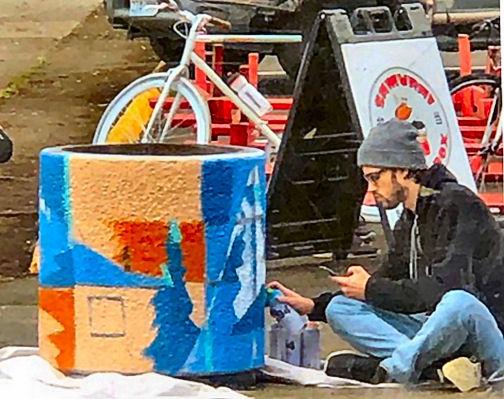 Here's the undisclosed, but obviously talented, artist at work on a trash can across from Fat Albert's Restaurant on S.E. Milwaukie Avenue. (Courtesy of Vickie Walsh, Fat Albert's)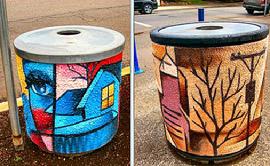 Here are two of the newly-painted street trashcans on S.E. Milwaukie Avenue in Westmoreland – authorized work, done by an artist preferring to remain anonymous. (Photos by Rita A. Leonard)
Undisclosed artist decorates trash bins in Westmoreland, Sellwood
By RITA A. LEONARD
For THE BEE
In an unusual twist, an artist performing authorized public art has chosen to remain anonymous.
Over the past few months, neighbors in Westmoreland and Sellwood have been noticing decorative paintings on several of their round concrete sidewalk trash bins. So far, most of the work has been done along S.E. Milwaukie Avenue, such as at Carlton and Glenwood Streets. At these locations, the local artist focused mostly on blue and brown shades, embellishing them with faces, buildings, and elements of the landscape.
Another design, in shades of brown, was created on a bin near the bus stop at S.E. 17th at Bybee Boulevard. A bin at S.E. 13th and Lambert Street appears in a lovely array of blue colors featuring the Sellwood Bridge and a great blue heron, symbol of wildlife along the Willamette River.

The intent of the paintings is to beautify the neighborhood; THE BEE has learned that the project is supported by local businesses and private residents whose motive is to keep the neighborhood clean and graffiti-free.
The artist was been in contact with the painters hired by the Woodstock property owners to decorate trashcans along Woodstock Boulevard. However, in Westmoreland and Sellwood, the art focuses on elements of the local neighborhood. The designs require a day or two to compose, but less than a day to complete.

With additional sponsorship from local residents and businesses, all the Sellwood-Moreland street concrete trash bins may eventually be decorated in this way.
---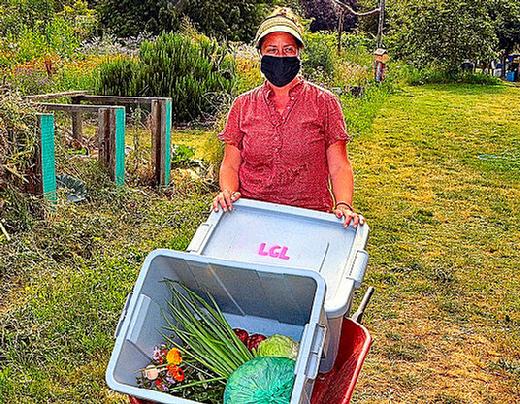 Here, ready to deliver "harvest share" boxes, is PSU "Leadership for Sustainability Program" student Shevawn Armstrong – who is also the Events and Fundraising Coordinator at Learning Garden Laboratory (LGL). (Photo by David F. Ashton)
Learning Garden Lab offers 'farm shares' – via Internet purchase
By DAVID F. ASHTON
For THE BEE
Those driving past the Portland State University (PSU) Learning Garden Laboratory (LGL) site – on S.E. 60th Avenue, across the street from Lane Middle School, in the Brentwood-Darlington neighborhood – may have noticed something is missing this summer: The LGL Farm Stand.
Their fields are filled with crops that look as if they're growing well, agreed LGL Manager Lukas Maurer – and, she assured, they are still offering freshly-harvested produce for sale. But, in a new way.
"It's another Thursday, and we're preparing to distribute this week's 'harvest share' to those who purchased them online, earlier this week," Maurer explained to THE BEE on July 7. "Instead of having our weekly LGL roadside farm stand, because of COVID-19 coronavirus concerns, we're now offering 'harvest share' boxes, which also allow us to 'curate' what we are sharing with folks."
Unlike Community Supported Agriculture (CSA) shares, where people sign up for a locked-in subscription for an entire season's worth of produce, "We're offering something more like a 'short-order CSA', which invites people to make a week-by-week purchase," Maurer said.
The "sales window" on the EventBrite website runs from Monday at 5 p.m. through Wednesday at 5 p.m. each week. Then, on Thursday, Learning Garden Laboratory workers harvest and then pack vegetables for those who signed up to come by and pick up that evening.
"A 'harvest share' is a gathering of whatever is growing in the garden that is ready to pick, and includes well-known garden produce, as well as some unusual edibles from the garden," remarked Maurer. "We have an experiential educational mission at LGL – so we are, in effect, inviting people to try out different types of produce which they might not be familiar with, and then tell them how to prepare and serve it!"
Right now, they're serving about a dozen "harvest share" boxes each week, but they expect demand to top out at about twice that number as the growing season goes on, and as more people learn about the program – which runs through October.
"We appreciate the Brentwood-Darlington Neighborhood Association, which sponsored boxes in our first month," acknowledged Maurer.
Each $25.00 "harvest share' includes include a selection of veggies and herbs (with occasional fruits or flowers), grown and harvested with love by the PSU students. Proceeds from the program support their sharing the abundance of produce with the PSU Food Pantry and Woodmere Food Pantry as well.
To sign up, go online – http://www.eventbrite.com/o/learning-gardens-laboratory-28081025775
---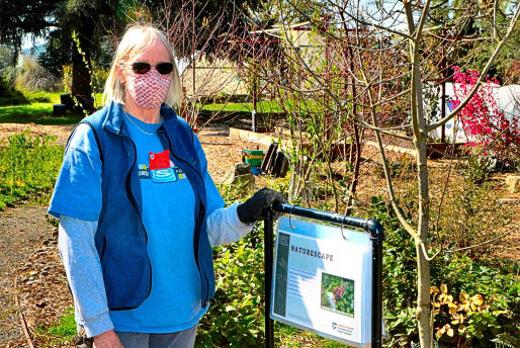 MCMG volunteer Linda Goldser shows how their Demonstration Garden became overgrown while they was locked out, due to the coronavirus (top) – and also the result of several workdays of cleaning it up (bottom). (Photo by David F. Ashton)
'Master Gardeners' finally allowed back into Brentwood-Darlington garden
By DAVID F. ASHTON
For THE BEE
Between the last day when they were allowed to work in their own Demonstration Garden, March 23rd, and June 23rd, the volunteers from Multnomah County Master Gardners (MCMG) – trained by, and affiliated with, the Oregon State University Extension Service – weren't allowed back inside the gates.
"That's why we gave away all of the seedlings we grew for our planned spring crop," explained MCMG volunteer Linda Goldser, on July 7. She was part of a ten-person "work party" in the garden that morning.
"We were able to apply to open our garden when Multnomah County went into Phase 1," Goldser told THE BEE. "We received approval, because our garden activities directly support food production, which the state and OSU see as critical function – because we support food security and address hunger."
MCMG volunteers must nonetheless rigorously follow the current rules handed down to them, including:
Only allow 10 gardeners in the garden at any time;

Only certified Master Gardeners can be in the garden;

All volunteers must take COVID-19 training, mandated by the state and OSU;

Volunteers must all wear masks, maintain social distance, and abide by proper hand-washing and tool-cleaning;

Keep records of who is there and when, in case "contact tracing" should later be needed.
In their "new" Demonstration Garden – in a location hidden away in the northwest part of the property, and no longer visible from S.E. 60th Avenue –16 raised beds are used for edible crops, as well as blueberries, grapes, and an herb bed.
"Five of those beds will remain fallow this summer, due to the limit on volunteer hours we are allowed to have," commented Goldser.
"We also have 14 'Native Perennial Beds' that we have planted and care for – plus the maintenance that it will take to get our garden back to the condition we left it in when we had to abandon it. All of that will take more hours and gardeners than we have right now.
"We are hoping, when our county goes into Phase 2, that we will be able to open the garden to all gardeners and to the community."
While the Master Gardeners are disconsolate that they've lost 3½ months of growing food for those who need it, "Even more, we've lost a whole year in our quest to be able to implement an educational program here at the garden, because all of our events have been cancelled," sadly said Goldser. "But, the timing of our return was lucky, because we are now able to get a summer crop in, at pretty much the last minute, due to Portland's growing season."
Since their return, the garden has seen 194 volunteer hours contributed over 10 work days; and so far, 22 gardeners out of a maintenance crew of 26 have worked to bring the garden back into mid-March mid-March condition.
Asked why they do it, Goldser replied, "Because we love to play in the dirt! And help other gardeners with their gardening questions, and to watch things grow!"
Find out more online – http://www.multnomahmastergardeners.org
---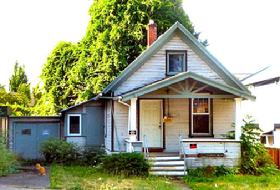 As an example – what historic information on this randomly chosen, obviously older, tiny and ordinary house might be found through online detective work? (Photo by Eileen G. fitzsimons)
SOUTHEAST HISTORY
Tips for 'Stay-At-Home Historic Researchers'

By EILEEN G. FITZSIMONS
For THE BEE
Almost twenty years ago – in the November, 2000, BEE – I provided instructions on how to conduct your own "house history". I have also directed people to a class on that topic, which until recently was offered by the Architectural Heritage Center on S.E. Grand Avenue.

Since many of us are still sheltering due to COVID-19 coronavirus precautions, and might have extra time to pursue a research project, it seems a good time to share my updated research techniques with readers.

This information is aimed at adults, but there is no reason why curious children cannot select a building and follow the steps to learn more about their neighborhood. Nor is the information limited to Southeast Portland; so feel free to share it with friends across the city.
Some of my favorite resources are unavailable (City Directories, and THE BEE on microfilm) because the libraries are closed. On the other hand, in the intervening two decades, many records have been digitized and are available at no cost, 24-7, through the Internet. And most households have at least one computer with Internet service, which was not the case twenty years ago.
You don't have to own a property to "investigate" it, so pick one – residential or commercial – that piques your interest. You may be unable to complete your work in a few hours; so, as you progress, write down the facts you uncover, along with a note to yourself about where you found it. When you return to your search at a later date you won't have to repeat your work, or try to recall what source you were using.

Some public agencies share or duplicate data, so I provide the route that seems fastest to me; but experiment to suit your own working methods. If you have a computer printer, you can make paper copies of many references – but, again, be sure to note on the paper copy where you found it, including any page numbers.
1. Begin with the current street address of the building. This would be something like 1234 S.E. Milwaukie Avenue. Observe where the structure is, such as "east side of Milwaukie Avenue, second house in from corner of Ellis Street." Is it residential? A single family home? Has the house been changed into a multiple family home? How many units are there? (You can determine this by counting the electric meters, because each unit pays for its own electricity, and will have a separate meter.) This applies to apartment buildings, too: Count the meters and you will know how many units are in the structure. Does the building combine both residential and commercial uses? Is there a business at the street level, with apartments above? Or is there a house behind the business? Make sure you write this information down, including the current name(s) of any businesses.
2. Determine the legal description of the building. This is different from the street address! These records are held by the Multnomah County Tax Assessor's Office, and are now available online. While street addresses (Point #1, above) are assigned by the City of Portland, a legal description is assigned by the County. Street addresses can change over time (which I will explain further in this article), but a legal description does not, unless the property is subdivided. The legal description consists of a Lot (most commonly 50x100 feet in size), within a Block, within a named subdivision or plat. Thus the legal description of the imaginary house at 1234 S.E. Milwaukie Avenue, might read as: Brown's Subdivision, Block 4, Lot 18. Building lots are not always 50x100 feet in size; they can be larger, smaller, or irregular. Occasionally they will include parts of another lot, or several feet of an adjacent property. This can depend on when the subdivision/plat was filed, and how it fitted next to another subdivision.
The quickest way to find the legal description is to search online at "Portland Maps". Double-click on the heading "Portland Maps" and you will see a birds-eye map of the city with a small blank in the upper right hand corner. Type the street address of your building into this blank for the date of the building's construction, name of current owner, and other details. Click on "Assessor Detail", and you will see the Subdivision name, Block and Lot. Write this down.
If you want to view the original plat map that your building is in, search online for "Multnomah County Surveyor". This county agency holds the plats, surveys, and any changes to them. If a street has been vacated, added, renamed, or altered, this is the agency that retains that information. Their building is in distant east Multnomah County, but the maps, plats, and other information is now available online. Plats in the SMILE neighborhood go back to 1882 and were handwritten, so good luck reading some of the old writing! But you can print out a copy of plat maps on a home printer. If it was a large plat with hundreds of blocks, like Sellwood or Westmoreland, you will not be able to read the detail from a home printer with 8"x11" paper. The office is presently closed to in-person service, but when they reopen you can visit the office and order a full-size plat map for a nominal cost.
There are also many layers of other information on the surveyor's site, and you can "cruise" their website for hours, as you learn who carved up the neighborhood and when, and perhaps how areas were lost. An example in Sellwood-Westmoreland are streets that were cut off, or house lots that disappeared when McLoughlin Boulevard was opened in the mid-1930's.
3. If your building was constructed before 1934, it had another street number, because the city changed them in 1933. However, the legal description (see #2, above) will be the same; and, if your house number was odd or even, it will retain that characteristic. The fastest way to find the pre-1933 building address is to search online for "Past Portland", a privately-maintained site which is free. Follow the brief instructions, typing in the current street address. Sometimes there will be other tidbits of information, such as the name of an earlier resident, and possibly their occupation. These are probably from City Directories, which are available at the Main Branch Library, which is currently closed. Write down any of this information, including the dates of entries, for follow-up when the library reopens.
4. Return to the Portland Maps site (see #2, above) that has the information about your building. Scroll down, looking for a "Historic Plumbing" heading, and click on it. If there are multiple pages, go all the way to the oldest plumbing inspection application, which hopefully will be a photocopied 3x5 handwritten index card. Changes to plumbing requires the owner or plumbing contractor to apply for a City of Portland Building Department permit. These old permit cards can be "historic gold." The entries can be tricky to decipher, if handwritten; but if you are lucky, can provide many valuable leads. These include the current and pre-1934 addresses; the name of the owner (not always the same as the occupant) at the time of the permit application; whether the house was newly finished or "old". It can tell you when the house changed from use of a cesspool or septic tank to the city sewer system. It should list the upgrades that were made, such as new bathroom fixtures – or, in the case of a commercial establishment, when a beer cooler or restroom was added.
If there are several cards, compare and record the owners' names from year to year, or other details, such as the house changing from one story to one and a half or two, which indicates an addition. And read the backs of the cards. These usually include a sketch by the plumbing inspector of the direction of a sewer line or decommissioned cesspit. Sometimes they will include comments about a house being moved, numerous attempts at inspections, or discovery of illegal DIY plumbing changes. Write all of this down, especially the dates and names of owners. When the library re-opens, these scraps of information can help you find the building owners or occupants.
5. Once you have the names of a building owner, you can try to trace them. You can do that through the Oregonian newspaper, which has been digitized and so has an automatic "index". You can access the paper online, 24-7, if you have a Multnomah County Library Card. Follow the steps on the website for Research, and go to "Historical Oregonian". If, for example, you have an owner's name for 1928, you can call up the newspaper for that year, enter the name and see if any articles turn up. They might not, unless the individual was active in the community or in local events, and was deemed "worthy" of inclusion in a newspaper story.
You can also enter the person's name into the overall search, and request that entries be arranged from oldest to newest; then scroll through each entry that pops up. This can be a frustrating waste of time if you are anxious to find information on a person for a precise period. On the other hand, just browsing back issues of the Oregonian can be enjoyable! For fun, enter your date of birth, to see what was happening in the world the day you were born. Many other digitized newspapers and periodicals are available through the county library Research section. Alas, THE BEE newspaper has not yet been digitized, and the microfilm versions are in the closed libraries.
I hope this process will inform and entertain you during this trying time. There are, of course, other diverting online resources, such as current aerial and street views of the city; Sanborn fire insurance maps; and historic photographs held by the City of Portland Records & Archives Center. Most people know about Ancestry.com (for a fee) for genealogical research.

But I would be pleased to hear that some BEE readers (and beyond) have followed some of these leads to discover new things about their neighborhood and city. Perhaps we can meet at a future date at the Sellwood Community House or at SMILE Station to compare notes and answer questions.
---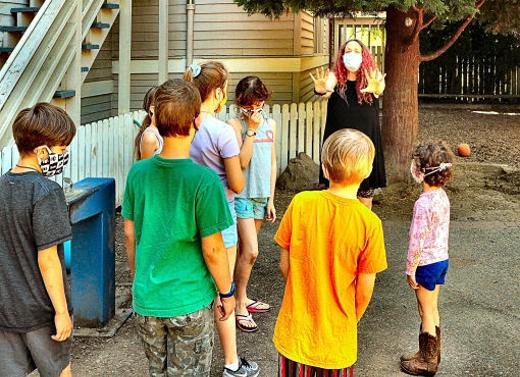 Youths attending a Sellwood Community House Summer Camp learn about Rogue Pack, and its "Summer Theater Camp", from its Executive Director, Ann Singer. (Photo by David F. Ashton)
Nonprofit kids' theater moves to Sellwood Community House
By DAVID F. ASHTON
For THE BEE
Having left its former venue, Sellwood Playhouse, after its sale for demolition and residential construction, the nonprofit "Rogue Pack Theater for Youth" organization has landed at the Sellwood Community House at S.E. 15th and Spokane Street, and is currently offering summer online "theater camps" for youngsters of 9 to 13 years of age.
"We're not rigid about the age; some eight-year-olds can do well in the program, as well as those who are fourteen," said Executive Director Ann Singer. "While we're usually known for our workshops for under-served and at-risk youth, these summer sessions are for youngsters of all backgrounds, who want to learn more about theater."
During each of the two-week sessions, three "tracks" are offered: Musical theater; improvisation; and playwriting for kids.
"Because of the spike of COVID-19 coronavirus cases, we won't be offering these in person; these classes are online, and are being taught by experts. They are a very good value," Singer assured.
The camps run July 20-31, and then again from August 3-14. Each session culminates with a performance by the participating youths online.
Learn more about the sessions, instructors and how to sign up by visiting their website – http://www.roguepack.org
---
On Fridays and Saturdays at noon, people who are experiencing food insecurity are welcome in the parking lot of All Saints Episcopal Church in Woodstock, to receive a box of food that is carried to their vehicle. Pictured is volunteer Laura Axon returning to get another box. (Photo by Elizabeth Ussher Groff)
Woodstock's 'All Saints' responds to community food insecurity
By ELIZABETH USSHER GROFF
For THE BEE
With unemployment skyrocketing during this coronavirus pandemic, more people than ever are experiencing food insecurity.
To help individuals and families, All Saints Episcopal Church at S.E. 40th on Woodstock Boulevard has begun a weekly distribution of food boxes called the "Woodstock Pantry". Every Friday and Saturday at noon, vehicles are welcome at the church parking lot, and are met by volunteers in protective masks who carry out a box of food.
All Saints' pastor Rev. Andria Skornik told THE BEE that the volunteers who greet the vehicles ask those inside if they are currently getting food assistance, or if they are simply experiencing food insecurity. Recipients are asked for their first name and ZIP Code, but no other verification is required at this time.
Vehicles from some thirty households all over the city arrive each week during those two days to get a box with a few canned goods, a loaf of bread, some fresh produce and an assortment of other items to tide individuals or families over through the week.
"When people [throughout the city] started getting furloughed and laid off [and school wasn't in session], the church was concerned that kids wouldn't be able to have school meals," related church volunteer Laura Axon, catching her breath between arriving vehicles. "So the church stepped up to provide the program. It really began with Rev. Skornik, who is a very community-oriented pastor."
In addition to this volunteer work, Axon is also the organizer of the church's Sunday School teachers, and is herself a furloughed teacher-librarian from Sellwood Middle School. "So this is where I spend my time with my kids, volunteering – since my furlough the first week of May."
Axon says church member Jim Hinman, who is also present helping out each Friday and Saturday, is the "lead" for organizing food boxes. He and different teams go twice a week to pick up a total of 1,500 pounds of food from the Oregon Food Bank.
In addition, bread and fresh fruits and vegetables for the food boxes are donated each week by Woodstock markets New Seasons and Safeway. Otto's and Laughing Planet allow the church to use their refrigerator space for boxes of perishable foods. "It's really a community effort," remarks Axon.
Around four volunteers fill the boxes each Wednesday in the sanctuary, and line them up ready for pickup later in the week. Older people in masks do that work, and younger volunteers carry boxes out to the cars on Friday and Saturday.
People driving up for food boxes, as well as a few individuals arriving on foot, come from a number of different ZIP Codes. A woman picking up food for her mother who lives in Milwaukie said she found out about the food boxes from the "Woodstock Cupboard – now called Woodstock Pantry" signs on the corner of the church property. "I work on Fridays and then learned I could pick up at noon on Saturdays," explained the daughter.
A man from ZIP Code 97266 in Outer Southeast Portland commented that the food help had been announced when he came regularly on Saturdays for the church's hot meals program. "This was the only spot for meals where volunteers came around and served you. It was like a fancy restaurant" – something which he indicated he could never be able to patronize. Another frail elderly man said he appreciates the respect shown to him when he comes to pick up food.
Anyone who would like to volunteer to assist with this project can contact Jim Hinman via e-mail – js.hinman@comcast.net – or call the church at 503/777-3829, and leave a message.
For more information and photos about the All Saints' "Woodstock Pantry", Facebook users can go online – http://www.facebook.com/Woodstock-Pantry-110238640747097
---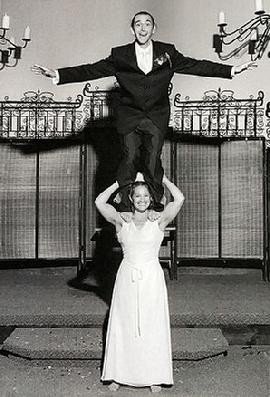 Circus artists and Woodstock residents Aaron Wheeler-Kay and Wendy Cohen began performing and teaching at "Echo Theater" 24 years ago, and performed this stunt as one of their wedding photos in 2003. (Courtesy of Julie Keefe)
Longtime circus artists found in Woodstock neighborhood
By ELIZABETH USSHER GROFF
For THE BEE
An article about a local circus arts organizer in the June issue of THE BEE received a response from two Woodstock residents who have been circus artists, as well as circus arts teachers, for almost a quarter century in Southeast Portland. THE BEE has a way of bringing people out of the woodwork!
Aaron Wheeler-Kay and Wendy Cohen, who have lived in Woodstock for fifteen years, both began performing and teaching at the local nonprofit "Echo Theater" twenty-four years ago. Now Cohen is Director of Education, and Wheeler-Kay is Director of Operations and Community Engagement there.
Situated in the Hawthorne District, the Echo Theater was originally founded as "Do Jump! Extremely Physical Theater" by Robin Lane in 1983. Echo was the first organization in Portland to teach trapeze and contemporary circus. Wheeler-Kay expresses Robin Lane's vision for Echo, which still stands today:
"Lane's vision [was one] of hybridizing circus with theater, choral, dance, and other performance traditions, in order to create temporary and lasting community, to revel in beauty, and to embrace our quirky, striving, noble, human selves."
Today the theater continues to offer dozens of classes, and employs over twenty teaching artists, many of whom also work for other local circus arts organizations.
"Wendy and I were hired within months of one another in 1996 to perform in Do Jump!'s Young Audiences school show, as well as to develop professional work with the ensemble – and to teach single point trapeze, acrobatics, partner acrobatics and ensemble theater skills," related Wheeler-Kay.
"I began apprenticing in the Adult Aerial and Acrobatics class, as well as teaching juggling and basic acrobatics to children," he said in an e-mail to THE BEE. "Wendy co-taught all of the classes offered at the time – teaching acrobatics and trapeze and co-directing the youth company."
Wheeler-Kay says he was hired due to his strengths as a dancer and actor, and Cohen was hired for her strengths as a dancer and acrobat. They began to learn stilt walking and single point trapeze, rehearsing four to five hours each weekday, when they weren't performing.
The couple worked and performed together for two years before falling in love. "We were partners for five years [after that], before marrying in 2003. We took some pictures in our wedding clothing doing acrobatics; and our cake-toppers were able to stand on one another's shoulders!" remembers Wheeler-Kay.
Prior to the COVID-19 pandemic, classes ranged from instruction in aerial dance, to physical theater principles, acrobatics, partner acrobatics, inclusive dance, creative movement, and single point trapeze. The classes also focused on creating a group/community dynamic among students, fostering risk assessment skills and opportunities to create fearlessly.
During the pandemic, Echo is offering 30 online classes for ages 1.5 to adult. Wheeler-Kay says they received a PPP (Payroll Protection Plan) loan, and National Endowment for the Arts funds, in March. He is happy that most of their classes taught online during the pandemic have been successful. "Our teaching staff adapted to the online classes with creativity and humor, using training in improvisation and collaboration to expand our curriculum to the new format, and to keep students engaged."
The most popular virtual classes are Adult Strength and Conditioning, Tap Dance, Mindful Movement, Youth Performance Groups, Get Upside Down (Handstands), and Flexibility Training.
Among the classes for children and family include Home Circus for Youth, Family Circus, Living Room Acrobatics, Circus Fitness for Teens, Physical Storytelling, and Just Keep Spinning (hooping). After their first child was born eleven years ago they began a new program called "Baby Circus" that still continues today.
Wheeler-Kay and Cohen emphasize that Echo Theater is unique in its approach to teaching circus arts: "We trust in the potential of each person to contribute to solutions, to discover their capacity for listening and trusting in others, and to experience their body as a worthy and essential thing. I think most schools start with a statement that is something like 'You can be so much more than you are!' But at Echo, it's more like 'You are already enough, just as you are. What else do you want to be?'"

The couple adds that the theater is following the recommendations and protocols of the Oregon Health Authority and the Center for Disease Control.
This summer both in-person and virtual classes and summer camps are being held. Go online to see what's available – http://www.echotheaterpdx.org/registernow
---
Events & Activities in August
AUGUST 1
Rogue Pack Youth Theater enrolling: Nonprofit "Rogue Pack" Youth Theater has moved to Sellwood Community House – but at present, and already in progress, the organization is offering three online Summer Theater classes for youths of different ages. For more information, go online – http://www.sellwoodcommunityhouse.net/rogue-pack-theater
AUGUST 8
Woodstock church hands out free school backpacks: Today from 1 to 4 p.m., the Woodstock Community Church is handing out free backpacks containing school supplies at the Chinese Presbyterian Church parking lot, in the Woodstock neighborhood. 70 backpacks are available, and will be handed out on a first-come first-serve basis. Parameters will be set in place to follow "social distancing" guidelines for safety. For more information, go online – http://www.woodstockcchurch.org
SCROLL DOWN FOR THE LIST OF COMMUNITY HOTLINKS -- AND USEFUL, AND JUST PLAIN

FUN

HOTLINKS -- IMMEDIATELY BELOW!
Useful HotLinks:
Your Personal "Internet Toolkit"!


Charles Schulz's "PEANUTS" comic strip daily!

Portland area freeway and highway traffic cameras

Portland Police

Latest Portland region radar weather map

Portland Public Schools

Multnomah County's official SELLWOOD BRIDGE website

Click here for the official correct time!

Oaks Amusement Park

Association of Home Business (meets in Sellwood)

Local, established, unaffiliated leads and referrals group for businesspeople; some categories open

Weekly updates on area road and bridge construction

Translate text into another language

Look up a ZIP code to any U.S. address anywhere

Free on-line PC virus checkup

Free antivirus program for PC's; download (and regularly update it!!) by clicking here

Computer virus and worm information, and removal tools

PC acting odd, redirecting your home page, calling up pages you didn't want--but you can't find a virus? You may have SPYWARE on your computer; especially if you go to game or music sites. Click here to download the FREE LavaSoft AdAware program, and run it regularly!

What AdAware doesn't catch, "Malwarebytes" may! PC's--particularly those used for music downloads and online game playing--MUST download these free programs and run them often, to avoid major spyware problems with your computer!

Check for Internet hoaxes, scams, etc.

Here's more on the latest scams!

ADOBE ACROBAT is one of the most useful Internet document reading tools. Download it here, free; save to your computer, click to open, and forget about it! (But decline the "optional offers" -- they are just adware

Encyclopedia Britannica online

Newspapers around the world

Convert almost any unit of measure to almost any other

Research properties in the City of Portland

Local source for high-quality Shaklee nutritionals

Note: Since THE BEE is not the operator of any of the websites presented here, we can assume no responsibility for content or consequences of any visit to them; however we, personally, have found all of them helpful, and posted them here for your reference.


---
Local News websites:
The news TODAY

Local News Daily.com

KATU, Channel 2 (Digital/HDTV broadcast channel 24)

KOIN, Channel 6 (Digital/HDTV broadcast channel 25)

KGW, Channel 8 (Digital/HDTV broadcast channel 8)

KPTV, Channel 12 (Digital/HDTV broadcast channel 12)

KRCW, Channel 32 (Digital/HDTV broadcast channel 33)

KPDX, Channel 49 (Digital/HDTV broadcast channel 30)



---