Community Features
The "Events and Activities" for the month are below these featured stories!
---
Here's a 1970s photo of two groovy guys – Bruce Heiberg on the left and Bill Cuddy on the right, just chillin' by the Heiberg Garbage truck, after a hard day hauling trash cans. (Courtesy of the Heiberg Family)
SOUTHEAST HISTORY
Heiberg Garbage & Recycling: A family business, still cleaning up Portland
By DANA BECK
Special to THE BEE
In 1890, Portland was a dirty town!
Residents and merchants dumped their garbage and slop into back alleys and into the streets. Businesses even refused to clean up the rubbish they cast onto the sidewalk in front of their own stores. The reek of horse manure – horses were the dominant way of getting around town then, as the many hitching rings still on curbs attest – and pungent vapors from food waste could be detected from miles away.
City officials, who at first declined to establish a landfill, finally agreed that it was time to build an incinerator to make the city livable again.
Once that was built and put into operation, residents could haul their trash and yard debris to the city's incinerator, or hire an independent garbage collector to pick up unwanted trash at their home and carry it away.
There wasn't any improvement at the turn of the Twentieth Century; and even as late as the 1920's most people were still burning their household garbage in a wood stove that they also used for daily heating and cooking. Food scraps could be fed to the family dog, or thrown into a hog pen if they had one – or buried.
As people continued using "burn barrels" to dispose of their waste in their own backyards, the resulting smoke turned Portland into a stinky little town.
Some 60 scavengers and junk dealers were listed in the Portland Directory back then. These services prowled the streets of the city, offering to haul away kitchen and market garbage, and unwanted trash, for a fee. Scavengers were our first recyclers: They decided what could be fixed and resold, what items were burnable, and what items (such as tin and iron) could be resold for rebuilding and remodeling. They found creative ways for trash to be repurposed. Nothing went to waste – except for food scraps.
The ladies of the Portland Women's Club put city officials on notice shortly after the turn of the century, complaining about the smell of the garbage near of fairgrounds in North Portland, and all the smoke from households.
It was suddenly a serious issue because, in 1905, Portland was to host the Lewis and Clark Exposition. Thousands were expected to attend this World's Fair. Portland's ladies were appalled at what the streets of our fine city were looking like as the fair's opening approached; the Portland Women's Club didn't want to see Portland publicized as the smelliest city in the nation.
Apparently, Board members of the local World's Fair and the Portland City Administrators agreed, because the roads and bridges were cleaned up, and kept clean of debris every day throughout the Exposition, and nobody complained about the air quality. Those who visited Portland not only came away with a positive attitude about the Rose City, but soon after the World's Fair closed hundreds of fair attendees decided to just stay here permanently!
With the fair closed, though, the aggressive city cleanup program ended; and within the next ten years, Portland found it necessary to begin looking for a suitable "town dump" for the organized disposal of garbage and trash.
Recycling was not initially a major concern, but by the end of the 1930s it was becoming critical, with World War II already in progress in Europe. And it was suddenly essential to our own war effort when the United States entered World War II in late 1941. With a shortage of war materials like gasoline and rubber tires, the U.S. Government encouraged residents to salvage and collect materials that helped supply the troops overseas.
School children, and Boy and Girl Scout Troops, were recruited to lead drives and collect used items in their neighborhood. Especially needed were paper, aluminum, tin, iron, steel, and rubber. Even odd items like used silk stockings and cooking fat were needed for the war effort; the glycerin in cooking fat was a key ingredient in explosives, for example.
Meanwhile, in the Sellwood-Westmoreland neighborhood, the system for collecting garbage in Multnomah County – right up to the middle of the last century – had been essentially unregulated. Privately-owned garbage companies competed against each other, and residents and merchants could choose which hauler they wanted to pick up their waste. Customers unhappy with their pick-up service simply had to phone one of the 250 other garbage collectors listed in the Yellow Pages of the city telephone book, and hire another service. Today, residential garbage collection in Portland is by city mandate a regulated monopoly in each district.
Marian Heiberg stands beside the 1946 V8 Ford hydraulic garbage truck with side gates, that Vern Heiberg used when he first began operating Heiberg Garbage. Parked in front of their house in Westmoreland, this Heiberg truck is filled with rags collected on the route, ready to be hauled to the recycling depot. (Courtesy of the Heiberg family)
World War II ended in 1945. In 1947, Vern Heiberg, who lived in the Creston-Kenilworth neighborhood, decided to start his own garbage business. Scanning the classified ads in the daily newspaper, he found and purchased a sanitation route and a truck, borrowing the money to do so from his brother-in-law, Tony Sanseri, who operated a produce company on the east side of town.
The truck he bought was a 1946 Ford V8 model, with a hydraulic lift; and it included side gates, which could be folded down on either end of the rig to make it easier to empty garbage into the bed of the truck. His wife, Marian, agreed to take care of the accounts.
Adding new customers, sending out invoices, collecting payments, and raising five rowdy boys – Jim, Jerry, Bruce, Brad, and Brian – kept Marian busy. Vern had to apply for a chauffeur's license to drive his vehicle, and he also become a member of the A-F-of-L union.
During my recent interview at the Heiberg Garbage and Refuse office, family members who still run the business showed this BEE writer the original metal chaffers and union pin that Vern kept on hand, just in case he was asked to produce them.
Renting a garage to store the garbage truck would have been expensive, so usually the Heiberg sanitation truck was parked out in front of the house they'd just bought in Westmoreland. Bruce Heiberg, Vern's son, recalls that all the kids in Llewellyn School would gaze in amazement when his dad dropped him and his brothers off at school in the garbage truck!
Later, Vern was allowed to park his truck at the neighborhood gas station, a few blocks from the Heiberg home. And eventually the Heibergs purchased a shop at S.E. 24th and Umatilla Street, which was more convenient, and also helped protect the truck from vandalism.
Vern ran the truck by himself for two years before the strain of lifting and dumping garbage cans became too hard on his back, at which point he hired a close friend, Adam Cooler, to do the heavy lifting and run the route.
And although the war was past, and residents were no longer required to recycle items, the Heibergs decided to maintain the practice of recycling – which not only cut down on dump fees, but also allowed them to receive a fee for collecting and turning in glass, bottles, and rags.
Vern's son Bruce explains that recycling then was quite different than what we are used to today. On garbage day, customers would leave a bundle of tied newspapers on top of their garbage cans. All the men had to do when they picked up the garbage was empty the galvanized can, and throw the recyclable newspapers into another portion of the truck to be sorted at a later time.
By 1947, every household in Portland was required to provide a galvanized-iron covered can for their garbage, and the charge for monthly service was only 90 cents per can.
Trash collecting was still rather primitive, and garbage collectors used whatever means and vehicles they could, for picking up the waste and hauling it away; most junk dealers and collectors used oversized trucks with ladders attached to the side. Trash collectors would throw garbage into the bed of their truck until it was full, and then head out to the nearest dumpsite. On arrival at the city dump, the driver would unload his truck full of garbage by using the ladder to climb up the side of the overloaded truck, and then throw the debris out the back with a shovel or pitchfork.
Back then, only a few trucks were equipped with the hydraulics needed to raise the bed of the vehicle and empty it.
Heiberg Garbage bought their first compactor truck in 1967, making waste collections safer and more efficient. Workers were able to finish their routes faster, and save the company a considerable amount of money.
In the summertimes, when school was out, most pre-teens and teenagers in that era headed for the Oregon Coast on vacation, took overseas trips, or hung out at the Sellwood Swimming pool. But not the Heiberg boys; they were expected to spend their summers and weekends collecting garbage and driving the truck. Picking up waste was exhausting labor for the boys.
Bruce, recalling the days of being a driver during the summertime, recalls, "Times were different back in the 50's and 60's. When the garbage man arrived each week, it was a social experience for many customers along our route."
There was a trust issue between a customer and their garbage man. Unlike today, when customers are asked just to leave their garbage can out by the curb, waste collectors offered more personal service – climbing porch stairs, opening gates, or trudging through backyards to pick up and replace the household garbage cans. It wasn't unusual for them to bump into a housewife, with pink foam and plastic curlers in her hair and wearing a bathrobe – or to encounter an elderly gentleman wearing a night cap and slippers – in the course of collecting the trash.
Most residents looked forward to greeting the garbage collector. and perhaps even catching up on neighborhood gossip if they had a moment to chat.
It was hard work, but a wonderful time for Bruce, and he came to know a lot of customers. With weekly pickup service, the garbage man had to know the habits and routines of all of his customers: Bruce knew which households were on vacation; or, he might suspect a customer was sick if they didn't come out to greet him on their regular service day.
Bruce Heiberg reports that one of his customers always gave him a hug every week. And on one occasion, a Mrs. Yanker, a customer on his route, found out that his family was expecting a baby girl, and she presented Bruce with a handmade infants' dress. And, during the Christmas Season, garbage men often had to make room in the cab of their trucks to accommodate presents that many customers would give them.
In 1973, just a year after he graduated from Benson Polytechnic High School, Bruce was given what he considered the golden opportunity to buy the family business from his dad. It was a big responsibility for someone so young, but Bruce said that doing so was one of the best decisions he ever made. Bruce drove the routes during the week, and then on the weekend spent most of his time taking care of the accounts, leaving little free time for other activities.
He operated the company by himself for eight years, and then offered his youngest brother, Brian, the opportunity to join him in day-to-day operations, and become part-owner. Together the two of them increased their customer base, and made Heiberg Garbage and Recycling, LLC the most well-known, dependable, and respected sanitation company around.
One of Bruce's favorite stops was at the "Schoolhouse Antiques Reproductions" store on S.E. 13th Avenue in Sellwood, where a Ms. Kris Kevan worked behind the counter. Kris had arrived in Sellwood as a single parent, and the owner of the store suggested that Kris "check out those young men", pointing to Brian, Bruce, or Brad, each week, as one of them came to pick up the trash. Playing cupid, the store owner even went so far as to lock the back gate where the garbage cans were stored, requiring Bruce or one of the other brothers to go to the front of the store and ask Kris for the key.
"When I saw Bruce, I thought he was kind of cute," recalled Kris, "So I found out that every Wednesday morning he had breakfast at Bertie Lou's at 9 a.m., so I made sure I was there too."
Those early-morning breakfast encounters led to a marriage proposal, and the couple soon married and raised a family that included Joshua, Jonathan, Jessi, Jimmy, and Joe. And, just like Bruce and his brothers, when they became old enough, there was always work to be found for them at the office or out on the road. Almost every member of the Heiberg clan can boast that they worked, at one time or another, in support of the family business.
As the population of Portland and the suburbs began to grow, finding a suitable place to dump garbage was becoming a serious concern. The city incinerator was finally closed down in favor of using landfills – and some of the places chosen for those included wetlands, and covering up the trash with soil. Bruce Heiberg remembers when there was a dry landfill in Oaks Bottom just north of today's Sellwood Riverfront Park, which many garbage haulers used well into the 1970's.
And, during the early years of Portland, even Ross Island was once considered as the location for a dump – but public fear that the smell of garbage would permeate the nearby neighborhoods with foul smells blocked that plan.
Eventually the city settled on a new landfill, this one to be located in the St. Johns neighborhood in North Portland. During the busy season, over 100 trucks might be lined up to use the St. Johns landfill; and, Bruce observed, "For the drivers, it would be a good place to catch up on the news and network".
It was there that they gathered to trade information, discuss business proposals, or gossip about unruly customers they'd dealt with on their route. There, too, Bruce would gather firsthand knowledge about who was deciding to retire or who wanted to sell their small garbage company. He ended up buying a few small businesses that would otherwise have been gobbled up by big corporations. Bruce comments that the Heiberg Garbage and Recycling Company has always prided itself on providing personal service to every customer.
Garbage service has definitely changed. Nowadays garbage trucks have mechanized roll carts, which makes the job easier and faster. Workers usually don't even have to get out of the truck to pick up heavy trash cans. During the early years, Bruce and his crew had to use a "carry can" – which was a huge aluminum can with a shoulder strap. The men would go to 4 or 5 houses and dump each home's garage in the "carry can", and then haul it all back to the truck. The "carry can" could weigh as much as 50 to 60 pounds when full, and that put a tremendous strain on the broad shoulders of garbage collectors.
When Vern Heiberg first started his business, it was with a one truck and it was a one-man show. Today, Heiberg Garbage and Recycling, LLC, operates 39 trucks and employs nearly 55 people – and they collect garbage and recycling in a number of different neighborhoods around the city.
Jessi and Jimmy Heiberg handle most of the current day-to-day operations. An additional 11 backup trucks are kept in good repair and tuned up ready to go in the garage, where a full-time mechanic is needed to keep all of the company's trucks in top shape.
As the business continued to grow, in 1996 the Heibergs moved their operation to Harvester Drive in Milwaukie, where the vehicles are stationed, and the office operations are located.
As part of their community involvement, for the past 40 years, Bruce and the Heiberg family have partnered with SMILE, the Sellwood-Westmoreland neighborhood association, in offering what is now the oldest annual Community Cleanup Day in the State of Oregon. It happens every May. And, Heiberg Garbage and Recycling is now one of the dwindling number of long-time family businesses still in existence in Inner Southeast Portland.
Bruce and Brian Heiberg tell me that they hope that people today, and the generations that follow, will continue to educate themselves about the many ways they can recycle, and help reduce waste and save the planet. That's a wise thought from the men who pick up much of the city's trash each and every week.
---
Antique and specialty vehicles added extra interest to the 25th annual Eastmoreland Independence Day Parade. (Photo by David F. Ashton)
Eastmoreland hosts 25th Independence Day Parade
By DAVID F. ASHTON
For THE BEE
The combination of a beautiful summer day, and anticipation of the annual parade-and-sausage-eating party, appeared to put Eastmoreland neighbors in a jovial mood on July 4.
Long before the parade began forming in the parking lot of Duniway Elementary School, folks from Otto's Sausage Kitchen & Meat Market in Woodstock had already set up charcoal chimneys on multiple grills, ready to cook hot dogs.
"We've kind of lost exact count, but we've made about 2,000 hot dogs to serve here today," Jerry Eichentopf' told THE BEE.
Workers loaded the first batch of wieners from the grill onto a platter, and Eichentopf' offered them to Portland Police Bureau Traffic Division motorcycle officers who were there on Parade Duty; many of them accepted the gift and ate the hot dogs with relish – some also adding sauerkraut, mustard, and catsup.
"We're excited that this is the 25th anniversary of holding the Eastmoreland Independence Day Parade, an event started by Ken Brooks; and I didn't want to miss this one!" grinned returning organizer Steve Calderaro. "It's great to see everyone coming together today."
The Arthur Bradford family of the "Save the Giants" organization [see separate story] were honored as the Grand Marshals this year, Calderaro said. "I think everyone enjoys being part of this neighborhood; but to witness the neighborliness, and participate in this wonderful event, is heartwarming – from the singing of our National Anthem, to the parade of cars, to all the folks walking – to having a hot dog from Otto's Sausage Kitchen! It all epitomizes the best of Americana."
Many of the one-thousand residents present, with hot dogs in hand, and with cold sodas donated by the Woodstock New Seasons Market, lined up for the parade – led off by Westmoreland's Fire Station 20 Engine Company, and escorted by those Portland Police officers.
After Tammy Balajee sang the National Anthem, Cub Scout Pack 64 served as the official Color Guard, the fire engine rolled out, and the parade proceeded behind it along S.E. Reed College Place and back.
---
A sea of bubbles float into the air, in remembrance of The Dougy Center clients' departed loved ones, as the climax of "Michael Freres Kids' Day" at Oaks Amusement Park. (Photo by David F. Ashton)
Dougy Center supporter bids adieu at Oaks Park Kids' Day
By DAVID F. ASHTON
For THE BEE
More than 600 kids and their adult family members who attend grief support groups at The Dougy Center enjoyed a day of rides, food, and fun at the 12th annual "Michael Freres Kids' Day" on June 28 at historic Oaks Amusement Park.
It was a somewhat bittersweet day for the event's founder, Larry Freres – who announced he's moving away from Portland to live closer to his family.
After he received a plaque from Executive Director Brennan Woods, showing the appreciation of The Dougy Center, Freres addressed the group gathered under the trees, just north of the Oaks Park Dance Pavilion.
"I'm passing on all the responsibility for 'Kids' Day', and I am assured that Brennan and all of the people at the Center will continue this wonderful event," Freres said. "It'll always be a day for the kids and for the families – giving them a fun summer day."
Freres mentioned that after his son, Michael, died, The Dougy Center helped his grandchildren and family through the difficult time. He then read a message from his daughter:
"I love you all, and we are with you and heart and spirit today. Thank you for helping so many, and – Larry – thank you for laying the groundwork for such a great event."
"This Kids' Day is in the spirit of what my Michael was all about: having fun with kids, getting people together, and having a wonderful time. Over the last 12 years I know we've achieved that," Freres said.
Finally, he thanked the sponsors who have made the special day possible, including RE/MAX Real Estate, Voodoo Donuts, Pizza Schmizza, and Baskin-Robbins; and gave special thanks to the band which has played at the event for the past nine years, "Bad Habit".
The Kids' Day at Oaks Park ended with a "bubble release", soap bubbles blown by the kids attending, to honor their deceased loved one.
Find out more about The Dougy Center online – https://www.dougy.org.
At a special storytime at The Dougy Center, Slumberkins founder Kelly Oriard reads to kids – introducing the company's new "snugglers" toy, named "Sprite". (Photo by David F. Ashton)
Makers of plush toys give dollies to Dougy
By DAVID F. ASHTON
For THE BEE
The founders of Vancouver-based "Slumberkins" have developed what they call "snugglers" – toys to support specific social-emotional situations, providing parents and caregivers with resources to promote positive skills for young children.
The co-founders of the company came to The Dougy Center for Grieving Children & Families on S.E. 52nd Avenue on last spring to engage the children there in their program using a "storytime" – but more, to donate a special "Slumberkins" toy to the 120 participants to take home.
"Partly, the idea to create 'Slumberkins' – especially 'Sprite', which we're introducing here today – came from when I did my Masters work in Family Therapy with the Dougy Center's longtime past Executive Director Donna Schuurman, PhD," explained company co-founder Kelly Oriard.
"Donna led my course on 'Grief and Loss', and was completely inspiring," Oriard said. "What I learned about grief and loss, especially with kids, is something I took with me in my career of being a therapist."
She and her business partner, Callie Christiansen, came up with a line of "snugglers" and books to help parents connect with young children on several topics. "This one, 'Sprite', is a tool that parents can use to help open up conversations around grief."
Specifically, "Sprite" has an "affirmation to share, helping children understand that, while a loved one may no longer be by our side, they are still in our hearts," explained Oriard. "Sprite's story is shared in an accompanying book, written to help explain grief, and to show little ones the memory of a loved one will always be with us."
Because the toy company partners revere the work done by The Dougy Center here in Southeast Portland – as well as their work with the National Center for Grieving Children & Families – they decided to give "Sprite" packages to local kids.
"Having worked together preparing the book and 'Sprite', we believe this set is, and will be, a wonderful addition for our kids – helping fulfill The Dougie Center's mission of providing safe support to grieving kids and families," acknowledged the Center's Executive Director, Brennan Wood.
Judging by how the youths took to their new-found cuddly creatures, the gift was well received.
To learn more about "Slumberkins", go online – https://www.slumberkins.com.
And to learn more about The Dougy Center, visit their website – https://www.dougy.org.
---
Blocks of Styrofoam are often seen at the curb or in garbage cans. But, please – do NOT put Styrofoam into the garbage. There are actually good alternatives! The next date for free recycling of Styrofoam and #6 plastics at the Division Street New Seasons Market is Thursday, August 29, 1-4 p.m. (Photo by Elizabeth Ussher Groff)
Styrofoam: Get rid of it without putting it into the garbage!
By ELIZABETH USSHER GROFF
For THE BEE
One warm summer day, large blocks of clean white Styrofoam could be seen flowing out of a garbage can on pickup day at S.E. 43rd Avenue, in the Woodstock neighborhood. Down the street, more block Styrofoam, or "packing blocks", were peeking out of another garbage bin.
If you are cleaning out your basement, garage, or apartment, and come across block Styrofoam, do NOT put it in the garbage! It is not biodegradable, and should be kept out of landfills and the environment. If it gets into the environment, it harms animals and birds when they try to ingest it.
But what are neighbors to do? Far West Fibers Recycling, formerly on S.E. 26th between Pardee and Schiller Streets, has closed. People chat online about where to recycle this stiff, white, hard-to-recycle product. One reliable drop-off location is in Tigard; but that can certainly be inconvenient for some people who live in Southeast Portland.
A closer alternative for recycling block Styrofoam is at the New Seasons "Seven Corners" Market at 1954 S.E. Division Street, just north of the Brooklyn neighborhood. They will accept up to two large bags – 50 gallon bags – of block Styrofoam, once a month, for free. They have also informed THE BEE that, on each recycling day, they will accept #6 plastics.
However, if you call the Metro Recycling Hotline 503/234-3000, they usually suggest taking it to the facility in Tigard because the date for New Seasons Division drop-off is not easy to obtain – it is set each month at New Seasons, rather than being on a consistent day each month. The Metro hotline is, however, notified by New Seasons, whenever the date is set – and the next one, where Styrofoam and #6 plastics will be taken, is Thursday, August 29, 1 to 4 pm, at Seven Corners New Seasons.
But for dropping off your Styrofoam on other days, it should be taken to Agilyx Recycling Center, 13240 S.W. Wall Street in Tigard, 503/217-3160. They are open 24 hours a day, seven days a week.
Fred Meyer stores also accept Styrofoam and electronics on certain Saturdays, as part of their "Green Days" events, co-sponsored by the Trail Blazers.
An online Fred Meyer notice announces: "The [Green Day] events will feature special appearances by Blaze, Fred Bear, the Blazer Dancers, and other Trail Blazer personalities. Fans can take advantage of the vendor village, enjoy delicious samples and free goodies, snap a photo with Trail Blazer personalities, get an autograph, and support our environment. You could even win tickets and other great Trail Blazers prizes."
These Green Days are scheduled in advance – but at only one location. A Green Day event this month, to which Styrofoam can be taken, is on August 17th at the Fred Meyer store at 11425 S.W. Beaverton Hillsdale Highway in Beaverton, from 11 a.m. to 3 p.m.
---
For decades, this unique building was a landmark on S.E. Foster Road, as people traveled between Portland and the Lents neighborhood. (Contributed historic photo)
John Leach's pharmacy bldg. on Foster to be preserved
By DAVID F. ASHTON
For THE BEE
What's now known as Leach Botanical Garden in East Portland wouldn't have existed, had not John Leach first successfully created and run his Phoenix Pharmacy – starting in 1922, on S.E. Foster Road at 67th Avenue – in what's now called the Foster-Powell neighborhood.
"Over the years, many people advised us to demolish the building and construct a new and more-spacious high-rise on this corner," remarked Matt Froman of "Foster the Phoenix LLC", while he was working on the building.
"Razing the building and constructing a new structure would have provided more square footage for less money; but I and my partners don't want to see another 'big box' here. We think it's in important to save a building like this; it's something that makes Portland really special," Froman told THE BEE.
While looking up the history of the building, Froman said, he'd learned that the iconic curved brick corner building had once been one of the best pharmacies in the state – and also acted as the headquarters for local YMCA and Chamber of Commerce chapters. The building was eventually donated to the YMCA in 1970, to be sold for their benefit. Since then, the property has passed through several hands, with the most recent tenant closing the doors in 1999.
Ready to stencil the name of this restoration project near the front door is "Foster the Phoenix LLC" partner Matt Froman. (Photo by David F. Ashton)
"My father, Buck, of Buck's Stove Palace up S.E. Foster Road at 68th Avenue – he's been in business here since 1974 – purchased this building in 1999 from Allen Washbaugh, who ran 'Allen's Used Phones' and 'Allen's Videos' here," recalled Froman.
"My dad's original idea was to turn this building into a grand 'Stove Museum and Art Center' – but, for the past 20 years, instead he's focused on his business of selling, installing, and maintaining wood stoves. And, over the years, he filled the building with antique stoves and architectural features, instead of redeveloping it."
In 2012, Froman recalled, he himself had the "grand scheme" of creating a music venue or brewpub in the building. "But now, I just want the building to come to life again – and to be a place the neighborhood can be proud of; and perhaps be a destination."
With that aim, "Foster the Phoenix LLC" partnership was created on August 23, 2018, involving Matt Froman, and historic preservationists Rick Michaelson and Karen Karlsson. The enterprise was set up with the purpose of resurrecting the Phoenix Pharmacy building.
They've spent months clearing Froman's father's "collection" out of the basement, main floor, mezzanine, and second floor – and they hope to begin renovations this summer.
Touring the building is like stepping back in time.
In the basement, the door of a massive "Pacific Coast Vault Co." safe is open. Although the surfaces are in rough condition, the mezzanine is sturdy – constructed from 2x4s, stacked on their sides. A rounded-corner second floor room looks much as it did when it famously served as a dental office for decades.
"The building has beautiful character and heart, doesn't it?" Froman asked with a smile.
But the structure's makeover task is daunting, Froman commented. "Although the building is solid, it needs a complete renovation, starting with a new roof; then – seismic upgrades, a rebuilt storefront modeled after historical photographs, reconstruction of the office on the second floor, and new mechanical and utilities systems."
The partners are currently working with the Oregon State Preservation Office (SHPO) to place the building on the National Register of Historic Places, and to enroll it into Multnomah County's special assessment program. And, SHPO recently awarded the project a competitive "Diamond in the Rough Grant" to reconstruct the storefront that's been boarded up for decades.
Because the structure is located on the western edge of the Lents Town Center Urban Renewal Area, Froman said the Phoenix Pharmacy Building project has also been awarded a Prosper Portland "Prosperity Investment Program Grant", as well as a pre-development loan to help jump-start redevelopment.
When restoration is completed, Froman commented, he's confident that the main floor will appeal to a restaurant or retail shop owner, and that people providing professional services will again return to inhabit the second floor.
To learn more about this unique building, go online – www.FosterThePhoenix.com.
---
Marching along side streets, Brentwood-Darlington neighbors enjoyed the morning, in the annual BDNA "Fourth of July Parade". (Photo by David F. Ashton)
With parade and party, Brentwood-Darlington neighbors celebrate July 4th
By DAVID F. ASHTON
For THE BEE
Now in its fifth year, the Brentwood-Darlington Neighborhood Association's (BDNA) Fourth of July Parade and Party seemed to hit its stride this year.
On that morning, parents helped their kids decorate bikes, wagons, and strollers, before setting out for the neighborhood parade.
"This is one of our best community-building events," smiled BDNA Chair Chelsea Powers. "Everyone celebrating together – which helps to bring our community together in a fun, low-pressure event for neighbors of all ages and abilities – everyone's welcome!"
The only restriction on the parade is that all entries must be non-motorized, she reported.
"Walking together in our neighborhood as a group, it just feels like the right kind of celebration here," observed Powers.
The parade headed out from the Brentwood Darlington Community Center east on S.E. Ogden Street, before doubling back for a party that included a potluck luncheon and games.
---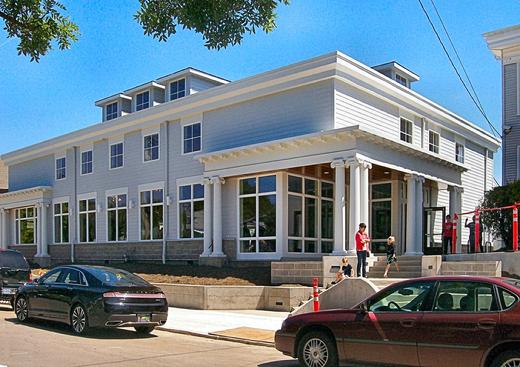 Sacred Heart Church's new Fellowship Hall on S.E 10th Avenue in Brooklyn is now open. (Photo by Rita A. Leonard)
Brooklyn church's new Fellowship Hall completed, and open
By RITA A. LEONARD
For THE BEE
Sacred Heart Church's new Fellowship Hall on S.E. 10th Avenue in the Brooklyn neighborhood opened neighbors to visit on June 1, and to the church's parishioners on June 2.
At the earlier informal inspection, visitors were able to admire the two-story public meeting space, and chat with architect Kevin Godwin of SG Architecture, as well as others who assisted in the year-long construction project.
Wide windows and six chandeliers were lighting the meeting space, which was dotted with chairs and tables to serve visitors snacks and celebratory drinks. Father Bob Barricks, fresh from Sunday Mass at the nearby church, chatted with visitors and volunteers at the breakfast buffet. Choir Director Marie Phillippi and Carol Biel, piano accompanist for most of Sacred Heart's services, also provided information on the new building.
The new hall features the same Ionic columns and Gothic design elements as the adjacent rectory and Catholic Church, providing a unified parish frontage. Daryl Phillippi revitalized the 57-year-old wooden sign that originally hung at S.E. Center Street and Milwaukie Avenue, and it now hangs from the new structure.
A basement kitchen houses the St. Vincent de Paul Food Bank, chaired by Gary Lancot. Design committee leader Margaret Barilko told THE BEE, "We serve about 200 people through this organization, with 30 volunteers making about 35 weekly foodbox deliveries to families. The original baptismal font displayed above the south entry doors was rejuvenated by Teresa Rivelli, before placement."
Parishioners donated over $2 million to the building fund during the planning period. Parking and landscaping were the last details completed. Susy Petersen sat at a table near the hall entrance, registering donors and walkers for the "Stepping Out to Cure Scleroderma Walk" to be held on June 29th. "This is the second year we've had a 'Sacred Heart Has Heart' team," she commented. "We do this in support of one of our parishioners, who suffers from Scleroderma."
Weeks later, the official celebration and blessing of the new Parish Hall took place on June 28.
---
At the gathering, Ardenwald-Johnson Creek Land Use Chair Lisa Gunion-Rinker and Portland Parks & Recreation Natural Area Stewardship Coordinator Susan Hawes shared a laugh. (Photo by David F. Ashton)
Tideman Johnson Park 'friends' celebrate season
By DAVID F. ASHTON
For THE BEE
Wrapping up their latest season of maintaining the Tideman Johnson Natural Area, the all-volunteer group, "Friends of Tideman Johnson" got together on June 1 for a potluck barbecue at the home of the committee's Chair, Marianne Colgrove.
"We take the summer off – but the rest of the year, we restore habitat by removing invasive weeds, putting in native plants, mulching, watering, and tending those plants," Colgrove said.
Doing this keeps the "natural area" beautiful for people walking and biking on the paths and boardwalk in the 7.7 acre park, which is located in the Ardenwald-Johnson Creek neighborhood east of S.E. McLoughlin Boulevard.
"We've had eight restoration events this year – nine, if you count participating in the annual Johnson Creek Watershed-Wide Clean-up," Colgrove told THE BEE. "We couldn't do it without the faithful help of our volunteers, and the support of Portland Parks & Recreation.
"We love it, we take care of it, that's why we'll be back at it again this fall," Colgrove promised. In the meantime, BEE readers should feel free to go enjoy the park.
---
Southeast Events and Activities
AUGUST 20

Red Cross Blood Drive in Woodstock today:
A Red Cross Blood will take place this afternoon from 1:30 to 6:30 p.m. at Woodstock Bible Church, 5101 S.E. Mitchell Street. You can register online to request a convenient time at –
https://www.redcrossblood.org
– although walk-ins are also welcome. Many blood types are in short supply – your donation today helps save lives.
AUGUST 24
History stroll in Sellwood this morning: Today, 10 a.m. to noon, Sellwood -Moreland historians and BEE writers Eileen Fitzsimons and Dana Beck will lead a walking tour focused on the history and development of Sellwood, "Part II – 1900 to the present". Open to the public, but registration is required. To register, or for more information, contact the Architectural Heritage Center – e-mail info@VisitAHC.org; or call 503/231-7264.
Dahlia show at Oaks Park's Dance Pavilion: The North Willamette Region Dahlia Show is open today and tomorrow at Oaks Park's historic Dance Pavilion – hosted by Portland Dahlia Society, in conjunction with its 91st annual show. Thousands of dahlia blooms and arrangements from throughout the Pacific Northwest will be competing for the title of Best in Show. Honored as "Dahlia of the Year" will be Hollyhill Jitterbug, a show-stopping orange semi-cactus variety originated by Ted and Margaret Kennedy of Oregon City. Also featured will be "micro dahlia" varieties – identical to standard dahlias in form, but blooms are limited to two inches in diameter. The show takes place noon to 5 this afternoon, and from 10 a.m. to 3 p.m. tomorrow. Bouquets of dahlias will be available to the public at a nominal price. Admission to the show, and parking at Oaks Park, are free.
AUGUST 30
Cleveland High School Class of 2009 Reunion: This evening, 6-10 p.m., the Cleveland High School Class of 2009 Reunion takes place at the Eastmoreland Golf Course Bar and Grill, 2425 S.E. Bybee Boulevard. If that's your class, you need to be there tonight!
SEPTEMBER 7
Benefit pancake breakfast today in Milwaukie: Just south of Sellwood, down McLoughlin Boulevard, the American Legion Post 180 presents an all-you-can-eat pancakes and sausage breakfast, 9 a.m. to noon, for $10 per person (children 12 and under, $5). The address is 2146 S.E. Monroe Street. It's a great breakfast to support a worthy cause – the Corporal Diffie Veteran's Fund, to give basic temporary assistance to Veterans facing dire circumstances. Raffle items from local sponsors, as well.
SEPTEMBER 14
Mid-Autumn Festival this afternoon at Woodstock Library: Families and kids, come to the Woodstock Library 2-4 p.m. this afternoon and celebrate Mid-Autumn Festival (also known as the Harvest Moon Festival), one of the oldest and best-loved holidays in many parts of Asia. Join with friends and family to participate in fun craft activities, and enjoy traditional moon cakes. Free. The Woodstock Branch Library is on the corner of S.E. 49th and Woodstock Boulevard.
SEPTEMBER 16
Red Cross blood drive today in Westmoreland: Give blood today at Moreland Presbyterian Church, 1814 S.E. Bybee Boulevard, 2 to 7 p.m. The Bloodmobile will be in the east parking lot on S.E. 18th Street. Walk-ins are accommodated as space permits, but to avoid waiting, make an appointment for a time you prefer by calling 1-800/733-2767.

SEPTEMBER 18
Raptor Rendezvous at Sellwood Library: For kids and families – this afternoon, come meet a live raptor! And listen as "HawkWatch International" talks about the work they are doing in Oregon, and why it is important. Free tickets available 30 minutes in advance; come early to be sure of a seat. 4 until 4:45 p.m. at the Sellwood Branch Library, S.E. 13th Avenue at Bidwell Street.

SEPTEMBER 20
Oktoberfest at Oaks Amusement Park in Sellwood: From today through Sunday, nonprofit Oaks Amusement Park presents its annual Oktoberfest for the whole family – with German food and beer, live polka music and dancing, wiener dog races, Kinderplatz children's area, local craft vendors, and more. Plenty of free parking, on Oaks Park Way, north from the railroad tracks at the west end of S.E. Spokane Street. More details online at – http://www.oakspark.com
SEPTEMBER 21
Eastmoreland Oktoberfest at Holy Family: The annual "Eastmoreland-Woodstock Oktoberfest" fundraiser today is again hosted by Holy Family Parish, 7425 S.E. Chavez Blvd (formerly 39th) – operated and run by HFP Knights of Columbus Council and the Holy Family School PTO. This afternoon, the Beer Garden, Dinner Tent, food, and live music run from 1 to 8 p.m.; and the Carnival from 2 to 8 p.m. Open to all.
Cleveland High School multi-year Reunion 1973, 1974, 1975: The CHS classes of 1973 through 1975 are joining together for a reunion this evening, 7 to 10:30 p.m., at the Eastmoreland Golf Course Clubhouse, 2425 S.E. Bybee Boulevard. Cost is $25 per person, paid at the door. Casual dress, no-host bar, appetizers. For questions, or to RSVP, e-mail Kim Patterson McAdams at – kjmcadams33@gmail.com
SEPTEMBER 24
Computer Basics for adults at Sellwood Library: If you've never tried a computer before, here's a two-hour class, 10 a.m. to 12 noon, in which you will learn the basics of using a computer, a keyboard, and a mouse. No experience is necessary for you to take this relaxed and fun class. The class uses Windows-based laptop computers. It's free, but registration is required; register in the library, or by calling 503/988-5123. The Sellwood Branch Library is on the corner of Bidwell Street and 13th Avenue.

SEPTEMBER 27
Folk Music Concert season starts tonight: The Portland Folk Music Society starts its nine-concert season tonight with a performance by Jim Kweskin and Meredith Axelrod at the Reedwood Friends Church, where all nine concerts take place – 2901 S.E. Steele Street, in the Reed neighborhood. Doors open at 7 p.m., and the concert starts at 7:30. For advance ticket and season ticket sales, and to order tickets, go online to – http://www.portlandfolkmusic.org
SEPTEMBER 28
The story of Peter Pan, by the Traveling Lantern Theater Co.: For kids and families, at the Woodstock Library 2-3 p.m. this afternoon, it's "Peter Pan" – the treasured tale of an adventurous boy who never grows up! Fly away with the Darling children to Neverland, where Peter battles with a band of pirates, and his archenemy – the villainous Captain Hook. Free. The Woodstock Branch Library is on the corner of Woodstock Boulevard and 49th Avenue.
SCROLL DOWN FOR THE LIST OF COMMUNITY HOTLINKS -- AND USEFUL, AND JUST PLAIN

FUN

HOTLINKS -- IMMEDIATELY BELOW!
Useful HotLinks:
Your Personal "Internet Toolkit"!


Charles Schulz's "PEANUTS" comic strip daily!

Portland area freeway and highway traffic cameras

Portland Police

Latest Portland region radar weather map

Portland Public Schools

Multnomah County's official SELLWOOD BRIDGE website

Click here for the official correct time!

Oaks Amusement Park

Association of Home Business (meets in Sellwood)

Local, established, unaffiliated leads and referrals group for businesspeople; some categories open

Weekly updates on area road and bridge construction

Translate text into another language

Look up a ZIP code to any U.S. address anywhere

Free on-line PC virus checkup

Free antivirus program for PC's; download (and regularly update it!!) by clicking here

Computer virus and worm information, and removal tools

PC acting odd, redirecting your home page, calling up pages you didn't want--but you can't find a virus? You may have SPYWARE on your computer; especially if you go to game or music sites. Click here to download the FREE LavaSoft AdAware program, and run it regularly!

What AdAware doesn't catch, "Malwarebytes" may! PC's--particularly those used for music downloads and online game playing--MUST download these free programs and run them often, to avoid major spyware problems with your computer!

Check for Internet hoaxes, scams, etc.

Here's more on the latest scams!

ADOBE ACROBAT is one of the most useful Internet document reading tools. Download it here, free; save to your computer, click to open, and forget about it! (But decline the "optional offers" -- they are just adware

Encyclopedia Britannica online

Newspapers around the world

Stain removal directions

Convert almost any unit of measure to almost any other

Research properties in the City of Portland

Local source for high-quality Shaklee nutritionals

Note: Since THE BEE is not the operator of any of the websites presented here, we can assume no responsibility for content or consequences of any visit to them; however we, personally, have found all of them helpful, and posted them here for your reference.


---
Local News websites:
The news TODAY

Local News Daily.com

KATU, Channel 2 (Digital/HDTV broadcast channel 24)

KOIN, Channel 6 (Digital/HDTV broadcast channel 25)

KGW, Channel 8 (Digital/HDTV broadcast channel 8)

KPTV, Channel 12 (Digital/HDTV broadcast channel 12)

KRCW, Channel 32 (Digital/HDTV broadcast channel 33)

KPDX, Channel 49 (Digital/HDTV broadcast channel 30)



---