Community Features
The "Events and Activities" for the month are below these featured stories!
---
A client with a dog paused in the outdoor dining area in front of the Westmoreland Dairy Queen, as twilight approached on its last day of operation on September 30 – just before large numbers of customers began streaming in – forming long lines – for one last Dairy Queen dinner and treat, before it closed for good. (Photo by Eric Norberg)
SOUTHEAST HISTORY
Closing of Westmoreland Dairy Queen ends an era
By DANA BECK
Special to THE BEE
When the Westmoreland Dairy Queen closed, after its last day of operation on Monday, September 30, accessible family fast food disappeared in Westmoreland and Sellwood. No longer would middle and high school students, in one of their first jobs, be serving classic banana splits, Scrumpdillyishus Mr. Mistys, or signature chocolate Dilly Bars. The Westmoreland restaurant and ice cream store that served the cone with the curl on the top for 50 years has closed, and another icon of the neighborhood has disappeared. Its fixtures are for sale.
How did it begin? In 1969, there was excitement in Westmoreland; a Dairy Queen store would be opening at the corner of S.E. Tolman Street and Milwaukie Avenue. The nearest ice cream shops back then were the Division Big Top Ice Cream store, at 33rd and Division and Lee and Al's 24 Flavors, on Woodstock Boulevard (today, Cloud City Ice Cream is still right there at Woodstock and 45th).
Those living in Sellwood got their true first taste of machine-served ice cream at the A and W Drive-In at S.E. 17th and Tenino Street (later home to Mike's Drive-In, before its recent sale for an apartment development). A & W was noted for its root beer and burger meals – the Papa and Mama Burgers for parents, the Teen Burger for young folks, and Baby Burger for tots and senior citizens who couldn't eat full portions.
During the 1960s and 70s, Portland saw an increase in ice cream franchises and fast food drive-Ins. Consumers began lining up along the sidewalks to taste wonderful cool treats like Tastee- Freeze, although most of their stores first opened on the West Side of the Willamette. Those living in Inner Southeast got their first taste of Tastee-Freeze soft-serve ice cream at the corner of Kelly Street and S.E. Milwaukie. Tastee-Freeze buildings featured a classic "A frame" roof structure that can still be spotted in a few buildings around town. "Pok Pok" in the Brooklyn neighborhood, on Milwaukie Avenue just south of Powell, occupies one of the old Tastee-Freeze buildings.
Paul and Theodore Arter introduced Portland's first Dairy Queen in 1959. Their small whitewashed building provided walk up service for customers at N.E. 32nd and Broadway, a busy intersection not far from Grant High School.
The Arters were so successful that they opened two more D.Q.s – one at N.E. 53rd and Sandy Boulevard, and their biggest moneymaker at 122nd and San Rafael, where a new community was being constructed in the Parkrose district. Soon, other Dairy Queens began showing up around the city; those in Inner Southeast included Division Street D.Q. north of Franklin High School, and Duke Street's D.Q. in Brentwood-Darlington at S.E. 59th and Duke. Both those Dairy Queens remain open today.
On its very last evening of business, Monday, September 30, the lobby and indoor dining area of the Westmoreland Dairy Queen was packed with customers arriving for one last meal and treat at D.Q. – and the line of people patiently waiting for a turn at the counter extended out of the store. The location has been sold, and a Chase Bank will appear there. (Photo by Eric Norberg)
As for the Westmoreland Dairy Queen – it replaced a Texaco Service Station which was run by Ron Williams, who stayed on to manage the store when Dairy Queen first opened. Gerold Martinson, who worked at the deliciously fragrant Ruth Ashbrook Bakery across the street (where Northwest Primary Care now is), is among the many residents who remember the D.Q. as a walk-up store with limited parking. Most of the indoor dining area and the drive-thru were added later. Like other Dairy Queens, it was painted an ice cream white, with a red roof, and had large glass plate windows placed around the front and sides of the building. (The glass windows were a marketing tool, to allow those passing by to peer into the store and wonder why there were crowds of people lined up inside.)
Only a handful of products introduced by the Dairy Queen corporate office in Minnesota were required of every store. After that, owners could decide what additional novelties and ice cream creations they wanted to add to boost their sales. In the early days, Dilly Bars, Ice Cream Sandwiches, and Peanut Buster Bars were made by hand in the stores during lag times. The process was simple, and kept ingredients fresher. As Dairy Queens updated through the years, Ice Cream Sandwiches and Dilly Bars were made centrally by machine in a factory and shipped to the stores in bulk.
Take my word for it, the Dilly Bars handmade in the stores were always the best. Employees swirled the soft serve from the spigot onto a square waxed piece of paper. A wooden tongue depressor was slipped into the side, and then a packet of vanilla Dilly Bars was set in the freezer to harden. After they were ready, the waxed paper was stripped from the bars and each was dipped in a flavored coating – usually the flavors were chocolate, strawberry, and butterscotch – and then the bars were placed on a flat cookie sheet which went into the freezer. Once frozen, they were placed in a Dairy Queen sleeve, ready for sale to the customer.
Ice cream sandwiches were easier. Ice cream was placed between two chocolate wafers, and placed in the freezer until ready to serve. Peanut Buster Bars were more time-consuming; the counter clerk placed a small portion of Spanish nuts and hot fudge into the bottom of a plastic cup, then added ice cream, more hot fudge, and topped it all off with more ice cream, with a lollipop stick in the middle. The Dilly Bars and Peanut Buster Bars were a customer favorite, because they couldn't be found at grocery stores.
It took a lot of training and patience for new waitstaff to learn how to make a cone with a swirl on the top, mix a milk shake without punching a hole in the bottom of the serving cup, or perfect the art of layering ice cream along the side of a cup and adding root beer to make the floats that customers demanded in the summer time.
Besides waiting on customers, there was mopping the floors, cleaning the French-fryer and grill after closing time, and usually the young ladies had to polish the top of the ice cream topping containers ever night. It seemed a hardship for teenagers, who wanted to leave and party with friends, to stay those extra minutes after a store closed and get all the cleaning duties done. But it was a good introduction to the world of employment.
The Flavors of sundae toppings also changed over the years. Dairy Queens today no longer serve Butter Pecan, Blueberry topping or the green syrup of Creme DeMenthe, though Mike Canavatta Jr, who was the manager at the Westmoreland store, remembered that that a mint concoction was combined with vanilla ice cream in the Blizzards.
In 1979 Barbara Bowers bought the Westmoreland Dairy Queen, and ran it with her husband Al, until about 1997 when Mike Caravatta and his wife Hyum Lim became the new owners. Many people who lived in the area might still remember Hyum Lim serving customers over the counter, helping the cook back in the kitchen, stocking napkins and condiments in the lobby, and wiping down counters and tables. Within a few years Mike's son, Mike Caravatta, Jr., was asked to help out at the store, and he quickly became the Store Manager and ran day-to-day operations.
Young Mike remembers waiting on grandparents who had ferequented the store back when they were young, now bringing in their grandchildren to partake of the experience they'd had when they bought their first ice cream treat there.
Located just a few blocks west on Tolman Street, the Llewellyn Elementary School's students were escorted across Milwaukie Avenue by the Safety Patrol – where the next stop would be at the Dairy Queen.
Mike greeted the many workers who stopped by once a week for lunch, and the regular customers who came in to order a burger or ice cream specialty whenever they passed by the store.
And of course, with the expanded seating that accompanied the drive-thru upgrade, the dining room became a meeting-place for seniors wanting a simple chocolate or vanilla cone. New products like the Blizzards were introduced – which might contain pieces of a Snickers bar, or ingredients that might otherwise go into making a banana split: Basically, candy and ice cream. During Hallowe'en the store often offered pumpkin-pie Blizzards – or peppermint, during the Christmas Season. Whatever flavor they were, they were good and thick, because franchisees were required to have their servers turn the Blizzard upside down before presenting it, to show to the customer how thick it was.
In later years, Dairy Queens added Brazier menu items – a hot food menu to complement the ice cream treats. Early D.Q's had offered a broiler burger that was flamed-broiled on a grill from the top and bottom at the same time. Later, under the Brazier banner, they served charbroiled hamburgers that tasted as if they'd just come off a backyard grill.
Mike Cavaratta now reflects that he will miss all the people he trained, and the time he spent with many students from Sellwood Middle School and Cleveland High who turned to the Westmoreland D.Q. for their first job. Sisters followed sisters in working at the counter, as did brothers who wanted to work there after their sister got hired. Even cousins of past relatives were hired to wait on customers, make cones, or flip hamburgers on the grill.
During the 1960s and 70s, Westmoreland was mainly a blue-collar neighborhood, and it wasn't unusual for the same families to return every weekend for their favorite after-dinner treat. When visitors came to town for the Holidays or on vacation, a trip to the Dairy Queen was included. The second graders at Llwelleyn Elementary School made an annual field trip over to the D.Q. to the see how the person behind the counter made the special dipped ice cream cones.
Mike fondly remembers a couple who first met each other while working the counter at his Dairy Queen, and later married. And there was Ray, a professional Golfer in Eastmoreland, who continued visiting the store regularly ever since he was a student.

In the early 1970s, the Westmoreland Dairy Queen sponsored many baseball and Pop Warner football teams, and the store's lobby was packed with ballplayers after the game. The shop donated gift certificates to most of the schools, to events in the neighborhood, and every Sundae in the Park prize drawing for forty years, in Sellwood Park, on the first Sunday in August.
Over the past ten years the neighborhood has changed considerably, as business professionals and upscale residents moved in and replaced the previous generation. Mike said he will miss the father and son who lived here in the 1980s and stopped by at least once a week; and he'll miss the Thursdays, when grandparents and grandkids seemed to gather for a good time.

Mike isn't sure what he will do, now that he doesn't have to manage the counter or train new employees – but he may take a trip outside the United States, or perhaps just take a vacation. He concludes our conversation by saying that he will always remember his chats with Esperanza, the cook at the Westmoreland D.Q. for 22 years; all the members of the waitstaff over the years, who worked well together as a team; and of course he'll remember all the customers he waited on over the decades.
That probably includes you, as it does me.
---
At the new OMSI exhibit "Exquisite Creatures", its featured artist, Christopher Marley, stands next to one of his favorite works – one he named "Deference". (David F. Ashton)
'Exquisite Creatures' exhibit arrives at OMSI
By DAVID F. ASHTON
For THE BEE
Southeast Portland's Oregon Museum of Science and Industry (OMSI) on October 5th opened a new exhibit, featuring the work of artist, naturalist, and author Christopher Marley. It's called "Exquisite Creatures", and it's in the main exhibition hall.
Marley's unique artistic arrangements reveal the obscure beauty in nature, through his three-dimensional work with animal, mineral, and plant specimens.
"On display is a nexus of the three major elements of the human experience," said Marley as the exhibit was about to open. "There's an 'in-between place' where a lot of 'magic' happens which helps people begin to see the natural world in a different light.
"There are a lot of urbane people who don't consider themselves nature buffs; I present the natural world in particular way that kind of draws people in and reaches them emotionally," Marley told THE BEE.
"What I hope people take away from this exhibit is that, as we interact with the natural world in real time, and in three dimensions – it's a completely different experience than in two dimensions," Marley said. "I'm hoping to rekindle interactions with the physical world."
The exhibit's local manager, OMSI educator Jennifer Powers, remarked, "Because OMSI's mission is to inspire curiosity and inspire science learning, after they see Marley's exhibit here, hopefully people will be inspired to study or learn something new in nature.
"In conjunction with this fascinating exhibit, our staff has created a space called 'Nature Lab', in which guests can have the sort of hands-on experience they've come to expect from OMSI," Powers explained.
In this new area, visitors can make their own arrangements, by moving magnet-mounted play insects and bugs to create their own "creature art". There is a microscope where guests can explore insects and arthropods up close. And, there are clear plastic cases, in which folks can closely view live arthropods: Millipedes, a walking stick, and scorpions.
"Exquisite Creatures" is on view at OMSI through next February 17th; admission to the exhibition is included with General Admission to the museum.
OMSI is situated under the Marquam Bridge on the east bank of the Willamette River, at 1945 S.E. Water Avenue, just north of the Ross Island Bridge. Learn more online – https://www.omsi.edu.
---
In this rehearsal of a scene from "The Addams Family – The Musical", Benjamin Dunfee-Hall, playing Lucas Beineke, learned of the strange dating ritual proposed by the love his life, Wednesday Addams. (Are they dancing the Tango…?) [Photo by David F. Ashton]
'Addams Family' frolics in Franklin High Theater
By DAVID F. ASHTON
For THE BEE
Student actors and musicians in the Franklin High School (FHS) Theater Department are devotedly rehearsing their lines, dance steps, and songs for the upcoming fall production of "The Addams Family – The Musical".
The lively show is, of course, based upon the "Addams Family" cartoon characters drawn by Charles Addams published from 1937 to 1988 in the New Yorker magazine – a ghastly family, with an affinity for the ghoulish. The musical isn't based on the television series or the animated shows, or films; instead, the storyline developed for this original musical play is based exclusively on those long-ago Addams' printed cartoons.
"It's a love story about Wednesday, the daughter of Gomez and Morticia," explained FHS Theater Instructor, and the show's Director, Joshua Forsyth.
"Wednesday is in love with, and wants to marry, a boy named Lucas, who comes from a 'normal' family," Forsythe told THE BEE. "The comedy comes from watching the weird Addams family meet and try to get along with the very 'normal' Beineke family."
Through the story, and 20 song and dance numbers, audience members find how – or if – these families get along well enough that this oddly-paired young couple in love can be married, he said.
All of the well-known Addams Family characters are in the show – plus the addition of the show's chorus, a group called "The Ancestors".
"Having live music in the show is the only way to do a musical like this; the orchestra makes the production come alive," remarked Orchestra Conductor Jason Owens, observing that 16 musicians will accompany each performance.
This show may not be appropriate for young children; "PG-13" would be a good guideline, Forsythe said.
"The Addams Family – The Musical" plays in the new Franklin High Theater at 7 p.m. on November 8 and 9, and again on November 16, 17, and 18. And, there's a special Sunday Matinee show on November 10 at 2 p.m. The school is situated at 5405 S.E. Woodward Street, just north of Powell Boulevard, east of 52nd.
Tickets are $12 adults, and $6 for both students with ID and seniors. They are available at the box office, and online – http://www.pps.k12.or.us/schools/franklin.
---
Giued Hatch playing trashcan bass, along with featured performers Meredith Axelrod and Jim Kweskin, were joined by Peter "Spud" Siegel on mandolin at the 2019-2020 Portland FolkMusic Society Concert series opener, in the Reed neighborhood. (Photo by David F. Ashton)
Folk music concert season underway in Reed neighborhood
By DAVID F. ASHTON
For THE BEE
Although the organization has been around for more than four decades, the first concert of the its second season of the "Portland FolkMusic Society" at the Reedwood Friends Church got underway on Friday evening, September 27.
"We came to the Reed neighborhood after our search committee looked at several places, and found this building to be a beautiful venue; all the seats are relatively close to the stage," beamed Concert Committee Chair Stan Davis, as concertgoers streamed in the door. "And, the room has been acoustically improved in the last year, making this a beautiful place to hold our concerts, in every way."
Although the nonprofit society promotes "folk music" shows, that includes a wide variety of genres, Davis explained – including Folk, Americana, Bluegrass, and Blues.
"Tonight kicks off our nine-concert season; we'll be here once or twice a month from now until May of 2020," Davis said. "Our all-volunteer organization presents concerts because we enjoy live folk music, and we want to showcase our local musicians, as well as attract top performers to the Portland area."
The opening night show featured the music of Jim Kweskin and Meredith Axelrod. "Jim is an impresario of the 'Jug Band Music' scene," Davis pointed out.
Asked how audiences have responded to the concerts, Davis responded, "When people walk out, they say just two words – 'thank you' – because if we didn't produce these concerts, there wouldn't be a venue here for top-quality folk music."
Find out more about the Portland FolkMusic Society, and their upcoming shows, online – https://www.portlandfolkmusic.org.
---
Tending the fire at the traditional Salmon Bake was Clifton Bruno (Wasco-Columbia River). [Photo by David F. Ashton]
'Salmon Celebration' moves to Johnson Creek Park
By DAVID F. ASHTON
For THE BEE
Although the banners read "Westmoreland Park Salmon Celebration", this year's event actually took place a bit south of that location, at Johnson Creek Park, on Sunday, October 6.
"This, our sixth annual Salmon Celebration, has been each year in Westmoreland Park; but, because this year's Portland Marathon's route ran past that park, we moved it here to Johnson Creek Park," explained one of the originators and organizers, Judy BlueHorse Skelton, (Nez Perce/Cherokee).
"What's exciting is that we love this new location – it's the confluence of Crystal Springs Creek and Johnson Creek; there's a little waterfall; and you can easily see the gravel beds for salmon spawning at this location," she told THE BEE.
They hold the annual celebration, "Because salmon truly is our relative; so we celebrate salmon coming back up into the creeks," Judy BlueHorse Skelton made clear. "With salmon coming back in our city, it reminds us that we are healing our land, and healing the people; it's a very strong and beautiful sign of community health, for everybody."
Harold Paul, a Nez Perce drummer, who opened the festival, said, "Native people been coming here since time immemorial to fish, to fall in love, to govern, to make decisions, to play, and commune."
"For us, this is a celebration that, as indigenous people, we're still here," commented BlueHorse Skelton. "And, salmon has always been part of our lives; so having salmon here with us means that we are on a good path."
This celebration is joyful, emotional, and healing, she said. "The emotions I feel include hope, life-affirming, and joyfulness – we celebrate; we recognize our history of trauma and the taking of land. We recognize our culture, and our languages.
"This is a time when we celebrate reclaiming all, as we hear our languages spoken today, we celebrate our culture and people are dancing again, and the salmon are here – it's a full circle; it's all good."
---
James Linnebur pitches the trash collected from Johnson Creek by members of Boy Scout Troop 22. (Photo by David F. Ashton)
Tons of trash removed in 2019 'Creek Clean-up'
By DAVID F. ASHTON
For THE BEE
Along the waterway, volunteers from the Johnson Creek Watershed Council (JCWC) hopped into the creek to pull out trash and junk during the 12th annual "Johnson Creek Clean-Up", at the end of summer.
After meeting at Mill Park early in the morning, about 150 volunteers split up into teams to cover about seven miles of the creek.
"Specifically, we had 15 teams going into the creek. This time of year the water level is low – making it easier for our volunteers, wearing old tennis shoes and shorts, to walk into the reaches of the creek and pull out trash," said JCWC Volunteer Program Manager Courtney Beckel. "Volunteers pull out bikes, furniture, clothing, discarded plastics, and treated lumber, all things that are dangerous and hazardous to wildlife."
One of the volunteers getting wet that Saturday was Melanie Klym, JCWC Board Chair, and also the cleanup's co-leader for 12 years. She remarked that, while removing tons of trash positively impacts the creek, there really is more to the day.
"I love hearing people's stories about getting into Johnson Creek and realizing that there are really beautiful areas that they never knew about," remarked Klym. "And, we establish with folks that it's okay, and safe, to get into the creek and experience it, and see how much wildlife there actually is in it.
"Having people experience this, and seeing the change in their expectations when they leave – and then when they come back the next year – is really rewarding," observed Klym.
At the end of the day, the dropboxes contained 4.5 tons of trash that had been removed from Johnson Creek by volunteers.
After tasting all the chili entries at the "Fall Festivus" chili cookoff in the Reed neighborhood, many (including THE BEE) voted for this "bowl of red", prepared by new Reedwood Friends Church Pastor Mark Condo. (Photo by David F. Ashton)
Reed neighbors celebrate at new 'Fall Festivus'
By DAVID F. ASHTON
For THE BEE
Reed neighbors were treated to a new autumn event on Thursday, October 10, across from the Reed College campus, at the Reedwood Friends Church. It was called "Fall Festivus".
"This 'Fall Festivus' is a tradition that we brought with us from the Midwest," explained the church's pastor, Mark Condo, who arrived to serve the congregation in July.
"It's a party for all of our neighbors and church members – with a 'chili cookoff' and kids' activities," Condo told THE BEE. "Ten people entered their homemade chili; people sampled and selected which chili they thought was the best, and voteed for their favorites by putting money in the jar by the chili kettles."
In turn, the money raised will go to support the church's charity projects, the pastor said. "More importantly, this is not just a fundraiser; this is a way to let our entire community know that we care for them, and that we – both our church and good Latino Friends who also meet at this location – are here to serve them, be they members or not."
After sampling the chili offerings, this reporter voted Pastor Condo's own sweet-and-spicy "Ohio's Best" turkey to be our choice! We have not been notified of the official majority choice in the contest, however.
---
At the September 14th BDNA "Electronics Recycling Day", workers lift a weighty and dead old TV into one of the recycling bins. Click on the picture above to visit the website of Green Century Recycling. (Photo by David F. Ashton)
Brentwood-Darlington hosts electronics recycling day
By DAVID F. ASHTON
For THE BEE
Commercial haulers pick up garbage, recyclables, and yard debris at the curb every week; and, once a year, many neighborhoods host "bulky waste clean-ups", which accept larger discarded items.
But, disposing of a large television set, a computer, or an old tube-type monitor, sometimes seems nearly impossible. That's why volunteers from the Brentwood-Darlington Neighborhood Association (BDNA) said they decided to host their first ever "Electronics Recycling Day" on Saturday, September 14.
A steady stream of vehicles drove to the Brentwood Darlington Community Center throughout the morning. Some dropped off a single item; others took advantage of the discounted "car-load" pricing.
"I started looking into this project, and then coordinated it, because it's good both for our neighbors, and for the environment," explained the recycling day organizer, BDNA Board Member Tina Biornstad-Szafranski.
"I am a 'techno-geeky' person, and would like to see us recycle all of our gadgets and gizmos – things that would otherwise go into our landfill, which is ridiculous and wasteful," she told THE BEE.
After researching a company, Biornstad-Szafranski said she was directed to "Green Century Recycling" to help with the project. "They've been great to work with," she said.
Several BDNA volunteers were on hand to handle the paperwork and logistics, among them the neighborhood association's Chair, Chelsea Powers: "This is a great complement to our Neighborhood Clean-up, because it lets neighbors safely dispose of these items locally, and in a responsible manner."
By the end of the day, the "Green Century Recycling" truck was filled, and ready to haul away.
---
Here, busy pulling weeds, are "Friends of Westmoreland Park" volunteers Robin and Mike Rodrigues, and Patti Farris. (Photo by David F. Ashton)
Westmoreland Park group seeks more 'Friends'
By DAVID F. ASHTON
For THE BEE
Members of the small group "Friends of Westmoreland Park" are ready to welcome more volunteers interested in improving the ecology at the historic local park.
"Our organization has been around for at least three years," remarked volunteer organizer Patti Farris, as she worked with the others.
While Westmoreland Park is tax-supported – being owned and operated by Portland Parks & Recreation – it still needs a little extra care, Farris said. "There isn't enough Parks Bureau staff to keep the invasive plants under control, such as blackberry and Read Canary Grass. If left to their own devices, these would quickly take over the entire park, leaving no room for the indigenous plants!
"Wildlife is adapted to native plants, and not these invasive species," Farris went on. "We want the wildlife to be here, so we need to do what we can support them,"
The group of neighbors don't yet have a website or any social media presence. "Just come on by Westmoreland Park on the last Tuesday of every month, between 10 a.m. until noon, and give our native plants here a chance to survive and thrive!"
---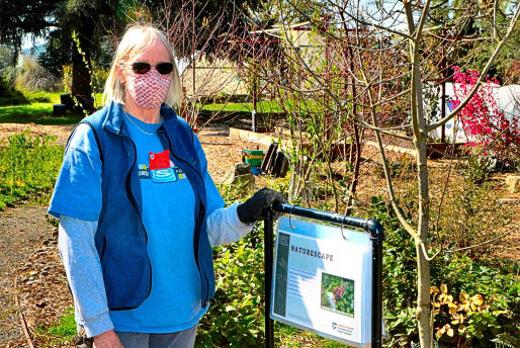 Many dishes, created from their own fresh-from-the-garden produce, lined the serving table at this year's Multnomah County Master Gardeners' "Harvest Fest", on S.E. 60th Avenue. (Photo by David F. Ashton)
Master Gardeners celebrate in Southeast with 'Garden Party'
By DAVID F. ASHTON
For THE BEE
The Multnomah County Chapter of Master Gardeners held their annual "Harvest Fest" on Saturday, September 14, in the Learning Garden Lab property at 6801 S.E. 60th Avenue, between Duke and Flavel, across from Brentwood Park. The celebration each year is supposed to mark the end of the growing season.
"Our 'year' actually ends closer to Thanksgiving; so our Demonstration Garden has a little time left in its garden season. But we celebrate in September, to take advantage of the good weather," explained its organizer, Linda Goldser.
The festival – primarily, a low-key potluck dinner – acknowledges accomplishments and all the time that volunteers have donated over the season. Sixteen awards were to be presented this year.
Those who have visited the Learning Garden Lab have seen the "Demonstration Garden", in which the event was held. Much of this season's work was focused on their "Annex Garden". "It's still in its infancy, and is only started; we added 11 new raised beds, up from four last year. We are expanding our native garden areas, and we have 'timed drip irrigation' throughout the garden," Goldser said.
Much of the vegetables and berries grown in both gardens is donated to local charities, Goldser pointed out – divided among:
"Our main goal for next year in our Annex Demonstration Garden is to begin a Garden Education program, and hold classes in it, to further our goal of sharing our garden expertise with the community," revealed Goldser.
If you enjoy gardening, or want to learn more about how to take care of your own plants, learn more about this group online – http://www.multnomahmastergardeners.org.
---
Experienced volunteer Nancy Walsh, and its new Director David Engle, are helping to keep the new Sellwood Community House thriving – while Kenai, the neighborhood cat, sleeps most of the day on a bench beneath the bulletin board. (Photo by Elizabeth Ussher Groff)
'Sellwood Community House' again buzzes with classes
By ELIZABETH USSHER GROFF
For THE BEE
Portland Parks shut down the Sellwood Community Center for budgetary reasons at the end of August – so the community took it over and renamed it, and now "Sellwood Community House" is buzzing again with classes and activities at the corner of S.E. 15th and Spokane Street in Sellwood.
The October BEE front-page article reported on the recent volunteer deep-cleaning of the center, and the September re-opening of its preschool and after-school programs.
An interview with the new Director, David Engle – and with Nancy Walsh, a former veteran Portland Parks Community Center Director, and now volunteer with the new nonprofit Friends of the Sellwood Community House (FOSCH) – revealed details about some of the forty classes again being offered at the century-old center.
Dance classes taught by Rachel Lidskog-Lim feature Waltz, Rhumba, Foxtrot, and Argentine Tango. This four-week social dancing class is a sampler of Ballroom Dance for ages 16 and up. Classes are in the evenings from 6:30-7:30 p.m., and cost $34 for four lessons. Lidskog-Lim also teaches at "Dance With Joy Studios" in Sellwood.
Other dance classes range from "Introduction to Swing Dance" (East Coast, Hustle, West Coast, Lindy Hop, and Charleston) to " Introduction to Latin Social Dancing" (Merengue, Bachata, Salsa. and Cha Cha), all of which are for ages 16 and up, and are at the same price as Ballroom Dancing. Also, Creative Dance Movement for "My Adult and Me" for ages 2 to 4 is on Tuesdays from 9:30 to 10:15 a.m. David Engle says, "The kids have a blast in this Creative Dance class."
Music classes include "Beginners' Ukulele" on Mondays from 6:30 to 7:30 p.m., and "Advanced Beginner+" on Mondays for an hour at 7:45 p.m. "Guitar Lessons for Beginners", for ages 18 and up, are 30-minute classes taught between 7:30 and 9 p.m., and "Private Piano Lessons" are offered from 1 to 3 p.m. on Tuesdays and Wednesdays.
A wide variety of art classes are offered: "Baby Expressions Art", ages 10 to 18 months; "Messy Art" for ages 18 months to 3½ years; and "3-D sculpture" which offers two classes – for ages 6 through 8 and for 8 through 11. Materials used are a variety of building and 3-D sculpture materials, such as Foamcore board, wood, hot glue, cardboard, paper, paper clay, and found or recycled objects. A Community House flyer states, "Any child with a sincere desire and interest in building will enjoy this class."
And the classes being offered continue! Yoga for ages 18 and up on Mondays and Wednesdays, 9 to 10:30 a.m. and 5:30 to 7 p.m. cost $70 for five lessons. Meditation for Adults and Seniors takes place on Mondays from 12 to 1:30 p.m. Zumba classes will begin in November on Tuesdays and Thursdays, 9:30 to 10:30 a.m.; $34 for four lessons.
Judo Kodokan for ages 6 and up will be offered Monday through Friday, with separate classes for Homeschool and Adult, Youth Only, and Families. The Community Strength and Conditioning classes by Geoff Bergman are to be described in a separate article in THE BEE.
The "Indoor Park" classes for children ages six months to five years, $1.50 drop-in or $25.00 for twenty visits are on Mon. Wed. Fri. 10:30-Noon. Game nights for board games, etc., will take place in a couple of rooms, To Be Arranged.
Gail Hoffnagle, the Chair of Sellwood Community House, a SMILE Board Member, and a longtime Sellwood activist and contributor of ideas to help keep the center open, recruited the class teachers, all of whom are new, except for three.
Hoffnagle who, with Walsh, also has a long background in running Community Center for the Parks Department, says of the Community House, "It demonstrates the importance to this community of having neighborhood meeting spaces, where people of all ages can come together, meet their neighbors, develop friendships, and learn new recreational and educational skills to enhance their lives. It's how neighborhoods create bonds between their residents, and give each person a 'sense of belonging' that lasts for a lifetime."
The Sellwood Community House – which was actually the original name of the building in the early 1920s, after the building transitioned from being a YMCA – is currently financed on a "break-even" model, with fees from classes paying salaries and other costs. SMILE's endowment for the Center, received from the bequest of the proceeds of her Brooklyn house by the late Helen Hiczun – which she dedicated to keeping the Community Center open – will be saved for major maintenance and capital improvement projects.
Volunteer Nancy Walsh says, "My hope for the Sellwood Community House is [for it] to remain an important part of the Sellwood-Westmoreland neighborhood – and provide even more opportunities for social, recreational, and educational growth for the residents!"
To give an idea of the depth of experience guiding the new Community House, Walsh worked at five different PP&R Community Centers for thirty years, and was a Recreation Instructor at the Sellwood Community Center from 1973 to 1977; and starting in 1993, for two years she was its Program Supervisor, while also being Summer Playground Program Supervisor for five PP&R parks.
For more information about classes, call 503/893-8847. To register for classes go online – http://www.sellwoodcommunityhouse.net.
---
Southeast Events and Activities
NOVEMBER 2
Community Choir you can join is forming today: Everyone in Inner Southeast is invited to come and sing at 1 p.m. today in prepare for the annual Christmas music program. All ages are welcome, and no experience is necessary. Rehearsals start today and each Saturday through December 14, from 1 to 2:45 p.m. The performance is Sunday, December 15, at 10 a.m. All rehearsals and the public performance are at Mt. Scott Park Presbyterian Church, S.E. 73rd and Harold Street. For questions call 503/771-7553, or e-mail mspkpres@imagina.com.
Silent auction this afternoon to benefit preschool: Nonprofit "Roots and Wings Preschool", based at Moreland Presbyterian Church in Westmoreland, benefits from a silent auction to be held from 4:30 to 7 p.m. at Pacific Dance Academy, 8050 S.E. 13th Avenue, Suite 101, in Sellwood. Proceeds are directed to scholarships and classroom enrichment. "Join school teachers, parents, and neighborhood supporters for a fun evening of dinner, drinks, free giveaways, and a silent auction just in time to pick up discounted treats and gifts for the Holiday Season. Roots and Wings is currently enrolling 3-5 year olds. More details online at – http://www.rootsandwingsportlandpreschool.com.
Nonprofit "Taborspace" celebrates 3rd annual Gala: "Taborspace", a widely used venue in Southeast Portland, is a community gathering place in the big stone church that anchors S.E. 55th and Belmont. During each week, more than 4,000 adults and children walk through its doors – for classes, meetings, and conversation. It's partly funded by its annual "Gala", which this year takes place 6-9 p.m. It's described as "a delightful evening of conversation, music, and refreshments. And don't forget the live and silent auctions, with more than 100 amazing items to consider." Visit this website for tickets – http://www.taborspace.org/gala.
NOVEMBER
Westmoreland Union Manor annual Craft Show:
The residents of the nonprofit Westmoreland Union Manor are having their annual Craft Show today and tomorrow, 9 a.m. to 4 p.m. each day, at the Manor – 6404 S.E. 23rd Avenue, just north of the Bybee Bridge and Fire Station 20. Refreshments available; open to all; street parking only, please. There will be handmade arts and crafts, as well as homemade jams, candies, and baked goods for sale.
Reed Theatre presents Euripides' "Medea": This evening and tomorrow evening, and again for three days on November 14-16, Reed College's Diver Studio Theater in the Performing Arts Building presents a performance of Euripides' "Medea". The closest parking is in the west parking lot off 28th Avenue. The Diver Studio Theatre is on the first floor of the Performing Arts Building. With limited seating, you are encouraged to get tickets early; tickets range in price from $5 to $7 for the general public, and are available online – https://www.eventbrite.com/o/reed-college-11101918215.
NOVEMBER 9
St. Agatha's annual Christmas Bazaar: The Altar Society of St. Agatha Church presents its annual Christmas Bazaar today (9 to 4) and tomorrow (9 to 1) in the Parish Hall, 7959 S.E. 15th Avenue in Sellwood. Arts, crafts, baked goods, local vendors, Thrifty Cottage treasures, and treats for hungry shoppers.
Woodstock church hosts one-time play tonight: This evening at 7:00 p.m., All Saints' Episcopal Church – at 4033 S.E. Woodstock Boulevard – invites you to enjoy a hilarious, heart-wrenching, soul-searching stage performance "that catapults you into the cosmos, makes you want to live more fully, and embrace the unmet expectations that life brings. Things never go as planned but live life fully anyway. Life is about learning to love the people that drive you nuts!" This community performance is your last chance to see "Not So Supernova", a one-woman play by Shannon Milliman, in Portland. "Come, laugh, bring your friends, bring your enemies, hold hands together and sing kumbayah." Free-will donations accepted at the door. More info online – http://www.shannonmilliman.com.
NOVEMBER 16
Llewellyn Holiday Market today: The PTA fundraiser for Llewellyn Elementary School in Westmoreland – the Llewellyn Holiday Market – is today, at the school, 10 a.m. to 3 p.m. The school is on S.E. 14th at Tolman Street. Bring your wallet!
Candy-making class a fundraiser for "Team 1432": The sponsors of FIRST Robotics Team 1432, which you've read about repeatedly in THE BEE, are raising funds for the team again this year with a candy-making class TODAY, 10 a.m. to 4 p.m. at Reedwood Friends Church, 2901 S.E. Steele Street. The cost for this six-hour gourmet candy class is $55, and all ingredients are provided. Participants are requested to bring a Crock Pot, and a bowl that will fit partway down into the pot. It's a world-class learning experience – "we had participants from California and England last year." Learn gourmet candy-making, and help this robotics team too!
NOVEMBER 18
Red Cross Blood Drive this afternoon in Westmoreland: The Red Cross Bloodmobile returns to Moreland Presbyterian Church – on S.E. 19th, just south of Bybee Boulevard – for its regular blood drive. The hours are 2 to 7 p.m.; walk-ins are accommodated, but for the fastest experience consider making a reservation. The number is 1-800/733-2767; or go online – http://www.redcrossblood.org – and enter the sponsor code, "MorelandPresbyterian".
NOVEMBER 21
Reed Orchestra free Fall Concert: This evening at 7:30 p.m., the Reed Orchestra, under its new conductor Maestro Giancarlo Castro D'Addona, presents its annual Fall Concert in Kaul Auditorium on campus. Admission is free of charge. The closest parking lot is the west lot, off S.E. 28th Avenue; but, as always, ADA drop-off is always permissible at the entrance to Kaul Auditorium.
SCROLL DOWN FOR THE LIST OF COMMUNITY HOTLINKS -- AND USEFUL, AND JUST PLAIN

FUN

HOTLINKS -- IMMEDIATELY BELOW!
Useful HotLinks:
Your Personal "Internet Toolkit"!


Charles Schulz's "PEANUTS" comic strip daily!

Portland area freeway and highway traffic cameras

Portland Police

Latest Portland region radar weather map

Portland Public Schools

Multnomah County's official SELLWOOD BRIDGE website

Click here for the official correct time!

Oaks Amusement Park

Association of Home Business (meets in Sellwood)

Local, established, unaffiliated leads and referrals group for businesspeople; some categories open

Weekly updates on area road and bridge construction

Translate text into another language

Look up a ZIP code to any U.S. address anywhere

Free on-line PC virus checkup

Free antivirus program for PC's; download (and regularly update it!!) by clicking here

Computer virus and worm information, and removal tools

PC acting odd, redirecting your home page, calling up pages you didn't want--but you can't find a virus? You may have SPYWARE on your computer; especially if you go to game or music sites. Click here to download the FREE LavaSoft AdAware program, and run it regularly!

What AdAware doesn't catch, "Malwarebytes" may! PC's--particularly those used for music downloads and online game playing--MUST download these free programs and run them often, to avoid major spyware problems with your computer!

Check for Internet hoaxes, scams, etc.

Here's more on the latest scams!

ADOBE ACROBAT is one of the most useful Internet document reading tools. Download it here, free; save to your computer, click to open, and forget about it! (But decline the "optional offers" -- they are just adware

Encyclopedia Britannica online

Newspapers around the world

Stain removal directions

Convert almost any unit of measure to almost any other

Research properties in the City of Portland

Local source for high-quality Shaklee nutritionals

Note: Since THE BEE is not the operator of any of the websites presented here, we can assume no responsibility for content or consequences of any visit to them; however we, personally, have found all of them helpful, and posted them here for your reference.


---
Local News websites:
The news TODAY

Local News Daily.com

KATU, Channel 2 (Digital/HDTV broadcast channel 24)

KOIN, Channel 6 (Digital/HDTV broadcast channel 25)

KGW, Channel 8 (Digital/HDTV broadcast channel 8)

KPTV, Channel 12 (Digital/HDTV broadcast channel 12)

KRCW, Channel 32 (Digital/HDTV broadcast channel 33)

KPDX, Channel 49 (Digital/HDTV broadcast channel 30)



---