Community Features
The "Events and Activities" for the month are below these featured stories!
---
Margaret Crosby (later Cutsforth), on a hillside with a rifle, outside the town of Riddle around 1911, on a camping trip at about age 15. (Courtesy of Tom Cutsforth)
SOUTHEAST HISTORY
A family century: Margaret Cutsforth, and a life leading from Riddle to Sellwood
By DANA BECK
Special to THE BEE
If you were a woman living in the Northwest in 1914, there were limited options to obtain a higher education and establish a career.
In that year, over a hundred years ago, once a woman graduated from high school, usually her only choices were to become a housewife and mother – or to seek a wage as a factory worker, seamstress – or possibly a teacher, nurse, or secretary, if she was qualified.
But one liberated woman of the time, Margaret Crosby, who came from a prominent family in Riddle, Oregon, was one of just a handful of women who were accepted into the University of Oregon that year.
Over the next four years – through teachers and classes, books, and interaction with other students, she began shaping her life. She began to believe that women should participate in events in which they weren't expected to excel, and should support projects that protected the environment or strengthened the community.
As we said, Margaret Crosby had grown up in the town of Riddle, a few miles south of Roseburg. That community, located in Cow Creek Valley, was surrounded by lush fields of hay and grain in the spring, and plenty of livestock and fruit orchards during the rest of the season.
There had been many outdoor activities to keep Margaret and her brother and sister occupied while their parents were running the household. Her father, David Crosby, was the proprietor of the Riddle Hotel for some 28 years, and sometimes the children were assigned to various chores at the hotel. The town was named by Margaret's grandfather John B., in honor of his father William H. Riddle, in 1893 – and, at an early age, Margaret understood never to "disgrace the family name".
Her Grandfather John was quite the entrepreneur – allowing the Oregon and California Railroad access to his land, as the railway was expanding south to Northern California in 1883. But that expansion occurred in fits and starts.
Access to a railroad was deemed vital in many small rural towns by the turn of the 20th Century – especially farming communities down the Willamette Valley. Many of the sharecroppers had previously been dependent on steamboats to ship their products to market. Transportation by river had been their only option, other than a long trek by horse-drawn wagon up the Willamette Valley to Portland. Steamboat travel was slow and unreliable, and sometimes farmers had to wait days or even weeks before a ferry or vessel appeared. A railway offered faster service, cheaper rates, and scheduled departing and arrival times for shipment of seasonal crops.
The first railroad built south across Oregon to California almost didn't get finished. When the "Oregon and California Railway" finished laying tracks to Roseburg in 1872, the citizens of Riddle anxiously awaited its expected extension into their community; but construction came to a standstill as the company became mired in debt during the financial panic of 1873. It would be another nine years before the completion of the rails to Myrtle Point and then on to Riddle.
When that great day arrived, and the whistle of the steam engine announced the arrival of the railroad, both sides of the tracks in Riddle were lined with cheering townsfolk, ready to board the train and for wagon loads of products to be shipped out.
Unlike the big towns of Portland, Astoria, even Eugene, life in the village of Riddle was still rather bucolic. A particularly intriguing family photo shown to me by Margaret's grandson, Tom Cutsforth, reveals what life was like for young people in the valley then. In the picture, Margaret Crosby, in her early teens, is in a leather riding skirt, a long sleeved jacket, high boots, and a scooped hat, while walking on a bushy hillside with a rifle in her hand.
When I asked about that photo, Tom commented, "It wasn't uncommon for a group of fifteen boys and girls to go camping together outdoors, sometimes for days. They would just bring along their guns and fishing poles." Cow Creek Valley was rich with deer, the creeks full of fish, and the hills were covered with blackberry bushes. It was probably on one of these expeditions that Margaret started a friendship with her future husband, Lee Vernon Cutsforth – but, for the time being, attending college had a higher priority in her life.
When she arrived at the University of Oregon campus for her freshman year, Margaret had to have realized that most sports activities were geared for men. Ladies' track, tennis, and basketball were the standard events offered for women, and since they weren't allowed to stay overnight unchaperoned, most games played between ladies' teams were held near the University grounds.
Competition between college teams at that time had the feel of an intramural contest, and games against distant colleges were uncommon. With a full load of classes on her schedule, Margaret nonetheless decided to join the ladies' basketball and field hockey teams. Only six girls were pictured taking part on the U. of O. women's basketball team in 1915. The following year Margaret increased involvement with campus activities – becoming President of the University's Women's Athletic Association.
To supplement her tuition, Margaret hired on as a teacher at the Riddle Normal (elementary) School during her freshman year. Teachers were in great demand, and every year small rural communities across America struggled to find new teachers for their classrooms. When they found and hired one, it was even harder to get them to stay for the following school year. The only requirements to be hired as a teacher was a high school diploma – and that you were single. The people in small towns went to great lengths to keep eligible bachelors away from their young school instructors.
But back to Margaret's summer break in 1915: She and some family members embarked on a journey that seemed almost unbelievable at the time. Her grandmother, aunt, and cousins decided it was a good time to see the world. They embarked on a trip to the opening of the Panama Pacific International Exposition down in California.
The State of California advertised heavily in newspapers, journals, and magazines encouraging people from around the nation to get away from the cold and chill of the Midwest and East, and enjoy the warmth and sunshine of the Golden State. The Exposition was held to celebrate the completion of the Panama Canal, and also to showcase the cities of San Diego and San Francisco – hopefully to duplicate the success of the City of Portland in 1905 with its Lewis and Clark Exposition. It was such advertising that likely induced the family into this memorable trip to California.
The opening of the Panama Canal was a major accomplishment for the United States. Travel by steamship and luxury liner from the east had previously taken months, going "around the horn" at the bottom of South America – and the opening of the Canal shortened the journey considerably.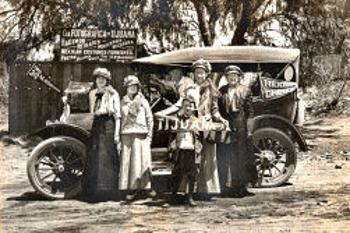 On the "summer break" trip to the Pan American Exposition in San Francisco and San Diego California in 1915. Margaret Crosby (Cutsforth) is the woman at far left. The souvenir photo was taken when the travelers crossed the Mexican border into Tijuana. The trip from Riddle, Oregon, to the Mexican border and back took them over a month. (Courtesy of CeCe Cutsforth)
On June 16th, 1915, in a touring car with a covered top and cloth tires, the family clan – four ladies, a young boy, and with cousin Julius Riddle as the chauffeur, butler, mechanic, as well as the only grown man on the journey – set off for California.
To appreciate the difficulty of their journey, you must realize how extremely hard it was then to travel by car from Riddle, Oregon, to San Francisco. There wasn't any state highway connecting Oregon to California; roads were unpaved, and gas stations were few and far between. A few gas stations could be found in big cities like Portland, Eugene, and Sacramento; but in smaller communities it would be a challenge locate any at all.
Cousin Julius, when their car ran short, had to scour local hardware stores for a can of gasoline, or inquire from farmers along the route if they had any extra petrol. Alcohol from a tavern could supposedly also be used in a pinch.
As the driver and auto mechanic, Julius would spend the majority of the month-long trip changing and repairing cloth tires on dirt or muddy roads, and replacing parts that fell off the vehicle because of the condition of the roads. Sometimes a visit to the local hardware store in the next town or even a blacksmith shop was required during the tedious trip. The travelers kept a diary of the daily activities, and – as written – most of the hours on the road were spent repairing and patching those bicycle-sized cloth tires.
Mechanical work on the engine was also very time consuming, and with all of the long stoppages, the ladies of the party had plenty of time to write in that daily diary.
As for lodging? Happily, the diary reveals that most of the overnight stays were in comfortable settings. During the hiatus in California, the ladies stayed in places like the St. Francis Hotel in Sacramento, the Imperial at San Jose, or the luxurious Hotel St. Cecil in San Francisco – but, their stays in the small towns of Delta, Chico, Taft, and Red Bluff were more difficult and mostly undocumented.
Indeed, if your car broke down and you couldn't reach a town that had a boarding house, you had to bed down in a farmer's haystack, or sleep in a schoolyard – which prompted making sure that you had plenty of blankets and pillows on your journey. By the way, there wasn't road maintenance, either, so if a tree fell across the road, you had to have a saw on hand, to cut it up and remove it. A box of tools to fix car breakdowns was, of course, essential.
This was a carload of determined and confident women, since the idea of four ladies taking off on a whirlwind trip down the west coast without the escort of a large contingent of men along was not then socially acceptable. As for the possibility of being harassed by unruly men or menaced by bears or other wildlife, if they were sleeping outside – we know Margaret Crosby was good with a rifle, and probably kept it nearby.
Well, they finally arrived. And the group had an extraordinary time in their week in San Francisco, and later their four days in San Diego – and, before they started back to Oregon and Riddle, they even made an additional stop across the border in Tijuana, Mexico. Somewhere on the trip the ladies bought tickets to hear the world-famous music conductor John Philip Sousa in concert (whose favorite place to hold concerts, by the way, was at Oaks Park in Sellwood).
The tour finally arrived back in Riddle on July 20th, 2015. For the next three years, Margaret continued her studies at the University of Oregon. In 1917, when America became involved in the "European War" (now known as World War I), many male students left college and volunteered to serve overseas. Margaret had become closer with Lee Cutsforth, an older man by four years who worked for the railroad in Riddle as a signal-man. When he was drafted into the military, both Lee and Margaret corresponded regularly by mail.
In her senior year at the Eugene campus, Margaret continued her sporting activities, and also became an active thespian – earning the lead role in the spring production of "Cyrano De Bergerac". Upon graduation, Margaret's high grade-point-average and involvement with campus projects earned her enough credit to qualify as Phi Beta Kappa inductee.
Unfortunately, the University of Oregon wasn't designated for a PBK chapter until 1923, so she missed out on the chance to be selected. However, once the Phi Beta Kappa Society was established at the University, Board Members decided to review honor students who might have missed induction prior to 1923, and presented the award to them. After five years, Margaret was presented a pin and certificate as a Phi Beta Kappa member.
Meantime, Lee Cutsforth was still working as a wirecutter with the Army, and never was sent abroad during the conflict; but his letter-writing must have sparked a love interest. Following her graduation, and after Lee was discharged from military service, Margaret accepted his proposal, and on August 12th, 1919, they were married.
Lee resumed his old job at the Southern Pacific Railroad, and most of his time was spent in the field, traveling the Willamette Valley Route from Portland south to Ashland and other parts of Oregon. To save money, and avoid being separated for days on end, Margaret joined Lee, and they lived together on a railcar traveling from project to project along the Southern Pacific tracks. Whatever job Lee was assigned, the train would haul their single car to the desired location, where it was placed on a side track, to become their home until they moved on to the next railroad assignment.
On an emergency stop at the town of Albany, Margaret was rushed to the Albany Hospital where David Cutsforth was born – one of three children the couple would have.
Wanting a stable education for his family, and a steady home life, Lee Cutsforth bought a small bungalow on Miller Street in Sellwood in 1921, where he was able to take the streetcar down to the Brooklyn Railyard shops.
Lee was allowed by Southern Pacific to ride the train anywhere free of charge, so most of the family vacations were taken by rail. It wasn't until 1932 that family members convinced Lee to buy his first car; and vacations were thereafter never the same.
Three years later, with a growing family, the Cutsfort's enlarged their little house on Miller Street, adding an upper floor for the boys David and Curt. Their sister Verna had a room downstairs, away from her rowdy brothers. David and Curt became track champions at Sellwood School, and later starred on the Washington High track squad.
David began caddying at the Waverley Golf Club, working as a looper. The caddy shack was located near the old clubhouse at 11th and S.E. Ochoco, where the young caddies waited patiently – playing cards, or brushing up on their putting skills – until a call from the main clubhouse, 300 yards away, requested a caddy.
In 1941, the United States was faced with another impending World War. While Lee was too old to be drafted into the conflict, both of his boys – David and Curtis – answered the call for their nation. Both were commissioned Ensigns in the Naval Reserve, with David becoming a lieutenant on a P.T. boat in the South Pacific. Their mother Margaret also contributed to the cause, starting a victory garden in the backyard, where she grew vegetable and fruits to support the family, and also was selected as an Air Raid Warden, making sure the neighbors complied with war restrictions in her section of Sellwood.
When the boys returned after the war was over, they married and started their own families – getting together with Lee and Margaret at Christmas or for summer visits.
Tom and CeCe Cutsforth, grandchildren to Margaret and Lee, know many of the fascinating family stories. CeCe has collected hundreds of photos, and added important texts for family members to review, while Tom has spent endless hours listening to the tales told to him by their father David, and their Uncle Curt Cutsforth.
During his teenage years Tom happily recalls visiting Sellwood Park. Just like his father, Tom spent hot summer days splashing around the Sellwood Pool with its unheated water, and buying candy and snacks at the Soders Brothers candy store on the northeast corner of Miller and S.E. 7th. Weekends at Oaks Park were also on the schedule, with its dazzling Roller Coaster and Mystic Fun House. As Tom fondly recalls, "Where else could you spend all day, and buy a drink and a hot dog for only a quarter?"
In their retirement, Lee and Margaret spent time growing dahlias in the back yard or catching fish on the Willamette. In 1968, while catching a 10 lb. spring chinook off the docks in Sellwood, Lee was stricken and passed away, enjoying his fishing passion to the end.
Margaret, still living in the house in which she had raised her family since 1921, passed away in 1976.
At the end of family's history album, CeCe Cutsforth summarized why family is so special to her. And she reflected, in her closing lines: "Only years later did I come to understand that the Women's Athletic Association my grandmother led in 1915 may have made it easier for her great granddaughter to participate in University of Oregon sports in 2007!"
---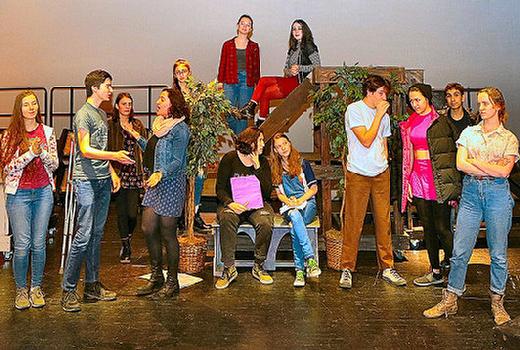 From the upcoming production of "Much Ado About Nothing", Cleveland High's "Company of Warriors" theater troupe rehearses the Big Party scene, where romance and trickery abound. (Photo by David F. Ashton)
Shakespeare's 'Much Ado' comes to Cleveland High Theater
By DAVID F. ASHTON
For THE BEE
Romance! Trickery! Heartbreak!
These and other emotions are played out on stage, as the "Company of Warriors" presents Cleveland High School (CHS) Theater Department's upcoming production of Shakespeare's "Much Ado About Nothing", opening April 12.
"We haven't done Shakespeare for a while, and it seemed time to give our student actors experience with one of his plays," remarked CHS Drama Instructor – and the show's Director – Tom Beckett, at a recent rehearsal.
"Another motivation is that we have 'Bard-o-philes' among us, who have been clamoring for the opportunity to act and speak in free verse; and thus, to tackle the 'Olympics of acting', as they say," Beckett told THE BEE.
Although Shakespeare completed writing "Much Ado About Nothing" in 1599, the story is still fitting for our times, Beckett commented. "The two storylines play out a strange backdrop of a war – a war of the sexes. And also, as the title suggests, there is a big 'to do' about an event that's been falsified. Who's telling the truth? What does it mean to be in love? These questions are still floating through the gestalt of the nation!"
The curtain goes up for "Much Ado About Nothing" at 7 p.m. on April 12 in the CHS Auditorium; and, there's a matinee performance on April 14 at 2 p.m. Tickets are sold at the door: $10 for adults, $5 for students.
---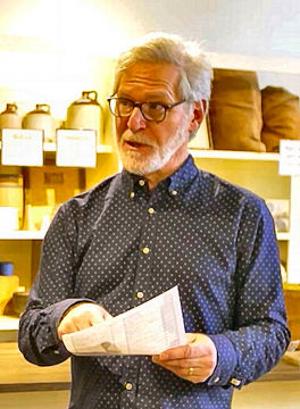 As he appeared in his Portland-area visit, here's Dave Jones – the host and producer of "Destination Oregon". (Courtesy of Dave Jones)
Bend-area TV crew films in Westmoreland
By DANA BECK
Special to THE BEE
The film crew of a Central Oregon TV documentary series called "Destination Oregon" were busy in Westmoreland on Sunday, February 24th. "Destination Oregon" is a travel feature showcasing lodgings, places of interest, and a historical museums around the state. The resulting features are broadcast on Bend-area TV stations KOHD and KBNZ.
If you happened to be in the right place at the right time, you might have glimpsed the film crew in action. Producer and host Dave Jones visited "The Bible Club PDX", the speakeasy-styled bar across from the Sellwood-Westmoreland Post Office on 16th at Bybee Boulevard. The TV program showcased the iconic Oaks Park Skating Rink on one of their past segments.
Jones shared that he spends over 50 hours a month researching which places to visit, setting up interviews, and overseeing the film crew – usually on a weekend. His cool demeanor, and laid-back small-town presentation, on the show comes from his 20 years' experience as a news anchor in Bend. He also has been a fill-in sportscaster and weatherman.
Dave and his film crew shoot some 50 segments per year, so "Destination Oregon" searches out quite a few interesting destinations, to appeal to viewers who like to plan interesting outings around the state.
On the same weekend, their cameras were also rolling at the "Columbia Gorge Model Railroad Club" in North Portland, where train enthusiasts can watch miniature trains rolling through a thousand feet of tracks in a highly-detailed miniature landscape of the Columbia River Gorge. Then, it was off to the "End of the Oregon Trail Interpretive Center" in Oregon City, where Jones interviewed historian and costumed interpreter John Jarvie.
Jones hinted that this may not be the last time you might find "Destination Oregon" filming on the streets of Inner Southeast Portland.
---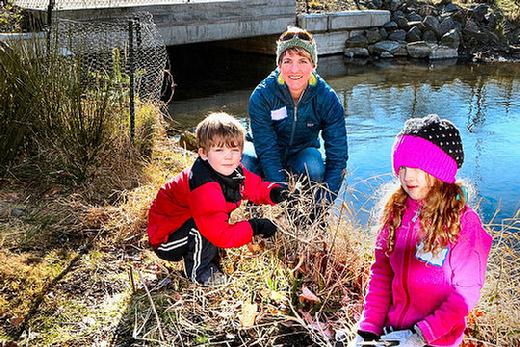 At Westmoreland Union Manor, neighbor Melissa Federspiel has help from Eli and Laurel in uprooting invasive plants from the bank of Crystal Springs Creek. (Photo by David F. Ashton)
Hundreds join Johnson Creek restoration party
By DAVID F. ASHTON
For THE BEE
Adults and kids headed out for a Saturday morning of community service with the Johnson Creek Watershed Council (JCWC), as the 21st Annual Watershed Wide Event got underway on March 2.
Clear skies and bright sunshine brought out a total of 410 volunteers to ten locations from Gresham to near the Willamette River; they planted a staggering 5,000 native trees and shrubs.
Two of the larger restoration groups in Inner Southeast Portland focused on Crystal Springs Creek as well as Johnson Creek that morning.
At Westmoreland Union Manor, about 50 turned out to plant new growth, while others pulled up invasive species from the grounds, even some of Manor's residents pitched in.
And, at Tideman-Johnson Park, in the Ardenwald-Johnson Creek neighborhood, a block south of Eastmoreland, about 45 people came to help.
"We've a great group of volunteers to plant natives in the wetland near the creek," said Marianne Colgrove with "Friends of Tideman Johnson".
"This JCWC event is kind of special for us, in that this month, our Friends group celebrates its 12th anniversary," Colgrove confided to THE BEE.
"Partnering with the JCWC on projects such as the 'Watershed Wide Event' is really important to us at Portland Parks & Recreation, because it involves so many people in the community," remarked the Bureau's Stewardship Manager for the Johnson Creek Watershed, Susan Hawes, as she helped out at one of the sites. "For our Bureau, it's all about getting people engaged in, and connected with, their local parks and natural areas."
"It's beautiful to see people gathering together to care for the creek and each other during our events all year long, smiled JCWC Volunteer Coordinator Courtney Bektel, coming back from a worksite.
Wrapping up his participation in his fourth Watershed Wide Event, JCWC Executive Director Daniel Newberry chimed in, "And we've seen an increase in the number of corporate, government, and nonprofit teams coming out to help over the past few years.
"Improving the health of local streams and natural areas is a great way to do something positive for the community and the earth; and doing it together is a great way to deepen existing friendships, and build new ones," Newberry reflected.
Find out how you can get involved with the Johnson Creek Watershed Council by visiting their website – http://www.jcwc.org
---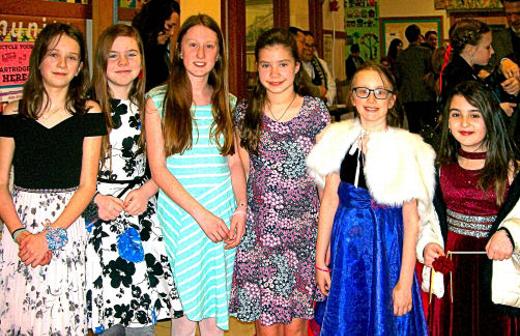 All dressed up for the ball were Madeline, Molly, Adeline, Eliana, Mathilda, and Hazel. (Photo by Rita A. Leonard)
Snow delays Westmoreland school's 'Small-Tall Valentine Ball'
By RITA A. LEONARD
For THE BEE
What started out in January as an unusually springlike winter abruptly turned cold and snowy in February, and one of the victims of the weather shift was the annual "Small-Tall Valentine Ball" at Llewellyn Elementary School in Westmoreland.
But, it was just a postponement due to snow, not a cancellation. And the school's popular Parent-Student dance was successfully moved from February 8 to March 1.
The paper "red carpet" lining the hall floors on that Friday night, the first of March, was rapidly demolished by excited students racing around to see their friends "all dressed up" for dancing with their parents.

Pink, white, and red balloons and hearts decorated the darkened school gym – serving as the "Ballroom" for the night – supplemented by flashing colored lights, and a mirrored ball. A teacher acted as DJ and took song requests. Students wore lighted color bands from the entry table, to add a confetti of extra colors to the festive room.
Parents, along with Principal Joe Galati, sold tickets and welcomed visitors in the front hall, and directed attendees to the gym, the hall snack tables, and to the photo booths in the Cafetorium. The entry fee income was designated to support the school's fourth and fifth grade overnight field trip.

Additionally, students sold handmade yarn corsages near the entry to the gym to finance class projects, while proud parents in dress-up clothes arrived holding hands with their student "dates" before releasing them to the pandemonium of their first mini-prom.
Boys wore suits and ties, and girls donned fancy dresses, jewelry, capes, tiaras, and even makeup. However, crowded onto the dance floor or around the refreshment tables, these elementary school students were still just kids, giggling and having a great time.
Dance coordinators Amanda and Bryan Buck remarked, "We usually have between 250 and 300 attending. The fourth and fifth grade students' parents provide snacks. We even had some Llewellyn alumni volunteers from Sellwood Middle School come back to help this year, and to visit with their former teachers."
This was the fifth year of the popular family fund-raiser at Llewellyn – but the first time one had been postponed by snow in February.
---
The Sellwood Middle School Band, under the direction of Dan Arrayan, filled the streets with lively music. (Photo by David F. Ashton)
Sun smiles on Sellwood for St. Patrick's Day celebration
By DAVID F. ASHTON
For THE BEE
After several straight years of rainy and windy weather at the annual celebration, the 2019 edition – their 21st Annual – of St. Agatha Catholic School's "St. Patrick's Day Parade and Festival" took place this year under sunny skies, only seven days after freezing weather and light snow!
"This is my fifth parade, and it's the first year where we've actually had gorgeous, beautiful weather; we're very excited that God is smiling down on us today," cheerily greeted the school's Principal, Chris Harris.
"As a school and church family, this event is all about building community," Harris continued. "Hundreds of volunteers work countless hours to put this together for all to enjoy, with the help of our community member partners to make a great celebration here in Sellwood."
Festival organizer Kurt Krasneski agreed, "We're grateful to be in the middle of the Sellwood-Westmoreland neighborhood; we can't think of a better way than this to put on a celebration, and invite everyone to attend."
While kids tried their hands at new carnival games, perennial Chef Brian Quinn was in the kitchen, preparing lots of traditional Irish delicacies – including 600 sausage rolls, 200 shepherd's pies, 250 sausages, and 100 corned beef sandwiches.
"We've added more food carts this year," Krasneski remarked, pointing to the patrons lined up, "and Ireland's famous Guinness beer is on tap in the beer garden."
Eight acts on the main entertainment stage kept the afternoon lively; there were three competitive Irish dance groups on the performance list this year.
"It's so wonderful seeing neighbors come by; it's an event that's long been in our parish's DNA and it's our way of giving back to our community," said Krasneski.
---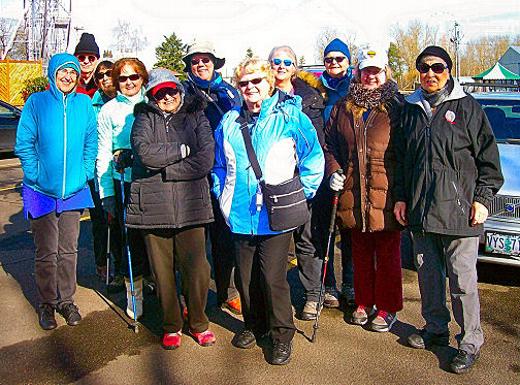 The seniors in the Southeast Thursday Hikers group visited Oaks Bottom on Thursday, February 28. Hiking leader Helen Davalos is at right. (Photo by Rita A. Leonard)
Senior 'Thursday Hikers' explore Oaks Bottom, Sellwood Bridge
By RITA A. LEONARD
For THE BEE
A "Thursday Hikers" group that has met on Thursdays at 10 a.m. for the past twelve years is made up "Mostly of grandmas and retired ladies", according to Southeast Group Leader Helen Davalos – who, herself, is still an active independent insurance agent in Portland at a very advanced age. "We are about 25 active hikers in five groups who enjoy exploring the many interesting new trails and sites in Oregon and Washington. We welcome anyone who would like to join us. E-mail me at helendavalos@comcast.net for our schedules."
Davalos led the February 28th hike in the Oaks Bottom Habitat Restoration area, in the aftermath of the recent rehabilitation of the Oaks Bottom Lagoon and rebuilding of the Springwater Trail there. "We also hiked across the new Sellwood Bridge, read the information signs posted there, and then returned for lunch at Jade Bistro & Patisserie in Sellwood."
The five hiking groups – one for each Thursday of the month – are named for the areas they frequent. There are the Mountain Troop, Northeast Troop, Washington Group, Southeast Group, and the Southwest Group. Exercise and camaraderie are their main interests. "We only have two rules," says Davalos: "No politics and no religion – we can talk about anything else. We hike about three miles on each trip."

The senior hikers admired the new salmon habitats created east of the tunnel that now connects the Oaks Bottom Lagoon to the Willamette River under the new Springwater Trail segment. "We have a few birdwatchers among our members," Davalos commented. "One even had an app so we could listen to authentic bird calls."
These 12 hikers in Oaks Bottom on February 28 saw hummingbirds, downy woodpeckers, courting wood ducks, and other wildlife. They were also impressed with close-up views of the seven-story-tall wildlife mural on the west side of the Portland Memorial Mausoleum. "Look, there's a beaver and a kingfisher," they exclaimed, taking photos of the building. The huge mural is considered to be the largest hand-painted mural in the USA.
---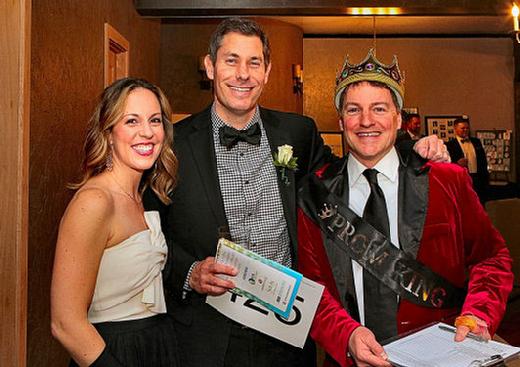 To begin their fun evening at this year's "Prom"-styled Duniway Auction, Carrie and Curtis Spiteri bought a lucky raffle key from "Prom King" volunteer Dan O'Rielly (at right). (Photo by David F. Ashton)
School foundation raises funds at 'Duniway Prom' night
By DAVID F. ASHTON
For THE BEE
Once again, Southeast Portland's Melody Ballroom was the venue for the Duniway Foundation annual dinner auction gala, held Friday evening, March 8.
"Our theme this year is 'Prom'; and it came about when our committee gathered at 'Relish Gastropub' in Westmoreland and bounced ideas off one another – and this one seemed great," said Co-Chair Trisha Highland. "In promoting it, we published old prom pictures for ourselves, and invited the community to get involved in this really festive and fun evening.
"By the way, this is our 20th annual Dunaway Auction that we're celebrating this evening," the other Co-Chair, Betsy Roberts, told THE BEE. "70% of the funds raised by the auction helps the foundation fund classroom teaching and assistant positions not funded by Portland Public Schools.
"In addition to helping reduce class sizes, we're able to bring in new classes, such as a pilot STEM scientist-in-residence program."
During the silent auction, which was held in the Melody Ballroom's "Wine Vault", servers passed appetizers of Thai Chicken Satay, Crostini with mushroom paté, and Endive with marinated bets and fennel, amongst the 300+ guests.
"This being my sixth year at the school, it seems each year the auction gets better and better; our volunteers have really brought a great energy to it tonight," said Principal Matt Goldstein. "When I see all these community members coming together on behalf of our school, it's really amazing and encouraging – knowing that they are supporting our 514 students, and public education in general."
After the attendees were ushered to the main ballroom, they enjoyed a "family style" meal of chicken with apricot Dijon glaze, stuffed Portobello mushrooms, potatoes with rosemary, and a seasonal vegetable medley.
After dinner came the live auction, a "dessert dash", and dancing. Through this year's "Duniway Prom" auction, the volunteers and participants raised about $150,000 in support of their neighborhood school.
---
Southeast Events and Activities
APRIL 2
Computer Basics 2 – using the Internet: This free class, 10 to noon this morning at the Sellwood Branch Library, is for beginners of any age – and, is an introduction to using the Internet on computers. Learn how to access and safely navigate the web, and practice using a search engine to find what you are looking for online. Free, but registration is required; register in the library – or by calling 503/988-5123. The library is on the corner of Bidwell and 13th Avenue in Sellwood.
"Epic Draw/Play" for kids and teens on Tuesdays: At the Sellwood Branch Library, this afternoon and each Tuesday at the same time, kids 9-12 (and anyone else, younger or older, who would like to be there) is invited to an hour (3:30-4:30 p.m.) of drawing your favorite characters, coloring them, cutting them out, and playing with them. This is informal, goofy, and a lot of fun. Tell about your favorite characters from books, games, movies, or anywhere else, and we'll "Epic Draw/Play" them. Free. The library is on the corner of S.E. 13th and Bidwell Street in Sellwood.
APRIL 6
Charity "Amani Beads and Crafts Sale" in Sellwood: From 10 a.m. to 5 p.m. today, handmade from Kenya, this beads and crafts sale includes ceramic jewelry, nativities, scarves, carvings, bright baskets, and more – or make your own necklaces. All proceeds go to care for abandoned babies at New Life Home in Kenya. The sale is hosted at Re/Max Equity Group, 7886 S.E. 13th Avenue in Sellwood. For more information, call Christina Hamilton at 503/860-4498.
Plant-dividing workshop in Woodstock: This morning, 10-11:30 a.m., you're invited to a plant-dividing workshop at the Woodstock Community Center, 5905 S.E. 43rd Avenue, just north of Woodstock Boulevard. Learn how to dig, divide, and pot bulbs, hostas, ferns, and other perennials – In preparation for donating plants to the Woodstock Neighborhood Association plant sale on Saturday, May 11th. To RSVP for this free class, call Terry Griffiths at 503/771-0011.
APRIL 11
Public meeting about Woodstock development proposal: With plans afoot to construct a full-block building project on the "Joinery block" bounded by Woodstock Boulevard and Martins Street, between 48th and 49th Avenues, tonight is your chance to see and hear representatives of Leeb Architects and Mill Creek Residential present their plans and answer questions about the proposal. The meeting will be held at All Saints' Episcopal Church, 4033 S.E. Woodstock Boulevard. Doors open at 6 p.m.; the presentation starts at 7 p.m., to be followed by Q&A. This free public event is hosted by the Woodstock Neighborhood Association. Light refreshments will be available.
APRIL 13
Music & Movement for children and families in Woodstock: Join award-winning children's educator and performer Aaron Nigel Smith, as he gets the whole family moving, grooving, and learning – 2 to 3 p.m. this afternoon. It's free, and it's at the Woodstock Branch Library, S.E. Woodstock Boulevard at 49th Street.
APRIL 14
Palm Sunday service in Westmoreland: This morning at 9.30 a.m. you are welcome at the Palm Sunday service at Moreland Presbyterian Church, 1814 S.E. Bybee Boulevard. This is a celebratory service commemorating Jesus' entrance into Jerusalem. All ages are invited to join in the procession of palms to begin the service.
APRIL 18
Easter "Seder Dinner" in Sellwood: This evening at 6 p.m., the Sellwood Faith Community House will be celebrating some of the rituals that Jesus would have used in the Upper Room during the Last Supper in a "Seder Dinner" meal together. Open to all. The address is 1535 S.E. Tacoma Street in Sellwood.
Maundy Thursday gathering and dinner in Westmoreland: This evening at 6 p.m. at Moreland Presbyterian Church, 1814 S.E. Bybee Boulevard, the annual Maundy Thursday gathering will provide a "Meal-around-a-worship-experience" – a non-traditional, family-oriented dinner and service in the Fellowship Hall. All are welcome.
APRIL 19
"Good Friday" worship in Westmoreland: At 6 p.m. this evening at Moreland Presbyterian Church, there will be "a Taizé meditation on Love crucified in our Sanctuary. Taizé is a reflective and peaceful experience by candlelight, centered on simple, contemplative 'sung prayers' balanced with scripture readings and extended silence. It is ecumenical in nature, ideal for people from any religious tradition (or no tradition at all) to join in. All are welcome." 1814 S.E. Bybee Boulevard.
"Good Friday" worship in Woodstock: This evening at 7 p.m. at Trinity United Methodist Church, the community is invited to a traditional service of remembrance of the crucifixion of Jesus, with songs from the choir. The church is at 3915 S.E. Steele Street, on the corner of Chavez Boulevard (formerly 39th Avenue).
APRIL 20
Sellwood-Westmoreland Easter Egg Hunt: Rain or shine, the annual Sellwood-Westmoreland Easter Egg Hunt will begin at 10:00 a.m. sharp this morning – and since it is usually over a few minutes later, be sure to be early! It takes place at the south end of Westmoreland Park, opposite the parking lot area. The Egg Hunt is free, but please bring a canned food donation for those in need. Also, there will be a collection box for used eyeglasses and hearing aids. This annual children's and family event is sponsored by SMILE, the Sellwood-Westmoreland neighborhood association, with the assistance of the Portland Oaks Bottom Lions Club, Sellwood New Seasons Market – and the Eastmoreland Neighborhood Association, which graciously donated the park permit.
Brooklyn Park Easter Egg Hunt: This morning at 11 a.m. sharp, the 6th Brooklyn Easter Egg Hunt will be held at the top of Brooklyn Park's hill. For more information, or to volunteer, e-mail – matthew.mccomas@gmail.com
Festive Floral Arrangement class for adults, in Woodstock: Create a festive fresh flower arrangement with the florist-designer Margarit Petrosyan this afternoon at the Woodstock Branch Library. Learn the refinements of flower care and arranging. Free, but registration is required. Register in the library, or by calling 503/988-5123. The class runs from 3 to 5 p.m. this afternoon; the library is at S.E. 49th and Woodstock Boulevard.
APRIL 21
Easter sunrise worship outdoors in Sellwood: An open Easter sunrise worship will take place at 6 a.m. in Sellwood Riverfront Park at the foot of S.E. Spokane Street, after which those present are invited to breakfast at the Sellwood Faith Community House, 1535 S.E. Tacoma Street.
Easter service in Westmoreland this morning: This morning at 8.30 a.m. and 10.30 a.m., Moreland Presbyterian Church twice offers worship celebrations of "love resurrected" in the Sanctuary. Both services will feature special music from the Chancel Choir, Bells, and an Intergenerational Easter Choir, as well as brass and percussion. Coffee and refreshments will be served between services. "Come as you are…all are welcome." 1814 S.E. Bybee Boulevard.
Volunteer choir performs at Southeast Portland Easter Service: Once again this year, a full community choir will perform at the Easter Service at Mt. Scott Presbyterian Church at 10 a.m. this morning, open to everyone without charge, at 5512 S.E. 73rd Avenue, just east of Woodstock.

Easter Sunday worship service in Woodstock: At 10:30 a.m. this morning, the community is welcome to attend an Easter Sunday worship service at Trinity United Methodist Church, 3915 S.E. Steele, on the corner of Chavez Boulevard (formerly 39th Avenue).
APRIL 27
12th Annual "82nd Avenue of Roses Parade" this morning: The first official public event each year of the Portland Rose Festival is the "82nd Avenue of Roses Parade", which steps out at 9:30 a.m. at the north end of Eastport Plaza on Bush Street, north of Holgate. THE BEE will again be present, as the parade starts out at Bush, and heads north to the Montavilla District – then turns west on Yamhill Street and disbands at 78th Avenue. Last year's parade included sixty entries and over a thousand participants. Plan to be present at the start of the parade at 9:30 this morning! (At the end of the parade a free, family-friendly Asian New Year in the Park will take place at Glenhaven Park, on 82nd Avenue at Siskiyou for the rest of the day until 6 p.m.)
MAY 4
The Brooklyn Neighborhood "Clean Up and Haul Away": This neighborhood cleanup will be held from 9 a.m. to 2 p.m. on the corner of S.E. 16th and Center Street in the Brooklyn neighborhood. Volunteers are needed for 2-hour shifts. For information, Call 971/222-9454.
SCROLL DOWN FOR THE LIST OF COMMUNITY HOTLINKS -- AND USEFUL, AND JUST PLAIN

FUN

HOTLINKS -- IMMEDIATELY BELOW!
Useful HotLinks:
Your Personal "Internet Toolkit"!


Charles Schulz's "PEANUTS" comic strip daily!

Portland area freeway and highway traffic cameras

Portland Police

Latest Portland region radar weather map

Portland Public Schools

Multnomah County's official SELLWOOD BRIDGE website

Click here for the official correct time!

Oaks Amusement Park

Association of Home Business (meets in Sellwood)

Local, established, unaffiliated leads and referrals group for businesspeople; some categories open

Weekly updates on area road and bridge construction

Translate text into another language

Look up a ZIP code to any U.S. address anywhere

Free on-line PC virus checkup

Free antivirus program for PC's; download (and regularly update it!!) by clicking here

Computer virus and worm information, and removal tools

PC acting odd, redirecting your home page, calling up pages you didn't want--but you can't find a virus? You may have SPYWARE on your computer; especially if you go to game or music sites. Click here to download the FREE LavaSoft AdAware program, and run it regularly!

What AdAware doesn't catch, "Malwarebytes" may! PC's--particularly those used for music downloads and online game playing--MUST download these free programs and run them often, to avoid major spyware problems with your computer!

Check for Internet hoaxes, scams, etc.

Here's more on the latest scams!

ADOBE ACROBAT is one of the most useful Internet document reading tools. Download it here, free; save to your computer, click to open, and forget about it! (But decline the "optional offers" -- they are just adware

Encyclopedia Britannica online

Newspapers around the world

Stain removal directions

Convert almost any unit of measure to almost any other

Research properties in the City of Portland

Local source for high-quality Shaklee nutritionals

Note: Since THE BEE is not the operator of any of the websites presented here, we can assume no responsibility for content or consequences of any visit to them; however we, personally, have found all of them helpful, and posted them here for your reference.


---
Local News websites:
The news TODAY

Local News Daily.com

KATU, Channel 2 (Digital/HDTV broadcast channel 24)

KOIN, Channel 6 (Digital/HDTV broadcast channel 25)

KGW, Channel 8 (Digital/HDTV broadcast channel 8)

KPTV, Channel 12 (Digital/HDTV broadcast channel 12)

KRCW, Channel 32 (Digital/HDTV broadcast channel 33)

KPDX, Channel 49 (Digital/HDTV broadcast channel 30)



---