Community Features
The "Events and Activities" for the month are below these featured stories!
---
Winter skating on the frozen Westmoreland Park Casting Pond. The 1950s saw a resurgence in family values; new suburban neighborhoods were filled with young families and parents with kids who gathered at neighborhood picnics, or to watch their children play Little League baseball, or to spend a cold evening of ice skating on a fortuitously frozen pond. (Photo courtesy of Oregon Historical Society)
SOUTHEAST HISTORY
Remembering Inner Southeast in the 1950s
By DANA BECK
Special to THE BEE
If you remember old time Rock 'n Roll, or danced the jitterbug, or spent your teen years hanging out at the drive-in restaurants wearing men's top-siders (saddle shoes for girls), then you clearly grew up in the 1950's.
It was a time when cat eyeglasses, charm bracelets, and penny loafers were in style – and young folks might respond "see you later, alligator", or "what's your tale, nightingale", in casual conversation. Boys wore butch wax in their hair; girls had pony tails.
In Westmoreland, "Mile High Oxfords" were on sale for $9.99 at the Men's Toggery, near S.E. Claybourne and Milwaukie Avenue.
It was a new horizon for Americans who had weathered the strife and horrors of World War II and were now in a new decade with a sense of better days to come. Although there was optimism in the air, and that's what we best remember now, it was also a time that was under a nuclear shadow, and we'll recall that, as well, shortly.
New businesses in the Sellwood-Westmoreland neighborhood included radio-TV and record shops, embracing the new technology of this era. Everyone wanted a television at home, and if your parents could afford one they were on display at McKernan's Radio and Television Shop in Westmoreland. If they couldn't, you usually tried to invite yourself over to the home of a neighbor who owned one.
And early television seemed magic. Saturdays became family time, watching TV. Some of the leading TV programs were "I love Lucy", "Perry Mason", "The Lone Ranger", and "Gunsmoke". Families could have dinner in front of the "tube", using TV trays that could be purchased at Shaw's Furniture Store on Milwaukie Avenue. These metal fold up tables allowed people the ease of eating a hot meal from the comfort of their own living room, while watching their favorite show at the same time.
You could purchase a television set for between $200 and $300, but the pictures on televisions then were only "black and white". Furniture stores advertised that most of their sets were equipped with two-knob controls, so that customers could easily tune their TV – there was no remote control in those days – but they didn't mention the inconvenience and expense of dealing with a television set that contained as many twenty-three vacuum tubes, all of which could burn out and need replacement.

Today, people often just throw away a TV that stops working, and buy a new one. But back in the 1950s, if your set wasn't working, you were expected to pull all the tubes out from inside the set (taking care to chart where each one came from so you could put them back correctly), and take them carefully to either N-D Electric Radio and Appliance, or Bybee Radio and Electric, for testing on their tube testing machines. Then you could find and buy a replacement for any that were "burnt out". If the TV still didn't work, it had to be serviced by a technician at either of these stores. At least help was nearby.
Folks in Westmoreland were overjoyed when the Sellwood-Moreland Post Office opened after moving north from 13th Avenue Sellwood to two blocks south of Bybee Boulevard; it was less convenient to Sellwood residents but certainly more accessible to Westmorelanders. It wouldn't be until 1963 until it moved again to its current location at S.E. 16th Avenue and Bybee, where a house had to be demolished to make room for it.
But still, there lingered that shadow of nuclear war.
The term "Cold War" came into common use in the 1950s, after both the United States and the Soviet Union gained the capability to build quantities of atomic and hydrogen bombs. Tensions built between political leaders in both countries, and the threat of nuclear war was an ever-present concern for Americans. Civil defense and devising protection from nuclear fallout were major concerns, and evacuation plans were in place for Southeast Portland residents to be rushed down McLoughlin Boulevard (Highway 99E) to the town of Canby, if needed for immediate protection.

Kenneth Pinnon was named the public relations officer by the National Civil Defense Administration, and he was expecting between 25 and 30 volunteers per neighborhood to help with evacuation plans. How they were planning on evacuating so many residents in such a small amount of time when an incoming bomb was enroute was never explained in detail.
The government was counting on homeowners to build their own bomb shelter, and how-to booklets were available for those wanting to build one inthe basement or in the backyard. Few people ever went to the trouble of building an underground shelter, however.
But, with nuclear disaster on everyone's mind, at all elementary schools – including Llewellyn and Duniway – students were taught the "Duck and Cover" maneuver when air raid sirens around the city went off. Practice drills were common.
People in the Northwest at the time were relatively unaware of the treatment elsewhere in the country of people of color. In the American south, Blacks weren't even allowed into movie theaters that whites patronized, and public outdoor drinking fountains and restrooms were segregated by the color of your skin. Portlanders patted themselves on the back that their city was civilized and non-discriminating, but if you were an African American living in the Portland, there was de-facto discrimination, if it was not a matter of official policy – you could apparently only buy or rent a house in certain sections of the city. Few residents seemed to notice that the majority of young African Americans attending schools in Portland were enrolled at Jefferson High School.
In 1957, Oregon initiated the State Fair Housing Act, to keep real estate agents from discriminating against people of color; but some neighborhoods seemed to discourage selling property to African Americans. The State of Oregon passed a statute in 1953 making it illegal for restaurants or hotels to turn away a person based on their race, but that still didn't then bring an end to practices that amounted to de-facto racism.
Native Americans even fared worse. In 1954, Congress terminated 109 Native American Tribes, of which there were 62 in Oregon. All of the Tribes lost the land they held, money they were entitled to, and also a large part of their culture. It would take decades before they could raise the money for legal action and win back in court some of the Tribal land they'd owned and the needed financial support that was promised from treaties signed by Congress and tribal leaders decades before.
On a lighter note, going to the Drive-In movies was a great family treat, and the public became enthralled with movie stars like John Wayne, Gary Cooper, Bing Crosby, Bob Hope, Jimmy Stewart, and Marilyn Monroe. Inner Southeast had a smattering of Drive-Ins which included the Super 99 in Oak Grove on McLoughlin Blvd, Sandy Drive In at 92nd and N.E. Sandy Boulevard, the Powell Drive-In at S.E. 90th and Powell.

A Drive-In movie meant an evening of entertainment, and if you didn't bring your own food, then popcorn, candy, coffee, and ice-cold drinks could be purchased at the snack shack which was usually situated in the middle of the parking area. Swings and a slide were set up under the movie screen for restless children to play on before dark and the screen lit up for the show.
Dick Clark's Saturday network TV show, American Bandstand, was no less popular in Inner Southeast than anywhere else – enticing local teenagers into copying the dance steps they saw on TV, and spending hard-earned allowances on buying hit songs on 45-r.p.m. records, initially for for as little as 25 cents at the Westmoreland Monarch Drugstore on the corner of Bybee Boulevard and S.E. Milwaukie Avenue. For those in Sellwood, Livingston's Pharmacy at Umatilla and S.E. 13th Avenue was the hot spot for records, as well as soda pops and teen magazines. By the end of the 1950s, those 45s were selling better than ever, but now usually cost close to a dollar.

At least one of your friends in that era would have a plastic portable record player with a big spindle for playing 45s, to provide hours of fun. Teenagers still socialized at Dell and Dollies on Tacoma Street after the movie was over at Moyer's Sellwood Movie theaters, but Drive-In movies for teens had become the new cool place to go.
Cleveland and Franklin High Students hurried home after school to hear the latest hits on KISN from Elvis Presley, "Don't Be Cruel", or Buddy Holly and the Crickets with, "That'll Be the Day". Other jukebox hits played at Cleveland High's cafeteria included, "Bye Bye Love" by the Everly Brothers, and the romantic tune "I Only Have Eyes for You" by the Flamingos. February 3, 1959, was a day of profound sorrow for teens in Inner Southeast, and nationally, with the shocking news that Buddy Holly, Ritchie Valens ("Donna"), and J.P. Richardson, the Big Bopper ("Chantilly Lace") had all died, while touring, in a private plane crash near Mason City, Iowa.
Friday night football and basketball games attracted hordes of young people who came to cheer for the home team. All of the students who attended the games were just as excited for their school team to win as they were to attend the dance right after the final whistle was blown. Dances were held in the school gym or cafeteria, and the opposing fans and players were just as anxious to show up and meet a pretty girl or get to dance with her on the polished gym floor.
If there wasn't a dance that night, the next stop for teenagers was any of the many drive-in restaurants in the neighborhood. Teens flocked to their favorite – like the Tik-Tok on Burnside and N.E. Sandy, or Yaw's Top Notch on N.E. 40th. Perennial favorites among students included the Speck Drive-In at 50th and S.E. Foster, and Rutherford's Triple XXX Burger joint on S.E. 82nd Avenue.
Adults looking to socialize could stop in at a tavern down the street. The Cozy Tavern and the Black Cat offered pool games and shuffleboard, along with sandwiches and cocktails. The Penguin Pub on 17th Avenue at Tacoma offered Taco Tuesdays and a bottle of beer, while the Yukon Tavern was a well-visited establishment in Westmoreland. A neon sign beckoned thirsty drivers to stop in at the Lutz Tavern at 46th and S.E. Woodstock Boulevard. Other taverns in the area included the Ship Ahoy, on S,E. Gladstone Street, and Lucky's Tavern along S.E. Powell Boulevard at 21st.
For housewives, a dazzling array of modern goods and appliances were available in department stores to help save time with household tasks. Washers and dryers and electric refrigerators could be bought on payment plans, even though many households in Inner Southeast still stuck with the old-style ice box for a while. But pop-up toasters, plastic two-tone can openers that sat on top of the counter, and hair dryers were some of the new modern conveniences for the home in the 1950's.
Black's Home Furnishers in Sellwood offered a new concept in cleaning the house: A "Tank Cleaning Outfit" (known now as a vacuum cleaner) which, with the flip of a switch and boasting easy-to-roll wheels now allowed an easier way of cleaning the floors – although the early machines were pretty heavy to lug from room to room. These machines included up to nine attachments – among them an adjustable spray gun, a venetian blind cleaner, an eight-foot floor hose, two wands, a floor and wall brush, a dusting brush, a de-mothing container (used to sterilize against moths), up to twelve dust bags, and a suction duster.
Christmas was an exciting time for small children, because parents were encouraged by TV ads to buy advertised toys. Parents wanted their kids to have the clothes and toys they'd never had when they were young. A visit to Brill's Dry Goods store on S.E. 13th Avenue or Grahams Five Ten and Twenty-five cent Store on Milwaukie Avenue presented a large variety children's merchandise: Tonka Toy trucks, train sets, Erector sets, tinker toys, and electronic race-car sets were preferred by boys. Hula Hoops, jump ropes, Barbie Dolls, and metal kitchen sets were a favorite of girls on Christmas morning.
Youngsters like David Hopkins who lived on Tenino Street in Sellwood lived every hour of the day on the bicycle he'd received from his parents. Indeed, almost every boy in Inner Southeast in the 1950s had a two-wheeler of some kind – not only for fun and mobility, but to use in a job delivering newspapers, or picking up groceries for their moms. Also, of course, for weekend excursions and adventures and any other trip that seemed interesting to a young boy.
When summer arrived, the dads continued a tradition of their parents and grandparents – fishing the Willamette River. Baseball games at Sellwood Park drew large crowds; and the amusement rides at Oaks Park, perhaps including picnicking there with the family, could be a day of fun.
The start of spring always included a visit to Staff Jennings Boat Shop at the west end of the Sellwood Bridge. Here men could have their lawn mowers tuned up or repaired, or could window-shop a speed boat they might own someday. Independence Day, July 4th, was a special day, as neighbors either made an evening of it at the fireworks show at Oaks Park, or else gathered along Sellwood Boulevard to watch the evening's fireworks display from afar.

Of course, children who grew up in Inner Southeast fondly remember swimming at the Sellwood Pool. With so many kids paying daily admission to what was Portland's first public outdoor swimming pool, someone passing by might think there were more bodies than water in it.
Automobiles were a very important part of society in the 1950s, and almost everyone owned one to get to work or for pleasure drives in the Columbia Gorge or for weekend jaunts to the Oregon Coast. Portland had over two hundred service stations within the city limits then, as listed in the city directory; and it seemed like there was one on almost every neighborhood corner. Along Woodstock Boulevard, drivers had an option of stopping in at the Moreland Heights Mobile Service, Woodstock Signal Station, or at the Red Star of Carl's Texaco Station.
Gas stations were known as "service stations" then – and the reason was that gas attendants not only filled your tank with gasoline, but they also checked the oil and water levels in your car, added air to your tires if they were low, washed your windshield, and handed you a few strips of green stamps along with your receipt. And if you saved those S&H Green Stamps and pasted them in booklets, you could trade them in small appliances, furniture, or an assortment of accessories for your home at the local Green Stamp store.
Tacoma Street, from 17th Avenue to the Sellwood Bridge, was the hot spot for motorists during the 1950's. Those on that strip who serviced vehicles were Montgomery's Service Station, Hudson Oil and Gas, and Hatcher's Chevron, as well as the Riverside Gas Station near the Bridge entrance.
Barber shops had been as prevalent in the 1920s as coffee shops and medicinal marijuana shops are today – but by the start of the 1950s, men didn't visit barber shops as much as they once did. Those old barber shops were being replaced by ladies' beauty shops. Many beauty shops occupied old storefronts that once hosted a barber shop. There was the Community Beauty Shop, the Sellwood Beauty Shop, Sara Jayne's Beauty Shop on Milwaukie Avenue, and Mildred Ann's or Lota's Beauty Shops on the corner of S.E. Bybee and Milwaukie.
We've tried to convey here not only the good things that are associated with the 1950s, but some of the bad things as well. Certainly, racial discrimination and fears of nuclear war were among the bad things. But memory tends to blur the traumas and amplify the good times; and many who grew up during the 1950s in Inner Southeast Portland today look back on it as a time of opportunity, of new expectations, of prosperity, and the origins of the "American Dream".
---
Robert "Woody" Wood and Joan Gilbertz shared memories at their neighborhood 91st birthday party in Westmoreland. (Photo by Rita A. Leonard)
182 Years of Memories: Joan Gilbertz and Robert Wood
By RITA A. LEONARD
For THE BEE
On Thursday afternoon, July 23, at 6 p.m., a neighborhood birthday party was hosted by Suzanne Kruze at S.E. 15th and Ellis Street in honor of the 91st birthdays of two local residents, Joan Gilbertz and Robert ("Woody") Wood.
The pair had each lived in Westmoreland for 50 years – in fact, only a short distance from each other, as it turned out – but they met for the first time only last year at their 90th birthday party in the same yard. Friends and relatives hope this will become an annual tradition.
The Kruze home and yard, surrounded by a four-foot-tall chain link fence, was decorated with balloons, flowers, and large signs painted by neighbor Blaine Rowland. Due to the pandemic, most guests chatted with the duo from outside the fence, and "no-touch" cupcakes and soft drinks were offered. The two guests of honor chatted and recalled memories that covered nearly a century.
Joan's father worked for the railroad, and Joan went to St. Agatha's School. "Churches were the tallest buildings at the time," she recalls, "Unlike now. My daughters taught swimming at Sellwood Pool, and I remember when there was a horse-racing track at Sellwood Park. I also remember seeing the historic Inman house (twin to the Poulson House) North of Powell Boulevard, which was torn down in 1958 to make way for a parking lot."
Joan, who long has been associated with St. Agatha School, has many memories from the Sellwood-Westmoreland neighborhood – including Doc Nicholson, who used to drive around with his pet cheetah in his covertible.
"I had a German Shepherd that we named 'German', who occasionally picked me up at school," she remembers. "I took piano lessons after school, and he wanted to make sure that I got home okay.
"German used to stop by a meat market on Milwaukie Avenue, run by a Mr. Griffiths, who would wrap up a bone for him to take home. One day, my German brought a package of meat home instead, and was enjoying the treat. My mother called the butcher and asked how our dog had ended up with a package of meat. The butcher exclaimed, 'Oh, no! I gave a customer the package of bones instead of her meat order!' That was a favorite story in my family."
Woody, who formerly lived at S.E. 15th and Rex Street (and now lives near where the party took place) recalls the 1948 Vanport Flood, which destroyed a workers' city up west of what is now the Jantzen Beach area. "I was working at SP&S Railroad at the time, and we were putting in some new switches for the trains nearby," he recalls.

"In 1952, I joined the U.S. Navy, working with Naval Air Force sea planes. When I got out in 1956, I went back to the railroad job, then transferred to Pacific Northwest Bell, where I worked for 31 years. I was working there when the 1962 Columbus Day Storm blew through the Willamette Valley," he continues. "I was working in North Plains on a phone outage, when I saw the wind blowing a rowboat end-over-end down the street. It was pretty impressive."
Woody has felt earthquakes in the area; but in May 1980, he was at Pine Hollow Campground with the Elks organization. "About 8 a.m., I heard a big bang. That was when the Mount St. Helens volcano blew. I knew what it was right away!"
Joan Gilbertz and "Woody" Wood have lived through historic times in Oregon, and are now dealing with the COVID-19 pandemic and Oregon's economic uncertainty. However, wearing face masks and sharing memories at this special birthday party, the pair approaches the future with resilience from the past.
---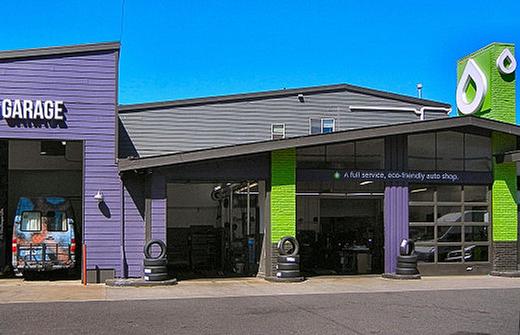 Green Drop Garage, on S.E. 28th south of Steele Street, is one of several business locations where DEQ emissions testing can be done, without having to travel long distances to Oregon DEQ Clean Air Stations where lines may be long. (Photo by Elizabeth Ussher Groff)
S.E. alternatives to DEQ Emissions Testing save time and hassle

By ELIZABETH USSHER GROFF
For THE BEE
On March 17 all DEQ Oregon Clean Air Stations closed, when Governor Brown declared emergency stay-at-home orders for the State of Oregon, due to the COVID-19 pandemic. A registration moratorium was put into effect as well, and vehicle registration deadlines were extended to October 1.
When the Governor declared phase one re-opening on May 15th, the State of Oregon re-opened DEQ emissions testing sites, and long lines formed. Reports told of vehicles waiting in line for hours at Clackamas or Sherwood stations.
However, if your vehicle is from 2005 and newer, you should know that there are alternative ways to be tested without that hassle.
Oregon DEQ rolled out a program called "DEQ Too" in early 2020, which offers two options for emissions testing. If the vehicle is new enough to have telematic devices and systems that are capable of transmitting on-board diagnostics (OBD) data to DEQ, the testing can be done at home. To learn more about on-board diagnostics testing, contact your auto mechanic shop or other automotive business.
The second option, for vehicles 2005 and newer but without telematics devices, is to have your vehicle tested at a business located nearer to where you live and work. That is possible because DEQ is partnering with select gas stations, oil change centers, repair service shops, car washes, and auto parts stores, where vehicles can have an emissions test with an appointment. The data is immediately sent online to the DEQ.

After leaving the testing location, the registration process can be completed online using a computer or cell phone, and the certificate and updated stickers will be mailed to the motorist's home address or post office box.
"DEQ Too" was created, in part, because as the state's population increases, congestion and air pollution are increasing along Oregon's roadways. This new option will minimize congestion and reduce air pollution. A local business offering testing is much closer than the far-flung state testing sites!
One auto shop that does DEQ testing is Tom Dwyer Automotive Services in Sellwood at 530 S.E. Tenino Street, just south of the east end of the Sellwood Bridge. Dwyer's Marketing Manager Charles Letherwood says it is necessary to make an appointment, and the motorist waits a short time in the shop while the vehicle is tested. The telephone number is 503/230-2300. Fleet Manager Dean Scruton says they cannot test ¾-ton trucks and larger. Hours are Monday through Friday 8 a.m. to 6 p.m,, and Saturdays 10 to 1.
Green Drop Garage on S.E. 28th just south of Steele Street in the Reed neighborhood also provides DEQ testing, and also requires an appointment. The phone number there is 503/567-8344. Hours are Monday through Friday 8 a.m. to 5 p.m., and Saturdays 9 to 5.
Each participating business may charge a slightly different fee for use of the testing device, but it is usually around $20 to $25. As of June 1, once a vehicle passes inspection, the DEQ Clean Air Certificate fee will then cost an additional $25 for any tested vehicle.
A "DEQ Too" webpage – http://www.deqtoo.org/locations – lists quite a few other business locations in various areas of Portland where such DEQ testing can be done.
For vehicles older than 2005, for which testing is still required, it is still necessary to go to a state DEQ testing emission station. And, as of July 1, customers interacting with vehicle inspection staff at all stations must wear face coverings and maintain six feet of physical distance.
Motorcycles, mopeds, and cars and trucks dating from 1975 or earlier are exempt from emissions testing in Oregon.
A walk through any neighborhood where numerous cars are currently parked because owners are working from home or laid off during the COVID-19 pandemic, reveals many outdated stickers.

However, vehicle owners should be aware that they still have a small amount of time to register and get updated stickers, since the current deadline for emissions testing and renewing registration this year is October 1.
For more information about "DEQ Too" go online – http://www.deq.state.or.us
---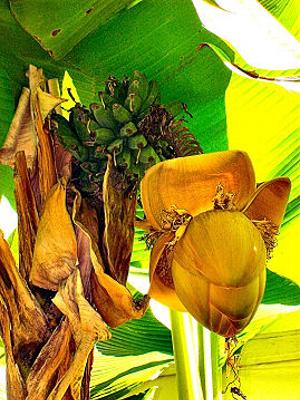 This Brooklyn banana plant sports a coconut-sized blossom – and, above it, a crown of bananas. (Photo by Rita A. Leonard)
Portland surprise: Brooklyn banana plant produces fruit
By RITA A. LEONARD
For THE BEE
There are many tropical banana plants grown ornamentally in the Portland area, but you never see any of them producing fruit. We're just not tropical enough.

Bananas (which are actually an herb, related to ginger) are native to Ecuador, Costa Rica, and Southern Florida. They thrive with warm temperatures and plenty of rain. Many banana plants in Portland need to be wrapped against the cool of winter, just in order to survive.
Despite all that, in the Brooklyn neighborhood there is a south-facing two-story-tall banana plant which this spring sprouted a coconut-sized blossom. The plant, at S.E. 14th and Franklin Street, is now producing a crown of small bananas.

Homeowner Jason Motamedi tells THE BEE, "We must have had a warm enough winter to allow the plant to thrive. It's also shaded somewhat by the tall Chinese chestnut trees across the street, that likely helped it avoid cool breezes."
Motamedi's wife added, "We had another banana plant when we lived in Mexico, but it was not so tall, and the flower was more burgundy-colored. We obtained the shoot of this plant from a neighbor, and it's now 12 years old."
The family, which cultivates many flowers, fruits, and vegetables, is excited to watch the progress of their unusual fruiting banana plant. Research shows that the fruits will continue to grow along the stem (they arc upward) – and the family is curious to see how many bananas they may actually be able to harvest this year.
---
Douglas Yarrow has been hanging creative home-crafted items from his sidewalk maple tree – he calls it the "Poetree" – in the Reed Neighborhood for a decade. This month, the Black Lives Matter movement inspired him to place a poem on it by Langston Hughes. (Photo by Elizabeth Ussher Groff)
The 'Poetree' growing in the Reed neighborhood
By ELIZABETH USSHER GROFF
For THE BEE
When the COVID-19 pandemic started seeping into our state and neighborhoods, and as it lingers on, we try creative things to break our isolation – to amuse and inspire us. Every individual and neighbor has his or her own way of trying to keep some sense of community, and bring a little bit of fun and happiness to ourselves and our neighbors.
Douglas Yarrow is a Reed neighborhood resident who for ten years has been hanging poems, calligraphy, cartoons, music boxes, palindromes, knock-knock jokes, writing prompts, and other artistic creations upon a small maple tree by the sidewalk in front of his house. He calls it the "Poetree".
In the midst of the pandemic, Yarrow believes it is more important than ever to display bits of humor and inspiration that neighbors can read as they pass by. He has actively encouraged people walking by to write on small slips of paper to express what they are grateful for, or the "mottos" they live by, among other ideas.
"Some are funny, profound, elegant," Yarrow says. The contributions distract and inspire him, as well as edifying, comforting, or bemusing the community. He leaves them hanging on the tree for a few weeks before he changes the theme or question.
Then, with the advent of the Black Lives Matter movement, Yarrow became even more contemplative. "How can an old, privileged, white guy like me understand what Black people and others of color have experienced in this country for hundreds of years?" he asked himself.
Searching for answers, he sought out and hung a poem on his "Poetree" – Langston Hughes' "Let America Be America Again". Hughes' phrase "America never was America to me" which follows the first two stanzas particularly resonates with Yarrow during this time.
As a Black American poet living from 1902-1967, Langston Hughes had a way of expressing yearnings similar to those of our times:
"Let America be America again.
Let it be the dream it used to be.
Let it be the pioneer on the plain
Seeking a home where he himself is free.
(America never was America to me)."
Yarrow strung several stanzas of the poem, each on a separate piece of paper, from the "Poetree". "I used parts of Trader Joes' brown bags, so it [really] is 're-use and re-cycle'," he remarks. He plans to continue to hang more poems in the coming months.
Yarrow's fascination with words began as a young boy. "I was intrigued by palindromes. Back in the day, it was kind of special when people talked in palindromes. Not many people use them anymore."
The background for Yarrow's own artistic craftiness and community engagement was a childhood that included a social-justice-oriented father who was handy and loved to make "stuff" – like kites; and a "very kind" mother who invited neighborhood children in to help her make cookies.
He lived in the coal country of West Virginia in his young adult years, and taught high school photography for seven years, as well as English to 11th graders for fifteen years. Students in his English class hung their haiku creations in their classroom so other students could read them. Since then he has followed that practice as a way to engage people in ideas and self-expression.
"In this time there's so much going on with the virus and Black Lives Matter, I try to put out positive stuff on the 'Poetree'. My effort is to try to liven things up, to stir positive things up and encourage everybody to express themselves in these dire times."
Yarrow also is an organizer and participant of the 4 p.m. Friday and Sunday afternoon gatherings of people who stand with BLM inspired signs on the corners of Cesar Chavez Boulevard [formerly S.E. 39th] and Holgate. "It's a very small thing to do," he remarks, "but it keeps the issues and words in front of people. And scores and scores of cars honk [in support and solidarity]."
---
This pianist brought his own sheet music to play Chopin, to the delight of nearby neighbors. The lush garden and the way the fence and sidewalk come together at this particular corner – S.E. 60th at Steele – turned out to be a great location for the piano, which was supplied by a Portland nonprofit called "Piano. Push. Play." (Photo by Becky Luening)
A piano appears on the street, in Woodstock
By BECKY LUENING
For THE BEE
In late July, the tinkling of piano keys reached the ears of this reporter. Unlike the usual suburban sounds of mowers, blowers, and barking dogs – or the jarring after-dark noises of racing autos, helicopters, and firecrackers – the piano sounds struck a happy note. That was a feeling shared by nearby residents who were hosting the piano on their corner, as well as those who have stopped to play it.
Kirsten Anderson and her husband, Joshua Patrick, who live at S.E. 60th and Steele, on the east edge of Woodstock neighborhood, first learned about the opportunity through social media. An organization named "Piano. Push. Play." had put out a call on Facebook, asking for suggestions of places to take pianos that would normally be placed in parks that were closed due to the pandemic. They sought sites that could host a piano through the month of August.
The community-minded couple, whose sidewalk-facing chicken coop already attracts many families with children to their corner, jumped on the invitation – and the site was soon approved as a well-suited location. Before the instrument arrived, Kirsten began having doubts, and fretted that neighbors might experience the piano playing as a nuisance. But in the end, she said, it has been a lovely experience, and more than one neighbor has commented on its "calming" effect.
Considering the way this one piano's presence has surprised and delighted so many in the neighborhood with its "joyful noise", some may assume it was a balm designed for this moment. But actually, "Piano. Push. Play." has been placing pianos around Portland since long before the pandemic hit. Now in its ninth season, the organization has outlived many other public piano programs that have played out across the nation.

Its longevity can be attributed to the sustainable approach taken by its founder, Megan McGeorge.
Nine years ago, Megan, a professional pianist who earned a music degree from PSU, experienced a beautiful moment hearing a cellist playing on a public street corner. At the time, she said to her friends, "I wish I could do that – but, being a piano player, it's not going to happen." Nevertheless, the seed was planted, and it was just a matter of time before she approached a piano store in Southwest Portland and succeeded in organizing a "pop-up concert" on a nearby street corner.
For about two months, Megan and some friends from Portland State continued the street recitals. With the full support of the piano store, they would show up and push a recital piano out to the corner on a dolly, play for a couple hours, then push it back again. Since pianists usually practice alone at home or in studio spaces, they loved having the public exposure and appreciation. They could see they were touching people with these unexpected moments, just as Megan had been touched by the cello player she'd happened upon, with her friends.
As luck would have it, the piano store had a lot of pianos that just weren't selling – old upright models that were out of date, and not worth much. Megan had heard of public pianos in other cities, and took it upon herself to figure out the details. When she asked the store if she could I have five of their old uprights to try the idea out the next summer, they said "YES!"

In fact, she found so much support for the endeavor that it turned into a sustainable nonprofit venture, creating a day job for her, for at least for half the year. The other half she makes a living as a professional pianist, singer, and composer.
"Piano. Push. Play." is purposefully sustainable. Every spring, ten pianos are donated from the public. There's no warehouse space to store them, so the pianos go directly from the donors to the artists who decorate them with bright and playful motifs, before they are released into public spaces to be played.
For a number of years, the Portland Art Museum has hosted a big kickoff concert in their courtyard where Megan and her friends, alternating with piano-playing audience members, would showcase the ten decorated pianos before they were pushed out into various parks and other public locations. Other impromptu concerts were held from time to time throughout the summer season, and a closing concert atop Mt. Tabor eventually became part of the tradition.
Megan commented that the piano is an instrument that is usually hidden or, if seen in public, usually has a "don't touch!" sign attached. So, it's significant that for nine summers, "Piano. Push. Play." has been able to bring ten pianos to locations across the city where everyone has access. The pianos invite interaction, whether it's a toddler just plinking around, a teenager getting in a practice session, or an accomplished concert pianist happening upon it.
Typically, the pianos are moved around every two weeks or so throughout July and August. After the season is over, the pianos are then donated to community spaces, schools, recording studios, individuals in need. And then "Piano. Push. Play." goes into hibernation mode from September until June. It's a sign of community trust that although the pianos are left outside 24/7, the organization has had very little trouble with vandalism or theft.
In 2020, due to COVID-19, volunteer hosts or "piano buddies" have taken responsibility for covering the pianos in case of rain, wiping down the pianos in the morning, and reminding the community to wear masks and to sanitize hands before and after use.

For the past six years, the pianos visited at least ten parks during the summer, but since Portland Parks have technically been closed this year, more have been placed in locations "off the beaten path", surprising and delighting neighborhoods like Kirsten and Joshua's. (There is also a piano in Foster-Powell this year, right outside Henry Higgins Bagels on Foster Road near SE 65th Avenue.)
Sheet music is not supplied, though some people bring their own. But if you lift up the piano bench seat, you will find a rubber stamp and ink – so those who to seek out and play each of the ten pianos over the summer can keep track with some kind of passport system.
Though admittedly biased on the subject, this reporter will testify to the calming effects, the lovely sounds, and the community-building aspect of public pianos – which invite interaction, not just with the ivory keys, but with neighbors: Those who stop to play, to listen, to share a beautiful musical moment.

Visit the "Piano. Push. Play." blog to find inspiring stories and pictures from years past, as well as a map of this year's piano locations. It's online – http://www.pianopushplay.com
---
Bored, as you shelter at home? Paint rocks!
Story & photo by RITA A. LEONARD
For THE BEE
During the pandemic, some people quarantined indoors have awakened their inner artist by painting rocks.

Some of these rocks depict flowers, geometric patterns, or short messages – and if you have no plans for them after you paint them, some folks place a painted rock anonymously in others' yards. They provide a bright spot of human contact to whomever is given one.
This is not as strange an idle occupation as it may sound. "Rock painting" is as old a tradition as are the 10,000-year-old Aboriginal inscriptions on Ayers Rock (Uluru) in Australia – which provided a means of communication designed to span the generations.
However, modern "rock paintings" are more whimsical, meant simply to provide cheer, and a message: "You are important – we're all in this together." We came across quite a few, by the sidewalks of Inner Southeast Portland.
Painting rocks is a great indoor activity for kids, too, especially on rainy days. Then, when it's sunny again, kids have the option of placing their "gift rocks" wherever they choose, imagining the pleasure that these small gifts will provide.
---
Events & Activities in September
SEPTEMBER 4
Woodstock's nonprofit bookstore reopens: Today, Friday, 11 a.m. until 3 p.m., the Mustard Seed Thrift Shop and Book Nook at All Saints Episcopal Church, S.E. 40th at Woodstock Boulevard, reopens on Fridays and is well stocked. Face masks are required, and only ten people are admitted at a time. It will remain closed on Saturdays for a while longer.
THAT'S ALL WE RECEIVED THIS MONTH. IF YOU HAVE AN ACTIVITY COMING UP IN OCTOBER FOR THE PUBLIC, LET THE BEE KNOW!
SCROLL DOWN FOR THE LIST OF COMMUNITY HOTLINKS -- AND USEFUL, AND JUST PLAIN

FUN

HOTLINKS -- IMMEDIATELY BELOW!
Useful HotLinks:
Your Personal "Internet Toolkit"!


Charles Schulz's "PEANUTS" comic strip daily!

Portland area freeway and highway traffic cameras

Portland Police

Latest Portland region radar weather map

Portland Public Schools

Multnomah County's official SELLWOOD BRIDGE website

Click here for the official correct time!

Oaks Amusement Park

Association of Home Business (meets in Sellwood)

Local, established, unaffiliated leads and referrals group for businesspeople; some categories open

Weekly updates on area road and bridge construction

Translate text into another language

Look up a ZIP code to any U.S. address anywhere

Free on-line PC virus checkup

Free antivirus program for PC's; download (and regularly update it!!) by clicking here

Computer virus and worm information, and removal tools

PC acting odd, redirecting your home page, calling up pages you didn't want--but you can't find a virus? You may have SPYWARE on your computer; especially if you go to game or music sites. Click here to download the FREE LavaSoft AdAware program, and run it regularly!

What AdAware doesn't catch, "Malwarebytes" may! PC's--particularly those used for music downloads and online game playing--MUST download these free programs and run them often, to avoid major spyware problems with your computer!

Check for Internet hoaxes, scams, etc.

Here's more on the latest scams!

ADOBE ACROBAT is one of the most useful Internet document reading tools. Download it here, free; save to your computer, click to open, and forget about it! (But decline the "optional offers" -- they are just adware

Encyclopedia Britannica online

Newspapers around the world

Convert almost any unit of measure to almost any other

Research properties in the City of Portland

Local source for high-quality Shaklee nutritionals

Note: Since THE BEE is not the operator of any of the websites presented here, we can assume no responsibility for content or consequences of any visit to them; however we, personally, have found all of them helpful, and posted them here for your reference.


---
Local News websites:
The news TODAY

Local News Daily.com

KATU, Channel 2 (Digital/HDTV broadcast channel 24)

KOIN, Channel 6 (Digital/HDTV broadcast channel 25)

KGW, Channel 8 (Digital/HDTV broadcast channel 8)

KPTV, Channel 12 (Digital/HDTV broadcast channel 12)

KRCW, Channel 32 (Digital/HDTV broadcast channel 33)

KPDX, Channel 49 (Digital/HDTV broadcast channel 30)



---