Community Features
The "Events and Activities" for the month are below these featured stories!
---
Here's the Sellwood Hospital shown on the north side of Harney Street between 13th and 15th Avenues. Dr. John J. Sellwood completed the first section of the Sellwood Hospital (the building in the middle) in 1909. The nurses' house on the right, and the additional Hospital Annex brick building on the left were finished by early 1914. A portion of Dr. Sellwood's home can be seen at the far left. (Courtesy of SMILE History Committee)
SOUTHEAST HISTORY
The long and colorful story of Sellwood Hospital
By DANA BECK
Special to THE BEE
If your last name was Sellwood, and you lived in the Sellwood community a century or more ago, your chances for success in life must have seemed pretty good.

Harold E. Sellwood became a successful real estate agent, opening an office at Umatilla and S.E. 13th in the early 1900s. And, earlier than that, the Reverend John Sellwood earned a nice fortune when he sold 320 acres of land in 1882 to prominent businessmen T. A. Wood and William Ladd. They formed the Sellwood Real Estate Company, and in return honored the good Reverend by naming their new town Sellwood. It eventually was annexed by the City of Portland; we've told that story before.
When the 1900s arrived, an energetic young man named John J. Sellwood and his wife decided to settle in the community which he no doubt had heard much about. Gathered around the dinner table, growing up with the Sellwood clan, he probably was given plenty of advice by his elders. Heeding the famed words of Horace Greely, who said, "Go west young man, and grow up with the country" – and taking the advice of his father, David Sellwood, and his uncle John Sellwood – that's exactly what John J. Sellwood did.

Except that, since he was raised in Oregon City, the words he heard instead were, "Head north young man" – and he didn't have far to go, before coming across the town of Sellwood.
Fresh off of supervising the construction of a modern sanatorium for invalids during the winter season in the Oregon resort town of Seaside in 1904, John Sellwood returned to Portland with expectations of building a much-needed hospital in Sellwood, close to where he and his wife Mary now lived.
And so he did. The Sellwood Hospital opened its doors for patients in 1909. The 40 by 60 two-story wooden structure included a basement, and enough beds to accommodate about thirty patients. It also offered a training school for nurses. THE BEE at the time congratulated Dr. John J. Sellwood and Dr. R. S. Stearns for bringing a medical center to the working classes in East Portland.
R. S. Stearns, who led the establishment of the Sellwood Commercial Club, and who was dedicated to ensuring the growth of Sellwood, probably helped the most in providing the financial backing to build the hospital.
During the ceremonial opening tour for local residents in May of 1909, Dr. Sellwood showed off the modern conveniences of his new hospital – gas lighting; and the first elevator ever built in Portland on the east side of the Willamette River. Especially important was that it was essentially the first surgical hospital on the east side of the river.
Most people in Southeast Portland at that time had to travel by streetcar to the downtown commercial district of Portland to get quality treatment, or down to Oregon City for acceptable primary care. The Sellwood Hospital was the first of its kind available in East Portland, and it treated everything from scraped elbows and broken bones to cancer, child birth deliveries, and specialized surgery. In 1911, Mrs. E. G. Eaton was one of the first mothers in Southeast Portland to have a Caesarian delivery performed at Sellwood Hospital.
The early 1900s were definitely a different time for medicine and medical procedures. Ambulance service wasn't yet available, so patients in extreme pain had to find someone who could drive them to the local hospital. Most traffic accidents were reported in the newspaper, and on most occasions, one of the involved drivers usually ended up hauling the injured party to the local hospital. That showed a sense of responsibility that you seldom see today.
It wasn't until 1912 that a few Red Cross ambulances could be called, in the event of a serious accident, to deliver an injured person to the nearest hospital – that is, if anyone knew how to reach them with the request. That required finding an available telephone nearby, and relied on a helpful "telephone exchange" operator to make the connection.
Nursing was crucial to a well-run and organized hospital. Nurses not only provided comfort to patients, but performed many other services as well – bathing, bandaging, sterilizing medical instruments, feeding patients, and sometimes laundering the gowns and bedding in the hospital. It was all involved, at the time, in a career as a nurse. In 1912, the Morning Oregonian newspaper reported that Portland only had three nurse training schools – the Good Samaritan, St. Vincent's, and the Sellwood Hospital. Ladies seeking to be nurses had to undergo three years of medical training to earn a diploma. In the following two years, Sellwood celebrated the graduation of five nurses from their own school of nursing.
After graduating, most female nurses were hired as private nurses – often caring for the decrepit and/or elderly parents of elite families. Hospital officials and doctors offered nurses little pay – many hospital nurses were paid mainly in room and board, with perhaps a small stipend for personal expenditures. Maybe that was why, after graduation, the ladies' class of 1914 immediately volunteered their services to the military who were fighting the World War I in Europe, and after being accepted they were on their way overseas, via Mexico.
The final phase of Sellwood Hospital construction was completed in 1914, when a brick addition was built just west of the hospital, enabling 60 more beds to be added – which led to an increase in the number of staff and nurses. A passageway was built to connect both buildings.
Graduating from the Sellwood nurses' training school was a big event for its students, and Dr. Sellwood usually held the commencement in St. John's Episcopal Church – on the same block as the hospital, directly across the street from Sellwood School (now Sellwood Middle School). Soloists sang, commencement speeches were made, and Dr. Sellwood accompanied it all on the church's organ. Many of the doctors who worked in the neighborhood, or in the Sellwood Hospital, were in attendance.
At the 1919 graduation ceremony, Dr. Sellwood was clad in the khaki military uniform that he'd been wearing as a Major in the American Infantry Division in World War I. Each graduating nurse was presented a pin, and seven doctors were also in attendance for the big celebration (it is unclear whether this was simply to celebrate the nurses' graduation themselves, or to be on hand in case someone was overcome by emotion at the ceremony).
In a major innovation for the times, a new dormitory was built on the west side of the hospital buildings to accommodate the twenty nurses-in-training. New students no longer had to worry about finding affordable rooms to rent nearby, or having to travel long distances from their own home for their internship at the hospital.
During the Great War, the hospital dealt with neighborhood injuries, industrial accidents, car wrecks, and of course the delivery of babies. With all the solders overseas, doctors at the Sellwood Hospital didn't have to deal with any wartime casualties – but the infamous Spanish Influenza (which actually originated at a military base in Kansas) became a more dangerous threat. As reported in the Oregonian, William C. Lahti contracted the uniquely fatal flu while attending army training at Reed College; he died in Sellwood Hospital.
However, fortuitously, there weren't any other reports of the hospital struggling with victims of Spanish Influenza. But other Portland hospitals weren't as lucky, and many beds and rooms were filled with patients who had contracted the Spanish Flu. (It appears that a pandemic sweeps the world every hundred years or so; a century from now somebody may write an historical article about what our current pandemic was like here in Inner Southeast Portland, using THE BEE as a source.)
While Dr. Sellwood was away offering his services as a medical officer in the Great War, Dr. H. J. Besson had taken over direction of the Sellwood Hospital. Besides performing surgeries and waiting on patients, Dr. Besson's favorite pastime was outdoor sports. He was talented enough to be a starting pitcher for the Multnomah Baseball Club, one of Portland's local ball teams. During one of their games, Homer Jamison, coach of Jefferson High School, broke his ankle while fielding a ground ball. After the game, Dr. Besson drove Jamison to Sellwood Hospital, where he set the fracture, and afterward drove the patient back to his home in North Portland.
Dr. Besson was present when one of Westmoreland's premiere residents, William S. Sibson, was admitted to the hospital for a complaint of some kind. Sibson was nationally known as a rose culturist; his 20-acre Sibson Rose Gardens were located just east of 17th Avenue between S.E. Knight and Reedway Streets. Sibson later sold his flower business to John G. Holden, and the property became known as the Holden Green Houses – later, they were cleared for residential development. Those who now own a house in Westmoreland near Reedway and Knight might have flowers and roses in their yards that once were a part of the original Sibson Flower orchard.
Rambunctious boys and girls who fell off their bicycles, or were hurt horsing around on the school playground, sometimes ended up at the Sellwood Hospital. There a cast could be applied to a leg or arm that was broken. One such incident involved Jack Baumgardner, who dislocated his shoulder while (apparently vigorously) setting pins at the Portland Bowling Alley; and another involved Miss Edna Hinderlie, who had been teaching new students the perfect golf swing at the Eastmoreland Golf Course. She was treated for a split lip when one of the students she was teaching failed to master the perfect swing, and hit her in the face.
Some patients expired at the hospital – such as John Sellwood's own mother, Belle J. Sellwood, who passed away there after being lovingly cared for by her son and the Sellwood nurses. She lived to be 68 years old. Her funeral was held at St. John's Episcopal Church of Sellwood, where John had performed so many concerts, and had played the organ for services on Sunday – and now, he took the opportunity to play some of her favorite melodies as a final tribute to her.
In 1922, Dr. Sellwood was again busy updating and expanding his hospital, successfully petitioning the Portland City Council to provide him with $50,000 for improvements. Private patient rooms were rearranged and relocated on the first floor, and surgical and x-ray departments were relocated to the second floor.
Two surgery facilities, along with doctors' quarters and a dressing room, rounded out the modifications. The capacity of the hospital increased from 62 to 114 beds. Also, a new heating plant was built, and a new electric elevator was installed (we are unsure how the previously non-electric elevator operated), while electric lights were installed to replace the outdated gas light system, which had been the source of indoor lighting there until 1922.
When the well-remembered Dr. W. Donald Nickelsen became a part of the staff of the Sellwood Hospital, little did Sellwood residents know he would become a memorable character in the neighborhood.
Dr. Nickelsen received his medical degree from Rush Medical College in Chicago, Illinois, and graduated from the New York Skin and Cancer College in 1919. Few doctors were trained in the field of cancer at that time, and so he was an asset to the community on that score – but Dr. Nickelsen became known even more for his African adventures than for medical procedures.
During his free time, Nickelsen liked to hunt big game, on safari in Africa; and many people who lived near his house were regularly invited over to view his trophies after he returned. The walls in his house were adorned with trophy mounted heads of wild springbok and gemsbok, and he reportedly had an elephant's foot that was used as an end table. His living room was decorated with extensive African tribesmen's garb, and weapons were set about the room.

But most of the children who passed by the hospital will mainly remember the live cheetah that was kept caged inside a chain-link fence at the back of Dr. John Sellwood's former office, which Nickelsen was now using. The doctors' office was located at the corner of 13th and Harney, close to Sellwood School.
Young boys would often challenge their peers, or double-dare each other, to stick their fingers through the chain links to pet the Cheetah. Those living here at that time will certainly remember Dr. Nickelsen driving his convertible through the streets of Westmoreland and Sellwood with his pet cheetah, Chewie, sitting in the back seat.
As Dr. John Sellwood started to age, and to feel the strain of his busy schedule, Dr. Nickelsen stepped up to buy the hospital from him – a transaction that took place on May 22nd, 1931. Nikelsen planned on opening a laboratory to study and treat cancer patients; he renamed it the Portland General Hospital. When Dr. Nickelsen died on October 23rd, 1963, a group of Sellwood-Westmoreland citizens attempted to set up a nonprofit corporation to keep their hospital in the neighborhood – but when they ran into financial trouble, they asked associates of the Woodland Park Hospital to step in and take over the business.
Dr. Sellwood, who had practiced medicine for over 45 years, passed away 13 years later. The nursing school he started had been closed for several years; and the St. John's Episcopal Church he'd supported, and where he played the organ, was torn down. His famous organ is now on the Oregon coast, in Astoria – and a history of that musical instrument can be found in Eileen Fitzsimons' article, "Dr. Sellwood's Organ: The Melody Lingers On", in the December, 2012, issue of THE BEE.
By 1970, the old Sellwood Hospital structures had to be replaced, and a new building replaced them, called the City of Roses Hospital. Architect Don Byer built it with two surgery units, a closed circuit TV system (which was considered high tech for its time), a gift shop, four intensive care units, and a coronary care unit.
By the 1980s the hospital was again having problems staying afloat, and its executive staff wanted to turn it into a mental hospital, which was then called the Woodland Park Mental Health Center. After serving as a psychiatric treatment center for many years, as the Pacific Gateway Hospital, local residents became uncomfortable having a mental hospital so close to Sellwood Middle School, and the clinic was closed for good and demolished in 2003.
What was once the only neighborhood hospital in Inner Southeast Portland is now a long row of luxury townhouses across the street to the west from the front entrance of Sellwood Middle School; and the only vestige remaining of the prominent surgeon John Sellwood is today's Sellwood Medical Clinic, at the corner of S.E. Harney and 13th, where once he lived.
---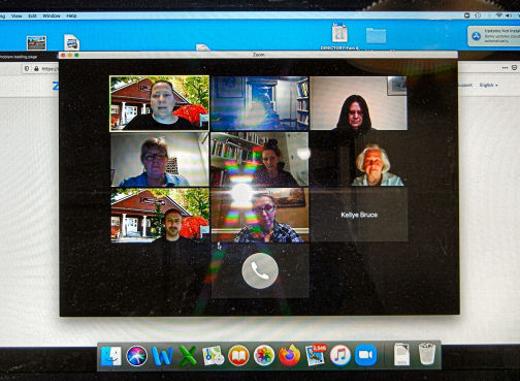 The Woodstock Neighborhood Association held its first "virtual meeting" on April Fool's Day, but there was no pranking – just people helping each other online to achieve both audio and video connection. (Photo by Elizabeth Ussher Groff)
Woodstock Neighborhood Assn holds 'virtual meeting' online
By ELIZABETH USSHER GROFF
For THE BEE
Technological innovations never cease these days and, as we continue social distancing and relative isolation to stop COVID-19 coronavirus, technology is serving us more than ever. Even those who have previously shunned some of these Twenty-First Century innovations are now using them.
On April 1, the Woodstock Neighborhood Association proved the point with a "virtual, online" 7 p.m. monthly meeting with thirteen people viewing each other and conversing, via their home computers. There were no April Fool's jokes, as some members were challenged to accelerate their online skills to make use of "meeting application" ZOOM.

Once the novelty of the new format and delivery settled in, the meeting proceeded with all attendees at home, but present online, beginning a discussion of a number of interesting things that are taking place in the association, and in Woodstock.
WNA has been seeking official 501c3 nonprofit status from the IRS allow the association to apply for grants and enable donors to get tax credits. At this meeting, Chair Sage Jensen reported that the application process is in the last stages, after an attorney was hired to help guide the process. Revison of the Bylaws is almost completed, so by fall the nonprofit status should be in place.Sonja Miller, WNA Secretary and member of All Saints Episcopal Church at 4033 S.E. Woodstock Boulevard, said the church is continuing its tradition of serving Saturday noon meals, now distributed in boxed lunches starting at 11 a.m. Showers and laundry services are also provided in large vans in partnership with Harbor of Hope every Saturday from noon to 2 p.m., as was reported in the April issue of the
BEE
and online at – http://www.readthebee.com
Peggy McCafferty, Treasurer for the nonprofit Woodstock Farmers Market, was not able to attend the meeting, but reported via e-mail: "We are doing everything possible to have a [Farmers] Market starting in June. We are currently considered an 'essential service'."
McCafferty is also one of the Woodstock New Seasons Market employees. In the e-mail to WNA she wrote about their message to customers: "Thanks for being patient. A reminder is to try and shop only once a week, with one person from your family, and to limit it to 30 minutes. The line [waiting] outside moves fairly quickly, but we do have to control the number of people in the store, so that we're giving each other enough space. And – make a [shopping] list!"

Mary Tompkins, who works as a Crime Prevention Coordinator in Northeast Portland with "Community Safety" in the Portland Office of Civic & Community Life, reported that they are taking reports on public places not practicing social distancing. She said they are also coordinating with the city's Neighborhood Emergency Teams (NETs).

WNA Land Use Co-Chair Thatch Moyle said that many Portland construction projects are on hold, including the apartment project at the former location of The Joinery in Woodstock – which may now be delayed until August before any demolitions take place on the block. At 5105 S.E. Woodstock, he reported, 28 micro unit apartments are proposed and the site is cleared, but its building status is currently uncertain. And the former Chinese Presbyterian Church property is proposed for 148 apartment units.
Anne-Marie Anderson, WNA Communications Chairperson, reported that she is continuing to update the neighborhood association website (www.woodstockpdx.org), and the WNA May newsletter posted on it contains a number of hotlinks for neighborhood and community resources, including information on community events and activities, pet care, neighborhood restaurants providing take-out, as well as uplifting tips about how to cheer your neighbors during this time of "staying home".

There are also resources about how to help during the COVID-19 pandemic; unemployment; eviction; Portland Public Schools; the Portland Small Business Relief Fund; and the Coronavirus Aid, Relief, and Economic Security (CARES) Act.
Neighbors and WNA members are encouraged to send news regarding schools, community gardens, and shelters, so she can include it in the monthly newsletter. That information can be sent to – Info@woodstockpdx.org
WNA annual elections are postponed until at least June when they may take place virtually. WNA would be greatly appreciative of anyone who would like to nominate him or herself for these positions: Chair, Vice-Chair, Treasurer, Area 1 Rep, Area 5 Rep. Go online to – http://www.woodstockpdx.org – for a map of these "areas", and more details.
The WNA is not alone in turning to the ZOOM service to hold online Neighborhood Association meetings during this "quarantine" period; David Ashton reports on a Brentwood-Darlington meeting held that way, Reed and Brooklyn have done so as well, and SMILE and the Woodstock Community Business Association are considering it also.
---
BDNA Chair Chelsea Powers paused for a photo before beginning the first-ever online Brentwood-Darlington Neighborhood Association Board Meeting. (Photo by Sam Powers)
Brentwood-Darlington Neighborhood Assn holds 'virtual' meeting
By DAVID F. ASHTON
For THE BEE
Since the Brentwood-Darlington Neighborhood Association (BDNA) board couldn't meet in person, due to COVID-19 coronavirus precautions, they were one of the first neighborhood associations in Inner Southeast Portland to host a "virtual board meeting" on April 2.
"Setting up the group meeting on the 'ZOOM' [online] platform was relatively easy, but running the meeting itself was another matter – we learned to remove offenders who hacked in during the meeting," Chelsea Powers, the association's Chair, commented. "Top in importance is that all BDNA events are cancelled through June, including the popular Bulky Waste Clean-up.
"But, depending on whether or not social-distancing mandates are lifted by then, we may or may not hold our 4th of July Parade and Party; and the July 24th Movies in the Park, for which we have "Star Wars: The Rise of Skywalker"; and our summer festival, planned for August 8th; and an expanded Fall E-Recycling event on September 12," remarked Powers. "Also our annual Spooktacular and Trunk-or-Treat, scheduled for October 24th."
The eight online "attendees" of the meeting also heard from special guest community members from Leach Botanical Gardens, David Porter and Mary Davis, who spoke about improvements still underway in the Upper Garden, including the new "Tree Walk", and changes to their current operating procedures.
"Despite the challenges at the beginning of the meeting, we had a robust conversation," Powers told THE BEE. "We learned a lot about hosting meetings online and working with technological limitations.
"This is a less than ideal format, as it excludes those without the privilege of Internet access," she added. "Understanding the limitations of this format, we will be looking for additional ways to connect with our community via our website, social media, and e-newsletter."
Stay in touch with BDNA by going to their website – https://brentwood-darlington.org
---
The exterior of the Grand Central Bakery at S.E. 13th Avenue and Nehalem Street in Sellwood remained untouched, during its recent interior remodeling. Built in 1905, it was the location until 1941 of the grocery store owned by J.W. Caldwell. (Photo by Eileen G. Fitzsimons)
SOUTHEAST HISTORY
Two vintage buildings headed into their second century
By EILEEN G. FITZSIMONS
For THE BEE
May is "National Historic Preservation Month", and in keeping with past years I am taking the opportunity to recognize two structures which, due to the care and consideration of their owners, have survived for more than one hundred years.
The first is the structure at the northwest corner of S.E. 13th Avenue and Nehalem Street that houses the Grand Central Bakery. Built in 1905, it was the grocery store (until 1941) of J.W. Caldwell, whose name is imprinted in the sidewalk at the front entrance. Late in 2019 the bakery now resident there closed for renovations within the building. Unfortunately, it did not reopen as scheduled because of the COVID-19 coronavirus. The bread is still available at other branches of the bakery, as well as in some grocery stores, but customers will have to wait a bit longer for soup, sandwiches, and other baked goodies there.

In the meantime, stop to appreciate the original façade, with its transom windows above the double front doors, as well as the (replaced) plank threshold that spans the gap between the sidewalk and entry doors.
Although zoned for multi-family redevelopment, after two years of painstaking reconstruction, this 1903 house at 1514 S.E. Ellis Street in Westmoreland retains its original Single Family Residential status. (Photo by Eileen G. Fitzsimons)
The other structure about which I am writing is a residence in Westmoreland – in the north end of the SMILE neighborhood. It is a one-man marvel of exterior restoration and interior remodeling. When it was purchased in January of 2017, the house at 1514 S.E. Ellis Street – a two-story, Four Square-style house – had suffered decades of physical deterioration as a rental property. I felt a familiar twinge of despair when I saw the chain link fence wrapped around it, fearing that its dilapidated state marked it as a "tear down". It was also zoned for multi-family housing, which also suggested impending demolition.

But, I was greatly relieved when I stopped to chat with the new owner – a contractor for many years. He had promised himself that this would be his final project, and that he would reside in the house himself when it was finished. He now confesses that in the ensuing two years he wondered if he should have replaced the structure with a newly-built duplex; but once he started, he had too much time invested to change direction.
It was built in 1903, but a 1911 plumbing record states that the house was "moved here and a foundation put under same." The new owner believes that it was merely moved ninety degrees to face Ellis Street instead of Southeast 15th.

This may seem odd to contemporary readers, with our desire to have a night-time view toward the Fulton neighborhood across the river; but, at the time of its construction, the owners would have been looking at trees, underbrush, and very few lights winking in the dark, when facing west. To the north, across Ellis Street, were homes; and a half block to the east, the activity of the Sellwood streetcar line.

Indicative of the then-sparsely-populated area was its address, which was just "606 Ellis Street, between Milwaukie Avenue and the river." Lacking access to my usual library-based research materials, I was unable to determine who the owner was in 1903, but the current owner states that, for at least 70 years, it was an investment property, rented to short term residents. In 1942, a toilet and sink were added to the second floor, to supplement the single bathroom and meet the need for extra housing during World War II – when the shipyards were operating 24 hours a day, seven days a week.

It was around that time that the original horizontal board siding was covered with ceramic asbestos tiles, a virtually maintenance-free material – but, if damaged, a source of potentially hazardous microfibers in the air (and lungs).
As the contractor planned his work, his first task was meeting the current City of Portland building codes. Their primary requirement was to strengthen the exterior shell of the house, from roof to basement. This meant doubling the rafters, re-sheathing exterior walls with plywood, and pouring a new basement slab. Fortunately the basement had an eight foot ceiling, so it was decided to make the area more habitable by installing in-floor heating and a small bathroom.

The house appears more spacious than it is; the curved corners of the bell-cast roof pinch the interior space. The house originally had two upstairs bedrooms and no closets. With the basement upgraded, it now is a three-bedroom, 2.5 bathroom residence.
The satisfaction of gaining a new, cozy, and very quiet basement family room was dimmed by the revelation of three time-and-money-consuming problems. First of all was the 650-gallon oil tank that had settled, and then rusted. As the renters filled the oil tank every fall, they must have wondered at how inefficient the furnace was, requiring frequent refills. Apparently, the absentee landlord was not asked to check the furnace (or ignored the requests); but the tank silently bled oil into a large part of the backyard through a fist-sized hole in the bottom!

Not only did the tank have to be removed, but many yards of the adjacent contaminated soil dug out as well. The hole in the back yard was so deep that the contractor decided to extend the first floor by eight feet and was able to enlarge the new kitchen.
The second discovery was an old cesspool – into which toilets, bathtubs, and sinks had drained prior to the innovation of septic tanks and, later, public sewer lines. This was described to me "as a large bottle shape of stacked bricks, unmortared, and narrowing at the top just like a bottle neck." It apparently had not been used for a very long time (the house was connected to the sewer in 1919), and was empty, so the city inspector approved filling it with gravel.
The final big challenge was The Tree. This sat on the eastern property line, it roots heaving up the driveway. The neighbor to the east "owns" one third of the tree, while the owner of the house being remodeled owned the remaining two thirds.

As it was wintertime, and city arborists were unable to identify it, a six month "tree root mitigation plan" was applied. Spring arrived, and the contractor recognized it as a very common and not very well-behaved Sycamore Maple, "Acer Pseudoplatanus", probably "planted" by a passing bird. Its Wikipedia entry states that it can grow as tall at 115 feet, spreads easily from seed, and can become invasive, although it also "makes good firewood". The homeowners decided to keep it because it provides heavy shade in the summer.
The only part of the exterior that was altered was the removal of a utility entrance on the west side of the house. This allowed a new interior staircase to the second floor to be built in its place. It also provided access to the back yard via a wooden gate, whose boards have been cut into a "mountain" shape. Old windows were replaced with new ones, porch pillars reconstructed, and new horizontal board siding replaced the asbestos tiles.
The final challenge was tearing off six layers of old roofing material, and rebuilding the bell-cast roof, which curves up slightly at its four corners. The project was finally completed a year ago – in March of 2019.
Two lots to east, at the corner of S.E. Ellis Street and Milwaukie Avenue stands a new multi-story apartment building. On its 50x100 foot lot there will be 30 units of "micro studios", but in spite of the unceasing pressure to "upzone" (increase density), this 1903 house remains a single family residence.
The contractor and owner and his family wish to retain their privacy, and asks that names not appear in print – but if you see the inhabitants outside their house, consider thanking them for the two years of labor and money that they spent on their old house, which is now approaching 120 years of age.
---
Brentwood-Darlington resident Liz Thompson collected dozens of masks, gloves, and N95 respirators from her neighbors for donation to a Portland hospital during the COVID-19 pandemic. Those like Thompson who work in the medical community are seeing shortages of personal protective equipment, commonly known as PPE. (Photo by Paige Wallace)
Surgical masks and sewing machines: Southeast Portland responds
By PAIGE WALLACE
For THE BEE
It started with two boxes in a hallway closet.
In mid-March, Brentwood-Darlington resident Liz Thompson remembered she had two small but important items stored in her house: A box of surgical-style face masks, and another package of nitrile gloves. She decided someone else needed them more than she did, so she posted to Facebook, and offered the items up to healthcare professionals. That became the start of something much bigger.

Through her job as Chief Operating Officer of a medical laboratory consulting business, Thompson was acutely aware of the shortage of personal protective equipment (PPE). Demand for these products had outgrown supply as the COVID-19 coronavirus spread across the globe. That meant healthcare workers sometimes had to work in dangerous situations without appropriate protection.
After a positive response to her first post, Thompson decided to expand her outreach using two neighborhood Facebook groups – "Buy Nothing Brentwood-Darlington" and "Brentwood-Darlington Connected Neighbors". She asked group members to donate any PPE they had stored in their own homes.
Many responded by offering up protective gear from their earthquake kits, or left over from home repair projects. A few even gave despite their own personal hardships. "One lady who's actually a grocery store cashier – and worried about her job, and her money, and paying her rent – was still generous enough to donate gloves and other stuff," Thompson remarked.
As more neighbors responded, Thompson coordinated times when she could pick up the PPE from people's front porches – preferably without any face-to-face contact. She gathered the last of the donated gear on March 22, the day before Oregon Gov. Kate Brown announced her "Stay Home, Save Lives" executive order.

The Facebook drive netted approximately 80 N95 respirators, 80 surgical-style masks, and 100 pairs of gloves. Thompson handed off the whole cache to a healthcare worker she knows, who then donated the PPE to a local hospital.
Thompson believes these donations support both the mental and physical health of medical workers and first responders. With sufficient PPE, they can feel confident they're doing everything possible to protect their patients and themselves.
"It really makes them not as scared to work anymore," Thompson explained.
A few weeks later, in early April, the Centers for Disease Control and Prevention (CDC) handed down additional safety guidelines for the public, recommending wearing face masks when outside the home – admitting cloth masks cannot stop incoming viruses, but could possibly help those already infected from infecting others.
As Inner Southeast Portland residents self-isolated, many pursued craft projects – and, for some, that meant dusting off their sewing machines. Patterns for stitching together protective cloth face masks popped up all over social media. As the community recognized a growing need for these masks, they stepped up to fill it.
Woodstock resident Terry Newton noticed a post on the neighborhood website Nextdoor. Willamette View, a large retirement community in neighboring Milwaukie, needed 800 face masks for residents and staff to wear to help protect them from the coronavirus, especially since COVID-19 often affects older people more acutely, and can spread quickly in close living quarters.
Newton began sewing masks from fabric scraps she already had on hand, using industrial sewing machines in her garage, and skills she learned while making swimsuits for Janzten. That background taught her how to cut and sew quickly, so she can put together a face mask in less than ten minutes. To date, she estimates she's made more than 225 of them – some for the retirement community – and some for people in her neighborhood.
"I think everybody should do their part – you know, do what they can do. And that happens to be my expertise," Newton said.
She added that many elderly individuals and some young families have requested masks from her, after noticing her comments on social media. She keeps notes of who needs them and when they plan to come by, and then she leaves the finished products out on her front porch for them to pick up without risking any face-to-face contact.
Newton asks for nothing in return for her efforts. Still, recipients sometimes repay her with timely offerings left in her mailbox: A dozen fresh eggs from their chickens, a few rolls of toilet paper, a container of household wipes. One man offered to mow her lawn.
Meanwhile, Willamette View has met its initial request for 800 cloth masks, thanks to donations from the public and from residents who live on-site. Volunteers are now working to produce another 1,000 masks so that everyone can have more than one, as a backup on laundry day or in case the first one is damaged.

David Kohnstamm, Director of Wellness at Willamette View, said residents appreciate the community's outpouring of time and effort. "They're very pleased to have [the masks], and they feel well taken care of. No one's happy to be in this situation, but they're happy to feel they have support."
---
Here, about to donate the gloves, is Leach Botanical Garden's Volunteer Coordinator, Annie Winn. (Courtesy Leach Botanical Garden)
'Nature study' exam gloves donated to help medical professionals
By DAVID F. ASHTON
For THE BEE
With the nature workshops and studies planned the Johnson Creek Watershed Council (JCWC) and Leach Botanical Garden (LBG) now being canceled due to outbreak of the COVID-19 coronavirus, leaders of both organizations decided to give their boxes of examination gloves to help medical first responders.
"These gloves were purchased with funds from a grant for a project that JCWC, Friends of Leach Garden, East Portland's Wisdom of the Elders, African Youth Community Organization, and the Blueprint Foundation are doing to restore five acres at Leach Botanical Gardens," explained JCWC Executive Director Daniel Newberry.
Newberry credited the idea to LBG Education Director JoAnn Vrilakas.
In addition to using the gloves for a water quality sampling project in Johnson Creek, where it runs through Leach Botanical Garden, Vrilakas told THE BEE that exam gloves were also to be used in a Community Habitat Restoration workshop – to dissect owl pellets.
Owl pellets are the undigested parts of an owl's food, coughed up through the beak, that the students involved in the project would examine to learn about an owl's diet, habitat and food chain," Vrilakas explained.
"We bought the gloves as a safety measure for the students; and some were unused, and left over from the Garden's English Tea," remarked Vrilakas. "However, with all events at the Garden being canceled for the foreseeable future, I knew those gloves were needed elsewhere."
Both organizations agreed, and a volunteer dropped off the gloves at the Multnomah County building
To find out more about Leach Botanical Garden, go online: https://leachgarden.org – and to learn about the Johnson Creek Watershed Council, go to: http://www.jcwc.org
---
Southeast Events and Activities
NOTE: Events in this listing are subject to change, in this fast-moving coronavirus situation. You might want to confirm events with the organizers, before making the trip.

MAY 6
Woodstock "Laundry Love" service today: Today Woodstock Community Church and Woodstock Laundry are partnering to provide a Laundry Love service. From 9 to 11 a.m. they are providing two free loads of laundry for low-to-no income individuals and families. Woodstock Laundry has made necessary operation changes to follow the current social distancing guidelines. For specifics, contact Woodstock Laundry. To learn more about the Laundry Love project, please go online – http://www.laundrylove.org
MAY 20
Another "Laundry Love" in Woodstock today:
Again today Woodstock Community Church and Woodstock Laundry again partner to provide a Laundry Love service for low-or-no income individuals and families. From 9 to 11 a.m. they will receive two free loads of laundry. For details of the offer, and how to participate using social distancing guidelines, see the listing above under MAY 6.
SCROLL DOWN FOR THE LIST OF COMMUNITY HOTLINKS -- AND USEFUL, AND JUST PLAIN

FUN

HOTLINKS -- IMMEDIATELY BELOW!
Useful HotLinks:
Your Personal "Internet Toolkit"!


Charles Schulz's "PEANUTS" comic strip daily!

Portland area freeway and highway traffic cameras

Portland Police

Latest Portland region radar weather map

Portland Public Schools

Multnomah County's official SELLWOOD BRIDGE website

Click here for the official correct time!

Oaks Amusement Park

Association of Home Business (meets in Sellwood)

Local, established, unaffiliated leads and referrals group for businesspeople; some categories open

Weekly updates on area road and bridge construction

Translate text into another language

Look up a ZIP code to any U.S. address anywhere

Free on-line PC virus checkup

Free antivirus program for PC's; download (and regularly update it!!) by clicking here

Computer virus and worm information, and removal tools

PC acting odd, redirecting your home page, calling up pages you didn't want--but you can't find a virus? You may have SPYWARE on your computer; especially if you go to game or music sites. Click here to download the FREE LavaSoft AdAware program, and run it regularly!

What AdAware doesn't catch, "Malwarebytes" may! PC's--particularly those used for music downloads and online game playing--MUST download these free programs and run them often, to avoid major spyware problems with your computer!

Check for Internet hoaxes, scams, etc.

Here's more on the latest scams!

ADOBE ACROBAT is one of the most useful Internet document reading tools. Download it here, free; save to your computer, click to open, and forget about it! (But decline the "optional offers" -- they are just adware

Encyclopedia Britannica online

Newspapers around the world

Stain removal directions

Convert almost any unit of measure to almost any other

Research properties in the City of Portland

Local source for high-quality Shaklee nutritionals

Note: Since THE BEE is not the operator of any of the websites presented here, we can assume no responsibility for content or consequences of any visit to them; however we, personally, have found all of them helpful, and posted them here for your reference.


---
Local News websites:
The news TODAY

Local News Daily.com

KATU, Channel 2 (Digital/HDTV broadcast channel 24)

KOIN, Channel 6 (Digital/HDTV broadcast channel 25)

KGW, Channel 8 (Digital/HDTV broadcast channel 8)

KPTV, Channel 12 (Digital/HDTV broadcast channel 12)

KRCW, Channel 32 (Digital/HDTV broadcast channel 33)

KPDX, Channel 49 (Digital/HDTV broadcast channel 30)



---