Community Features
The "Events and Activities" for the month are below these featured stories!
---
The second Brooklyn School structure stood over the Brooklyn neighborhood – right where Brooklyn Park is now. This Victory Garden was started by the faculty of Brooklyn School so students could learn how to raise vegetables and fruits on their own. (Courtesy Brooklyn Historical Society)
SOUTHEAST HISTORY
The history of Brooklyn told through the story of Brooklyn School
By DANA BECK
Special to THE BEE
In 1891, the Brooklyn neighborhood was already a bustling community. Brooklyn was home to hundreds of Eastern Europeans who emigrated from Germany, the Scandinavian countries, Poland, and Italy in search of a job with fair wages, and freedom from religious persecution.

As in other sections of Portland at this time, small cottages, dwellings, and bungalows were hastily constructed to shelter newcomers pouring into the rapidly-growing city. In the case of Brooklyn, these were built to house workers who hired on at the Southern Pacific Railroad Brooklyn Yard; or who took jobs with the Eastside Railway street car; or who worked in local factories; or who found positions as skilled workers at the Poulson and Inman sawmill north of today's Ross Island Bridge.
The community of Brooklyn became known as a melting pot of different nationalities, and a devoted working-class neighborhood. As families began to settle in the area, parents were concerned that their children needed the opportunity for a good education. Construction of an eight-room, three-story school followed, under the aegis of the East Portland School Board – and it turned out to be one of the largest buildings in the area at the time.
Previously, students were using classrooms in a run-down single-story church, near 18th and S.E. Powell, called the Lee Chapel – and once used by Father Kelly during the pioneer days of Brookland's beginnings. (Yes, the original name of the neighborhood was actually Brookland – named after the steams running through it when it was first discovered. Those who failed to understand what Brookland meant took to calling it Brooklyn, and that is the name that has stuck.)
On the opening day of Brooklyn School in 1891, carpenters and woodworkers were still busy finishing the second floor, installing windows, finishing hardwood floors, and completing classrooms, as students and teachers began classes on the ground floor. The first days in class were a challenge, as students and teachers tried to ignore the sounds from the floor above – pounding hammers, rhythmic sawing, and the boisterous shouting and laughter of busy construction workers.
J.F. Rhodes, the former postmaster of the town of Willsburg (it was near Tacoma Street and today's McLoughlin Boulevard, on the railroad line) was named the Principal of the new school, and he, along with four other teachers, made up the entire faculty on the first day of class. Miss Jean McDonald was in charge of the first graders, and D. Hurlburt and Minnie Call were responsible for the two classes composed of second graders. With half the classrooms still under construction, Brooklyn Primary School could only accommodate three grades, and Miss Mary Beharrall was assigned as the instructor for the third graders.

By the start of the following year, a fourth grade class was added, and by the year after that, construction was finally complete, making room for a fifth grade. But, still, there were only four teachers on staff for the school, so each of them had to double up and teach two separate grades.
In each school year, Brooklyn School students were faced with the task of accommodating new teaching methods and remembering the names of new teachers, as the overworked faculty members were constantly being reassigned to other communities – or requesting transfers.
Moreover, immigrant students who had been raised in European countries often had to contend with a language barrier until they could master the English language; and since most families were in the blue-collar working class, it wasn't uncommon to see students move from one school to another as their fathers searched for a better-paying job and working conditions elsewhere in the community.
But, before long, more than 200 students were filling the hallways of Brooklyn School, and even more enrolled after the final closure of the decrepit old Lee Chapel classrooms down the street.
Few complained about the challenges that the children had to contend with, but they were significant. From the start, the school didn't have any playground or any central heating, and infrastructure problems continued, school year after school year. Once a furnace was installed, it was placed in the basement; and because of construction inadequacies, during the rainy winters water seeped down the walls of the building and flooded the basement, causing the furnace to fail. Students shivered in their classrooms, and dressed in heavy wool coats and hats to stay warm. At one point, school was dismissed by the Principal because the water was so high in the basement.
But what the school lacked in funds was made up for in the dedication and passion of the faculty, the mothers of the children, and each of its Principals. With the encouragement of a new Principal, Miss Aphia L. Dimick, leading businessmen in Brooklyn and the ladies who lived in the neighborhood raised additional money for the land around the building to be graded and leveled. That led to the students having a makeshift playground; they now had space for outdoor activities and recess, but landscaping for the school was not included when construction was declared complete.
Teachers and visiting parents were appalled at filthy hallways and classrooms, from the mud tracked into the building in the winter by the galoshes and rubber boots of the little students. The lone janitor at the school struggled to mop the walkways and entrance to the school each day, among his many other responsibilities.
To counter the rather grim landscape in which the school was built, on Arbor Day each year teachers such as Mrs. Margaret B. West led students in planting trees, as well as raking and cleaning up the entrance to the schoolyard.
City officials were embarrassed when the riders on the Sellwood street car, which passed by on Milwaukie Boulevard in front of the school, would complain publicly about the poor condition of the school grounds they saw in Brooklyn. As a result, a city-wide "beautification policy" was begun by the Mayor, and he called for all schools and city residents to install plants and shrubs in front of their houses and businesses to beautify the city. But, with little city money available for the purpose, the Principal at Brooklyn School and her staff were left on their own to find ways to spruce up the school entrance.
A special celebration was held for Margaret West when she retired on June 7th, 1930. She had taught at that same school for 35 years. Some 500 ex-students attended her reception, as did two former Principals, and the current Principal. Besides teaching her students how to read and write, she also shared her joy of gardening and singing with them, and each year the students in her class were required to sing a song for the annual Parents Appreciation Assembly. Members of the first class she taught, 35 years prior, gathered and paid tribute to her at the celebration by singing to their beloved instructor.

But a major change in Brooklyn was right around the corner – a new school building was constructed the following year. Building a school was just half the battle in creating a good education for everyone – the other half was getting the children to stay in school. Men who were the head of the households in that era spent the majority of their days and hours consumed with their own jobs, and many didn't see any need to have their own children spend "worthless hours sitting behind a desk".
They felt boys were needed to help out on farm, or to do chores around the house; and some were even expected to drop out of school and get a job, to help contribute to the family finances. Girls could help their mother with sewing, washing, cleaning, cooking, and looking after their younger siblings, if they weren't in school.
If working-class men often didn't see a need for children to be educated, it was the mothers who stepped forward and insisted their children receive an education so they could have a better life than they themselves had experienced in their youth. They were not only the driving force behind the construction of a new school, they also helped support the many events and activities devised by the teaching staff to enrich the children's education.
On May 6th, 1903 the "Mothers Club of Brooklyn" was established by the ladies of the community as the first Parent and Teachers Association in the City of Portland. In the years that followed, the Mothers Club of Brooklyn helped organize debates, chaperoned at dances, and assisted in after-school events which were often fundraisers to bring in money for new books in the school library.

Monthly meetings of this innovative club were held at the school, and some of the problems the ladies were dealing with were discussed – including students smoking cigarettes, and how to keep rambunctious boys from skipping school to go fishing in the Willamette, or hanging from the rear rail of streetcars for a free ride around town.
Other schools in Portland followed the example of Brooklyn's mothers, and soon every school in the Metro area had also formed its own "parents and teachers" group.
Principal Aphia Dimick became an inspiration for her charitable and educational assistance to Brooklyn students and parents. She strongly advocated for kindergarten to be offered in all Portland Public Schools – and Brooklyn hosted one of the first such in the state. She also continued to lobby the School Board for additional funds. Over the next ten years, as the student population continued to increase, Miss Dimick oversaw the construction of two wings to the school, and also supported a new assembly hall.
Teachers, students, and parents were shocked and grieving in 1914 when Miss Dimick came down with a life-threatening case of pneumonia, and shortly afterward passed away. In her 38 years of service in the Portland Public Schools, she taught some of Portland's leading business and public figures, and played an important role in encouraging self-esteem by both boys and girls.
Among her many professional accomplishments was being the first women elected President of the State Teachers' Association. She was also among the first group of teachers accepted as faculty members when Portland had only three public schools – and she remained Principal of Brooklyn Primary School for 16 years, even as other well-establishment neighborhoods pleaded for her come to teach at their schools.
Under her administration, the structure of the Brooklyn school had seen many changes. Once completed, over 400 students were enrolled at the new, second Brooklyn School, which had fifteen classrooms, a long-tiled corridor, an assembly hall, and a separate Manual Training building used for sewing classes.
The students of Brooklyn were faced with a major pandemic, much as we've had this past year. It was 1918, and the virulent Spanish Flu pandemic killed more than 20,000,000 people around the world, with Portland having one of the higher death rates in the United States. (Although it was called the Spanish Flu, because it was identified early on in Spain, it turned out it had actually started in the American Midwest.)
Churches, meeting halls, and schools were all shut down, and public safety regulations were enforced for over 168 days. Much as in our current coronavirus pandemic, children were not allowed to gather in groups outside, or visit neighbors; and they were even prohibited from playing in the local parks. The 1918 students didn't have the luxury that our generation has of watching television, talking on cell phones, or taking classes on the Internet during the quarantine.
Many of the male teachers had already left their jobs to volunteer for the armed forces at the start of the "Great War" (WWI) in 1917. Those who were students at Brooklyn Primary School later remembered noticing that all of the classes were now being taught by female teachers. Once the war had ended and classes had resumed after the deadly flu pandemic, the men returned to the jobs they had held when they left for war, and the times began to return to normal.
But that normal didn't last long, with the arrival of the "Roaring 1920's". A new generation of parents moved into the neighborhood, and with them came new views on raising a family. Parents were more protective of their children, and most mothers considered a two-story wooden school building to be a potential fire hazard – and perhaps also unsafe if another major earthquake were to hit the West Coast. (The enormously destructive 1906 San Francisco earthquake was still fresh in their minds.)

As more funds became available in the Portland School District, the School Board announced the intention to replace all schools constructed of timber. In 1924, a new site was purchased in Brooklyn, and plans were set in motion for a new state-of-the-art school to be built between S.E. 14th and 16th Avenues, and between Bush and Center Streets. George H. Jones was hired as the architect, and the construction firm "Settergren Brothers" was chosen to build it.
Shortly afterward, the 1929 stock market crash led to the Great Depression, and many other plans were cancelled – but not those for the new Brooklyn School. Work was started at the beginning of 1930. The new third Brooklyn School had ten classrooms, an auditorium to be used for music concerts and theater performances, a gymnasium for indoor activities, a manual training and home economics room, and a playground that included a baseball diamond. The exterior of the building was finished in light-colored Wilhelmine brick and, above the entrance, the words "Brooklyn School" were set in block letters.
One cool Monday morning, Brooklyn School students assembled at the old school at Milwaukie Avenue and Haig Street and, with textbooks in hand, marched two blocks into their new classrooms. The old Brooklyn Primary School – the second of the three to bear that name, and once the crown jewel of the neighborhood – was demolished, and the site was cleared for a city park. Brooklyn Park remains today a favorite destination for summer picnics, and cool winter walks; the hill on the west side of the park is still celebrated for water-sliding in the summer, and sledding in the winter whenever it snows. Kids play summer little league baseball there, too.
While school enrollment did drop a bit in the 1930's during the Great Depression, the 1940's brought shipbuilding in Portland to supply American's troops in World War II, and that restored the local economy. Rooming houses, apartments, and other dwellings were built, as more people arrived here to work in wartime manufacturing – and the new Brooklyn School was soon overwhelmed with new students.
Ron Nugent, a Brooklyn resident during the 1950's, remembers that in that decade Brooklyn was a "socially, racially, and economically diverse place" to live in. While second and third generation Italians and Germans still lived in the neighborhood, Asian, Hispanic, and African American families joined them. The young people bicycled around the neighborhood, and were welcomed in all of the stores along Milwaukie Avenue and Powell Boulevard.
But there came a scare for local residents when there was some talk at the Portland School District Board Meetings in the 1970s about potentially closing Brooklyn School. It was a time when demographers at Portland State University had decided that the population was getting older, and the number of schoolchildren would start a permanent decline. Other Inner Southeast schools were similarly threatened by the "phantom drop" in enrollment that never came (in fact, soon there began a sharp rise in enrollment, as new young families moved in).
But, in response to the forecast, the school disrtrict changed Inner Southeast school boundaries, and enrollment at Brooklyn School dropped from 400 students to barely 200. In the end, however, local parents and other community leaders saved their school from closing.
In 1997 the Portland School District began opening alternate "specialty" schools, and the Brooklyn School's name was changed to Winterhaven School – to focus on a science and art "magnet curriculum". Classrooms and teachers offered specialized classes geared toward math, science, technology, and the arts. This program proved so successful that over 320 students now attend classes in Winterhaven, from kindergarten through eighth grade.
Gone are the days of Brooklyn Elementary School when young people studied civics, geography, arithmetic, sewing, and cooking – the place is now schooling students who see the future in a different way.
This Brooklyn journey began when Miss Aphia Dimick became the Principal of the first Brooklyn School in 1898, and continued with Margaret West in the 1920s in its second school building. Early in the 1930's the structure was replaced again – with the building which still stands today.
Although the name of the school is different now, it's easy to imagine both of these landmark teachers of long ago would still be very proud of the school and of its neighborhood, and also proud of the students who today study an advanced curriculum within the walls of Brooklyn's own school.
---
Lucinda Klicker (left), the new Market Manager for the Woodstock Farmers Market, and Karena Gruber – Market President – say they are excited about plans for the upcoming market season, which starts June 6th on the parking lot of the Woodstock Key Bank. (Photo by Elizabeth Ussher Groff)
Woodstock Farmers Market reopens for the year on June 6
By ELIZABETH USSHER GROFF
For THE BEE
The nonprofit Woodstock Farmers Market will begin its eleventh year when its new season gets underway on June 6th. "I want to say thank you to the Woodstock community for enthusiastically supporting the market over the last ten years," says outgoing Market Manager Emily Murnen.
Murnen was a founding member of the market. "The first year there were about eight of us on the Board that started the market – with my main role being to secure the vendors, and figure out all the day-to-day logistics.
"From our opening day in 2011 through the pandemic, the ongoing support of the community has been incredible – and it's what makes the market such a great place to be each week. I've loved being able to connect the farms and other small businesses to the consumers, and I've enjoyed watching my kids grow up and learn to love fresh fruits and veggies at the market."
After a full decade as Market Manager, Murnen is leaving to work full-time for her four-year old business, "Wild Elm Events" – which helps organizations plan high-quality and engaging virtual and in-person events.
The new Market Manager, Lucinda Klicker, comes to the job with a PSU degree in Marketing for the Outdoor and Athletic Industry. "I attended PSU because I deeply resonated with their focus on sustainability and emphasis on community building. I have been a long-time lover of farmers markets, and have benefitted from the markets all around Portland throughout my childhood and adult life!"
Last year, during the height of the pandemic, Klicker was hired as their Market Representative by Kenai-Red, a small community-supported fishery. "I dove headfirst into working at as many farmers markets as I could for them, and realized more and more just how special the farmers market 'community' is," says Klicker. "I am really looking forward to getting to know the community of shoppers that supports the Woodstock Farmers Market, and am excited to recognize faces [in spite of masks], and to get to know names, throughout the season."
Klicker will work closely with Karena Gruber, who has served as Woodstock Farmers Market's President since January of 2020. Previously, Gruber's fulltime day job was as HR Manager for New Seasons Market, for a total of three years at Hawthorne and then at Concordia. Her fulltime job now is working as the HR Supervisor for the Portland nonprofit "Home Forward".
Gruber tells THE BEE, "I am looking forward to some fun new vendors, some familiar faces, and being able to bring back some of the fun 'community vibe' we are known for."
This year, the market will have five new vendors:
503 Distilling – canned cocktails and spirits;

4 Hearts Kombucha – canned and on-tap Kombucha

29 Kettle Confectionery – candied nuts

Cagnant Culinary – French baked goods

Salvador Molly's – tamales.
The complete updated list of vendors will be posted on the market website by May 1st.
There will once again be a space for a community booth at each market to help neighborhood nonprofits connect with market shoppers. However, due to COVID-19, there are no immediate plans to bring back live music until it's absolutely safe to do so.
The pandemic protocols will look similar to last year, with masks required and mandatory space between booths. All entrances and exits will be open, and crowds will be gently monitored from within the market.

The 2020 season saw a 53% increase in SNAP (formerly called Food Stamps) users at the market, when typically there is only a 5-10% increase year over year. Last season $11,000 in SNAP Matching funds went to SNAP shoppers to spend on fresh fruits and vegetables. In 2019 it was $6,500.
To help with the start-up in June of the nonprofit market and to ensure its success, as well as to help fund SNAP Matching funds, donations of any amount can be made to the "GoFundMe" for Woodstock Farmers Market, under the name of Karena Gruber. Or, simply click here – https://gf.me/u/znytr5
And, to learn more about the market itself, visit – http://www.woodstockmarketpdx.com
---
After three decades of managing Sellwood's SMILE Station and Oaks Pioneer Church, Lori Fyre is now looking forward to retirement. (Photo by Eileen G. Fitzsimons)
Manager of unique Sellwood resources retires after 30 years
By EILEEN G. FITZSIMONS
For THE BEE
The Sellwood-Moreland neighborhood association, SMILE, is unique among the City of Portland's 95 official neighborhood associations for several reasons. It was first of the 95, since it existed before Portland neighborhood association system was first set up. And, it manages two buildings – one of which they own, and one for which they are the renting agent.

The owned building is SMILE Station, the 1925 former fire station at S.E. 13th at Tenino; the rental is Oaks Pioneer Church on lower Spokane Street just above the Springwater Trail crossing, which is owned by the City of Portland. The church was saved in 1961 by an ad-hoc group of Sellwood and Westmoreland residents who did not want to see the historic 1851 structure, then in the City of Milwaukie, demolished. They quickly raised funds have it barged down the Willamette River to its current lot on City Park property.

After the move, hundreds of hours of mostly volunteer labor was necessary to settle it into its new home, and add landscaping. SMILE considered that it might be used as a museum, but in January of 1964, the first inquiry was made by the public about the possibility of holding a wedding in the church. Since that first wedding, on February 20, 1964, the church has been the site of thousands more, as well as memorial services and other gatherings. SMILE soon had a part-time employee to handle reservations for both structures.
Since 1995, that job has been impeccably handled by Westmoreland resident Lorraine (Lori) Fyre, who retired at the beginning of this year
The job "came to Laurie", rather than the other way around in 1991. At the time she was a member of the volunteer SMILE Board (the annual Board election is on May 5 this year), serving as its secretary. The Board had just negotiated the purchase of the old fire station, which had closed in 1955 and was then hard-used for the next three decades as the Boys & Girls Club. When that organization moved, the building became city "surplus". After much discussion the Board decided to bid on the building, in order to have a community meeting place independent of the Sellwood Community Center, which was busy with Parks & Recreation Department programs. Its bid was successful.

An ambitious remodeling plan was drawn up for SMILE Station, which included meeting ADA accessibility requirements, a new kitchen, a single large meeting space for at least 80 people, an office, and a separate meeting space in the basement. In 1991, as the remodeling was finished, the Board had a request for its first reservation for a meeting there, but there was no plan in place to allow it.
Lori had served on the remodeling committee, and knew the potential uses of the building, but was surprised when the Board asked if she would be willing to undertake the as-yet undefined job, and develop an administrative structure (fees, rules for use, insurance, etc.) for its operation. Looking back, she recalls that with the help of Nancy Walsh (then employed at the Community Center) and Matt Hainley (volunteer SMILE treasurer) a plan took shape. Laurie set up her office in the windowless basement with a desk, a phone with answering machine, and a paper appointment calendar. She later got a headset, so she didn't have to hold the phone in the crook of her neck; but until recently, operations hadn't changed very much.
The demands of the job have changed over the past 30 years, and sometimes it has been a steep learning curve. But the personal touch is what Lori brought to the position, making it so rewarding for her and successful for SMILE. She recounts with satisfaction the pleasure of welcoming a wide range of visitors to the neighborhood facility. That includes wedding receptions, graduation parties, birthday celebrations (from a one-year old to a 100-year old, and including at least one German Shepherd), anniversaries, Bar and Bat Mitzvahs, family reunions and holiday gatherings, and memorial celebrations. Other uses include business training sessions and retreats, tutoring, lectures, and continuing education classes.
"The original intent of the SMILE Board was to offer the station to nonprofit neighborhood groups and SMILE subcommittees, but the size and amenities we provided made it very attractive for rental at other times," explained Lori. A plus (until COVID-19) were nearby restaurants, where attendees at an all-day meetings could break for lunch, or gather after a long day.

In addition to building maintenance costs, the rental fees help pay for SMILE's free programs, such as the annual neighborhood cleanup, Sundae in the Park, youth programs, and summer music concerts. SMILE has been a registered 501c3 nonprofit since the neighborhood organized to save the Pioneer Church – at least 15 years before the city was divided into neighborhood associations.
In 1995, as Lori was adjusting to the job as SMILE Station's manager the long-time employee at the Pioneer Church retired. Noticing what a good job Lori was doing with management of SMILE Station, the SMILE Board asked if she would also assume responsibility for the church as well. "This was a time before cell phones were common, so communication was difficult. I had a beeper and when it buzzed I had to find a pay phone."

She informed the Board that she would need to hire some part-time employees to be present at the church while it was being used, to open and close the building, troubleshoot, and to make sure it was cleaned up afterwards. "Fortunately, I've had some excellent longtime employees from the neighborhood who are calm, when sometimes the brides are not," says Lori. Forgetful ministers who are "late to the wedding" can escalate emotions. These part-time employees now have cell phones, and carry a reserve list of individuals who may legally perform marriage ceremonies.
"I will miss it," commented Lori. "Juggling the scheduling of two separate facilities could be exhausting, but I also enjoyed the variety. I am a multi-tasker, and never tired of welcoming visitors to the SMILE Station or the church, and making sure all of the details were taken care of so their experience was enjoyable. Neither job would have been possible if it had not been for the many volunteers who serve on committees, and who quietly donate their time to making the neighborhood so great.
"However, after 30 years, I am looking forward to having my weekends free again."
---
Friends of Tideman-Johnson Park coordinator Marianne Colgrove led volunteers to their designated planting area in Ardenwald, at this year's JCWC "Watershed Wide Event". (Photo by David F. Ashton)
Johnson Creek 'Watershed Wide Event' flourishes in pandemic
By DAVID F. ASHTON
For THE BEE
For nearly five decades now, local residents have gathered each year to help restore, repair, and clean up Johnson Creek, in cooperation with the nonprofit Johnson Creek Watershed Council (JCWC), which is now based in Woodstock.
On Saturday, March 13, scores of volunteers headed out to participate in the annual "Watershed Wide Event" – spending the Saturday morning working with others, socially-distanced, of course.
"Neither tough weather conditions nor COVID have been able to stop 23 consecutive years of the JCWC's 'Watershed Wide Event' held at this time every year," beamed the organization's Executive Director, Daniel Newberry.
"Our volunteers love this opportunity each March to plant native trees and shrubs and remove invasive species, all with the goal of improving the streamside habitat of Johnson Creek and its tributaries," Newberry told THE BEE. "The trees we plant will, one day, provide shade to help keep the streams cool enough for salmon."
This year's cleanup party was a bit different than most of those past, due to COVID-19 coronavirus restrictions; there was a cap of only ten volunteers at each site, with face coverings required at all times, and without the usual large group festivities at the kickoff or conclusion.
"Instead of holding a large post-event lunch, for example, this year we had burritos made and delivered by 'Tortilleria y Tienda de León' and 'Fernando's Alegria' at the Portland Mercado," Newberry pointed out. "And, each site also featured hand-washing stations –which is a change we may continue with indefinitely."
This year, about 175 people turned out at 11 different sites, from Milwaukie to Damascus, and added 4,500 new plants to the watershed, Newberry reported. "About 40% of the people and plants were at our four Southeast Portland locations – which is less than half the number of volunteers in a typical year."
In Inner Southeast Portland, two groups of volunteers worked in different locations at Ardenwald's Tiedeman-Johnson Park, where they installed some 300 trees, flowers, and shrubs in an section they call "the Woodlands".
One could hear Johnson Creek burbling and rushing in the background, swollen with water from recent rains, as site leader Marianne Colgrove – the coordinator from "Friends of Tideman-Johnson" – instructed volunteers about the plants, and how to install them properly. Then, the group fanned out, each person carrying containers, and began putting in the new plants.
Newberry wanted to acknowledge their partners in the cleanup: The Mintkeski Family Fund of the Oregon Community Foundation, Clackamas County's Water Environment Services, Portland General Electric, East Multnomah Soil & Water Conservation District, Portland Parks & Recreation, the City of Gresham, Friends of Tideman Johnson, Leach Garden Friends, Friends of Trees, Americold, and the City of Portland's Bureau of Environmental Services.
---
Hector Mejia Zamora, at left, takes a break from a busy Sunday morning as barista at his Gladstone Street café to be photographed with community market founder Carrie Cantrell, at right in white, and with a few market vendors. (Photo by Elizabeth Ussher Groff)
'Community market' emerges in coffee shop's Southeast back yard
By ELIZABETH USSHER GROFF
For THE BEE
We have previously profiled the Creston-Kenilworth coffee shop "Café Zamora", at 3713 S.E. Gladstone Street, and told the success story of its proprietor, Hector Mejia Zamora.
Now it develops that, since the café has a large backyard, Zamora has opened it to a nonprofit called "Living Well Community Market". We visited to find out more, and came across Chloe Smith, a Foster-Powell resident, strolling the sidewalk nearby with her three-year old nephew, Benny.

She explained that her sister, Phoebe Valenti, had a table at the lmarket, displaying screen-print products –T-shirts, tote bags, and COVID-19 masks – which she and her husband created for their own Creston-Kenilworth based business, "Indelible Ink". "We are primarily a business-to-business printer," she told us; "But this market is a great place to sell to the community."
Nine-year old Noni, whose mother Bonnie sat at a table offering handcrafted jewelry, was providing vendors and customers with disposable plastic gloves to keep their hands warm as they sat or browsed on that crisp 45-degree morning. "These gloves are from the Dollar Tree Store – one hundred gloves in a packet!" she explained with a broad smile. "If you put them on and rub your hands together, they really keep you warm."
Hector Zamora, the 28-year-old owner of the café, was inside serving coffee to a stream of customers, while outside at the market information table was Carrie Cantrell, nutrition coach for her own business "Living Well" – and also the founder of the new outdoor market. "Hector has had this idea for quite a while, even before my first market in August," said Cantrell. "It was just luck that we both happened to be on the same page."
Cantrell is interested in providing a neighborhood market outlet for small, local producers of vegetables, fruit, flowers, and crafts. After the successful launch of the market last August and another on Hallowe'en, Cantrell and Mejia Zamora recognized their shared interest – they both want to give neighborhood micro-businesses more visibility. So now, the café's large backyard doubles as a community market every other Sunday from 10 a.m. until 3 p.m.
"Thanks to Hector for this community space to stimulate our local economy directly – person-to-person," exclaimed Cantrell. "People are putting a lot of effort and expression into their crafts [and produce]! Our goal is to help our neighborhood thrive.
"Any micro-grower of quality produce is welcome [to sell] here. Neighborhood gardeners do not have to sign-up in order to utilize our market community-table. Everyone [who grows produce] has extra greens, squash, etc., at some point in the season.
"Larger, established farms and other vendors [of crafts] are scheduled and curated to try not to overlap industries [or products]. Vendors will rotate in the future."
After those successful market events late last year, Cantrell went ahead and certified "Living Well Community Markets" with the Oregon Farmers Market Association, and filed articles of organization as an LLC with the State of Oregon. "Keeping a level of accountability is important," says Cantrell. "It shows people that we're serious about our business model."
As for craft vendors and established farms, they are asked to sign up two weeks in advance of the particular Sunday on which they want to sell; but the vendor spaces are free. "We want to empower and motivate people to have no fear to 'try'. We want to provide a platform for entrepreneurship", confirms Zamora, the owner of the space.
To sign up to sell at the community market, or for more information about it, e-mail Carrie Cantrell –

Lif3.W3LL@gmail.com

– or follow the Instagram page at @LivingWellMarket.
---
Levitating above its old foundation, this 1903 home at S.E. 11th Avenue at Bidwell Street will soon have a new apartment plus a "tiny house" to offer three different sets of long-term affordable renters. (Photo by Eileen G. Fitzsimons)
SOUTHEAST HISTORY
Three Inner Southeast construction projects to celebrate this month
By EILEEN G. FITZSIMONS
For THE BEE
May is Historic Preservation Month – and here are three recent projects in the Sellwood-Westmoreland neighborhood which updated venerable structures, in celebration of the month – selected in the spirit of this year's international "Pritzger Prize".

The Pritzker Prize is given every year to a living architect or architectural team, to "recognize talent, vision and commitment in the field." Established in 1979 by the family that started the "Hyatt Hotel" chain, it has been referred to as the "Nobel Prize of Architecture", because it is a prestigious international award. The notable projects of the past which it has honored have often been futuristic in appearance – but, without a personal visit, it is difficult for one to judge from online photographs just how their interior spaces work – which is the key to "successful" architecture.

However, this year, perhaps recognizing the condition of the planet and global warming, the winning firm of the Pritzger Prize emphasized sustainable rebuilding.

That team, French citizens Anne Lacaton and Jean-Philippe Vassal, stated that their guideline is "never demolish, never remove, always add, transform, and re-use." Their approach is described as, "how to intervene, with the most economical of means, to expand and upgrade existing architecture." This has included the re-configuration and humanization of subsidized, high-rise apartments, for costs well below those of new construction. Lacaton summarizes, "Demolishing is a decision of easiness and short-term. It is a waste of energy, material, and a waste of history. It has a very negative social impact. For us, it is an act of violence."

BEE readers are encouraged to search online for the names of Lacaton and Vassal to view some of their work. Hopefully, this is a trend that will soon be adopted by other architects.
With these thoughts in mind, and because May is Historic Preservation month, I wish to recognize several older buildings in the SMILE neighborhood that have been restored and remodeled in the past year. There are similar examples in the other neighborhoods within THE BEE's service area, and I hope readers there will watch for their owners, and thank them!
The owners of the "Iron Horse Building" on Milwaukie Avenue at S.E. Yukon Street have repurposed the popular Mexican restaurant space, which closed almost two years ago. The concrete-block building was constructed in the early 1920's in two phases, and covers two 50x100 foot lots. Interestingly, those are listed as "Lots 1 & 2, of Block One" of the Westmoreland subdivision, which opened for development in 1909. This makes the corner the northwest edge of that tract, which stretches all the way down Milwaukie Avenue to Malden Street.

Prior to 1920 this parcel held only one small wooden frame store, with living quarters in the back. The first business to occupy the new building, at the corner of S.E. Yukon Street and Milwaukie Avenue, was the Cunningham Drug Store – finished in early 1921, and owned by James Cunningham. Within five years, additional storefronts were added to the south end of the building, perhaps expanding all the way across Lot Number Two.

In 1928 Mr. Cunningham built a two-story, three-unit apartment building behind the store, and his drug store may have expanded, because it now included plumbing for a soda fountain. There is reference to a barber shop, probably next to Mr. Cunningham's business. It is unclear how long the drug store continued in operation; but by 1962 some of the space – presumably the section later occupied by the Iron Horse Restaurant – was occupied by the Bob Inn Tavern. By the mid-1970's, this became Rubenstein's Tavern; and finally in 1985, the Iron Horse Restaurant opened there, which operated for almost 35 years.

After much community speculation about the future of the building, the owners essentially returned the interior spaces to their original configuration, uncovered the old transom windows, added four new entry doors, and created one large interior space and three smaller ones. A salon occupies the former drug store section, followed by two smaller storefronts, with a double-width space (the former bar/restaurant) at the southern end of the complex. Honoring the memory of the popular restaurant, the building sports a new sign: "The Historic Iron Horse Building".
Oddly, the former restaurant's website is still "live", so devoted diners can torment themselves by scanning the online menu for favorites like the Chicken Belize Tostada and Butternut Squash Enchilada. However, not even a ghost can take your reservation at their old phone number.
The next project to catch my attention in the past year is a small 1909 residence at 1335 S.E. Lambert, behind Sellwood's A Cena restaurant. The modest one-and-a-half-story house had suffered from deferred maintenance; but with its new dark-blue paint with white trim, fresh entry, and sidewalk, it now looks brand-new. Windows were replaced in-kind, and building permit information indicates the current owners/residents added almost 800 square feet – including bedrooms, and another bathroom. The added space must be directly behind the original house, as it is not visible to the sides or front.
My final choice to single out this month is a 1903 house on the southwest corner of S.E. 11th and Bidwell Streets. It was owned for many years by a longtime Sellwood property owner who collected the rent, but failed to put much of it back into the upkeep of the structure. While the rent may have been reasonable, the house appeared quite forlorn. Its location made it appealing to redevelopers, who can put two units on a single corner lot without re-zoning.

However, something quite miraculous has happened instead! Five immediate neighbors, and one set of parents (who live in northwest Portland), formed an LLC, and persuaded the owner to sell the house to them.
The name of their company, "Sustainable Sellwood", reflects their intention to rehabilitate and enlarge the house to create spaces for three separate households, for long-term rental. According to one of the partners, the neighbors were concerned about the loss of affordable rental properties in Sellwood. In spite of its condition, the house had sheltered long-term tenants who did not have other rental options.

Now the house, which previously had only a dirt crawl space under it, has been lifted off its foundation. A new basement will be excavated, creating a one-bedroom apartment. The interior of the original house will be reconfigured into a three-bedroom, one-bath space. And, already in place and just needing utilities connected, is a "tiny house". The group will not flip the property, nor use the small dwelling as an "AirB&B". When the work is complete – which optimistically they hope will be this fall – it will provide a range of affordable, long-range rental housing for three new neighbors.
Perhaps "Sustainable Sellwood" is launching a model that could be used in other parts of the city: A way to increase density and create new living options, without demolishing existing structures!
---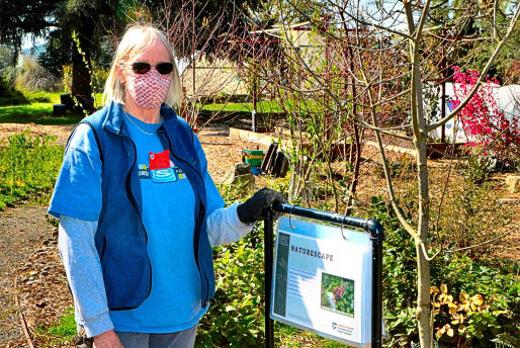 Linda Goldser shows one of the two new "Perennial Bed Education" signs, installed in the Multnomah County Master Gardeners' Demonstration Garden this spring. (Photo by David F. Ashton)
'Master Gardeners' restart Demonstration Garden for the year
By DAVID F. ASHTON
For THE BEE
When we checked in with the Multnomah County Master Gardeners (MCMG) last October, this all-volunteer group reported a bumper crop of vegetables and fruit from their Demonstration Garden in the Brentwood-Darlington neighborhood – all of which was given away to families in need.
Notwithstanding that they were "banned" from their Demonstration Garden early in 2020 by government officials – because of the COVID-19 pandemic – MCMG spokesperson Linda Goldser conceded that it had ended up being a pretty good year for them after all, when we returned for a visit on April 6.
"We worked at the garden through the middle of November, getting it ready for the winter; then it stayed closed, due to COVID, through the end of February," Goldser reported. Locked out of their garden, volunteers did projects at home – planning, making new signs, and starting seeds in pots.
Volunteers were allowed five days of "emergency access" to their garden to clean up the damage from February's snow and ice storm, and to prepare the raised beds for the spring planting, among other things. "During those days, ten MCMG volunteers spent 106 hours here," Goldser told THE BEE.
Since they were finally allowed to return in mid-March, MCMG folks have been doing a lot of weeding. They've prepared their raised beds by adding compost, top soil, pumice, and steer manure.
"So far, we have planted starts of lettuce, onions, peas, bac choi, and leeks; and we've direct-seeded or planted seed tape of spinach, lettuce, radish, chives, scallions, and peas," explained Goldser.
"We are really still under strict COVID rules, and can only have ten gardeners – on our 'COVID-approved list' here – at a time, in the garden," she confirmed. "We are hoping for the ability to invite more gardeners to volunteer at the garden soon, so if you'd like to garden with us this spring please let me know, so we can get your 'COVID-19 paperwork' ready for approval."
Interested? E-mail them – linda.goldser@multnomahmastergardeners.org
---
In front of Sellwood Community House, and also in its courtyard, vendors met neighbors at the first "Thursday Market" on April 15. These weekly markets run 4-7 p.m. Thursdays at the same place through July. (Photo by David F. Ashton)
'Thursday Markets' underway thru July at Sellwood Community House
By DAVID F. ASHTON
For THE BEE
It seems like the folks at the Sellwood Community House (SCH) are always coming up with innovative ways to serve the community.
Their most recent inspiration is called late-afternoon "Thursday Markets"; and the now-weekly outdoor events kicked off on April 15, greeted with summer-like weather, as neighbors visited vendors and with one another.
"The idea for the Thursday Markets originated with our Community Relations Director, Erin Fryer – and Kate Bolton, owner of Silver Julep – as a way to support local small food and craft vendors and local musicians, and create a family-friendly COVID-safe experience every week for the community," explained Program Manager Elizabeth Milner.
The SCH leadership team spent a month coordinating with local vendors, businesses, the SMILE neighborhood association, and the Sellwood Moreland Business Alliance (SMBA), to get it going. Volunteers reached out to musicians interested in performing.
"Kate has connected us with several food vendors who are excited about attending the markets, and has secured the necessary permits to be able to serve limited beer and wine at the markets," Milner told THE BEE.

"Tom Dwyer Automotive and SMILE are sponsoring entertainers for the first month of the markets; Heiberg Garbage is donating extra garbage cans, and additional weekly garbage pickup – and our volunteer crew will be on-hand to ensure we meet State guidelines for capacity and COVID-19 safety enforcement."
Visitors can expect to see about ten craft vendors each week, plus one or two food vendors. Shoppers will find local vendors offering everything from jewelry to French caramel sauce, from Waldorf-inspired kids' toys to handcrafted clothing, and from candles to hand-made soaps, for example.
"The mission of Sellwood Community House is to be a place where people from all walks of life can learn, play, gather, and connect," Milner remarked. "These Thursday Markets will create a one-stop experience for neighbors and friends to grab a bite and a drink, listen to live music, let their kids play safely, shop locally, and learn about the many classes and programs for all ages that SCH has to offer.
"And, by the way, the Thursday Markets are also a great opportunity for anyone interested in getting involved with SCH to volunteer!" Milner added with a smile.
The Sellwood Community House Thursday Markets are from 4 until 7 p.m. each week, and they're scheduled to continue through July. The location is S.E. 15th and Spokane Street in Sellwood.
For more information, go online – http://www.sellwoodcommunityhouse.org
---
The nonprofit "Fat Radish Community Garden" can be found at 5631 S.E. Mall Street. (Photo by Rita A. Leonard)
'Fat Radish Community Garden' Serves Creston-Kenilworth
By RITA A. LEONARD
For THE BEE
The "Fat Radish Community Garden", considered a neighborhood treasure at 5631 S.E. Mall Street, is getting ready for spring. The nonprofit garden is part of the Urban Farm Collective, a program of the Oregon Sustainable Agricultural Land Trust. Their mission is to bring neighbors together. And to transform vacant lots into neighborhood food gardens for education and community-building.
The garden was established a decade ago, and is managed by K. Vera Brink. A wooden kiosk at the front of the garden gives a short history of the site, and also features a small "free seed" cabinet for sharing garden seeds. A nearby plot is fenced with old bike wheels, and ornamented with small garden statuary.
An adjacent driveway leads to a home at the back of the garden owned by Christopher Bonnichsen. Here, his chicken coop (and numerous marauding squirrels) overlook the neat garden rows. Bonnichsen tells THE BEE he enjoys watching visitors and passers-by interact with the garden. "It's a beautiful social experiment, and a blessing for the street," he says. "I eat out of the garden nearly every day."
A collaborative mural painted last year on the community-built tool shed illustrates "planting cycles by the moon". Three different garden styles have been practiced at the site over the years, and two small scarecrows lend authenticity to the site. More about it can be found at – http://www.facebook.com/FatRadishCommunityGarden
---
MAY 2
Public info session for new scouting group: A new traditional scouting group is forming through Sellwood Community House, and you're invited to drop in to the open house. Visit the "59th Johnson Creek Scouting Interest Group" on Sunday, May 2nd, from 11 a.m. to 2 p.m. at Sellwood Community House's outdoor pavilion, 1436 S.E. Spokane Street. "Fun activities for all ages, and information on upcoming outdoor events planned for this summer. The Baden-Powell Service Association offers a community-oriented traditional scouting program for youth and adults of all genders in the United States. There is no religious requirement, and the groups are independent from sponsoring organizations – simply offering the experience of scouting to anyone who wishes to join." For more information, go online – https://tinyurl.com/59thBPSA – or you can e-mail to: 59thjohnsoncreek@gmail.com
MAY 28
Today and tomorrow, enjoy a downsized Multnomah County Fair: Social distancing has downsized the Fair this year – which is still on Memorial Day weekend at Oaks Park in Sellwood – and now it is contained in only the amusement park's Dance Pavilion, and the usual three days have been cut to two. (Hopefully next year, the full Fair will be restored.) You are warmly invited to visit the Fair this year, but you must get a free ticket to it for each attendee IN ADVANCE, online, at – http://www.oakspark.com – because the number of people attending at any given time is strictly controlled per COVID-19 guidelines. And, for more details about this year's fair itself, visit – http://www.multcofair.org
SCROLL DOWN FOR THE LIST OF COMMUNITY HOTLINKS -- USEFUL, AND JUST PLAIN

FUN

HOTLINKS -- IMMEDIATELY BELOW!
Useful HotLinks:
Your Personal "Internet Toolkit"!


Charles Schulz's "PEANUTS" comic strip daily!

Portland area freeway and highway traffic cameras

Portland Police

Latest Portland region radar weather map

Portland Public Schools

Multnomah County's official SELLWOOD BRIDGE website

Click here for the official correct time!

Oaks Amusement Park

Association of Home Business (meets in Sellwood)

Local, established, unaffiliated leads and referrals group for businesspeople; some categories open

Weekly updates on area road and bridge construction

Translate text into another language

Look up a ZIP code to any U.S. address anywhere

Free on-line PC virus checkup

Free antivirus program for PC's; download (and regularly update it!!) by clicking here

Computer virus and worm information, and removal tools

PC acting odd, redirecting your home page, calling up pages you didn't want--but you can't find a virus? You may have SPYWARE on your computer; especially if you go to game or music sites. Click here to download the FREE LavaSoft AdAware program, and run it regularly!

What AdAware doesn't catch, "Malwarebytes" may! PC's--particularly those used for music downloads and online game playing--MUST download these free programs and run them often, to avoid major spyware problems with your computer!

Check for Internet hoaxes, scams, etc.

Here's more on the latest scams!

ADOBE ACROBAT is one of the most useful Internet document reading tools. Download it here, free; save to your computer, click to open, and forget about it! (But decline the "optional offers" -- they are just adware

Encyclopedia Britannica online

Newspapers around the world

Convert almost any unit of measure to almost any other

Research properties in the City of Portland

Local source for high-quality Shaklee nutritionals

Note: Since THE BEE is not the operator of any of the websites presented here, we can assume no responsibility for content or consequences of any visit to them; however we, personally, have found all of them helpful, and posted them here for your reference.


---
Local News websites:
The news TODAY

Local News Daily.com

KATU, Channel 2 (Digital/HDTV broadcast channel 24)

KOIN, Channel 6 (Digital/HDTV broadcast channel 25)

KGW, Channel 8 (Digital/HDTV broadcast channel 8 and 23)

KOPB, Channel 10 (Digital/HDTV broadcast channel 10 and 28)

KPTV, Channel 12 (Digital/HDTV broadcast channel 12)

KRCW, Channel 32 (Digital/HDTV broadcast channel 24 and 25)

KPDX, Channel 49 (Digital/HDTV broadcast channel 12 and 8)

"Next Generation TV", in the incompatible ATSC-3 format, is currently duplicating (in the new format) KATU, KOIN, KGW, KOPB, KPTV, KRCW, and KPDX on channels 30 and/or 33; you will need a new TV or converter box capable of receiving the new ATSC-3 format in order to see these broadcasts.


---