Community Features
The "Events and Activities" for the month are below these featured stories!
---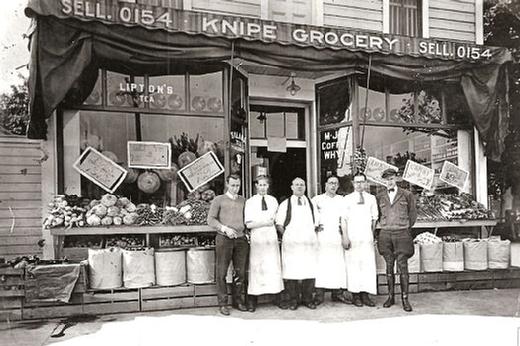 While the main commercial district in Sellwood was starting to expand along busy 13th Avenue, and a new business district was evolving on Milwaukie Avenue in Westmoreland, the Umatilla Street merchants were still being supported by residents loyal to their favorite stores. Knipe Grocery, on Umatilla between 11th and 13th, served Sellwood clientele well into the 1940s and 50s, before it finally closed down. (Courtesy of SMILE History Committee)
SOUTHEAST HISTORY
Inner Southeast Portland in the 1910s, remembered
By DANA BECK
Special to THE BEE
If you've followed my articles in THE BEE over the years, you might remember getting a taste of what the Sellwood and Westmoreland neighborhoods used to be like during key points in their growth into the place we live today.
In the June 2016 issue, we explored what Sellwood and Inner Southeast were like 116 years ago; and in the March 2017 issue we told the tale of Sellwood in the "Roaring '20s". In March of 2018 we visited Westmoreland, Sellwood, and elsewhere in Inner Southeast during the Great Depression; and in November of that year we continued that story through World War II.
Now it's time to take a look back at Inner Southeast from 1910 to 1919.
And, Sellwood started out like Gangbusters at the start of the New Year 1910. When summer arrived, the opening of the Sellwood Pool was announced; Portland's first branch of the YMCA was being completed at 15th and Spokane Street; and the Sellwood Commercial Club celebrated the completion of its headquarters on the north side of Umatilla Street at 13th Avenue. A new development just east of the railroad tracks, to be called Eastmoreland, was accepting new home buyers. The Sellwood [streetcar] Car Barns were finally completed; and two new movie theaters – the Star Theater, and the Isis – began showing black and white films along "movie row" on Spokane Street.
On June 12th, 1914, the Sellwood General Hospital Training School for Nurses graduated five women, and the ceremony was held at St. John's Episcopal Church, with music directed by Dr. John J. Sellwood. The good doctor established the Sellwood Hospital in 1909 – a two-story structure that could accommodate up to 30 patients, and it was acknowledged as the only hospital on the east side of Portland.
Memorial Day that year was special for students at Sellwood School. Members of the Blackmar Circle, a fraternal organization, marched with the children to the Milwaukie Pioneer Cemetery just south of Sellwood on S.E. 17th to place flowers on the grave markers of Civil War Veterans, in appreciation of their service to the country. Later, with the help of the ladies of the Grand Army of the Republic, bouquets of orchids were also cast upon the Willamette River to honor those who served in the Naval Service
Since Sellwood's own library lacked sufficient funds to hire additional staff or order new books, the men of the Sellwood Commercial Club lobbied city officials and Multnomah County Library supervisors to support free library services in the community. The response was the opening the first Branch Library in the Multnomah County Library system on the Southeast corner of Tacoma and 13th Avenue. In the following years, county branch library services were transferred to a new building on Nehalem and 15th Avenue to serve not only Sellwood residents, but also those in the new, expanding neighborhood of Westmoreland to the north.
Westmoreland was a real estate agent's dream – because young families and residents in Sellwood, wishing to upgrade to a new and more modern house, moved north en masse to Westmoreland as if gold had been discovered there. Within a single two-week period over 200 lots were sold, and contractors, electricians and plumbers were hard-pressed to keep up with the demand. New homeowners were excited to live in a new electrically-wired house, with such modern conveniences as running water, indoor bathrooms, and state-of-the-art kitchens, and the opportunity to live within walking distance of the streetcar line that ran down Milwaukie Avenue.
The only thing Westmoreland yet lacked were dry goods stores, a bakery, a meat market, a corner grocery, and fine restaurants – but hold your horses: A new retail office building was being constructed at the corner of Bybee and Milwaukie, where the streetcar made its westward turn. Sellwood physician Dr. E. A. Reed helped finance the venture, as Julian Chybke opened the doors to the Westmoreland Pharmacy. Soon afterward, the Bybee Grocery opened its doors to offer groceries and a meat section for residents.
As Westmoreland was becoming a sought-after neighborhood, the Sellwood Fire Department itself began a new phase, replacing all of its horses with gas-powered fire trucks and vehicles. The City of Portland spent over $171,000 of taxpayer money to invest in autos and trucks for city duties, but most of that money was earmarked for the fire department. Households no longer were to be startled by the sound of galloping horses drawing fire wagons past their homes – attracting hordes of neighbors, screaming children, and barking dogs in the process.
The bucolic mooing of cows in the swampy fields near Crystal Springs Creek – in what is now Westmoreland Park – was also now becoming a thing of the past, replaced with the roar of biplanes taking off and landing. The Westmoreland airport, if you could actually call it that, was forty acres of grazing land used as an amateur airfield for untrained pilots. It was maintained by the pilots and mechanics who stored their "aero planes" in small metal huts near Nehalem and 22nd Street.
It was the new era of air flight, and by 1919 patriotic folks renamed the Westmoreland take-off and landing field Broomfield, in honor of Reed student Hugh Broomfield who lost his life when the plane he was piloting over Meuse-Argonne in France, in World War I, was shot down.
Planes taking off had to contend with gopher holes, and windy conditions could make landing approaches hazardous; but pilots later discovered the need to dodge errant golf balls as well, when the Eastmoreland Golf Course opened in 1918.
Sellwood and Westmoreland were becoming a paradise for the wealthy, with state-of-the-art homes, an airport, paved roads for motorcars, and the option of owning a boating slip along Sellwood's waterfront, and of golfing on the Eastmoreland fairways.
The pricey and private Waverley Golf Course in Clackamas County, at the end of the streetcar line at Ochoco Street just south of Sellwood, was also available for membership, where a new and elegant clubhouse had just been built with a view of the Willamette River.
Waverley became a footnote in aviation history in 1912, when Walter Edwards made the first interstate mail flight in the United States. Edwards had been hired by the F.A. Bennett Auto Company to fly 5,000 pieces of first-class mail from the Waverley Golf Links north over the Columbia River to the Aviation Camp in Vancouver, Washington, at what is now Pearson Airpark.
A few vacant lots were also being offered at the south end of Sellwood, just north of Waverley, at the end of the streetcar line at Golf Junction. This exclusive new development was to be called Garthwick. And if that wasn't enough excitement, east of the Portland area, beyond Gresham, the Columbia River Highway was officially declared completed and open, and the State of Oregon reported that over 26,000 gas-powered vehicles were already registered for driving. Registration fees were to offset the costs of the ongoing road maintenance required.
Religion was an important part of the sociability and tradition of Sellwood. While still striving to keep up with the other districts around Southeast Portland, the community supported nine churches in 1914.
One of those places of worship was St. Agatha's Catholic Church, and it was about to add a school: In the fall of 1910, three women were concerned about the three-mile hike that all Sellwood Catholic children had to make to attend Sacred Heart School in the Brooklyn neighborhood. Their request for a new school to be built in Sellwood was approved, and a two-story brick chapel and schoolhouse was dedicated on November 30th, 1911, at 15th and S.E. Miller Street. St. Agatha's School was open for students in the fall of 1912, and 33 pupils were taught by the Benedictine Sisters of Mt. Angel.
An early commercial moving service for newcomers to the neighborhood was the Sellwood Transfer Company, which eventually built a new warehouse at 11th and S.E. Umatilla, and advertised its Grand Opening with a Grand Barn Dance in THE BEE.
The Sellwood Transfer Company, which had mainly focused on moving heavy household furniture – such as safes and awkwardly-shaped pianos – now advertised that autos were for hire at their barn on Umatilla Street! Unfortunately, at that time, most people couldn't afford to rent or own an auto, nor in fact was hardly anyone local knowledgeable about how to drive around Portland's unpaved roads.
Speaking of rough roads, Sellwood businessmen were lobbying Portland City Hall with a request that all roads leading into Sellwood be paved; and that cement sidewalks be created for the safety of schoolchildren; and that a new sanitary sewer system be set up for all households to avoid sewage being diverted to the Willamette River. (That last goal was not fully attained until the 1950's.)
By 1912, the commercial district of 13th Avenue had indeed been paved, assuring that the ladies dressed in long flowing gowns and wearing gloves, for weekend trips on the streetcar from Sellwood to Downtown Portland, would not arrive there in dusty garments.
By 1913, Sellwood's lobbying had also secured funds from residents to have Sellwood and Umatilla Avenues paved by the Linden and Kibbe Construction Company (see if you can find their name stamped into the corners of those blocks). The community was certainly becoming a progressive neighborhood, as street signs were being painted and installed around the neighborhood, as reported in THE BEE.
In 1907 the first Portland Rose Festival took place, three years after the founding of Oaks Amusement Park and two years after the first BEE was published – and since electricity was still a novelty, then, illuminated floats constructed on top of flat streetcars were attracting thousands to the Rose Festival Parade in downtown Portland. Outlying districts were encouraged to showcase their own spirit by entering a Rose Festival float. The parade took place in the last week in June, initially. City leaders offered a $100.00 cash prize to the neighborhood who constructed the winning float.
By 1912 a "Sellwood Rose Committee" had been established to collect roses from residents and to encourage industrious young people to help decorate the local horse and wagon to be used as a float on parade day. Sellwood was awarded one of those cash prizes; and again, in 1923, when the city presented a brass Benson Bubbler water fountain to be installed on the streets of the community.
When the City of Portland ceremoniously opened the "Public Market at Yamhill" downtown between S.W. 3rd and 5th Avenues, to great fanfare in 1913, the residents of Southeast Portland were also elated, because most of the vegetables and fresh fruits they were buying on the east side of the river came from those downtown market stands on Yamhill Street.
There may still be a few residents who recall with nostalgia the shouts of food vendors, and the plodding sounds of horses and produce wagons on Milwaukie Avenue – sounds that were soon to be replaced by the sound of truck engines, and the cheery honk of automobile horns.
Personal vacuum cleaners were still in the future, so housewives of the time relied on carpet cleaning services. In Sellwood, the Palmer Vacuum Carpet Cleaning Company, and the Electric Vacuum Cleaning Company at 13th and Marion Street, were providing such services for households. For those residents who couldn't afford to have a professional cleaning in the summer, the man of the house or a husky boy was called upon to drag the heavy living room carpets outside, where the rest of the family vigorously beat the dust from the floor coverings with metal rackets.
When Mary Phelps Jacob patented the first brassiere in 1915, it was quickly a fast seller in women's fashions. It marked the beginning of a time when ladies no longer had to toil endless hours behind a sewing machine making their own dresses and undergarments, or else (if she could afford it) hire a private seamstress. They could buy what they needed locally. They also increasingly no longer had to journey downtown to see and buy the latest fashions, because many of the new Inner Southeast haberdasheries and ladies' dry good shops were offering the same locally.
Two such merchants along 13th Avenue, in the second decade of the Twentieth Century, were the Elite Dressing Parlors, and Florence Harmon's The Millinery Store near Spokane Street. Mrs. Leo Stanwood had a unique shop that offered both Hairdressing and Dressmaking – that was unusual, because women still mainly cut their own hair at home. Only robust young girls or those with a broadminded attitude cared to visit a barbershop for the latest styles in haircuts.
Barbershops were still mostly a man's domain, and if a woman ventured to enter such an establishment in need of a haircut for a special event, she had to endure all the neighborhood chitchat and questionable jokes exchanged among men while there. Men's barbershops were plentiful throughout the city; the Sellwood Barber Shop advertised the availability of a new Hair Tonic called "Quino", alleged to cure dandruff and prevent the falling out of hair, for 10 cents at the shop, or 50 cents a bottle.
The "Home Telephone and Telegraph Company" proudly proclaimed that they had installed over 2,460 phones in Portland, activating them at a rate of 200 per month – or so said the Oregonian, in their January 11th, 1911, issue. By the end of that same year, there were over 12,250 telephones in service for the 212,290 residents across the City of Portland.
When World War I was raging overseas in Europe in 1914, the United States announced an intention to stay neutral. The U.S., a nation of immigrants, some of whom had come to America to avoid being drafted into the military, didn't want to be drawn into the "Great War". But when we did eventually declare war on Germany, three years later on April 6, 1917, many young men from around the country enthusiastically signed up for military service.
Over 100 men and boys from Sellwood and Westmoreland, along with 70 students from Reed College, were shipped off to go to war. For the rest of the war, the newspapers locally were filled with stories of battles, life in France and Italy, and sad news when one of the local boys had been killed, never to make it back to the neighborhood.
Inner Southeast joined the rest of the country in rejoicing when the Armistice was signed, ending the Great War on November 11, 1918. Unfortunately, in the same year of 1918, the Spanish Influenza brought havoc to the world – an estimated 50 million people died from the most lethal form yet of this common but still-sometimes-deadly disease. Citizens in the United States picked up the malady from our soldiers returning from battle overseas in Europe. Cities large and small were susceptible to the epidemic, and Portland was no exception. A very detailed report on the effects of the deadly Influenza in Portland at this time can be found online, in the "Influenza Encyclopedia". Here's a brief synopsis of the epidemic in Portland, drawn from that source . . .
In October of 1918 a solder on his way to a training camp in Leon Springs, Texas, contracted the Influenza and started a crazy chain of events. The Oregon Board of Health, in a panic, ordered all schools, churches, theaters, and dance halls closed, and required police officers to discourage any social gatherings within the Portland city limits. After nearly five weeks of this, the clergy declared "enough", and pressured Mayor George Baker to allow their faithful back into Sunday Services.
In a comedy of errors, the Mayor and state health officials demanded that all windows be removed from streetcars – In the dead of winter! – to help ventilate the epidemic away. By November, Mayor Baker removed the order to close all churches and places where crowds could congregate. But within a week or two, city hospitals began filling with people with colds, and what they thought might possibly be the dreaded flu.
A quarantine order was issued by the city, and the police department was given the task of placing red and white placards on affected houses notifying visitors to stay away. These also stated that the household was filled with sick people, even though only one person might be feeling under the weather. By January, additional restrictions mandated that anyone entering public businesses – like barbershops, pool halls, and taverns, or riding streetcars or taxis – must wear a fabric mask on their face. Those who refused could be fined $500 and receive 60 days in jail. Police officers, city street workers, and council members paraded down the business districts to support the requirement by wearing white surgical masks – thus frightening women, children, and many dogs.
Once the lethal Influenza began to subside around the world, life returned to normal, and those living in Inner Southeast could turn to happier days after the end of World War I.
Just as today a century later, the Christmas season at the end of the second decade of the Twentieth Century fast was approaching; and, in anticipation of ringing in the New Year, many in Southeast were reflecting on good times past. With the family gathered around the dinner table, those who resided in Sellwood and Westmoreland, and throughout Inner Southeast, celebrated the last days of the year 1919.
Since there wasn't any television back then, and since radio was more of a novelty than a mass medium yet, people weren't gathered to enjoy broadcast Holiday shows or endless football games. Instead, many invited neighbors or guests over to the house, to stand around a grand piano and sing popular Christmas songs. Recreational card games often continued well into the midnight hours, with coffee, tea, wassail (spiced ale), and sweet treats served.
Christmas plays and music recitals were widespread, offered almost every other night after Thanksgiving. Groups of family members or friends went Christmas caroling door to door, as a fun way to get into the spirit of Christmastime. Everyone then had grown up learning Holiday songs that originated in England and parts of Europe, such as "It Came Upon a Midnight Clear", "We Three Kings of Orient Are", and "Jingle Bells".
And at the end of the year, exactly one hundred years ago, residents undoubtedly picked up a Christmas Tree to decorate, often on a trip to the forest with a hand axe. The German custom of adorning the festive tree with live candles had already become passé, but on Christmas Eve many people had a wonderful time putting sweets and toys upon the tree, and adding tinsel and bright colorful ornaments to its branches.
While Christmas cards could be purchased for a few pennies at any pharmacy or market on 13th Avenue or along Milwaukie Avenue a century ago, grandparents still enjoyed receiving homemade cards of unusual shapes – with glued-on ribbons, foil, and scraps of paper tissue – that were hand delivered by their makers.
So now let me hope that everyone has a Merry Christmas and a Happy Holiday, and is moved to celebrate . . . like it's 1919!
---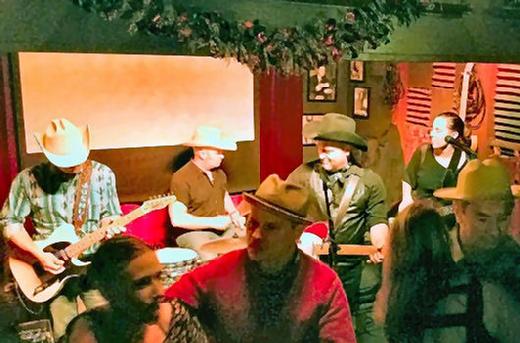 Swing dancers fill the dance floor at Landmark Saloon on S.E. Division, as local band Countryside Ride plays for a packed house on the night before Thanksgiving. Landmark hosts live Country bands weekly on its "Whiskey Wednesdays". (Photo by Paige Wallace)
Southeast's Country Music scene unites musicians, dancers, fans
By PAIGE WALLACE
For THE BEE
Walk by the Landmark Saloon on S.E. Division Street on a Wednesday night, and you may feel like you've been transported back to the days of honky-tonk clubs and singing cowboys. High-energy western swing music wafts out an open door. Inside, men in Stetson hats and women in cowboy boots swirl across a small dance floor.
There's no stage – just an alcove at the front where musicians play the instruments of America's past: Upright bass; fiddle; pedal steel guitar. A rodeo-themed Pendleton blanket hangs on the wall, while an old cow's skull hollowly keeps watch from the rafters. Busy bartenders serve drinks with down-home names like Western Lager and Tumbleweed Tea.
This happens to be Whiskey Wednesday, a weekly occurrence at the Landmark, at 4847 S.E. Division Street. It's one of several places where country music thrives in Inner Southeast Portland.
"Country is kind of hip right now," remarked Tim Hawk, co-owner of the Landmark. He's not referring to modern Country Music, but rather an older nostalgia-driven sound. The bands he books are playing songs from artists like Johnny Cash, Merle Haggard, and Patsy Cline – music many of today's adults originally heard as children in their parents' homes.
"My grandpa would turn on the radio, and have that AM station playing all this old stuff," Hawk recalled. "It brings back so many good memories."
Locals also turn out for old-school Country Music shows at Foster-Powell's Starday Tavern, 6517 S.E. Foster Road. Owner Justin Amrine is often found tending bar while his pug, Genghis, totters around seeking attention from the club's regulars. Amrine considers Starday "truly a neighborhood bar", and much of the music he features is hyper-local.
"It comes from Southeast [Portland]. Most of the musicians either live here, or have a practice space here," Amrine said. "Southeast is really incredibly saturated with talented human beings."
This Country Music scene draw crowds of all ages. Longtime local musician Pete Krebs commented that when he performs, the fans of his band – the Catnip Brothers – range from their twenties on up into their eighties. He appreciates the diversity: "We don't see people from other generations in social settings too often, so it gives us an opportunity to find commonality."
Tom Lapsley is an 83-year-old regular at local Country Music shows, and is one of the vintage-style swing dancers who follow Country bands wherever they're playing around town. Lapsley often brings his 22-year-old granddaughter along with him. He's such a regular at Whiskey Wednesdays that bartenders and patrons save his favorite bar stool for him. He appreciates that Southeast Portland has such a lively Country Music scene.
"The music here is just awesome. You go out any night of the week here and there's someone good playing," Lapsley observed, adding that dancing is "good cardio, and you don't have to spend a lot of money."
Venues like Landmark and Starday rarely charge a cover, hoping instead to bring in money at the bar. Musicians aren't getting rich playing this music, either, according to lifelong Southeast Portland resident Jenn "Huck" Huckins. She's played fiddle for acts with names like Barn Door Slammers and Honky Tonk Union. Huckins told THE BEE that only about 5% of her fellow local musicians make a living from their music. Bands set out tip jars at performances in hopes fans will show appreciation. They also sell merchandise, like T-shirts and CDs.
For Huckins, musical motivation transcends money. When she talks about performing she uses words like joy, creativity, and adrenaline. She explained, "It's an absolute rush. There's energy between you and the crowd, or between you and the dancers, and certainly with your bandmates. It's potent stuff. We had some Barn Door Slammer shows where there were people standing on stools, pounding on the ceiling! That is a ball! People show up, and they want to have fun with you."
Another local Country Music insider is Ezra Meredith. This home-grown Southeast Portlander runs The Deer Lodge recording studio and record label out of his house in the Woodstock area. He's produced albums for Portland bands Countryside Ride and Drunken Prayer, among others.
In the summertime, The Deer Lodge hosts live music shows with a backyard party atmosphere, usually announced a few weeks in advance on its Facebook page. These gatherings arose organically, Meredith remarked, out of his love for Country Music and his desire to share it with his community.
"The neighbors really seem to enjoy it," he said, recalling only one complaint over the many summers he's been hosting these events.
Meredith said he's watched Country Music grow in popularity the past few years. Krebs has seen the same, and credits the genre's increased coverage in the media. "The Ken Burns documentary [on Public TV] and Cocaine & Rhinestones [podcast] were really kind of instrumental, I think, in reminding people how much they like this music – or at least introducing people to versions of Country Music and rural sounds that are really drastically different from what they hear on the radio nowadays."
A little farther beyond Inner Southeast Portland, musicians play country music regularly at Strum Guitars, Laurelthirst Tavern and Ponderosa Lounge. Other bars host this genre on occasion. Nationally-known acts appear at Aladdin Theater in Brooklyn, and similarly sizable venues.
For information about upcoming shows, the bands and businesses included in this article suggest following their social media channels. Local Country Music event announcements also appear in a public Facebook group called "Portland Hillbilly! Rockabilly! Country! and Swing!"
---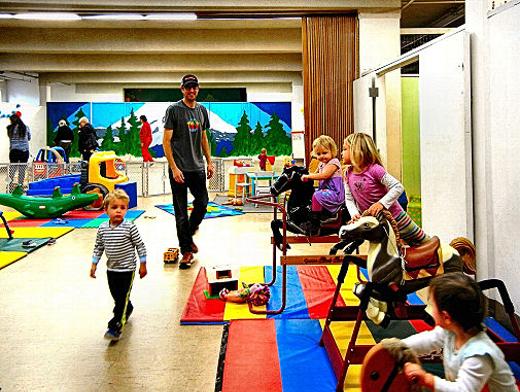 "Southeast Indoor Park" volunteer Nate Scott (center) attends with his 2 year old son Thayer (left) and 4 year old daughter Hadley (front right, climbing onto horse) – as toddler Roxy Schaack-Borger rocks on a horse, back right. The colorful Mt. Hood mural was designed and painted in 2016 by Andrea Lawhead. (Photo by Paige Wallace)
On rainy winter days, kids turn to indoor parks in Southeast
By ELIZABETH USSHER GROFF
For THE BEE
With winter weather arriving, indoor parks for children become popular, as parents, nannies, grandparents, and guardians want to get out of the house with their children. There are several indoor play areas in Southeast Portland.
One longtime indoor park in the Woodstock Neighborhood is called Southeast Indoor Park, and is bustling at least eight months a year. It gives infants, toddlers, and preschoolers up to age five a place to play and socialize, and also provides an opportunity for adults to connect with each other and share stories about raising and caring for their children.
This is a nonprofit membership co-op indoor play park, dedicated to providing a safe and clean indoor play space, and is held in the daylight basement of Trinity United Methodist Church on the corner of S.E. Cesar Chavez Blvd. (formerly 39th Avenue) and Steele Street. It is the oldest indoor park in the area, celebrating its 42nd year. It has been in the same location for all four decades.
"It gives kids a chance to get out of the house and run their energy until nap time," says Nate Scott, a stay-at-home dad who has been a volunteer member since 2013 and on the Board of Directors since 2014. "People find out about us through word of mouth, because we are so local. We charge $60 a year or $8 a month, October through May." With 20 to 30 families enrolled at any one time, there are about 12 to 15 families participating for two hours every Monday and Thursday morning from 9:00-11:00.
When you visit it, the very large basement space is filled with colorful mats, slides, rocking horses, toys, tables, and a fenced-in area for trike and toy car riding. Everything is set up and cleared by Scott and parents each of the two days. It is the same space that is used later (emptied!) for an adult Better Bones & Balance exercise class on Tuesdays and Thursdays. In the past, when not used for indoor park or exercise class, the basement has also held many receptions and events, church and non-church. For more information go online – http://www.playinside.org
Another major indoor park in Southeast Portland is in what is now the Sellwood Community House, on the corner of S.E. 15th Avenue and Spokane Street in Sellwood. Their indoor park began in the 1980s, and continues on Mondays, Wednesdays, and Fridays, 10:30 a.m. until noon. It's for children ages 6 months to 5 years, and costs $1.50 as a drop-in, or $25.00 for twenty visits. To register visit the website – http://www.sellwoodcommunityhouse.net
A third indoor park, set up three times a week in the old skating rink of the Mt. Scott Community Center on S.E. 72nd and Harold Street, is run by Portland Parks & Recreation, and is held Tuesdays, Wednesdays, and Thursdays, 10 a.m. to noon, with a $2.00 per child drop-in fee, from October 16 through January 3. For more information, go to – https://www.portlandoregon.gov/parks/60409
A fourth popular indoor park is "Hammer & Jacks" at 6416 S.E. Foster Road; ages: 0 to 5 years – plus drop-in play for non-walkers on Fridays. Hours are Monday through Saturday, 10 a.m. to 6 p.m., Sunday 11 a.m. to 5 p.m. Fees are $4 drop-in; $6 all-day pass; call ahead as space is limited: 503-894-9150. Online at – http://www.hammerandjacks.com
And a fifth Southeast Portland indoor play option for toddlers is "Tiny Tots" at the Woodstock Community Center, on S.E. 43rd at Knight Street. It is an adult/child drop-in activity for kids 3 and under, with a visit costing $2.00. It meets twice a month on Saturday mornings from 9 to 11. Dates for the group: December 14th; January 11th and 25th; February 8th and 22nd; March 14th and 28th; April 11th and 25th; and May 23rd.
Robin Eubanks, a Woodstock resident, organized "Tiny Tots" two years ago, and says, "Come burn off some energy with other kids, and develop motor skills and coordination in a safe and nurturing environment. Meet other parents with children the same age and build community." For more, contact Robin Eubanks by e-mail – Mrsrobineubanks@gmail.com
---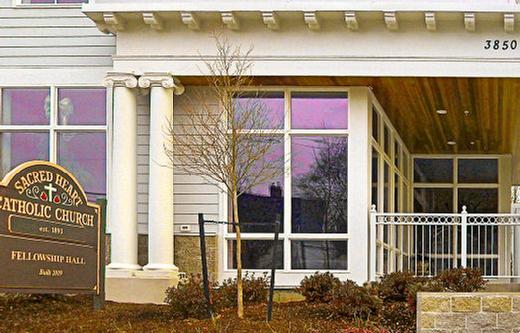 A February 22 Gala to be held here, at Sacred Heart's new Fellowship Hall, will support the efforts of Friends of Brooklyn Park to keep the neighborhood Summer Youth Program going. (Rita A. Leonard)
Brooklyn residents plan fundraiser for Summer Park Program
By RITA A. LEONARD
For
THE BEE
"Friends of Brooklyn Park" is planning an annual Gala to support the park's Summer Youth Program. The dinner and live entertainment will be held Saturday, February 22, 5:30-9 p.m. at Sacred Heart Church's new Fellowship Hall. The address is 3850 S.E. 11th Avenue.
Melaney Dittler and Caroline Dunn, the main organizers of the Gala, tell
THE BEE
that the evening will include a festive dinner for adults, with alcoholic drinks from local suppliers available for purchase, and live music and entertainment. They add that this Gala will be more affordable than their first such event – and is "an opportunity to enjoy dinner and fellowship, while supporting the 2020 Summer Youth Program at Brooklyn Park."
The ticket prices are set at $30, in hopes of attracting more neighbors this year, while making the evening more accessible to the entire community. Dittler revealed, "We'll also have a raffle, a silent auction, and a dessert auction; and we'll accept any donations to the cause."
Longtime Summer Program Director Craig Montag will be present to talk about his years at the park, and the future of the summer program, now that PP&R support for it has ended and the neighborhood is attempting to keep it going with local funding.
For more information, go online –
http://www.friendsofbrooklynpark.org
---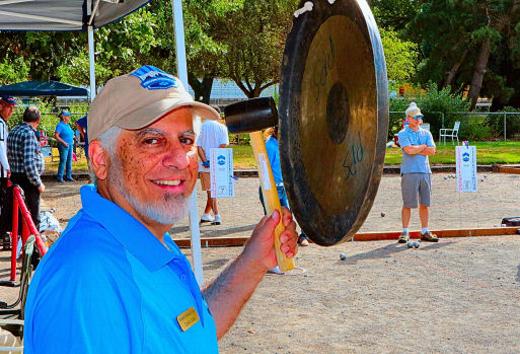 Ready to start another round of pétanque matches at September's Rose City Open, by sounding a gong, was Tournament Director David Galiel. (Photo by David F. Ashton)
Record year for Westmoreland 'Petanque Tourney'
By DAVID F. ASHTON
For
THE BEE
The sixth annual Portland Pétanque Club-sponsored 'Rose City Open' was perhaps their largest ever, with 52 doubles teams – a total of 104 players competing over two days, starting on Saturday, September 14.
"We've reconfigured our playing terrains, giving us 26 active courts this year here, at our Westmoreland Park club," pointed out Portland Pétanque Club President Steve Walker.
Competitors were men and women of all ages, who were scoring points by having their boules – hand-size steel balls – land closer to a cochonnet (the small target ball) than their opponents' boules.
"This year, we were happy to welcome world pétanque champions from France," Walker smiled. "In fact, we had a number of former world champions playing, as well as participants from Sweden, France, Switzerland, Mexico, and from throughout the United States."
Saturday the 14th of September had perfect weather for tournament play, Walker commented. But, the games continued on Sunday, September 15, in the pouring rain! "The difference in playing in the rain? We get wet," Walker explained with a sly smile. "But, being here in Oregon, and playing all year long, we're used to playing in the rain. But if we get so much rain that our target floats, then it's a little more difficult to measure who is closest to the cochonnet!"
The tournament is a boon to local hospitality businesses, Walker remarked – to those who supply food and beverages to the games, and to local restaurants as well.
"The best part about this is there is a lot of camaraderie," Walker said. "Even the big-time famous competitive players are happy to help people learn, by sharing pointers and tips. It's very competitive, but it is friendly competition."
People of all ages are welcome to come every Wednesday and Sunday to watch these games – and also to learn to play, using borrowed boules, with no obligation to buy any gear, or to join their club, at the north end of Westmoreland Park.
"The game can be learned in minutes; but mastering it takes a lifetime of play," Walker said.
To find out more, go online –
http://www.pdxpetanque.org
---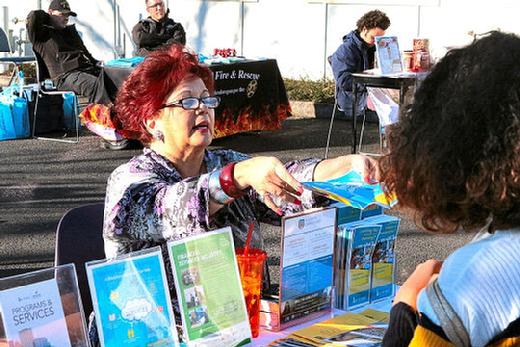 Nathaly Pretell, a Worksource Portland Metro "Worksource Navigator", helps a guest learn about available employment programs. (Photo by David F. Ashton)
Southeast 'Resource Fair' connects people with services
By DAVID F. ASHTON
For THE BEE
It isn't unusual for organizations to hold 'resource fairs' – but, holding such an event outdoors on a cold day on November 20, was a bold concept. Fortunately, it didn't rain; but the sun did little to warm the chilly breeze that swept through the Brentwood-Darlington neighborhood.
The parking lot of the Oregon Department of Human Services (ODHS) Outer Southeast Branch, just west of S.E. 82nd Avenue of Roses, was closed off, and tables were set up for representatives from 22 State of Oregon and City of Portland agencies – as well as folks from local nonprofit organizations – all of them ready to provide information and referrals to services for attendees of the fair.
ODHS partnered with the newly-renamed Portland Office of Community & Civic Life, and the Portland Bureau of Transportation, in presenting the Resource Fair. However, when asked, lead representatives of all three host organizations declined to speak with THE BEE about the fair.
Several representatives of guest organizations at the event did speak with us, however, and agreed that they understood its purpose was to provide information and resources available to ODHS clients and neighbors, and were happy to be invited to present.
"This is great; I've gotten good information about getting a job, and being safe during an earthquake," said attendee Janelle Jackson. "I'm so glad I found out about this."
Although attendance at the fair appeared to be light, the word is – unofficially, you understand – that the organizers plan to hold another, similar event somewhere in the city in the late spring or early summer of 2020.
---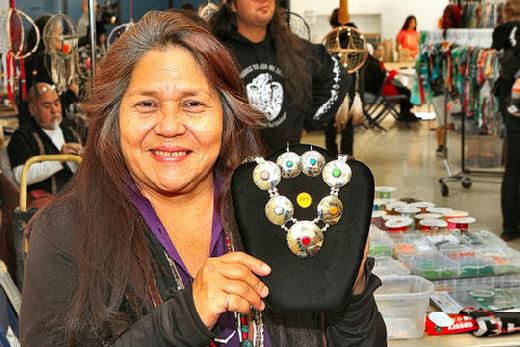 A member of the Yurok tribe, Pamela Brooks, shows a necklace – from RRB Native Jewelry. (Photo by David F. Ashton)
Unique gifts displayed at 'Native American Marketplace'
By DAVID F. ASHTON
For THE BEE
As has become their custom, the "Native American Marketplace" was again held on the third Saturday of November – this year, on November 23, the weekend before Thanksgiving Day – at the Mt. Scott Community Center, on S.E. 72nd in the Mt. Scott-Arleta neighborhood.
Shoppers celebrated Oregon's indigenous cultures at the marketplace, which was held during Native American Heritage Month. Vendors offered beautiful handmade native beadwork, sterling silver jewelry, and other handiwork.
"We started this many years ago to engage our native community in our recreational programs," remarked Sheryl Juber, semi-retired from Portland Parks & Recreation, and now on the Native American Community Advisory Council.
"Here today, we have 32 vendors from as far away as Arizona; and again this year, we've had to turn away vendors, because it's become such a popular event," Juber told THE BEE.
"There's a little of everything being sold here; from handcrafted jewelry to clothing, to photographic prints – and, new this year, we have salmon from the northern shores of Washington," pointed out Juber.
In addition to helping folks get a head start on Holiday shopping and giving Native American crafters an outlet for their creations, "this is a good opportunity for people to discover that many of these vendors are our neighbors; and, that there are many of our indigenous people living right here in the community," Juber said.
Vendor table fees and sales of food and were again donated to the "Bow & Arrow Culture Club", to help them produce their 50th annual "Delta Park Powwow" in 2020.
---
Many headstones at Southeast's historic Multnomah Park Pioneer Cemetery display modern laser engraving. (Rita A. Leonard)
Access changes coming to Southeast's Multnomah Park Pioneer Cemetery
By RITA A. LEONARD
For THE BEE
Historic Multnomah Park Pioneer Cemetery, across the street from the Eastport Plaza shopping center at the corner of S.E. 82nd Avenue or Roses and Holgate Boulevard, is due for some access changes.
The 9+ acres of tall trees and historic headstones was founded in 1888 by Oliver P. and George P. Lent, Gustaf Petersen, William Kern, and Robert Gilbert. It was taken over by Multnomah County in 1943, and is now maintained by Metro. Over the next few months, Metro will permanently close entrances along S.E. 82nd Avenue, in order to direct visitors to safer entrances along Holgate.
The well-maintained cemetery offers an opportunity to explore Portland's history in a peaceful setting. A substantial number of more-modern headstones are laser-engraved with photographic representations of those interred, both as portraits, and in candid photos. Many headstones have floral containers attached, allowing visitors to leave flowers for loved ones.
The Lents family settled in what is now the Lents neighborhood to the east. This Pioneer Cemetery is the final resting place of Oliver P. Lent, founder of the original Town of Lent; and William Johnson, who in the 1840's built and operated a sawmill along Johnson Creek, which now bears his name. Oliver Lent also operated a sawmill for many years, and he designed the Town of Lent to be a self-sufficient community. It was annexed into Portland in 1912.
Pioneer Cemeteries and historical references shine a spotlight on how the City of Portland developed over time.
---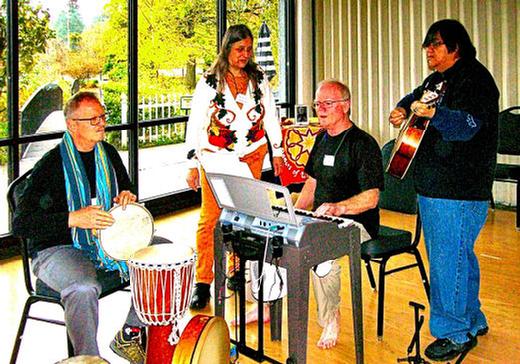 Local "Sufi Dance" leader Alys Allwardt, of the Reed neighborhood, sings with drummer Zahir Keith Moree, keyboardist Pat Adamson, and guitarist Qahira Peco. (Photo by Rita A. Leonard)
'Spiritual dancing' begins at Westmoreland Union Manor
By RITA A. LEONARD
For THE BEE
The date set for Westmoreland Union Manor residents to host their first monthly meeting of the Sufi spiritual group "Dances of Universal Peace" was December 15.
The observance was to be introduced by Certified Dance Leader Alys Allwardt, a Reed neighborhood resident, and leader of the "One Heart Circle" Chapter. About two dozen residents were set to participate in the hour-long gentle and low-key circle dance and songfest.
Allwardt told
THE BEE
that the dance "integrates spiritual phrases and music from interfaith traditions in a dance honoring peace, healing, and the wisdom of the Creator.
Some dances come from a specific tradition, but most arise from inspiration." These include chants from Christian, Buddhist, Hindu, Sikh, Zoroastrian, Islamic, and Jewish traditions.
Sufis brought to American attention about 40 years ago in San Francisco by Samuel Lewis, a student of many religions, according to Allwardt, adding that Lewis was inspired by two spiritual teachers: Hazrat Inayat Khan, who introduced Sufism to the western world; and Ruth St. Denis, a pioneer of modern dance.
According to Khan, "Sufis are those who focus on the innermost self, and cultivate the garden of the heart. They see Divine Presence in all names and forms, and strive to be free of religious dogma. Sufism, meaning 'wisdom', is viewed as an open door to truth, and the discovery of God's love within."
Allwardt assures
THE BEE
that the One Heart Circle chapter is both family-friendly and ADA-accessible, and you don't have to be a resident of Westmoreland Union Manor on S.E. 23rd Avenue to participate. More information is available by calling 503/260-9916, or going online to –
http://www.dancesofuniversalpeacena.org
---
This beaver painting, which appeared near S.E. 45th and Harney Drive, celebrates a project nearby that was reported a year ago in THE BEE. (Photo by Rita A. Leonard)
Beaver mural on Harney Drive celebrates cooperation with nature
By RITA A. LEONARD
For THE BEE
Last fall in THE BEE, David Ashton reported the Portland Parks and Recreation's alleviation of a flooding problem caused by a beaver dam constructed behind the Franz Bakery Outlet at S.E. 45th and Harney Drive, in the Brentwood-Darlington neighborhood. By installing a device called a "beaver deceiver", flooding was minimized, while allowing beavers and ducks to flourish at the site.
Now, a year later, the beavers have received their own recognition, in the form of a colorful mural painted next to the Franz store on the side of a metal shipping container. In it, two beavers crouch on a bank, in the shade of white trilliums and hovering dragonflies, receiving thanks from a group of fish who are also enjoying the pond they've created.
Cooperation between mankind and nature has resulted in this case in a satisfactory solution that benefits both people and animals in this PPR project – a satisfactory solution commemorated in public art.
---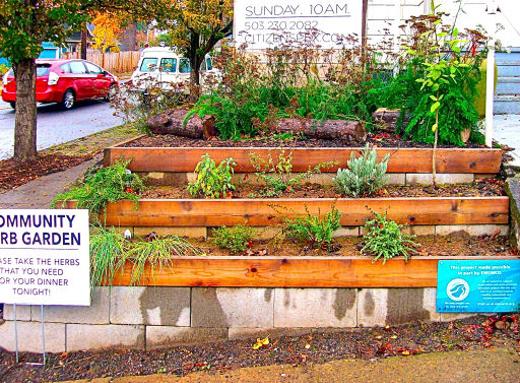 The new public herb garden at what is now known as Citizens Church, 1648 S.E. Ellis Street in Westmoreland. (Photo by Rita A. Leonard)
Westmoreland church offers community herb garden
By RITA A. LEONARD
For THE BEE
"Citizens Church" – formerly the Moreland Bible Church, at 1648 S.E. Ellis Street – has developed "environmentally responsible" gardens on either side of its front entry steps. To the East is a community herb garden, and to the west is a rain garden, with a small berm to help recycle rainwater from the roof.
The herb garden, adjacent to S.E. 17th Avenue, invites with a sign, "Please take the herbs that you need for your dinner tonight!" The herb garden includes rosemary, chives, sage, Italian oregano, bay leaves, winter savory, marjoram, lavender, and a few native plants. The garden is constructed on a three-step slope, with the herbs labeled.
On the western side of the church stairs, a rain garden with a raised berm features ferns, reeds, and other wetland plants. A sign posted there explains, "This raingarden removes the majority of chemicals and sediments from our rainwater runoff, and allows for more water to soak into the ground than a conventional lawn."
The two gardens were created by church member Katie Schutz last spring, enabled by a $1,000 grant from the East Multnomah Soil & Water Conservation District.
---
Southeast Events and Activities
JANUARY 25

"Creating Catapults" at the Sellwood Library:
From 11 a.m. till noon today, kids will explore the physics behind catapults and trebuchets, and what makes them hurl or launch. Working in small groups, participants will design and engineer their very own working models, and create defense systems to be used in a friendly challenge between teams. Best for kids in grades 2-5. Free; free tickets are required, due to limited space, and they will be available 30 minutes in advance, at the Sellwood Branch Library – S.E. 13th Avenue at Bidwell Street.
Open House at Homestead Schoolhouse in Woodstock: Today at 2 p.m. it's Open House at Homestead Schoolhouse – preschool for ages 2-1/2 to 5 years. Registration for the 2020-2021 school year available. 4121 S.E. Woodstock Boulevard. Call 503/970.7168 for more information.
"12 Key Acupressure Points For Everyday Health": This afternoon at the Woodstock Branch Library, 2-3 p.m., it's an experiential holistic event for adults, sharing information based on the wisdom of the ancients to improve your health and strengthen your immune system. Free, but registration is required; register in the library, at S.E. 49th and Woodstock Boulevard – or by calling 503/988-5123.
JANUARY 26
Open House at Holy Family Catholic School: This morning from 9:30 to 11:30 a.m., it's the annual Open House at Eastmoreland's Holy Family School, 7425 S.E. Chavez Blvd. (formerly 39th). If you can't make it today, you have one more opportunity on Wednesday, January 29, from 9 a.m. to 7 p.m.; drop in at the best time for you.
FEBRUARY 1
Brooklyn Co-op Preschool Open House: Nonprofit Brooklyn Co-op Preschool, founded in 1971, is holding its annual Open House on this morning, open for drop-in visits anytime from 9:30 to 11:30 a.m., to meet the teachers, tour the spaces, chat with current parents and students, and talk to the membership director. The school is located in the back of Reedwood Friends Church, at 2901 S.E. Steele Street, across from the north side of the Reed College campus. More info can be found online – http://www.brooklyncooppreschool.org/open-house
FEBRUARY 2
"Climate Change" in church discussion today: Moreland Presbyterian Church's own Charlie Abran will discuss "Youth Climate Activism and Our Environmental Solutions", as well as a report on his own "environmental pilgrimage using the power of media to help save the planet." Open to the public at 11 this morning in the "Columbia Room" of Moreland Presbyterian in Westmoreland, 1814 S.E. Bybee Boulevard.
Lunar New Year celebrated today at Woodstock Library: Today, 2-4 p.m., the Woodstock Branch Library will present its annual Lunar New Year Celebration for everyone. Featured are a Tai Chi demonstration; the Kirkland Union Manor Women's Singing Group; a White Lotus Lion Dance; a Children's singing group; a Craft Activity; Refreshments; and photo booth with Lotus Lion. The library is situated at S.E. 49th at Woodstock Boulevard.

Woodstock-based puppeteers present show: "Leaven Dream Puppets" of Woodstock premieres "The Magic Fish" at 5:30 p.m. this afternoon at TaborSpace, on the Dining Room Event Stage, 5441 Belmont Street. It's a family friendly puppet show – and the venue is called the Fertile Ground Festival. The same show will also appear on stage there on February 9 at 2 p.m. "The Magic Fish" is an original puppet show that follows a little boy who does not heed his mom's call, nor convention, and meets with adventures, only to return home wiser. The story is informed by the Irish fairytale "Soul Cages", Punch and Judy puppetry, and contemporary mask and mime. This mostly word-free performance engages audiences from age 3 and up. The show runs 30 minutes with additional 15 minutes for meeting the puppets. For information on the puppeteers, go to – http://www.leavendreampuppets.org – and for tickets, $5 per person age 3 and up (only 30 seats per show, so book early), go online to – http://www.fertilegroundpdx.org/2020-works – and scroll way down to "The Magic Fish".
FEBRUARY 4
Two Sellwood Poets appear at Sellwood Library tonight: Lex Runciman will read from his latest poetry collection, "Salt Moons: Poems 1981-2017"; and Paulann Petersen from hers, "One Small Sun". Lex Runciman is a winner of an Oregon Book Award for poetry, who now calls Sellwood his home; Paulann Petersen is an Oregon Poet Laureate Emerita who has lived in Sellwood her home for 25 years. The free reading is tonight, 6:30 to 7:30 p.m., at the Sellwood Branch Library, S.E. Bidwell Street at 13th Avenue.

FEBRUARY 6
"Crackin' Crab Feast" returns today in Woodstock: Today, two seatings are available at the annual "Crackin' Crab Feast" – at 4:45 and at 7 p.m. – at All Saints Episcopal Church Hall, 4033 S.E. Woodstock Boulevard. It's for those who love crab, and like to have a good time with family and friends. A bargain at $40, the meal comes with fresh crab, salad, and bread – and a cash bar is available. Children under 6 eat free; children 6-11 get mac and cheese for $10; and there are vegan options for all. Childcare available at first seating only. Table pricing for 6, 8, and 10 people. All proceeds support All Saints outreach ministries. For tickets – available now – or for more information, go online -- http://www.allsaintspdx.org – or call 916/202-7132.
FEBRUARY 8
"Anyone's Domain 2020" – A Poetry Workshop in Sellwood: Poetry is not the domain of just a few; it's as natural and accessible as heartbeat and breath. "Writing poetry requires nothing more than a love of words, and a willingness to let your pen move across a page, following language wherever it takes you." Join Sellwood's former Oregon Poet Laureate Paulann Petersen 1:30-4:30 p.m. in a free workshop devoted to generating new poems. Using innovative springboards that include notable poems, you'll make an exhilarating plunge into language. It's free, but registration is required; register in the library, or by calling 503/988-5123. It's at the Sellwood Branch Library, S.E. 13th Avenue at Bidwell Street.
FEBRUARY 10
"Pageturners Book Group" for adults, at the Woodstock Library: Be at the Woodstock Branch Library this evening at 6:30 p.m. for "Everybody Reads", Multnomah County Library's free annual community-wide book discussion. Read "There There" by Tommy Orange in advance if you can, and then engage in conversation about books, and get to know your neighbors. Sponsored by the Friends of the Library. It lasts an hour and a quarter and it's free. The library is on the corner of S.E. Woodstock Boulevard and 49th. The same program takes place on FEBRUARY 18, 6:30-7:45 p.m., at the Sellwood Branch Library, at S.E. 13th Avenue and Bidwell Street in Sellwood.
FEBRUARY 11
"Knitting from the Heart" at the Woodstock Library: Adults and teens can meet their neighbors and share patterns, ideas, and knitting or crochet skills, tonight from 6 to 7:30 p.m,, while working on their own project or one to donate. Knitters of all experience levels welcome. Another session also coming up February 26, 4-5:30 p.m. – both take place at the Woodstock Branch Library, S.E. Woodstock Boulevard at 49th. Free, but please bring your own supplies. If you have any questions, please call 503/988-5123.
FEBRUARY 12
"USA Gap Year Fair" this evening at Cleveland High: Why take a gap year after high school? Learn about options for travel, cultural immersion, service, work experience, and mentorship, and connect with program providers at the *USA Gap Year Fair* at Cleveland High School, S.E. Powell Boulevard at 26th, this evening at 6 p.m., with a presentation in the auditorium, followed by opportunities for face-to-face conversations with gap year program providers, trip leaders, advisors, and gap year alumni in the cafeteria until 8:30 p.m. Admission is free – and pre-registration is recommended, but not required. You can register at – http://www.usagapyearfairs.org/fairs
FEBRUARY 15
For families, puppets tell the story of Papagayo, in Woodtock: Deep in the jungles of Central America, Papagayo, the parrot, sings and dances as the nocturnal animals try to slumber. One night, the magical Perro Luna wakes up and starts eating the moon! Will the animals learn to work together to save the moon? Presented in both English and Spanish, two entertaining puppeteers interact with the audience and bring this brightly colored tale to life for kids and parents, free, from 2 to 3 p.m., in the Woodstock Branch Library, S.E. 49th at Woodstock Boulevard.
FEBRUARY 16
St. Ignatius' 85th annual Italian Dinner fundraiser: The beloved community event returns for the 85th time – serving over 10,000 meatballs, as part of a dinner that includes spaghetti, ravioli, bread, salad, wine, beer, and more. "Reasonably priced, and a friendly atmosphere where you are sure to get more than your fill!" It takes place noon until 6 p.m. this afternoon in the St. Ignatius Church Gym, S.E. 43rd and Powell Boulevard. Come one, come all. For parties of 8 or more, please make reservations with Diane Welters at 503/774-0744.
FEBRUARY 22
Easy and Affordable Mason Bee Hosting for Families: At the Sellwood Library today, make a bee house! Being a host for Mason Bees is fun for all ages, and with Honey Bees facing many threats, the native Mason Bees are popular alternative pollinators. This free 90-minute class is for kids in grade K and up, with their favorite adult. Seating is limited, so free tickets available 30 minutes in advance of this 12 noon class today at the Sellwood Branch Library, S.E. 13th at Bidwell Street.

Gala to support Brooklyn Park summer youth program: The Friends of Brooklyn Park offer their annual Gala dinner and live music to help support the summer youth program at Brooklyn Park that PP&R no longer funds. It takes place in the new Fellowship Hall at Sacred Heart, 3850 S.E. 11th Avenue, open to all. $30 per-person tickets includes a raffle. There will also be a silent auction and a dessert auction. For more information, or tickets, go online – http://www.friendsofbrooklynpark.org
FEBRUARY 27
Llewellyn Elementary's Kindergarten Open House: This evening, from 6 to 7:30 p.m., "Connect to Kindergarten"– at Llewellyn Elementary School, 6301 S.E. 14th Avenue. This is an opportunity for parents of incoming 2020 Kindergartners to come and hear from teachers and the Principal, to see the classroom, and to tour Llewellyn School. If you have any questions, call Llewellyn 503/916-6216.
FEBRUARY 29
Today starts Easter Community Choir's formation: Like to sing? Mt. Scott Presbyterian Church is looking for singers of all abilities to perform in an Easter cantata. Rehearsals will be 1 to 2:30 p.m. beginning today, and on each Saturday beginning today through April 11. The resulting performance is on Easter Sunday, April 12, at 10 a.m. All rehearsals and final performance will be at Mt. Scott Presbyterian Church, S.E. 73rd Avenue at Harold Street. Questions? E-mail – mspkpres@imagina.com
SCROLL DOWN FOR THE LIST OF COMMUNITY HOTLINKS -- AND USEFUL, AND JUST PLAIN

FUN

HOTLINKS -- IMMEDIATELY BELOW!
Useful HotLinks:
Your Personal "Internet Toolkit"!


Charles Schulz's "PEANUTS" comic strip daily!

Portland area freeway and highway traffic cameras

Portland Police

Latest Portland region radar weather map

Portland Public Schools

Multnomah County's official SELLWOOD BRIDGE website

Click here for the official correct time!

Oaks Amusement Park

Association of Home Business (meets in Sellwood)

Local, established, unaffiliated leads and referrals group for businesspeople; some categories open

Weekly updates on area road and bridge construction

Translate text into another language

Look up a ZIP code to any U.S. address anywhere

Free on-line PC virus checkup

Free antivirus program for PC's; download (and regularly update it!!) by clicking here

Computer virus and worm information, and removal tools

PC acting odd, redirecting your home page, calling up pages you didn't want--but you can't find a virus? You may have SPYWARE on your computer; especially if you go to game or music sites. Click here to download the FREE LavaSoft AdAware program, and run it regularly!

What AdAware doesn't catch, "Malwarebytes" may! PC's--particularly those used for music downloads and online game playing--MUST download these free programs and run them often, to avoid major spyware problems with your computer!

Check for Internet hoaxes, scams, etc.

Here's more on the latest scams!

ADOBE ACROBAT is one of the most useful Internet document reading tools. Download it here, free; save to your computer, click to open, and forget about it! (But decline the "optional offers" -- they are just adware

Encyclopedia Britannica online

Newspapers around the world

Stain removal directions

Convert almost any unit of measure to almost any other

Research properties in the City of Portland

Local source for high-quality Shaklee nutritionals

Note: Since THE BEE is not the operator of any of the websites presented here, we can assume no responsibility for content or consequences of any visit to them; however we, personally, have found all of them helpful, and posted them here for your reference.


---
Local News websites:
The news TODAY

Local News Daily.com

KATU, Channel 2 (Digital/HDTV broadcast channel 24)

KOIN, Channel 6 (Digital/HDTV broadcast channel 25)

KGW, Channel 8 (Digital/HDTV broadcast channel 8)

KPTV, Channel 12 (Digital/HDTV broadcast channel 12)

KRCW, Channel 32 (Digital/HDTV broadcast channel 33)

KPDX, Channel 49 (Digital/HDTV broadcast channel 30)



---