More stories from October's issue of THE BEE!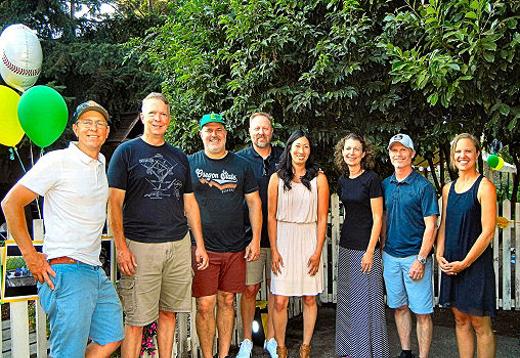 Among the "Cleveland Youth Baseball and Softball" Board Members who were able to attend the July 29th recognition dinner in Woodstock were these. Shown from left: David Kreifels, Ken Davis, Chris Amistadi, Ryan Kullberg, Meeka Kullberg, Siv Larsen, Norm Hersom, and Cora Chance. (Photo by Elizabeth Ussher Groff)
'Cleveland Baseball' appreciates 80 coaches, in Woodstock

By ELIZABETH USSHER GROFF
For THE BEE
On a Thursday evening near the end of summer, "Cleveland Baseball" (formerly known as "Sellwood Baseball") held a coaches' appreciation dinner in the back yard of the Homestead Schoolhouse, in the Woodstock neighborhood – at Woodstock Boulevard and S.E. 42nd Avenue.
The event recognized the league's 80 coaches, who volunteer their time to coach throughout the year. "We are here to celebrate our coaches for all their commitment and hard work," commented Ryan Kullberg, an Eastmoreland resident who is entering his third year as President of the league.

The longer name for the league is "Cleveland Youth Baseball & Softball (formerly Sellwood Junior Baseball & Softball)". For over twenty years the league has been providing Southeast Portland youth – both boys and girls – an opportunity to play baseball and softball.
Coaches – 40 of them were in attendance at the recognition dinner – as well as Board Members, and parents, were there enjoying food and drink. "Otto's provided the grill and hotdogs, and other Woodstock businesses provided beverages and sides. A lot of local businesses, such as the Homestead Preschool and many others in the neighborhood, have been longtime sponsors of the league," explained Kiley Cronen, a parent as well as Homestead Schoolhouse's co-owner, who joined the baseball organization's Board this year.

Meeka Kullberg added, "Kiley was a much-beloved Farm Ball coach with [his wife] Keli this year. Farm Ball is the level between T-Ball and competitive baseball for first and second grade players, where they learn the basics – such as hitting a pitched ball, counting outs, and introducing players to pitching and catching."
BEE readers might wonder just what differentiates Cleveland Youth Baseball and Softball from other youth baseball organizations. Meeka Kullberg had the explanation: "We have multiple teams from each age group playing against other programs at the same level. Each age group is split into three skill levels, with the most-skilled players competing against each other, in a highly competitive league – both at a competitive level, and at a recreational level. The intent is for all players to be 'appropriately challenged', and enjoying the opportunity for success."
Events Director and Board Member Cora Chance organized the recognition dinner, and former President and current Board Member David Kreifels was responsible for contacting and gaining support from over two dozen neighborhood and community business sponsors.
As the celebratory evening got underway, Meeka Kullberg remarked, "We're so grateful to our coaches and Board Members, who generously give their time to make sure the kids have the opportunity to play ball in our community."
All young people are welcome to play baseball with Cleveland Youth Baseball and Softball; players do not have to reside within the Cleveland High School boundary, despite the new name of the organization.
Meeka said that another of the benefits of playing Cleveland Youth Baseball and Softball is the opportunity to get to know kids from a variety of areas. "One of our teams of eleven players was made up of kids from ten different middle schools!"
All registration details can be found on the league website – http://www.clevelandyouthbaseball.com
---
This Portland Parks and Recreation truck was shot during the latest such incident near Mt. Scott Park, just north of Woodstock Boulevard. Nobody was injured. (Courtesy PPB)
Shots again near Woodstock Blvd at 72nd; no injuries, but lots of evidence
By DAVID F. ASHTON
For THE BEE
Just why the area on S.E. 72nd Avenue between Duke and Harold Streets has become a focus for gunfire is unknown – armed criminals continue to shoot up houses and vehicles, usually at night, and usually without injury.
Monday evening, September 13th, at 9:12 p.m., East Precinct officers were again dispatched to S.E. 72nd Avenue and Woodstock Boulevard for "multiple shots fired" nearby.
At the scene, an officer told THE BEE that they'd found 26 bullet cartridge casings, in different calibers, strewn along 72nd Avenue, from S.E. St. Martins Street, north to Knight Street at the edge of Mt. Scott City Park.
A PPB spokesperson later reported, "Investigating officers learned that a bullet went through the windshield of a passing car, barely missing the driver. A total of three vehicles were struck by gunfire, including the side of a Portland Parks & Recreation pickup truck."
There have been no reports of injuries as a result of this shooting, or a similar shooting there reported on September 19. While no arrests have been made, the case is still under active investigation. If you have information about this case, please reference "Case #21-256082" and e-mail to crimetips@portlandoregon.gov.
Or, send an anonymous tip through Crime Stoppers of Oregon, and perhaps earn a cash reward of up to $2,500, by visiting their website – https://www.p3tips.com/823
---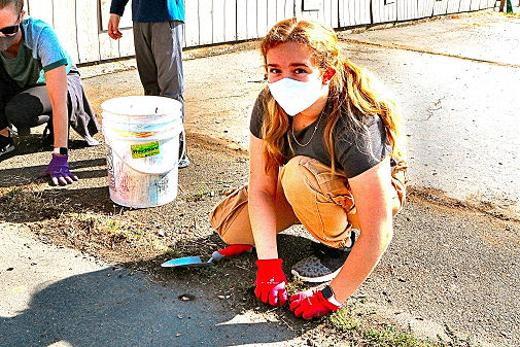 Pulling weeds on the Woodmere playground is a Woodmere graduate – she's now in eighth grade at DaVinci Middle School – Sanaa Pond. (Photo by David F. Ashton)
Volunteers work at Brentwood-Darlington schools on 'Community Care Day'
By DAVID F. ASHTON
For THE BEE
When the start of "in person" learning was just days off, families of students, neighbors, and other volunteers turned out on the morning of August 28 to help prepare Woodmere and Whitman Elementary Schools, and Lane Middle School, for the coming school year.
THE BEE stopped by Woodmere Elementary School, where a dozen or more volunteers were cleaning outdoor spaces around the campus. "It's so good that our families care so much to come out every year," remarked Woodmere Principal Katherine Polizos.
"I believe it's really important for our kids to have a nice, beautiful place to play when they are at school; the weeding and all the other work tells the children how much we love them, and how much were excited to have them back in the building this year."
At Lane Middle School, we found Assistant Principal Sherree Coleman weeding a tree planter on the sidewalk along the front of the school. "What matters is that we've come together, and once again are building a sense of community – and this year – doing so in person," she told THE BEE. "And really, we're coming together on behalf of our students, to make sure when they arrive – after year and a half of uncertainties – that they come back to a beautiful space, and feel really proud of their school."
Our next stop was Whitman Elementary School, where volunteers were weeding, mulching flower beds and planters, and painting – with "social distance spacing" – on the playground.
"We're really excited to see kids in person, coming back this year," said Whitman Vice Principal Celina Garrido. "It is joy that is fueling everybody here, as we're getting ready for the school year. We're really grateful to have this demonstrated love of so many people, who have come out today to care for our campus.
"But we do have a little bit of apprehension about the logistics of having school [in person again] – such as our students eating outside, for the first six weeks of school," admitted Garrido.
On September 1, when the doors of these three schools opened to welcome back their students, the youngsters and their parents beheld beautified campuses, thanks to the annual efforts of neighborhood volunteers.
---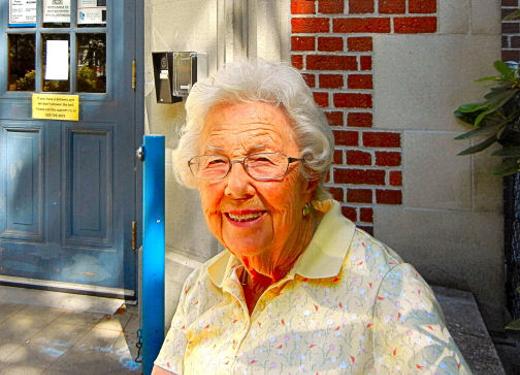 Lucille Pierce drove her car to Duniway Elementary for a photo in front of her alma mater – of which she is apparently the only remaining living member of its first graduating class. A lot has changed at the school, and in Southeast Portland, in her one hundred years. (Photo by Elizabeth Ussher Groff)
Graduate of Duniway School's very first class reminisces
By ELIZABETH USSER GROFF
For THE BEE
Today, at one hundred years of age, Lucille (Harris) Pierce still has clear memories of Duniway Elementary School in Eastmoreland when it first opened in 1927 – even though she was then only six years old. Today she is the only living member – as far as can be known – of that school's first graduating class.
"I remember when we first graders lined up in front of the school, and the flag was raised for the first time. There was no lawn; no sidewalk. We stood on a wooden walkway," she reflected.

At that time Duniway was a grade 1 through 8 elementary school, and Lucille walked the ¾ mile to school and back, each way, every day. Her childhood home was at S.E. 47th and Abington Avenue – now known as Rex Drive.
"We walked on a road through a large Italian 'truck farm' that went from Johnson Creek to Flavel Street, and from 45th to 39th Avenue. There was a big barn in the middle that we walked around. I walked with my brother and a few other children from the neighborhood.
"During the Depression, my dad would occasionally bring leftover produce to us that the farmer had given him. He knew the men who ran the farm."
One of Pierce's favorite Duniway School memories was of the annual May Pole event. "We girls wore colorful dresses, and wound the colored ribbons around the pole." She also remembers her seventh grade "auditorium class" teacher, Mrs. Hamilton, who taught literature. "She lowered the lights and sat on the edge of the stage, and read Edgar Allen Poe. The stories scared us, but we were delighted!"
Other memories include games and races on the playground. "Jump-rope and roller skating were also favorite activities for me. And I remember our beloved janitor, who was jovial and helpful and loved the kids.
"My Camp Fire Girls group, and [spending] a week in the summer at Camp Namanu, are also special memories of that time.
"I liked school, and got along with all of my teachers. And my first grade teacher was still there when my own four children attended Duniway [years later]!"
After graduating from Duniway, Pierce had to ride two buses and a streetcar to get to Washington High School at S.E. 14th Avenue and Stark Street, where most of the students from the neighborhood went next. She remembers the long daily ride to get there, and back to her house.
Following high school she attended two years at Reed College, where she met her husband, Sam Pierce – who eventually was the proprietor of "Sam Pierce Radio and TV" for twenty-five years on Milwaukie Avenue in Westmoreland.
When her parents could no longer afford to pay for Reed, she worked one year at Emanuel Hospital in the office, and then took a summer organic chemistry class at the University of Washington – followed by a year of training at Emanuel Hospital to become a Registered Medical Technologist. When her four children were older, she went on to a twenty-year career in Administration – at Reed College!
One of Lucille's ongoing enthusiasms is calligraphy, which she learned from Lloyd Reynolds, a renowned calligraphy teacher at Reed. As the Duniway School PTA President in 1960, she took a group of parents to Reed to learn the art from Reynolds. And, when the Pry family sold THE BEE and their other newspapers in the early 1990s, Marcia Pry had a sale, and Pierce bought a print rack from Marcia to use in calligraphy work. Pierce still belongs to the Portland Calligraphy Society.
Today, a casual observer would have no idea Pierce has reached the age of one hundred. She takes yoga once a week, and has just started an online Qi Gong class out of Vancouver B.C. She still lives independently in her local apartment, enjoying many friends and family, as well as her lifelong association with All Saints Episcopal Church.
When asked how it feels to be the only living member of the first class that graduated from Duniway Elementary, she said, half-playfully – even though, apparently, all of her peers have passed away – "Am I really the only member left?"
---
Brooklyn Action Corps volunteers Josh Hetrick and Melaney Dittler show some of the school supplies and food boxes collected at the Brooklyn Park donation event at the end of August. (Photo by Rita A. Leonard)
Brooklyn neighborhood gathers school supplies, food, returnables
By RITA A. LEONARD
For THE BEE
With the schools about to open, the Brooklyn Action Corps neighborhood association held a student supply drive on Saturday, August 28, on the playground at Brooklyn Park.
In addition to the elementary school students, another beneficiary was the "Groceries 4 Grout" food pantry at Grout Elementary School on S.E. Holgate Boulevard, which received food boxes, and hygiene items for children,
The drive also served as a returnable bottle drop location for an ongoing fundraiser for the Friends of Brooklyn Park (FOBP) – bottle deposits have helped finance the summer park program for kids at the neighborhood park since PP&R discontinued its support.
Generous Brooklyn neighbors provided pencils, pens, notebooks, scissors, colored markers, calculators, books, maps, rulers, rubber bands, math supplies, and other items needed for the classroom. Grout School supply lists were available online to prompt the memories of those who have forgotten all the things kids need for their learning experience.
Brooklyn Action Corps volunteers Cheryl Crowe, Josh Hettrick, Melaney Dittler, and John Karabaic reported that they collected a wide selection of school materials, as well as boxes of food and hygiene items for the Grout Food Pantry, which also serves the needy in the Brooklyn neighborhood.
Although the 2021 Brooklyn Park Kids Program has completed its offerings for the year, Friends of Brooklyn Park will continue to accumulate donations to support next summer's popular program, in the program led by Ben Tarne. The August 28th event received some 15 bags of recyclable cans and bottles; and now plans are being formulated for an online fundraising auction to be held in February.
---
At a familiar corner in the Mt. Scott-Arleta neighborhood, officers again found substantial "evidence of gunfire" – including a shot-up vehicle, and a home with bullet holes in the walls. No injuries were reported, however. (Photo by David F. Ashton)
Shots again fired, at the same place, near Mt. Scott Park
By DAVID F. ASHTON
For THE BEE
East Precinct officers are sent on "Shots Fired" calls every day, nowadays – so often, in fact, that it has become a numbingly frequent occurrence for the residents of the Mt. Scott-Arleta neighborhood.
In a repeat of an August 12 shooting incident – in which investigators had located "evidence of gunfire, and found bullet strikes to an occupied home in the vicinity" – again on September 1, at 4:25 a.m., officers were called back to the same location, just east of Mt. Scott City Park.
As they pulled up along S.E. 74th Avenue at Reedway, they quickly located a familiar crime scene.
"Officers found more than 20 bullet cartridge casings; and they discovered that an unoccupied vehicle, and an area residence, had been stuck by gunfire," PPB Public Information Officer Sgt. Kevin Allen reported. "But there are no known injuries."
If you have information about these crimes, please reference Case No. #2021-243106 and e-mail what you know to – crimetips@portlandoregon.gov
---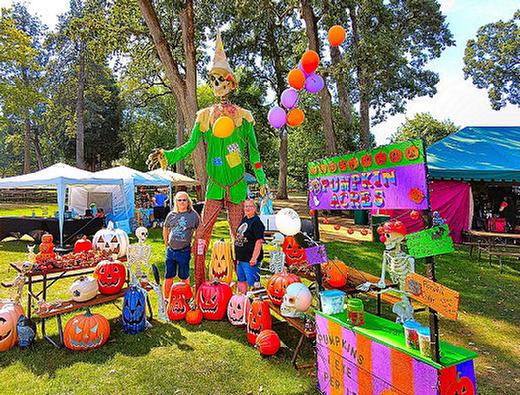 The "Swamp Meet" organizers commissioned Scott Tangen and Karen Olson of "Pumpkin Acres" to create this spooky Hallowe'en-themed selfie spot. (Photo by David F. Ashton)
Spooky 'Swamp Meet' vendors gather in Sellwood
By DAVID F. ASHTON
For THE BEE
The spooky village of vendors that moved into Oaks Park's large outdoor pavilion on Saturday, September 4, was unlike most of the "swap meets" you may stop by. This one turned out to be the second annual "Swamp Meet", put on by the NW Haunters Association.
"We started the 'Swamp Meet' because crafters were looking for a place to show and sell their cool Hallowe'en stuff, before the season actually begins," explained organizer Missi Hamilton. "Our first year was 2019; the COVID-19 pandemic shut us down last year, but we're back strong in 2021!
"We consider ourselves the event that opens the Hallowe'en season, here in the greater Portland metropolitan area. Among our 37 vendors, we have artists and makers of 'dark arts', jewelry, masks, voodoo bags, Hallowe'en decorating, and oh, yes – a live fortuneteller!" (There weren't any dead ones available…)
After the spooky swap meet was over, Hamilton reported back to THE BEE about it: "According to our shoppers and guests, our 'Swamp Fest' was a huge success! All the feedback from vendors so far has been positive, and they all want to be invited back next year."
While there wasn't someone designated to count the number of folks who came by, Hamilton estimated that several hundred Hallowe'en fans came through the gates.
"It was great fun to see Hallowe'en enthusiasts out and about, getting ready for our favorite holiday!" she enthused. "And, we're so thankful for the staff at Oaks Park who has been fabulous to work with; they've been supportive of our 'Swamp Meet' from the start."
Are you brave enough to learn more about the "NW Haunters Association"? If so, go online – http://nwhaunters.wixsite.com/nwha
Meantime, here's a brief BEE video to show you why this wasn't just any ordinary "swap meet"! The SWAMP MEET is for those who love Hallowe'en!
Look for contractors to be measuring, marking, and eventually building a new water main along S.E. 19th Avenue; it will cross under this intersection at Tacoma Street. (Photo by David F. Ashton)
As soon as late 2021, construction may begin on a new water main, on the streets shown, in Sellwood. (PWB-provided diagram)
City Council seeks bids for new Sellwood water main
By DAVID F. ASHTON
For THE BEE
The long-planned replacement water main in Sellwood – along S.E. 19th Avenue, from Marion to Lambert Streets – came closer to reality when the Portland City Council turned to looking for bids for it, in their September 15th session.
"Under consideration is authorization for bid solicitations for the 'S.E. Lambert and 19th Water Main Replacement Project', to replace 4,800 feet – just under a mile – of an aging water main pipe. The existing water main was installed in 1927, and has had six breaks in the last ten years," remarked Portland Water Bureau (PWB) Public Information Officer Jaymee Cuti.

"This new ductile iron pipe will make Sellwood's water service more reliable – reducing the likelihood of breaks in the future – and is expected to last at least another 100 years. The project also improves neighborhood fire protection, adding six new fire hydrants along the way," Cuti told THE BEE.
PWB contractors plan to build out this project three to four blocks at a time to minimize resident disruptions; likely in these segments:
S.E. 19th Avenue from Marion Street to Lambert Street

S.E. Lambert Street from 19th to Milwaukie Avenue

S.E. Milwaukie Avenue from Lambert Street to Lambert Street (Lambert Street jogs a half block north/south at SE Milwaukie Avenue)
"The project is currently being designed; the design process will continue through 2021 – Then, construction is expected to begin in late fall 2021 or early winter 2022," Cuti disclosed. THE BEE will keep an eye on the progress of this project.
---
Sellwood credit union holdup followed quickly by an arrest
By ERIC NORBERG
Editor, THE BEE
On September 4, a bandit entered the OnPoint Community Credit Union on the corner of S.E. 13th and Tacoma Street in Sellwood, and committed a robbery – a federal crime, since banking institutions are federally insured.
Milwaukie police officers arrested Jackley on Wednesday, September 8, following a robbery at the Bank of the West branch at 11050 S.E. McLoughlin Boulevard in Milwaukie.
On September 14th, the FBI announced it had filed a federal criminal complaint charging Justin David Jackley, age 31, with three counts of bank robbery. Jackley made his initial appearance before a U.S. Magistrate Judge that day on those charges. The judge ordered Jackley detained pending further court proceedings.
According to the criminal complaint, FBI agents also believe Jackley is responsible for two previous robberies as well: The September 4th holdup at the Sellwood OnPoint branch, and the August 23rd robbery of a Bank of America branch at 9171 S.E. 82nd Avenue.

If Jackley is found guilty in his trial, he will face a term in federal prison.
---
Comments? News tips? Click here to e-mail us!

Note to readers: At some point in the future, this, our original Internet website, will probably be replaced at this web address by our new website, as part of the Community Newspapers group. At that time, you will still be able to access this older, but still operative, website, if you save this address: www.southeastPDXnews.com. Right now, it leads you to our new website. Eventually, it will lead you back to this old one! Both will be up to date and current, and you'll still have your choice of which one to visit!

READY TO MOVE ON TO THE EDITORIAL, AND THE "LETTERS TO THE EDITOR", ON PAGE 3? CLICK HERE!