More stories from July's issue of THE BEE!
Cleveland High School Principal Paul Cook presents Nic Brown with his diploma. (Photo by David F. Ashton)
Cleveland High's seniors graduate – on school's historic steps
By DAVID F. ASHTON
For THE BEE
Instead of the usual imposing ceremony on the stage of the spacious auditorium at Cleveland High School, the school's 2020 commencement ceremony took place on the steps in front of the school's main entrance on Tuesday, June 9.
The school's staff planned the outdoor celebration because of the restrictions on large gatherings due to the COVID-19 coronavirus crisis.
Parents and supporters pulled into the staff parking lot – where graduates received mementos, then got out of their vehicles and walked across a temporarily-closed segment of S.E. 26th Avenue to be announced, receive their diploma, and be photographed – and then to be whisked away by their drivers.
"We're having our first-ever 'Diploma Day'. Yes, amid intermittent showers, but it's clearly still going to be a good time for our seniors," remarked CHS Principal Paul Cook.
"We're happy to provide this for them, because our seniors have been through so much this year," Cook told THE BEE, as the procession began. "We're adapting to meet the conditions, as we've done for the last few months. This is just another challenge, we've accepted it, we're enjoying it, and we're celebrating our kids!"
Then, one by one, the 380 proud graduating members Cleveland High Class of 2020 – some with broad smiles, others holding back tears – officially became "Warriors" alums.
---
Each exiting their vehicles in turn, the 2020 Franklin High grads received their diplomas. (Photo by David F. Ashton)
Franklin High grads treated to 'drive-thru' celebration
By DAVID F. ASHTON
For THE BEE
The capacious new Franklin High School gymnasium went unused for the school's 2020 commencement ceremony on Tuesday afternoon, June 9. Social distancing requirements ruled out using it for the purpose during the COVID-19 coronavirus crisis.
So the Franklin High staff decided to make use of their west parking area and private driveway to create a 'drive-through' graduation. Vehicles entered the campus from S.E. Taggart Court, and lined up along the corridor, before stopping at diploma stations and photo stations at the north end, near Clinton Street.
"Welcome to our Franklin High 'Diploma Day' for our graduating seniors, the Class of 2020," smiled the school's Principal, Chris Frazier, as he handed a diploma to each new graduate.
"It's amazing – so good to see our families and our students, and to be able to celebrate them, as they go on to bigger and better things as they graduate," Frazier told THE BEE. "Even though they've graduated now, they'll always be part of our community."
After getting out of his or her car, each graduate of the 402-member class was announced, received a diploma from Frazier, and was congratulated by staff members.
"We're graduating an average number of seniors, but it really is an amazing class," exclaimed Frasier. "They're resilient; they did everything that we expected of them, and hoped that they could do – and they proved that they are truly 'Franklin Strong'."
---
Local high school students receive National Merit Scholarship
THE BEE has learned that two students each, from the two high schools servicing the newspaper's service area in Southeast Portland, have received National Merit Scholarships to further their education.
Lori Butler, Counselor at Cleveland High School, advises that Owen Lowe-Rogstad and Isabelle Jacqmotte-Parks were the recipients at that school, and Jessica Natonick, School Counselor at Franklin High School identified Tyler Mapes and Arthur Feidelson as their two recipients.
The National Merit Scholarship Corporation explains, "High School students who meet published program entry and participation requirements enter the National Merit Scholarship Program by taking the Preliminary SAT/National Merit Scholarship Qualifying Test (PSAT/NMSQT) at the specified time in the high school program, usually as juniors.
Each year's PSAT/NMSQT is the qualifying test designated for entry to a particular year's competition. Beginning in March and continuing to mid-June, NMSC notifies approximately 7,600 Finalists, at their home addresses, that they have been selected to receive a Merit Scholarship award.
Merit Scholarship awards are of three types: National Merit $2500 Scholarships; Corporate-sponsored Merit Scholarship awards; College-sponsored Merit Scholarship awards. The specific types awarded in the local instances were not announced.
---
Bystanders wondered how this Toyota could have smashed sideways into a VW Tiguan parked along S.E. 17th Avenue – regardless of which direction it had been traveling. There is no driveway, or other side access, at this point in the block. (Photo by David F. Ashton)
Strange crash blocks S.E. 17th Avenue in Westmoreland
By DAVID F. ASHTON
For THE BEE
After a Toyota Camry SE somehow slammed sideways into the left rear of a parked VW Tiguan, pushing it up onto the curb, Portland Police Bureau (PPB) officers were dispatched to S.E. 17th Avenue near Harold Street on Sunday afternoon, June 14, at 1:35 p.m. And 17th Avenue remained closed there for an hour and a half.
Onlookers puzzled over how the Toyota could have ended up sideways across two-lane 17th Avenue in the middle of a block – just south of the median at the intersection with Harold. The street was not wet at the time, and there was no visual indication that a skid or spin had taken place.
The crash had been dispatched as an injury accident, and an ambulance did arrive at 2:09 p.m., later leaving with lights flashing but without the use of a siren, suggesting that if someone was being transported to a hospital, their injuries were considered minor at that point.
Although officers remained in discussion with bystanders and controlling traffic for over an hour, apparently a police report wasn't issued, so there are few details available about this bizarre-looking crash, said PPB Public Information Officer Lieutenant Tina Jones.
"Per the dispatch call record, it was reported that a vehicle struck a parked car. It appears that the Toyota was towed," Jones said. However, the badly damaged parked car was not towed until more than twenty-four hours later.
"The call cleared with 'assignment complete', so it is likely an information exchange occurred; there isn't an indication of a citation being issued," concluded Jones, although THE BEE saw at least two people at the scene holding long strips of paper which appeared to have been printed by an officer's device.
---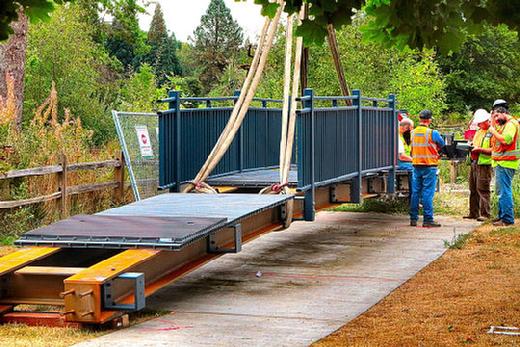 With the help of a large excavator moving dirt away from the creek, the new Westmoreland Park Pedestrian Bridge project has gotten underway. Sturdy piers, curing under plastic wrapping, will support a steel deck providing a safe and beautiful Crystal Springs Creek crossing. (Photo by David F. Ashton)
New Westmoreland Park footbridge project advances
By DAVID F. ASHTON
For THE BEE
Unlike the lengthy Sellwood Bridge replacement project that was extensively covered in THE BEE, the "Replacement Pedestrian Bridge Project" in Westmoreland Park is much smaller in scale, but still worth reporting.
When the new footbridge opens in October, folks will be able to easily roll, walk, or jog across Crystal Springs Creek in the park – on a new, longer structure, designed to improve habitat conditions and contribute to stream restoration efforts.
"The project is on schedule; the footings are in the ground and ready for the steel structure to be installed in August," said Portland Parks & Recreation Community Engagement Specialist Barbara Hart.
"As part of this project, the electrical system for park lighting will be upgraded with new conduits installed underneath this new low-maintenance bridge. The bridge is made of long-lasting materials that reflects other design elements in Westmoreland Park," Hart told THE BEE.
Until the bridge opens, park users are asked to stay out of the construction area.
---
When a pedestrian was struck by a truck in the Creston Kenilworth neighborhood – damaging its windshield on the passenger side in the process – police ran caution tape around the area and began an investigation. (Photo by David F. Ashton)
Delivery truck clips pedestrian in Creston-Kenilworth
By DAVID F. ASHTON
For THE BEE
Both police and medical emergency first responders were called to the intersection of S.E. Chavez Boulevard (formerly 39th) and Gladstone Street, in the Creston-Kenilworth neighborhood, at 7:21 a.m. on Tuesday, June 9.
Arriving police officers cordoned off the intersection to begin an investigation that eventually brought a total of seven officers to the scene, some from the Bureau's Traffic Division.
A "Peet's Coffee" Ford Transit truck was stopped, facing southbound on Chavez Boulevard, just south of the intersection. The passenger's side front of the truck showed damage, as did the windshield.
"A pedestrian was struck by the vehicle while crossing the street; the victim was transported by ambulance to a nearby hospital for non-life-threatening injuries," said PPB Public Information Officer Natasha Haunsperger.
"The driver remained at the scene and cooperated with investigators," Haunsperger told THE BEE, adding, "This is an ongoing traffic investigation."
---
To be built on stilts, just west of the Springwater Corridor Trail, the new Oaks Bottom Wildlife Refuge Viewing Platform will give trail users a good look at the wetlands area, while keeping them out of the flow of traffic on the nearby trail. (Photo by David F. Ashton)
Construction of 'Oaks Bottom Viewing Platform' begins
By DAVID F. ASHTON
For THE BEE
In mid-June, the City of Portland's Bureau of Environmental Services (BES), in collaboration with Portland Parks & Recreation, began the delayed construction of a viewing platform next to the Springwater Corridor Trail – overlooking the Oaks Bottom Wildlife Refuge.
Workers cleared brush from the western slope of the trail, roughly adjacent to the Oaks Amusement Park Roller Rink, and began surveying the site.
As construction was getting underway, BES Community Outreach specialist Stefanus Gunawan pointed out that the Springwater Corridor Trail may need to be narrowed temporarily near the project site, to help keep trail use and construction safely separated.
"We do not anticipate limiting the trail to one lane until the latter stages of the project," Gunawan reassured.
But, the project is expected to be completed this August! So beware, and take care, as you walk or roll past the construction zone on the Springwater Trail near Oaks Park this summer.
---
A crowd gathered for the Brooklyn demonstration at the corner of S.E. Milwaukie Avenue and Haig Street. (Photo by Rita A. Leonard)
Peaceful demonstration in Brooklyn Park
By RITA A. LEONARD
For THE BEE
On Monday, June 15, the day after Flag Day, Brooklyn neighbors gathered for a peaceful protest at the east side of Brooklyn Park. The gathering was to air local views on racial justice, police presence, and other issues. At a meeting of the Brooklyn Action Corps neighborhood association, Kimberlea Ruffu and Annelice Townshend suggested the demonstration – described as family-friendly, with medical masks and social distancing encouraged.
About 100 people with signs, bells, and a drum gathered for the demonstration, which lasted about two hours. Participants eventually lined both sides of S.E. Milwaukie Avenue, and vehicles passing by honked their horns. Justice was the main focus, and a recognition that we are all Americans under one flag and one constitution. People chanted and held signs.
There was open discussion of national issues related to Racial Injustice, and also talk of repeating the demonstration a week later. Several folks said, "It's a good showing for our neighborhood," since many had not participated in downtown protests.
---
In this screenshot from the May 4 Zoom online meeting of the Southeast Portland Rotary Club, Sellwood resident and OSU Professor Chuck Toombs discussed an amazing natural product developed and patented by the University – a palatable, edible seaweed hybrid called "dulse". (Photo by Eric Norberg)
Patented seaweed helps make the world a better place

By ERIC NORBERG
Editor, THE BEE
A Sellwood resident – when he is not teaching at the Oregon State University College of Business – is also building a business of his own with a particular hybrid of seaweed, bred and patented by Oregon State, at its Hatfield Marine Science Center in Newport.

In what turns out to be the second-most-widely-reported press release from OSU ever, it was announced in July of 2015 that, "Oregon State University researchers have patented a new strain of a succulent red marine algae called 'dulse' that grows extraordinarily quickly, is packed full of protein, and has an unusual trait when it is fried: This seaweed tastes like bacon. Dulse (Palmaria sp.) grows in the wild along the Pacific and Atlantic coastlines."
Speaking via the Zoom videoconferencing application to a Monday noon meeting of Southeast Portland Rotary on May 4, Chuck Toombs – who lives near the Willamette River, on S.E. Marion Street – revealed that although the University had obtained the patent before he joined its College of Business, it was his idea to let the world know about "dulse" through that press release.
And, being quite entrepreneurial, he went on to discover that this seaweed yields 20% protein, grows 7.5% per day, and consumes a pound of carbon dioxide per five pounds of growth – which suggests that it could play a significant role not only in feeding a growing world population, but also in reducing global warming. "Growing 13 square miles of the seaweed on a salt-water aquiculture farm in the Eastern Oregon desert could make Oregon carbon-neutral all by itself!" he exclaimed.
So, he licensed the seaweed from Oregon State, and is growing it at Bandon. And, as if finding a palatable seaweed that grows fast and consumes carbon dioxide is not enough, Toombs pointed out that it appears that a product made from the stuff could be used inexpensively to profile the ability of a restaurant's ventilation system to dissipate viruses in the air, and to assign each restaurant a score of safety, on which "100%" would be the best.

As we recover from the COVID-19 crisis, the usefulness of such a service is obvious, both to consumers and to restaurants – though that test result would be applicable to any virus-caused disease that might be circulating at any time. He promised to give progress reports on the commercial development of all these attributes of "dulse", in return talks to the Rotary Club.

The Southeast Portland Rotary Club weekly lunch meetings are on Wednesday noon in the community room of Moreland Presbyterian Church, at S.E. 19th and Bybee Boulevard, are always open to the public, and usually feature an interesting guest speaker. However, until public meetings are again allowed, the club meets Wednesday noons online via Zoom, and anyone interested in "attending" is invited to request a link to the meeting by e-mailing to – k.stromvig@comcast.net
More information on the club can be found online –

http://www.SoutheastPortlandRotary.com
---
This is reported to be the motorist who was caught in the protest on Powell Boulevard, and attacked. Police are hunting for those who broke windows and flattened tires on this car. (Courtesy KATU-TV-2)
Motorist attacked on Powell in demonstration near Cleveland High
On June 13, 2020, at approximately 6 p.m., demonstrators gathered at Revolution Hall in Southeast Portland, as they had been doing nightly for a number of days. Usually they crossed the river to downtown for a peaceful demonstration, but once had turned north and blocked Interstate 84, and on this particular evening they chose to march south to Cleveland High School.
During the march, demonstrators were in the area of S.E. 31st Avenue and Powell Boulevard. A motorist became entangled in the march, and some individuals associated with the demonstration attacked the motorist – breaking several car windows, stabbing the tires with knives, and chasing the car as it attempted to get away from the mob.
Once the demonstrators reached Cleveland High School, they assembled and spoke for several hours. After the demonstration, the group dispersed.
Meantime, the police are trying to identify those who attacked the motorist. Anyone with any information on the incident please call Police Non-Emergency at 503/823-3333. Refer to case number 20-191491.
---
These Sellwood Community House "campers" paused their playing to wave hello to THE BEE. (Photo by David F. Ashton)
Giggles galore, at Sellwood Community House's summer camp
By DAVID F. ASHTON
For THE BEE
For kids eager to get out of the house, and for parents looking forward to a respite from child care, news that the Sellwood Community House (SCH) was starting up its summer camps in mid-June came as a welcome development.
"Starting on June 15, our summer camp program got underway, giving kids days that include games, crafts, life lessons, skill building, fitness, and a whole lot more," recounted SCH Director David Engle.
Due to COVID-19 coronavirus concerns, and the fact that Multnomah County had not yet reached "Stage 1 reopening" when the camps began, SCH modified its programs to make sure campers would remain safe, healthy, and still have a great experience.
"We've divided the building into three 'zones'; with each zone hosting ten participants who stick together for the week," explained Engle. "This means, instead of hosting a total of 90 campers each week, we're providing programming for 30 youths in each camp period."
Each group of campers are in one of the three 'zones' for the day; then, the staff thoroughly sanitizes the areas each evening. "The next day, the group moves to the next zone, so there's no cross contamination between groups, Engle told THE BEE.
In addition to play, craft and activity zones, when it's not raining, campers enjoy supervised nature walks to area parks, and participating in local scavenger hunts.
"Our camps run through August, and we'll extend them if school opening schedules are moved back," Engle said.
Due to the limited number of campers, he suggested parents sign up right away to reserve a space for their child to enjoy a week at the SCH Summer Camp.
To learn more, see their website – http://www.sellwoodcommunityhouse.net
---
Lining the streets in Eastmoreland, Duniway families waved to the passing "Duniway Car Parade". (Photo by David F. Ashton)
Duniway teachers and staff hold end-of-year 'car parade'
By DAVID F. ASHTON
For THE BEE
As the school year winds down every year at Duniway Elementary School, in the Eastmoreland neighborhood, an eagerly-anticipated highlight for both students and neighbors is the annual "Duniway End of School Parade".
Because the school was closed for in-person classes due to the COVID-19 coronavirus, this usually joyous event was cancelled this year.
But, on the afternoon of Thursday, May 28, the staff instead held their first-ever "Duniway Car Parade", winding through Eastmoreland and Sellwood.
"A few weeks ago a team of our teachers and other staff came together to put the pieces in place for this -- planning the route, and such," Duniway's Principal Matt Goldstein told THE BEE. "It was a team effort, as always, with our staff and school community."
More than a couple dozen vehicles, plus a contingent of bicycles, made up a parade that snaked through Eastmoreland, across the Bybee Boulevard overpass, and into the south end of Sellwood – all led by Westmoreland Fire Station 20's Engine Company. "It was great that our local firefighters joined in, just as they have in all of our past parades," smiled Goldstein.
"It has been longer than two months since our community has gathered in any capacity; which is such a long time for a K-5 neighborhood school," Goldstein observed.
"It was so wonderful to see so many students, parents, and families – with their homemade signs. I think this little 'break' from reality was just what we all needed; reminding all of us that we are still a community, even though we have been forced to be away from one another," he said.
---
---
Comments? News tips? Click here to e-mail us!

Note to readers: At some point in the future, this, our original Internet website, will probably be replaced at this web address by our new website, as part of the Community Newspapers group. At that time, you will still be able to access this older, but still operative, website, if you save this address: www.southeastPDXnews.com. Right now, it leads you to our new website. Eventually, it will lead you back to this old one! Both will be up to date and current, and you'll still have your choice of which one to visit!

READY TO MOVE ON TO THE EDITORIAL, AND THE "LETTERS TO THE EDITOR", ON PAGE 3? CLICK HERE!