More stories from June's issue of THE BEE!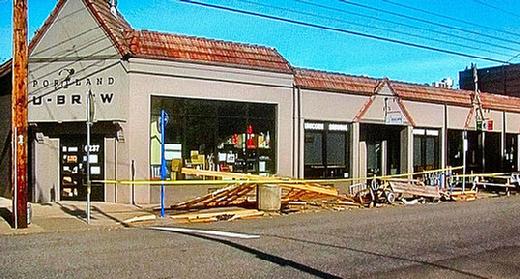 Officials say the "distracted" driver who smashed into Unicorn Brewing's street seating area was lucky not to have been seriously injured – because two lengths of the wooden beams had crashed through her windshield. (Courtesy of KGW NewsChannel 8)
Westmoreland business' curbside seating hit by 'distracted driver'
By DAVID F. ASHTON
For THE BEE
Because this traffic accident happened early Wednesday morning, May 5, at about 2 a.m., there weren't any witnesses when a driver plowed into the outdoor "street seating' area of Westmoreland's Unicorn Brewing on S.E. Milwaukie Avenue at Tolman Street.
The driver reportedly admitted to police she had been looking at her phone at the time; two two-by-fours from the enclosure smashed through her windshield, and the police remarked that she was very lucky not to have been seriously injured.
The car turned the wooden tables into splinters, and knocked down part of the shelter's roof, before coming to a stop according to owner Zach Vestal, who told reporters that about $2,500 worth of damage was done.
By that afternoon, Vestal and employees had cleared away the wreckage and roped off the area, setting up temporary tables and chairs for customers to enjoy the afternoon sun and mild evening weather.
"Customers, thank you for your support of small businesses," Vestal said. "And drivers, please stay off your phones when you're driving."

The business later suffered obscene spray-painted graffiti vandalism overnight on Saturday morning, May 8, together with a number of other Sellwood and Westmoreland businesses, including the new Chase Bank across the street.
---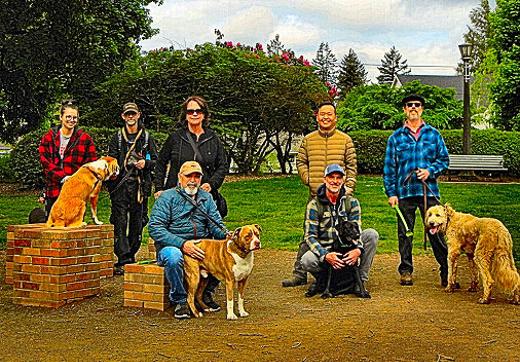 At Woodstock Park's dog park area, on May 4th a few of the "regulars" gathered for a BEE photo with their canine friends. From left: Laura Rhude and Kevin Price with dog Bentley; Peggy and Bob St. John with Barley; Ryan Lee (standing) whose dog Dakota has momentarily run off, and Bryan Ronshaugen (squatting) with Winnie; and at the end John Linder himself, with Kipper. (Photo by Elizabeth Ussher Groff)
Woodstock's dog park 'a social lifeline' during the pandemic
By ELIZABETH USSHER GROFF
For THE BEE
Pandemic puppies, German shepherds, Golden and Labrador retrievers, German shorthaired pointers, terriers, Bernese mountain dogs, and rescue dogs of all sorts – these are just a few of the canine friends that regularly gather at in Woodstock Park's dog area with their owners every morning at about 9:30, and on weekday evenings at 5.
Over the years, there have been periodic tensions, and some controversy, between dog owners and those without dogs – but Woodstock resident John Linder, who understands the various points of view, recently told THE BEE that he had a "happy story" about the value of the dog park during the time of COVID-19.
"We have been going to Woodstock Park on and off for 25 years, and it has been a big part of raising two dogs and two children. This has always been a popular dog park, but never more so than during the pandemic."
Linder says that over the years his family has become acquainted with fifteen or twenty households in the vicinity of their house, but they haven't had much contact with the wider neighborhood. However, over time, as he has daily interacted with other dog owners at the top of the rise in the park – and especially during the pandemic – he has happily gotten to know more people from other areas of the neighborhood.
And Bryan Ronshaugen, who has lived in Woodstock for 28 years but only acquired his 2½-year-old black lab Winnie two years ago, is also very grateful for the dog park. "Winnie and I have literally met hundreds of our neighbors and fellow Portlanders while hanging out at and walking to the dog park. During COVID-19 it has provided a daily, outdoor, socially-distanced way to connect with friends."
Valuable friendships develop at the park. While dogs play, their owners often begin conversations about their canine friends – how old, what kind, what's its name? And over time, Linder says, they have gotten to know each other quite well beyond just "dog talk".
But never more so than during the past year!
"The dog park has been a social lifeline for many people during the pandemic," Linder reports. "And it's felt like people were engaged in more-substantial conversations and were developing deeper friendships, because they had more time and fewer distractions."
Nonetheless sometimes people without dogs have made complaints. One was that the running of dogs makes more dirt appear, and therefore more mud when it rains.
Laura Rhude, who lives in Mt. Tabor but frequents the Woodstock dog park because she has found a community there, remarked that this winter her shoes acted like suction cups, being sucked into the mud.

Dog-owner Linder, who has used the park for over two and a half decades, offers a long-term view. "The park was muddier this fall and winter than it has ever been. It has been on a downhill slide for many, many years. More people and dogs use it, and there have been no attempts to reseed the lawn, which would be a major undertaking and require keeping people and dogs off of a portion of the grass for at least six months. As the most-used sections become almost impassable, people spread out, and more of the park does become muddy."
Linder says the mud was particularly bad this year because there were so many cold, rainy days without rainless days intervening to dry out the soil. He suggests one option would be to re-seed (which PP&R says is too expensive) or to cover the large bare patch with wood chips. On a recent visit to the park, THE BEE found that other dog owners agree that wood chips would help.
In the meantime, in spite of occasional springtime muddy mess, in the pandemic the dog park has still felt like a "socializing blessing" to most dog owners we spoke with. Many would miss their neighbors' company and conversation were it not there.
Two people who have missed the dog park are Peggy and Bob St. John, retired owners of the well-remembered Iron Horse Restaurant in Westmoreland. They were in Portland from Baker City on May 4th to visit their six-day-old grandson. On this trip they brought along their dog Barley, and made sure they returned to the park to see old canine and human friends.
As someone who has made a lot of canine and human friends during the pandemic as well as over the years, Woodstock's John Linder quips, "I have joked with several of them [dog owners] that when our own dog eventually dies, I might just have to wear a T-shirt that says, 'Former Dog Owner' – so that I still have an excuse to hang out here!"
---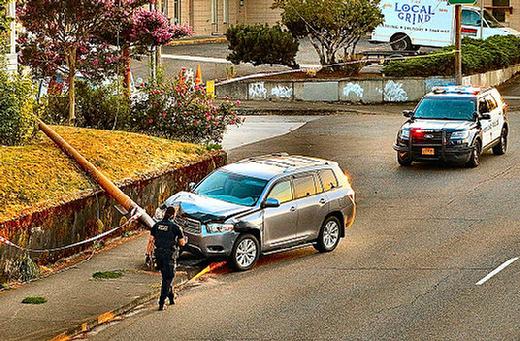 By the looks of this sheared-off steel streetlight pole on Powell Boulevard at Milwaukie, it was struck with considerable force by this seemingly brand-new Audi Q7 Quattro. (Photo by David F. Ashton)
Single-vehicle crash on Powell Blvd topples light pole
By DAVID F. ASHTON
For THE BEE
Emergency first-responders from both the Portland Police Bureau and Portland Fire & Rescue were sent to a single-vehicle crash on early Thursday evening, May 19, at 6:36 p.m., at the busy intersection of S.E. Powell Boulevard and Milwaukie Avenue – a short distance east of the Ross Island Bridge.
A brand new Audi Q7 Quattro had been traveling westbound on Powell Boulevard at a relatively high rate of speed, according to a witness at the scene.
"From where I was standing, across the street waiting for a bus, I couldn't tell if it actually ran a red light, or was just zooming [westbound] through the intersection," Larry Marks told THE BEE.

"Just after it crossed [Milwaukie Avenue], the SUV jumped the curb near the TriMet bus shelter at the northwest corner of the intersection, and sheared off that steel [street light] pole, toppling it to the ground over there, before it stopped."
Although the Audi managed to miss the bus shelter, it also took down a traffic direction sign mounted on a steel post. When THE BEE arrived, the driver's-side door of the vehicle was open, and no one was inside. It looked as if the Audi's airbag did not deploy.
An ambulance was also nearby, with a patient – probably the Quattro's driver – inside. The ambulance remained at the intersection for at least 20 minutes, indicating that if there were an injury in this accident, it was not traumatic.
Afternoon commute traffic was delayed for a time as officers investigated, and then a PBOT Emergency Response worker removed debris from the crash scene to clear the busy highway.
---
Janine and Mark Robben, whose house backs up to the park, are enjoying the renovated Creston Park playground and park improvements every day with their five-month-old Golden doodle Rufus by themselves – and during weekly visits from their grandchildren. (Photo by Elizabeth Ussher Groff)
Creston Park improvements very popular with the neighborhood
By ELIZABETH USSHER GROFF
For THE BEE
Mark Robben, 67, grew up in a house next to Creston School and played in Creston Park with his three siblings during the 1960s. Forty-four years ago he bought his current house, which backs up to the park.
Now he and his wife Janine live in that house, have raised three children there, and have five grandchildren – all of whom love the park and playground.
"I've lived here 37 years, and from my point of view, the park is the most-enjoyable it's ever been," remarks Janine. "Watching the new playground being built during the height of COVID, when we didn't know when or if kids would be able to play on it, was hopeful. Now that's it built, it's full of parents and kids, from first thing in the morning until dusk every day."
The park and playground improvements were made possible by a Parks Replacement Bond passed in 2014 by 74% of Portland voters. The portion of the $68 million bond that was designated for Creston Park was augmented by a contribution from Portland's one-time fee "System Development Charges".
The plans for the improvements have been formulating for some time. Janine attended the community gatherings that were held in 2018 to get public input. Designs were shared, leading to an open house at which 87% of the participants agreed that the proposed final playground design and community gathering spaces looked as if they would create a welcoming, safe, and usable space for all ages and abilities.
Tanya McCoy, who has lived near the park for 28 years, says that at first she thought it would be a shame to replace its more natural "woodsy" climbing structure with one made of plastic. But, since the installation of the new rose-colored plastic structure, she's changed her mind – she now thinks it provides enjoyable swinging and climbing for all ages, from very young children to teenagers – and it's safer than the old one.
Other park improvements installed during the COVID-19 pandemic are an ADA-accessible pathway from the S.E. 43rd Avenue parking lot to the playground, and a new ADA drinking fountain and benches. The playground surface now has a rubberized safety coating.
The park is one hundred years old, and Mark Robben says his cherished and most fun park memory was in 1962, after the Columbus Day Storm. "There were branches and trees down everywhere, and kids were out there all the time, making [wooden] igloos connected by tunnels. There was no power for close to two weeks, and it seems the parents had no problem with us being outside having fun."
Because the new playground is the third one installed in his lifetime, he was skeptical that this new one was necessary. "But this park now gets unbelievable use, with hundreds of people every day, and that makes it safer. In the 1980s there were lots of drugs in the park, and houseless people were camping in tents." He says that is not much of a problem now. And many park users pick up litter while there.
Janine Robben goes into the park twice a day to walk their dog Rufus and to pick up trash, litter, and recyclables, while enjoying the grandeur of the hundred-plus-year old chestnut, purple flowering empress, and Douglas fir trees. She says there is occasional graffiti on the tops of garbage cans, but those responsible have left the playground alone, seemingly out of respect for it.

All the park's many visitors seem grateful for these improvements made during the pandemic.
---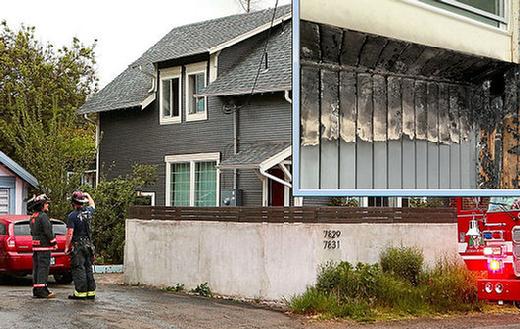 After the fire is extinguished, a Clackamas Fire District #1 Fire Investigator talks with a firefighter about the blaze at this residence – just a block past the Multnomah County line. Officials say the cause of this fire was "improperly discarded smoking materials" on the back deck of the home [inset]. (Photos by David F. Ashton)
Deck fire at dawn damages newly-renovated home on Johnson Creek Blvd.
By DAVID F. ASHTON
For THE BEE
When unobserved smoke rising behind a house at 7831 S.E. Johnson Creek Boulevard flared into a fire in the pre-dawn hours of April 30, passers-by reported it, and Clackamas Fire District #1 was dispatched to the blaze at 5 a.m.
As the sun came up, a friend of the resident family remarked to THE BEE at the scene that he believed the fire had started on the deck, gone up the back of the house, and inside the attic and second floor. "It's too bad; the residents just finished renovating the home; it was really run down, and they fully restored it."
Later that morning, an official report on the fire was released by Clackamas Fire District #1.
"Upon their arrival, crews reported heavy black smoke coming from the home, and found that an exterior fire had spread to the attic and a second floor bedroom," confirmed Clackamas Fire Public Information Officer Tammy Owen.
"The crews quickly went to work, bringing the fire under control within fifteen minutes of their arrival," said Owen. "Fire investigators determined the cause of the fire to be improperly discarded smoking materials."
No injuries were reported; "But, sadly, two people are displaced," Owen acknowledged.
---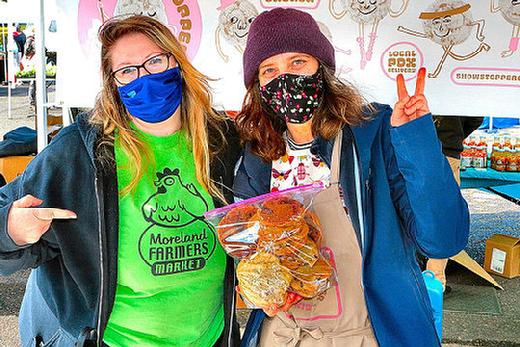 Moreland Farmers Market Manager Lannie Kali, left – with a new vendor at the market, Andrea Ludlow of "Showstopper Cookies". (Photo by David F. Ashton)
Moreland Farmers Market opens for 16th season
By DAVID F. ASHTON
For THE BEE
When the Moreland Farmers Market (MFM) opened its 2021 season on Wednesday, May 19th, it was difficult to tell which were more excited: The shoppers, the vendors, or the market's staff. Part of the market's ebullience was likely because a passing heavy rain storm, bringing hail, had cleared away after the first hour.
"Here, on the opening day of our 16th season, we feel fortunate that we're still here!" exclaimed the market's Manager Lannie Kali.
"Wilhelm's Portland Memorial has been, and continues to be, really generous to us by letting our market shift around on their parking lots, and stay in this neighborhood – as well as providing parking for their shoppers on their grounds across the street," Kali told THE BEE.
"What neighbors can expect to find, this early in the season, are strawberries, asparagus, rhubarb, and all kinds of greens," remarked Kali. "As the season progresses we'll get lots more berries and fruits.
"We're also highlighting local 'spirits' producers," Kali pointed out. "Many of them started their alcoholic beverage businesses last year, during the pandemic lockdown."
The market started out with 32 vendors, including those bringing in fresh vegetables and plant starts, and the prepared-food sellers with hot and fresh meals ready to go.
"Last year we doubled the amount of SNAP benefits for EBT shoppers at this farmers market; and we're offering 'Double-Up Food Bucks' again this year – so great for low income families."
The Moreland Farmers Market is open from 2 until 6 p.m. every Wednesday through October 19th. The precise current location is S.E. 14th Avenue in Westmoreland, between Glenwood and Clayborne Streets, across from Wilhelm's Portland Memorial.
For more information, go online – http://www.morelandfarmersmarket.org
Here's a video of what you'd have seen if you were a visitor at the Moreland Farmers Market's opening day:
With the help of a number of Portland Police officers, an Oregon State Police Trooper took a man wanted out of Columbia County into custody, near Holgate Boulevard in the Creston-Kenilworth neighborhood. (Photo by David F. Ashton)
---
Portland Police help OSP arrest wanted man in Creston-Kenilworth
By DAVID F. ASHTON
For THE BEE
On the otherwise quiet morning of Friday, April 30, law enforcement officers swarmed S.E. 35th Place, just north of Holgate Boulevard. Ten Central Precinct squad cars were there at 8:13 a.m. to provide assistance to an Oregon State Police Trooper there to take a wanted man into custody.
"Portland Police officers were assisting the Oregon State Police and the Columbia County Sheriff's Office arresting a wanted person," confirmed PPB Public Information Officer Sergeant Kevin Allen.
"I've been told to refer inquiries to the Columbia County District Attorney's Office," Allen reported. But, as this issue of THE BEE went to press, the Columbia County District Attorney's Office has not responded to our request for information about the wanted man and the reason for his arrest in Portland.
---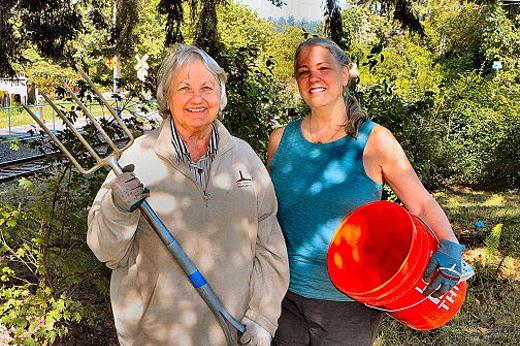 Corinne Stefanick and Nanci Champlin pause for a moment, while helping to maintain the pollinator garden, alongside the Springwater Trail in Sellwood, that's called "Springwater Meadows". (Photo by David F. Ashton)
Volunteers celebrate Sellwood's 'Springwater Meadows' with a spring cleanup
By DAVID F. ASHTON
For THE BEE
On Saturday, May 15, volunteers got together to celebrate the anniversary of the planting of a plot of land that's been dubbed "Springwater Meadows", located in what's called the "Springwater Trail Gap" area – S.E. 9th Avenue between Marion and Linn streets in Sellwood.
At site, volunteer Corinne Stefanick recalled for THE BEE that the project actually started a decade ago, with a SMILE-sponsored community research project to determine the best use for the empty lot. An extensive community ascertainment resulted in the conclusion that a small nature park would be the appropriate use.
Which led to the planting, this particular May 15th, on the annual anniversary of that, and a call for volunteers to come clean it up and replant as necessary. "People are showing up; I think we may have as many as twenty volunteers working here on this beautiful summery morning!" grinned one of the project's coordinators, Nanci Champlin.
Some of the volunteers on May 15 were members of Boy Scout Troop 64.
"Metro owns the land; and it's managed by Portland Parks & Recreation, as part of their portfolio," Champlin reminded THE BEE. "When Metro purchased parcels along the Springwater Corridor to complete the Springwater Gap, this property was one of them.
"After a very extensive public involvement process, gathering input which extended over about five years, we broke ground and put in twelve varieties of all-native plants, geared to support wildlife, particularly pollinators," Champlin said.
"Today, we're making sure that the grass that's growing wildly, and the weeds that are encroaching on the plantings, are cut back, pulled, and removed. And we're a mulching around the plants to help them get through what looks like a long dry summer."
---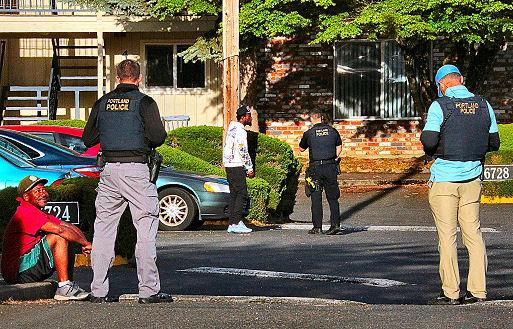 After a daytime shooting that seriously wounded the victim, officers interviewed a suspect in the parking lot of an apartment complex in the Brentwood-Darlington neighborhood. (Photo by David F. Ashton)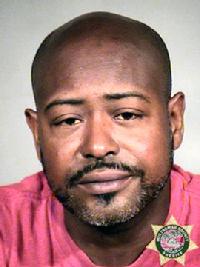 Although the bail amount keeping 42-year-old Asare Lashawn Kofi, Sr., in jail has been substantially reduced, he's still in custody charged with Attempted Murder. (MCDC booking photo)
'Attempted murder' arrest in Brentwood-Darlington shooting
By DAVID F. ASHTON
For THE BEE
Shots fired on Sunday afternoon, April 25, brought a dozen East Precinct officers to S.E. 72nd Avenue at Cooper Street, in the Brentwood-Darlington neighborhood, at 3:11 p.m.
Near the driveway of the Country Squire Apartments, arriving officers came across someone who was providing aid to a shooting victim. Reaching for the first aid kits in Portland Police squad cars, officers took over, stopping the bleeding with a tourniquet, before the victim was taken by ambulance to a hospital with injuries deemed "serious, but not life-threatening".
For a block in either direction, 72nd Avenue was completely blocked off while investigators from the PPB's new Enhanced Community Safety Team (ECST) looked into this daytime shooting.
The following day, April 26, investigators from ECST let it be known that they'd made an arrest in case -- and revealed that, during the course of the investigation, detectives had seized a gun as evidence.
42-year-old Asare Lashawn Kofi, Sr., had been booked into the Multnomah County Detention Center (MCDC) late on the 25th at 11:36 p.m., on charges of Attempted Murder in the Second Degree, Assault in the First Degree, Unlawful Use of a Weapon, and Felon in Possession of a Firearm.
At his booking, Kofi learned his combined bail for the charges would amount to $510,000.
Bail substantially reduced
However, by mid-May, Kofi had been moved to Inverness Jail. And then, for unexplained reasons, the bail for Kofi's charges of Unlawful Use of a Weapon, and Felon in Possession of a Firearm, had been reduced to zero – and his bail for the Attempted Murder in the Second Degree charge, originally set at $250,000, had been reduced to $40,000. The reason for the reductions has not been made public.
But even with the reduced bail, the suspect has not been able to raise that amount, so as THE BEE went to press, Kofi remained behind bars in Inverness Jail on the Attempted Murder charge.
---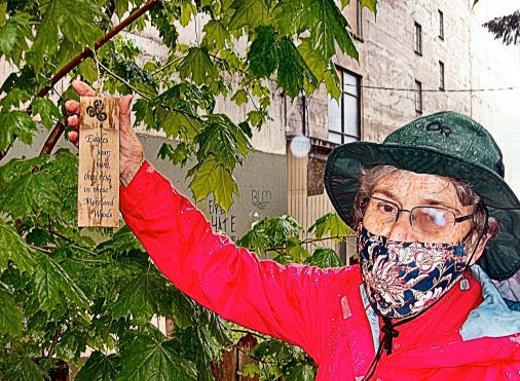 Westmoreland's Chair of the Earth Day celebration on S.E. 14th, Marianne Nelson, placed "weather gram" poems in trees, appropriate to the day and to the Moreland Woods location. (Photo by David F. Ashton)
'Earth Day' celebrated in Westmoreland gathering

By RITA A. LEONARD
For THE BEE
The "Friends of Moreland Woods" group, which for a couple of years has been trying to find a way to privately acquire a wooded lot owned by Wilhelm's Portland Memorial funeral home just south of Llewellyn Elementary School, organized a Westmoreland observance of "Earth Day" on Saturday, April 24.

Portland Memorial, after being acquired by the Foundation Partners organization, decided that its two large half-block parking lots were under-used and could be sold for development; one is already in advanced construction. The other is also slated for sale, so the funeral home has decided what little parking it feels it needs can be satisfied with a small parking area on the south end of the "Moreland Woods" lot. Their initial plan called for the removal of several trees, but they have reconfigured their plan to eliminate the need to remove more than just a couple of them.

With their hope still alive that at least some of the two-acre site along S.E. 14th Avenue between Duke and Claybourne Streets might still be acquired for public use, the "Friends of Moreland Woods" joined with a six artists from a downtown group of painters called the "Tree Emergency Response Team" who arrived to celebrate the day by making oil paintings of the numerous Douglas Firs on the site between 11 a.m. and 2 p.m.
In addition, local artists of all ages were invited to set up beneath a canopy to create their own artworks, music, or poems inspired by the trees. Neighborhood families were welcomed to learn more about the trees and the opportunity presented for a small park adjacent to the school on the lot. The light rain on that day failed to dampen spirits, and a surprising assortment of painters, photographers, graphic artists showed up.
Blaine Little, Project Assistant at Tree Emergency Response Team explained, "We organize monthly painting events to bring attention to conservation of significant local trees that are important to their neighborhoods. We exhibit a rotation of our paintings at our galleries, and provide refreshments and supportive materials at each event, encouraging developers to incorporate at-risk trees into their designs."
Some of the fir trees were encircled by bright yellow daffodils and chrysanthemums that day. Mausoleum Community Relations agent Michael Salazar, who was hosting tours that day, commented to THE BEE, "We don't know who put them there, but it's almost like a symbol to save the trees."
Meanwhile, Marianne Nelson, Chair of the celebration, had hung handmade "weather grams" on a nearby tree – poetic descriptions of nature to celebrate the site. There were free "Save Moreland Woods" signs available to all who wanted them.
The ultimate fate of the rest of the property, just north of the famed Portland Memorial Mausoleum, has yet to be finalized by the funeral home.
---
Cold cases: Unsolved Woodstock and Brentwood-Darlington murders

By DAVID F. ASHTON
For THE BEE

Officials just aren't letting go of two different seven-year-old unsolved murder cases in the Woodstock neighborhood, and are still soliciting reader tips to Crime Stoppers on either or both. They occurred two months apart, at about the same hour of the evening; both involved shots fired, and in the same general area.

One case involved a man who was robbed and murdered on September 30, 2014, at about 11 p.m., on a sidewalk in the Woodstock neighborhood.

After a neighbor called the 9-1-1 Center reporting gunshots, Portland Police officers arrived at S.E. 52nd Avenue and Martins Street to find 30-year-old Michael William Olson, a Woodstock neighborhood resident, dead from a gunshot.

"An eyewitness described the suspect as possibly being a light-skinned African American or Hispanic male," reminded Portland Police spokesperson Sgt. Chris Burley. The Police Bureau considers this an active case and has again renewed its push for any further information about it that the public might provide to help solve the crime.

Meantime, the other Woodstock case still regarded as active occurred two months earlier, on July 22, 2014, at 10:56 p.m. East Precinct officers responded to the report of a shooting at S.E. 57th Avenue and Harold Street. As officers were enroute to the scene, additional information was broadcast that a male adult was on the ground injured.

Officers and medical personnel arrived and located the victim, and determined that he was deceased.

The Oregon State Medical Examiner performed an autopsy on the victim, 19-year-old Paul William Krekeler, and determined that he had died of a gunshot wound to the chest.

Detectives have learned that several neighborhood residents heard several gunshots prior to the discovery of Krekeler's body. Krekeler appears to have run northbound on 57th Avenue before collapsing in a yard on the southwest corner of 57th Avenue and Harold Street. The residents of the home do not appear to have any connection to Krekeler.

Witnesses reported to police that a white SUV or truck was seen leaving southbound on 57th after the gunshots, but it is not been confirmed that this vehicle is related to the shooting.

No motive has been determined in this shooting.

In addition, the twenty-year-old shooting of a boy in his own bed in his Brentwood-Darlington home back on August 10, 2001, also remains unsolved, and police are still seeking information in that case as well. The victim was 11-year-old fifth grader Joshua Jeffries, who lived with his Aunt and caregiver, Gayle Hoofer. She told police Joshua came to her room in the early morning hours and said, "Auntie Gayle, someone came into my room." Then he collapsed; he died soon after at a hospital of a gunshot wound.

The police have never been able to develop either a motive or a suspect in the baffling homicide. Joshua this year would have been thirty, going on thirty-one. Officers say somebody knows what happened, and they hope that person will contact them. The case is still open.

"Crime Stoppers of Oregon" offers cash rewards of up to $2,500 for information, reported to Crime Stoppers, that leads to an arrest in these or any unsolved felony crime – and tipsters can remain anonymous.

If you can help police solve any of these Inner Southeast crimes, send in your information online – https://www.p3tips.com/823 – or call 503/823-4357.

---




You've seen these pictures before in THE BEE. At left is a family-provided photo of the robbery and murder victim, Michael William Olson; at right is a police sketch of the suspect, developed from witness descriptions. The family and the police hope you can help solve this homicide. (Contributed photos)

Here's the victim of the other 2014 Woodstock homicide, 19-year-old Paul William Krekeler. No motive has determined for his murder. The police are actively seeking to solve this case, and invite tips. (DMV photo)

Murdered in his own bed in 2001, by an unknown shooter in his room, was Brentwood-Darlington fifth-grader Joshua Jeffries. There is neither a motive nor a suspect in the strange homicide. The case is still open, and police hope someone will provide helpful information. (Family-provided photo)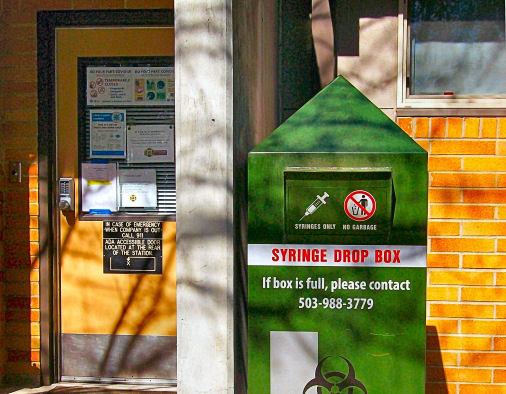 DON'T THROW SHARP OBJECTS INTO THE GARBAGE: Razor blades and all sorts of sharp objects, and especially medical syringes, can cause injury or harm if thrown into the trash, but not all drug stores will accept them. Here's an easy solution – Woodstock's Fire Station 25 has a "sharps disposal receptacle" on the south side of their building, on S.E. 52nd at Mall Street. And there's no charge to use it. (Photo by Rita A. Leonard)
---
Comments? News tips? Click here to e-mail us!

Note to readers: At some point in the future, this, our original Internet website, will probably be replaced at this web address by our new website, as part of the Community Newspapers group. At that time, you will still be able to access this older, but still operative, website, if you save this address: www.southeastPDXnews.com. Right now, it leads you to our new website. Eventually, it will lead you back to this old one! Both will be up to date and current, and you'll still have your choice of which one to visit!

READY TO MOVE ON TO THE EDITORIAL, AND THE "LETTERS TO THE EDITOR", ON PAGE 3? CLICK HERE!