More stories from June's issue of THE BEE!
These massive rollers, gears, and motors will support, engage, and drive the railroad turntable formerly in use in the Brooklyn Railyard, says OHRF Executive Director Greg Fitzgerald. (Photo by David F. Ashton)
Grants help advance two 'Rail Heritage Center' projects
By DAVID F. ASHTON
For THE BEE
Two projects at the Oregon Rail Heritage Center (OHRC) – installing a railroad turntable, and refurbishing a steam locomotive – will soon get underway, thanks to grants received by the Center's foundation.
That's what Oregon Rail Heritage Foundation (OHRF) Executive Director Greg Fitzgerald revealed during an April visit.
"ORHF received an $8,000 award from the National Railway Historical Society (NRHS) toward the restoration and installation of a 102-foot continuous turntable, the last remaining historic element of the former Southern Pacific Brooklyn roundhouse," Fitzgerald told THE BEE.
The NRHS grant for the turntable is matched by a $4,000 donation from the Murdock Trust. "In December 2018, the Murdock Trust provided a cash award of $250,000, and has also pledged to match one dollar for every two additional dollars raised for the Turntable Project through the end of this year," Fitzgerald said.
The Turntable Project will complete the Design Review process by summer.
And, the Pacific Railroad Preservation Society (PRPA), a non-profit, all-volunteer organization collocated at the Rail Heritage Center that's dedicated to restoring, maintaining, and operating the former Seattle, Portland & Spokane steam locomotive #700, housed at the rail center, also received $8,000 from the NRHS.
This grant was given to help the PRPA crew finance the rebuilding of two air pumps used in the #700's locomotive braking system.
"I'm currently working on the SP&S #700 air pump overhaul project," said ORHF Treasurer Dale Birkholz. "Most all the parts for all of our locomotives and rail cars here can't be purchased; we must make them here in our machine shop, using post-World War II, heavy-duty machines."
The SP&S #700 is expected to be back in active service early next year, resulting again in two operating historic steam locomotives, the other being the famous Southern Pacific 4449, which ceremonially toured the country in 1976. Those and one more which still has yet to be rehabilitated are owned by the City of Portland.
The Oregon Rail Heritage Center, at 2250 S.E. Water Street (under the MLK/Grand Avenue Viaduct) is open to the public Thursdays through Sunday afternoons; and it's free to visit. They also run rail excursions on Saturdays. For more information, go online – http://www.orhf.org
---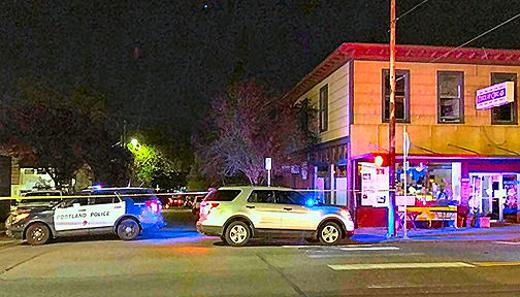 Police closed down S.E. Umatilla Street between 17th and 18th Avenues for hours, following a suspected "road rage" shooting incident in which a man was injured. (Courtesy of KPTV Fox-12 News)
Suspected 'road rage' – shots fired in Sellwood
By DAVID F. ASHTON
For THE BEE
Central Precinct officers responded to a suspected case of "road rage" on S.E. 17 th Avenue in Sellwood – which evidently led to gunshots on Umatilla Street near 18th Avenue on Thursday night, May 2, at 10:30 p.m.
"Arriving officers located a male adult who was injured; he was transported to an area hospital with what are believed to be non-life threatening injuries," later reported a police spokesperson.
The PPB Gun Violence Reduction Team arrived, and began to investigate what preliminary information suggested had an element of road rage, but details of what exacly happened remain unclear. Officers searched the area for the shooter, but came up empty-handed. The road closures were cleared overnight, but the case is still under investigation.
Anyone who witnessed the shooting, or who possesses video surveillance footage of the shooting, is asked to contact Detective Brian Declercque at 503/823-2056 or by e-mail at – brian.declercque@portlandoregon.gov. Alternatively, you can contact Detective Brent Christensen at 503/823-2087 or – brent.christensen@portlandoregon.gov.
---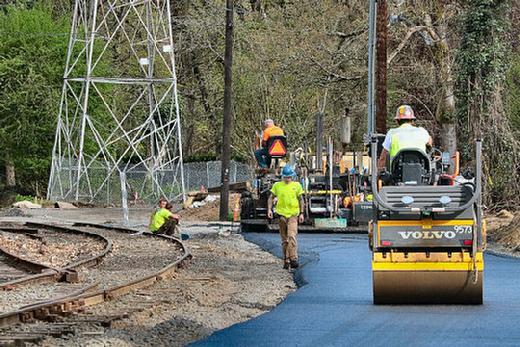 Summer-like weather made it easy for contractors to lay "pervious" asphalt along the new segment in the "Sellwood Springwater Gap". This spot is near S.E. 11th. (Photo by David F. Ashton)
Springwater Trail's 'Sellwood Gap' nearly filled
By DAVID F. ASHTON
For THE BEE
Taking advantage of good weather, contractors working for Portland Parks & Recreation (PP&R) continued building a wide paved trail in the unimproved area of the Springwater Trail, between S.E. 9th and 11th Avenues in Sellwood, beside the Oregon Pacific Railroad tracks, in April and May.
"By June, chain link fencing along the new trail section is expected to be installed, and wood bollards to restrict automobile access along the trail should be as well," said PP&R Community Engagement Coordinator Ken Rumbaugh.
Rumbaugh told THE BEE the final touches in addition to those will include:
Path and street signage

Path and street striping, and pavement markers

Patching of street asphalt where needed
"The project remains on schedule for a July 1st completion date," Rumbaugh told THE BEE.
---
A hazmat worker pours sodium carbonate to neutralize any acid that entered the Precision Castparts Structurals stormwater capture system. (Photo by David F. Ashton)
Mid-May Precision Castparts acid spill contained
By DAVID F. ASHTON
For THE BEE
Employees of the Precision Castparts Structurals plant were evacuated from it just after noon on May 15. The facility, officially at 4600 S.E. Harney Drive, is situated along Johnson Creek Boulevard.
Although it's in the Portland portion of the Ardenwald-Johnson Creek neighborhood of Milwaukie, the facility is primarily protected by Clackamas Fire District #1.
"The initial call came in at 12:53 p.m. as a 'hazmat' incident and commercial fire – so we dispatched a full commercial assignment of equipment and firefighters to the plant," Clackamas Fire District #1 Public Information Officer Branden Paxton told THE BEE.
"En route, we learned that a 1,400 gallon tanker had been delivering hydrofluoric and nitric acid when a pipe broke, and caused a chemical leak on the ground," Paxton reported. "About 600 employees were evacuated."
Gresham Fire's Hazmat team also responded to aid the Clackamas Hazmat crew, and Portland Bureau of Environmental Services (BES) dispatched their Rapid Response Team to the incident as well.
Johnson Creek Watershed Council CEO Daniel Newberry, posed a relevant question to THE BEE: "Was this new acid coming into the plant, or acid that had been used?" He explained that acid that had already been used in processing parts could possibly be contaminated with heavy metals.
So THE BEE put the question to Precision Castparts Director of Communications David Dugan, who assured us, "This was newly-arriving acid, which had not 'operated' yet.
"A third-party vendor's tanker had a mechanical failure in the process of delivering the acid," Dugan continued. "This third-party vendor had a crew come out to address the issue." He added that the stormwater treatment system, installed in 2016, had captured any acid not contained near the tanker.
Within a couple of hours, employees were allowed to reenter the plant and resume work.
"In addition to our team, Oregon Department of Environmental Quality (ODEQ) and Oregon Department of Fish & Wildlife (ODF&W) were also onsite the day of the incident to monitor Johnson Creek for any potential impacts," BES Public Information Officer Diane Dulken told THE BEE after conferring with their staff.
"Initial indications from our team are that the company's on-site stormwater management system successfully captured and treated the discharge," Dulken said. "We found no initial indication of impacts to the Johnson Creek."
According to ORDEQ officials, the release was apparently the result of a failure of a sampling port on a chamber in the tanker, but investigation into the cause is ongoing. And, according to ORDEQ's assessment, there were no air quality issues.
On, May 16, an ORDEQ Water Quality specialist conducted a site inspection and evaluated the stormwater system at Precision Castparts, and determined there should be no environmental harm, as long as staff followed the established stormwater pollution control plan, as they apparently had.
---
Open and ready for the 2019 season are these Moreland Farmers Market Board Members: Allison Lugo Knapp, Manager Lannie Kali, Board Chair Michelle Rork, Lisa Smillie, and Jeff Gamer. (Photo by David F. Ashton)
Midweek 'Moreland Farmers Market' opens on same site for another year
By DAVID F. ASHTON
For THE BEE
Thanks to the benevolent property owner who bought the south parking lot of Wilhelm's Portland Memorial for an eventual residential project, the Moreland Farmers Market continues to thrive on that lot, at S.E. 14th and Bybee Boulevard, for at least one more year. So, there it opened for 2019 on May 1.
"The owner of the lot has been very generous; as long as it's under development, they're letting us remain here this year, till the end of October," said its Market Manager Lannie Kali, who is celebrating her ninth year with the market.
New to the market this year is a gluten-free and vegan cupcake vendor called "Sinful Confections", Kali pointed out, adding, "they're super on-trend and crazy delicious."
By June, Kali said there should be a full complement of farm stands – 50 vendors in all – at each of the Wednesday afternoon markets, selling fresh-from-the-farm vegetables and fruits as they come into season, as well as prepared foods.
"And, we're the only farmers market in the state with a Senior Nutrition Program, now in our sixth year," Kali told THE BEE. "It's sponsored by Bob's Red Mill: Seniors who are at risk of being food-deficient get five dollars to spend here every week."
The vendors, the ready-to-eat foods and snacks, the live music, and the kids' activities continue to make the Moreland Farmers Market a valuable community resource for about 1,500 neighbors who come by every week, Kali remarked.
To see who and what is at the Market this week, stop by 1400 S.E. Bybee Boulevard from 2 until 7 p.m. every Wednesday till fall, or go online – http://www.morelandfarmersmarket.org.
---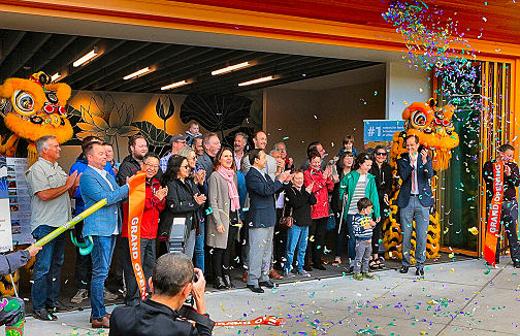 After the scissors' snip, the dedication ribbon goes flying and confetti showers the courtyard at the brand new "72Foster" housing project in the Foster-Powell neighborhood. (Photo by David F. Ashton)
New '72Foster' celebrates grand opening on Foster Road
By DAVID F. ASHTON
For THE BEE
Foster-Powell neighbors, and others who have simply driven past the construction going on at the corner of S.E. 72nd Avenue and Foster Road – just west of the Portland Mercado – have been wondering what was being built there. On April 29 they had the opportunity find out, on grand opening day.
The new building, called "72Foster", is an intergenerational mixed-use structure, serving seniors as well as families. It offers 101 apartments – and soon, a pizza parlor.
"This day is important to 'Reach Community Development Corporation', because this project – '72Foster' – has been the dream for our organization for some time," smiled its CEO, Dan Valliere. "72Foster provides what we need more of, every day: New affordable housing!"
In addition to "affordable housing", Home Forward (formerly known as the Housing Authority of Portland) has provided for twenty apartments at 72Foster "Project-Based Section 8" vouchers – with which residents will only pay 30% of their income in rent, a service to those with extremely low incomes.
"And, we're especially grateful to our partner, Asian Health and Service Center, which, in addition to providing on-site services to residents, has shared our vision for transforming a parking lot into this new community," Valliere told THE BEE.
Also present at the opening of the $24 million project were representatives of the Foster-Powell Neighborhood Association – including its communications volunteer, Sean McClintock, who said that while the association's Board hasn't taken a position on the development, "I think of you'd ask anyone on the Board, or any neighbor, they'd say this project is very welcome.

"We're already a diverse community; so, gaining more housing to support our neighbors who are getting displaced by increasing housing costs in the area is very positive."
---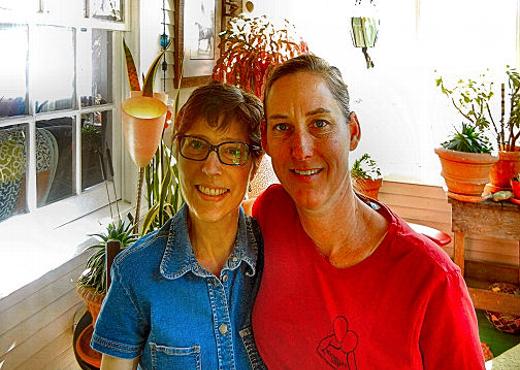 Woodstock resident Mary Rower, left, and Mrs. Andy McCandless, the founder of "Michelle's Love" were photographed on the morning before the nonprofit volunteer organization did a deep cleaning of the Rower house. (Photo by Elizabeth Ussher Groff)
Woodstock single parent with cancer aided by 'Michelle's Love'
By ELIZABETH USSHER GROFF
For THE BEE
Just about everyone knows someone who is a single parent, and someone who has cancer. But when someone falls into both categories, it takes strength and support just to get along.
A Woodstock resident, Mary Rower, was diagnosed in 2013 with multiple-myeloma, a form of blood cancer – and Rower is also a single parent with a teenage son and daughter. She has received many different treatments for her "incurable but treatable" cancer, including two stem cell transplants. She currently receives weekly chemotherapy infusions as well as important support from a Scappoose-based nonprofit organization "Michelle's Love", which provides volunteer assistance to single parents with cancer.

Mrs. Andy McCandless started that organization six years ago, in memory of her best friend of fourteen years, Michelle Singleton – a single mother of four who died just two years after her cancer diagnosis. Today, McCandless's organization has a large database of volunteers ready to help.
On a recent sunny morning, eight volunteers from "Michelle's Love" performed a "deep cleaning" of Rower's 104-year-old Woodstock house, where she lives with her children. The organization typically cleans one house a month using up to fifteen volunteers.
"You cannot get better in your house, if you don't feel good about it!" quipped McCandless, as she set off to assist her volunteers with the cleaning, after a conversation with THE BEE about her organization.
"Studies show that stress can weaken the immune system, and make one vulnerable to illness, and make it difficult to recover," she said. "Our mission is to relieve that stress, so you can recover and get better. Having a clean house, meals provided, and money to pay your bills can help reduce stress."
McCandless explained that "Michelle's Love" provides no cash, but does pay some bills directly that parents cannot afford to pay. "A single parent with cancer, undergoing treatment, missing a lot of work – how can they pay all of their bills? Financial help is the hardest thing for a person to ask for, but it provides the biggest relief."
Two years ago, as the organization grew, "Michelle's Love" also started making rent and mortgage payments for single parents with cancer. "This month we have paid thirteen rents and mortgages," said McCandless.
The organization can afford such generosity because of its fundraising and its regular donors. Each year a benefit dinner and run are held, and this year the dinner alone brought in $15,000, because Buffalo Gap Saloon and Eatery on S.W. Macadam Avenue covered the cost of food and the space. She also commented that "Michelle's Love" pays very little for marketing. "Our reach with social media is broad. . . We raised a total of $156,000 last year, and it cost under $300 to do it."
McCandless is the only staff person of the regional charity, and encourages people to visit their website, where all financial records are posted. "We are very transparent," she said. "Over 90% of money raised goes to the patients we serve."
One person who has been volunteering every month, without fail, to help clean homes for these patients is Jennifer Hughes, who says it feels personal and very gratifying to help a specific person who has a specific need. "You can see how you are making an effect on someone's daily life. And, it is always inspiring to meet the mom [or dad]."
After being away for seven hours of chemotherapy, Rower returned home to find her Woodstock house exceptionally clean, her front walk weeded and graveled, and a lot of other weeding done. "It is wonderful to have them do things I used to do myself, but don't have the stamina for now. They catch me up on things that would have been a challenge to do." The crew stayed for four hours, and said they had a good time.
Who decides which cancer patients are recipients of "Michelle's Love"? McCandless said, "About 90% are referred by oncology social workers; the rest are by word of mouth."
To read the whole story about Michelle's Love, and to see photos, all yearly events, financial records, and how to "share the love" and donate, go online – https://www.michelleslove.org.
---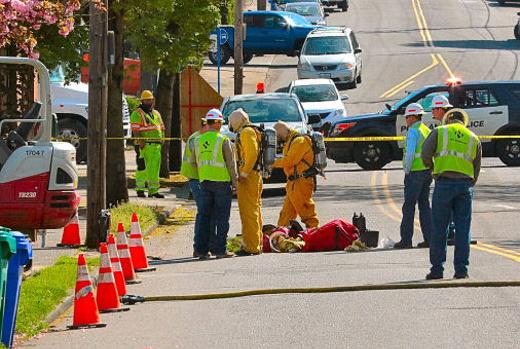 NW Natural Gas workers suit up, preparing to enter a yard where a gas line has been severed by a contractor. (Photo by David F. Ashton)
Gas line rupture briefly closes Holgate Blvd.
By DAVID F. ASHTON
For THE BEE
Drivers traveling S.E. Holgate Boulevard near Chavez Boulevard (formerly 39th) on Wednesday morning, April 22, were surprised to see the east-west street closed down. Woodstock Fire Station 25's Engine and Ladder trucks were blocking the roadway.
The reason for the closure was that a small excavator, digging at a residence at 3737 S.E. Holgate Boulevard, had struck a buried gas line.
"We received a call at about 9:45 a.m. that a contractor had damaged a service line," confirmed NW Natural Gas Public Information Officer Stefanie Week.
Dressed in protective so-called "bunny suits", NW Natural workers used gas sensors to pinpoint the location of the damaged underground pipe. "No evacuations were needed; our crews controlled the gas by about 10:30 a.m.," Ms. Week told THE BEE.
And, she added the advice that even if you're just digging in your garden or planting a tree, it's a good idea first to call the Oregon Utility Notification Center by dialing 8-1-1 – they're open 24 hours a day to help individuals and contractors locate buried utilities before they start digging.
---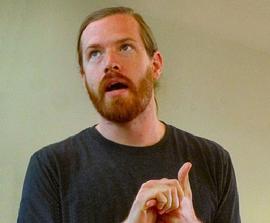 Jared Walker is founder of the Portland-based nonprofit "Dollar For", helping local residents who are struggling under huge medical bills. During his Rotary talk he demonstrated his grasp of the financials of his organization (which are also posted on its website) by, here, quoting them from memory. (Photo by Eric Norberg)
'Dollar For' medical charity brings attention to Portland-based concept
By ERIC NORBERG
Editor, THE BEE
When Jared Walker encountered a friend struggling under large medical bills proceeding from cancer treatment, he wondered if there were some nonprofit organization that could help. Not finding one locally, he established one – and this former trampoline gym manager is now helming his new nonprofit by himself.
Jared told the Southeast Portland Rotary Club on May 13 that his concept was a simple one: He expected most of those who might give to his charity to be as lacking in spare cash as he was, so he called the nonprofit "Dollar For Portland" – and, after receiving his IRS 501c3 certification, he set up a website on which anyone can sign up to give a "dollar a month" as an automatic donation (it can be more than that, if a donor wants). All money collected is 100% targeted to help pay outside medical bills (a handful of local businesses help pay the overhead, to make this possible). And, he has quite a few donors at this point.
Walker says he can often negotiate these bills downward, as a third-party charity helping with payment – but he has found a much more helpful service he can provide! Although the bill-paying service is limited to the Portland area, he is expanding into Washington State with a service to assist those meeting government qualifications to have the bills cancelled entirely, as "charity care".
He explains that most hospitals are nonprofit organizations, and there is a federal mandate for "charity care" services at such hospitals for those below a government-set income level.
This qualifying level is set much higher than most people would think – in some cases, a family income of over $70,000 per year might qualify – and he has learned what steps must be taken to establish this qualification for hospitals to accept the claim and cancel the bill, and he provides all the needed steps in a single package for those who qualify for it. "We've saved over $700,000 in medical bills for local residents in just the last year," he says.
Whether you qualify for "charity care" or not – and you might – if you are staggering under huge medical bills you may not be able to pay, it would be worth your while to go online to – https://www.dollarfor.org – and find out more about this charity, which has already been profiled by Time magazine. Time apparently also couldn't find another charity providing relief for those with huge medical bills anywhere in the country.

If you want to talk with Jared, his card lists his number as 503/853-6850. You could be in for some hopeful news about your medical bills. And, if you want to join the dollar-a-month crowd, you can do that on the website also.

Southeast Portland Rotary, to which Jared was speaking, meets most Mondays in the Community Room on the east side of Moreland Presbyterian Church, at S.E. 19th and Bybee Boulevard in Westmoreland. Visitors are always welcome, and lunch is on the house if you're visiting. The service club is online at – http://www.SoutheastPortlandRotary.com.
---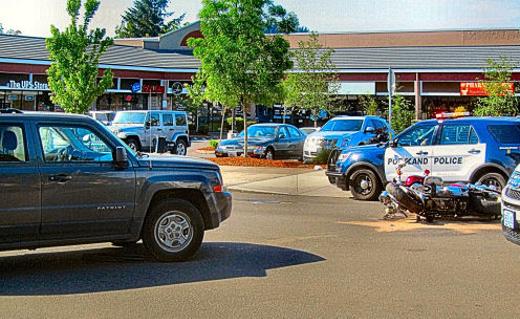 The deployed airbag of this Jeep Patriot SUV suggests that it may have been struck by the motorcycle lying nearby on Powell Boulevard. However exactly the way this crash unfolded has not yet been publicly established. (Photo by Eric Norberg)
Motorcyclist injured in Powell Blvd collision with SUV
By DAVID F. ASHTON
For THE BEE
Traffic was detoured south into residential areas from both directions of S.E. Powell Boulevard, west of 82nd Avenue of Roses, at a shopping center's south parking lot exits.
It was on Saturday, May 11, and caused by a crash between a motorcycle and a SUV just before 4 p.m.
Responding East Precinct officers called for a Traffic Division officer to join them in the investigation of the crash.
The mechanics of the crash were unclear. But clearly observable in the middle of Powell were the Jeep Patriot SUV, with its driver's-side airbag deployed – and a Harley Davidson Softail motorcycle on its side on the pavement.
"The call was generated as a DUII-involved incident, but records don't show if someone was cited for that in this incident," Portland Police spokesperson Sgt. Brad Yakots later told THE BEE.
"The motorcyclist was transported with non-life threatening injuries," confirmed Yakots.
Powell was closed for two hours to permit the investigation.
---
This Portland Parks and Recreation rendering shows the planned new steel-and-concrete span which will replace an old railroad trestle bridge on the Springwatrer Corridor near S.E. 45th. (Courtesy of PP&R)
Springwater Corridor bridge to be a boon for Johnson Creek fish
By ZANE SPARLING
The Portland Tribune
Special to THE BEE
An upcoming repair-and-replace project will change how Springwater Corridor users get over the water — and how fish swim through, down below.
Portland Parks & Recreation plans to completely replace an original wooden trestle bridge, which once ferried train commuters along the Springwater Division Line in the 1900s, near S.E. 45th Avenue and Johnson Creek Boulevard.
The current span, known as "Bridge 48", is supported by large concrete footings submerged in Johnson Creek. Officials say these pillars impede fish traffic and accumulate debris.
A new steel-and-concrete crossing with a $2,348,830 price tag will be constructed using money from the $68 million Parks Replacement Bond passed by voters in 2014.
Mark Ross, a Bureau spokesman, says that the dollar amount will cover "hard/soft costs, design, public involvement and communications, project management, construction, permitting, bridge materials and contingencies."
Officials say the Springwater Trail was temporarily closed between S.E.45th and 55th Avenues when construction began in mid-May. A detour route will be in place until the work wraps up in November.
But that's not the only Springwater Trail bridge project this summer. Parks officials are also planning to replace the decking on a 114-foot bridge across Johnson Creek near S.E. Circle Avenue. The western half of that span was replaced with steel in 2006 due to deterioration, but officials say the decking must be replaced with asphalt, because the wood is "slippery, uneven, and has large gaps."
Parts of that bridge, "No. 140", will be salvaged and re-installed by a contractor. Construction will last six to eight weeks after the mid-May start. The trail will be closed between Circle Avenue and 174th Avenue during that work period.
This second project, also funded by the 2014 bond, is priced at $640,000. A detour route is posted.
---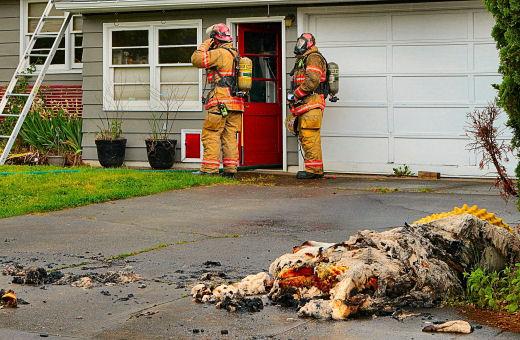 After removing burned debris from the Woodstock house in their second trip that day to the address, firefighters headed back in to make sure that the fire had finally been fully extinguished. (Photo by David F. Ashton)
Fire flares up in Woodstock home – twice – within hours
By DAVID F. ASHTON
For THE BEE
It's unusual for Portland Fire & Rescue crews to be called back to a blaze, but it happened at a home on the corner of S.E. 51st and Harold Street, late May 13 – and again on the morning of May 14.
The first call-out brought rigs from Woodstock Fire Station 25 at 11:52 p.m. on Monday, May 13. "It was dispatched as a residential fire that started in a garbage can in the basement of the home," PP&R Public Information Officer Lt. Damon Simmons told THE BEE. "The resident attempted to put it out unsuccessfully; crews arrived with nothing showing on the outside, and smoke with moderate heat inside. The fire was located and extinguished, and fire crews went back into service."
Neighbors said they were surprised when, the following morning at 10:01 a.m., Portland Fire crews again rolled in.
"The second call for service at this address was due to some hidden fire between the basement and first floor that was smoldering," explained Simmons. "Eventually, it grew significantly enough to catch the house on fire – for a second time."
Crews worked carefully to remove charred materials, and to probe spaces for remaining embers. Eventually they cleared the scene, and the fire stayed out.
---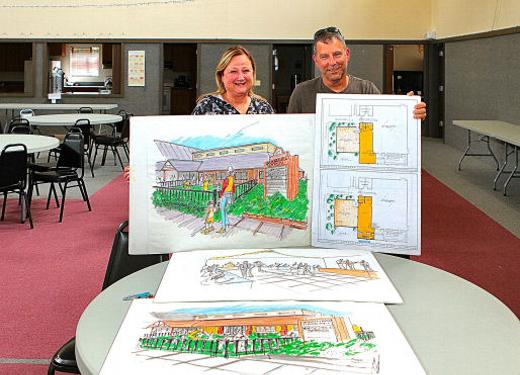 Kathy and Chris Maas show the plans that Immanuel Lutheran Church is making to upgrade its campus. (Photo by David F. Ashton)
Sellwood church sells lot to improve Community Hall
By DAVID F. ASHTON
For THE BEE
Having served the greater Sellwood-Westmoreland community for more than a century, Immanuel Lutheran Church is preparing to upgrade part of their campus – the Community Hall.
That's what Kathy Maas told us – she is a member of the Church Council Board who is actively involved in the upgrade project, as well as being Immanuel Lutheran Preschool's Director.
Having read in THE BEE that the church had received permission from the Portland Bureau of Developmental Services to rezone – and thus to be able to sell – one of Immanuel Lutheran's five contiguous lots, caused concern among neighbors, Maas said.
"We sold a lot to a longtime parishioner, who wanted to be closer to the church and be a more active part of it," Maas informed. "The family is planning to build a one-story 'green' residence; this is not going to be a commercial development, or a high-rise."
The church's leaders decided on this option to raise funds for increasing their ability to perform community outreach by updating their 6,000 sq. ft. Community Hall – "without touching our operating funds," explained Maas.
The first phase of their plan is to move the playground equipment from the lot that's been sold to the grassy area in front of the Community Hall.
Next, they plan to renovate a portion of the Community Hall by opening two side rooms and installing a new restroom. Other potential enhancements discussed with their congregation include moving the preschool from the church basement into that space; another idea is to create an elder "daytime care area" – a place to bring the elderly, thus providing respite for caregivers.
"Another option for the area would be to offer it as a conference or meeting room for crafting clubs or AA meetings; there are few spaces for conferencing and meeting in the area," Haas said.
The third phase of their plan is to upgrade the Community Hall's prep kitchen to become a certified, licensed "commercial kitchen", which can be used by their members or other groups serving the community – either for serving in the hall, or for preparing food to take to others.
"With these upgrades, people can apply to rent the hall for events, including wedding receptions and other programs," Haas said. "Or, it could be rented for pop-up restaurants, or other community activities where people want to use a commercial kitchen."
Learn more about the church, and its preschool, online – https://www.immanuelpdx.com.
---
The anguished Ford driver stands with officers, as they pick up the bicycle involved in the Woodstock accident. (Photo by David F. Ashton)
Woodstock car and bike smashup injures rider
By DAVID F. ASHTON
For THE BEE
Emergency first responders were called to the intersection of S.E. 42nd Avenue and Rex Street at 6:08 p.m. on Monday, May 6, when a bicyclist and automobile collided.
Westmoreland Fire Station 20's firefighter/paramedics arrived to find the bike rider on the ground, and the passenger's side front windshield caved in on a Ford Freestyle Limited SUV.
According to an East Precinct sergeant at the accident scene, the bike rider was transported to a hospital for evaluation and treatment.
"The bicyclist was northbound and the car was southbound as they approached each other at the intersection – and somehow, they collided," the sergeant remarked to THE BEE, as an investigation was underway.

A head-on crash between an auto and a bicycle is rare; rarer still is a bicyclist receiving only minor injuries in such a mishap.
The driver of the Ford remained at the scene and cooperated with officials; we found no record of a citation being issued.
---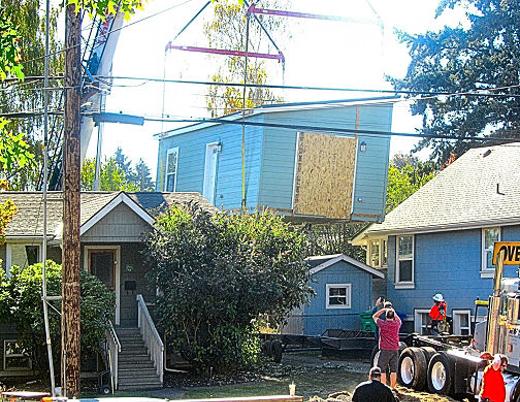 The crane carefully turns the ADU counterclockwise, slowly rotating it to be set sideways on a foundation standing ready at the rear of the property. (Photo by Eric Norberg)
Dropping an 'A D U' into a Southeast back yard
By ERIC NORBERG
Editor, THE BEE
In an article last summer in our sister newspaper, the Portland Tribune, Reporter Steve Law explained the business model of "Dweller", a company founded by a former Director of the City of Portland's Development Commission, Patrick Quinton.
Law stated it this way: "Dweller can do all the work to install a small prefabricated ADU in someone's yard, and hand over the keys, for $125,000." But there is an alternative:
"Or, it won't charge the homeowner a thing – retaining the ownership of the small dwelling, and managing it itself as a rental." In that case, the homeowner will receive 30% of the rent received from the renter; "and after 25 years the homeowner will own the ADU outright, for no cash."

Frequently the new ADU will have to be raised over the existing house on the lot in order to place it on a previously constructed foundation in the backyard, so the use of a crane for the purpose is built into the cost, according to reporter Steve Law.
Law added, "Dweller's model will be 'watched, not just in Portland, but nationally,' according to Robert Liberty, a former Metro Councilor who has returned from Eugene to direct Portland State University's Institute for Sustainable Solutions, which is spearheading an initiative to make it easier to build and afford ADU's."
This concept became real to residents on S.E. Harold Street in Westmoreland in mid-October, when the owner of a rental on the south side of the 1900 block was on hand to watch the arrival and installation of one of these pre-built ADU's in the back yard of his property by a truck-mounted crane which lifted it over his house and the neighbor's shed onto the pre-built foundation in the back yard, and THE BEE was on hand to document it.
It was not "done and over in one day"; considerable finishing work was then required, including plumbing and electrical installation, and the reworking of the existing driveway to provide access for future renters to the rear of the property. That part wasn't entirely done until spring. But it was clear that this was one solution to the residential density that the city encourages homeowners to address, with additional construction on their land.

Although the city is all in favor of ADUs and duplexes, the county so far has viewed these as "material improvements" which trigger a reset of the property tax limitation, allowing reassessing of the property, and potentially leading to a substantial increase in its property tax.
But certainly the Dweller concept does accommodate getting more people living in Portland's residential areas; and some folks in Inner Southeast may be interested in Dweller's innovative approach to accomplishing this with little or no cash outlay.
---
---
Comments? News tips? Click here to e-mail us!

Note to readers: At some point in the future, this, our original Internet website, will probably be replaced at this web address by our new website, as part of the Community Newspapers group. At that time, you will still be able to access this older, but still operative, website, if you save this address: www.southeastPDXnews.com. Right now, it leads you to our new website. Eventually, it will lead you back to this old one! Both will be up to date and current, and you'll still have your choice of which one to visit!

READY TO MOVE ON TO THE EDITORIAL, AND THE "LETTERS TO THE EDITOR", ON PAGE 3? CLICK HERE!