More stories from February's issue of THE BEE!
After careening into the Sellwood Les Schwab store at midnight on the night of January 16, whoever was in this car fought their way past the blown airbags and ran away. (Photo by Eric Norberg)
Car slams into Sellwood's Les Schwab at midnight; driver flees
By DAVID F. ASHTON
For THE BEE
Emergency first responders were called out for a single-vehicle crash on S.E. McLoughlin Boulevard, just north of the Tacoma Street Overpass, at 11:57 p.m. on Wednesday, January 16. It was a spectacular smashup, and several TV news trucks turned up to report on it.
Evidently the four-door compact SUV with Washington license plates had been southbound on McLoughlin Boulevard at a high rate of speed. The driver tried to turn west off to the highway at the Tacoma exit, but was going too fast to make the turn.
The vehicle jumped the curb, braked across a strip of grass, took out a sign, and skidded through landscaping, before smashing into a plate glass window on the east side of the Sellwood Les Schwab Tire Center. The car was finally brought to a stop by the large building support pillar it dislodged.
The driver may have been impaired, and could indeed have been injured in the wreck, since the air bags went off. But whoever was inside managed to get out and run off. Police say the driver hasn't yet been located.
Portland Fire & Rescue responders found the car unoccupied; but, after examining the building's pushed-in support pillar, declared the building to be structurally sound. The store opened on time the following morning.
---
Rae Denton – shown at the customer counter of the Sellwood-Moreland Post Office, on S.E. 15th at Bybee Boulevard, in Westmoreland. (Photo by Rita A. Leonard)
Local Post Offices prepared for postal increase
By RITA A. LEONARD
For THE BEE
Local Post Offices already knew about it, and now you know it too: Postal rates have just gone up again this year. At the end of the day on Saturday, January 26, stamps for First Class letters increased from 50 to 55 cents for the first ounce.
Sales and Service Associate Kellie, at the Brooklyn Post Office just off Powell Boulevard on S.E. 17th, reveals that while few customers have yet been buying five-cent stamps to make up the difference, "We had a run on 'Forever' stamps before the increase. The prices on all Priority Flat Rate mailers went up, as well. However, the 'additional ounce' charge on First Class mail has been reduced from 21 cents to 15 cents per ounce, which means a lower total cost for heavier First Class letters."

"Forever" stamps – ones with no price marked on them, but just the word "Forever" – are now worth 55 cents apiece, regardless of when you bought them, or what they cost when you did. But if you buy any now, they'll be 55 cents apiece. Although these stamps are good for all mailings within the United States, always reflecting the current First Class rate, be sure not to use them on foreign mail; other countries do not accept any non-denominated stamps. For those mailings, you will have to buy stamps with the correct mailing price marked on them.
Sales and Service Associate Rae Denton at the Sellwood-Moreland Post Office told THE BEE that rental prices for Post Office boxes also went up on January 27. "And for those who forget Valentine's Day, we also sell greeting cards in our lobby," she suggests with a smile. All Post Offices will be closed on February 18 for "Presidents' Day".

If you have any further questions about the new postage pricing, ask at your local Post Office, or go online – http://www.stamps.com/usps/postage-rate-increase
---
A caravan of workers and equipment prepared Brooklyn-area intersections for paving in January, as part of the 'Powell Boulevard Safety Project". (Photo by David F. Ashton)
Paving inches along in Powell Blvd 'safety project'
By DAVID F. ASHTON
For THE BEE
All-night paving projects have moved the ODPT 'Powell Boulevard Safety Project" closer toward completion.
Although icy-cold east winds whipped through the work areas along S.E. Powell Boulevard on the nights of January 15 and 16, workers from the ODOT contractor – the James W. Fowler Company – scraped, dug, paved, smoothed, and compacted the intersection areas from S.E. 21st to 34th Avenues.
On the 15th, the outside eastbound lanes of Powell Boulevard were closed to vehicle traffic and pedestrians, as an assembly-line procession of pavement surface grinders, excavators, sweepers, a paving machine, and a roller and compactor filled in the areas of pavement that had been missing for months in intersections.
On the 16th, the parade of gear and workers turned and headed westbound, finishing up those intersections as well.
Still left to do, in this $3,757,655 project – intended to "increase safety by reducing serious crashes within the project area" – is finishing up traffic-signal timing at S.E. 21st, 26th, and 33rd Avenues, which will include in-pavement vehicle detection systems to help signals let vehicles through the controlled intersections based on changing traffic volumes.
---
The residents did "all the right things", when a mattress caught fire in a Woodstock home, fire officials say. (Photo by David F. Ashton)
Smoldering mattress fire smokes up Woodstock home
By DAVID F. ASHTON
For THE BEE
The smell of smoke in a Woodstock residence at 5102 S.E. 42nd Avenue at Mitchell Street alerted residents that something was wrong – on January 10, at about 6:30 a.m.
Fire Engine 9 from the Hawthorne District arrived first, quickly followed by both the Engine and Truck companies of Woodstock's Station 25.
"The incident caused a lot of smoke, but no visible fire," later said PF&R Public Information Officer Lt. Rich Chatman. "In this case, the residents did 'everything right'; someone called 9-1-1, while another tried to put out the fire in the box-spring mattress in an upper bedroom with an extinguisher.
"When that effort failed, they closed the door to the bedroom, and left the residence," Chatman went on. "Closing the door to a 'fire room' keeps fresh air from feeding the smoldering fire. When firefighters arrived, they were able to quench the embers, before hauling the mattress out of the home.
"So, remember to have working fire alarms – and if there is a fire, close off the room as you call for help, and promptly leave the building," Chatman summarized.
The fire remains under investigation. The American Red Cross, Cascades Region, responded to help the four displaced adults and pets, by providing them with immediate basic needs.
---
This is the report upon which public comments are invited. (Photo by David F. Ashton)
Castparts 'Health Assessment' comments extended into March
By DAVID F. ASHTON
For THE BEE
When the Oregon Health Authority (OHA) released its draft "Health Assessment" of the area surrounding the Precision Castparts Structural Large Parts Campus along Johnson Creek Boulevard, they held meetings in November and December to get feedback.
As reported in the January issue of THE BEE, the OHA asked interested people who didn't attend the meetings to read, and then chime in, on this report.
The facility, established six decades ago on S.E. Harney Road – and situated between the Brentwood-Darlington and Ardenwald-Johnson Creek neighborhoods – has been suspected by some neighbors in recent years of polluting the air and soil nearby, and Johnson Creek as well, with heavy metals. But, after scientific monitoring, the draft report found no evidence of that.

The draft assessment found that measured concentrations of metals in the air and metals and other chemicals in soil and water near the metal components manufacturer's S.E. Harney Drive facility were below levels that would be expected to harm public health.
Following up on the release of that Health Assessment draft report, OHA staff, joined by others from the Oregon Department of Environmental Quality (ODEQ), held several meetings in the area, the first of which was in the Lane Middle School library on November 29.
Public comments on the report will be accepted through March 15, following requests for the extension from some members of the public. The original comment deadline was January 15. Comments can be made via e-mail at – ehap.info@state.or.us
Or they can be made via postal mail to – 800 N.E. Oregon St., Suite 640, Portland, OR 97232.
The public health assessment is available for review on the Public Health Division website at – http://healthoregon.org/pccpha
---
Artists show art and skills in Southeast 'Open Studios'

By DAVID F. ASHTON
For THE BEE

Several of the artists participating in the 2018 "Portland Open Studios Tour" on two weekends late last year were situated in Inner Southeast. This year marked the nonprofit organization's 20th year.

Inner Southeast Portland artists were easy to locate, thanks to bright yellow directional signs pointing the way to their studios.

This year, we discovered three amazing artists, each of whom shared his or her own unique, unusual, creative pursuits.



Shelly Durica-Laiche
Functional and decorative steel artist
In "Watershed PDX", on S.E. Milwaukie Avenue
https://www.indiometalarts.com

Greeting us while wearing a welder's apron, Shelly Durica-Laiche said she's a welder who designs and builds steel "functional and decorative steel objects", such as furniture, trellises, fine art sculpture, and garden art.

"While I mostly work in steel, I also create art with brass and copper," Durica-Laiche told THE BEE.

While majoring in sculpture at Portland State University, Durica-Laiche recalls experimenting with any and all available sculpting materials, and eventually she turned to working with metal. "In a class with bronze casting and welding, I fell in love with metal; and, after graduating in 2005, this became my work."

Now working as a full-time artist for the last six years, she says, "I enjoy creative design challenges; finding and looking at scrap metal, and being inspired to create something.

"Then, after I've made it, just seeing somebody else get really excited about a piece of art that I created – enough to buy it, so I'm able to sustain in my artistic practice – is really good!"



Craig Dorety
Light artist
S.E. Woodstock Boulevard
http://www.craigdorety.com

Working in a large shop hidden behind his modest Woodstock home, Craig Dorety welcomed us to his studio, which had been darkened to show off the illuminated and almost hypnotic sculptures that he creates.

"Although there's a technology behind it, and involved with it, the easiest way to explain what I do is to say, 'I work with light'," Dorety remarked.

"While I create works of art that one could hang on a wall, the most important medium in my work is the lighting itself, the photons," Dorety said. "Photons are intangible, you can't touch them, squeeze them out of a tube, or paint or model them like clay."

His workshop looks like a "'makers' studio", replete with a huge computer-controlled precision router, a large industrial laser unit, and a small 3-D printer for making parts – all of it gear he's gathered and upgraded over the past dozen years.

While it can be frustrating to get the lighting, controlled by computer circuits, to work just right, the artist commented, "I enjoy the entire process. And, I really like being my own boss!"

The best part of his creative arc? "It's when I turn the piece; it lights up, and I can watch and enjoy it; and I often see a behavior that I don't fully understand until after I finish it.



Rudi Broschofsky
Spray paint artist
Flat Blak Gallery
6006 S.E. Foster Road
http://www.rudibro.com

His original art isn't made with any sort of screen printing process, explained artist Rudi Broschofsky. His paintings are created entirely out of spray paint.

Having been raised by parents who opened a Western art gallery in 1987 – he was five years old, then – that gallery likely was what influenced the subjects he paints today, Broschofsky said.

"Growing up surrounded by high-end Western artwork has led me to turn-of-the-century, and older, subjects.

"But I've also been drawn to street art, urban art – graffiti – because it is more aligned with my art-creation process, using stencil and spray paint," commented Broschofsky, pointing out he doesn't use brushes, or an airbrush; he uses high quality "rattle cans" of spray paint.

"It's kind of like graffiti, in that one throws a stencil on a wall and spray paints it; but in my case, I spend a great deal of time carefully cutting my stencil, before spraying the images on canvas," Broschofsky revealed.

While his works are for sale at galleries in Sun Valley, Idaho; Jackson Hole, Wyoming; and Salt Lake City, he regularly displays his own work in his own studio on S.E. Foster Road, and hosts exhibitions of new Portland artists in it, during the "Second Saturday Foster Road Art Walk" each month.

---




Twisting metal to make leaves for a cat-tail structure, here's artist Shelly Durica-Laiche. (Photo by David F. Ashton)

"Light Artist" Craig Dorety, with one of his illuminating works. (Photo by David F. Ashton)

Spray-can artist Rudi Broschofsky shows his work entitled "The Sawtooths". (Photo by David F. Ashton)
Inside this Foster Road Dollar Tree store, an officer debriefs the clerk who'd been robbed by a knife-wielding, underwear-masked robber. Unfortunately, we cannot show you the bad guy in his unusual disguise, since he was long gone (in his long johns?) at this point. (Photo by David F. Ashton)
'Tighty-whitie Bandit' strikes Foster Dollar Tree store
By DAVID F. ASHTON
For THE BEE
East Precinct officers responded to the Foster Square Shopping Center at 6868 S.E. Foster Road, at 9:14 in the evening on January 14, when a confirmed robbery alarm was triggered at the Dollar Tree store.
Having learned that the suspect had fled westbound from the store on Foster Road, one officer entered the shop to interview the employees, while others fanned out through nearby streets in the Foster-Powell neighborhood.
Apparently the suspect, who brandished what was described as a 12 to 18-inch knife and demanded cash, stuffed the dollars into a ZipLok bag as he fled into the neighborhood.
"We might be calling this suspect the 'Tighty-whitie Bandit'; his disguise was described as being white underpants pulled over his face as a mask," an officer reported back to dispatchers.
Security video was unavailable, nor was there a better description of the suspect. Officers failed to find anyone in the neighborhood with underpants on his head, during the search.
---
The weather year just past, in Southeast Portland
By ERIC NORBERG
Editor, THE BEE
On December 31 the "book of weather" closed on Inner Southeast. And what did the precipitation add up to, in a year that seemed unusually dry and warm? 35.35", as measured daily at our Westmoreland rain gauge. That compares to 52.28" the year before.
So was it abnormally dry? Compared to the last four years, it sure was – 52.28", 2017; 51.89", 2016; 47.09", 2015; and 46.01", 2015. But, we only got a total of 28.89" in 2013.
It was also dryer than our current 20-year running average, which is 41.63". However there have been five years in the last twenty that were dryer – 2013's 28.89"; 32.11" in 2004; 30.04" in 2002; 29.67" in 2001; and 30.01" in 2000. In fact, if there were one period when fear of a much dryer Southeast Portland seemed legitimate, it was during that run from 2000 to 2004 – when four of the five years were below our 2018 total!
There is a comforting trend in these – over the last twenty years here we have been trending toward wetter years, even with 2018's total in the mix:
1999-2003 average: 34.73"
2004-2008 average: 39.68"
2009-2013 average: 45.62"
2014-2018 average: 46.52"
So, it appears, the general climatological trend recently has leaned toward progressively wetter-weather years, with occasional interruptions – and there seems to be no reason to fear Inner Southeast will be shriveling up anytime soon.
Here are highlights of 2018 in Inner Southeast:
There were only three days with over one inch of precipitation last year, which is fewer than usual – 1.84" on April 8; 1.65" on October 28; and 1.15" on December 18 – but just those three days added up to 4.64", or 13% of our annual total.

We didn't have much snow last year, but what we did get was all in February: A dusting of snow overnight on February 19; a quick-melting morning snow on February 20; 2.5 inches of snow on the ground at 7 a.m. on February 21; and 1.75" of snow on the ground at 7 a.m. on February 22. None of it lasted long.

Our .20" precipitation total in May – just one fifth of one inch – made it the driest May in the last 20 years here; but we did have three other Mays in that time that came in under an inch, so it was not that much of an outlier.
And now we are in 2019. No hints yet how wet this year will turn out to be, but we'll tell you next year. And this month, who knows, we might even have a snow day. Maybe.
---
After decades of service, this cast iron water main looked a bit as if it had exploded, deep under the Brooklyn pavement. (Courtesy of Portland Water Bureau)
Another old water main bursts – this time, in Brooklyn
By DAVID F. ASHTON
For THE BEE
Residents who were still awake, just past midnight on January 16 along S.E. 13th Avenue between Center and Rhone Streets in the Brooklyn neighborhood, found to their surprise there was water in their basements, and a river of water bubbling up from the street.
"We're in what we call 'Main Break Season' – as water coming in from Bull Run is very cold, and runs through older pipes, making them even more brittle," remarked Portland Water Bureau (PWB) Public Information Officer Jaymee Cuti.
Looking into the excavated area on 13th Avenue, it appeared almost as if the pipe had exploded!
"This 8-inch cast-iron main, installed in 1926, ruptured under the street, affecting 15 residences," Cutie told THE BEE. After working all night, the Water Bureau restored service at 8 a.m.
"Our workers went door-to-door, distributing 'Boil Water Notices', letting residents know it's okay to bathe with the water, but not to drink or cook with it for 24 hours," she confirmed.
This was one of about 200 water-main breaks every year that PWB workers repair, at any time of the day or night. "It's a relatively low number of incidents, considering the size of our service area," Cuti said – not to mention the considerable age of the underground iron pipes.
---
Inside the thrift store, a worker began to clean up after a car smashed through the business' front plate-glass windows. (Photo by David F. Ashton)
'Slipped foot' sends car into 82nd Avenue thrift store
By DAVID F. ASHTON
For THE BEE
Staff and volunteers inside the "TC Resale & Donation Center" at 5050 S.E. 82nd Avenue, just north of Foster Road, were shocked when a car smashed through their front plate glass windows on Wednesday, January 9, at about 5:30 p.m.
"Most of us were in the back, sorting donations, when we heard a loud crash; I thought someone had knocked over the rows of china and glassware near the front of the store," one of the still-rattled workers told THE BEE.
A black Nissan Sentra SU sedan had driven up over a concrete parking stop and smashed through two plate glass windows into the store. A volunteer, surveying the damage, said it looked as if there'd been an explosion in the store.
An East Precinct officer concluded that no one had been injured in the crash; and the arriving crew Woodstock's Fire Truck 25 found no damage sufficient to endanger the building's structure.
"My foot slipped off the [brake] pedal and onto the gas pedal," admitted the woman who had been trying to park the car. Magnanimously, the store's staff comforted her, saying, "It's just an accident; you're okay, and everything else can be fixed."
---
With a little help from PP&R Program Coordinator Eric Rosewall, Dick Hazeltine cut the ribbon, dedicating Hazeltine Park. (Photo by David F. Ashton)
Hazeltine Park dedicated by man it was named after
By DAVID F. ASHTON
For THE BEE
Since the project began early last summer, Portland Parks & Recreation (PP&R) crews, contractors, and scores of volunteers have been upgrading the Brentwood-Darlington neighborhood's Hazeltine Park, on S.E. Flavel Drive at 54th Avenue.
In addition to reallocating boulders, cutting down rotting trees, and installing paths, the improvements were centered around installing a "Nature Patch" to the park – which is named after Errol Heights and Brentwood-Darlington honored resident Dick Hazeltine.
"I think this looks great! I approve, and really – this park now looks very welcoming," Hazeltine remarked, as he chatted with THE BEE at the park's dedication on the cold and misty morning of December 1.
"It's true that not a lot of people who are still around to see it have a park named after them; so this means a lot to me, and I'm very gratified by it," Hazeltine said thoughtfully. "A lot of people put in effort to get and keep this park; now it's for the benefit of all of our neighbors. Although I'd still really like to see some playground equipment here, even just a swing-set."
Knowing that, in minutes, the park would be officially open, Brentwood-Darlington Neighborhood Association Chair Chelsea Powers smiled and said, "I think this is an awesome upgrade to Hazeltine Park; Dick is the unofficial founder of our neighborhood association, and he and his wife Opal worked very hard to get this park on the map."
PP&R Program Coordinator Eric Rosewall thanked neighbors, Hazeltine family members, and the volunteers who came out to help complete the planting. He commented that the project was completed by volunteers who put in some thirty-five varieties of Pacific Northwest and native Northwest plants, "which will be great for bees, birds, butterflies, and herbivores." Rosewall observed that this is only one of three "Nature Spots" in the city.
In addition, Rosewall announced that family members were planting a flowering "Chocolate Mimosa" (Albizia julibrissin 'Chocolate') in honor of Opal Hazeltine, who passed away on June 13th, not long before the project was completed.
In his remarks, Dick Hazeltine reminded that the process of making this land into a city park started in 2007. As he spoke, he reminded spectators that the park's 'nature spot' is situated just where the Opal's desk was for eight years, inside a Community Policing Station that was subsequently closed and torn down.
Before the ribbon cutting ceremony, longtime neighbor and friend Malcolm Hancock stepped up and announced, "Because Dick always wanted a full-fledged park here, including playground equipment – and that part hasn't yet happened – here's memento of what we hope will be coming," and he presented Hazeltine with a miniature model of a swing set.
With a snip of the ribbon, and to the cheers of about eighty well-wishers, Hazeltine Park was dedicated, and is now officially open on S.E. Flavel Drive, just east of 52nd Avenue.
---
No trace of the Foster-Powell neighborhood's "Benson Bubbler" bronze water fountain has been found, after it was ripped out of the street at S.E. 65th Avenue along Foster Road, back in December. (Photo by David F. Ashton)
Foster Road's 'Benson Bubbler' boosted
By DAVID F. ASHTON
For THE BEE
The Foster-Powell neighborhood's "Benson Bubbler" bronze water drinking fountain, formerly situated on S.E. Foster Road at 65th Avenue, had bad luck in 2018; it was smashed in the spring, and then – overnight in December – it was outright stolen.
"After the car accident, it was taken out of service for several weeks to be repaired, and was replaced in June last year," reported Portland Water Bureau (PWB) Public Information Officer Jaymee Cuti.
Locals were assuming that the iconic fountain, gracing this corner for at least three decades, had been removed for the street construction along Foster Road. But, sometime after 8 p.m. on December 6, and before 6:30 a.m. the following morning, it vanished – having been partially obscured by a construction fence that was surroundeding the area.
All that remained at the site was a small water tube protruding from the street, and broken pieces of its concrete ring base.
"Who knows if someone did it as a prank, or took it to steal the metal – but it's a sad day for Foster-Powell," reflected Darren Meyer, as he gazed at the bare spot on the sidewalk where the historic fountain once stood.
PWB sleuths have been working – to no avail, so far – to find the boosted bubbler or to identify the culprits, said Cuti, when asked for an update on the story in mid-January. If you can help with the search, call them at 503/823-6084.
---
Allison Brown of JLA Public Involvement spoke to a large group of interested residents at the Errol Heights Park's Community Advisory Committee meeting. (Photo by David F. Ashton)
Errol Heights Park's final improvement concepts presented
By DAVID F. ASHTON
For THE BEE
Property that was once a de-facto dump, and is now unimproved Errol Heights Park, is now even closer to fulfilling the Master Plan accepted by Portland Parks & Recreation (PP&R). The park property stretches between S.E. 45th and 52nd Avenues, in the Brentwood-Darlington neighborhood.
At the sixth meeting of the Errol Heights Park's Community Advisory Committee (CAC), held on November 14 at Sellwood's SMILE Station, and at an open house at Lane Middle School on December 1, both the CAC and community reviewed the "final park design concept", and provided feedback to the design team.
Nearly half of the 34 people at the CAC meeting were neighbors interested in the park's development.
"We're starting to 'dial in' the project, as it is coming together; we've moved from presenting schematics of options, to drawings – which give both CAC members and neighbors community more meaningful information on which to comment," remarked PP&R Landscape Architect/ Project Manager George Lozovoy, before the CAC meeting got underway.
Neighbors chime in
Among those attending the meeting was neighbor Gail Erickson, who said she lives at the edge of the park. "Because I, and several of my neighbors, would like to see it developed in a 'quiet' way, I am happy that they took out the idea for soccer fields," she said.
About the process of developing the park, Erickson commented, "I feel that neighbors' comments and concerns have actually been heard – including keeping the [community] garden in its present location, keeping some of the natural spaces, and seeing that it's more usable, but not over-utilized."
Gail Kiely, alternate Brentwood-Darlington Neighborhood Association liaison to the CAC, and also a member of the park's Master Plan Committee, said she found it of interest that the "peewee soccer field" had been eliminated. "This feature was one of the main reasons the Park's Master Plan was approved in 2005. And, while I agree our neighborhood needs a 'skate spot', this isn't the place; it would be better located in Brentwood Park or Harney Park – they're both approved for skate parks."
During the public comments, a neighbor asked about when S.E. Tenino Court is closed to traffic for the park, if emergency vehicles will still have access – and was assured by Lozovoy that they would indeed be able to come into the park when needed.
Due to existing the Water Bureau facilities in the right-of-way, this section of S.E. Tenino Court cannot be vacated, Lozovoy said. "PBOT is using the 'Portland in the Streets Program' to permit the closure; PP&R is currently collecting signatures confirming that people have been informed of the closure."
Portland Loos to be added
Those at the meeting learned that two "Portland Loo" public restrooms will be part of the park's new amenities, but will be closed from midnight until 5 a.m. every day.
With neighbor concerns about transients camping in the park, especially near the covered picnic shelters and areas, PP&R's approach is to make visibility and openness a goal to promote safety and discourage destructive behavior.
Project consultant Ryan Carlson of Mayer/Reed, Inc., showed – using illustrations – where a "spine trail" is planned to run along the upper part of the park, to be used by bicycles and pedestrians.
Further, Carlson remarked that an ADA trail will loop through the park, to provide an accessible way to explore it; additional trails will be connected to the ADA trail to connect park users to the woodland, and other experiences around the park.
Asked about the time-line of this project, Lozovoy told THE BEE, "The biggest hurdle will be Land Use Planning for the natural area; because it is an Environmental Zone, the area is delineated as a wetland. It will take some time to redo the wetland designation, working with the Oregon Department of State Lands and the US Army Corps of Engineers to obtain permits to do some of the trail improvements in that area."
The project is expected to be sent out for construction bids in the spring of 2020, Lozovoy said – adding, "so, it's a ways off."
---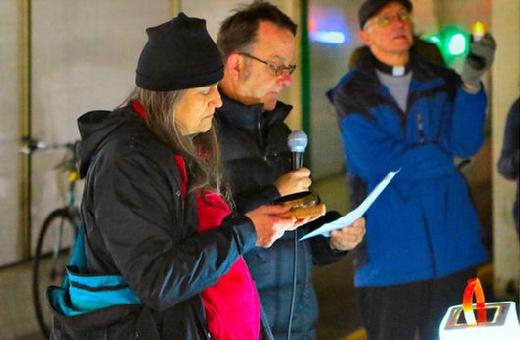 Ringing a bell as they alternated reading names of homeless people who have recently died in Portland were Alys Allwardt from Pilgrim Lutheran Church in Lents, and Paul Underwood, director of Operation Nightwatch. (Photo by David F. Ashton)
'Longest Night' vigil held at Foster Road shelter site
By DAVID F. ASHTON
For THE BEE
Although it won't even be open until later this year, the county's new shelter at 6144 S.E. Foster Road, near Holgate Boulevard, was the site of a vigil on December 21 – the Winter Solstice; the start of winter, and the longest night of the year.
Among those who walked over from St. Mark's Lutheran Church on Powell Boulevard at S.E. 51st Avenue to the rally point was Multnomah County Chair Deborah Kafoury.
"I'm here with people concerned about the homeless – [holding a vigil here,] where, this fall, we'll have 120 new beds that are sorely needed in our community; it's going to be great shelter," Kafoury told THE BEE.
"The vigil developed in response to a meeting held in December in which, in her opening remarks, Multnomah County District 3 Commissioner Vega Pederson talked about all communities, including those of faith, becoming involved in the homeless crisis," explained organizer Bonnie Beadles-Bohling. She's with a group called Southeast People of Faith.
"Those gathered here are naming and remembering [homeless] people who died on Portland's streets in the last year; and, at the same time, they're showing support of the Foster Road Shelter, and committing to collaborative care of our shared space," Beadles-Bohling said.
As many as 100 people, representing a dozen area churches and organizations, gathered in the parking lot – as two volunteers rang a bell, and read the names of homeless people who had died in Portland in the last year.
"What we hope will be the outcome of this, will be to build positive relationships between neighbors, housed and un-housed," explained Beadles-Bohling.
---
For reasons unknown, these three vehicles became entangled on Woodstock Boulevard in a rainstorm on January 16, and two wound up on the sidewalk. (Photo by David F. Ashton)
Violent Woodstock Boulevard three-car smashup in the rain
By DAVID F. ASHTON
For THE BEE
Officials are still trying to figure out just how three vehicles crashed, one badly, in a pounding rainstorm on Wednesday evening, January 16.
Four East Precinct cruisers were dispatched to what was described initially as an "injury accident" on S.E. Woodstock Boulevard just east of 55th, at 8:37 p.m. Woodstock Fire Station 25's Truck Company was also sent to the crash.
Responders found a Chevrolet Tracker mini SUV pushed across the north sidewalk, facing south; a Mitsubishi sedan, also on the sidewalk, facing north with a smashed passenger windshield and very heavy front end damage; and an Infiniti J30, its rear axle broken, pushed partway up over the curb.
According to an officer at the scene, it's believed that the Mitsubishi was westbound on Woodstock Boulevard when, for unknown reasons, it collided with the rear corner of the Infiniti, and then somehow smashed into the Chevy, turning it sideways.
"No one was medically transported as a result of this crash," PPB Public Information Officer Sergeant Brad Yakots told THE BEE. "We do not have any other information as of now." The investigation continues.
---
Here are CHS Senior Nora Burkharts-Meier, left, and Artichoke Music's Alexa MacDonald – shown at the second-Tuesday-evening monthly "Youth Open Mic" program at Artichoke. (Photo by Rita A. Leonard)
CHS Senior hosts 'open mic' program at Artichoke Music
By RITA A. LEONARD
For THE BEE
Sellwood resident Nora Burkharts-Meier, a Senior at Cleveland High School, has been playing classical piano since she was six years old. She has also been writing and singing songs since she was twelve, and she is planning to pursue BA degree in Music after graduating from CHS.
And, since last year, she has been the Master of Ceremonies at a Youth "Open Mic" program at Artichoke Music on Powell Boulevard to help showcase local student talent.
"At first, our program was at McMenamin's Barley Mill Pub on S.E. Hawthorne, but since that was kind of noisy we were pleased to make connections with Café Artichoke, at 2007 S.E. Powell Boulevard," she says. "It's also closer to CHS."
Nora made contact with Artichoke's Artistic Director, Alexa MacDonald, and the Youth Open Mic program has been held at Café Artichoke on the second Tuesday of every month since October, 6:30-9 p.m. "We've featured singers; composers on keyboard, guitar, and ukulele; and even some poetry, and stand-up comedy," she reveals.
MacDonald, Artichoke's Artistic Director for nearly two years, had also been working with PROWUS – a nonprofit that raises funds for students who want to take music lessons but can't afford them. "PROWUS ('Portland Rock On With Us') gives out scholarships twice a year, and helps coordinate the Youth Open Mic program," explains MacDonald.
The December program was a bit slim, since it was competing with Cleveland's Band and Choral Concerts in the same week, but Nora observed that the month prior there were over a dozen performers. "It's a great opportunity for students to practice performing on-stage, in front of an audience, learning the ins and outs of presentation, projection, and acoustics," she remarks.
Nora has been making connections with student musicians at Cleveland Hagh, and recently learned that she has been accepted for a "Sound Off" program in Seattle in 2019. "It's kind of like a 'Battle of the Bands' for performers under 21!
---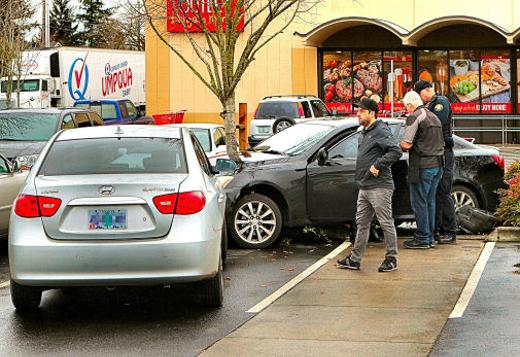 This Hyundai Elantra Blue was struck with enough force in the parking lot collision to move it sideways. The dog in the Hyundai was startled, but unhurt. (Photo by David F. Ashton)
'Pushing the wrong pedal' leads to Flavel Street crash
By DAVID F. ASHTON
For THE BEE
What was first reported as an injury auto accident, near S.E. 71st Avenue and Flavel on January 3 at 11:45 a.m., turned out instead to be a collision in the parking lot of the Brentwood-Darlington "Grocery Outlet Bargain Market" store.
An East Precinct officer at the scene told THE BEE that a woman driving a Lexus IS 250 had apparently pressed the accelerator, instead of the brake pedal, while parking – causing the car to drive up over a concrete parking barrier, across a walkway in the middle of the parking lot, and to collide with a parked car.
"Paramedics said the driver of the car was uninjured; the owner of the struck vehicle was shopping in the store, but his dog was in the car when the accident took place," the officer reported.
Happily, although startled, the animated dog appeared to be unhurt – once its owner had arrived back to provide reassurance after the frightening incident.
---
On S.E. 17th Avenue, officers cautiously approached this parked motor home, in which Marion County Sheriff's Office deputies had believed their wanted man was hiding. (Photo by David F. Ashton)
Police search in vain for wanted man in Westmoreland
By DAVID F. ASHTON
For THE BEE
Intermittently, a law enforcement action blocked S.E. 17th Avenue just north of Knight Street on Monday, January 14, starting at 1:03 p.m.
Some of the ten Portland Police officers at the scene were keeping an eye on the back of the property; others were talking with employees of the nearby Space Age gas station, and another person at the front door of the office there, and still others were gathering in the street.
A PPB sergeant at the scene told THE BEE that they were assisting in a Warrant Service for another agency. The large black SUV parked partly in the street, around which officers were gathering, belonged to the "Special Emergency Response Team", in which tactical tools are carried.
After some time, officers used a "loud-hailing" system to call out to the person – who was believed to be staying in a recreational vehicle, parked in a lot just north of the Space Age gas station and repair garage – to come outside.
With no response, officers slowly approached the vehicle to make entry. Apparently, nobody was inside. And eventually, by about 4:00 p.m., all police had cleared the scene.
"Officers were in the area searching for a person that the Marion County Sheriff's Office had probable cause to arrest," reported Portland Police spokesperson Sergeant Brad Yakots, after the incident.
"Officers cleared the scene after the search yielded nothing – but there is not believed to be a danger to the public involving that person. We have no other information."
---
---
Comments? News tips? Click here to e-mail us!

Note to readers: At some point in the future, this, our original Internet website, will probably be replaced at this web address by our new website, as part of the Community Newspapers group. At that time, you will still be able to access this older, but still operative, website, if you save this address: www.southeastPDXnews.com. Right now, it leads you to our new website. Eventually, it will lead you back to this old one! Both will be up to date and current, and you'll still have your choice of which one to visit!

READY TO MOVE ON TO THE EDITORIAL, AND THE "LETTERS TO THE EDITOR", ON PAGE 3? CLICK HERE!