More stories from May's issue of THE BEE!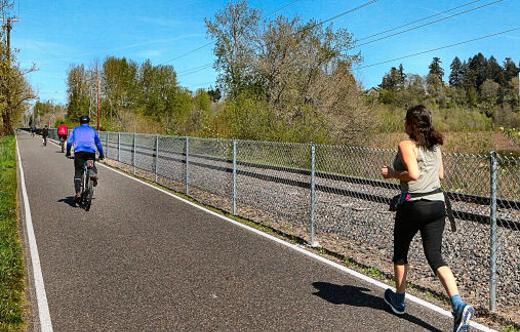 Instead of a narrowed Springwater Corridor Trail, to allow contractors to begin building the "Oaks Bottom Viewing Platform Project", it's still open for runners and bicyclists to enjoy the beautiful spring weather – maintaining a proper "social distance". (Photo by David F. Ashton)
Construction postponed for Springwater Corridor Trail viewing area
By DAVID F. ASHTON
For THE BEE
The "Oaks Bottom Viewing Platform Project" – the last remaining construction work of the 2018 "Oaks Bottom Culvert Replacement Project" – was slated to start the first of April.
The City of Portland Environmental Services (BES) and Portland Parks & Recreation have been collaborating on the job, which would result in a viewing platform next to the Springwater Corridor Trail overlooking the Oaks Bottom Wildlife Refuge wetland, adjacent to Oaks Amusement Park.
But, on April 6, the day the construction was scheduled to begin, The Bureau announced that the work would be indefinitely postponed.
"At this time, BES is proceeding with construction projects that are critical to protect public health – such as sewer and stormwater infrastructure repairs and upgrades," explained Public Information Officer Diane Dulken.
"The viewing platform, while an important and final part of the Oaks Bottom Restoration Project, is NOT being cancelled – but it is being postponed, as we focus on projects critical to public health," Dulken told THE BEE. When it resumes, we'll let you know.
---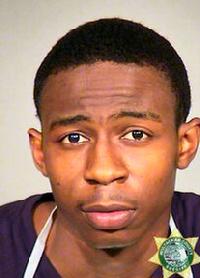 Although charged with multiple felonies, stemming from this and other incidents, 18-year-old Ahmed Abdi Kassim was set free by a judge. (MCDC booking photo)
Gunfire erupts in Foster-Powell; triggers massive search
By DAVID F. ASHTON
For THE BEE
Gunmen shooting up the Foster-Powell neighborhood brought ten East Precinct cruisers into the area on Monday, April 6, at 6:58 p.m.
Although officers were first dispatched to the south end of Knott Park at S.E. 66th Avenue, officers and investigators from PPB's Gun Violence Reduction Team (GVRT) were actually finding evidence along S.E. Boise Street, just east of 66th Avenue, a block south of the park.
Neighbor Jack Kopf told THE BEE he'd heard two volleys of five or six shots, sounding like they were coming from different guns. "Maybe someone was trying to ambush someone else; it sounded like some kind of a shootout," Kopf exclaimed.
"There was evidence of a shooting, including damage to two occupied residences and a vehicle; there are no reported known injuries related to this shooting," later reported PPB Public Information Officer Lt. Tina Jones. "Investigators were able to develop information about a vehicle involved in the shooting – it was described as a gold Nissan Maxima."
As a result, GVRT officers were out the following day, April 7, looking for the Nissan implicated in the investigation – and they spotted it, about thirty blocks west of the previous night's incident.
Initially the Maxima fled, and a pursuit followed. It eventually stopped and six suspects ran from the car in all directions. Officers found ammunition inside the car.
"Due to all of these factors, it was believed there was a likelihood those connected with the vehicle could be armed and dangerous – which prompted a neighborhood lockdown and block search by the PPB Special Enforcement Reaction Team (SERT) and K-9 teams," Jones reported the next day.
Police locked down part of the Richmond neighborhood, a little northeast of Cleveland High School – from S.E. 31st to 35th Avenues; and from Tibbetts to Brooklyn Streets.
"All six persons were apprehended after an hours-long block search, and their identities were verified; three of those apprehended were identified and released," Jones said. "Investigators are looking into whether or not they are connected with any open investigations."
Two of the involved subjects were booked into the Multnomah County Detention Center (MCDC). The driver of the car, 18-year-old Ahmed Abdi Kassim, was booked at 11:55 p.m. on April 7 on charges of Attempt Elude by Vehicle, a Class C Felony.
"Kassim was also recently charged in multiple other incidents of 'Felony Elude' from the police; as well as Unlawful Possession of a Loaded Firearm in Public, and Unlawful Possession of a Firearm," Jones said.
Notwithstanding the current list of criminal charges against him, suspect Kassim spent only a few hours in the MCDC. A judge released him on April 8 on a "Court Ordered Release".
Although 19 year-old Rico Cabrera was charged with Interfering with a Police Officer and booked into the MCDC, THE BEE found no MCDC booking record for this suspect.
Yet another vehicle occupant, 20-year-old Johnathan Miranda-Jimenez, was turned over to Marion County Deputies, related to a shooting investigation in their jurisdiction, for which he had been charged criminally.
---
This yard display in Ardenwald in April may not have made up for all the Easter Egg Hunt cancellations this year, but it surely brought a smile to those driving by. (Photo by Rita A. Leonard)
'Easter horse' seeks to make up for lost egg hunts this year
By RITA A. LEONARD
For THE BEE
Those who have driven on the east side of S.E. McLoughlin Boulevard, up Bybee to the three-way intersection at 32nd Avenue in the Ardenwald neighborhood, and then driven south past Providence Milwaukie Hospital to S.E. Harrison Street in Milwaukie, have surely seen the horse statue peering over a fence in a yard on the west side of 32nd.
And if you've driven it often, you know that horse has been decked out in seasonal attire the year 'round for quite a long time now, to entertain passers-by.
This April, the stalwart horse statue became a festive Easter horse, complete with bunny ears and a basket, as the owners of the lot sought to make up for all the Easter Egg hunts that were cancelled this year.
---
Farmers and volunteers expect 2020 to be a great season, says Moreland Farmers Market Manager Lannie Kali. (David F. Ashton)
Moreland Farmers Market readies for May 20 opening
By DAVID F. ASHTON
For THE BEE
By being considered to be an "essential service", the Moreland Farmers Market will open for their 2020 season on May 20 – and, to its good fortune, still at its recent location, across from Wilhelm's Portland Memorial Funeral Home on S.E. 14th Avenue, just north of Bybee Boulevard.
"We'll still be opening as usual at 2 p.m., but we're closing an hour earlier, at 6 p.m., for the time being," explained the Market Manager, Lannie Kali, as she visited the site in late April.
New this year is a "pre-ordering system", Kali told THE BEE. "With this system, shoppers can order [in advance] online. They'll sign on to our website, look at what vegetables, fruits, and foods are available on market day, and order them and pay online. Then, they just pull up to the Market [when it's open on Wednesdays] and receive their order, at curbside.
"We're expecting robust markets this year, because we're expecting to have more produce than what can be found in most grocery stores, all of it grown by local farmers," Kali commented.
However, past customers will find modifications made to the Moreland Market's layout, intended to accommodate "social distancing" for those who do visit in person. And shoppers are expected to maintain safe distances from each other, as they "shop with their eyes", with limited touching of the produce.
"But, the truth is, a farmers market is the safest way to shop for fresh foods; it's likely your farmers are the only ones who've touched the products!" Kali said. "Although the world is different now, our farmers have been preparing for the season; and, due to good weather and the rain, they expect huge bounties of fresh food which they are excited to bring to our community."
For information on the market, to sign up for their e-mailed newsletter, or to order your produce once they open, go online – http://www.morelandfarmersmarket.org
---
Nicki Passarella (pictured) – co-owner and operator of Amica Farm, with business partner Irina Schabram – will be a vendor at the Woodstock Farmers Market for their third year. Their East Gresham farm is one-half acre of land obtained through East Multnomah Soil and Water Conservation District's "Headwaters Farm Incubator Program". (Photo by Jessica Curtis)
'Modified' Woodstock Farmers Market to open June 7th
By ELIZABETH USSHER GROFF
For THE BEE
Back in 2010, the Woodstock Farmers Market was started with the dedicated efforts of the former owners of Papaccino's Coffee, Sean and Rachelle Daugherty – along with a handful of other neighbors from Woodstock and adjoining neighborhoods.
Emily Murnen, a Mt. Scott-Arleta resident, stepped up in January of that year to be Market Manager – and the Market is fortunate to still have her in that role, ten years later!
The current Market Board President, Karena Gruber held a virtual "ZOOM" online meeting on April 13th, so that the all-volunteer board market organizers could discuss plans for an upcoming summer in which the Market will have to be physically modified to allow for social distancing, and practicing other precautions for keeping shoppers safe from spreading the COVID-19 coronavirus.
After that meeting, Murnen commented, "Our focus [this year] is on keeping everyone safe, while connecting our community with the amazing vendors who grow and produce our food."
Market Treasurer Peggy McCafferty e-mailed plans for funding that begins immediately, and for future market protocols."Almost all of our fundraising comes from small neighborhood businesses, many of which are currently closed for the duration of the stay-at-home order. We're also having to move the vendor booths farther apart for safety, which means we will be losing about one third of our 'stall fee' income, that allows us to pay for things like port-a-potties, hand-washing stations, garbage, signage, and one or two on-site seasonal staff members."
She mentioned that all Board Members make their own donation at the start of the season as a way of helping to financially support the market, but that will not be nearly enough this year."So we've started a 'GoFundMe' to ask for help keeping the market, and our vendors, going this year, so that we can come back full force – kids! music! – next season." The online link for this public contribution opportunity is – https://www.gofundme.com/f/save-the-woodstock-farmers-market
When the Market opens on Sunday, June 7th, shoppers will be encouraged – if possible – to pre-order online, ahead of time, from their favorite vendors. There will be more details about all market changes and expectations, including online ordering, on the Woodstock Farmers Market website, and in another article in the June issue of THE BEE.
Murnen reported, after the April 13th virtual meeting, "There will be a lot more coordination to help vendors and shoppers navigate the new online ordering – and there will also be a lot of coordination during the market, in order to enact the social-distancing measures needed to keep everyone safe."
Market Board Members explain that ordering online, when possible, will limit the time people will have to be physically at the market. While in line, people will be asked to touch only what they are going to buy, and try to limit their time in the market to no more than thirty minutes.
In addition, they are asking for only ONE family member to shop, which means children should stay at home, or somewhere else safe, if possible. They realize that this could be tough for families, and certainly a sad thing, given the fun that children and children's activities add to the market – but it is safest in this time of COVID-19.
So the Woodstock Farmers Market will be simplified this year – no music, either – but it will still be a great way to get fresh, healthful produce throughout the summer.McCafferty added that vendors will be asked to pre-package their produce, for the least handling possible. That way, for example, instead of your being able to pick out a few individual yellow potatoes, you'll have the option of buying a small, medium, or large bag of potatoes from a vendor.
Market Board Members emphasize that the Market absolutely does need to take place this summer – not only for the benefit of shoppers, but also for the small vendors who rely on the Market for their primary source of income.
McCafferty reflects, "And we especially need to be there for our low-income SNAP shoppers, who rely on our matching program to keep fresh fruits and vegetables on their family tables during this unprecedented time."
The market website, for information and eventually for ordering, is –

http://www.woodstockmarketpdx.com
---
Behind this commercial kitchen at McLoughlin at S.E. 18th – the location of two walk-up restaurants – thieves tried to steal a utility trailer in the early morning darkness of April 10, but were caught before they could leave. (Photo by David F. Ashton)
Charged with felony burglary, the man at left – 45 year-old Ronald Mitchell – made bail and was released from jail. And, even though he was charged with three felonies and a misdemeanor, and also had a "county hold", the burglary suspect at right – 36 year-old Donald Gary Cornwell – was not even required by the judge to post bail. (MCDC booking photos)
Cops bust Westmoreland trailer thieves
By DAVID F. ASHTON
For THE BEE
Behind the "365 Commissary Kitchen" at 5145 S.E. McLoughlin Boulevard, at 18th – which is also home to two walk-up restaurants, remaining open during the COVID-19 restrictions, "MAC'D" and "Romero's Kitchen" – in the early hours of Friday, April 10, two men spied a utility trailer, and decided to steal it.
An extensive security system they didn't know about alerted the owner of the kitchen and the property that intruders were there, and up to no good. He called 9-1-1 to report the suspicious activity, resulting in Central Precinct offers coming by on the report of a "burglary in progress".
The business owner was watching real-time video security images as the police arrived, and updating the 9-1-1 dispatcher with a description of the suspects and their actions.
Officers discovered that the two suspects had attached the trailer to their truck and were on their way out to S.E. 18th Avenue -- and stopped them and arrested them, returning the trailer to its owner.
"As a small business person, it's really discouraging when people steal from you," the owner, who asked not to be identified, told THE BEE later that day. "I'm thankful that the police got here in time to catch them."
45 year-old Ronald Mitchell and 36 year-old Donald Gary Cornwell were both booked into the Multnomah County Detention Center (MCDC) at 5:30 a.m. the same morning – both, on charges of Burglary in the Second Degree, a Class C Felony.
At his arraignment, Cornwell was additionally charged with two Class A Felony counts: Unauthorized Use of a Motor Vehicle, Possession of a Stolen Motor Vehicle, a Misdemeanor charge of Trespass in the Second Degree, plus a "County Hold".
On April 12, Mitchell made bail and was released from custody.
Even with the felony charges, and the "County Hold", Cornwell was set free by a judge on April 13, without paying any bail whatsoever. The reason given was, "Released on Own Recognizance".
---
Although many parking lot gates and access roads are closed, neighborhood PP&R parks are still open to nearby residents who practice "social distancing". (Photo by David F. Ashton)
With 'social distancing', you still can visit a Portland Park
By DAVID F. ASHTON
For THE BEE
With businesses and schools closed to help keep the COVID-19 coronavirus from spreading, and with the sunny spring days upon us, many Inner Southeast Portland residents have taken to visiting local city parks.
On March 26, Portland Parks & Recreation (PP&R) management began restricting some use of parks – including locking the gates to parking lots at the Crystal Springs Rhododendron Garden, Sellwood Park, and Sellwood Riverfront Park.
The locked gates didn't rule out people going to a park, however. Along S.E. Oaks Park Way, as many as 30 vehicles were illegally parked on the narrow shoulder – but people in Sellwood Riverfront Park appeared to be maintaining appropriate social distance from each other, which is the main concern of PP&R, we learn.
"The gate closures will continue until further notice; but these parks remain open to those walking, rolling, or strolling," confirmed Portland Parks and Recreation spokesperson Mark Ross.
Not at all closed was the parking lot in front of the Eastmoreland Golf Course, which on several occasions has been nearly filled with vehicles, as golfers were taking to the links. Although Eastmoreland's Clubhouse is closed, golfers were able to check in at the window on the north side of the building, at the driving range.
Ross outlined the changes now in effect at PP&R parks, including:
Locking gates and removing nets at tennis courts, where needed

Installing "Closed" barrier tape at playgrounds

Locking and flipping over soccer field goalposts

Turning off decorative fountains and splash pads
"Park Rangers are informing the public on safe physical distancing in high traffic areas, and addressing issues as they arise," Ross said.
"And, PP&R has redeployed some employees to park properties serving as 'Park Greeters'," he added. "While maintaining at least six feet of physical distance, Park Greeters educate the public about how to use their parks system safely, and to explain what facilities are open or closed."
"Park Greeters" won't be in every park every day, Ross told THE BEE. "They rotate among parks, and will prioritize the parks where there have been issues with social distancing, or with using facilities inappropriately."
For updates about city park closures and other information, visit this PP&R webpage – http://www.portlandoregon.gov/parks/covid-19
---
Both as a fun thing to do on April 1st – and as a statement on development, as their home is now squeezed between two large construction projects – the Gazin family in Sellwood fastened balloons to their rooftop, as in the animated Pixar movie "Up", although not enough of them to carry the house up, up, and away. (Photo by David F. Ashton)
Balloons tied to Sellwood house give neighbors 'a lift'
By DAVID F. ASHTON
For THE BEE
Inspired by the 2009 Pixar animated movie "Up", released by Walt Disney Pictures – and perhaps by the fact that it was April Fool's Day, too – a Sellwood house just west of the New Seasons Market parking lot on S.E. Tenino Street was topped by a sizeable bunch of colorful balloons on April 1.
"Our house looks like the 'Up' house – and, just like that one, we are dwarfed by construction on each side," remarked Jean Lea Gazin, about the new decoration.
"It seems like a joyful statement of persistence in the face of development, as our 1907 Sellwood home will soon be surrounded by lots of new neighbors, who we hope like our chickens. The chickens, 'Honey', 'Shadow', and 'Boots' really like balloons, and this was all their idea," Gazin assured THE BEE.
Pressed about such poultry balloon ideation, Gazin said the seed of the idea actually came from seeing balloons on a similar residence, called the Figo house, near Portland State University. "Our kids, Willa and Lucian, would probably like our house to float up into the air, so we could all go for a ride and see the world from above – especially right now.
"The reaction has been great; lots of people coming and going from New Seasons have stopped, smiled, chatted (from a social distance), and taken pictures – it seems like a good time to bring a little joy to the world!"
---
With the damaged Nissan sedan loaded up to be taken away, a tow truck driver swept up broken glass and debris, left on the street after the roll-over one-car crash just east of McLoughlin Boulevard. (Photo by David F. Ashton)
Car flips over, turning east from McLoughlin Blvd
By DAVID F. ASHTON
For THE BEE
Passing drivers who beheld a wrecked blue Nissan four-door sedan flipped onto its roof – on Friday mid-afternoon, April 3 – called 9-1-1 to report what callers thought must surely have been a "serious injury" accident.

It had happened on S.E. Woodward Street, just east of McLoughlin Boulevard.
Central Precinct officers and Portland Fire & Rescue crews were dispatched to the wreck at 2:54 p.m. – and discovered that its occupants had crawled out from under the damaged car.
An "ODOT Response" driver said he'd been dispatched to the crash because the side street on which the accident occurred is the "feeder" from northbound McLoughlin Boulevard to the turnaround that takes motorists over to turn westbound on the Ross Island Bridge.
"It appeared as if the sports car took the exit a bit fast, overcorrected, and jumped the curb, causing it to flip over onto its top," the ODOT driver told THE BEE. "Using my truck, I pulled the car upright, and dragged it out of the main roadway."
As it turned out, there'd been no injuries in the spectacular crash – and a Central Precinct officer told us that no citations had been issued.
---
This is Creston Park playground as it was in mid-April, the access to which is at S.E. 45th Avenue at Francis Street. Its upgrade is underway – with ADA and safety enhancements, as well as new play equipment, planned. (Photo by Rita A. Leonard)
Creston Park Playground construction underway
By RITA A. LEONARD
For THE BEE
Despite this time of "social distancing", city crews are still working in parks with funding from construction bonds. In mid-April construction began at Creston Park on a new and more accessible playground.

The intent is to repair the playground equipment deemed unsafe, and expand and enhance the play area by adding new equipment for kids of all abilities, and for younger children under the age of 5.
As reported in THE BEE at the time, its design options were aired at a public meeting in May of 2018. Now, two years later, new features planned include some rubberized safety surfacing, a variety of swings and climbing mounds, a 10-foot-tall "geodome", and a natural play area. ADA-accessible features will be installed for picnic tables, park benches, and a new drinking fountain. A new ADA-accessible path will lead from the large parking lot near S.E. 43rd Avenue up to the playground.
A portion of the dog off-leash area may be used for construction staging, and will be fenced off for safety. Most of the off-leash area will remain open for use, although people exhibiting symptoms of any illness should stay at home. Restrooms near the playground and public water fountains will be closed. Other entrances of the park should remain open for use, except for those affected by state limitations concerning the COVID-19 coronavirus.
Construction hours are on weekdays between 7 a.m. and 6 p.m., with the project intended to be complete by the fall. Creston Park should remain open for walking, hiking, biking, running, and other activities which permit maintaining at least six feet of social distancing. It's recommended that visitors wash hands before and after visiting the park. For more information, call Maija Spencer at PP&R, 503/823-5593.
---
Standing at a safe "social distance" from each other, the Easter Bunny joins Hope City Church Lead Pastor Brian Becker as the "Drive-through Easter Egg Hunt" begins. (Photo by David F. Ashton)
'Egg Drop' group hosts 'Drive-Thru Easter Egg Hunt'
By DAVID F. ASHTON
For THE BEE
Although Hope City Church couldn't host what would have been their annual "Helicopter Easter Egg Drop" in Brentwood Park this year, the congregation didn't give up on providing an activity for the community – and managed to pull off the only Easter Egg Hunt meeting social-distancing requirements that we know of this year in Inner Southeast.
"We were sad we had to cancel our helicopter egg drop in the Brentwood-Darlington neighborhood, but we still wanted to give a safe option for families," said Hope City Church Lead Pastor Brian Becker, in the parking lot of their new campus, on the day before Easter, April 11.
"So, we created the 'Drive-Through Easter Egg Hunt' – where the family stays in their car, and drives through our parking lot, looking for the wooden decorated eggs that are located throughout the property – trying to find the ten 'special' eggs, out of the dozens that are there."
On April 11, helping visitors in cars on their "hunt" was a guide offered for printing out on the church's Facebook page.
"We do this because we love our community – and we know families are looking for safe and fun things to do on Easter weekend because, as followers of Jesus Christ, we know that we are here to love and care for people, with no strings attached," Pastor Becker explained. "This is a way we can make a place where people can experience hope; some light in dark times."
The activity was open both Saturday and Sunday, and hundreds showed up to participate in cars to enjoy this novel family Easter event. Find out more about Hope City Church online – https://www.hopecitypdx.com
---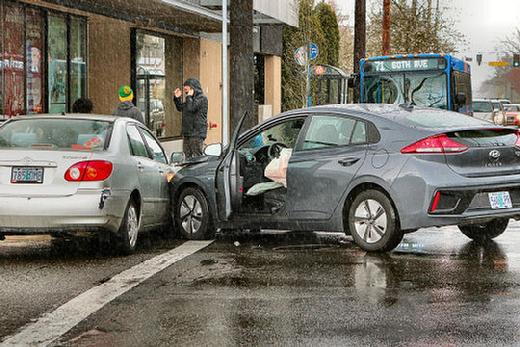 It appeared that that poor visibility, due to a sudden drenching downpour, may have been what led to this smashup at S.E. 52nd and Holgate on April 2. (Photo by David F. Ashton)
Heavy rain blamed for Woodstock wreck
By DAVID F. ASHTON
For THE BEE
Emergency first-responders arrived at the intersection of S.E. 52nd Avenue and Holgate Boulevard at 3:16 p.m. on Sunday, April 2, when two cars collided there.
Wedged together in the corner of the intersection were a silver Toyota Corolla LE and a Hyundai "Ioniq" hybrid. Arriving medical personnel were waved off; occupants of both vehicles proved to be uninjured, outside their cars and standing in a sudden heavy downpour.
Due to the cloudburst, no one in the area witnessed the crash, which had been severe enough to deploy the Hyundai's airbag system. The drivers suggested the rain had been a factor in the crash.
"We're helping the drivers exchange information; there were no independent witnesses, so no citations will be issued," a Portland Police Bureau officer told THE BEE at the scene. Since the intersection is signalized, presumably one of the drivers was at fault, but the insurance companies involved will have to figure that out.
---
At the Brentwood Darlington Community Center, Woodmere Elementary School SUN Site Coordinator Mackenzie Taylor readied to help distribute food to Woodmere Elementary School families. (Photo by David F. Ashton)
Nonprofit keeps food flowing to Woodmere Elementary's families
By DAVID F. ASHTON
For THE BEE
During the shutdown of schools due to COVID-19 coronavirus concerns, a nonprofit organization and volunteers are making sure families in need at Woodmere Elementary School, in the Brentwood-Darlington neighborhood, still have a supply of healthy food.
The food distribution by nonprofit Impact NW, which also operates the Woodmere SUN site, has been taking place at the Brentwood Darlington Community Center, 7211 S.E. 62nd Avenue.
"We have 56 families at Woodmere that are part of our 'Backpack Program' – in which we provide nonperishable food for students to take home every week, and which includes some fresh food donated by Imperfect Produce," Mackenzie Taylor, Woodmere's SUN Site coordinator, told THE BEE.
When school was in session, they'd be sending food home on Fridays, "To help families with food insecurity, over the weekend. But now, given these unforeseen circumstances, we're doing this every Tuesday – and also getting help from Latino Network, which helps distribute it on Wednesdays," Taylor said.
With the nice weather, they portioned out the food for each family in sections, along the sidewalk, making it easy to "social distance" while it is picked up.
"By the way, 'SUN' stands for 'Schools Uniting Neighbors'; in this case, we're helping unite the neighbors, even though their children can't attend school," Taylor remarked.
For more information on Impact NW, visit their website – https://www.impactnw.org
---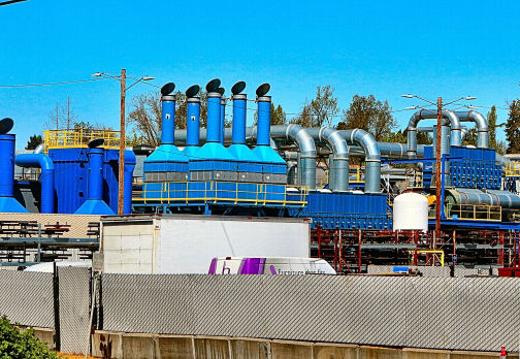 These air filtration systems, at the Precision Castparts Corporation Structurals Large Parts Campus – some of them recently updated – seem to be working effectively, according to the DEQ. (Photo by David F. Ashton)
DEQ holds 'virtual meeting' on Precision Castparts plant
By DAVID F. ASHTON
For THE BEE
Originally, the Oregon Department of Environmental Quality (ODEQ) had slated the evening of March 18 for a public meeting about community concerns centering on the Precision Castparts Corporation Structurals Large Parts Campus (PCCS) plant on S.E. Johnson Creek Boulevard.

Given the Governor's current ban on public meetings, it was moved online. Most of the results announced there seemed to be reassuring about pollution concerns.
The topics presented during the meeting were wide ranging, including the results from the ambient air toxics monitor at S.E. 45th Avenue and Harney Drive; the status of the facility's permit; and a report from "Cleaner Air Oregon" representatives.
Altogether, some fifty PowerPoint slides were used to illustrate the four topic areas:
Public Health Assessment

Statewide Air Toxics Summary Report

Cleaner Air Oregon status

Air Quality Permit status
Todd Hudson, a toxicologist from the Oregon Health Authority, presented outlines of studies which included DEQ monitoring; PCCS monitoring by an environmental consulting firm; and a Portland State University STAR Lab project, which measured metals in residential areas near the facility, and concluded there has been "no impact to health" in air, soil, surface water, sediment, and even the crayfish nearby.
The caveat was "that there is insufficient information about historical air emissions, prior to installation of air control devices."
Next, ODEQ's air quality studies of ambient air samples compared annual averages to benchmarks [health-based goals] – and typical levels that were measured "showed no air toxics at levels that would pose an immediate health risk."
However, seven air toxics were measured above "health-based goals" at all locations measured around the facility. The paradox, though, was that levels of Arsenic, Benzene, Carbon tetrachloride, Ethylbenzene (primarily from vehicle exhaust), Naphthalene, Acetaldehyde, and Formaldehyde were each found to be at lower levels near the plant than in the average measurements taken across the city, making sources unclear.
Then, representatives of the "Cleaner Air Oregon" (CAO) rulemaking process showed slides detailing the numerous steps to be taken before a new permit could be issued to PCCS for the facility.
A discussion of "Air Quality Permit requirements" came next. Charts and graphs showed the limits of various pollutants, including annual plant site emission limits, for:
Particulate Matter

Nitrogen Oxides

Carbon Monoxide

Sulfur Oxides

Volatile Organic Compounds

Single and Combined Hazardous Air Pollutants
Air quality inspections, from 2010 through the most recent on December 17, 2019, showed "no violations observed", when tested by a third-party.
Neighbors chime in
After the meeting, Brentwood-Darlington Neighborhood Association Board Member Pam Hodge, who has been following the issue, commented on the meeting.
"Neighbors are skeptical of OHA/DEQ messaging that 'everything is fine', given DEQ's history of lax regulatory enforcement; and, we're wondering why PCCS has been allowed to continue to operate on an air quality permit that expired in 2012," Hodge told THE BEE. "We are hopeful that the Cleaner Air Oregon process will result in closer scrutiny of PCCS emissions, with robust public engagement at every stage,"
Comments from Precision Castparts
"It's true, the agencies covered a lot of ground during the meeting," remarked Precision Castparts Corporation Corporate Communications Director David Dugan.
"First, we are pleased that the Oregon Health Authority's Public Health Assessment recognizes the [pollution] controls in place at our Large Parts Campus, and have concluded that PCC Structurals' operations are unlikely to be harmful to the health of the community.
"We have been taking, and continue to take very seriously, our commitment to operate in a safe and responsible manner," Dugan told THE BEE. "We're looking forward to moving forward within the new program, and to the issuance of a new air permit."
---
St. Agatha Catholic School 4th grade teacher Laurie Johnsen provides a math lesson via live video conference with her students. (Contributed photo)
Kids lead the way in 'remote learning' at area Catholic schools
By DAVID F. ASHTON
For THE BEE
About a month before Portland Public Schools implemented a "distance learning" program they call "PPS-HD" on April 13, other Inner Southeast Portland Catholic schools had already been teaching students remotely.
For example, in addition to Holy Family Catholic School in Eastmoreland – as reported in the April issue of THE BEE – Sellwood's St. Agatha Catholic School was also starting up a remote learning program at the same time as Holy Family was, in mid-March.
"Since we began our distance learning on March 16th, it's been truly wonderful to see the parents, staff, and students all jump in with both feet, into this unprecedented circumstance, and support each other through it," said St. Agatha Catholic School Principal Chris Harris.
"Our goal continues to be providing education to our students, while giving guidance and support to our families as they transition to this 'new normal', away from the school," Harris told THE BEE.
They prepared for the possibility of a school closure by sending students and teachers home with materials, and provided an opportunity for parents that needed additional online devices to come to a "drive through" at the campus to get Chromebook laptop computers from Google for home learning.
"Working from their homes, teachers provide learning opportunities, class meetings, and instruction, using video conferencing," Harris noted. "And additional resources are provided via 'google classroom', where students can submit assignments through that platform."
Adding a personal touch, teachers provide feedback and support for families online, with daily video conferencing involving the students – and also offer "virtual office hours" where they can respond to e-mail and phone calls, or video conference with students and parents to answer questions and provide guidance.
"Even our preschool is participating; our team does 'morning circle time' (which includes stories, calendar, numbers/letters instruction, music and dance, and more) over video conference – it's interactive, and helps with social opportunities for the children and advances their kindergarten readiness," Harris said.
They've opted for a four-day schedule of structured lessons, and Fridays have been less structured days to catch up for those that need it, extend for those that are ready for another challenge, and for teachers to have time to engage in professional development on these new platforms and with each other to support student learning.
"It's been difficult on everyone, but we have a strong community committed to the academic, physical, social emotional, and spiritual well-being of each of our families; and, that bond has really helped to carry us through," Harris said.
Learn more about St. Agatha Catholic School online – https://www.stagathaschoolpdx.us
Meantime, Holy Family Catholic School Principal Joe Galati tells THE BEE their program is still going well. "I am so proud of our teachers, our students and our parents for their incredible efforts with digital learning. We are in the most extreme circumstances; and yet, I am amazed at the level of student engagement, even from a distant-learning situation.

"Now, weeks in, as a school, they are continuing to excel – making me proud of our students!"
---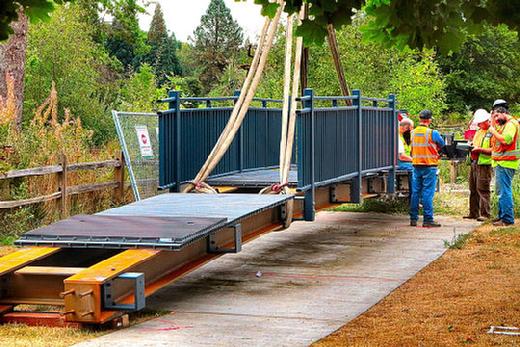 Before the summer is over, people visiting Westmoreland Park will be able to cross Crystal Spring Creek inside the park, via this new footbridge. (Illustration courtesy of PP&R)
Westmoreland Park footbridge construction begins in May
By DAVID F. ASHTON
For THE BEE
After visitors started bypassing the barricades closing off the rickety wooden footbridge inside Westmoreland Park, once located just off the northern tip of the nature-based play area, Portland Parks & Recreation removed that crossing over Crystal Spring Creek altogether, back in 2018.
"PP&R will begin building a new bridge in May at that same location, as part of the Westmoreland Park Master Plan," revealed Barbara Hart, one of the Bureau's Community Engagement staff members.
The new pedestrian crossing will be safer and more accessible for park visitors. And, it's designed with a longer bridge span to improve habitat conditions and contribute to stream restoration efforts.
"The new bridge features low maintenance long-lasting materials, and will reflect other design elements in the park," Hart told THE BEE in mid-April.
The first work that visitors will see is wire fencing will surround the construction area of the project, which is slated to open this summer. Behind it, the bridge footings will be installed and the access path will be repaired, prior work beginning on the new bridge itself.
Funding for this project comes from the Parks & Recreation Capital Renovation Program.
---
Facing multiple felony charges from the incident involving his apprehension is 32-year-old Joshua Kenneth Jame Derrick. (MCDC booking photo)
Wanted felon arrested in Foster-Powell with guns, drugs, stolen car
By DAVID F. ASHTON
For THE BEE
An investigation by the Portland Police Bureau's East Precinct Neighborhood Response Team (NRT) led to the arrest of a wanted fugitive on Thursday afternoon, April 16, in the Foster-Powell neighborhood.
"The investigation began around noon when members of the NRT received information about a wanted subject in the area of S.E. 69th Avenue and Powell Boulevard," said police spokesperson Officer Carlos Ibarra.
The suspect, identified as 32-year-old Joshua Kenneth Jame Derrick, was wanted for multiple outstanding felony warrants, as well as for pending criminal charges related to eluding police.
The NRT brought in members of the East Precinct Street Crimes Unit and Central Precinct NRT officers, as well as a K-9 team, to take Derrick into custody. "Officers observed Derrick arrive at the location in a stolen vehicle; he attempted to flee on foot, but was ultimately taken into custody," Ibarra said.
It was fortunate that a large contingent of police were on hand – Derrick had a loaded handgun in his waistband; and officers also recovered approximately 28 grams of methamphetamine.
Derrick was booked into the Multnomah County Detention Center at 4:45 p.m. that afternoon on one count of Felon in Possession of a Firearm; Delivery of a Controlled Substance; Possession of a Controlled Substance; Unauthorized Use of a Motor Vehicle; and outstanding felony warrants related to identity theft.
At his arraignment Derrick learned that, while a Fugitive warrant was dismissed, he'd be facing the five other felony charges. His combined bail was set at $65,000, and Derrick remains a resident of the MCDC.
---
---
Comments? News tips? Click here to e-mail us!

Note to readers: At some point in the future, this, our original Internet website, will probably be replaced at this web address by our new website, as part of the Community Newspapers group. At that time, you will still be able to access this older, but still operative, website, if you save this address: www.southeastPDXnews.com. Right now, it leads you to our new website. Eventually, it will lead you back to this old one! Both will be up to date and current, and you'll still have your choice of which one to visit!

READY TO MOVE ON TO THE EDITORIAL, AND THE "LETTERS TO THE EDITOR", ON PAGE 3? CLICK HERE!