More stories from January's issue of THE BEE!
With "Holiday Express" excursion train rides already cancelled this year, the Oregon Rail Heritage Center had hoped to open mid-December as "Santa's Enginehouse". Here, you see the volunteers decorating for their festive event. But, Multnomah County's "Extreme Risk" designation shut it down. (Photo by David F. Ashton)
'Santa's Enginehouse' blocked as a substitute for 'Holiday Express'
By DAVID F. ASHTON
For THE BEE
Even those Inner Southeast Portland neighbors who've never ridden on the "Holiday Express" excursion trains, traveling through Oaks Bottom each December between Oaks Amusement Park and OMSI for the past 15 years, have heard the nostalgic sound of the historic steam locomotive's whistle as it travels by the Willamette River.
But, due to COVID-19 coronavirus concerns and regulations, these merry holiday rides – usually starting on Thanksgiving Day weekend, and running through mid-December – had to be cancelled by organizers from the Oregon Rail Heritage Foundation (ORHF), across from OMSI, and a bit north of the Ross Island Bridge.
But they came up with another idea – a new Holiday attraction that they called "Santa's Enginehouse". They spent weeks preparing for it – until Multnomah County's "Extreme Risk" designation shut that down, as well.
"In April, although no one could clearly forecast whether COVID-19 would still be around seven months later, we decided we couldn't risk all the costs of preparing for the 'Holiday Express', if in the end the virus shut it all down," explained ORHF Board Member Jan Schaeffer to THE BEE. "And, we, ourselves, had trouble imagining our families feeling comfortable riding with hundreds of strangers inside the closed rail cars for an hour."
But, hosting an event in the spacious Oregon Rail Heritage Center's Enginehouse, with 20-foot-high ceilings, big fans, and big doors for good ventilation, seemed like a good possibility.
That's how the idea of creating "Santa's Enginehouse" instead was hatched.
"We had it all planned out: Routing guests along a one-way path, past Portland's three historic steam locomotives and our Holiday displays, maintaining separation between family groups, requiring masks, setting out lots of hand sanitizers, and selling timed-entrance admission – limited to 50 people (including volunteers) inside our 19,000-square-foot building at any one time," Schaeffer explained.
They were ready to begin welcoming visitors on Thanksgiving Day weekend, Schaeffer remarked – but Oregon Governor Kate Brown's "shut down" order, at that time, squashed hopes of a timely opening.
Nevertheless, ORHF volunteers went ahead and put the finishing touches on their Holiday project, in hopes of opening in mid-December. They dressed up the locomotives with wreaths, added dramatic lighting, and prepared a space where kids could talk with Santa Claus – who'd have been safely behind a no-glare Plexiglas screen, in the cab of the historic "bicentennial" Southern Pacific 4449 locomotive.
If they had been allowed to open before Christmas, kids could have written letters to St. Nick, dropped them into "Santa's Mailbox", and a few days later would have received a handwritten response from Santa or one of his elves.
Other planned attractions included Santa's Workshop; a converted railroad "speeder" shed; a huge Lionel-scale 4449 Daylight model passenger layout; and a unique nine-foot-high model train Christmas tree!
Then, on December 3, Oregon Governor Kate Brown issued Executive Order No. 20-66, that stated:
"Hosts of indoor gatherings are required to follow the indoor gathering limits for the level of risk designated for their specific county."
Multnomah County was listed in the category, "Extreme Risk: Limit the gathering to no more than six people, indoors." Alas, it would have required more than six staff members just to operate the planned activities!
So, with a heavy heart, late on December 4, Oregon Rail Heritage Center's spokesperson Renee Devereux told THE BEE that the organization wasn't confident that the new COVID-19 coronavirus case numbers would drop below the "Extreme Risk" level in time for them to hold this new attraction – the nonprofit organization's major fundraiser for the year.
"We decided today to cancel the Santa's Enginehouse event," Devereux sadly concluded.

But THE BEE was there with a camera while they were setting up their displays and activities, and you can still enjoy seeing some of them in the photographs that accompany this story.
And, you can still contribute to the nonprofit Oregon Rail Heritage Foundation, and keep up to date on their activities, by going online – http://www.orhf.org
---
The driver of this Honda looks inside her car, along with an East Precinct officer, after she was "T-boned" by a pickup truck. (Photo by David F. Ashton)
Drivers walk away from T-bone crash in Brentwood-Darlington
By DAVID F. ASHTON
For THE BEE
What at first seemed to be a serious-injury smashup in the Brentwood-Darlington neighborhood on Thursday evening, November 19, did wreck the vehicles but apparently didn't injure anybody.
Emergency first-responders arrived at S.E. 66th Avenue and Clatsop Street at 6:38 p.m., and reported finding a side-impact "T-Bone" collision between a large pickup truck and a Honda Civic. But, the occupants of the vehicles had gotten out on their own and were apparently unhurt.
There were no witnesses to the crash, but a Portland Police Bureau officer at the scene said that – from what he'd been able to gather – it appeared that the Honda had pulled out into the street unexpectedly and was hit by the truck.
"There was no injury," the officer told THE BEE. "No citations were issued. Sometimes it's nothing more than simply an accident."
---
After trying their costumes for the outdoor presentation of "Nutcracker Vignettes", Classical Ballet Academy dancers posed for THE BEE: [back row] "Tea Cake", Chloe Block; "Dew Drop Fairy", Lucy Holcomb; and "Snow Ball Cookie", Kandis Gomes; along with [front row] "The Nutcracker", Eloisa Ribbing; "Clara", the ballet's main female character, Issa Ono; and "Sugar Plum Fairy", Anna Stiffler. (Photo by David F. Ashton)
This year, 'Nutcracker' danced into Eastmoreland
By DAVID F. ASHTON
For THE BEE
A delightful signal that the Holiday season is upon us has been watching the cast of "The Nutcracker" rehearsing for their annual, sold-out shows at Portland State University, presented by the advanced students Sellwood's Classical Ballet Academy.
With the onset of the COVID-19 coronavirus pandemic, Classical Ballet Academy Director Sarah Rigles-Kocker realized during last summer that their usual Holiday performances downtown would just not be allowed this year.
"Since the age of five I have danced in – and, eventually, began to direct my own productions of – 'The Nutcracker'," Rigles-Kocker told THE BEE. "As my now-10-year-old twins would say, 'First there is Thanksgiving, then Nutcracker, then Christmas', about the Holiday Season.
Nevertheless, Ms. Rigles-Kocker said she wanted to come up with an way that would allow for a way for the community, as well as the school's dancers, to have some sort of a "Nutcracker" – because, as she put it, "As ballet dancers, 'Nutcracker' is just part of our lives."
She enlisted the help of friends – and longtime clients Tracie Erlandson, Lindsay Lichtenwalter, Kris Marcus, Dawn Mucha, JoAnne Cheechov, and Karen Dean – to help her come up with creating an outdoor tableau version of this, the most beloved ballet program of the season.
"This is a great idea; we'll help you make this happen," was the response Ms. Rigles-Kocker said she received to the request.
"I sat down – in socially-distanced outdoor meetings – with the artists Mark Molchan, Ralph Welker, and Pete D'Angelo, and tasked them to create what became the amazing art installations that represent each scene of 'The Nutcracker'. And so, with amazing props, sets, lighting and dancers we were able to create a series of 'vignettes' – moments for people to drive by to see, and to feel, the magic."
The Eastmoreland neighborhood was selected for the unique tableaus because Ms. Rigles-Kocker is a resident, and many of the past and current Classical Ballet Academy clients also live there. Thus, the 'route' of this year's drive-by program, now named "Nutcracker Vignettes", wound through the festive streets of the neighborhood.
To take in the "Nutcracker Vignettes" experience, cars of viewers started at the beginning of The Nutcracker's story, the "Party Scene". They progressed to the "Battle Scene", and on to the "Snow Scene" – and thence to many more scenes in the "Land of the Sweets". This one-evening Christmas spectacular took place on Saturday, December 12.
"Our hope was that each family could escape the cares and worries of these days – at least for a few minutes – by stepping into (or more accurately driving by) the wonderful world of 'The Nutcracker', even in the year 2020!" exclaimed Sarah Rigles-Krocker.

The seemingly endless lines of cars snaking through Eastmoreland along the route of these "tableus in tents", all four hours of the Nutcracker Vignettes on December 12th, suggests that her hope was more than realized!
---
Reed College Associate Professor of Biology Dr. Anna Ritz was the recipient of the 2020 "Lynwood W. Swanson 'Promise for Scientific Research' Award". (Photo by David F. Ashton)
Reed College professor wins 'Murdock Charitable Trust' award
By DAVID F. ASHTON
For THE BEE
In mid-November, Reed College virtually hosted the M.J. Murdock Charitable Trust's annual "Murdock College Science Research Program Conference".
As part of the conference, Reed College Associate Professor of Biology Dr. Anna Ritz was recognized – with the prestigious, "Lynwood W. Swanson 'Promise for Scientific Research' Award".
Speaking later with Dr. Ritz, along S.E. Woodstock Boulevard, safely distanced on the edge of the Reed College campus, THE BEE learned about the award.
"Being given this award feels really fantastic; but, it's really more of a testament to the students that I've worked with who have done amazing things, and have helped me build our Computational Biology program here at Reed College," Ritz demurred.
She said the Swanson "Promise for Scientific Research Award" is given to faculty members who are within the first ten years of their career at smaller liberal arts schools in the Pacific Northwest. "It's an acknowledgment that a faculty member is working to help students doing real, necessary research," Ritz explained.
Although she's a faculty member in Reed's Biology Department, her field is "Computational Biology". That is, she is a computer scientist in a biology department that analyzes biological data. "I teach students how to make sense of the really big data sets that biology is now producing," remarked Ritz. "So, we need computational skills to even understand what these new biological technologies are providing to us!"
As she turned to leave, Ritz confided, "I feel fortunate that Reed College put me forward as their nominee this year for this award – especially during the pandemic!"
---
Cleveland High students Leo Marchyok and Sophie Jones are the co-creators of a free tutoring service for K-12 students – "Spark Tutoring Collective". (Contributed photo)
Cleveland High students start 'peer mentoring' service
By DAVID F. ASHTON
For THE BEE
Putting at-home leisure time to work, two enterprising Cleveland High School juniors have created something remarkable: An online tutoring site they call "Spark Tutoring Collective" to help K-12 students in the area.
Sophie Jones, who lives in Eastmoreland, teamed up with Leo Marchyok, a Woodstock resident, to create this online community of students – dedicated to providing free tutoring for anyone struggling in school.
Jones and Marchyok said they hatched the plan in August, and published their website in early September.
"The inspiration for the 'Spark Tutoring Collective' was that, this spring, we found online learning to be exhausting and debilitating," Jones told THE BEE.
"But, however hard it was for us, we understood that those younger and/or less privileged had it much worse," Jones continued. "Many students, teachers, and parents are understandably overwhelmed by this pandemic, and are not able to get and give the help that's necessary for student success.
"We believe that, by giving students one-on-one help with their homework, we can help them to succeed in online schooling this year, and to gain confidence in themselves and their abilities."
The duo started out by brainstorming goals and methods for their website, Jones explained. "Once we had built the foundation for our startup, we scheduled meetings with people who could consult us – including marketing advisors, and other successful business people – lawyers, as well as educators.
"Once we knew what our plan was for 'Spark', we began to advertise through social media and word of mouth – and we also spread the word to educators, who helped us get many of our clients, and all seven our tutors."
The pair hope their work will significantly help students, especially those in the "BIPOC" (Black, Indigenous, People of Color) community. "We look forward to our addition to tutoring infrastructure in Oregon to be significant, and outlast us," Marchyok agreed. "Although online learning will end eventually, the need for online tutoring will likely stay a need in our technologically-oriented world.

"We want to cultivate [an exchange among] both the most curious and informed learners, and the most experienced and service-oriented tutors."
The two are also getting real-life business experience as they fund-raise to meet their current costs of $107 to pay for the "Spark Tutoring Collective" website. "We're operating solely off of donations, which are all graciously accepted," Jones said.
Go online for the "Donate" button, to securely give via PayPal – and learn more about their unique service, there, too – http://www.sparktutoringcollective.org
---
The crash of a pickup truck into Wichita Hardware on Johnson Creek Boulevard caused considerable damage to the building and its contents around the east-side front entrance. (Courtesy Milwaukie Police Dept.)
'Medical emergency' blamed in Johnson Creek Blvd. crash into building

By ERIC NORBERG
Editor, THE BEE
If you're the owner of the historic Wichita Feed and Hardware store at 6089 S.E. Johnson Creek Boulevard, just west of Flavel Drive – and working after hours in your business – the last thing you expect is a pickup truck plowing into the side of the building, right about where the front door had been.
But that's what happened, at about 8:15 p.m. on Thursday, November 19. Milwaukie Police were dispatched to the accident, and when officers arrived, they discovered a red Toyota Tacoma truck mostly inside the east side of the building, breaching the exterior wall.
The pickup was being driven by 38-year-old Matthew Hoffman, who was unconscious; and his passenger, 42-year-old Kimberly Smith. Both Mr. Hoffman and Mrs. Smith were trapped in the vehicle by the crash. Clackamas Fire District #1 responded and quickly began to stabilize the building around the vehicle, in order to free them both.

Mr. Hoffman was treated by paramedics at the scene, and then transported to a local hospital with non-life-threatening injuries; Mrs. Smith had not been injured in the crash, and declined medical treatment. As mentioned, the business owner had been in the building, but was not injured either.

A subsequent investigation revealed that Mr. Hoffman had experienced a medical emergency while driving westbound on Johnson Creek Boulevard, causing him to veer off the roadway and crash into Wichita Feed and Hardware. No citations were issued, or arrests made.
---
Here's CHS Special Education teacher Lurena Weesner, beaming with pride as she shows off Cleveland High's new national Special Olympics award as a "National Unified Champion School". (David F. Ashton)
'Special Olympics' honors Cleveland High School
By DAVID F. ASHTON
For THE BEE
Although the staff at Cleveland High School had been notified of the honor earlier this year, the banner from the national Special Olympics organization which was to signify that the school had been named a "National Unified Champion School" didn't actually arrive until mid-November.
CHS is only the 13th school in Oregon, and the second school in Portland Public School District, ever to be awarded this honor.
The staffer credited with bringing the honor to Cleveland High -- Special Education teacher Lurena Weesner – was obviously smiling, behind her green-and-yellow face covering, as she showed THE BEE the banner.
Weesner, a Woodstock resident, said that she is also a CHS parent – her daughter, Zoey, will be graduating this spring with the class of 2021.
"This is my ninth year at CHS as a Special Education teacher; and I'm also the co-activities director (along with the amazing Susie Brighouse), as well as being the freshman class advisor," Weesner told THE BEE.
About the Special Olympics honor, Weesner explained: "The Special Olympics has a division which focuses on 'Unified Activities' – these are activities that promote social inclusion of people with disabilities – not in only sports, but through leadership roles, academic classes, and school awareness and engagement.
"Being a 'National Unified Champion School' means that, through its inclusion of students with disabilities in all levels – including sports, clubs, leadership, academic classes and assemblies – Cleveland High stands out as a school which values all students," Weesner went on. "We work hard to make sure that no one is excluded from anything they may want to do."
She submitted the school for consideration for the honor, Weesner explained, "because I have found that staff [here] are very caring towards all students, and want them to achieve their goals, whatever they may be; and now, it's amazing to be recognized, at a national level, for our inclusion."
But, Weesner made it clear, other CHS staffers should also be acknowledged – including Speech Pathologist Makenna Miller, and Special Education teacher Elizabeth Dubois. "This was truly a team effort; and also a 'shout out' to Special Events Coordinator Jan Watt, for her unwavering support of all things CHS!
"I want to continue bringing to the forefront just how amazing our student body and staff are; there are some truly terrific things happening at Cleveland High, and I want not only our community, but the entire city, to see them!"
---
It's a fun time, when the Cocklebur Cowboys are joined by the Cinnamon Bear and Santa Claus – during the live drive-in family show at nonprofit Oaks Amusement Park, through New Year's Eve. (Photo by David F. Ashton)
Live drive-in 'Cinnamon Bear' musical show at Oaks Park
By DAVID F. ASHTON
For THE BEE
The "Cinnamon Bear" has been a beloved Holiday tradition in Portland for decades, starting out in 1937 in a 15-minute daily radio serial, broadcast as late as the 1970s on KEX radio. These episodes, which ran in December, were sponsored by the now-defunct Lipman's Company department store. The radio serial counted down the days until Christmas.
More recently, The Portland Spirit has offered cruises with the Cinnamon Bear and Friends; but, due to COVID-19 coronavirus concerns, those river trips were cancelled.
However, starting on November 27th, The Portland Spirit and Oaks Park teamed up with "WebracaDabra Events" to present a new drive-in Holiday experience featuring live music by the Cocklebur Cowboys band, and a fanciful story featuring Paddy O'Cinnamon himself, as well as Chipper the Squirrel, and the Big Red Elf in person.
"The challenges in putting this show together have been, well, pretty much everything!" remarked co-producer and band member Justin Sheehy, at a dress rehearsal of the show.
"But we've built the stage, installed professional lighting and sound, and have a trailer for our 'backstage' area, so we're set to go," Sheehy told THE BEE.
"What people will enjoy is a live musical show that features the traditional storyline of the Cinnamon Bear – recovering the Silver Star to top the Christmas Tree in time for Christmas! We tried to stay as true as we could to the original radio play," Sheehy said. "And, you should expect Santa Claus to make a magical appearance as well!"
Guests will watch the show from their vehicles, parked near the stage – and the sound is broadcast to the FM stereo radio inside your car. Holiday treats, beverages, and merchandise are available for purchase during the show, which runs about 90 minutes, including intermissions.
The show runs Thursday through Sunday in the early evenings, through December 31. Tickets must be purchased online in advance; no on-site tickets are available.
For all the information you need about this unique Holiday event – including dates, showtimes, and other important information – visit the Oaks Amusement Park website – http://www.oakspark.com/cinnamon-bear
---
After a near-headon crash between Volkswagen Touran and a Chevrolet Prizm in the Brentwood-Darlington neighborhood, the vehicles rebounded to rest together at the western curb of S.E. 72nd Avenue. (Photo by David F. Ashton)
Collision on Crystal Springs Blvd. injures two
By DAVID F. ASHTON
For THE BEE
Emergency first-responders from East Precinct and Portland Fire & Rescue were dispatched to an injury smashup at S.E. Crystal Springs Boulevard and 72nd Avenue on Wednesday afternoon, November 25, at 5:20 p.m.
A Volkswagen Touran compact MPV (Multi-Purpose Vehicle) and a Chevrolet Prizm ended up both pointing west, next to each other, at the curb of S.E. 72nd Avenue after their near-headon collision in the intersection.
Some of the vehicle occupants had minor injuries. "Two people were taken to a hospital for evaluation and treatment for injuries resulting from the crash," an East Precinct officer told THE BEE at the scene – adding that probably no citations would be issued in the accident.
---
Here's Woodstock's new "pocket park", completed next to the sidewalk near the entrance to All Saints Episcopal Church. The lengthy project was finished after Angie Even and her husband Tim added their final touches to the "parklet" on Friday, November 20. (Courtesy of Angie Even)
Woodstock community 'pocket park' completed
By BECKY LUENING
For THE BEE
Woodstock Boulevard's new "pocket park", at the edge of the All Saints Episcopal campus, was finally completed on Friday, November 20 – just in time for Thanksgiving.

We offered a progress report on it some months ago in these pages. The finishing touches were added by Angie Even and her husband, Tim.
In a real sense, the couple's hands-on involvement in taking care of the final details brought the project full circle, as Angie, President of the Woodstock Stakeholders Group, and former Woodstock business owner, who has taken the lead on district improvement and cleanup efforts along Woodstock Boulevard for years, was one of the instigators of this pocket park project.
The Woodstock Community Business Association, under the leadership of "Payroll On Time" owner Thad Davis, played a partnership role with Angie's nonprofit Stakeholders Group in spearheading the project, financed by both organizations with the help of a major seed grant from Venture Portland.
Davis was a key member of the committee that oversaw the siting, planning, and installation of the park – and he also lent a hand with plantings, which were done in three phases. The first phase involved a number of volunteers from the neighborhood, as well as from the church. All Saints' Reverend Andria Skornik was also involved throughout, coordinating the process from the church's end.
Located on the north side of the boulevard between S.E. 40th and 41st Avenues, next to the sidewalk, this small park has a lot going for it. Rev. Skornik reports they are already seeing the public engaging with the space – walking the new paved path, trying out the bench, reading the informational and directional signs, and checking out the birdhouses.
The park was designed to feel welcoming to visitors, and is fully wheelchair accessible.

Judy Clark, a church member, was instrumental in the conceptual development of the later-phase bird-and-bee supportive habitat, and also encouraged the incorporation of elements providing multi-sensory experiences there – things to touch, see, smell, and so on. The All Saints Buildings and Grounds Committee also played an important role in getting irrigation to the park, and doing the legwork on a number of details.
All of the park's features were locally-sourced. Angie Even oversaw the design and wording for both the directional sign and the historical marker, manufactured by North Pacific Signs on Hawthorne. An All Saints' teenage Sunday school class taught by Laura Axon researched the Native American tribe that once called the area home, for the historical sign. In addition to the land acknowledgment naming the Clackamas Chinook, the plaque also relates the history of the All Saints' church bell.
The park bench was sourced from Outdoor Cathedral, a company specializing in the design of commercial-grade playground and site furniture manufactured by Columbia Cascade. The birdhouses were purchased from Portland's Backyard Bird Shop, and the natural bronze birdbath bowl from Smith Rock, a landscaping supply company on Johnson Creek Boulevard.
As mentioned, the seed grant funding for the "Woodstock Parklet Project" came from Venture Portland, the city nonprofit that serves Portland's business districts. When COVID-19 and other snags slowed down the project's timeline and ability to fundraise for matching funds, Venture Portland graciously stood by to see the park to completion.
The Woodstock business community thanks to all who contributed – whether with funds, in-kind support, volunteer time, or hands-on labor – and the small wayside park is now open to everyone in the community.
---
The younger students who participate in on-campus learning, here enjoy recess, socially-distanced, in the playground of Holy Family Catholic School in Eastmoreland. (Photo by David F. Ashton)
On-campus learning again an option, at Holy Family Catholic School
By DAVID F. ASHTON
For THE BEE
Since this school year began, public elementary and high schools have opted to continue with "distance learning" models.
But, in October, Eastmoreland's Holy Family Catholic School began offering limited in-person instruction to their kindergarten through third grade students.
"Our staff spent months collaborating and discussing the best options for our students," explained Principal Joe Galati. "It was in late September that, as a staff, we decided to return to school – offering students the chance to choose what learning option they felt was best for them."
Parents opting to have their kids back in school make sure they're on campus at 9:45 a.m. Monday through Thursday. Depending upon their grade, they enter either through the front or the side door. Once they're inside, staff checks their temperatures using a no-touch video thermometer, and ask each pupil questions about COVID-19 symptoms.
"After screening each student, they are then greeted by our teachers; then, students spend the day practicing math and ELA skills, while also continuing social-emotional learning," Galati told THE BEE. "Students depart at noon, and the rest of their day is conducted online."
However, the Principal added, the teachers arrive as early as 7 a.m., have their own temperatures taken, and enter their data onto a contact-tracing log kept on the front desk of the building.
The school is not affected by the Governor's "stay-home" decree. "However, we have provided students and families with the opportunity to return to fully digital learning as well, based on what they feel is safest for their families," Galati said.
---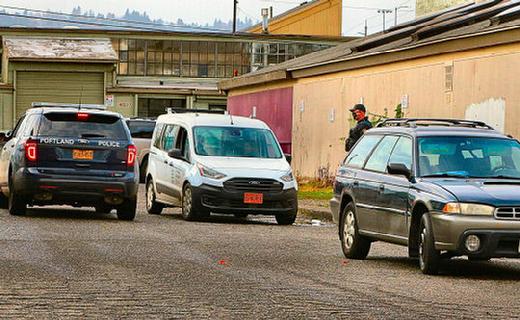 A Portland Police "Public Safety Support Specialist", in the white van, conferred with a Central Precinct officer, after having spotted and reported a recently-stolen car – with the suspected thief inside. (Photo by David F. Ashton)
41-year-old Zachary Wayne France took off running from the stolen car when spotted, but was arrested without incident shortly afterward. He was soon released without bail, with "pre-trail supervision". (MCDC booking photo)
Man in stolen car arrested in Reed neighborhood
By DAVID F. ASHTON
For THE BEE
This incident began on Thursday, November 15, at 12:29 p.m. when a Portland Police Bureau "Public Safety Support Specialist" – a non-sworn and non-certified police support person with the Bureau – was patrolling the northern edge of the Reed neighborhood, and noticed a vehicle on S.E. 23rd Avenue near Pardee Street.
"The Public Safety Support Specialist had just found a car on which she'd just taken a stolen vehicle report!" said PPB Public Information Officer Sergeant Kevin Allen. "The suspected thief started to drive away in the car, which had a flat tire -- and then [he got out and fled] on foot. Nine officers were dispatched to the area."
On foot, the suspect climbed the embankment to S.E. Holgate Boulevard, dashed between cars crossing the street – but then was greeted by officers awaiting his arrival near the corner of S.E. 25th Avenue and Reynolds Street.
Officers took 41-year-old Zachary Wayne France into custody without a struggle; he was booked into the Multnomah County Detention Center at 1:21 p.m. that afternoon on two Class C Felonies, Unauthorized Use Motor Vehicle, and Possession of a Stolen Motor Vehicle.
Although France's combined bail added up to $10,000, a kindly judge released him without bail shortly after his arraignment. Release Reason: Pre-trial Supervision.
---
---
Comments? News tips? Click here to e-mail us!

Note to readers: At some point in the future, this, our original Internet website, will probably be replaced at this web address by our new website, as part of the Community Newspapers group. At that time, you will still be able to access this older, but still operative, website, if you save this address: www.southeastPDXnews.com. Right now, it leads you to our new website. Eventually, it will lead you back to this old one! Both will be up to date and current, and you'll still have your choice of which one to visit!

READY TO MOVE ON TO THE EDITORIAL, AND THE "LETTERS TO THE EDITOR", ON PAGE 3? CLICK HERE!