More stories from November's issue of THE BEE!
Audrey Bilger, MA, PhD, was introduced on October 4 as Reed College's new President. (Photo by Rita A. Leonard)
Reed College installs first female President
By RITA A. LEONARD
For THE BEE
On October 4, Reed College named Audrey Bilger, MA, PhD, the college's 16th President. She is the first woman selected for the post, replacing acting President Hugh Porter, who was chosen after former President John Kroger stepped down in 2018.
Bilger, who received her degrees from the University of Virginia and Oklahoma State University, is a prolific author of scholarly feminist books and other pieces, as well as various items for the popular press. She joins the campus from Pomona College, where she served as Vice President for academic affairs, Dean of the College, and Professor of English.
Presidential Search Committee Chair Alex Martinez told THE BEE, "Among the qualifications she exhibits is a deep understanding of the importance of diversity and inclusion as essential tenets of a 21st Century education. Her advocacy for issues such as marriage equality, and her contributions beyond academia make [her] the right person to lead Reed College at this time."
Bilger stated, "I have a profound respect for Reed's intellectual traditions, and I share the values expressed in Reed's mission. Reed is doing something . . . rare in higher education today. It will be a privilege and delight to champion this community of scholars, and to serve as President of an institution engaged in such critical work."
Earl Blumenauer, U.S. Representative from Oregon's Third Congressional District, helped welcome Bilger on the Great Lawn on Woodstock Boulevard, under a tent during a particularly heavy early autumn downpour. "This is a special occasion for all of us," he said. "Your campus is an anchor in our Southeast Portland Community." He then presented to Bilger a ceremonial Portland bicycle.
David Oxtoby, president of the American Academy of Arts and Sciences, and immediate Past President of Pomona College, was present as well, and commented, "She has demonstrated her insightful leadership, her commitment to the liberal arts, and her dedication to the power of ideas. I have great confidence in her ability to be a terrific President for Reed College."
The inauguration was accompanied by music and a poetry reading, and was followed by a reception and dinner at Reed's Quad.
---
At this "Coffee with a Cop" gathering, East Precinct police officers, and Commander Tashia Hager (seated far right), talked with neighbors at Woodstock Boulevard's Papaccino's Coffee House & Cereal Bar. (Photo by David F. Ashton)
'Coffee with Cops' day held in Woodstock this year
By DAVID F. ASHTON
For THE BEE
Neighbors gathered at Papaccino's Coffee House & Cereal Bar in Woodstock on Wednesday morning, October 2, for "Coffee with a Cop" day with representatives of the Portland Police Bureau. Last year the meeting took place in Sellwood.
Folks gathered around a table on which a large pot of coffee was available, as they chatted with East Precinct police officers and Commander Tashia Hager.
"This is nice; there are some familiar faces here," commented PPB Sergeant Lacey Sparling.
About law-enforcement-related issues, Sparling said neighbors were voicing concerns about "houselessness" and property crimes, among other things.
"We are hearing that the 'houseless' population causes concerns; and along with this are drug addiction, and mental health issues, that are often associated with some of this portion of the population," Sparling told THE BEE.
"I didn't get the latest statistics, but my sense of it is that property crimes are running quite high; and across Portland, property crime is rampant – worse than it was twenty years ago, when I started in the Bureau," remarked Sparling.
Due to chronic staffing shortages, the sergeant suggested that people use the Bureau's online crime reporting page – https://www.portlandoregon.gov/police/cor
"Reporting is really important, because the [resulting] statistics show city leaders what's happening; and while we don't have the capacity to do a lot of extra patrols, we supervisors use the statistics to put a little mission in focus, or [make an extra] effort in a high crime area, between taking calls," Sparling said.
"Even if it's not a high dollar item, if it's reported, and we find it in a suspect's possession, and it helps us match it up with them; victims could get it back."
When asked how people can support their cops, Sparling said, "Having patience, knowing that a cop is likely not to come as quickly as you'd like, because of our [low] staffing.
"And, do not give up on us; continue to report crimes, continue to share your thoughts and feelings with us, because we really do care about our community."
---
This family photo shows Hoang Minh Tran – a Franklin High counselor who perished in an apparent coastal boating accident, on the last weekend of September. (Courtesy of KOIN-TV-6)
Franklin High School counselor Hoang Tran lost at sea
By PAMPLIN MEDIA GROUP
For THE BEE
Coast Guard authorities recovered the body of a Franklin High School counselor who lived in Clackamas County, and who went missing while sailing on the Pacific Ocean off the Oregon Coast on the last weekend in September.
Hoang Minh Tran, 58, was reported lost at sea after he failed to return from a sailing trip on Saturday, September 28.
The Coast Guard coordinated eight searches spanning 11 hours from a facility in Newport, with rescuers combing the sea by boat, helicopter and drone.
Wooden debris from his family's vessel, the Kiwanda, was recovered at Whale Cove, about one mile south of Depoe Bay.
The Kiwanda had last been sighted by a coast-watcher on land around 7 p.m. Saturday, near Cape Foulweather.
Tran's body was discovered by authorities around 10:30 a.m. on Monday, Oct. 1, just a few hours after the extensive search was called off.
Franklin High Principal Chris Frazier said in a letter to his school's community that Tran's death was "terrible news that impacts all of us at Franklin and our district. Mr. Tran was a beloved member of our school community, and in his role as school counselor supported a generation of Franklin students.
"He will be deeply missed at Franklin and throughout the larger community where he served in numerous roles; but he was best known for his role as a passionate student and parent advocate.
"Mr. Tran worked with a servant's heart, always putting the needs of students first and his impact on our community will forever remain in our hearts.
"We have worked with the district to provide a variety of supports to students and staff since yesterday, and those efforts will continue through this week and for as long as needed as we grieve."
---
Dressed in derndls to celebrate the Holy Family Oktoberfest were Winterhaven student Lila Chipps, and her friend – Holy Family student Remy McGowan. (Photo by David F. Ashton)
Holy Family Parish again hosts Oktoberfest for neighbors
By DAVID F. ASHTON
For THE BEE
The campus grounds and the gym of Holy Family Catholic School on Chavez Blvd (formerly 39th) was again this year the site of a gala Oktoberfest celebration on Saturday afternoon and evening, September 21.
In addition to parish families, and their children and students at the school, all Eastmoreland and Woodstock neighbors were invited to this Oktoberfest too.
"This is our fourth year hosting Oktoberfest here," remarked its Co-Chair Mike Goodell, who organized the event with Jack Ford.
"The idea to begin this annual celebration came from Gretchen Eichentopf, of Otto's Sausage Kitchen, who wanted to have an Oktoberfest at their store – but didn't have the space to do it in Woodstock," Goodell recalled. "And, Gretchen has been involved ever since."
Entry to the Oktoberfest is free; the food and beverages sold are a fundraiser for the school. "But this is really a community-building thing, where neighbors are making connections with one another," Goodell said. "And, it does show off our campus; a lot of people just drive past, and don't really see what we have here, and what we offer to the community."
A hundred volunteers and sponsors worked to host the party, Goodell reckoned. He gave special kudos to the Holy Family PTO volunteers who present a carnival, and the Knights of Columbus who cook, and help in the food and beer garden.
"Speaking of the beer garden, we're proud of our three year partnership with Zoiglhaus Brewing, in Lents Town Center, which provides our authentic German beer," Goodell acknowledged.
Although cloudy skies threatened rain that day, showers held off, allowing neighbors to come and enjoy the traditional Germanic celebration.
---
Corey Gregg Kettner will be spending three years in Coffee Creek Correctional Institution, for stealing and fraudulently using credit cards. (MCDC booking photo)
Thief who defrauded Westmoreland merchant sentenced to 40 months
By ERIC NORBERG
Editor, THE BEE
On October 8, 35-year-old Corey Gregg Kettner pleaded guilty to using multiple stolen credit cards to make more than $20,000 in fraudulent purchases, and received a 40-month prison sentence.
A "carefully-negotiated pretrial resolution" brought a conclusion to three pending criminal cases against Kettner outstanding in Multnomah County. Combined, Kettner pleaded guilty to two counts of aggravated identity theft, and one count of aggravated theft in the first degree.
The investigation began on July 25, 2016, when a person contacted the Beaverton Police Department after learning that her business credit card had been used to make multiple fraudulent purchases starting on June 16th and, ultimately, ending about a month later. In total, the person using the stolen credit cards, later identified as Kettner, made nearly $11,000 in fraudulent purchases at area grocery stores and several home improvement stores.
Then, last December 18, a person contacted the Sandy Police Department after someone, later identified as Kettner, had used a credit card in his name and made more than $11,600 in fraudulent purchases. During the investigation, law enforcement recovered the victim's credit card in Gresham, where an alert store employee had suspected the card was being used unlawfully. That credit card had been used several times to make jewelry purchases.
Two days later, last December 20, Portland Police responded to art supply shop in the "Watershed Building" in the 5000 block of S.E. Milwaukie Avenue in Westmoreland, on reports of a fraudulent credit card being used.
During the investigation, law enforcement learned that on multiple occasions, Kettner had made online purchases from the store using stolen credit cards. All of the purchases were in an amount less than $1,300. When police located and arrested Kettner, they found various stolen credit cards he'd been using inside a bag in his possession.

Upon his release from Coffee Creek Correctional Institution in a bit over three years, Kettner will have one year of post-prison supervision.
---
During this year's Cleveland High October "Play-a-thon", the Cleveland High Jazz Ensemble entertained, while the screen above them showed the progress of their fundraiser. (Photo by David F. Ashton)
'Play-A-Thon' again raises big cash for CHS bands
By DAVID F. ASHTON
For THE BEE
Starting late Friday afternoon, October 4, Cleveland High School (CHS) bands again this year went all-out to raise money to support their programs with an eight-hour "Play-a-thon" in the school's auditorium.
While there weren't many people in the audience, watching and listening in person, hundreds of folks "tuned in" throughout the evening, as it was streamed live on the Internet.
"Yes, it is a fun extended concert, but this is necessary – because the CHS music program is not funded by Portland Public School District – and there are so many costs and fees associated with the band program," explained the event's coordinator, and mother of a CHS senior trumpet player, Ms. Tammy Lewis.
"Instead of charging each parent for their student's participation in the music program, we want to make it equitable – so that any student can participate in band programs, regardless of the financial ability of their parents," Lewis remarked to THE BEE, as one band ended their set, and a combo set up to play.
"We have about a hundred parent volunteers helping out this evening, in one way or another, because we all believe that music in our school is so important," Lewis continued. "'Band' is a community of students who are working together as a team!"
Between performances, CHS Band Director Gary Riler was all smiles about the fundraiser's progress. "It's amazing to me that so many great parents are involved! – Not just taking the big responsibility of feeding our kids this evening – they are so supportive of everything we do here."
He looked up at the "Tote Board" and pointed out that the Play-A-Thon had already logged $20,000 in donations, with about four hours remaining in that evening. "Without this fundraiser, we wouldn't have an 'annual budget' to pay the expenses of the 179 kids in our band program – including buying sheet music, and competition registration fees. We spend $8,000 just for transportation alone!"
By the time the long concert ended at 11:15 p.m. that evening, they'd raised their GoFundMe goal of $32,000. And, donations kept coming in until the campaign closed – with the grand total raised being $34,655 from 425 donors.
Woodstock Elementary School counselor Ponny Kosmas stands in front of a comfort chair for students, in the school's new Wellness Center, where they solve problems they are faced with. (Photo by Elizabeth Ussher Groff)
Woodstock Elementary creates unique Wellness Center
By ELIZABETH USSHER GROFF
For THE BEE
Ponny Kosmas – or Mr. Ponny, as students call him – is a Woodstock resident, with a two-year old son, who had been a counselor at Woodstock Elementary School for three years…when one day he had a "shower thought", as he describes it.

Two years ago he followed that thought and created a unique "Wellness Center" at the school.
This Wellness Center is the only such in the PPS District. Through lessons that he presents to classes, or by working with small groups or counseling individual students, Kosmas handles students' behavioral and personal problems by teaching life skills that he says have made a positive difference for students, teachers, and families.
The Wellness Center was created in a second faculty lounge adjacent to the nurse's office, fifteen feet from the main office, and ten feet from the Principal's office. That was another "shower thought."
"I felt it was [a] more friendly [place] – close to the front offices. And [it was] important to have it be central to the kids." Kosmas says it also helps to make that whole area a comfortable safe space, unlike the old stereotype of "going to the Principal's office" for bad behavior. Plus, the proximity allows counselors to make connections without having to walk down long hallways.
Their Wellness Center is a place where a child or small group of children can go sign in, and set a timer for a ten-minute session. There are noise-cancelling headphones and ear buds to help students, if needed.
If a student is referred by a teacher, counselor, or family, he or she will have five sessions over a period of time, and then review growth toward a stated goal. Five more sessions can be scheduled if necessary. Sessions include a constructive conversation with "Mr. Ponny" or half-time counselor Shannon Nicolas. Health Assistant Sarah Richman is also available to children.
When Woodstock Elementary students request to go to the Wellness Center, they learn a "common sense rule": It is best to ask for a green "Wellness Center Pass" when they have a break, or have finished their class work.
The center provides donated juice and snack if needed (a lack of food and drink can sometimes create behavior problems), as well as a comfortable chair to sit in, a low table for drawing and coloring, and a welcoming environment. Students must follow the "Be Safe, Be Respectful, Be Responsible" Wellness Center expectations – and, Kosmas emphasizes, "it is not a punitive place, or a time-out zone."
Kosmas wants children to know that learning mental health skills is a normal thing. For example, he says, "Friendship and relationship skills are ones that can help all through life, so learning them and understanding that mental health tools are okay is important."
On the day of his interview with THE BEE, Kosmas had taught a third grade class that there are five types of "social cruelty": Bullying, teasing, exclusion, rumoring, and ganging up. Students learn the characteristics of each, and what to do constructively about them.
He says students often come to the Wellness Center saying they want to be less angry, learn how to control their anger, or solve a loneliness, friendship, or "social cruelty" problem. For solutions, SMART goals (widely used throughout the country) help students and counselors to develop clear plans. SMART goals follow the acronym: Specific, measurable, achievable, relevant, and time-bound.
Before being a counselor at Woodstock Elementary, Kosmas was a PPS para-educator for two years, and then attended graduate school at Lewis and Clark College, where he earned a counseling degree.

That training, and an artistic bent, have enabled him to create stick figures and computer graphics to illustrate positive and negative behaviors, as well as examples of how to solve problems. These drawings are hung in the Wellness Center and hallway, are given to parents to take home, and are used in class presentations.
Learn more online – https://sites.google.com/apps4pps.net/woodstockschoolcounseling.
---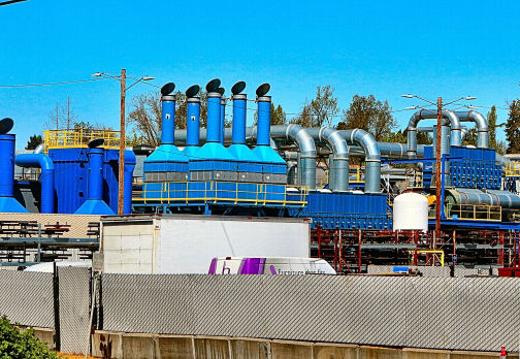 Answering questions from neighbors at the Woodstock meeting were, seated from left: Oregon DEQ Project Manager Heidi Nelson; Portland BES Permit Manager for Storm Water Joshua Ernst; US EPA Region 10 Senior Policy Analyst Dave Bartus; and US EPA Region 10 Environmental Engineer Margaret Olson. (Photo by David F. Ashton)
DEQ reveals Precision Castparts Structuals' clean-up progress and plans
By DAVID F. ASHTON
For THE BEE
The Oregon Department of Environmental Quality (ODEQ) held an update meeting for neighbors on September 18, regarding ongoing and upcoming environmental actions at Precision Castparts Structuals (PCCS) on S.E. Johnson Creek Boulevard. These relate to soil and water clean-up efforts. The meeting was held in Woodstock's Lewis Elementary School Cafetorium.
"We're not here because we have a regulatory action to take; but instead, we want to provide to the community an update about soil and water and clean-up activities that we've been doing," said ODEQ Northwest Region A administrator Nina DeConini.
"We're not addressing air-quality issues – including monitoring results, renewal of the ACDP permit, and the status of the facility in the Cleaner Air Oregon program – those will be discussed at a future meeting," DeConini told THE BEE before the meeting got underway. "This evening's meeting is to present information from staff with the US Environmental Protection Agency and the Portland Bureau of Environmental Services (BES), regarding the contamination that we found, and making sure that it's been cleaned up."
Some 35 people arrived for the briefing and talked with Bureau representatives before the meeting began. And, ODEQ Northwest Region Clean-up Program Section Manager Paul Seidel told THE BEE, there is "good news" about the clean-up. "The good news is that there has been a lot of progress over the last several years in significantly improving conditions on the site, in terms of soil clean-ups and stormwater treatment – and understanding site conditions, as well."
The plans have been in place for several years, he explained. "Those 'Work Plans' have been reviewed, and are being implemented; so, while there's still more work to do, substantial progress has been made over the last several years."
Asked if this Precision Castparts campus could be considered an ecologically good neighbor now, Seidel replied, "Well, we can say that there has not been water contamination leaving the site since 2016, when the stormwater treatment system was installed.
"There is cleanup continuing on-site, while air quality program is doing their work separately," commented Seidel. "I think we can see it's good news for neighbors, because the site is getting cleaner over time."
During the meeting, attendees learned how the storm water treatment system keeps pollutants from flowing into Johnson Creek.
Presenters said that ODEQ has been working to understand what contamination exists in the soil, how much, and where it is located and that their effort is almost complete. Since polychlorinated biphenyls (PCBs) were found during this process, the US Environmental Protection Agency is involved in the cleanup through their Toxic Substances Control Act program.
Next steps in the process include:
Complete investigation through focused sampling of soil and stormwater system catch basins

Continuation of on-site and off-site sampling to assess movement of pollutants in groundwater

Conduct off-site evaluation groundwater west of PCC
Also, in the future, officials plan to hold meetings regarding permit renewals for PCC, and also reviews by "Cleaner Air Oregon".
---
This photo of Johnson Creek at S.E. Ochoco Street was taken on October 21. (Photo by Eric Norberg)
DEQ: Landfill 'poses no threat' to Johnson Creek
By PAUL KOBERSTEIN
The Portland Tribune
Special to THE BEE
An abandoned landfill near Johnson Creek in north Clackamas County does NOT pose a threat to the nearby creek, according to a new review of its old files by the Oregon Department of Environmental Quality.
The report appears to resolve questions about the landfill raised previously by an article in THE BEE's sister newspaper, the Portland Tribune – a report which was based on many of these same old documents, which it had obtained through a public records request.
The Tribune based its report on written statements that DEQ officials made in 1980, which seemed to indicate that they were concerned that chemicals leaching from the landfill might contaminate Johnson Creek. But the new report reveals that the DEQ failed to release all of the documents that it had on hand that concerned the landfill.
Despite the Tribune's multiple requests seeking access to all documents related to the landfill, the DEQ failed to provide a solid waste disposal permit from 1971, as well as memos and correspondence related to the development, issuance, and implementation of the permit. It also withheld requests to allow the disposal of used tires at the landfill, various neighborhood complaints, and correspondence.
The old landfill, which has not been used since the 1970s, is now found to be "very unlikely to be causing any impacts to Johnson Creek, or surrounding areas," reported Keith Johnson, an environmental cleanup manager with the agency.
The DEQ based its determination on a fresh review of its old documents, produced in the 1990s and earlier. It has not conducted any new studies on the landfill since the late 1990s.
In the statement, Johnson said that the DEQ no longer sees any reason for concern, other than for methane produced by decomposing material in the landfill. Johnson said that the amount of methane vented by the landfill has decreased over the years, but "still can present real hazards." He called for an investigation of the landfill's methane control system.
The DEQ's review corrected several statements contained in the old files that had been reported by the Tribune. For example, the review found that Precision Castparts Corp., operator of the nearby titanium plant, has not sent any waste to the dump since it closed in 1973, despite a ledger showing it sent waste there in 1979 and 1980. Another DEQ document from 1980 said the unlined landfill was built on a floodplain some 750 feet from Johnson Creek. But the new statement, the DEQ said the landfill is actually located between 1,000 to 1,300 feet from the creek.
The old documents also said that 24 toxic chemicals had leached out of the landfill and had reached the groundwater some 30 feet below the surface. But the new review clarified that the groundwater contained only "low levels" of these contaminants, and does not threaten to contaminate the creek. It recommended no action be taken to address this contamination.
As reasons for its "no action" recommendation, the DEQ cited the "relatively low mobility for metals in groundwater", and the 19 years "of attenuation and degradation" that have occurred since the most recent data was collected. It also said a majority of the landfill is now paved over with asphalt, reducing the amount of rainwater soaking through the ground and leaching chemicals out of the dump.
Meanwhile, the DEQ – in a response to a separate public records request filed by the Tribune – released the Johnson Creek Toxics Evaluation Project, a 2005 study that examined toxic contamination throughout the twenty-four-mile-long creek.
The 2005 study found dozens of toxic chemicals at low levels in Johnson Creek, including seven of the twenty-four chemicals found in the landfill's leachate. At various points in the creek just downstream of the landfill, it found peaks of acenapthene, barium, benzo(a)pyrene, chromium, polyaromatic hydrocarbons, lead, and nickel.
If these substances were not from the landfill, it is not clear where they came from.
The study found similar peaks for these and many other chemicals near the Precision Castparts plant located more than a mile farther downstream from the landfill.
The study also revealed that the creek contains quite low levels of substances that could possibly have originated from the Precision Castparts plant, such as PCBs; and several others that most likely did not, such as DDT and Aldrin – pesticides that are no longer in use in the United States, but still persist in the environment decades after they were banned.
---
This illustration shows how Wilhelm's Portland Memorial now plans to utilize the land they own, between their mausoleum and Llewellyn School. (Photo by David F. Ashton)
Hope still remains for creating 'Moreland Woods'
By DAVID F. ASHTON
For THE BEE
After it seemed that Foundation Partners, the new owner of Wilhelm's Portland Memorial, would be using all of the undeveloped lot they own directly north of their mausoleum – for parking, and cemetery plots – it appears there is a change of plans.
This information was revealed at the end of the October 2 Sellwood Moreland Improvement League General Meeting, by Portland Memorial's Land Use Planning Consultant, Read Stapleton of DOWL.
Wilhelm's has already sold their south parking lot, bordering S.E. Bybee Boulevard along 14th Avenue – the current but temporary location of the Moreland Farmers Market. The sale to a property developer took place two years ago; and now the funeral home is considering selling the city-block size parking lot north of that one as well.
Stapleton said the land owners propose provide a smaller parking lot, but one they feels meets their needs, by removing five trees, for a parking area in the southern "Moreland Woods" property just north of the mausoleum. The result would be an east-west-oriented parking lot with 26 spaces.
However, Stapleton informed those at the meeting that the company no longer plans to create a cemetery on the northern portion of that property, and that section will remain for sale.
With the unused portion of the lot available for purchase, this means that much of "Moreland Woods," as organizers have hoped, may still be available for acquisition as a public park – If they are able to raise the funds to buy it in timely fashion.
---
Comments? News tips? Click here to e-mail us!

Note to readers: At some point in the future, this, our original Internet website, will probably be replaced at this web address by our new website, as part of the Community Newspapers group. At that time, you will still be able to access this older, but still operative, website, if you save this address: www.southeastPDXnews.com. Right now, it leads you to our new website. Eventually, it will lead you back to this old one! Both will be up to date and current, and you'll still have your choice of which one to visit!

READY TO MOVE ON TO THE EDITORIAL, AND THE "LETTERS TO THE EDITOR", ON PAGE 3? CLICK HERE!