More stories from May's issue of THE BEE!
Here, behind the whipped cream, is Holy Family Catholic School teacher Anne Marie Ulring – just "pied" by kindergarten student Hannah Beehler, on the Eastmoreland school's first annual "Pi Day". (School-provided image)
'Pi Day' celebrated at Holy Family School in Eastmoreland
By DAVID F. ASHTON
For THE BEE
Students attending Holy Family Catholic School in the Eastmoreland neighborhood were looking forward to their first-ever "Pi Day".
"Our fun fifth grade teacher, Ms. Abby Dankoff, has had an amazing tradition of holding 'Pi Day' long before she came to teach at Holy Family," said the school's Principal Joe Galati.
The concept is simple: the student in her class that can name the most digits of the infinite number sequence of "Pi" (3.1415926535 ... you get the idea) receives the pleasure of putting a pie in her face on "Pi Day", 3.14 (March 14). Since "Pi Day" fell on a Sunday this year, Ms. Dankoff asked the staff if they were up for participating in a Pi Day Challenge on Friday, two days before. Each teacher selected a student by a method of their own choosing.
Then, on March 12, all staff and students who attended the school in-person that day gathered outside, after a fire drill, and watched as one student from each classroom got to put a pie into their teacher's face. Students at home were provided a link to watch it live as well…as a mathematical principle was reduced to flung pastry.
Another Holy Family teacher, Ms. Weiler, joined in the festivities.
"The bonus this year is that we got to wear masks, so our noses and mouths were protected against getting full of whipped cream," observed Weiler. "My eyes, however, were full of whipped cream, and my hair is sticky.

"I am very thankful to work at a place where we get to throw some fun into our schedules," he grinned, while toweling off.
---
With picker and trash bag in hand, "monthly path clean-up organizer" Catherine Schroeder – an Eastmoreland resident – was set to start "de-trashing" the I-205 Multi-Use Path. (Photo by David F. Ashton)
Southeast neighbors help clean up I-205 Multi-Use Path
By DAVID F. ASHTON
For THE BEE
On Sunday morning, March 21, dozens of volunteers came from all over Inner Southeast to pick up trash and rubbish along the I-205 Multi-Use Path – as a number of people have been doing for some time, on the third Sunday of the month.
Complying with COVID-19 coronavirus protocols, volunteers showed up spread out between noon and 12:30 p.m. – to prevent a crowd from gathering – on the cul-de-sac of S.E. Ramona Street, at the Lents Town Center TriMet MAX Light Rail station.
Surprisingly, the Outer Southeast cleanup's founder and organizer lives in Eastmoreland. Catherine Schroeder told THE BEE she started it because she'd grown weary of seeing all the rubbish along this paved pathway.
"Even though I don't live nearby, I got started doing this because I'm a bicycle rider who, with my 'bicycle friends', just got tired of riding along a very MESSY path," Schroeder explained. "Instead of complaining, we decided to do something about it.
"After starting this up a few months ago, we partnered with the Lents Neighborhood Livability Association (LNLA), SOLVE, and DeTrash Portland, to start taking litter and debris off some of our bike paths," Schroeder explained.
On Sunday, March 21, some 50 volunteers were checked in for the task – all wearing face masks, dressed for the weather, and wearing closed-toed shoes, with work gloves in hand. LNLA volunteers provided instruction, gloves if needed, safety vests, trash bags, and mechanical litter-grabbers.
"I'm really pleased to see so many people coming here today to help out!" grinned Schroeder.
A couple of volunteers with LNLA, who were certified to safely pick up and dispose of syringes and needles, found and removed 119 needles from along the path that day.
When it was done, the volunteers had collected an astonishing 81 bags of trash, weighing in at 2,000 lbs. Yes, a ton of rubbish!
"It's been great having LNLA working with us, because they have extra equipment and supplies, and so many connections to help us spread the word," remarked Schroeder. "They also dispose of the trash we collect."
Typically, this two-hour trash pick-up is held on the third Sunday of the month. If you'd like to join in and help, they ask that you sign up in advance at the SOLVE website – https://www.solveoregon.org/solvecalendar – and, look for the "S.E. Portland Multi-Use Path Cleanup" listing.
---
Oaks Park Marketing and Events Director Emily MacKay, Multnomah County Fair Executive Director Larry Smith, and the new Fair Manager, MaryBeth Coffey, got together in the Oaks Park Dance Pavilion to make plans for this year's fair on May 29 and 30. (Photo by David F. Ashton)
Volunteers gearing up for modest Multnomah County Fair
By DAVID F. ASHTON
For THE BEE
Although it will be a vastly scaled-down affair, it looks as if the 115th Multnomah County Fair will indeed take place – open to the public, this year – at Oaks Amusement Park at the end of May.
In 2020, the 114th edition of the fair was unlike any other in its history, due to the COVID-19 pandemic. First, the Memorial Day weekend dates, and then postponed summer dates, were cancelled by Oregon coronavirus rules – but volunteers believed they'd be allowed to host a few guests to view exhibits in The Oaks Dance Pavilion. That plan was nixed as well.
Not giving up, finally on October 17, Friends of Multnomah County Fair (FMCF) volunteers hosted a "virtual" fair – as the exhibits were photographed and made into a program, later shown online. Only THE BEE was allowed to visit it in person, and you saw the pictures here.
"This year, we hope to host a small, but 'live', fair on the Saturday and Sunday of Memorial Day weekend," said indefatigable FMCF Executive Director Larry Smith.
"Our fair will be entirely contained within the Dance Pavilion this year, where we'll welcome gardeners, cooks, canners, bakers, artists, needle-crafters, photographers, and artists to bring their materials to be judged," Smith told THE BEE.
Oaks Amusement Park rides and concessions will be open, at the capacity that public officials then allow, during the fair dates.
"Sadly, due to ever-changing government regulations and conditions, we aren't able to schedule any outdoor activities this year – such as live entertainment, commercial vendors, and food booths," Smith conceded. "But, on the upside, FMCF is very happy to welcome the help of Fair Managers Tracy Burback of Funtastic Shows and MaryBeth Coffey, retired Oaks Park Association marketing manager – both of whom bring a wealth of experience to the fair!"
Entry by free timed-entry tickets
"As of right now, we would only be able to allow no more than 50 visitors into the building at a time – subject to change, for better or worse – between now and Memorial Day," pointed out Smith. "Admission will be by free timed-entry tickets, made through the Oaks Park website, http://www.oakspark.com".
He added that, this year, they are planning to "live-stream" fair exhibits and activities – including a Talent Contest – on their website, so that anyone reluctant to venture out to Oaks Park can see it from home.
Entries for the competitions will be taken in from noon to 7:30 p.m. on Friday, May 28.

The fair will be open on May 29, from noon until 5:00 p.m., and on May 30, from noon to 4:00 p.m.
For the latest up-to-date information about the 2021 Multnomah County Fair – including online exhibit entry forms – see their official website – http://www.multcofair.org
---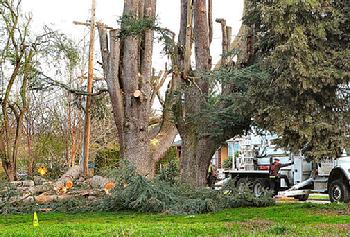 While many were saddened that these majestic cedar trees had to be removed, the neighbors no longer need worry that a weighty limb will fall on their vehicle – or on themselves. (Photo by David F. Ashton)
Two huge trees felled, at Holy Family Catholic Church
By DAVID F. ASHTON
For THE BEE
An Eastmoreland neighbor's concern about massive cedar trees being cut down at Holy Family Catholic Church prompted a visit by THE BEE to the campus on April 8.
Sure enough, Asplundh Tree Company crews were dismantling trees along S.E. Rex Street, on the southern edge of the church's property.
"For the past seven years, since I have been here at Holy Family, we have made multiple efforts to preserve the trees – working together with the City of Portland and Portland General Electric to preserve them – but now, no viable pruning options remain to preserve them," explained the church's pastor, Fr. Rodel de Mesa.
"The two trees are, and continue to be, in structural decline. Every year, large branches fall from the trees, posing a danger to the people and property near them. Just recently, a few cars were damaged when a large branch fell from one of the trees.
"We are grateful that no one was hurt when the last large branch fell, because no one was nearby when it happened," continued Fr. Rodel. "We are sad that they have to go, but we are also relieved that we can end the danger posed by these two dying cedar trees to people and properties around them.
"We will be planting two new street trees in their place, and in their memory," concluded Fr. Rodel.
---
Woodstock residents Dr. Mary Frazel and Dr. Lowell Chodosh volunteer weekly at a Southeast Portland food pantry that uses innovative food distribution methods. Two Oregon Food Bank volunteers in background are seen helping out. (Elizabedth Ussher Groff)
Southeast Food Pantry inspires Woodstock residents
By ELIZABETH USSHER GROFF
For THE BEE
Over the past several months THE BEE has written about the work of the Woodstock Pantry at All Saints Episcopal Church and the food pantry at Holy Family Church in Eastmoreland. Both distribute food weekly to those who are food insecure.
Two Woodstock residents who are doctors have been volunteering with another food pantry in Southeast Portland which has begun to distribute "made-to-order" food boxes.
Every Tuesday Dr. Mary Frazel and Dr. Lowell Chodosh drive from Woodstock to the Open Bible Church Community Pantry (POBC Pantry) on 92nd Avenue just north of Powell Boulevard. Dr. Frazel is the main Tuesday coordinator for packing the 150 boxes that are distributed on Wednesday. Other volunteer coordinators work on Thursday to prepare boxes for Friday's distribution.
Dr. Frazel and Dr. Chodosh are hoping to spread the word about the POBC Pantry's innovative method of food distribution, so that it might be considered by other food pantries in Inner Southeast Portland. They tell THE BEE they've seen how it gives people only what they want and need, and therefore reduces food waste.
Betty Brown, a former nurse and the wife of Pastor Jim Brown at Open Bible Church, is executive director of the POBC Pantry. She says she started the food pantry after the church had several break-ins, and the only thing stolen each time was food from the refrigerator. Electronics and other valuables were untouched. "I figured it was better to create a food pantry than to keep having to call the police," she says wryly.
Betty's comprehensive vision, hard work, and commitment to the multi-racial community of her church, inspire many. "I'm honored to know Betty," remarks Dr. Frazel. "She is a bright ray of sunshine, and a visionary person."
The made-to-order box system is made possible by the technological skills of the Brown's 32 year-old son Aaron. He and a friend work weekly to streamline a system in which orders can be placed online in English, Russian, Cantonese, Ukrainian, Spanish, Vietnamese, and a couple of East African languages.
"We have translators on-site that can speak Russian, Ukrainian, Vietnamese, and Cantonese. When it comes to processing orders in different languages, we have the selections translated automatically through our [computer] system," explains Aaron.
"The foods available are listed online, and If families don't have an Internet connection or a computer, it is usually not a problem because many immigrant households have two or three generations living together, and the younger family members with cell phones can help the older ones by signing up for assistance, and choosing which foods are best for their household," remarks Aaron. If a household has no Internet access they can order by phone.
Because households are listed on the roster in alphabetical order, when they drive up, walk up, or come in a wheelchair, their number placement on the roster can be called out and a volunteer can quickly fetch the appropriately-numbered, made-to-order box or bag from inside the church gym, and carry it to the vehicle.
"Not having pork in a box for a Muslim family, but including it for a Chinese household, is an example of the choices recipients can make," comments Aaron. "And some people don't need, or can't tolerate, lactose – and therefore don't want a gallon of milk."
Mark Feuerborn, Manager of the Woodstock New Seasons Market, is on the Board of Directors of POBC Pantry, because Betty recognized and needed both his expertise in organizing food supplies and his experience working with the Oregon Food Bank.
Betty points to the deeper value of made-to-order boxes. "We believe choice is really important for families. No one expected to ever have to line up in a food line. We want people to feel special and important."
Technology is an organizational tool for them, but Betty underlines the need for willing hands to help out. "We are always looking for volunteers, and are humbled by the fact that these two physicians are helping us." During March the pantry served 1,053 households, totaling 3,291 individuals.
Dr. Chodosh says, "All the people that make this happen have an incredible willingness and desire to help and learn, which I feel is a real blessing to be a part of."
To learn more about the POBC Pantry, and the businesses and organizations who are their partners, go online –
http://www.pobcpantry.com
To sign up to volunteer for 3 hours on Tuesdays or Thursdays, call 503/442-8228; or e-mail –
pantrypobc@outlook.com
---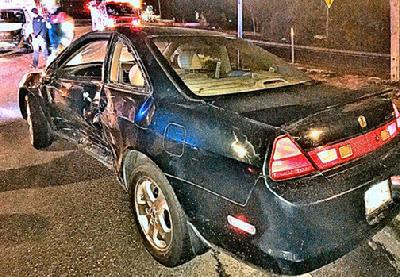 This 1999 Honda Accord was stolen from its driver by an armed robber in Mt. Scott-Arleta, but the bandit ended up crashing the car into a TriMet minibus in North Portland not long afterward, and then running off into the predawn darkness. (Courtesy Portland Police Bureau)
Police still searching for armed Mt. Scott-Arleta carjacker
By DAVID F. ASHTON
For THE BEE
A driver was threatened with a gun in an armed carjacking in the Mt. Scott-Arleta neighborhood, just before sunrise on Thursday, March 25; and the victim's stolen vehicle was found wrecked a short time later in North Portland.

East Precinct officers who were dispatched to the incident at 5:07 a.m. learned from the adult male victim that he was in his dark green 1999 Honda Accord two-door, "warming it up", when the carjacker appeared out of the darkness, pointed a gun at his head, and ordered him out of his car.
Wisely, the victim complied, and was not injured – but he watched helplessly as the gunman drove off in his vehicle.
Then, at 5:35 a.m., the stolen Honda was involved in a crash with a Tri-Met Lift minibus in the area of North Lombard Street and the I-5 overpass. "The driver and only occupant of the Tri-Met vehicle did not have any serious injuries," a PPB official told THE BEE. "The carjacker ran off, but officers located a loaded handgun in the car, which was seized as evidence."
Apparently, the carjacker, described as a white male in his early 20's – 5'6", 145 lbs., with short hair – managed a clean get-away; law enforcement is still working to track him down.
Anyone with video or any other information about this crime – including witnesses of the North Portland collision – are asked to contact Robbery Detective Brett Hawkinson, by e-mail at brett.hawkinson@portlandoregon.gov – or call 503/823-1080.
---
Woodstock resident Becky Luening lives in an all-electric home, and reports, "I never thought I would want an electric stove, but induction stove tops are so different from the coil variety, and better even than [natural] gas, which I always preferred in the past." (Photo by Elizabeth Ussher Groff)
Woodstock Neighborhood Assn. provides forum for argument against natural gas

By ELIZABETH USSHER GROFF
For THE BEE
An agenda item entitled "Bringing Climate Change Home" first led to a discussion opposing use of natural gas for home heating and cooking at a recent virtual Board Meeting of the Woodstock Neighborhood Association (WNA).
Woodstock resident and WNA Board Member Pete Jacobsen had suggested the topic; Jacobsen had been known, during his service as a Board Member of the nonprofit Inner Southeast neighborhood coalition Southeast Uplift (SEUL), for being instrumental in implementing "green" improvements and repairs at SEUL.
At that WNA meeting, he said, "I think most Inner Southeast Portlanders are convinced that climate change is real, and doing something about it soon is vital. There are so many areas into which to consider putting our efforts that it is easy to just spin our wheels."
Jacobsen explained that he thinks we should be moving away from fossil fuels. "Few grasp that natural gas is methane, by itself a far worse contributor to climate change than carbon dioxide, and that it is apparently impossible to mine, capture, and distribute natural gas without significant leaks of pure methane into the atmosphere at every stage." Methane is known to be a big contributor to climate change, he said.

It should be underlined that complete combustion of natural gas, or methane, converts the gas to water vapor and carbon dioxide – so those who use gas for heating or cooking are not automatically spewing methane from their appliances when gas is used for these purposes.
Given Jacobsen's enthusiasm about reducing fossil fuel usage in Inner Southeast Portland neighborhoods and his agenda item, one WNA member asked him how he heats his own home.
He conceded that his 1956 home is currently heated by natural gas; but he said he is researching ways to retrofit it to be all-electric, generated by "renewable energy". He added that he would like that to be a goal for other homes and buildings that are now powered by natural gas or oil. He speculates that furnace replacements might be made more affordable in the future with special financing or tax credits, so fossil-fuel-heated homes could change to electric heating.
When a WNA member pointed out that much of our electricity is generated by burning fossil fuels, his response was: "True, but the percentage goes down every year. Our local supplier, PGE, uses 25% 'renewable energy' right now, and is committed to 50% by 2022, just a year away."
In a follow-up e-mail discussion, WNA members explored the pros and cons of going "all electric". Based on sharing within the small group at the WNA meeting, the most common home energy system in these parts seems to be a hybrid gas-and-electric system, although some still do heat with oil. Some members thought it might be a steep climb to make a change, given the present energy-producing reality.
But a neighborhood discovery came through an e-mail discussion that made the ecological possibility seem more concrete and do-able. Woodstock resident and WNA member Becky Luening reported, "I just want to share that my home is all electric, a decision we made consciously eleven years ago for reasons similar to Pete's [Jacobsen]."
In fact, Luening's 1953 Mid-Century Modern Woodstock home was part of the 2010 City of Portland's "Build It Green" tour, featuring energy efficient homes. The home has a heat pump system, combined with a filtered forced-air distribution system, induction stove tops, a convection oven, and a solar panel. With the addition of solar panels and extra insulation, their home energy bill has dipped to as low as $10 in summer months.
Jacobsen and others on the WNA Board expressed a strong interest in continuing to explore what can be done locally, in neighbors' own homes and lives, to reduce energy consumption, reduce our ecological footprint, and slow global warming. As long as members are interested, the WNA board promises to provide a forum for these and other hot topics.
To learn more about natural gas/oil powered homes vs. all-electric, go to the WNA website – http://www.woodstockpdx.org – then click on Woodstock Neighborhood Association at the top, scroll down to "Fossil Fuel in Our Homes", and then click on "for more information about avoiding natural gas, click here", for an essay penned by Jacobsen on the subject.
---
Taylor and Shannon Kane say, "Welcome to Wild Grown Farm"! Taylor is holding Wilder, and Shannon is holding Juniper. (Photo by David F. Ashton)
Brentwood-Darlington couple develop an urban farm at their home
By DAVID F. ASHTON
For THE BEE
In all of our neighborhoods, especially with the onset of the COVID-19 coronavirus pandemic, many more families than before have been tending backyard gardens.
But, at their Brentwood-Darlington home, Shannon and Taylor Kane have taken gardening to new heights; turning almost all of their arable ".18 acre" of land into gardens and farming.
Shannon showed us around the enterprise they've dubbed "Wild Grown Farm" just as growing season was getting underway.
"Actually, with our greenhouse, we can grow pretty much year around," Shannon commented.
The couple started Wild Grown Farm in 2015, while living in an apartment. "We knew we wanted to be involved in the 'local food and farming movement', but we didn't have our own plot of land to put down roots; so, we went ahead and launched our business doing edible landscape design and consulting," she told THE BEE.
"The main idea behind our farm was to show people that you can farm and/or grow your own food wherever you are in life," Shannon explained. "You can grow an abundance – however one defines it, such as food, beauty, or community, for example – here in the city without having to own a huge rural property.
"In fact, in the face of climate change we must begin to use the urban environment in more productive ways."
Shannon and Taylor put what they're striving for like this:
Mission: Inspire and demonstrate the possibilities of abundance in urban and suburban spaces by producing the highest-quality products, services, and educational opportunities for our community.
Vision: Develop community resilience in the face of climate change through a reimagined local food system that values and encourages urban land stewardship.
Triple Bottom Line: People, Profit, Planet. "It's not just about selling our products, it's also about growing the gardener!"
On their small Brentwood-Darlington farm, the couple grows rare heirloom and open-pollinated edible plant-starts – ones that are well-adapted to the Pacific Northwest – as well as offering a small Community Supported Agriculture (CSA) program for veggies and eggs. "We still offer garden consulting services, and plan to start offering educational workshops in the post-pandemic world," Shannon remarked.
Because the farm is also their home, the couple asks customers interact with them primarily through their website – which offers an e-commerce platform to sell their plants.
In addition to running their farm, the pair also have "day jobs" at their family business, "Insurance Solutions NW", where Taylor is an insurance broker who specializes in employee benefits – and Shannon does all of the company's marketing and communication work.
"The single best thing that has come from establishing our farming business is the opportunity to raise our kids in this lifestyle," Shannon observed. "Cultivating this land, despite its being very small, has allowed our kids to learn so much about the natural world, even in the middle of an urban environment."
Looking ahead, Shannon disclosed that their short-term goals include securing additional greenhouse space, and adding a "Plant Start CSA" option – with an ambitious long-term goal of purchasing more farmland where they can grow food while sharing their passion for gardening with others.
Find out more about Wild Grown Farm ONLINE – http://www.wildgrownfarm.com
---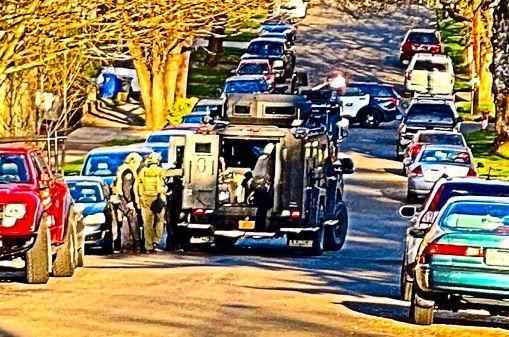 Streets near Franklin High School were closed for a full day, and into the night, when a heavily-armed ex-convict barricaded himself in his house nearby. (Courtesy Portland Police Bureau)
Charged with multiple crimes, including some felonies – but nonetheless released on bail – was 50-year-old Robert Wayne Devlin. (MCDC booking photo)
Armed wanted man, in long standoff, arrested near Franklin High
By DAVID F. ASHTON
For THE BEE
After an eleven-hour standoff with law enforcement officers that shut down neighborhood streets near Franklin High School on Friday, March 26, an armed and wanted man barricaded in his home finally was persuaded by the police to give up.
The suspect was later identified 50-year-old Robert Wayne Devlin. He was soon released back into the community after the day-long standoff began, even though he was charged with three Felonies and two Misdemeanor charges, when he made bail.
Shooting incident triggers standoff
The warrant that triggered the standoff had been drawn up because of a "Shooting – with Weapon" call also involving him, dispatched on March 3 – more than three weeks before the incident in which he was arrested.
In the earlier instance, Central Precinct officers were called to a house at the same location, on S.E. Brooklyn Street near 37th Avenue, at about 11:30 a.m. when Devlin reportedly had fired a handgun at someone outside his home.
The person Devlin fired at was not hit and is still unidentified; but a five-year-old girl and her nanny had been nearby, in the same direction the pistol was pointed, when the shot was fired. PPB's Central Precinct Neighborhood Response Team began an investigation, and applied for the search warrant.
Suspect flees, then returns
Then, on March 26, about 9:30 a.m. PPB officers attempted to serve the warrant on Devlin at the house. Instead of surrendering, Devlin jumped into his vehicle and took off. He didn't stop for the officers but oddly, instead of driving away, he circled back around to the house and re-entered it.
Officers tried negotiating with Devlin – who, in the past, has made threats against both the public and police officers – but he refused to come out. PPB supervisors called in the Special Emergency Reaction Team and the Crisis Negotiation Team at 3:30 p.m. that afternoon.
At about 10:30 p.m. Devlin finally gave up and surrendered. After he was in custody, Central Neighborhood Response Team and Central Precinct patrol officers served the search warrant. They located, and seized as evidence, five firearms – including two handguns, an AR-15 semiautomatic rifle, a Mini-14 semiautomatic rifle, and a shotgun – plus at least 500 rounds of ammunition.
Devlin was booked into the Multnomah County Detention Center at on March 27 at 2:58 a.m. on charges of Unlawful Use of a Weapon, Felon in Possession of a Firearm (5 counts), Reckless Endangerment (3 counts), Discharge of a Firearm in the City (city code), and Attempt to Elude by Vehicle.
His combined bail amounted to $20,000; but Devlin posted bail and was released from custody on April 3, at 6:06 p.m. The police and a bail bondsman hope that he does show up for his trial.
---
Umatilla Street mural features images of Portland
By RITA A. LEONARD
For THE BEE

Murals are popping up everywhere, it seems these days – although, unhappily, unwelcome graffiti appears to be maintaining a citywide lead over art so far.

But lately, Sellwood passers-by have been admiring a very wide two-part mural at shoelace level, along the front wall of a home between 9th and 10th Avenues on S.E. Umatilla Street – flanking the front steps. It is the work of Portland artist Brenda Goddard-Laurence, and features a variety of Portland-oriented images – including an osprey, a profile of Mt. Hood, and a squirrel drinking from an acorn cup.

Goddard-Laurence specializes in mural designs and fine painting. With nearly 20 years' experience as a digital illustrator for Disney Consumer Products, she's a seasoned professional. She tells THE BEE that she loves to collaborate with clients to deliver high quality art with heart and soul. "Art is a relationship between the artist and the viewer, with art as the uniting force," she explains.

The Sellwood mural progresses along the sidewalk with images of an owl in a blooming tree, the stylized image of Ursa Major, salmon, a cat, a bald eagle, honeybee, and a dog riding a bicycle. Blackberries are scattered along the bottom of the painting, underneath an image of a jogger and Sasquatch.

Goddard-Laurence can be reached at 1-650/303-8113. See more of her work online – http://www.brendagoddarddesigns.com/murals




The east panel of Brenda Goddard-Laurence's LONG new mural on S.E. Umatilla Street. (Photo by Rita A. Leonard)

Here's the western panel of the long two-part mural painted by Brenda Goddard-Laurence along S.E. Umatilla Street in Sellwood. (Photo by Rita A. Leonard)
This may well be your last glimpse of the old Chinese Presbyterian Church on Woodstock Boulevard, since its demolition is already underway – to be replaced by a four-level 84-unit apartment complex, with retail space below. (Photo by Elizabeth Ussher Groff)
Many New Apartment Complexes on Woodstock Boulevard
By ELIZABETH USSHER GROFF
For THE BEE
As is also true of several other Inner Southeast neighborhoods, Woodstock has been seeing a lot of proposed and emerging apartment complex developments recently along the boulevard.
The "Joinery block" has been for sale and the existing buildings vacant for eighteen months. On March 11th of this year, the sale was finalized, as communicated to a few neighbors by the block's owner, and former Joinery proprietor, Marc Gaudin.
The new owner of the entire block is "Mill Creek Residential". Two years ago, Mill Creek proposed a five-story, 194-unit apartment complex covering the entire block between S.E. 48th and 49th Avenues, and Woodstock Boulevard on the north and Martins Street on the south side. Retail space, in this mixed-use project, is tentatively planned for the north side of the lower level of the new construction.
The Woodstock Neighborhood Association Land Use Committee (WNA LUC) was recently notified that the four houses that still sit on the block will be deconstructed, to recycle materials – as opposed to being demolished – beginning in from four to six months from now, although apparently the plan for the retail space is still a bit up in the air. There are no updates on permits for the larger plan, except that completion is now projected for March of 2023.
Meantime, the Chinese Presbyterian Church property has been purchased by developers Urban Asset Advisors, and a new apartment building is to be designed by Scott Edwards Architects. The church itself and the adjoining multi-purpose room are undergoing interior demolition, and exterior demolition will follow. The plan there is for 1,800 square feet of retail space on the lower southeast corner, bike storage on the southwest corner, and 84 units of multi-family housing on three other levels. The west-side parking lot's future is tentatively proposed for a new church building.
The most recently vacated property proposed for some sort of development is the U.S. Bank building, at 4727 Woodstock Boulevard. The property is listed by Brock Switzer HMS Pacific commercial realty. The 6,330 square feet building, and 20,000 square feet parking lot, are depicted as a "prime retail location with plentiful parking" in a "vibrant and hip" neighborhood.
The lot and building provide interesting business possibilities. In a recent Woodstock Land Use Committee meeting, some members briefly discussed the possibility of the bank building becoming a fitness center. It was observed that one of the goals set by the Woodstock Neighborhood Plan [viewable online – https://www.portland.gov/bps/comp-plan/area-and-neighborhood-plans], which was adopted by Portland City Council in 1995, was for an athletic or fitness center in the neighborhood.
In the past, a fitness center in Woodstock was deemed by marketing research as duplicative of the services of Mt. Scott Community Center on S.E. 72nd Avenue, and too close to the "24 Hour Fitness" on Holgate at McLoughlin Boulevard. However, it was pointed out that neighborhood demographics are changing, and a fitness center could be a practical option now, given the multitude of apartment units being built or proposed for the future. With ample parking, the U.S. Bank building could respond to a health and wellness need for existing residents and the hundreds of new residents.
Elsewhere in Woodstock, Lisac Brothers LLC, a Portland-based construction company, has built the 28 micro units located on the corner of S.E. 51st and Woodstock. These 330-square-foot apartments should be ready for occupancy by the time you are reading this. A separate BEE article will give more details about this development.
Last but not least, the seemingly-forever-empty grassy lot on the southwest corner of 50th and Woodstock was purchased several years ago by developer Green Canopy Homes LLC, but now it is up for sale again. Green Canopy did not respond to an inquiry about their decision not to build.
Some people who know the Woodstock neighborhood intimately believe that if the 194 apartment units proposed for the "Joinery block" are indeed built in the next year or two, there will then be a "super-saturation of apartments" in the neighborhood.
Commenting on all of the large apartment developments spread across Inner Southeast Portland, and referring to the Mill Creek proposal, Brentwood-Darlington resident Shauna Vincent remarked on social media: "I wonder what the rents will be? How many more empty overpriced apartments do we need?"
Vincent's comments may echo the concerns of others, who fear that the Woodstock neighborhood may wind up with too many apartments, with only a few of them "affordable". Only time will tell.
---
---
Comments? News tips? Click here to e-mail us!

Note to readers: At some point in the future, this, our original Internet website, will probably be replaced at this web address by our new website, as part of the Community Newspapers group. At that time, you will still be able to access this older, but still operative, website, if you save this address: www.southeastPDXnews.com. Right now, it leads you to our new website. Eventually, it will lead you back to this old one! Both will be up to date and current, and you'll still have your choice of which one to visit!

READY TO MOVE ON TO THE EDITORIAL, AND THE "LETTERS TO THE EDITOR", ON PAGE 3? CLICK HERE!