More stories from May's issue of THE BEE!
Good old fashioned fun, like taking a pony ride, awaits this year's fairgoers at Oaks Park. (Photo by David F. Ashton)
Plans set for 112th Multnomah County Fair
By DAVID F. ASHTON
For THE BEE
Even though it was abandoned long ago by the Multnomah County Board of Commissioners, volunteers keep this festive family-friendly tradition going, and the 112th edition of the Multnomah County Fair will again take place at historic Oaks Amusement Park on the east bank of the Willamette River in Sellwood, on Memorial Day Weekend.
"Our springtime county fair will again present the talents, skills, and crafts that make these events so much fun," promised Friends of Multnomah County Fair President Larry Smith.
"Our theme this year is 'Honoring Those Who Serve', as we pay tribute to past and present members of the armed forces abroad, and emergency first responders here in Portland," Smith told THE BEE.
Families who attend this free fair can take in talent shows, exhibits of animals and crafts, live entertainment, and attractions, he said.
New at the fair this year, Smith announced, will be an attraction called "Butterfly Encounter" – a walk-through butterfly exhibit in which visitors can feed the butterflies, take pictures, or just enjoy being immersed in and surrounded by clouds of butterflies.
Expect to see members of 4-H clubs from around the region, showing off their rabbits, cavies, chickens, and goats, in the Small Animal Barn during the fair. Kids can learn with hands-on experiences in the "4-H Maker's Space", and there will be an opportunity to meet the Metro Teen Ambassadors.
The Multnomah County Fair is where crafters can win awards and cash for showing off their art, crafts, floral arrangements, food and baking, photography, and needlecraft. For Exhibiting information, see their dedicated webpage – https://www.multcofair.org/exhibits.
"There will also be an increased community service presence at the fair this year, with community and nonprofit organization exhibiting," informed Smith.
And, it wouldn't be a county fair without a carnival midway; "I'm sure many brave people will want to try out the new Adrenaline Peak roller coaster here at Oaks Amusement Park," Smith added, having tried it himself already.
The Multnomah County Fair will be open Saturday, May 26, and Sunday, May 27, from 11 a.m. until 8 p.m. Monday, May 28, the last day of the fair, it from 11 a.m. until 7 p.m. The gate admission and parking is free!
The Multnomah County Fair is located at historic, non-profit Oaks Amusement Park, located at 7805 S.E. Oaks Park Way, north from the west end of Spokane Street in Sellwood. For more information, visit the fair's website – https://www.multcofair.org.
---
Police investigated an unsuccessful holdup at the Dutch Bros. coffee drive-thru on S.E. Holgate Boulevard at 26th. (Courtesy of KATU-TV-2 News)
Brooklyn coffee-kiosk robber leaves empty-handed
By DAVID F. ASHTON
For THE BEE
Perhaps the smell of strong coffee gave the bandit the jitters, when he attempted to rob the Holgate Boulevard Dutch Bros. coffee drive-thru at 4455 S.E. 26th Avenue.
Portland Central Precinct officers responded to the 9-1-1 call at 8:53 p.m. on April 3, and learned that a suspect – possibly a white male, five feet eleven inches to six feet tall, with grey hair, and wearing a mask – had walked up to the drive-thru window and demanded money.
"The baristas fled the location," said Portland Police spokesman Sgt. Chris Burley; so there was nobody to rob – "and the suspect left the location without obtaining any money."
Officers searched the neighborhood, but did not find anyone matching the suspect's description. Anyone with information about the incident is asked to contact the PPB Robbery Detail detectives at 503/823-0405.
---
Dining at the now-famous food carts at the Portland Mercado in the Foster-Powell neighborhood is just one of the activities during the third anniversary celebration. (Photo by David F. Ashton)
'Mercado' on Foster Road celebrates third anniversary
By DAVID F. ASHTON
For THE BEE
An area that was, for years, a used car lot, at S.E. 72nd Avenue and Foster Road, began its transformation into a cultural hub for numerous small businesses – the Portland Mercado – in May of 2014. It opened eleven months later – April 11, 2015.
The work had taken about a year to complete, but the Portland Mercado has been going strong ever since.
"Today we celebrate of the third year of the Portland Mercado," said Marketing & Event Coordinator Ambar Solarte, at the celebration fiesta on April 7. "This is a huge one-day celebration – with music, activities for the kids, and a lot of people coming and having fun!
"The Portland Mercado important because it is a hub, where people can meet, who come from different places across Latin America like Mexico, Puerto Rico, Cuba, and Columbia," Solarte said. "Even more, this is a place to learn about different cultures, as our slogan says, 'We are bridging cultures', we love being part of the Portland community."
As many as 50 businesses have operated from the Mercado so far, including 19 permanent businesses – bringing together diverse cultures through food, art, and entertainment.
"Food continues to be our main entrepreneurial thrust, because we have a commercially-licensed food preparation kitchen," Solarte told THE BEE.
Even more, the Mercado offers a "business incubator program" that provides new businesspeople with advice regarding finance, marketing, and licensing, to help them get a good start, she said. "People who shop at the Mercado are supporting the people who are working to make a better life for themselves and their families."
To learn more about the Portland Mercado, go online – http://www.portlandmercado.org.
---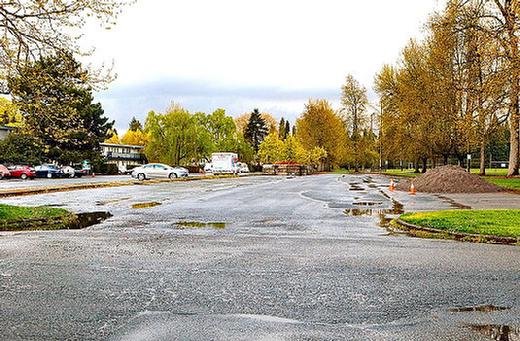 Moreland Farmers Market volunteers and supporters Brooke Fitchen, Tagan and Michelle Rork, Allison Lugo Knapp, Dania Kali, and Market Manager Lannie Kali all show they're thrilled to have one more year at the same location this year. (Photo by David F. Ashton)
Moreland Farmers Market to reopen in May at same location
By DAVID F. ASHTON
For THE BEE
After a national funeral home operator, "Foundation Partners" of Orlando, Florida, acquired Wilhelm's Portland Memorial last year, there was no change in the management team at Wilhelm's, or its services and policies. But, believing they did not need two parking lots, the new owners sold the south lot at S.E. 14th Avenue at Bybee Boulevard for development.
Learning this, the Moreland Farmers Market Board of Directors worked during their 2017 season, and through the winter months, to find a new home for their unique weekly Wednesday-afternoon marketplace.
"We do have big news! We get to stay on the lot! At least this year," exclaimed the market's manager, Lannie Kali, as she and volunteers took a quick tour of the site on a rainy afternoon just weeks before the upcoming opening of the nonprofit market's 13th season on May 9.
"We've been having good communication with the new property owner, Marty Kehoe, who has let us know their development of the site is in that stage of planning – permits and zoning – which could take a while," Kali told THE BEE. "So, this season, through October, we are permitted to continue to use this great lot, which has space for as many as 47 vendors, plus walking space and the play area!"
The market's Board President, Kristen Eberlin, chimed in, "As the neighborhood grows, and as all of Portland grows, empty parking lots and open spaces are in short supply, so we are still looking for a longer-term location.
"Meantime, we encourage everyone to come out on opening day to support the market, and to show how much they value it as a part of their community," Eberlin remarked.
Note down the market's new hours: 2 until 7 p.m. every Wednesday, starting May 9th.
For more information, go online – http://www.morelandfarmersmarket.org.
---
30-year-old Abduraham S. Abubaker now faces three Misdemeanor charges and a Felony charge after allegedly running into a bicyclist, and then driving away from the accident. (MCDC booking photo)
Creston-Kenilworth hit-and-run driver arrested
By DAVID F. ASHTON
For THE BEE
After a bicyclist was knocked to the ground by a blue Dodge Stratus near the intersection of Gladstone Street and S.E. Cora Drive, Friday evening, April 6, at about 7 p.m., police and fire responders were dispatched to the Creston-Kenilworth neighborhood.
Paramedics riding the Woodstock Fire Station's Engine 25 checked over the crash victim, a bicyclist, and provided on-site first aid, before friends took him to a local hospital for further evaluation and treatment.
Central Precinct officers learned from witnesses that the driver of the Dodge had turned south onto Cora Drive from eastbound Gladstone, and there had collided with the bicyclist.
"After the crash, the driver of the Dodge drove away, leaving the injured bicyclist on the road," said Portland Police spokesman Chris Burley.
Apparently the car wasn't driven far; officers discovered and seized the involved vehicle in the parking lot of apartments at 3500 S.E. Cora Drive. "The suspect driver was not located on the day of the crash," Burley said.
But, the investigation continued, and based on based on information uncovered, the PPB Traffic Division's Traffic Investigation Unit finally fingered their suspect on the morning of April 12 – arresting 30-year-old Abduraham S. Abubaker nearly 100 blocks east of the crash, at a home near S.E. 122nd Avenue at Ramona Street.
At 11:16 a.m. on the morning of his arrest, Abubaker was booked into the Multnomah County Detention Center on charges of Assault in the Third Degree, Reckless Endangering Another Person, Reckless Driving, and Driving Under the Influence of Intoxicants.
At his arraignment, Abubaker learned from a Multnomah County Court judge that his Third Degree Assault charge had been dropped, but a charge Felony charge of "Failing to Perform the Duties of a Driver-Injury" had been added to his case. He remains in custody at Inverness Jail in lieu of $15,000 combined bail.
---
The Mt. Scott Community Center, called "the only full-service Community Center in Southeast Portland", now needs considerable repair to assure safe and reliable operation, says the Parks Bureau. (Photo by David F. Ashton)
Mt. Scott Community Center slated for major repairs
By DAVID F. ASHTON
For THE BEE
When Portland Parks & Recreation (PP&R) announced in March that the Mt. Scott Community Center would be undergoing about $15 million in renovations and upgrades, the neighbors who've been supporting the threatened Community Centers in Woodstock and Sellwood expressed concerns.
The proximity of Mt. Scott Center – located 1.7 miles east of the Community Center in Woodstock – is cited by the city as reason to potentially close the Woodstock and Sellwood Centers in the operating budget cutbacks proposed by Mayor Ted Wheeler.
The Mt. Scott Community Center was designated as a "Build Portland" project, an initiative funded by the Portland City Council, via a recent Office of Management and Finance ordinance.
"This project is separate from the potential cuts which PP&R was mandated to propose in our budget for the coming Fiscal Year – for the seventh time in ten years – where we have had to submit cuts, instead of maintaining or increasing our budget," reported PP&R Public Information Officer Mark Ross.
"And, even when we have had funding added which have kept the Woodstock and Sellwood Centers open, it hasn't been to replace the services which were lost in previous cuts – rather, it has come with new responsibilities, such as taking over maintenance of public fountains from the Water Bureau," Ross told THE BEE.
Far from the planned renovation being a beauty makeover of the Mt. Scott Center, Ross pointed out, is that this project is needed "to assure safe and reliable operation in the coming decades", because parts of this 70,000 square-foot facility date from the 1920s.
The project, he said, addresses these issues:
The roof is failing

One of the major air-handling units is failing

The "old" half of this 1920's facility has never been updated to code, condition, or functionality requirements

It's an Unreinforced Masonry building, which has only had a partial seismic retrofit

Radon was discovered and mitigated in 2016, but other HSE issues remain

The City's insurance carrier identified the need to install fire sprinklers and gas shut-off valves there
Some of the roofing work has already taken place, Ross remarked, adding "Within the next two years, full design for the whole project will be mapped out."
The project is estimated to take approximately three to four years Ross noted.
Community members who commented to THE BEE about the project all said they were made aware that the funds for Mt. Scott Community Center renovation were from a different source than the noperating funds.
Dawn Haecker, of Friends of Woodstock Community Center, commented, "It's probably a good thing that money is being invested in Mt. Scott; there are many areas that could use attention."
Haecker wondered, "If $15 million is available for improvements [at Mt. Scott], why is the city claiming there isn't enough funding to do even routine maintenance on the other Community Centers?" She also asked, "Can the plan be scaled down, or implemented more economically, to make this possible?"
Ross clarified about funding: "System Development Charges (SDCs) – the funds to build new parks – and the 'Parks Replacement Bond' and 'Build Portland' projects, are separate from the General Fund, from which we have been directed to submit 5% potential cuts. Those other funds cannot, by law, used to supplement needs of the Portland Parks & Recreation General Fund."
"I'd be interested to know how much Parks Bureau SDC money is being generated in Woodstock, and how much is being reinvested in Woodstock or Sellwood," wondered Haecker. "But, I want to be clear. I do not begrudge the opportunity to improve the Mt. Scott building."
Woodstock Neighborhood Association Chair Elise Edgington, speaking for herself, commented, "We're glad to be geographically located close to Mt. Scott Community Center; they have many classes, the pool and roller rink, and we wouldn't want it to go away."
However, Edgington added, "It appears as if preventative maintenance hasn't been done. When we were approached about supporting the Parks Replacement Bond, and when voted for it, we believed it would help keep our own Woodstock Community Center open."
Gail Hoffnagle, of Friends of Sellwood Community Center, chimed in, "I do not resent Mt. Scott Community Center having money to improve their building. It is a well-used Community Center and I do not want to pit one Center's needs against another Center for financing and improvements.
"It does tell me, though, that the Park Bureau is quite capable of coming up with money for repairs and improvements if and when they choose to do so," Hoffnagle remarked. "The Park Bureau has decided that 'mega centers' are preferable over small centers. Yet, the Park Bureau has made no attempt to create new 'mega-centers', and even if they did, it would be impossible to locate places for them to meet the '20 minute neighborhood' goal outlined in the city plan."
She continued, "Small Community Centers are vital to our neighborhoods – and are called 'Community Centers' and not 'recreation centers' for a reason. The emphasis is on creating and maintaining community, with recreation programs serving as the vehicles to help us connect, grow, and play, as a group."
The Park Bureau needs to change its mindset about small community center recreation programs, Hoffnagle suggested. "They are vital to the city, as well as to the communities, and they are well worth the money and time spent to keep them open and in good working condition."
---
50-year-old Khomphakanh Vondara, left, the driver of the car, is out of jail, but will return to court to face DUII and Reckless Driving Misdemeanor charges. Although 34-year-old Micah Roy Rascoe, right, was caught with drugs and guns, he made bail and is also out of jail, but he will still stand trial for five Felony charges and numerous Misdemeanors. (MCDC booking photos)
'Speeding' stop leads to Brooklyn drug bust
By DAVID F. ASHTON
For THE BEE
When Central Precinct officers took notice of a speeding blue Lincoln Town Car along S.E. Powell Boulevard near 20th Avenue at 1:39 a.m. on early on Friday morning, April 13, they didn't yet know it would lead to finding drugs and weapons.
"The officer performed the traffic stop and observed evidence that the driver was operating the vehicle under the influence of intoxicants," reported Portland Police spokesman Sgt. Chris Burley.
Then another officer who arrived for backup became concerned after spotting a gun in the car near the passenger.
"As the investigation continued, officers located two loaded firearms, a knife, handcuffs, pepper spray, a baton, seven grams of cocaine, and $1000 – all of which was seized as evidence," Burley said.
The passenger, 34-year-old Micah Roy Rascoe, was arrested and booked into the Multnomah County Detention Center (MCDC) at 3:34 a.m. on two counts of Felon in Possession of a Firearm, three counts of Carry Concealed Weapon, two counts of Possession of a Loaded Firearm, one count each of Felon in Possession of a Restricted Weapon, Theft in the First Degree, Possession of Cocaine, and Delivery of Cocaine. Having made bail on March 18, Rascoe was released from custody pending trial.
The driver, 50-year-old Khomphakanh Vondara, was lodged in MCDC at 4:27 a.m. that morning, and faced charges of Driving Under the Influence of Intoxicants, and Reckless Driving. After his arraignment later that morning, Vondara was "Released on Own Recognizance" until his trial.
---
Sellwood Middle School students, with teacher Nathan Back at center right holding yellow hand rattles, played joyful songs on the Sellwood Community Center patio on St. Patrick's Day. On Wednesday, May 9th, at 7 p.m,, they'll offer a free public Spring Concert at the middle school. (Courtesy of Marie Phillips Barlow)
Sellwood Middle School's Marimba Band 'plays for joy'
By ELIZABETH USSHER GROFF
For THE BEE
On Saturday, March 17th, when over two hundred people gathered at the Sellwood Community Center in support of all of Portland's local community centers, a centerpiece of the rally was live music by the Sellwood Middle School Marimba Band.
Bending over twenty-six marimbas placed on the patio, twenty students tapped out one joyful song after another.
Begun eighteen years ago by Sellwood Middle School math teacher Heidi Perr, and funded by grants, the school's marimba band is still flourishing, under the direction of math and marimba teacher Nathan Beck. Over the years, it has become quite regionally famous.
Beck graduated from Lewis and Clark College in 1992 with a minor in music. Prior to his studies at Lewis and Clark, he played drums in the Santa Clara Vanguard Drum & Bugle Corps (1986-88).
In 1992 when he heard "Boka Marimba", a local band which plays Zimbabwean marimba, he was captivated by the joyful melodies and funky rhythms – and, after a few months and a workshop, he started playing with that band. He then spent sixteen years teaching marimba at Lewis and Clark while playing with Boka.
"I spent one and a half years in Zimbabwe (1996-98) learning traditional music, language, and culture," remarks Beck. "When I returned I started teaching marimba in the community, and arranging music for Boka Marimba."
Beck has continued to play with Boka for twenty-six years now. He has also been teaching the Sellwood Marimba Band for four years. His schedule at Sellwood is teaching one class of math, and four elective classes of marimba – the latter, involving a total of 110 students.
"Marimba is becoming more popular because it is such a great vehicle for teaching kids. It is really good for kids at that age [middle school] on so many levels," smiles Beck. "It requires memorizing, using motor skills, and using different parts of the brain. It's physical, and it is based on rhythm and patterns.
"Learning marimba also brings kids together really quickly. And for some kids, it's the point of success in their day. They may have struggles with math or other academic classes, but they have success in marimba, and that is really beneficial!"
The 26 Sellwood Middle School marimbas were all made locally, with several actually made by a former student. The keys are made of padauk, an African wood. They are mounted on a frame, and held together with cords.

Every summer, Beck takes a group of about twenty students to "ZimFest" – a Zimbabwean Music Festival, hosted by various colleges in Oregon – where they learn and play marimbas while living in dorms. This year, August 9-12 they will be at Western Oregon State University in Monmouth, southwest of Salem.
On Wednesday, May 9th, at 7 p.m., the Sellwood Middle School Marimba Band will play a one hour and fifteen minute Spring Concert – free, and open to the public, at the school, 8300 S.E. 15thAvenue, two blocks south of Tacoma Street.
If you're among the few who haven't yet heard them in person and would like a preview, search online for: "Sellwood Marimba Band - Zomba - Westmoreland Park 5K Performance". And then plan on attending the free concert.
---
A Portland Fire & Rescue investigator looks into the burned bedroom of this Foster-Powell neighborhood house.
Foster-Powell blaze damages house
By DAVID F. ASHTON
For THE BEE
Fire broke out just before 8 a.m. on April 18th in the bedroom of a house at 4516 S.E. 65th Avenue near Holgate Boulevard in the Foster-Powell neighborhood.
Crews from PF&R Woodstock Station 25's Engine and Truck companies were the first to arrive, and reported to the dispatcher that dark smoke was rising from the rear of the residence.
A lieutenant later confirmed that the fire started in a rear bedroom. The female occupant escaped the blaze, which soot-darkened all of the windows of the house, and she sheltered in her car while firefighters extinguished the fire. "No one was transported for medical treatment," the lieutenant said.
The fire was knocked down quickly, but firefighters remained there for an hour or more afterward, pulling out charred material, and snuffing out embers using low-pressure "Class A Foam", a penetrating surfactant.
The cause of the fire and the monetary damages estimate have not yet been reported.
---
Terry Griffiths, left, one of the founders of Friends of the Woodstock Community Center, accompanies FWCC Chairperson Dawn Haecker in receiving a $3,235 check from Matt Civis, Woodstock Advantis Credit Union Manager, as part of the grand opening promotion. (Photo by Elizabeth Ussher Groff)
Community Center supporters receive check from credit union
By ELIZABETH USSHER GROFF
For THE BEE
After a month of customers dropping plastic tokens into small blue boxes at Advantis Credit Union on Woodstock Boulevard at S.E. 43rd Avenue – the tokens were to direct charity funds, as part of the organization's grand opening in Woodstock – all one thousand tokens were finally gone, and the results were in.
In February three elementary schools – Duniway, Lewis, and Woodstock – and the Woodstock Street Art Project, and Friends of the Woodstock Community Center – were chosen by Advantis to receive the grand opening donations, dispersed according to how patrons deposited the tokens for each organization. Each token represented five dollars.
In early April, Advantis notified each of the organizations of the sums they had "earned" by the customer promotion, and the nonprofit Friends of the Woodstock Community Center was very happy to hear that 647 tokens had been deposited into their small box, meaning a donation of $3,235 dollars.
On April 10th Advantis presented a check in that amount to Dawn Haecker, Chairperson of Friends of the Woodstock Community Center, outside the community center.
Haecker remarked, "The Friends of Woodstock Community Center and the Woodstock Neighborhood Association are very grateful for this show of support from the community."

The Advantis donations to the other participating organizations were: Duniway Elementary PTA, $260; Lewis Elementary PTA, $475; Woodstock Elementary PTA, $455; and the Woodstock Street Art Project $575.
Matt Civis, Woodstock Advantis Manager, commented, "At previous grand openings we would give away a trip, but this time we decided to give that money back directly to the community. We also were excited to let the community decide where the money went."
As has been reported in THE BEE, four small Portland Parks & Recreation Community Centers are threatened with closure, so if that happens to the Woodstock Community Center, FWCC will discuss sharing the money with the other organization and schools who were a part of this promotion.
If the Center stays open, the money will be used to help with custodial and miscellaneous maintenance costs that are overseen by Friends of the Woodstock Community Center in a fifteen year-old partnership agreement with Portland Parks and Recreation.
---
Firefighters from PF&R Woodstock Station 25 check the crash scene for leaking fuel, and spread absorbent material, after the wreck at S.E. 54th Avenue and Foster Road.
'Odd intersection angle' blamed in Foster Road wreck
By DAVID F. ASHTON
For THE BEE
After the sound of a sickening thud and smash, heard from a block away, a car horn blared. The sounds were that of a two-vehicle smashup in the intersection of S.E. 54th Avenue and Foster Road on Tuesday, March 27, at 3:34 p.m.
This is one of Portland's odd intersections, where three roads intersect. In this case, the third street is S.E. Francis Street, making it difficult to turn from a side street onto Foster Road.
"I could see the driver of the black Subaru [northbound on 54th Avenue] edging out, waiting for traffic to clear, either to cross Foster Road, or to turn left [westward] on Foster," explained Marge Hamilton, who told THE BEE she saw the wreck occur while walking to her bus stop.
Apparently, Hamilton said, the driver of an eastbound Toyota Camry on Foster Road didn't see the Subaru pulling out – or didn't have time to stop.
Police officers and Woodstock Fire Station Engine 25 arrived at about the same time, and shortly after that an ambulance pulled up.
From information learned at the location, an occupant in one of the wrecked vehicles was transported to a local hospital for medical evaluation and treatment. Evidently no citations were issued.
---
Although the move is not yet set in stone, the Errol Heights Community Garden, with spring crops already growing, is slated to be "moved" south – to make way for a new road alignment next year. (Photo by David F. Ashton)
Improvements coming to Hazeltine Park
By DAVID F. ASHTON
For THE BEE
At the April meeting of the Brentwood-Darlington Neighborhood Association (BDNA) meeting on Monday evening, April 5, improvements to two parks and the relocation of a community garden were the agenda topics that brought 48 people to their Community Center.
"So many have asked us to bring it back, so we're happy to announce the return of the 'BDNA Bulky Waste Clean-up' on May 5, from 9 a.m. until the drop boxes are full in the early afternoon," announced the neighborhood's Chair, Chelsea Powers. Neighbors from Woodstock are welcome to take advantage of it too, she said.
"Because of the Metro and City of Portland Bureau of Planning & Sustainability rules, we can't accept commercial loads, toxic waste or building materials, including remodeling and demolition materials, at our cleanup – held again in the parking lot of the Learning Garden Lab, 6801 S.E. 60th Avenue," Power remarked, suggesting checking their website for more information – https://www.brentwood-darlington.org.
The featured speaker of the evening, Portland City Commissioner Amanda Fritz, who oversees Portland Parks & Recreation (PPL&R), brought news of improvements to Hazeltine Park, and changes to Errol Heights Park.
The cost to create Hazeltine Park, acquired in 2001, was greatly reduced thanks to in-kind donations, but the park has remained primarily a rolling, grassy open space since its opening. But, over the summer, PP&R will be installing a "Nature Patch" – a brand-new program of Bureau. "It's a natural, sustainable garden that will improve the horticultural diversity and the ecological health of the park," explained PP&R "Ecologically Sustainable Landscapes Program" Coordinator Eric Rosewall.
In addition to providing "pockets" of native plants, flowering ornamental plants, and habitat trees, the project includes making the picnic area "ADA accessible", Rosewall told THE BEE before the meeting. "And, we'll have a 'Nature Spot' for kids, with small natural features for them to explore and hang out on and climb."
During the meeting, long-time parks proponent Gail Kiely asked Commissioner Fritz why a more substantial play structure isn't planned for Hazeltine Park, along with the natural areas – especially if neighbors raise funds to add one.
"The challenge we face is, as a Bureau, don't have the capacity," Fritz replied. "There are a lot of needs everywhere, including in this neighborhood, and we're making the investment in nearby Errol Heights Park as a 'down payment', if you will. I agree that, over time, a play structure at Hazeltine Park is necessary."
Chair Powers said that raising money is the issue, the BDNA is willing to partner with other neighborhoods with projects "on the list" ahead of Hazeltine Park.
"We don't say no to money," Fritz replied with an enthusiastic smile. "We know you care about parks, because you're willing to fund raise for what you want. But, the challenge is, we just don't have the ongoing staff to be able to do that," Fritz commented, and asked interested people to participate in a long-range planning discussion.
Community Garden to be moved
The commissioner said that she knew one of the major issues of interest to the neighborhood was "moving" the Errol Heights Community Garden from its present location, due Portland Bureau of Transportation (PBOT) plans to connect S.E. Tenino Court to S.E. Tenino Drive as part of the Errol Heights Street Improvement Project.
Responding to questions such as "Is it feasible to move the garden, or is it a waste of money?" the Fritz recounted her memories of the garden's grand opening. "I admire the people who put in the time and effort into getting the community garden going; however, it was always intended that that garden might not stay there."
PP&R Community Engagement Representative Barbara Hart chimed in, "We are just launching the project to improve Errol Heights Park. The garden is in the location that has worked for it for the last seven years; but, moving forward, it is in a very difficult place for the overall improvements that we want to make to this park."
Within the boundaries of the three acre park, "flat space" for soccer fields, restrooms, picnic shelters, and lawn, are in short supply, Hart pointed out. "Thus, 'moving' the garden south, so it isn't cut off from the rest of the park by S.E. Tenino Court, is a good option."
"A good thing about the park is that, in 2005, a Park Master Plan was created; part of this Master Plan actually moves the road to create as much 'park space' as they could, in the future," commented PP&R Project Manager George Lozovoy

"And, where we fell short in 2006 was in not vacating the existing road right-or-way away and dedicating the new right-of-way that was in the Master plan," Lozovoy admitted. "We got busy, things slipped – but it makes sense to move the road out of the way, considering such criteria as function, safety, cost, and aesthetics."
Plans for improving Errol Heights Park are far from finalized, the officials emphasized. The first meeting of the project's Advisory Committee is on Wednesday, May 23, 7 to 9 p.m., in the Woodstock Community Center.
---
Firefighters quickly extinguish a fire in the kitchen of this house, reportedly related to a camp stove found there. (Photo by David F. Ashton)
Arson suspected in Foster-Powell fire at 'troubled house'
By DAVID F. ASHTON
For THE BEE
A fire on Wednesday, April 18, at 3:08 p.m., brought Portland Fire & Rescue (PF&R) crews to a Foster-Powell neighborhood home; and four Portland Police Bureau officers responded as well.
The house at 5919 S.E. Gladstone Street had been like many others in the neighborhood; neighbors said its owner was a respected professional musician, up until a year or so ago when "he changed".
Recently, at times, debris and trash would "cascade out the front door" of the home and into the yard and up to the fence, a neighbor told THE BEE. Public records confirm several "Owner Occupied Nuisance Complaint" filings this year at the Bureau of Development Services which enforces the Housing & Nuisance Code.
PF&R Woodstock Station Engine 25 was the first to arrive, followed in rapid succession by three additional rigs from two other stations, and the fire was quickly knocked down.
Reportedly, there wasn't even electric power at the residence at the time of the fire, and neighbors reported odd "chemical" smells coming from the house.
Firefighters on scene confirmed that the fire appeared to have started in the kitchen, and said they suspected the blaze had something to do with a camp stove found there.
As fire crews were wrapping up, police determined the homeowner could not be located. A call went out to officers out looking for the owner to report that he was being sought for "probable cause, arson".
The fire is still under investigation.
---
Welcoming a full house to the 2018 FHS Poetry Slam were co-masters of ceremonies Marcéline Kilassa and Nathan Wilk. (Photo by David F. Ashton)
FHS 'Poetry Slam' selects students for 'Verslandia' competition
By DAVID F. ASHTON
For THE BEE
Now in its seventh year, the annual Franklin High School (FHS) "Poetry Slam" got underway Thursday evening, April 12, with 21 poets/performers taking the stage of the school's former auditorium, now beautifully remodeled into its "Media Center" library.
For the uninitiated, a "poetry slam" is a competition in which poets read or recite their original work before an audience and panel of judges.
"The performers can't use props, music, or costumes, and the performances are limited to three minutes," explained FHS freshman English teacher and Poetry Slam Committee member Pam Garrett. "This event gives students an opportunity to 'have their voice'; it's a place where they can express their creativity and be rewarded for their work.
"Although we say, 'the [scoring] point is not the point', it is competitive – because, in the end, someone wins the slam, receives $100, and goes on to compete at the citywide 'Verselandia' competition in late April, held downtown in the Arlene Schnitzer Concert Hall."
Students say they participate, Garrett told THE BEE, because there are avenues for specific expression at Franklin High for music, drama, and dance, this gives them a "written word/spoken word" way to express themselves. "They tell us they love coming back, they love the camaraderie among the poets, and they really enjoy supporting one another, even though it's a competition."
FHS students Marcéline Kilassa and Nathan Wilk, who served as masters of ceremonies, got the program started and introduced the program's Chair, Sarah Childs. She thanked the school's PTA for funding the poetry slam, and outlined how performances are scored.
The students spoke, emoted, and at times poured out their emotional lives, each one in three minute segments. During the presentations, the audience members snapped their fingers to indicate that a passage was meaningful or entertaining.
After two rounds of competition, FHS sophomore Kalyn Street took first place; junior Lucinda Drake came in second, and in third place – meaning that she also serves as an alternate to "Verslandia" – was FHS junior Lucy Walker.
---
Sellwood resident Jan Hainley picks up a "20 is Plenty" sign from Portland Bureau of Transportation staffer Sharon White, at Lane Middle School. (Photo by David F. Ashton)
City's '20 is Plenty' speed signs in high demand
By DAVID F. ASHTON
For THE BEE
When word got out that a representative of the Portland Bureau of Transportation (PBOT) would be giving away lawn signs – emblazoned on both sides with the speed slogan "20 IS PLENTY" – residents from all over Inner Southeast Portland came to the Brentwood-Darlington neighborhood to pick up several of the orange-and-white placards just before noon on Saturday, March 24.
PBOT staffer Sharon White, well-known to readers of THE BEE from being the "designated walker" in numerous Pedestrian Crossing Safety Missions, found eager takers hoping to get several of them – even in the rain showers of the day – as she unloaded her van in front of Lane Middle School. It was one of the city's last opportunities to pick up these signs.
An early arriver, Jan Hainley of Sellwood, was disappointed to discover she could only have one sign. "People all up and down our street asked me to pick up one for them," Hainley explained.
To find out why these popular lawn signs were made, and why they are in short supply, THE BEE contacted PBOT Public Information Officer Dylan Rivera.
"We made these signs to help raise awareness among Portlanders of the new 20 mile per hour speed limit on residential streets, approved by the state legislature in 2017, and passed as an ordinance by the Portland City Council in January, approving this change to take effect citywide on April 1," Rivera explained.
PBOT placed an initial order of 2,500 signs and began distributing them at a dozen locations around the city in early February.
When discovering that every neighbor who came to the sign give-away had expected to take several, and thus had left disappointed, Rivera replied, "We recognize the limitation can be frustrating, especially when people travel a long distance to a pick-up site."
Initially, PBOT didn't limit signs, but as they were rapidly snatched up, the decision was made to cap the number at ten per person – and finally, to reduce the limitation to a single sign per person. "This has resulted in some people leaving disappointed, and we apologize for that," Rivera said.
Still, Rivera said, those working with the project have been "thrilled by the positive public response to this program, and the speed limit change; even a 5 mph reduction in driving speed significantly decreases the likelihood that a crash will result in someone dying."
It's not an April Fool's joke – even if the official signs have yet to be replaced in your neighborhood, residential streets are now limited to 20 mph, as of April 1. Drive safely!
---
Cresting the 72-foot first drop, these riders on the new Oaks Park "Adrenaline Peak" roller coaster look thrilled already. Or is that fear. (Photo by David F. Ashton)
'Peak' roller ride draws crowds at Oaks Park
By DAVID F. ASHTON
For THE BEE
As promised, the new "Adrenaline Peak" roller coaster opened at historic Oaks Amusement Park on the last weekend in March, just in time for Spring Break.
Drizzle dampened crowds on opening day, but when the sun came out on March 30, the Oaks' ticket offices were swamped with folks coming to enjoy the brand new ride, and all of the attractions at the park.
Jeanni Crane and Scott Cage were two of the riders. "I really like rides like this, and it's amazing!" said Crane. "Rode it the second time because it was so much fun the first!" exclaimed Cage.
Others excitedly commented on the thrilling sensation of being pulled backward on the initial drop, and others remarked on the loop; but it was riding through the helical inversion that startled many riders, we learned.
Up you're up for a helical inversion yourself, find out more about the brand new roller coaster as well as other features at nonprofit Oaks Park – now the oldest continuously-operating amusement park in the country – at their website, http://www.oakspark.com.
---
PIANO DAY CELEBRATED AT OMSI. At six locations in the Portland area on March 29, the sound of piano music wafted through the air, as musicians celebrated "International Piano Day". East of the Willamette River, the music was in the atrium of the Oregon Museum of Science and Industry, where Jim Templeton played. A local organizer, Robin Power, explained that the celebration is on the 88th day each year – because there are 88 keys on the piano. (Photo by David F. Ashton)
---
Comments? News tips? Click here to e-mail us!

Note to readers: At some point in the future, this, our original Internet website, will probably be replaced at this web address by our new website, as part of the Community Newspapers group. At that time, you will still be able to access this older, but still operative, website, if you save this address: www.southeastPDXnews.com. Right now, it leads you to our new website. Eventually, it will lead you back to this old one! Both will be up to date and current, and you'll still have your choice of which one to visit!

READY TO MOVE ON TO THE EDITORIAL, AND THE "LETTERS TO THE EDITOR", ON PAGE 3? CLICK HERE!