More stories from July's issue of THE BEE!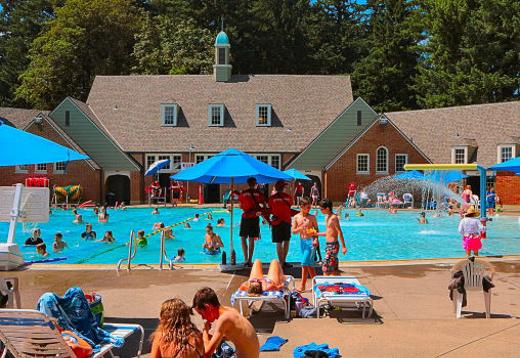 Folks are heading to the historic Sellwood Pool and its recently repaired Pool House, now that they're open for the season at the south end of Sellwood Park! (Photo by David F. Ashton)
Summer begins with opening of Sellwood Pool
By DAVID F. ASHTON
For THE BEE
Just in time for the start of summer, Portland Parks & Recreation's historic Sellwood Pool – it's the oldest public swimming pool in the city – opened for family fun on June 18.
"This means we're open all summer – with swim sessions, lessons, and exercise classes," said Sellwood Pool Assistant Manager Alex Stewart.
To cover all of the shifts and positions, Stewart said 60+ staff members, including swim instructors, lifeguards, and water exercise class leaders, work out of the location.
"We've all had our training, and everyone's ready and excited to work as a team this summer, to provide a safe environment for kids, families, and adults, as they enjoy the pool," Stewart told THE BEE. "Our lifeguards have gone through training, in the nationally-provided 'StarGuard ELIETE' program; and they are all certified in CPR, first aid, and lifeguarding – making them well-equipped to handle anything that happens."
In addition to the pool's regular schedule, and the "Summer Free for All" free swim sessions on Wednesday evenings each week, Stewart said the "Fun Water Safety Day" – with informational booths about water safety, as well as face painting, games, and music – will be on July 24, from 7:30 until 8:50 p.m.
For the "Aquatics Summer 2019 Guide for Sellwood Outdoor Pool", admission fees, and other information, go online – https://www.portlandoregon.gov/parks/61026.
---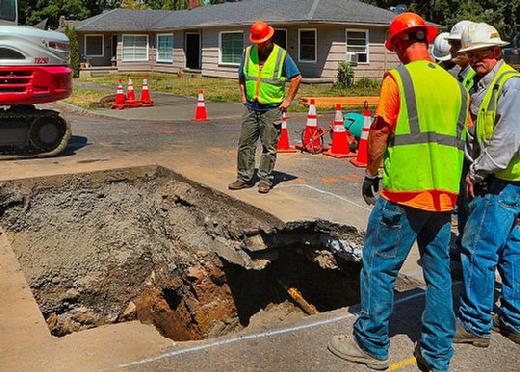 Shortly after the pavement caved in on June 12, PBOT workers used an excavator to open the hole that eventually become more than 18 feet deep, in order to reach and fix a broken sewer pipe. (Photo by David F. Ashton)
Traffic slammed by repeat sinkhole on Westmoreland's Milwaukie Ave
By DAVID F. ASHTON
For THE BEE
A northbound TriMet bus narrowly escaped a sinkhole, when the asphalt pavement at the corner of S.E. Milwaukie Avenue at Reedway Street gave way in the hot late-afternoon hours of Wednesday, June 12.
"There was a break in the sewer main, which is about 18 feet deep; no sewage was released to public spaces, or to nearby homes," City of Portland Bureau of Environmental Services Public Information Officer Diane Dulken told THE BEE.
Recalling a sinkhole and sewer repairs in the same intersection about three years ago, we contacted Portland Bureau of Transportation Public Information Officer Dylan Rivera.
The last incident was in April of 2016, but it was on the south side of the intersection. "This is on the north side of the intersection," Rivera confirmed. "Workers have seen pieces of clay pipe and concrete that seem to indicate a sewer line break."
Once again, crews dug deep into the street – through layers of pavement, cobblestones, and old trolley tracks; being careful to leave a NW Natural Gas pipe intact – to repair the aging, broken section of sewer pipe.
"The sewer main is believed to be at least 80 years old," Rivera said. "We have no information that suggests any link between the new break and the 2016 incident, and we don't have information on what might have caused the sewer main to break."

The sewer repair evidently was not easy to complete, since despite PBOT having paved the street by the following weekend, most of the following week the intersection was again closed and dug up for more work.
For the whole week and a half, Milwaukie Avenue was closed to northbound traffic at Bybee Boulevard, and drivers in north Westmoreland – particularly northbound traffic detoured east to S.E. 17th – backed up for blocks at the McLoughlin Boulevard traffic light.
---
This project has made S.E. Foster Road no longer a "high speed, auto-oriented corridor", says Portland City Commissioner Chloe Eudaly. (Photo by David F. Ashton)
'Foster Road Streetscape' completed; celebrated
By DAVID F. ASHTON
For THE BEE
A project that began in earnest back in 2012 – then called the "Foster Corridor Investment Strategy", along S.E. Foster Road, from 50th Avenue to the western edge of the Lents Town Center at 91st Avenue – officially came to a conclusion on Thursday morning, June 13, in the Foster-Powell neighborhood.
Officials from the City of Portland, as well as area business and neighborhood associations, gathered at the intersection of S.E. Foster Road and 72nd Avenue in the "Portland Mercado" lot to celebrate the completion of what was later renamed the "Foster Transportation and Streetscape Project".
Transportation Commissioner Chloe Eudaly remarked that the $9 million project has transformed Foster Road from a "high speed, auto-oriented corridor, into a streetscape that is safer, and more accessible for people walking, biking, taking transit – and driving.
"Thank you for your patience and understanding throughout the planning and construction of the project, as well as your vital input," said Eudaly. "I know it's been a long time coming; and, I hope it was worth the wait, because it looks beautiful. This is not just about changing the street; it's about fostering a sense of community."
Portland Bureau of Transportation Director Chris Warner didn't mention that vehicle traffic lanes had been reduced from four down to two, with a center turn lane; but he did point out that six rapid-flash beacons were installed, "blocks and blocks" of bike lanes were added, 200 street trees were planted, and additional street lights were put in.
"As President of the Foster Area Business Association (FABA), and on our organization's behalf, we're happy to celebrate the completion of the Foster Streetscape projects," said Allen Rowand. "This is the next step in our Neighborhood Business District's evolution to becoming a destination – rather than a throughway.
"And, we thank PBOT for their ongoing support, working with us throughout the whole process, including sponsoring several of our events, which we are repeating this year."
Shea Flaherty Betin, Director of the "Portland Mercado", commented, "We envision increased economic opportunity along Foster for small businesses, for entrepreneurs, and for the thriving entrepreneurial ecosystem we have here at the Mercado."
Members of the Foster-Powell Neighborhood Association were also happy to witness the conclusion of the "Foster Road Streetscape", said the association's co-chair, Eric Furlong.
"We have collaborated on this project since its inception," Furlong recalled, "and, through all its 'twists and turns', this is a good example of how, with open communication and transparency, PBOT, the City Commissioners, and the stakeholders can complete a project as successful as this one.
"We look forward to seeing you all out on Foster Road!" concluded Furlong.
After the ceremonial ribbon was cut, FABA's Rowand told THE BEE that they'd just set July 20 as the date for their summer promotion, the "Foster Tasting Tour", in which "you can try everything from booze to board games, and win prizes by filling up your Tasting Tour passport."
Find out more online – https://www.fosterarea.com/events/event/tasting-tour-2019.
---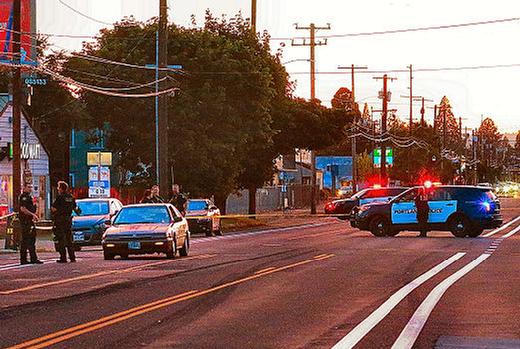 After a pedestrian was fatally struck at sunset on S.E. Foster Road, in the Foster-Powell neighborhood, police closed down the street to begin their investigation. (Photo by David F. Ashton)
Elderly woman killed while crossing Foster Road
By DAVID F. ASHTON
For THE BEE
Only hours after City of Portland officials, and neighborhood and business leaders, cut a ribbon on June 13 formally dedicating the new "Foster Road Streetscape" project – making it a safer street, by eliminating half the vehicle traffic lanes, and installing other improvements – an unfortunate incident occurred which demonstrates that improved safety is relative, and not absolute: An elderly woman was struck while crossing the street only a block west of where the ceremony took place.
As the sun was setting at 8:40 p.m., East Precinct officers arrived at the intersection of S.E. Foster Road and 71st Avenue to investigate the accident involving a Honda Civic and the pedestrian.
"Police and medical crews found a pedestrian suffering from critical injuries; she was transported to a local area hospital," confirmed PPB Public Information Officer Sergeant Brad Yakots.
As PPB East Precinct officers closed down Foster Road, a Traffic Division officer began the investigation of the crash.
"The investigation determined a Honda was travelling east along S.E. Foster Road, and struck a pedestrian who was crossing in an unmarked crosswalk, near Southeast 71st Avenue," Yakots said.
The driver of the car stayed at the scene of the crash and cooperated with the investigation; a "Trauma Intervention Program" volunteer consulted with the driver at the scene. "Eventually, the driver was released from the scene," reported Yakots.
The following morning, Yakots reported that the woman, identified as 82-year-old Louanna Battams, had passed away at a hospital from her injuries. This is the 26th traffic related fatality of 2019.
Anyone with information relating to the crash is asked to contact Traffic Investigator Chris Johnson at 503/823-4028.
---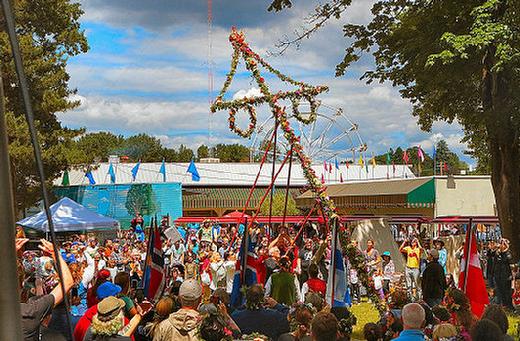 With a mighty heave-ho, volunteers again this year raised the "Majstang" before the traditional Scandinavian line-dancing began. (Photo by David F. Ashton)
Oaks Park 'Nordic frolic' shares Scandinavian traditions
By DAVID F. ASHTON
For THE BEE
Those who enjoy, or are simply curious about, Nordic traditions flocked to the 91st annual Portland Scandinavian Midsummer Festival, again taking place at nonprofit Oaks Amusement Park June 8.
Parking was scarce in The Oaks' capacious free lots, when families streamed in to enjoy a party to welcome "midsummer", in the way it is done in Sweden and other Scandinavian countries.
"It's a celebration of summer; a wonderful outdoor event with flower crowns, a beer garden, live entertainment, kids' crafts, lots of good food, and makers presenting Nordic wares," Nordic Northwest Events & Programs Manager Sassa Anders Carver succinctly described for us the goings on.
"And, everyone looks forward to the community effort of raising, then celebrating around the very traditional Swedish 'Majstang' (Mid-Summer Pole) in the afternoon," Anders Carver told THE BEE.
Kristi Gustafson, the festival's Co-Chair and President of the League of Swedish Societies, told why this celebration has thrived for decades: "This event celebrates the traditions of people from the Nordic countries; not only Sweden, but also the cultures of the peoples of Denmark, Finland, Iceland, and Norway, who have brought a lot to the history of the world, past and present.
"After a typically long, cold winter, Scandinavians take this time to enjoy getting out and being in nature during the longest days of the year, to celebrate with family and friends."
The day-long festival isn't just for Scandinavian people, Anders Carver pointed out. "You certainly don't have to be Nordic to be welcome here and enjoy it. And, it's a fun way to learn about Scandinavian people and their customs, and appreciate their cultural heritage," she said – pointing out that the festival is registered as an "Oregon Heritage Tradition".
Some of those who came helped to decorate the Midsummer pole; others made flower wreaths, indulged in Nordic summer delicacies, and played games on the lawn – all while celebrating the warmth of long summer days.
Anders Carver said she just couldn't name her favorite part of the festival, because she enjoys all of it so much.
Gustafson thought about our question and replied with a smile, "That's a tough one. It's somewhere among enjoying the food, the 'Sma grodorna' (the 'Little Frogs' dance), and the procession and the raising of the 'Majstang'."
Those interested in other activities and events offered by Nordic Northwest can learn more by going online – https://www.nordicnorthwest.org.
---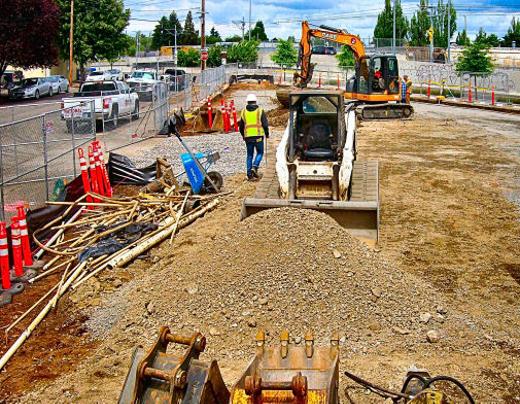 Work is underway at Brooklyn's four-story "Dean River Apartments", near S.E. 17th and Pershing Street. (Photo by Rita A. Leonard)
Construction begins on four-story Brooklyn apartment building
By RITA A. LEONARD
For THE BEE
A new four-story apartment structure, described as having "affordable units", is now under construction on a triangular lot in Brooklyn near the MAX Orange Line crossing at Powell Boulevard. The site, bounded by S.E. 16th, 17th, and Pershing Street, was originally proposed by residents for a neighborhood orchard four years ago.

After much volunteer design planning for the orchard, however, TriMet – which owned the plot – turned down the idea in favor of selling the space for development.
Contractor "Siteworks Design-Build" began construction on the gravel lot in mid-May. The new "Dean River Apartments", as it will be called, will have many studio apartments, and is intended to appeal to PSU students who are thought to find it easy to bike or take MAX across the river to the downtown university. There's no parking planned for the site – the city does not require any – but there will be much bike storage space.
The owner of the development, NorthWest Sustainable Properties, is a boutique real estate development firm based in Portland. Founded by Portland designer/builder Jean-Pierre Veillet, who has 25 years' experience, the company has completed several local award-winning projects under the aegis of "Siteworks Design-Build" teams.
Bob Merritt, Superintendent at the Brooklyn site, remarked to THE BEE, "The Dean River Apartments is a transit-oriented development. Its residents can easily access downtown, while still living in a close-in, historic Southeast neighborhood. The project will offer much-needed market affordability to Portland's housing stock, with units at a gross rent lower than new-construction alternatives. The small-format apartments may include some built-in furniture. Amenities will include a third-floor community deck and lounge."
Project Manager Brent Bowling told us that the team also worked on a four-building apartment complex near S.E. 28th and Powell Boulevard called "Sunshine Portland Apartments". That project has 1, 2, and 3-bedroom units, with outdoor amenity space for families.
"Those buildings are focused on energy-conservation and community-building. They're located behind the old Wendy's Restaurant at 2880 S.E. Powell, which itself is being remodeled into a new Starbuck's coffee business," says Bowling.
The new Brooklyn apartment building is expected to be completed in about a year.
---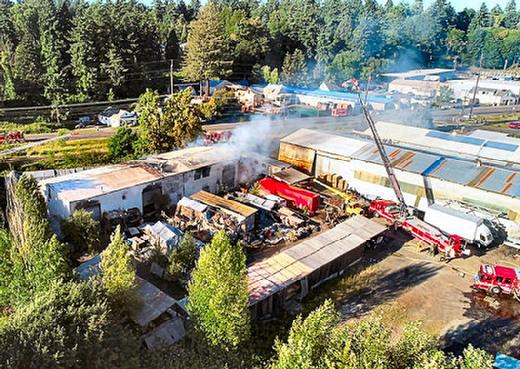 From this overhead drone view, it's clear why firefighters had a difficult time accessing the seat of the fire in the burning steel fabrication plant. (Photo by Alvaro Fontan, Pamplin Media Group)
50 DOGS, BEYOND THE FENCE, ARE SAVED
Two-alarm blaze destroys Johnson Creek Blvd steel fab firm
By DAVID F. ASHTON
For THE BEE
A plume of thick dark smoke coming from a steel fabricating company, south of S.E Johnson Creek Boulevard at Stanley Street, could be seen for miles – at about 6 p.m. on Monday, June 10.
Clackamas Fire District #1 crews were dispatched to Hogan Fabricating Inc., and commanders soon called for a second alarm, bringing additional resources to the scene – including two ladder truck companies. Soon, a second alarm was called, and three Portland Fire & Rescue companies were dispatched to assist.
Next door to the plant, a woman burst in to warn staff at the "no-kill" Family Dogs New Life Shelter about the fire – the shelter was immediately adjacent to the blazing metal fab shop – and the shelter's Shannon Andreasen and a co-worker sprang into action.
"Flames were shooting up in the air very high – very red, very smoky, and very hot," Andreasen explained. "I was concerned about the 50 [canine] lives that we have here, so we started getting the dogs outside in crates, and hosed down our yard and building as much as we could.
"It was scary!" Andreasen recalled. "With the leaping flames so high – one little jump [by the fire], and we would've been goners."
Although the smoke was intense, all of the dogs were saved, and the shelter building also escaped without being singed by the raging fire, Andreasen reported. "We're really grateful to Clackamas Fire District #1 and the other crews getting here quickly and saving our shelter and our dogs."
Clackamas Fire District #1 was dispatched to the fire at 6:03 p.m. that evening, according to public information officer Capt. Brandon Paxton. "Access to the building was our biggest challenge. Early on, the integrity of the roof was compromised, so we pulled all of our firefighters out, and fought the blaze from outside the structure."
Added to this, Paxton said, was that the building's metal siding contained the heat, making it difficult to directly access the seat of the fire.
In total 22 fire units responded to the incident, including an ambulance on standby, and a Rehab unit – plus Fire Investigators, and Portland Fire Trucks on "mutual aid".
"The fire was under control at 9:10 p.m., and the last unit cleared the scene at 2 a.m.," remarked Paxton. "Due to roof integrity issues, our investigators have been delayed in getting into the building to identify possible ignition sources, and the exact point of origin."
No injuries were reported in this fire.
---
PPS School Superintendent Guadalupe Guerrero introduces the ceremony to break ground for the rebuilt Kellogg Middle School at 6909 S.E. Powell Boulevard. (Photo by Rita A. Leonard)
Construction begins for new Kellogg Middle School
By RITA A. LEONARD
For THE BEE
Groundbreaking ceremonies for construction of the reborn Kellogg Middle School, at 6909 S.E. Powell Boulevard, were held June 1. Speakers at the event included PPS Superintendent Guadalupe Guerrero, School Board member Julia Brim-Edwards, and members of the design and architecture firms that are involved in planning the over- 100,000-sq-ft structure.
The new three-story school is designed to be both an educational and a community gathering place. Steven Effros, Senior Project Manager for PPS's Office of School Modernization, remarked that the building is planned to provide "a phenomenal learning experience for students, as well to be an inclusive and inviting community center".
"There will be 34 instructional spaces, a multi-purpose gym and assembly space, dedicated outdoor learning spaces, a performing arts stage, a 'Maker Space' for STEAM activities, and a large and flexible commons area," he elaborated. "The community area will be available for use by both parents and community members. We're pleased with all the community support for the new building – the first new school built in Southeast Portland in decades."
Community support was evident, not only in the on-site displays by the Foster-Powell Neighborhood Association, Portland Green Schools, and SCRAP, but also in the lively performances by the Franklin High School Band. Guerrero also pointed out the extensive display of blueprints and finished images available at the groundbreaking, provided by Todd Construction, and Oh Planning and Design – a women-owned firm.
The new facility will include style elements salvaged from the previous 90-year-old Kellogg School building, which was razed last year. The new school is expected to open in the 2021 school year. It is being rebuilt for sixth through eighth grade students, as part of the Portland School District's move to a model of comprehensive middle schools, thanks to the generosity of voters who approved the 2017 bond.
---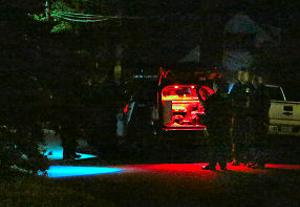 Using flashlights to look for evidence, officers investigate a late-night Reed neighborhood domestic violence incident, involving a stabbing, on June 9. (Photo by David F. Ashton)
Stabbing incident alarms Reed neighbors
By DAVID F. ASHTON
For THE BEE
Because the mostly-residential area north of Reed College is typically quiet, neighbors were startled, late on Sunday, June 9, when emergency first-responders rolled in with lights flashing and sirens blaring.
At 10:22 p.m. that evening, six Central Precinct officers, the crew from Woodstock Fire Station 25's Engine Company, and an ambulance pulled up near the corner of 37th Avenue and Steele Street.
"With all of the lights and commotion, we came out to see what was going on, but it wasn't clear," neighbor Bill Gibbins told THE BEE as he watched some of the units depart.
Several officers were still looking for evidence just north of the corner of 37th Avenue, in yards and in the street.
"This was a domestic violence incident, where someone was cut," said Portland Police spokesperson Sergeant Brad Yakots.
"A person, with non-life threatening injuries, was transported to a local hospital for medical evaluation," Yakots added. The investigation continues.
---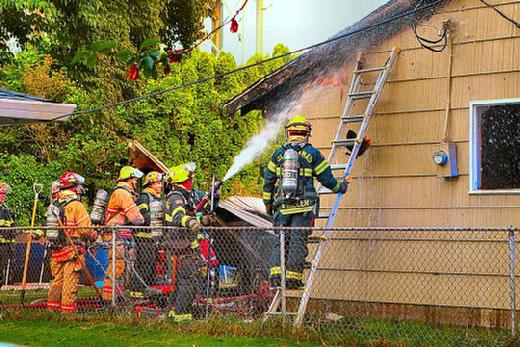 Portland Fire & Rescue Woodstock Station Engine Company 25's crew arrived to aid Clackamas Fire District #1 firefighters at this Ardenwald house fire. (Photo by David F. Ashton)
Ardenwald teen severely injured in house fire
By DAVID F. ASHTON
For THE BEE
A house fire on June 13 nearly claimed the life of an Ardenwald-Johnson Creek teenager – but his mom said that the door that trapped him in the bathroom also likely saved his life.
Clackamas Fire District #1 firefighters were dispatched to the fire at 9774 S.E. 38th Avenue at 8:04 p.m. that evening, and arrived to find the home ablaze – with fire already showing from the south end, and beginning to sweep through the attic and back eaves of the house. Mutual Aid was also received from Westmoreland Fire Station 20 and Woodstock Station 25.
"I heard screaming coming from inside the house; but police had already pulled up," neighbor Joshua Sanchez told reporters.
"A neighbor told crews there was somebody still inside in burning house," confirmed Clackamas Fire Public Information Officer Captain Brandon Paxton. "Crew members went to the back of the house and performed a 'Vent Enter Search' – a high-risk tactic in which firefighters enter a room without the protection of a hose line, to quickly search an area that has a high probability of having a surviving occupant inside."
Outside, the rear patio cover caught on fire. "It went up like tissue", a neighbor said.
"Inside the house, firefighters forced the door open to a bathroom where the person was located, and removed him from the house through a front window," Paxton described. "Locating and removing the patient was difficult, due to high temperatures and the low visibility, due to smoke."
The fire proceeded to gut the house; the task of firefighters was complicated by flames burning through an electrical service line and dropping it over Clackamas Fire Engine 302, energizing the rig. "Crews quickly transitioned pumping hose lines to another engine, already on-scene, until a PGE Eagle Crew arrived and disconnected the electricity," Paxton reported.
Days after the fire, resident Tammy Wilson said she had left cooking grease heating on the stove and had been distracted by their dog, when the fire broke out in the kitchen.
She told reporters that her son, 19-year-old Timm, is autistic and has Downs Syndrome, and was locked in the bathroom. "I threw my weight against the door and kicked it, but it wouldn't budge," Wilson said.
The heavy acrid smoke filling the house led Wilson to make the most difficult decision of her life, she said – to get out of the burning house and call for help.
"The hollow-core bathroom door was closed, and it likely contributed to the young man's being found alive by keeping the heat, flames, and smoke out of the bathroom for an additional couple of minutes," remarked Paxton. "Once extricated from the home, the patient was taken in critical condition to the Emanuel Burn Center; we also treated and transported the mother to Emanuel Hospital with minor injuries."
Fire investigators concluded their investigation of the fire on June 18, and officially ruled it an "accidental cooking fire".
Paxton added that the family has started a "gofundme" campaign to assist in the family's recovery at – https://www.gofundme.com/f/wilsonkruger-house-fire-fund.
---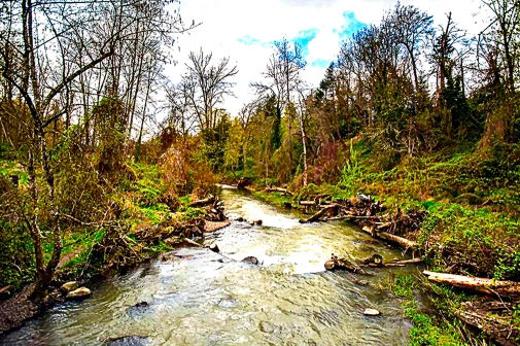 A portion of Johnson Creek, downstream from Precision Castparts on S.E. Johnson Creek Boulevard. (Pamplin Media file photo)
PCB study in progress involving Precision Castparts
By PAUL KOBERSTEIN
The Portland Tribune
Special to THE BEE
Precision Castparts is investigating whether PCBs that went into Johnson Creek previously, during six decades of operations in Southeast Portland, now pose significant risks to human health and the environment, according to the Oregon Department of Environmental Quality, which is monitoring the study.
DEQ said Polychlorinated biphenyls – a class of manmade chemicals known as PCBs – in Johnson Creek came from the Precision Castparts metal fabrication plant at 4600 S.E. Harney Street, where the company initially set up operations in 1956. The creek runs just south of the plant near the Clackamas-Multnomah County Line.
In 2016, when Pamplin Media first reported PCBs measured in the waterway, DEQ said it could not "definitively" identify the source of the toxins. But in early June, DEQ spokeswoman Laura Gleim said her agency no longer has any doubts that the PCBs had spilled from a storm sewer on the Precision plant property. She said DEQ also is keeping an eye on underground contamination from the plant that is polluting an aquifer running toward the city of Milwaukie.
Precision Castparts, which produces a variety of products for the aerospace industry, has responded to the discovery by treating its stormwater runoff since 2016 to prevent further contamination at the site from reaching the creek, she said.
"It's important to note that contamination is no longer migrating from the site into Johnson Creek, and the groundwater doesn't pose a current health risk to people," Gleim pointed out. "We're still gathering data to develop a full characterization for the site, which will take some time."
Precision Castpart's portion of the investigation is expected to wrap up later this year, according to company spokesman David Dugan. Gleim said DEQ will wait until Precision Castparts completes its study before determining "if there is a risk to human health or the environment."
Although Precision Castparts is responsible for conducting the risk assessment, Gleim said the state agency will oversee the study, review it, and approve it only if it meets the state's standards.
DEQ takes samples of the groundwater in the area four times per year. No PCBs have been reported in the groundwater.
Every year, a handful of Coho and Chinook salmon are spotted in the creek, according to the Johnson Creek Watershed Council. In 2018, the City of Portland removed some contaminated soils from the creek near the plant to improve fish habitat, and to reduce erosion. The city is expected to release a report on that work this summer.
---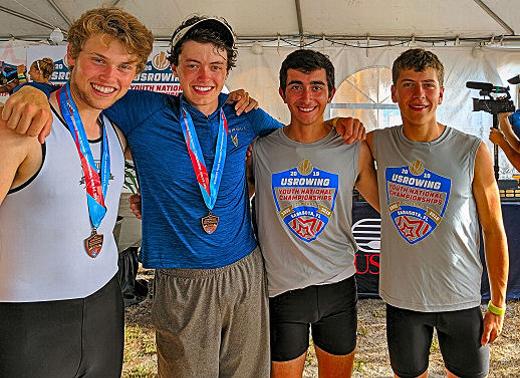 The winning Oregon Rowing Unlimited Inner Southeast Portland teammates – from left, Gus Altucher, Simon Hatcher, Ivan Beremski, and Will Hathaway. (Photo by Brad Hathaway)
Three Inner Southeast teens place, at Youth National Rowing Championships
By BRAD HATHAWAY
Special to THE BEE
On June 6th through 9th, four local high school students who also are members of Portland-based "Oregon Rowing Unlimited" (ORU) participated at the "USRowing Youth National Championships" in Sarasota, Florida. While the team has previously sent boats to compete at this national competition, this is the first time in the history of the club that ORU boats have made it into the A Finals.
In the Men's Youth Double, Simon Hatcher and Gus Altucher finished in third place for a bronze medal. In the Men's Lightweight Double, Ivan Beremski and Will Hathaway finished in fifth place. All but Ivan live in Sellwood-Westmoreland; Ivan is from Lake Oswego.
This was Simon and Gus's second year at Nationals, finishing in eighth place last year. Simon has just graduated from Oregon Episcopal School. He was a National Merit Scholar this year, and will attend and row crew at Brown University this fall. Gus has completed his junior year at Cleveland High School, and this summer will attend the National selection camp that determines the United States team for the Youth World Championships.
Ivan and Will began rowing the lightweight double together in April, and have shown strong improvement ever since. Ivan has completed his junior year at Lakeridge High School and this was his third year competing at Nationals. Will has completed his freshman year at Cleveland High School. He has been rowing for four years and this is his first trip to Nationals.
Oregon Rowing Unlimited (ORU) is a youth rowing club that teaches youth to row and trains youth at all levels from a facility in Inner Southeast Portland at Oaks Park. The program is led by husband and wife coaches Plamen Petrov and Nadia Petrova. Both have extensive experience as coaches, working with youth rowers at all levels, and as rowers themselves, having previously rowed for the Bulgarian National team. The program offers two-week-long learn-to-row classes during the summer.
---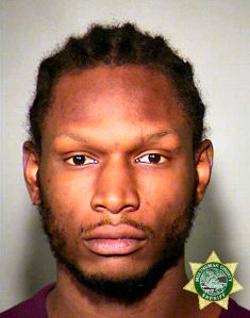 For wounding two people at the Powell Boulevard Motel 6 last September, 26-year-old Nehemiah Beavers was sentenced to prison for 55 months. (MCDC booking photo)
Man sentenced in 2018 Powell Blvd Motel 6 shooting
By DAVID F. ASHTON
For THE BEE
Thanks to dedicated work by the Portland Police Bureau Gun Violence Reduction Team, the man who opened fire on a group of people at the Motel 6, 3104 S.E. Powell Boulevard in the Creston-Kenilworth neighborhood, just before 3 a.m. on September 22 of last year, has now been sentenced to prison.
According to Multnomah County District Court records, after finding two people shot at the motel, police investigators located surveillance video that captured a red Mercedes Benz with Washington license plates having previously pulled into the parking lot of the motel and stopped in front of one of the rooms.
The vehicle was registered to 26-year-old Nehemiah Beavers.
While at the motel, court papers revealed, Beavers had gotten into a fight, and he was captured on video reaching into his car, pulling out a handgun, and shooting towards a group of people. Two were wounded, both of whom survived.
Beavers was subsequently arrested and charged with two Class A Felony counts each of Aggravated Attempted Murder, Attempted Murder; First Degree Assault, and other charges; he was held in lieu of bail at Inverness Jail.
During his six-day trial on one count of First Degree Assault, Beavers changed his plea to guilty on May 6 – and, on June 6, he received a 55-month prison sentence. Upon his release, Beavers will be on three years of post-prison supervision.
A statement from the Multnomah County District Attorney's Office read:
"The State believes is this an appropriate resolution, given the facts of this case, and Mr. Beavers' lack of prior criminal convictions.
"This sentence takes into account Mr. Beavers' willingness to take responsibility for his extremely dangerous actions, while also being mindful of the potential challenges that came up during the trial."
---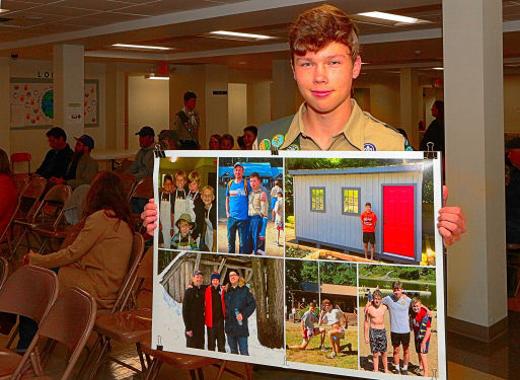 Assistant Scoutmaster Tom Armstrong joins new Eagle Scout Alexander Hart and Scoutmaster Eric Meren for a celebratory photo. (Photo by David F. Ashton)
Another Eagle Scout in Westmoreland
By DAVID F. ASHTON
For THE BEE
Yet another Boy Scout was respected for his diligence in an "Eagle Court of Honor", held on the evening of June 3, at Moreland Presbyterian Church,
Friends, family, and members of Troop 64 – Lewis & Clark District, Cascade Pacific Council, Boy Scouts of America – gathered to honor Alexander Hart as he ascended to Eagle Scout.
Hart, a graduating senior at Cleveland High School, said he started with Cub Scout Pack 64 while in second grade in 2010, and stayed in the Scouts ever since.
In addition to having earned some 30 badges and certifications, Hart's Eagle Scout project was recruiting and managing a crew to maintain the White Pine Trail at Hoyt Arboretum.
Asked what struck him most during his time in scouting, Hart replied, "It's how many kids drop out; it seems kind of odd that so many kids who start don't finish."
What it takes to become an Eagle Scout is self-motivation, he told THE BEE. "You have to be a good Scout, and have the drive to get through it."
As he now prepares to head off to the University of Oregon, Hart remarked that the most important lesson in scouting is its motto: "Be prepared!"
---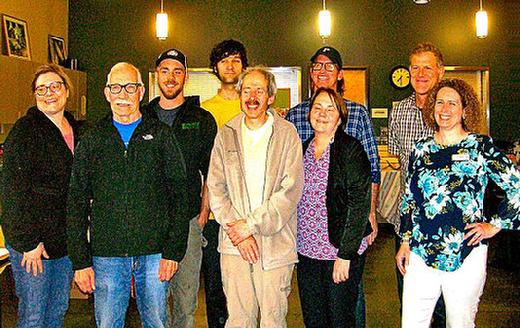 At its annual May election before the business fair began, the Brooklyn Action Corps neighborhood association Board members for the next twelve months were elected: From left, Joanna Jenkins, Don Stephens, Mike Erwin, Josh Hetrick, Guy Berliner, David Ward, Cheryl Crowe, Mike O'Connor, and Melanie Dittler. (Photo by Rita A. Leonard)
Third annual Brooklyn Business Fair held May 22
By RITA A. LEONARD
For THE BEE
The third annual Brooklyn Business Fair took place on May 22 at Sacred Heart Meeting Hall – combined with the regular monthly meeting of the Brooklyn Action Corps, at which new Board members were elected. New faces, new businesses, and neighborhood news were all elements of the meeting, which was hosted by Windermere Real Estate Agent Melaney Dittler.
The elected Board Members of the Brooklyn Action Corps neighborhood association for the next twelve months were announced as being Joanna Jenkins, Don Stephens, Mike Erwin, Josh Hetrick, Guy Berliner, David Ward, Cheryl Crowe, Mike O'Connor, and Melanie Dittler.
April Dewees from Friends of Brooklyn Park arose to describe the ongoing fund-raising activities for the Summer Brooklyn Park Program, and introduced the association's bottle and can drive. "We've raised $120 with it so far, and we hope to continue the drive all year," she said.

Daryl Phillippi gave an update on construction of Sacred Heart's new Parish Hall, and said it should be open to the public sometime in June.
Introducing the Business Fair section of the meeting, realtor Dittler discussed new construction projects underway in Brooklyn, and pointed out that TriMet's long-awaited Gideon Overcrossing bridge was now under construction to ease pedestrian and bike traffic over the Union Pacific and MAX Orange Line tracks near the Clinton Street Station. [See separate story.]
She also introduced Justin and Jessica Donais, who are planning to open a new pizzeria at 3539 S.E. Milwaukie Avenue by late summer.
State Farm Insurance agent Tim Cain announced he had opened an office at 3880 S.E. 8th Avenue, Suite 150; and Brooklyn's new Veterinarian, Alayson Phelps DVM, invited visitors to Brooklyn Yard Veterinary at 1280 S.E. Holgate Boulevard, in the "Brooklyn Yard" shopping center. Licensed Acupuncturist and Herbalist Becca Seitz of Thrive Acupuncture said she served both people and pets.
Phyllis Thiemann of Heckman & Thiemann Motors announced their having moved to 3220 S.E. 19th Avenue, adding, "We're starting our second fifty years of serving the neighborhood."
Ashley Hoffman from Artist & Craftsman Supply, 3393 S.E. 21st Avenue, demonstrated artistic glass-cutting, and announced the business' annual Art Fair, June 23, from noon until 5 p.m. Erika Degens, from Stone Barn Brandyworks, introduced a new cherry brandy from their distillery at 3315 S.E. 19th, Suite B. Matt Everett from Townshend's Distillery displayed a selection of the botanical spirits produced at 4211 S.E. Milwaukie Avenue.
Michelle Palau and Blaine Peters, Managers of the Aladdin Theater and The Lamp restaurant, offered free samples of pastry, chips, and dips, while TomCat Bikes at 3117 S.E. Milwaukie Avenue passed out information on bike repair and home inspections.
The Brooklyn Business Fair now occurs as a feature of each May BAC meeting, at which the annual neighborhood association Board election takes place every year.
---
---
Comments? News tips? Click here to e-mail us!

Note to readers: At some point in the future, this, our original Internet website, will probably be replaced at this web address by our new website, as part of the Community Newspapers group. At that time, you will still be able to access this older, but still operative, website, if you save this address: www.southeastPDXnews.com. Right now, it leads you to our new website. Eventually, it will lead you back to this old one! Both will be up to date and current, and you'll still have your choice of which one to visit!

READY TO MOVE ON TO THE EDITORIAL, AND THE "LETTERS TO THE EDITOR", ON PAGE 3? CLICK HERE!