More stories from January's issue of THE BEE!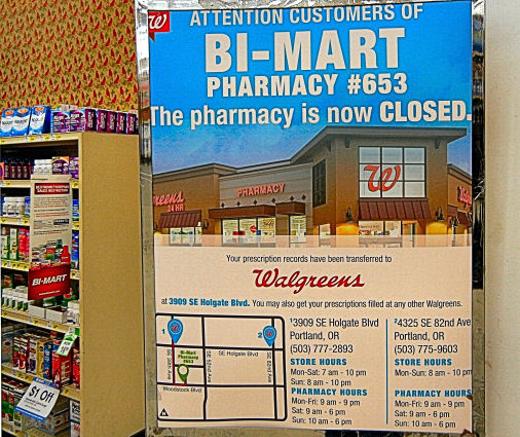 The Woodstock Bi-Mart's pharmacy department closed unexpectedly on November 11th. Twelve other Bi-Mart pharmacies in the metro area were also shuttered at the same time. (Photo by Elizabeth Ussher Groff)
Woodstock Bi-Mart's pharmacy closes abruptly
By ELIZABETH USSHER GROFF
For THE BEE
Some people tell THE BEE they literally cried a few tears when they learned that the Woodstock Bi-Mart's pharmacy department was closing. For many years, that pharmacy had been considered by local residents one of the most helpful and convenient pharmacies in Inner Southeast Portland. The outside window for customers had been an especially appreciated feature.
On November 9th, Bi-Mart headquarters in Eugene announced that thirteen of its pharmacies in the Portland Metro Area and in some surrounding towns would be shuttered at the end of Monday, November 11th, Veterans' Day. Customers were upset with the short notice.
Don Leber, Vice President of Bi-Mart Advertising and Marketing, told THE BEE in a telephone interview from the company's headquarters that the decision to close the pharmacies without much advance notice to the public was not the way they wanted to do it.
"We don't like the quickness of how we did it," he explained. But, he said, after the decision was made, the abrupt closing was due to complex and time-sensitive negotiations regarding which pharmacy Bi-Mart would transfer their files to.
In the end, the files went to Walgreens, and were transferred on Tuesday, November 12th to two of them – the Walgreens Pharmacy, at S.E. Holgate and Chavez Boulevards, and to the Walgreens on S.E. Holgate at 82nd Avenue of Roses. Leber said, however, customers would be allowed to ask Walgreens to transfer their account somewhere else, if it was more convenient for them.
Bi-Mart is a regional employee-owned company with seventy-nine stores in Oregon, Washington, and Idaho. In closing these particular pharmacies, Bi-Mart corporate cited the burden of the new business tax enacted last May in Portland, and Leber agreed that "Bi-Mart's total business tax will be $2.5 million a year. That is just the straw that breaks our back." But, Leber went on, that was not the only reason. Bi-Mart's pharmacies, as well as some other chain pharmacies throughout the United States, have been dealing for several years with difficult factors related to rising fees on Medicare prescriptions, and restricted access to health care plans.
"The DIR [Direct and Indirect Remuneration] fees are tacked on, reducing a pharmacy's profits." The National Association of Chain Drug Stores explains these DIR fees online: "DIR fees are the result of a loophole in Medicare regulations. Often more than half a year after a pharmacy fills a Medicare prescription, health plans and their middlemen are taking back money paid to pharmacies."
Leber puts it more simply, "Reimbursement for prescription drugs has been dropping. The pharmacies we're closing have been losing a lot of money for several years. We maintained those pharmacies [through those years], but now we're having to close them to better our [overall] situation."
On social media there have been fears expressed that Bi-Mart would close the entire Woodstock store. However, Leber claims that by cutting their losses on those of their pharmacies that have a lower volume of customers, they will be able to keep the entirety of Bi-Mart stores open. "Close all of Bi-Mart? That's not going to happen. But it is crazy to ignore the [profit losing] pharmacy situation," exclaimed Leber.
"There is no free lunch. Someone has to pay for these things that include increased tariffs, and we can't pass them on to consumers because some consumers will just say, 'I'll do without it [the needed prescription drug].' We don't want that to happen."
Meantime, Bi-Mart tells THE BEE that it will try to place its pharmacy employees elsewhere in their stores. But it is not an easy time to do so. Drew Larson, the former Woodstock Bi-Mart Pharmacy Manager, said he had moved to the Woodstock neighborhood expecting that he would have a long-term employment at this store. He is relieved, now, that he has found a new job as a pharmacist at Oregon Health Sciences University Hospital, and can take a bus to work.
As for Leber, at headquarters in Eugene, he remarked that the whole process has been quite difficult. "It is really sad and frustrating for us, but even more for the people we serve, and for our [pharmacy] employees."
---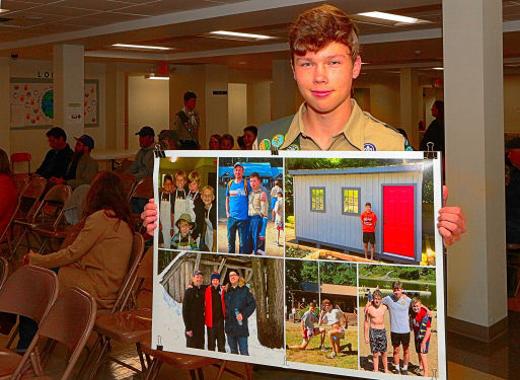 Inner Southeast Portland's newest Eagle Scout, Aidan Burns, shows a collage of photos of himself enjoying experiences during his life with Boy Scout Troop 64. (Photo by David F. Ashton)
Yet another Eagle Scout produced in Westmoreland
By DAVID F. ASHTON
For THE BEE
Troop 64 in Westmoreland has produced a surprising number of Eagle Scouts – the highest honor granted by the Boy Scouts of America. And, on Monday evening, October 28, another young man became an Eagle Scout at the Troop's meeting at Moreland Presbyterian Church.
Aidan Burns, a senior at Cleveland High School, was honored – and said he'd started Boy Scouts when in sixth grade, and kept with it.
"It's been a long road for me, and I'm happy to be finally getting here; I will turn 18 years old at the end of December," Burns said. "Having the accomplishment of saying that I am an Eagle Scout is pretty cool!"
With both his father and uncle also having been Eagle Scouts, Burns said he was motivated to follow their footsteps in the program. "Tonight, during the Eagle Scout Court of Honor ceremony, I will join them," he smiled.
"I've had a lot of great experiences; and hopefully I've come out a better person. It's taught me a lot about perseverance; 'pushing through' when times get tough – whether it's on the hiking trail, or in the classroom, perseverance is good – and learning to be compassionate toward everyone is something I will carry forward in life," Burns told THE BEE.
"I recommend Scouting to any young person," Burns remarked. "You learn many new things, but the best is that you get to bond with many people you otherwise would not have met, and form some of the best friendships you will ever have."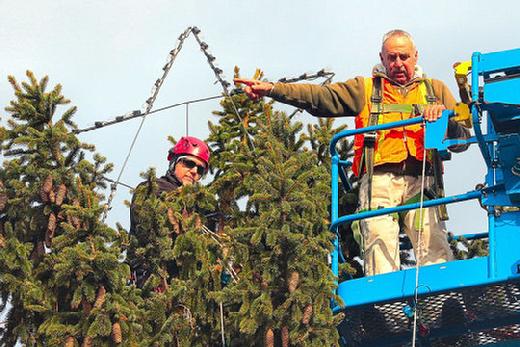 Volunteer Damon Schrosk of "Treecology" was anchored in the tree, and after securing the star at the top, was ready to receive and anchor another string of lights from volunteer Don Bolton. (Photo by David F. Ashton)
Revelers celebrated as the SMILE Christmas Tree was lit for the first time this season overlooking Oaks Bottom, on the evening after Thanksgiving. (Photo by David F. Ashton)
'SMILE Christmas Tree' again lit by volunteers
By DAVID F. ASHTON
For THE BEE
Bright colorful lights again glow on the "SMILE Christmas Tree" – a privately owned tree perched on the edge of Oaks Bottom Bluff along S.E. 13th Avenue in Westmoreland. The lighting is provided by the Sellwood Moreland Improvement League neighborhood association, SMILE, and the electric power is contributed by Dr. Dan Beeson at nearby Beeson Chiropractic.
"Thanks to the generosity of neighbors and friends, these new lights are working well; the 17 strands, making a total of 850 brilliantly colored LED lights, look almost new, as we're hanging them again this year," remarked perennial volunteer Bruce Heiberg, on "decorating day" this year, November 23.
Representing his family, Matt Hainley took a brief break to say about 20 volunteers helped unpack and place the lights.
"Along with the Hainley family, and volunteers with SMILE, we've been doing this for about 30 years now; having started 'up the block'," said Kris Heiberg. The original tree chosen still stands in the pocket park just south of Wilhelm's Portland Memorial. "Volunteers get together and do this because it's both a traditional and a delightful thing to do for our community; it helps make feelings of togetherness in our neighborhoods."
All of the volunteers expressed thanks to Emily and Isaac Edwards for the use of their tree – it's located on their privately-owned property across from their home, and they donate its use "for the enjoyment of the entire community".
On the evening after Thanksgiving Day, November 29, some 60 people gathered in the cold before the tree to sing a couple of carols before officially illuminating it for the season. The burst of colored light drew "ooohs" and "aaahs" from those present. It will be shining past January 1 into the New Year.
---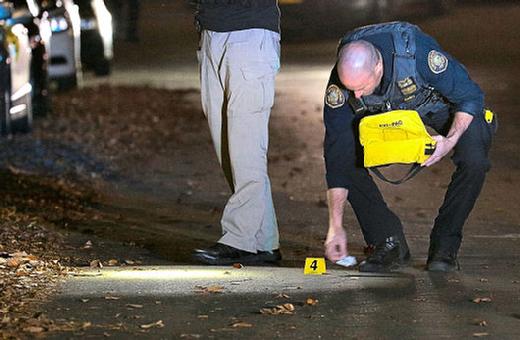 A bullet casing in the middle of S.E. Rhone Street was marked by a Central Precinct officer, as the shooting incident investigation continued. (Photo by David F. Ashton)
Bullets riddle car in Creston-Kenilworth shooting
By DAVID F. ASHTON
For THE BEE
Fortunately, no injuries were reported when gunshots were heard along S.E. Rhone Street, in the Creston-Kenilworth neighborhood, on Thursday evening, November 21.
Portland Police Bureau (PPB) Central Precinct officers cordoned off blocks around the area, but their attention was focused on Rhone Street, just east of S.E. 28th Avenue.
A PPB Canine Team was called in to sniff out a suspect, but was unable to find a scent to track. Officers did find a vehicle freshly-perforated with bullet holes.
"There have been some problems near the big apartment complexes (along S.E. 28th Avenue), but here, in this part of our neighborhood, things are usually quiet," Quinton Tyler remarked to THE BEE as he waited, holding bags of groceries, for police to allow him to return to his home.
No one was injured; police continue to investigate this incident.
---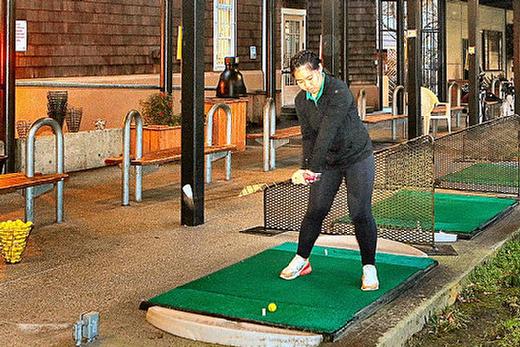 Her club is a blur, as CHS sophomore golfer Kyra Ly swings at the Eastmoreland Golf Course Driving Range. (Photo by David F. Ashton)
Cleveland High student golfer named 'Player of the Year'
By DAVID F. ASHTON
For THE BEE
Cleveland High School sophomore Kyra Ly was one of two youths named "Oregon Junior Golf Player of the Year" for outstanding performances in 2019 by the Oregon Golf Association (OGA) this fall.
According to OGA records, Ly won her division at the 22nd Oregon Junior Stroke Play, Central Willamette Valley Junior, and Klamath Basin Junior, major tournaments – as well as a victory at the Glendoveer Junior sanctioned tournament.
Ly also played in regional competitions – and finished first among all junior golfers in the Oregon and Southwest Washington "team points" competition with 365.00.
"My family has always played golf, so I started playing when I was 11 years old or so," Ly told THE BEE before hitting a bucket of balls at Eastmoreland Golf Course on a recent rainy afternoon.
She didn't start with miniature golf, either. "Actually, I'm not very good at that," Ly said with a shy smile. "I just started practicing at golf courses and driving ranges, more and more – until I got good enough to start playing in tournaments."
About the OGA award, Ly commented, "I was really surprised about it, because I'm a little younger than most of the girls I play against who are 17 and 18-year-olds, and they play well.
"I really like the game of golf; for me, it is really satisfying when I play really well, and place high in the leaderboard – I really like that," Ly reflected. "I think I'll keep playing golf, maybe the rest of my life!"
One of her golf coaches, Lauri Hausafus, joined the group and said, "Kyra is an ambassador for the sport, because she is true competitor with an unmatched work ethic, compared to any other high school junior or senior golfer that I've come across.
"And, Kyra demonstrates that she has the determination, the attitude – and the skill – that gets her noticed," Hausafus added. "If she chooses to continue in golf, as she matures with her game, I think 'the sky is the limit; for Kyra – for sure, in college – and eventually, as a LPGA champion!"
Done with talking, Ly headed back to the driving range, whacking golf balls, straight and true, almost out of sight down the range.
---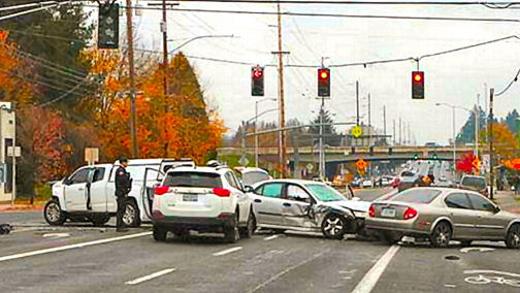 The intersection of S.E. 92nd Avenue at Division Street in the Lents neighborhood was closed for hours, after a multiple-vehicle smashup caused by a red-light-runner. (Photo by David F. Ashton)
Red-light runner smashes police truck on Division Street
By DAVID F. ASHTON
For THE BEE
Ask any Portland Police Bureau (PPB) Traffic Division cop, they'll tell you, "Many times, multi-vehicle smashups are simply an accident."
That wasn't the case this time – when an officer reported to dispatchers he'd been involved in a crash in Lents, on S.E. 92nd Avenue at Division Street, on Tuesday afternoon, November 12.
"I think you'd better send my lieutenant, as well as a Traffic Division Sergeant," the officer radioed to dispatchers – who logged the call at 2:15 p.m. that afternoon.
Just west of the intersection on Division Street was a tangle of four vehicles. Three were badly wrecked, with airbags deployed – although a Toyota Rav4 only received a scratched front bumper.
Based on information gathered at the scene by responding officers, a white GMC 4x4 extended cab pickup truck – which turned out to be a PPB undercover vehicle – was southbound on 92nd Avenue, approaching Division Street, with a green traffic signal.
Part-way into the intersection, the officer's GMC was smashed into by a silver SAAB 2.0T sedan that was westbound on S.E. Division Street, having reportedly blown through a red traffic signal before smashing into the officer's truck.
The impact spun the GMC around 160 degrees counterclockwise; the SAAB's momentum caused it to continue careening through the intersection, nicking a Toyota Rav4, before smashing into the side of an eastbound Nissan Maxim, which had been stopped for the red light.
It took quite some time for a squad of tow trucks to clear the intersection.
In spite of the violent collision, no one was injured severely enough to require a trip to the hospital. "I'm sure the SAAB's driver will have some explaining to do," an officer commented – declining to say whether the young man would be cited in the incident; but he certainly would be facing problems at home.
---
Some carry their bikes, while others ride along the Willamette River beachfront, in the inaugural BCCX Cyclocross at Oaks Amusement Park. (Photo by David F. Ashton)
Huge bicycle 'Cyclocross' comes to Oaks Park
By DAVID F. ASHTON
For THE BEE
Normally quiet and peaceful this time of year, the southern grounds of historic Oaks Amusement Park in Sellwood was teeming with people – and bicycles – on Sunday, November 24, as the first-ever "Bridge City CX (BCCX)" got underway.
In this "Cyclocross" sporting event, riders power their bikes on a track featuring fast grass straights and turns, pavement, punchy run-ups, fast single track, and rough riverside sand.
"This is an off-road cycling discipline, on a close course that we've laid out, in which racers do as many laps as they can in the allotted amount of time," explained the event's creator and organizer, Erik Tonkin of Sellwood Cycle Repair.
"This sport dates back, in Europe, to as early as the 1940s, and after World War II. It has gained in popularity in the United States – in fact, it's long been well-liked here in the greater Portland area!
"But, today's BCCX is the very first one 'close in' to where people live, here in the city," Tonkin said. "We didn't know how well it would be attended, but as it turns out, we have more than 500 people here today!"
Starting that day fairly early in the morning, under a passing shower, the competition consisted of seven "start time-frames" for various classifications of riders, and well as four "course open" periods between races, when participants could warm up, or just have fun on the track.
Asked why it was being held in late November, Tonkin replied, "Cyclocross is ridden in all kinds of weather: Rain, sleet, snow, ice; and yes, even in sunshine, like we're getting this afternoon!"
There's no penalty for hopping off a bike when it's bogged down in mud or sand, then pushing – or even carrying – it, to reach better riding conditions on the course. A wooden board obstacle completely blocked the narrowed track at one point, forcing participants to hoist their bikes over it to continue.
Cyclocross is a "lifetime thing" for him, Tonkin told THE BEE. "And, because it's my passion, I wanted to have one right here, in my neighborhood."
Oaks Amusement Park provided good support. "Actually, they've been great to work with; they know how to host events," acknowledged Tonkin. "And, they've already been talking like 'When we do this next year', which is a good sign!"
It was a lot of work putting the Cyclocross together, Tonkin admitted. "But the best part for me today is seeing all the people out here, together, having fun."
---
The team of Zest Bakery, WRK Engineers, and Ankrom Mosian Architects developed this display they called "L'ife in Contrast" – shown being decorated by Tess Paterson. (Photo by David F. Ashton)
'Exquisite' gingerbread creations at OMSI
By DAVID F. ASHTON
For THE BEE
Now in its fourth year, "Gingerbread Adventures" at the Oregon Museum of Science and Industry (OMSI) has a theme this year that's based on their major exhibition, "Exquisite Creatures".
The event pairs up local bakeries and architectural firms, encouraging them to create a Holiday display using only gingerbread, frosting, candy, and other edible treats.
"We're so glad that the gingerbread construction projects have captured the public's imagination," exclaimed OMSI President and Executive Director Nancy Stuber. "In bringing together architects and bakery decorators, they're demonstrating how a lot of engineering, baking science, and chemistry – and, of course, some very innovative artistic efforts – can result in these fascinating tableaus."
You'll find these "Gingerbread Adventures" displays showing through New Year's Day in the main floor hallway that runs alongside the Featured Exhibit Hall at the Oregon Museum of Science and Industry, on S.E. Water Avenue under the east end of the Marquam Bridge, just north of the Ross Island Bridge.
Learn more by visiting OMSI's website – https://www.omsi.edu
---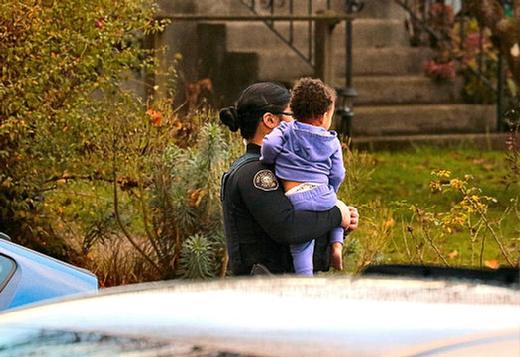 An officer carries one of the children involved in this domestic violence incident from the apartment building to safety. (Photo by David F. Ashton)
Officers quell 'domestic threat' in Creston-Kenilworth
By DAVID F. ASHTON
For THE BEE
What started as a domestic dispute in the Creston-Kenilworth neighborhood developed into a major callout for Portland Police Bureau (PPB) Central District, Behavioral Health, and SERT officers on Monday afternoon. November 25.
The focus of the activity was an apartment building at 2800 S.E. Gladstone Street; police soon cordoned off the streets east and west of the location, as specialty unit officers began to arrive at 2:30 p.m.
As officers loud-hailed a man believed to be in the building, a SERT officer, looking through a ballistic shield, kept an eye on the front of the apartments and a PPB Canine Unit stood by.
The 16 officers called to scene took positions at the front and rear of the building; all of them appeared calm but vigilant, as the situation unfolded.
A little after 3 p.m., officers entered and carefully carried an infant, and then a toddler, from the apartment building to a car parked on 28th Place.
"This was a domestic-violence-related call, where the male half of a couple was reportedly armed, and kicking the door in," later reported PPB Public Information Officer Lieutenant Tina Jones.
"Officers learned that the involved female had fled out a window in the back of the building," Jones told THE BEE. "Officers arrived and made entry to check on two infants who were in the apartment; the children were safe, and no one was injured."
But, the officers were not able to locate the suspect inside; he had himself apparently fled before the police arrived. This remains an active investigation.
---
Members of the several congregations who meet at the Bethel Assembly of God Church in the Brentwood-Darlington neighborhood gathered for a truly multicultural Thanksgiving dinner. (Photo by David F. Ashton)
Brentwood-Darlington church hosts multicultural Thanksgiving
By DAVID F. ASHTON
For THE BEE
In the spirit of the first Thanksgiving gathering in North America, in which the indigenous people helped the newcomers prepare a feast, people from many nations gathered at the Bethel Assembly of God in the Brentwood-Darlington neighborhood on the evening of November 25 for a dinner.
The parking lot of the building, on S.E. Duke Street at 72nd Avenue, filled with vehicles – and the church soon smelled of delicious dishes, as those arriving prepared to enjoy an early Thanksgiving dinner.
"Bethel was started as a German-speaking church, and was always intended to be a multicultural, multilingual church in the neighborhood," explained Pastor Gary Russell, as the buffet table filled with food.
"Now, we have seven congregations who meet here – representing cultures including African-American, Native American, Filipino, Nigerian, Latino, Romanian, Japanese, Vietnamese, and Messianic Jewish – in addition to English-speaking congregations," Russell told THE BEE. "Tonight were celebrating Thanksgiving by sharing a meal together; and we've invited everyone joining us to bring a dish that is indicative of their culture.
"We are not colorblind here; we see everyone's 'colors' and cultures, and we celebrate them; we honor and admire the differences in our nationalities, in our cultures, and in our heritages," Russell said.
"Jesus said 'My house is to be called a house of prayer for all nations; we take this message as a command, literally. We celebrate and welcome those from all of the nations."
To find out more about Bethel Assembly of God, go online –

http://www.portlandbethelchurch.com
---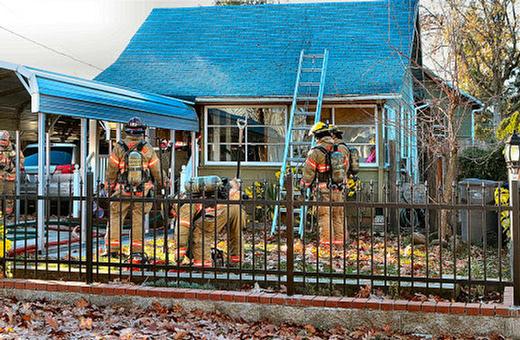 When a fire broke out in a Duke Street residential kitchen, a smoke alarm sounded, and firefighters arrived swiftly to contain and extinguish it. (Photo by David F. Ashton)
Smoke alarm alerts residents to Duke Street house fire
By DAVID F. ASHTON
For THE BEE
Firefighters were dispatched to a Brentwood-Darlington neighborhood home – at 6427 S.E. 81st Avenue, near Duke Street, at 2:21 p.m. on Thursday afternoon, November 21 – when both a resident and a neighbor called the 9-1-1 Center to report a fire in the structure.
Lents Fire Station 11's Engine Company was the first at the scene; the crew reported seeing smoke from the back of the home. While they hooked up their water lines and prepared to fight the blaze, other arriving firefighters searched the house for potential victims.
At least one resident had been medically evaluated as fire crews arrived, and fire crews were directed to the home's kitchen.
Woodstock Fire Station 25's Ladder Company pulled ladders from their rig, and – chainsaws in hand – stood ready to clamber up to the roof to cut holes for "vertical ventilation", if that were needed.
As it turned out, the firefighters were able to extinguish the kitchen fire and contain it to that one room, without it having extended into the rest of the house.
"There is a fire safety message here," a PF&R Battalion Chief told THE BEE. "That is, 'Smoke detectors save lives' – this home's units were working, and alerted the residents, who were able to safely escape the structure."
Fire investigators have yet to announce the cause of the fire and offer a damage estimate.
---
Well-known Southeast Crime Prevention Coordinator Teri Poppino is bade farewell, upon her retirement, by Portland Police Bureau East Precinct Neighborhood Response Team Officer Rob Brown. (Photo by David F. Ashton)
Veteran Southeast crime-preventer Teri Poppino retires
By DAVID F. ASHTON
For THE BEE
Celebrating the conclusion of her 39-year career in public safety, the friends and co-workers of Teri Poppino, a longtime "Crime Prevention Coordinator" with the then-named "Portland Office of Neighborhood Involvement", came to celebrate with her at the Penumbra Kelly Building – next to the Portland Police Bureau (PPB) Southeast Precinct building on Burnside, Tuesday, November 26.
"To be clear, the Bureau has been renamed the 'Office of Community & Civic Life', and our program is now called the 'Community Safety Program' – but we still work to help reduce crime, and increase safety," Poppino pointed out.
Her long career started as she was looking for a way to finish up her elective hours needed to graduate from Oregon State University, and so began an internship through Portland State University (PSU) to obtain the needed scholastic hours.
"Through the PSU Women Studies Department, I was able do a 'practicum' with the PPB's program, then called 'Rape Prevention' – and which continues today as 'Women's Strength' – and I started in September or October of 1980," Poppino told THE BEE. "Soon after, my supervisor left on maternity leave, and I was hired under contract by the PPB to operate that program on December 1, 1980. And, as they say, the rest is history!"
"When I moved to Crime Prevention, I began working out of the East Portland Neighborhood Office (EPNO), which was then located inside PPB's East Precinct building – crammed into a small office suite on S.E. 106th Avenue, with EPNO Director Richard Bixby," Poppino recalled. "After working with outer East Portland neighbors for quite some time, I was assigned to inner Southeast Portland neighborhoods – and I'll admit, I really liked working with all of them – and not least, the folks with SMILE!"
Not long after she started serving this area, Poppino recollected helping neighbors near Johnson Creek Park. "It was one of the first places where 'campers' set up housekeeping, front-and-center – and just took over the park."
She helped neighbors to address homelessness, and helped them begin a Neighborhood Watch (recently retitled "Neighbors Together") Groups – and help them develop communications, giving them informational links and information about who to contact, and when.
"In this, and other situations, we helped neighbors 'plug in' to the appropriate Bureaus and services, and helped them become empowered to speak for themselves, and advocate for themselves," she said.
Another issue upon which Poppino and her co-workers focused was what became known as the case of the "Brooklyn Tire Popper".
"While I don't know that the police ever caught the person, we helped the community to better 'keep an eye out for one another' and, many heeded our advice to park their vehicles in their driveways instead of leaving them at the street's curb," Poppino recalled.
Loved 'National Night Out'
Asked by THE BEE what her favorite thing was about her job, Poppino didn't hesitate in replying: "I loved National Night Out; it was great to see groups, large and small, so happily celebrating together. It was great to see people celebrating their neighborhoods; this showed true neighbors coming together, regardless of their ethnic backgrounds – it really helped build a sense of community," she observed.
Looking back on her decades of service, Poppino mused, "I look at the neighborhoods through the eyes of the people who live there, not as a jurisdiction to which I'm assigned – and I do my best to help them by giving them the kind of assistance that they want and need.
"And, I've always tried to speak the truth – sometimes there have been 'repercussions' from speaking a little more frankly than might be advisable! – but, in doing so, I feel I have gained genuine friendships with the people I've served," Poppino remarked.
She summed up the most important thing she'd learned, in one word: "accountability". "That means that when I say I'll do something, those I serve can count on it being done," Poppino said. "A main part of my job has been 'being the face of the city bureaucracy' who will follow through for them."
Already misses 'the people'
Although she'll now get to sleep in, and not be going to meetings until late at night, Poppino said she'll sorely miss the people she served, and her co-workers.
"I will miss these people, and I'm going to grieve over this. It's really been… [she fights back tears] a blessed life," Poppino smiled. "I know this sounds corny, but I landed where I did not expect to be, and had a wonderful career for 39 years – working with people, helping them, letting them see that they do have some control over their situations.
"And, when they pull themselves up by their own bootstraps it's so rewarding," concluded Poppino.
---
Although this Kia's inadvertent collision with a power pole looked severe, no injuries were reported. (Photo by David F. Ashton)
Wild driver causes Black Friday smashup on 82nd Avenue
By DAVID F. ASHTON
For THE BEE

The impatient driver of a red SUV, whoever he or she may be, is blamed for causing a collision involving two other vehicles along southbound S.E. 82nd Avenue of Roses near Flavel Street just before 2 p.m. on "Black Friday" – the day after Thanksgiving – November 29.

According to witnesses, just south of S.E. Henderson Street, the big vehicle cut across the highway, startling nearby drivers. Trying to avoid a collision with it, the driver of a white Honda Pilot accidently sideswiped a Kia SUV, sending that vehicle into a power pole.

The red van that reportedly triggered the smashup drove off; that vehicle was not actually involved in the pileup, so technically, that driver was probably not liable for a "hit-and-run" citation; but citations for careless driving and possibly other infractions would certainly still be in order.

Despite the crash, no injuries were reported; but Black Friday afternoon traffic was snarled for a while on the Avenue of Roses until both vehicles could be towed away. The original driver causing the accident has not yet been identified.
---
Finishing the installation of the "Nuts about Nutcrackers" display for Christmas, it's Portland Puppet Museum's Steve Overton. (Photo by David F. Ashton)
Sellwood Puppet Museum is 'Nuts about Nutcrackers'
By DAVID F. ASHTON
For THE BEE
Unlike any Holiday season in the past, Sellwood's Portland Puppet Museum has gone all out this year in decorating their pint-sized puppet palace.
"We're calling it 'Nuts about Nutcrackers', with more than 300 nutcrackers from around the world on display," exclaimed museum partner Steve Overton, as he put finishing touches on the display.
"There are big ones, small ones, Christmas ornaments, authentic German nutcrackers, ones from France, Ireland Sweden, and Norway – even ones that are handmade in Texas," Overton told THE BEE.
Asked why the museum had assembled such a collection, Overton responded, "Nutcrackers are a universal image of Christmas. And, it fittingly decorates our stage, where we're giving 20 performances through the first of the year of 'Nutcracker Cracked', an enchanting, loving, heartfelt version of the Nutcracker that also happens to be an incredible kids' comedy."
Stopping by to view the fascinating puppets display is free. The address is 906 S.E. Umatilla Street in Sellwood. For more information about the shows, for which admission is charged, call 503/233-7723, or go online –

http://www.puppetmuseum.com
---
Comments? News tips? Click here to e-mail us!

Note to readers: At some point in the future, this, our original Internet website, will probably be replaced at this web address by our new website, as part of the Community Newspapers group. At that time, you will still be able to access this older, but still operative, website, if you save this address: www.southeastPDXnews.com. Right now, it leads you to our new website. Eventually, it will lead you back to this old one! Both will be up to date and current, and you'll still have your choice of which one to visit!

READY TO MOVE ON TO THE EDITORIAL, AND THE "LETTERS TO THE EDITOR", ON PAGE 3? CLICK HERE!