More stories from January's issue of THE BEE!
This was the moment, at 6 p.m. on November 23 – the official lighting of this year's Sellwood-Westmoreland Christmas Tree on the "Bybee Curve" over Oaks Bottom. (Photo by David F. Ashton)
Sellwood-Westmoreland Christmas Tree decorated in record time
By DAVID F. ASHTON
For THE BEE
Clear weather, and only a light breeze, made Monday, November 17, the perfect morning for raising the star and hanging the lights on the Sellwood and Westmoreland Christmas Tree on the "Bybee curve" on the ridge above Oaks Bottom.
Again this year, with the kind approval of the Edwards family, which owns the property where the tall evergreen grows along S.E. 13th Avenue, the neighborhood association SMILE's volunteers turned out to help with the decorating.
And, thanks to last year's fundraising campaign, the tall tree is now decked out with high-power LED lamps – as pointed out by one of the two coordinators, Bruce Heiberg. "Instead of having 20 strands and 20 circuit breakers, we light the tree using one heavy extension cord to power it, and we will power the whole thing courtesy of Beeson Chiropractic Wellness Center just south of the tree, which is donating the electricity again this year."
The other long-time coordinator, SMILE's Matt Hainley, couldn't speak with THE BEE during the decorating – because, as usual, he was riding high in the bucket of a Smith Crane truck, stringing the lights.
However, at the official tree lighting ceremony, held at 6 p.m. on Friday evening, November 23, Hainley recalled how Dent Thomas started the tradition of lighting a big tree on the bluff decades ago.
The heavy rain forecast for that evening was only a mist, as dozens of neighbors and friends gathered to sing carols and watch the tree illuminated for the first time this year.
"It's all about family and tradition; this provides continuity that keeps us connected with our past, while we're looking to our future," Hainley mused.
As the mist finally turned to a hard, cold rain, as Oregonians most of the group stood their ground, bravely singing as rivulets of rain smeared the song sheets and fogged their eyeglasses.
Santa Claus made an appearance; the lights came on, and, once again the SMILE Christmas Tree shone brightly through the Holidays, high above Oaks Bottom and Oaks Amusement Park – and clearly visible even from Interstate Five, across the Willamette River.
---
Oregon U.S. Senator Ron Wyden responds to questions posed by students at Franklin High School. (Photo by David F. Ashton)
Franklin High students interrogate Sen. Wyden
By DAVID F. ASHTON
For THE BEE
Two days after the mid-term election, on the morning of October 8, U.S. Senator Ron Wyden arrived at the Franklin High School (FHS) Auditorium to hold what he called a "Listening to the Future" session.
"In addition to holding town hall meetings – and I've had more than 910 of them – I get out to high schools where I don't give a speech, I just listen," Wyden told THE BEE before he began.
"I started this after the 'big government shut down' when Senator Ted Cruz filibustered about the Affordable Care Act; both sides were 'throwing rotten fruit at each other'," Wyden said. "After they wrapped it up, during a cooling-off period, I decided to go home and talk to high school students – because I wanted to listen to some people who actually behaved like adults, and to bring some common sense and practicality to light."
Asked by THE BEE what issues affecting Inner Southeast Portland were important to him, Wyden replied, "I so enjoy Southeast Portland, and the community events; and I really care about the healthcare issues.
"And then, of course, housing and the housing crunch are really important to Inner Southeast Portland; I'll be talking about the package of bills that will be focusing on first-time homebuyers. A lot of young people and their families are interested in that," Wyden remarked. "And also, making it possible for us to get more affordable rental housing.
"I'm looking forward to this; the future leaders of our country could very well be in this room," said Wyden as he looked around the school's auditorium, filling with students.
FHS senior Annika Mayne, a student in the school's Advanced Placement Government class and a member of the Constitutional Law Team, introduced the senator to the hundred students in attendance. She finished by telling Wyden that she, too, is working to end gun violence.
After thanking Mayne for her support regarding gun legislation, Wyden without further preface opened the floor to questions. Here are a few of the exchanges during the hour-long session:
Question: How do Democrats in the Senate plan on benefiting from the results of the midterm election?
Wyden: "Things are still up in the air. This is sending one powerful message to the president; we said, as Oregonians, that we are going to fight the excesses and abuse and demand healthcare, protection for the environment, and having a policy on immigration that make sense."
Question: What about the immigration laws? Can you do something about that?
Wyden: "I have voted for what I think is the sensible way to go, on bipartisan measures, where Democrats and Republicans work together to beef up security at the border; I have voted for enormous sums of money for more security.
"Second, we must enforce the laws on the books to send a message that we have a rule of law.
"[And third], those who are here undocumented, I propose that they come forward, pay a fine, show that they haven't broken any other laws and have learned the English language – and if they can, they get to go to the end of the citizenship line and apply for citizenship."
Question: Do you think it's more important to pass stricter gun laws, or to provide more funding and programs for mental health?
Wyden: "Look, we need a common-sense strategy against gun violence. To me, that would consist on everything from keeping guns out of the hands of people who clearly shouldn't have them, for Pete's sake – like being on the Terrorist Watch List!
"But mental health is absolutely key; mental health in America needs to be beefed up. My brother was schizophrenic; there are times when I went to bed when I wondered if he was going to hurt himself or somebody else. Clearly, there is a major shortcoming [in America today] in terms of mental health.
"Common-sense measures to keep guns out of the hands of people who should clearly not have them like being convicted of domestic violence, or terrorists, or someone that has a mental infirmity. It has nothing to do with Democrats or Republicans. We need really [both gun control and mental health] as good bookends, not just one or the other."
Question: [It was reported that you said] you are going to ask Republicans in the Senate "how many more shootings must happen before they enact common sense gun legislation?" Do you think it's helpful for our country, and the discourse, to portray the other side is not caring about the shootings? And when you think we should be doing to heal the hurt, and the divide?
Wyden: "Your question is terrific. I spend most of my day trying to find common ground between Democrats and Republicans. In the last Congress I worked with Warren Hatch, senior Republican, and I worked on a Children's Health Program for ten years. He's retiring and I said 'What a great sendoff, I'll meet you more than halfway'. Perhaps nobody thought that, in January 2017, we would've passed it, but it passed. This is a very clear bipartisan example.
"We have to come up with something bipartisan, to make something work."
In answering most of the questions asked, Wyden elaborated by giving numerous examples of his "continuing efforts working for bipartisan support", but adding that when it's important, he's "willing to stand alone".
The students thanked the Senator for his time and provided a warm round of applause as the program concluded.
---
A witness talks with an officer – after a drunk driver smashed into a parked minivan, and then drove his pickup up onto the sidewalk. (Photo by David F. Ashton)
Drunk driver hits parked cars on Flavel, then staggers off
By DAVID F. ASHTON
For THE BEE
Neighbors enjoying cheer at the Checkered Flag Tavern on S.E. 82nd Avenue at Flavel Street in the Brentwood-Darlington neighborhood suspected there might be trouble, when the bartender refused service to a man who other patrons considered "highly intoxicated", on Tuesday evening, November 27.
"He took a swing at a couple of people, and then sucker-punched me," a witness reported. "But what worried us most was when he staggered out the door, hopped into a big pickup truck, and peeled out of the parking lot!"
The black Ford 150 XLT truck took off westbound on S.E. Flavel Street. It got about six blocks before problems arose.
In the 7600 block, the driver swerved into the bike lane, smashed into the back of a parked burgundy Plymouth Voyager, veered across the street and popped up the curb, before his truck died on the sidewalk, still facing west, in front of Flavel Park.
Passers-by told arriving Portland Police Bureau (PPB) officers that they saw a man stagger out of the truck, and try to flee back eastward on Flavel. When officers found him near S.E. 80th Avenue, he reportedly spun around and tried to climb into a yard over bushes – but instead, he fell over and became entangled in the hedge.
The crew of Portland Fire & Rescue Engine 11 arrived, as did an ambulance; the man was transported to a local hospital, but without injuries that would warrant use of flashing lights or sirens.
Later, looking at his smashed Plymouth minivan, its owner said that because he'd gotten home early, he was glad he wasn't in the parked vehicle when the collision occurred.
"37-year-old Patrick Butterfield was cited for Driving Under the Influence of Intoxicants (DUII) and Failure to Perform the Duties of a Driver (Hit and Run)," Portland Police spokesman Sgt. Pete Simpson confirmed to THE BEE.
---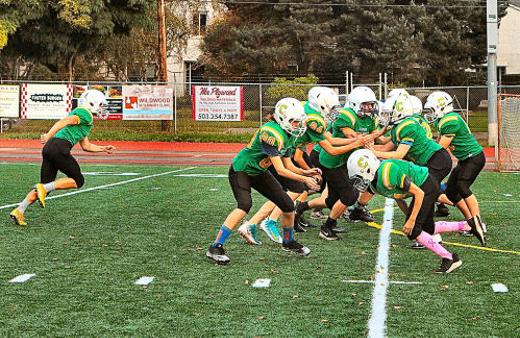 Members of the Cleveland Junior Varsity Football Team practice a play during a scrimmage on the CHS athletic field, on S.E. Powell Boulevard. (Photo by David F. Ashton)
Cleveland's Junior Varsity football has memorable season
By DAVID F. ASHTON
For THE BEE
The secret to a winning high school football team may well come from the future high schoolers still in middle school – at least, that may the case for Cleveland High School (CHS), in coming seasons!
"The Cleveland Junior Varsity football team is made up of seventh graders and a couple of eighth graders, on track to eventually play for CHS – although no one knows if all of them really will go on – but, that's why they're participating in this team," explained parent and assistant coach Scott Idler, before a team practice on November 1.
"Our players, about 19 in all, come from Sellwood, Winterhaven, and Hosford Middle schools – the schools that feed into CHS," Idler explained. "Our big story is that after seasons of not doing well, this year they have eight wins and zero losses going into the playoffs! That's a special thing – and we believe it's all due to our great coach."
As the young athletes suited up for practice, that head coach, Edward Leland Johnson, came onto the field.
Asked by THE BEE how he's turned the team around this season, Coach Johnson dismissed the notion: "I think coaching is overrated. The difference is that we are teaching this year; starting with the fundamentals of the game of football.
"At first people criticized because we didn't do a lot of 'hitting, banging, and running' – instead, we were teaching movement, hand placement, and how to keep your body at the lowest center of gravity, because this game is more about leverage than it is impact ability.
"The other part, though, is having good, smart players; we have intelligent kids that have applied what they've learned immediately – right now – and that makes it possible to cultivate these kids into good football players," commented Johnson.
Subsequently, due to injuries, the team lost its playoff game on November 3. "While we didn't win, we did have a great season, and we are very proud of what the entire team accomplished all season," Johnson later told THE BEE.
---
The freshly-poured concrete bus pad steams in the morning sun, as workers prepare to repave another section of the block with new asphalt. (Photo by David F. Ashton)
A week of road work smoothes ride on S.E. 17th Avenue
By DAVID F. ASHTON
For THE BEE
Many drivers were surprised and annoyed to find detour signs preventing them from traveling north on S.E. 17th Avenue in Sellwood between Tacoma and Spokane Streets, starting on Sunday, December 2.
During the ten-day project, officials from the Portland Bureau of Transportation said that the major project was done to dig out the bus-stop asphalt, and replace it with a more durable concrete bus pad.
Part of the "Fixing Our Streets" project funded by tax revenue, workers were seen repairing other rough spots on the street's surface while the concrete cured.
Thanks to clear weather, the concrete bus pad was poured – and the scheduled ten days of repairs were completed in five days, and 17th Avenue was reopened well ahead of schedule.
---
Taking a break from rehearsing the Classic Ballet Academy's presentation "A Christmas Carol" are (standing): Sydney Erlandson, playing Ghost of Christmas Yet to Be; Merlin Benneth, playing Scrooge; and Kathe Blumklotz playing the Ghost of Christmas Present. (Seated:) Ellery Ott as Ghost of Christmas Past, and Sophie Marcus playing the ghost of Marley. (Photo by David F. Ashton)
Sellwood dancers perform 'A Christmas Carol' downtown
By DAVID F. ASHTON
For THE BEE
In almost any city across the country, a company of dancers will perform "The Nutcracker" ballet during the Holiday season.
While Classic Ballet Academy dancers indeed gave their own acclaimed "The Nutcracker" ballet performances again this year at the Portland State University Theater, the director of the Sellwood ballet school's contemporary modern jazz and fusion program, Sissy Dawson, wanted to add a new and contemporary show.
"While considering story ideas, our school's director, Sarah Rigles, suggested 'A Christmas Carol'. After I listened to the original Broadway recording of that production, I fell in love with the music, and discovered it lends itself really easily to dance," Dawson told THE BEE.
Working with Academy's Susan Fischer, Lauren Layman, and Gail Black, the four of them choreographed the two-hour show, which featured 150 dancers from age ten up to their "returning student", who was playing Ebenezer Scrooge, Merlin Benneth.
While the narrative of "The Nutcracker" is told through pantomime, the story of "A Christmas Carol" is conveyed in the lyrics of the songs, as the dancers acted out the scenes in the shows presented December 13 and 14 at P.S.U., Dawson said.
"It's really exciting creating a new ballet – and the most fun part is seeing the kids get excited about the parts they play!"
---
Contractors peeled off layers of moss and old wooden shingles, as repairs to the Sellwood Park's century-old kitchen building got underway. (Photo by David F. Ashton)
Sellwood Park 'kitchen' house at last gets new roof
By DAVID F. ASHTON
For THE BEE
At long last, the historic Sellwood Park kitchen outbuilding is getting a new roof.
"Both the Sellwood Park kitchen and bathhouse buildings date to the 1920s," confirmed Portland Parks & Recreation (PP&R) Community Engagement Coordinator Maija Spencer.
The old wood shingle roof was deteriorating, and the abundant buildup of moss and plant life caused the Multnomah County Health Department to demand that volunteers from the Southeast Portland Rotary Club stand under sturdy canopies during "Sundae in the Park" – to make sure that all the debris and moss didn't slide off into the ice cream and toppings they serve there each August.
"When we visited the Sellwood-Moreland Neighborhood Improvement League (SMILE) in November of 2015 to discuss the planned bathhouse repair, we had a request from neighbors to also repair the kitchen's roof, if funding allowed," Spencer told THE BEE. "In 2017, when PP&R developed the Phase 2 of the '2014 Parks Replacement Bond', the Bureau did allocate funds for this project."
"The new shingles are to be similar to those on the new roof of the adjacent bathhouse building," remarked Spencer.
Removing the old shingles brought to light numerous places where structural repairs were needed. Contractors were expected to have finished installing new roof sheathing, vents, flashings, new shingles, and gutters, by the end of December – although that won't complete the full rehab of the building.
Construction will continue – focusing on replacing the structural columns, other interior work, and repairing and painting exterior siding. "The project is expected to be wrapped up by next March, assuming all goes smoothly this winter," Spencer said.
---
When this car blew through the marked Holgate Boulevard intersection with the "designated walker" in it, she jumped backward (she's wearing a green baseball cap, beyond the car), to avoid being hit. Traffic Division motorcycle officer Sgt. Engstrom, at far right, then pulled over the motorist to discuss crosswalk safety. (Photo by David F. Ashton)
Drivers 'educated' by cops at Holgate crosswalk
By DAVID F. ASHTON
For THE BEE
At the well-marked pedestrian crosswalk on S.E. Holgate Boulevard connecting the Holgate Branch Library and Marysville Elementary School, Portland Traffic Bureau officers set up a "Crosswalk Education and Enforcement Action" from noon until 1:30 p.m. on Wednesday, November 28.
We saw that frequently, as an anonymous Portland Bureau of Transportation (PBOT) "designated walker" signaled her intention to cross the street, a driver cut her off – sometimes forcing her to leap backward out of traffic.
"Pedestrians are not protected nearly as much is a person is in a vehicle; so, when we're sent to a collision between the two, many times, the result is life-threatening," remarked PPB Traffic Division Sgt. Ty Engstrom, while watching the intersection and sitting on his idling patrol motorcycle.
"When it comes to crashes between those on foot and cars, there are two sides to the equation," Engstrom told THE BEE. "We're here talking with vehicle drivers about what they can do to be more safe; and also, we're letting pedestrians know what they can do to increase their own safety."
"Whether it is marked or unmarked, every intersection is a legal crosswalk under Oregon law; drivers must stop – and stay stopped – while the pedestrian is in the travel lane, or the adjacent lane," reminded Engstrom. "And, pedestrians should use body language, to let drivers know they intend to cross the street. Added visibility with light-colored or reflective clothing, and crossing at correct locations, will also increase their safety."
Right then, the driver of a Honda whizzed past a pedestrian in the crosswalk, and Engstrom pulled out to have a few words with the motorist.
Afterward, PBOT Public Information Officer Dylan Rivera reported that a total of 35 people were "educated" during the 90-minute action.
"Although 18 citations were written, Safety Education classes were offered to 14 drivers, and three warnings were issued," Rivera said.
The violations issued included:
Failure to stop and remain stopped for a pedestrian in a crosswalk: 11 citations, 3 warnings

Cell phone: 3 citations

Driving uninsured: 1 citation

Failure to Carry proof of insurance: 1 cite, 1 warning
To learn more about rights and responsibilities involved in crossing streets in Oregon, and to view the results of previous enforcement, see this PBOT webpage – https://www.portlandoregon.gov/transportation/article/594880.
---
He says his name is just "Barron". This Woodstock resident of picks up an unrecyclable "Double Gulp", and other street trash, during his weekend neighborhood litter collections, as he has done for fifteen years. (Photo by Elizabeth Ussher Groff)
Somebody's gotta to do it: Woodstock resident 'grabs' litter
By ELIZABETH USSHER GROFF
For THE BEE
Several years ago it seemed as if there was less litter in the Woodstock business district and residential neighborhood than there is now.
Now – the neighborhood has changed and grown; more people are on the streets walking to new coffee shops, businesses, and restaurants. Also, neighbors seem to be less inclined to pick up trash in their immediate area, out of concern for safety and sanitation.
However, not everyone feels that way. One Woodstock resident, whom you may have noticed on the weekends, is showing what one person can do to improve the neighborhood, and he feels good about giving back to his thriving community.
Barron – who gives no last name because, he says, we all belong to one human family – lives east of S.E. 52nd Avenue, just south of Woodstock Boulevard. He says, incidentally, that students at Grant High School, where he has substituted for twenty-five years, actually just call him "Mr. Barron".
With gloves, a "grabber", an orange safety vest, and three bags – one for recycling, one for garbage, and one reserved for items to donate, keep, or take to hazardous waste – he has been walking Woodstock Boulevard and other major Woodstock streets picking up litter, in all seasons, for fifteen years.
Since he teaches during the week, and says traffic is too heavy anyway on weekdays, his litter pickup is usually confined to a Saturday or Sunday morning. He gets out on the street as soon as it is light. Now you know who that man is, and what he is doing.
"I started fifteen years ago on my own street, because the wind blows a lot of litter to the end of this dead end street." Very soon, he expanded his range to go along the boulevard, and some other major neighborhood thoroughfares.
Barron has lived in Woodstock for thirty-four years, and says that with so much more traffic and more people walking, he is surprised that the amount of litter over his fifteen years of picking up has actually remained fairly steady. If it has, he is probably at least partially responsible for that.
Barron uses a "grabber" with small plastic suction cups the size of a quarter, at the end of the two prongs. He says these grabbers are available only at Lowes Home Improvement and at Home Depot, but he finds them invaluable for picking up even the very small thin rings from the necks of milk jugs or juice containers, or from single-use plastic bottles run over by bikes or cars.
"Small pieces of plastic go down the storm drain and eventually flow into the Willamette River," he says. "I also carry small red marker flags that are commonly called 'survey flags' to stick in poop, so people don't step in it. One time I was marking one pile and stepped back into another! But the little flag helps. You don't want poop on your car mat," he exclaims with a smile.
"Sometimes I find wallets or credit cards and try to find the person. . . People are always very happy to get them back." He remarks that often the money is gone from the wallet when he finds it, but usually important identification and financial cards remain. He takes any credit cards to the bank of the wallet's owner. Once, he found a Tri-Met I.D. card in a wallet; its owner, a Tri-Met employee, came out to collect it immediately so he'd have the important ID for immediate use on his route.
He adds, "When I find car keys I post a notice on Nextdoor.com." He has a generous attitude about finding hypodermic needles, which he says are less common these days. "I am glad I find them before they do any more damage."
Barron doesn't pick up cigarette butts because "there are too many", but when he finds "orphan gloves" in the fall and winter he takes the trouble to wash them and take them to a community recycling center on N.E. Alberta Street, where un-matching gloves are laid out and sold for one dollar each.
When asked by THE BEE if he considers himself a role model, he says he doesn't want to be thought of as unusual. "Anybody could do this," he shrugs.
And maybe more neighbors should – especially after the weather warms up.
---
After helping the victim, who had landed in Johnson Creek, back up to the Springwater Corridor Trail after a tumble, firefighter paramedics then examined the patient. There appeared to be no injuries. (Photo by David F. Ashton)
Fire crews rescue biker who slipped off the Springwater Trail
By DAVID F. ASHTON
For THE BEE
At the border between Portland and Clackamas County, rescuers responded to the Springwater Trail bridge over Johnson Creek at 1:12 p.m. on Friday, November 30, to assist a bicyclist who had slipped down the steep embankment and into the creek's chilly water.
The 9-1-1 Center dispatch pinpointed the location as west of S.E. McLoughlin Boulevard and north of S.E. Ochoco Street. From downtown, Portland Fire & Rescue's Station 1 "High Angle Technical Rescue" team pulled up along McLoughlin Boulevard, under the pedestrian bridge.
This crew, joined by a team from Clackamas Fire District #1, grabbed their gear, and began scrambling up the steep, muddy embankment from the highway – about 50 feet up to the edge of the bridge and trail.
Once up there, they found crews from Woodstock Fire Station 25 and Westmoreland Fire Station 20 already there, having come northeast on the trail from Ochoco Street.
"The rope rescue gear wasn't needed," afterwards explained a lieutenant from Clackamas Fire Truck 302, as he and his crew started walking back to their truck. "Apparently, a bike rider stopped, stepped off the trail, and slipped down the steep slope into the creek; firefighters helped the person back up to the trail for a medical evaluation."
The victim appeared to be shaken, but uninjured, and did not require a trip to the hospital.
---
Brooklyn Park Director Craig Montag was a special guest at the fundraiser held to keep his summer program going at Brooklyn Park, after PP&R elected to de-fund it. Last summer, neighborhood donations supported its first year without city funding. (Photo by Rita A. Leonard)
Brooklyn Park 'Friends': Fundraising gala to support summer program
By RITA A. LEONARD
For THE BEE

The recently-formed "Friends of Brooklyn Park" held its first Winter Fundraising Gala from 6 to 8 p.m. on Friday evening, December 2 – with the funds that were raised earmarked to help finance Brooklyn Park's 2019 summer program.
The popular Portland Parks & Recreation program was headed by Craig Montag for forty years until funds were cut in 2017. Neighbors, organized by Ben Tarne as "Friends of Brooklyn Park" (FoBP), were able to raise enough money to restore the program this past summer – and, looking to securing stable financing for the future, Tarne and Co-Chair Daniel Gaard organized what's planned as an annual event – the Winter Gala – this year, in the Trackers Earth facility on S.E. Milwaukie Avenue.
Among the additional financial demands to be met to keep the summer program going, Gaard told THE BEE, is that FoBP has to double the Park's insurance in the coming year.

Food, drinks, music by the Eric Ching Trio, and raffling of items donated by local businesses, rounded out the adults-only party. Montag was a guest of honor, recalling highlights and personalities from his extensive career as Park Director.
Montag observed that of the nearly 900 people enrolled on Facebook's "Support Brooklyn Park" site – http://www.facebook.com/fobrooklynpark – many had enjoyed youthful summers at that neighborhood park.
As a former teacher and creative activities director, Craig was lauded by kids and parents alike, who trusted him with their fun-filled summers and thoughtful advice. He added many unique activities during his time there for PP&R, including the popular summer water-slide that cools kids off on hot summer days.
Tickets to the Gala ranged from $65 to $75, and raffle tickets were 3 for $25; fundraising has not ended. Tarne was quoting last year as saying "We hope to raise about $25,000 to cover costs of the 8-week-long Summer Program, which covers salaries, overhead, permits, insurance, and supplies. PP&R is currently working on getting our permits ready." In 2019 there may be additional expenses imposed by the city.
There is, as yet, no total available for the amount raised at the Gala. Park supporters can donate to the program online – http://www.friendsofbrooklynpark.org – or phone Tarne for information at 971/808-2438.
---
NEW MURAL IN A SOUTHEAST PARK. A mural has been painted around all four sides of the "park shack" at Essex Park in the Foster-Powell neighborhood – at S.E. 79th at Center Street. The work was completed earlier this year by the art duo "Rather Severe" – Jon Stommel and Travis Czekalski; it adds a colorful note to the area adjacent to the basketball court and the children's play area. The artists used a palette of cheerful hues to remind visitors that there's something to enjoy outdoors at any time of year in all of the Portland Parks. (Photo by Rita A. Leonard)
This new wall mural on Powell Boulevard, called "Time Traveler", features the artist's new son, Griffen, and two family cats. (Photo by Rita A. Leonard)
'Time Travel' mural on Powell celebrates birth of artist's son
By RITA A. LEONARD
For THE BEE
Time was, when you gained a new family member or pet, you might carry a photo in your wallet to show people. In 2018, you paint it on a building instead!
Such a mural has appeared on the back of a garage on S.E. 64th Avenue at Powell Boulevard.
The artist, Joe Shea, tells THE BEE he was trained at the Art Institute in Boston, and has been creating art for over 25 years. This particular mural features Joe's son, Griffen, and two family cats ("his siblings," says Joe) – and it's called "Time Traveler".
Aside from the boy and the cats, "I have a fascination with pocket watches, which often recur in my art," Shea explains. "The watch represents time, and the numbers on this mural represent travel and experience.
"My inspiration comes from many sources – mostly traveling abroad, and exploring nature. This mural was inspired by the birth of my first son, mixed with some influences from classic children's books and sci-fi films.
"I've painted a few murals previously in Portland, since I work with the folks at 'Forest for the Trees'. I was fortunate enough to create that project's first multi-media installation at Portland Airport; but most of my public art projects are located all around the country and abroad. My website – http://www.jshea9.com – shows many photos of my past projects.
"'Time Traveler' was completed in July, and includes my family's beloved pets, Lyric (who passed away recently at age 18), and Little One. Lyric has found her way into many of my past murals and sculptures – she was my studio assistant for many years, and her spirit lives on in my work. My art is filled with dreamy open space environments, representing the ocean, the sky, and space itself....I like to think of this as a magical place where anything is possible.
"Working on this mural has been a nice form of decompression from my 'Dad duties'," admits Shea. "When I paint, it's very therapeutic, and helps me keep a balance in life. This mural is something for my family and our community to enjoy.
"It's been a nice way to get to know my neighbors, while doing the kind of work I love."
---
ANOTHER "PEACE POLE" PLANTED IN SOUTHEAST. The Southeast Portland Rotary Club, in conjunction with the effort worldwide by Rotary International, has placed several multi-language "Peace Poles" around Inner Southeast – including at Holy Family Church and School, Abernethy School, and Westmoreland Fire Station #20. The latest is in front of Moreland Presbyterian Church on S.E. Bybee Boulevard – dedicated by its Pastor, Brian Marsh. Josh Dunham (center) gave a dedicatory reading; and the Club's President, Kathy Stromvig (at right) presented the pole, and its sentiment of world peace, on behalf of local Rotarians. (Photo by Eric Norberg)
---
Comments? News tips? Click here to e-mail us!

Note to readers: At some point in the future, this, our original Internet website, will probably be replaced at this web address by our new website, as part of the Community Newspapers group. At that time, you will still be able to access this older, but still operative, website, if you save this address: www.southeastPDXnews.com. Right now, it leads you to our new website. Eventually, it will lead you back to this old one! Both will be up to date and current, and you'll still have your choice of which one to visit!

READY TO MOVE ON TO THE EDITORIAL, AND THE "LETTERS TO THE EDITOR", ON PAGE 3? CLICK HERE!