More stories from September's issue of THE BEE!
The small, but mighty, C.P. Huntington locomotive pulls a train full of folks past the Oaks Amusement Park Dance Pavilion, rounding the bend toward the park's family picnic area. (Photo by David F. Ashton)
Free train and carousel rides all summer at Oaks Park
By DAVID F. ASHTON
For THE BEE
After being closed down for the entire 2020 season due to the COVID-19 pandemic, historic Oaks Amusement Park this summer has truly been a place where, as their slogan says, "The fun never ends".
Celebrating being open to serve families, the leadership of the Oaks Park Association, the nonprofit organization that owns and operates the amusement park and picnic grounds decided to offer free rides to everyone on two of their most popular attractions.
"It's true, we wanted to commemorate our re-opening by making riding the Oaks Park Train, and our 1912 Herschell-Spillman hand-carved menagerie carousel rides, free to everyone who comes," said Oaks Park's Ride Foreman, Kieran Andrews – a veteran summer worker at the park since 2017, and a recent graduate of Reed College.
"We've always had an 'open midway', which means guests don't have to pay a gate fee just to get in, as is required at many amusement parks," Andrews pointed out. "Being just north of Sellwood Riverfront Park, and right off the Springwater Corridor Trail, people wander in here all the time just for the fun of it!"
"While our walk-in guests may not plan on spending the day, and riding all of our great attractions here, we're giving them opportunity to enjoy these two rides at no charge," Andrews observed.
Additionally, because there is no entrance fee, or any requirement to buy food, beverages, or snacks there, many families come and use the free picnic areas. "Many of our picnic spots, along the Willamette River, are available on a first-come first-served basis for family groups. These guests can also enjoy these two family rides, all season long," Andrews assured.
"The best part about working here, for me, is that I really enjoy working at a place where we help people be happy and interact with families who are having fun," Andrews mentioned, as he left to make his rounds.
So far, 3,000 guests have gotten these free rides, since they were announced on June 17.
Oktoberfest planned; reconsidered; then cancelled
In mid-August, THE BEE heard from Oaks Park Association Marketing and Events Director Emily MacKay that the famous Oaks Amusement Park "Oktoberfest" would resume, after just being a take-out affair last year.
However, on August 24, MacKay announced that the astounding rise in cases of the COVID-19 "Delta Variant" in Oregon had made it seem impractical to bring back the live in-person Oktoberfest this month after all. "Oaks Park management has decided that the best course of action now is to postpone our annual Oktoberfest celebration until 2022.
"The essence of Oktoberfest centers around people gathering in the Festhalles for extended periods of time, while they eat, drink, dance, and sing to live music," MacKay explained. "Safety precautions, like wearing masks, or keeping an appropriate social distance, are difficult to enforce in a Festhalle environment. The situation is just too uncertain to hold the event his year."

McKay also told us that – at the press time for this issue – it had not yet been decided whether to make Oktoberfest dinners again available to-go this year, as in 2020. Whichever their decision about that, it should be announced in due course on their website – http://www.oakspark.com/oktoberfest – so you might want to check that, now and then, to see.
Meantime, to see folks enjoying those all-summer-long free rides, here's a brief BEE video. . .
___________________________________________________________________________
With fire extinguishers and plastic water bottles, employees of CrossPoint NW battled to save their building from going up in flames from a nearby wildfire. The blaze was ultimately put out by arriving crews from Clackamas Fire District #1. (Photo by David F. Ashton)
Workers save Johnson Creek Blvd auto warehouse from wildfire
By DAVID F. ASHTON
For THE BEE
It's not known how the grass fire, along the Springwater Corridor Trail, near the intersection of Johnson Creek Boulevard and Bell Road, ignited at about 5:30 p.m. on August 11.
But soon afterward, the brush fire – fueled with dry grass, parched trees, and a hot wind – sent flames licking up a side wall of the two-story "CrossPoint NW" auto auction warehouse at 6803 S.E. Johnson Creek Blvd.
Had it not been for fast-thinking and decisive action by employees, the building might have been a multi-alarm fire. Instead, a CrossPoint worker who happened to walk outside the building, saw the flames, grabbed a small fire extinguisher, and yelled to a co-worker, "Call 9-1-1!"
As the flames kept getting higher other CrossPoint staff members exited the building; some of them carrying small fire extinguishers. Other workers trotted out to the fire, toting blue five-gallon jugs of drinking water.
In true "bucket brigade" fashion, the business' employees valiantly battled to keep the fire from torching the building.
Their efforts paid off; the fire had been substantially extinguished when, just a few minutes later, crews from Clackamas Fire District #1 pulled up and took over. Using their on-board water supply, firefighters sprayed hot spots, and soaked the charred ground, brush, and trees. They also hosed water onto the metal siding of the warehouse.
Looking up at their soot-covered building, an employee remarked to THE BEE, "If the fire had gotten up there in the roof, this would have been a big, big problem."
---
Custodians at Woodstock Elementary School Jordan McNutt, Michael Brooks, and Michele Woldrich were hard at work when THE BEE came by – making the school "spic and span" for returning students. (Photo by David F. Ashton)
Local grade schools prepare for 'on campus' learning
By DAVID F. ASHTON
For THE BEE
As summer waned and September approached, the thoughts of families and their school-age kids – as well as teachers at area schools – turned to getting back into the classroom.
THE BEE visited Woodstock Elementary School and Holy Family Catholic School, as their Principals and staff prepared for the start of the 2021-2022 school year.
Woodstock Elementary School ready for students
On September 1, students in the second through fifth grade were scheduled to return to classroom education; first graders and kindergarteners were to matriculate in during the week.
That's what we learned from Woodstock Elementary School's Principal Seth Johnson in mid-August.
"I'm really excited to know that the students are coming back in person," Johnson began. "But just like last year, I'm a little anxious, because there still are a lot of unknown elements. Things can change between now and opening day.
"We're doing everything we can before opening day to make sure students are going to be welcomed back, but also will be safe. There's a real mix of excitement – and also mixed in there is little bit of anxiety."
To help keep things safe, the Woodstock Elementary School custodians were busy cleaning the school from top to bottom, as teachers were readying their classrooms for returning students.
As well, the school's Secretary, Tabitha Rhodes, and new Assistant Principal Sarah Waltrip were finalizing procedures for students entering and exiting the building, as well as working to coordinate class schedules for the day.
"It's going to be great, having our students back, and again feeling part of the Woodstock School community," remarked Johnson.
When asked about the future of the school's highly-regarded Mandarin Immersion Program (MIP), Johnson told THE BEE, "Yes, it will be at Woodstock for the 2021-2022 school year.
"Phase 2 of the 'SE Guiding Coalition's' work will resume in late August, to focus on four areas: Harrison Park K-8, Creative Science K-8, Lane Middle School – specifically on Middle School Redesign for Special Education, Dual Language Instruction (DLI), and English Language Development."
There is the potential for changes to the program in the future, acknowledged Johnson – with a focus on middle school, in the SE Guiding Coalition's work; but he added that he doesn't expect any changes for the 2021-2022 school year, at any rate. "Families are encouraged to follow the 'SE Guiding Coalition' meetings and updates, as well as to engage when possible."
Information about the Enrollment and Program Balancing Process, including links to the meetings, can be found online – http://www.pps.net/enrollmentbalancing
Holy Family Catholic School to resume in-classroom
The faculty and staff at Holy Family Catholic School, situated on the eastern edge of the Eastmoreland neighborhood, were also industriously preparing their campus for the return of students – this year, on September 7.
Asked to compare and contrast the start of last year with the start of this year, the school's Principal Joe Galati responded, "Really, there is simply no real comparison.
"The difference this year is that we are starting the school year together with our students who will be here, on campus, full-time," Galati continued. "Our teachers are motivated and excited – and, for me, four words sums it up: 'I can hardly wait'!
"Last year we started out with online digital education; by January, 2021, we'd brought in kindergarten through fifth grade students – and, just before spring vacation, we brought in all middle school students," recalled Galati.
"In-classroom – talk about a game changer! Kids being here means the world to us – and also to our kids; they'll get the education that they so desperately need and deserve," Galati said, before hustling off to meet with the school's staff.
We sought to meet with other elementary schools to learn of the steps they were taking, but we were unable to reach most of them in time to prepare this article – no doubt because of the many important things each was busy with in order to open their schools on time. So this public school, and this private school, will represent the work all our public and private schools were busy with, in August, to bring kids back into the classroom this month.
---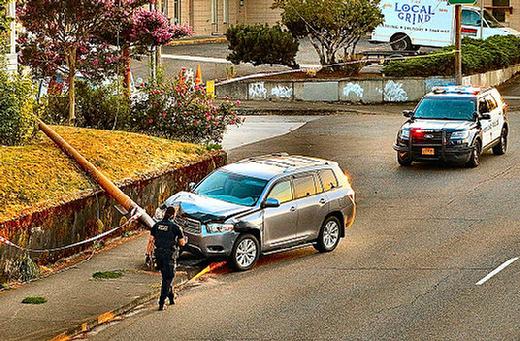 A PPB officer examines the steel utility pole, and the smashed Toyota SUV that toppled it, on S.E. Powell Boulevard, eastbound at 8th Avenue. (Photo by David F. Ashton)
Powell injury crash sends SUV into steel utility pole
By DAVID F. ASHTON
For THE BEE
Two Toyotas collided, eastbound on S.E. Powell Boulevard at 8th Avenue, near the eastern foot of the Ross Island Bridge, on Thursday evening, August 19. One of them careened off the highway, drove up the curb, and smashed through a steel utility pole.
Emergency first-responders and Central Precinct officers who were dispatched to the scene at 7:06 p.m. saw electrical wires drooping over S.E. 8th Avenue – and, on the sidewalk, a Toyota Highlander sports utility vehicle, with deployed airbags and an injured driver.
A Toyota sedan, with substantial damage to the passenger's side of the vehicle, proved drivable, and pulled off to the curb in front of the smashed SUV; its occupants were out of the car and talking with an officer when THE BEE arrived. They left the scene after providing information to the officer.
It didn't take long for arriving ambulance paramedics to prepare the crash victim for a trip to a local hospital to be treated for unknown injuries.
With no witnesses at the scene, it's not clear why or how this accident, apparently between two vehicles headed the same direction on S.E. Powell Boulevard, had taken place. There is no indication that any citations were issued at the scene.
---
She loves her adopted "Mexican Street dog", Pulpo, said Ann Petroliunas at the "Pup Party" at the Portland Mercado on Foster Road. Pulpo was rescued through Family Dog's New Life Animal Shelter on Johnson Creek Boulevard. (Photo by David F. Ashton)
'Pup Party' benefit for Johnson Creek Blvd dog shelter
By DAVID F. ASHTON
For THE BEE
The Portland Mercado, on Foster Road in the Mt. Scott-Arleta neighborhood, was even more lively than usual on Saturday afternoon, August 7, when its cantina – the Barrio – hosted a "Pup Party", in support of Southeast Portland's Family Dog's New Life Animal Shelter.
Outside the main building was a pop-up market – featuring doggie goods, services, and organizations.
"I'm here today as a volunteer from our no-kill dog shelter off S.E. Johnson Creek Boulevard," said Kerry Rowand, standing at the organization's information and raffle table.
"We rescue dogs regardless of their age, breed, and history," explained Rowand. "Because this organization survives on donations, we are really appreciative of all this community support we're seeing here today!
"We're having a great crowd of dogs and their owners here today, including those adopted from 'Family Dog's New Life Animal Shelter'. They're just checking it out, having fun, and enjoying the nice day," observed Rowand.
Inside Barrio, proprietor Chris Shimamoto shared that a friend and customer, Dayna Del Mar, had suggested he host the benefit on behalf of the shelter. "I love dogs, so we set this up."
"We're doing this because we love community, we love dogs, and we love bringing it all together," commented Del Mar.
One of the dog we met, from this particular shelter, was Pulpo – there with his human, Ann Petroliunas. "He was a 'Mexican street dog' that came up with a busload of dogs from Puerto Escondido, Mexico, to the shelter.
"His DNA test shows that there are at least 15 breeds mixed in. The ones people recognize most in him are whippet and American Terrier," Petroliunas told THE BEE. "And, oh yes: 'Pulpo' means 'octopus' in Spanish."
Organizers asked us to recognize Foster Area Business Association members and other businesses, which provided prizes for the fundraising raffle: Barrio; Dutch Bros. Coffee; Foster Outdoor; Gray Dog Digital; Like Dat Apparel; Pieper Café; Portland Digs; Realtor Chris Correnti; Red Castle Games; Starday Tavern; Tita's Kitchen; Birds & Bees Nursery; Bow Wow Grooming Boutique; Gemini Moon Ventures; Sugah's Cookies; Surf's Pup Doggie Lounge; and Teutonic Wine Company.
Learn more about "Family Dog's New Life Animal Shelter", online – http://www.familydogsnewlife.org
And for a look at what went on at the Pup Party – here's a brief BEE video:
____________________________________________________________________
PF&R Fire Inspector Eric Heard administers a COVID-19 vaccine injection to Martin Negrete at Lane Middle School. (Photo by David F. Ashton)
Firefighters administer COVID-19 shots in Brentwood-Darlington school
By DAVID F. ASHTON
For THE BEE
In an effort to provide the free COVID-19 vaccine to as many people as possible, Multnomah County Aging, Disability, and Veterans Services teamed up with Portland Fire & Rescue (PF&R) to provide the needed shots in neighborhood-convenient settings.
On Friday, July 30, one of these "vaccine clinics" appeared in the foyer of Lane Middle School, in the Brentwood-Darlington neighborhood.
"This program started when our Fire Chief Sarah Boone reached out to the Multnomah County Care Coordinator, Lisa Reslock," explained PF&R Firefighter and EMT Trainer Christine Pezzulo, as she drew up another injection.
"The way this program, 'Meds on Wheels', is set up – Multnomah County is providing the vaccine, and taking care of the clerical work; and we're doing the injections," Pezzulo told THE BEE.
It was simple for those seeking an injection. Walk in, provide some information, and get the shot. If you missed that clinic and need the shot, keep your eyes open for another clinic near you – or check with your pharmacist or primary care doctor.
Most of the hospitalizations for the Delta Variant of COVID-19 have been of the unvaccinated, so don't put off getting your shot.
---
A tall aerial lift places a workman with a chainsaw into the largest fir tree to be removed for the new parking lot, just north of the Portland Memorial Mausoleum. (Photo by Rita A. Leonard)
Parking lot construction begins at 'Moreland Woods'
By RITA A. LEONARD
For THE BEE
"Moreland Woods" is the name given to an undeveloped, forested lot on S.E. 14th Avenue in Westmoreland between the Portland Memorial Mausoleum and Llewellyn Elementary School. A group called "Friends of Moreland Woods" has been working for quite some time to raise money to buy all or part of the lot, for use as a public park area, from the new owners of Portland Memorial, "Foundation Partners".
In the meantime, Portland Memorial reports that the number of people attending memorial services there as declined, and there no longer seems to be a need for its two half-block parking lots. The southern one was sold some time ago and is now in the final stages of being developed for townhomes. The northern lot, temporarily being used this summer for the Moreland Farmers Market, is also intended for future development.

Consequently, Portland Memorial, which owns the "Moreland Woods", has decided to install a small parking lot on the south edge of the property. This has necessitated the removal of some of the trees on it, but Sellwood landscape architect Rick Lakeman, a member of Friends of Moreland Woods, worked on a plan with the landowners to help conserve some other tall firs at the back of the site. These overlook the Oaks Bottom Wildlife Refuge and offer some shade.
On Monday, July 19, four of large trees on the planned parking lot were removed, with a few others also to be removed to clear the space needed. All the trees cut were limited to those designated for the parking area after working with the Friends of Moreland Woods to reduce the cut trees to the bare minimum for the purpose.
The tree removal crew was surprised at the public interest at what they were doing, since they were simply hired to clear some property. The workman with a chainsaw on an aerial lift reported that a branch cleft near the top of the largest fir tree being cut had been collecting rainwater, and could have eventually posed a danger to people walking below.

The rest of the trees on the wooded property are to remain as they are; but the rest of the lot is, at least theoretically, for sale. The Friends of Moreland Woods group has not given up trying to raise money to acquire it for the public. The group is a subcommittee of the Stewardship of Natural Amenities Committee (SNAC) of SMILE – the Sellwood Moreland Improvement League neighborhood association – and donations directed to Friends of Moreland Woods c/o SMILE will be tax-deductible under SMILE's nonprofit 501c3 status.

Checks made out to SMILE, with "Friends of Moreland Woods donation" written on the notation line, may be mailed to SMILE at 8210 S.E. 13th Avenue, Portland, OR 97202.
---
East Precinct officers were searching for a stabbed man, wounded in the buttocks, who ran from this intersection in Mt. Scott-Arleta. They did find him, and then the story got complex. (Photo by David F. Ashton)
Although released from custody without bail, this man – 20-year-old Seth Steven Alcorn-Payne – still faces Domestic Violence Felony and Misdemeanor charges in court in the Mt. Scott-Arleta incident, but now he can't sit down. (MCDC booking photo)
Mt. Scott-Arleta man stabbed in buttocks later accused of an assault
By DAVID F. ASHTON
For THE BEE
On Thursday evening, August 12, East Precinct officers were running from one call of reported violence to another.
In this particular case, an East Precinct Sergeant was flagged down at 7:26 p.m. at the intersection of S.E. Woodstock Boulevard and 80th Avenue by a person who reported that he had just stabbed his brother, and said the brother had committed an assault.
This turned into a "Stabbing – with Weapon" dispatch that brought nine officers to the area. One of them found the stabbed man in the street, bleeding, near S.E. 77th Avenue.
"He was uncooperative, and tried to walk away," Portland Police spokesperson Sergeant Kevin Allen told THE BEE. "When officers began giving him commands to stop, he complied, was taken into custody, and transported by ambulance to a hospital with a stab wound to the buttocks – these injuries are considered to be non-life-threatening.
"Officers learned that the man had 'strangled' his mother and girlfriend," Sgt. Allen continued. ("Strangulation", as a charge, does not necessarily mean a fatality.) The two victims who had been strangled also had other non-life-threatening injuries and were treated at the scene by paramedics.
The Portland Police Special Victims Unit followed up on this case.
After he was treated and released from a local hospital for his stab wound(s), 20-year-old Seth Steven Alcorn-Payne was arrested and booked into the Multnomah County Detention Center (MCDC) the following evening, August 13, at 9:15 p.m.

The charges filed included two counts of Domestic Violence Strangulation (Class C Felonies), Attempted Assault in the Fourth Degree (a Misdemeanor), and two counts of Domestic Violence Harassment (Misdemeanor charges).
After his arraignment, Alcorn-Payne was released from MCDC on August 16, without being required to pay any bail, despite his dangerous attempts on others. Release Reason: Pre-Trial Supervision.
If you have information about this case, please reference Case No. 21-223526, and e-mail what you know to – crimetips@portlandoregon.gov
---
Members in the audience sitting in this Sellwood Street in July enjoyed this "Bach in the 'Bach'-Yard" concert, presented by the "Bach Cantata Choir". (Photo by David F. Ashton)
Classical choral concerts come to Sellwood driveways
By DAVID F. ASHTON
For THE BEE
When motorists found a block of S.E. Bidwell Street in Sellwood barricaded, on Sunday afternoon, July 18, it wasn't due to any emergency situation or street party.
Instead, the street was closed for an outdoor concert by the "Bach Cantata Choir". The concert was billed as "Bach in the Bach-Yard", although the ensemble was actually staged in adjoining driveways. The audience brought chairs to set up in the street.
"This is one of a series of four outdoor concerts we're holding – basically, because we like to sing music," said Bach Cantata Choir Artistic director Ralph Nelson as the musicians took their places, and the audience gathered.
"Various choir members talked about ways to perform in some brainstorming meetings we had," Nelson said. "We're so happy that we can get out, and finally DO something; we feel that doing it outdoors is safe, at the moment."
In addition to the vocalists, who come from all over the Portland area, this performance featured violinist Holly Stern, a Sellwood resident – and keyboardist John Vergin, who lives near Reed College.
Twelve selections were performed during the concert. In addition to the music of Bach, there are also selections by Vivaldi, Handel, and others. You never know what you'll find going on in the streets of Inner Southeast Portland, unless you get out and look!
---
This parked Honda will need some body work and a replacement window, after a limb – knocked off a tree, just south of Holgate, by a passing truck – crashed down onto it. (Photo by David F. Ashton)
Brooklyn tree 'trimmed' by passing truck; falling limb smashes auto
By DAVID F. ASHTON
For THE BEE
Traffic was stalled for a time in the 4600 block of S.E. Milwaukie Avenue, on Tuesday morning, July 27 – when the limb of a large tree fell on a parked car across the street from "Trackers Northwest", just south of Holgate Boulevard, in the Brooklyn neighborhood.
At 10:09 a.m., a two-officer Portland Police cruiser was dispatched from Central Precinct to provide traffic control.
"I was looking out the window, having my second cup of coffee, and saw a large [box] truck passing under the tree limbs, overhanging the street," a neighbor who lives in the apartment building across the street told THE BEE. "The truck hit it; the limb dislodged, and fell on the hapless vehicle parked below."
Another bystander quipped, as he noticed the Portland Parks & Recreation Urban Forestry workers arriving, "It looks like another case of 'street-tree trimming by truck'."
No injuries were reported in this incident. There certainly was considerable damage to the car.
---
A PF&R Fire Investigator examines, then photographs, this vandalized and partially-burned Sellwood sedan. (Photo by David F. Ashton)
Sellwood car arson foiled by sharp-eyed neighbor
By DAVID F. ASHTON
For THE BEE
At the foot of S.E. Spokane Street, as THE BEE arrived on Friday morning, July 30, Central Precinct officers were standing around a singed Hyundai sedan. They had been dispatched at 9:25 a.m., when an alert neighbor called the 9-1-1 Center about what they'd seen.
One of the gathered officers placed folded business cards, as evidence markers, near a cigarette lighter and a can of accelerant, which may have been charcoal lighter fluid.
Then, as a Portland Fire & Rescue Fire Investigator arrived to look into the incident, the neighbor who'd reported the incident walked up and spoke with the officers.
She told them that she'd witnessed a person near that car, looking as if he was trying to set it afire. The suspect had warned her to back away; that the car might "go up" at any moment. "You'd better get away, this thing is likely to explode," the unidentified man admonished her.
The witness said she then ducked around the corner of the condominium parking lot, and called 9-1-1 to report the incident and the suspect – who she described as a red-headed male, with some facial hair.
"I heard him yelling, apparently at the car, 'come on, blow up!' before he ran away, toward the Willamette River beachfront," she told officers.
The officers did not find anyone matching the description, but the case is still open, and remains under investigation.
---
There were many present, but here were the guests of honor – longtime residents of Westmoreland sharing the same day and year of birth – Joan Gilbertz and Robert ("Woody") Wood, celebrating at their community-presented 92nd birthday party. (Photo by Eric Norberg)
Joint 92nd Westmoreland birthday party for two longtime residents
By ERIC NORBERG
For THE BEE
Last year, July 23 was on a Thursday. As reported then by Rita Leonard, two special guests of honor – Joan Gilbertz and Robert Wood – were the recipients of a neighborhood birthday celebration. The pair had lived for half a century in Westmoreland, but had never met until the 90th birthday party thrown for them by the community in 2019.
In the midst of a pandemic last year, friends and relatives gathered again to celebrate their 91st birthday, hosted at the Kruse home at S.E. Ellis and 15th Avenue.

Suzanne Kruse again led the planning, and this year July 23 was on a Friday; however the party was hosted one house east – in the back yard of the recently-renovated historic home owned by Blaine Rowland and Linda Holt. That house was recently profiled in an article by Eileen Fitzsimons in THE BEE.
The party began at 6 p.m., and soon after that a substantial crowd had assembled to honor the two celebrants, and to enjoy a buffet provided by Blaine and Linda. Conversations about memories of the past and catching up on those present occupied the attention of Joan and "Woody".
Both have experienced health issues typical of those who have reached age 92, but both obviously enjoyed themselves at the celebration, and said they were already looking forwarding to a similar rendezvous on July 23 next year, when they both will be 93.
---
Sellwood's Geraldine Sullivan, a military veteran, celebrated her 100th birthday this past July 22. (Photo by Rita A. Leonard)
Sellwood's WWII Veteran Germaine Sullivan turns 100
By RITA A. LEONARD
For THE BEE
Germaine Sullivan, who lives at Sellwood's Senior Living Center, celebrated her 100th birthday there on Thursday, July 22, along with dozens of friends and relatives.
Born in Alberta, Canada, Germaine was one of nine children – but the family moved to the United States when she was a child and she grew up in McMinnville. She and her husband, Jack, both enlisted in the U.S. Army in World War II, and were married in 1946. "As a Sergeant, I outranked him – it was great!" she recalls with a smile.
When she served in the U.S. Army for three years, Geraldine had the duties of a photographer; but when THE BEE asked what kinds of jobs she had as a civilian, she replied, "Hundreds. I was a caregiver for 32 years; I was a PTA mom, and took care of children when their moms went into the service. I also worked as a seamstress at Jantzen Beach for five years, while Jack was in the wholesale plumbing industry."
The couple was married for 70 years before Jack's passing, and had a daughter and three sons. Now the family includes nine grandkids and seventeen great-grandchildren. Jack and Geraldine moved to Portland and had a home in Vanport – south of the Columbia River, between Vancouver, Washington, and Portland. One day they took a bus in to town – but when they returned by bus, the dike had washed out and the Vanport Flood had wiped out their home and city. They lost everything. "The only thing left was our dignity," she recalls. "However, Jack did help several people from drowning."
The family subsequently lived in Portland and then Eugene, then finally moved back to Portland. They loved to go lake fishing in Florence and Eugene. They also loved music. Geraldine recalls taking a bus trip to the Spirit Mountain Casino: "I did very well gambling there," she recalls. "I came back with $1.80!"

The couple's son Mark told of his fondest memory: "Mom always came out to my baseball games. When I got a hit, she'd always stand up and scream loudly. It was great for my ego."

Other relatives and members of the Sellwood Senior Living Center, formerly known under the name "Elmcroft" and situated at 8517 S.E. 17th Avenue, added their comments and best wishes to the centenarian – who finally left the celebration for a piece of pecan pie, and a nap.
---
From this viewpoint, looking north through the club's parking lot, the area is littered with spent bullet casings – while East Precinct officers investigated the shooting. (Courtesy of KPTV, Fox TV 12)
Man wounded in Mt. Scott-Arleta 'strip club' shootout
By DAVID F. ASHTON
For THE BEE
An incident that started inside the "Shimmers Gentlemen's Club", in the 8000 block of S.E. Foster Road, early on Friday morning, July 30, ended as a shootout between at least two individuals.
East Precinct officers were sent there at 2:21 a.m., where they encountered a chaotic scene, with people scattering from the building.
"The incident started with a shooting inside the strip club, which spilled out into the parking lot," remarked Portland Police spokesperson Sergeant Kevin Allen. "Evidence of gunfire was found inside the establishment, in the parking lot, and also down the street," he told THE BEE.
One man sustained a non-life-threatening bullet wound to the leg, and was taken to a local hospital by ambulance for treatment.
Members of the PPB's Enhanced Community Safety Team (ECIT) arrived to investigate and sort out the incident; they discovered bullet holes in a home south of the parking lot, on S.E. Harold Street just east of 80th Avenue.
According to witness accounts, as closing time approached, a female took a pistol out of her brassiere and fired two shots into a restroom door – with several people inside using the facilities. The woman dashed through the club, chasing one or more people, and continued shooting in the parking lot. At least one other person was exchanging gunfire with her.
A worker at the club told reporters that Shimmers employees routinely frisk men for weapons as they come into the club, but not women. Perhaps now that will change.
As of now, no arrests have been reported, and no descriptions have been released, but the investigation is still active.
---
"Car Santa" Terry Franz, left, presented the keys for a Buick Riviera to Military Veteran Gregory Prather at Brooklyn Station Taproom on July 23. (Photo by Rita A. Leonard)
Veteran receives free car From 'Cars 4 Heroes' in Brooklyn
By RITA A. LEONARD
For THE BEE
For the second year in a row, "Brooklyn Station Taproom", at 4774 S.E. Milwaukie Avenue, has participated in the "Cars 4 Heroes" program as the venue for the presentation of a vehicle to a Veteran in need.

The program was founded in 1996 by Terry Franz, father-in-law of Robyn Franz, who is the owner of the Brooklyn Station Taproom. On July 23, a U.S. Navy Veteran from Gresham was awarded in the Brooklyn neighborhood a free 1993 Buick Riviera, to assist himself and his family in his search for employment.
Vehicles are donated to the organization, and are fixed up into driveable condition by supporting businesses. Veterans in need of free transportation can apply to Cars 4 Heroes for one of the vehicles – and the donor benefits with a tax write-off for the donation.
In his application to Cars 4 Heroes, Gregory Prather described how he had served in the late 1980s and early1990s in Korea, Japan, and the Phillippines – followed by two tours in the Gulf War region. He received an honorable discharge in 1991. He explained in his application that, "A vehicle would drastically improve my life, in helping me get a better job."
He continued, "I have a son that is 14, and I can't be much help for him right now. In 2015 I had a severe injury, and had two major back surgeries, and in between I was paralyzed for more than ten days, and in the ICU. Later I lost work due to Covid, and have been trying to get back on my feet." Just recently, Prather obtained a job at Franz Bakery – to which the car will provide him reliable transportation.
The free car recipient was transported to the Brooklyn Station Taproom on Friday, July 23, by a neighbor, where he was presented the keys to his "new" white Buick Riviera in front of a company of appreciative onlookers.
"Cars 4 Heroes, Inc." is a 501c3 nonprofit organization that provides free basic transportation to veterans and active duty military, as well as First Responders and their families, who are unable to obtain it on their own. The organization gives away some 300 to 400 vehicles per year to those in need – and started giveaways in Portland last year, at the Brooklyn Station Taproom.

For more information about the nonprofit and its work, either phone Tony Franz at 503/592-3298, or go online – http://www.cars4heroes.org.
---
Water lines brought over the fence snaked into the back yard and basement of this Creston-Kenilworth house, where crews quickly extinguished a basement fire. (Photo by David F. Ashton)
Morning basement fire blackens Creston-Kenilworth home
By DAVID F. ASHTON
For THE BEE
When residents next door to a Creston-Kenilworth neighborhood home saw smoke rising from the attic vents of the house at 4123 S.E. 27th Avenue, on Thursday, August 5, they called the 9-1-1 Center – and then headed over there.
"I could see a neighbor pounding the door, trying to get the attention of the man who lives there," a neighbor from across the street told THE BEE. "I heard that he was in the shower at the time."
Portland Fire & Rescue crews were dispatched to the fire at 8:16 a.m. Three minutes later, Woodstock Fire Station 25's Engine and Ladder Truck companies had arrived.
"This is looking like a fire in basement, with smoke showing from the eaves," reported a Ladder Truck 25 company member. As two of Ladder Truck 25's firefighters clambered up ladders onto the roof, the other two went into the burning structure to search for possible victims.
To get water, firefighters hooked up to a hydrant on the north side of S.E. Gladstone Street, and ran water lines south to the burning house.
While one crew confirmed to the PF&R Battalion Chief that the occupant had escaped the house, another reported seeing smoke staining on the basement windows, which were boarded up from the inside.
It didn't take long for firefighters to knock down the basement fire. Other crew members from Ladder Truck 25 cut ventilation holes in the roof to let toxic, combustible gasses and smoke escape – and then reported that the fire had not reached the attic.
Within about 15 minutes, the blaze had been extinguished. No one was injured in the fire; its cause is still under investigation.
---
Apparently nobody was wounded in the second shooting, but officers did find this car, sporting fresh bullet holes. (Courtesy of Portland Police Bureau)
Two shootings, two days apart, rattle Brentwood-Darlington
By DAVID F. ASHTON
For THE BEE
In the first incident, on Monday, August 2, Portland Police Bureau East Precinct officers were dispatched at 11:35 p.m. to a shooting report on S.E. Harney Drive near 58th Avenue.
"But the suspect had fled, prior to police arrival," reported Portland Police spokesperson Lt. Greg Pashley.
"Officers got there and found a person suffering from what appeared to be a gunshot wound, and got that victim medical attention," Pashley told THE BEE. "The gunshot victim was taken to a local hospital with what seemed to be a non-life-threatening wound."
Officers spoke with potential witnesses and gathered evidence. The investigation is ongoing. PPB investigators welcome information about it; it's Case No. 21-213078. E-mail what you know to – crimetips@portlandoregon.gov.
Bullets perforate Brentwood-Darlington vehicle
Then, two days later and not far from the earlier shooting, at 2:13 a.m., East Precinct officers were sent to another report of "Shots Fired" – this time, along S.E. Flavel Street near 66th Avenue.
Officers didn't find any victim, but they did come across an unoccupied car with fresh bullet holes. "No one was injured in this incident; the suspect or suspects fled prior to police arrival," Lt. Pashley said.
Again, if you can provide information about this shooting, be sure to reference Case No. 21-214154 when you e-mail – crimetips@portlandoregon.gov.
---
---
Comments? News tips? Click here to e-mail us!

Note to readers: At some point in the future, this, our original Internet website, will probably be replaced at this web address by our new website, as part of the Community Newspapers group. At that time, you will still be able to access this older, but still operative, website, if you save this address: www.southeastPDXnews.com. Right now, it leads you to our new website. Eventually, it will lead you back to this old one! Both will be up to date and current, and you'll still have your choice of which one to visit!

READY TO MOVE ON TO THE EDITORIAL, AND THE "LETTERS TO THE EDITOR", ON PAGE 3? CLICK HERE!