More stories from December's issue of THE BEE!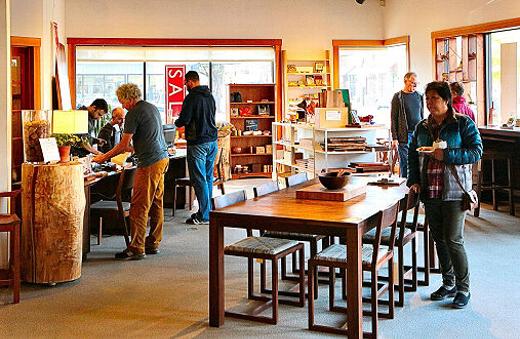 Some of the neighbors coming to The Joinery's farewell party were looking for bargains from the furniture remaining in the Woodstock showroom on October 26. (Photo by David F. Ashton)
'The Joinery' departs after 'Thank You Woodstock' party
By DAVID F. ASHTON
For THE BEE
Many local residents arrived for one last look around "The Joinery" before its move to the St. Johns neighborhood, on the afternoon of October 26, during a special party.
"We're calling this our 'Thank You Woodstock and Garage Sale' – and we're opening our empty woodshop and showroom, sharing some snacks and beverages, and welcoming everyone in to say goodbye," explained the firm's Product Manager, Cassandra Jackson.
"We're also welcoming in the woodworker community – the local folks who have been getting really good deals on top quality wood remnants, fabrics, knobs, and that sort of thing," Jackson told THE BEE.
The wood shop had already moved into their new location in St. Johns, and is already producing furniture; the doors of the Woodstock location were officially locked, forever, at midnight on October 31, Jackson said. "The Joinery has been here for 22 years; and I've been with them for almost 12 years. So, yeah, it's hard to leave a community that you've connected with – both the customers and woodworkers, many who have been coming here as long as I've been with the company.
"It's good to hear people this afternoon telling stories of how they'd connect with us, it's really fun," Jackson mused. "It's a way to end our legacy here in Woodstock."

The Joinery's structures – which once were the original home of Standard TV and Appliance – and everything else on the block will be removed, to make way for a large full-block apartment house.
---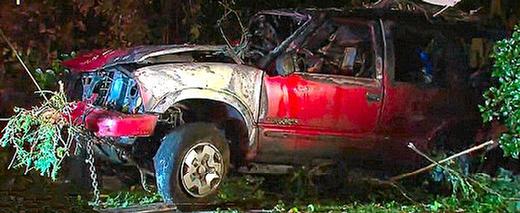 This smashed and burned SUV is what remains after a driver's failed attempt to flee the police on S.E. Harney Drive. (Courtesy of KOIN-TV-6)
Speeder crashes, burns, after pursuit on Harney Drive
By DAVID F. ASHTON
For THE BEE
After a car sped past a Portland Police cruiser around 3 a.m. on October 21, going an estimated 60 mph on a Brentwood-Darlington residential street, the officer turned on his overhead lights and began to follow.
The pursuit went down S.E. Clatsop Street in a 25 mph zone, and when the officer activated his siren, the driver accelerated through a stop sign at Flavel Drive, where Clatsop turns into Harney Drive.
The driver sped through the treacherous curves on Harney Drive, and the officer lost sight of the car, and began searching surrounding streets, until he and other responding police units circled back to recheck the area.
Finding the car wasn't easy; it had flown through bushes beside the road and crashed into a deep ditch.
Officers found the driver, identified by officials as 31-year-old Anthony Colistro, unconscious, and still in the driver's seat, with flames flickering underneath the vehicle. The fire was put out, and the vehicle later was towed away.
An ambulance took the still-unconscious Colistro to a nearby hospital; his condition, and the charges he will face, have not been reported.
---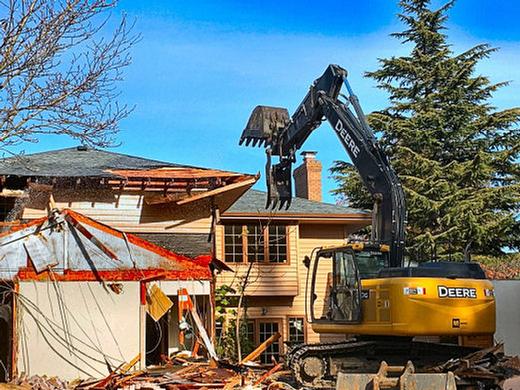 Like a giant reptile being passed an hors d'oeuvre tray, the giant excavator appears to be pausing to choose the next morsel to consume. When the sprawling estate was gone, not long after this photo was taken, the builder prepared to build five new full-size houses on this large Reed neighborhood lot. (Photo by Paige Wallace)
Reed teardown to sprout five new houses
By PAIGE WALLACE
For THE BEE
On the morning of November 8, heavy equipment moved in toward a landmark home in the Reed Neighborhood. By the end of the day, much of the large estate at the corner of S.E. 33rd Avenue and Raymond Street lay in rubble.
Realty website Redfin reports the 8,644 square foot home at 4911 S.E. 33rd Avenue was built in 1982, and had five bedrooms, six baths, four fireplaces, and a three-car garage. Amenities included an office, fitness room, and home theater. The surrounding yard held a pool, spa, and tennis court.
Public tax records indicate the home last sold in July, when Renaissance Homes bought it from Arthur McFadden for $1.45 million. On that two-thirds-acre site, Renaissance Homes plans to construct five new houses, the company told THE BEE. Because the original estate stretched across a full city block, two of the new homes will be on S.E. 32nd Avenue, with three others along S.E. 33rd Avenue.
The new houses will range in size from 2,464 square feet to 3,000 square feet, according to Nancy Haskin, Director of Sales and Marketing for Renaissance Homes. Three of those houses will be three bedroom, three bath. The other two houses will have four bedrooms and 2-1/2 baths. Each will be two stories, with a garage. Haskin says the company expects to complete the homes in April or May, with prices starting at approximately $800,000.
"The sad thing about it is, it was a beautiful home," neighbor Sally Marr said of the demolished house. She lives nearby, on S.E. Raymond Street. Marr pointed out that most homes in the area were built in the late 1950s and early 1960s, in the mid-century modern style. She thinks the new construction is changing her neighborhood's character.
"People just come in and tear a house down and build these new houses that now make our neighborhood look less special," Marr said.
Nancy Haskin demurs that Renaissance Homes will not be building ultra-modern homes on this site.
"We are sensitive to the character of the neighborhood, and intend to build homes with style that will add to the value of the existing homes," Haskins wrote in response to questions from THE BEE. "The existing home wasn't representative of the other homes in the area, and was on the market for approximately one year."
Another neighbor, Dave Truman, lives on S.E. 33rd Avenue near the demolition site. He said Renaissance Homes made its plans clear to neighbors early on. "They gave everybody ample warning. They put a little flyer on everybody's door, saying they're going to demo this place."
Truman said he sees these changes as inevitable. "That's what they call progress, I guess. The land is more valuable than the house itself. If they can't sell it, they're going to build on it. That's Renaissance Homes. That's what they do."
Truman added that he knows several people who live in houses Renaissance Homes built in the neighborhood. "The people that live in those homes are very happy with them," Truman said.

With the remainder of the former estate hauled away, construction will soon begin, on this very large lot in the Reed neighborhood.
---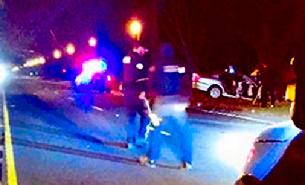 The northbound car apparently veered right, off McLoughlin Boulevard at Tacoma Street, and ran into a tree with such force it was spun around sideways. The driver reportedly received serious injuries. (Courtesy of KOIN-TV-6)
McLoughlin crash causes brief closure of the highway

By ERIC NORBERG
Editor, THE BEE
Central Police Officers, Milwaukie Police, and State Police temporarily closed northbound S.E. McLoughlin Boulevard at Tacoma Street on Saturday night, November 2, to investigate a single-vehicle car crash which had occurred at 8:12 p.m.
The northbound lanes were shut down for over an hour as the officers investigated, and then cleared, a crash into a tree by a car at the east side of the state highway.
The driver was reported to have been seriously injured in the mishap, and was rushed to a local hospital by ambulance. The driver's condition has not been reported.

It was unclear what caused the car to leave the road and smash into the tree.
---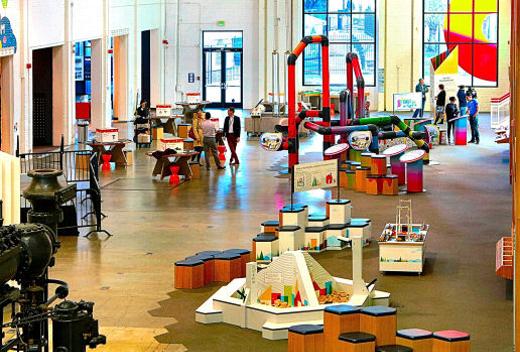 It's still the OMSI "Turbine Hall" – but now it's considered the epicenter for science, technology, engineering, art, and math learning. (Photo by David F. Ashton)
OMSI celebrates 75 years with 'Turbine Hall' makeover
By DAVID F. ASHTON
For THE BEE
As the Oregon Museum of Science and Industry (OMSI) celebrates its 75th anniversary, they've been making changes, including the transformation of the "Turbine Hall" – the big room with the old PGE steam turbine in it – into a place for kids and their families to learn about STEAM.
"Back in the day, steam power created electricity for Portland," recounted OMSI President and CEO Nancy Stuber. "Now, in this room, we're presenting STEAM – 'science, technology, engineering, art, and math' education – in a way that positively impacts our guests and our community!
After testing different ways of effectively presenting STEAM topics in different areas of the museum, and learning how to help people to solve problems, Stuber said, "We have 'taken it to scale' using the Turbine Hall exhibit area.
"Here, we'll be inviting families to solve problems, and use design thinking, to come up to solutions to problems that we face in our community, and which are faced around the globe," Stuber told THE BEE.
When the building was originally renovated for OMSI, the Turbine Room was home to its Physics Lab, Chemistry Lab, Curium and Epicenter. Now, it hosts what OMSI calls "Innovation Stations" – offering hands-on learning experiences.
"At these Innovation Stations, we tell stories, and pose problems – presenting modern society's biggest challenges in a way our guests are likely motivated to try to solve," explained Stuber.
On the upper level, created for older youth, is the new "Teen Tech Center", which is a multimedia and creative technology-focused "maker" space, specifically for those ages 13-18.
"We provide space, materials, and support so teens can express themselves creatively, and gain hands-on experience with high-tech tools and programs to help them explore careers, and perhaps find pathways to higher education," Stuber remarked.
If you haven't explored the Turbine Hall with your kids lately, go take a look. Find out more about OMSI online – https://www.omsi.edu
---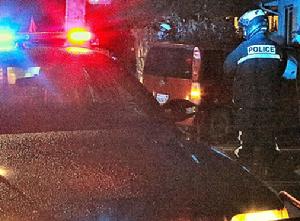 When a parked car was damaged by gunfire near S.E. 72nd and Duke – with the driver still sitting inside – police raced to investigate. (Photo by David F. Ashton)
Car shot up – with driver inside – in Brentwood-Darlington
By DAVID F. ASHTON
For THE BEE
November 9 was a busy Saturday night for Portland Police Bureau (PPB) officers all across the city; the first of the five shooting incidents – all within a four-hour timeframe – was logged in about 9:15 p.m., and it was in the Brentwood-Darlington neighborhood.
In this incident, a man told PPB East Precinct officers that he'd been in his parked car near S.E. 72nd Avenue and Duke Street, and had heard shots fired, but didn't realize he was the target, and he was not injured.
"He later discovered that his vehicle had been struck more than once," revealed PPB Public Information Officer Sgt. Kevin Allen.
"We don't want this – it seems like it's an uptick in activity, or some kind of a rash of shootings," Allen said. "We think it's a coincidence that all this happened over the course of one night, and it certainly is concerning."
Detectives with the PPB Gun Violence Reduction Team continue to investigate this shooting, and the others that night. Allen asked those who know something to call him at 503/823-4106, or to e-mail information to – GunTaskForce@portlandoregon.gov
---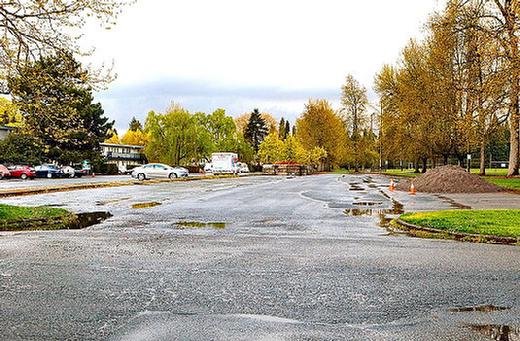 At the last Moreland Farmers Market of the season – and its last ever, at this location –market vendor Penny Littrell, from "Gathering Together Farms", rang up fresh vegetables for Sellwood resident David Grice. (Photo by David F. Ashton)
Moreland Farmers Market ends season, seeks new location
By DAVID F. ASHTON
For THE BEE
After having perhaps its best season ever, the Moreland Farmers Market is now looking for a new home.
On October 30, the last weekly Wednesday afternoon market of its season, Market Manager Lannie Kali reported, "The highlight of 2019 has been that we saw a big uptick in customers this year – most likely because there are a lot of new apartment dwellers in the neighborhood.
"Last year, we typically saw 1,500 people shopping every week; the average market this year had 1,850 shoppers, the most significant uptick in shoppers that we've had in many years! Now, we're being considered the busiest midweek market in the entire Portland Metro area," Kali said.
Each season, the market has far more vendors applying that it can accept, she told THE BEE. "We accept between 50 and 80 vendors per year; different ones are here during the course of the season. So, what we like to do is to pick the very best of the best for our shoppers."
Asked about the location for their 2020 season, Kali replied, "I wish we knew. The [former Portland Memorial south parking] lot's owner has been very generous with us; he's letting us leave our storage container here up until they break ground," Kali remarked. The new owner will construct high-density housing on the lot.
"We have a couple of alternative locations under consideration," Kali said. "What's important for people to know is that we are going to exist! And we're trying to stay right here in the Sellwood-Westmoreland neighborhood; to stay walkable, and have a kids' area, with grass and shade."
Keep up with the Moreland Farmers Market online – http://www.morelandfarmersmarket.org
---
After retrieving a fall victim who apparently survived a five-story drop from a viaduct above, an AMR ambulance prepares to return down the Springwater Corridor Trail in Ardenwald, east of McLoughlin Boulevard. (Photo by David F. Ashton)
Victim falls from viaduct onto Springwater Trail
By DAVID F. ASHTON
For THE BEE
Darkness had fallen over the Springwater Corridor Trail on Thursday evening, November 7. At the point east of McLoughlin Boulevard, where it runs under S.E. 32nd Avenue near the "three corners" of S.E. Johnson Creek Boulevard, 32nd, and Tacoma Street, a disturbing incident occurred.
Emergency medical first responders were dispatched at 5:13 p.m. to reports of a person "falling, or being pushed" off the high viaduct in Ardenwald, and dropping to the Springwater Corridor Trail, some five stories below.
Portland Police Bureau officers circled the area above, but were not officially dispatched to the incident. Portland Fire & Rescue Westmoreland Station 20's Engine Company paramedics were sent to the area.
The Engine Company crew reported back to dispatch that their rig was too wide to drive from an entry point at S.E. 32nd Avenue near Sherrett Street, northeast to the area under the viaduct.
Firefighters did remove the vehicle-blocking bollards on the trail, permitting an AMR ambulance to enter the trail, and back its way up to the fall location.
AMR paramedics apparently picked up the fall victim; who was reportedly t transported to OHSU. The Multnomah County Coroner was not dispatched to the scene, so apparently the victim fell into brush or shrubbery and survived the long drop.
However, there was no response from Portland Fire & Rescue to THE BEE's request for information about this incident – so the victim's current condition, and the circumstances leading to the fall, are undisclosed.
---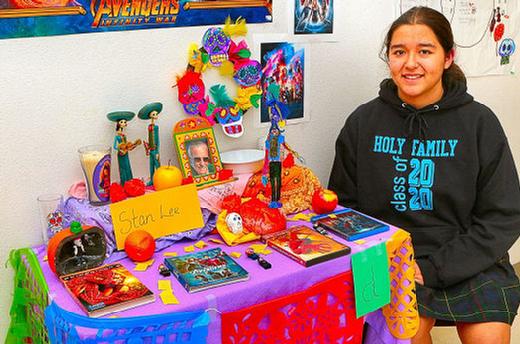 Holy Family Catholic School eighth grader Alejandra Garcia presents her "Day of the Dead altar", with its "ofrendas" to the late creator of Marvel superheroes, Stan Lee. (Photo by David F. Ashton)
'Día de Muertos' celebrated at Holy Family School
By DAVID F. ASHTON
For THE BEE
While, in this country, Hallowe'en is celebrated as a fun and usually-silly season, many Christian religions celebrate the following day, November 1, as All Saints' Day – also known as All Hallows' Day, Hallowmas, the Feast of All Saints, or Solemnity of All Saints, among others.
That's what THE BEE learned in Eastmoreland from Holy Family Catholic School Spanish teacher Susana Parodi, at the school on that day. Across Latin America, those of the Roman Catholic faith refer to the day as "Día de Muertos", or "Day of the Dead".
Asked how a celebration called the "Day of the Dead" can actually be fun and lighthearted, Parodi explained, "It's part of Mexican culture; the difference between the way Mexicans and other cultures celebrate death, is that the Mexicans make it fun – it is not a day to be afraid of death.
"The idea of the skeleton posed doing funny things; candy skulls; and especially the bright colors 'of the sun' are all part of the Hispanic heritage influenced from the original Aztecs," Parodi told THE BEE.
All of students at the school were given an opportunity to participate in age-appropriate activities, ranging from creating posters, to making rather elaborately decorated "altars", on which "ofrendas" (offerings) are placed in honor of a deceased person, Parodi said.
Sixth grade student Reed Heichelbech proudly showed his poster, decorated with flowers and skulls. "The flowers are the way of happiness, and symbolically they help guide the departed back to their homes."
In another hallway, eighth grade student Alejandra Garcia showed off the handiwork of herself and some of her classmates – an altar for Stan Lee, the recently-deceased creator of the Marvel universe of superheroes.
"Originally I wanted to do one for rapper Mac Miller; but a lot of us are into Marvel, and we all wanted to contribute," Garcia explained. "So, my dad is from Mexico, and he contributed elements like the mariachi skeleton band – and the tablecloth you see here was a gift that my aunt in Mexico gave to my mother."
Later in the day, staff and students of the school on Chavez Blvd (formerly 39th) were set to vote on the posters and altars. "It's all part of the way we celebrate Día de Muertos," Parodi smiled.
---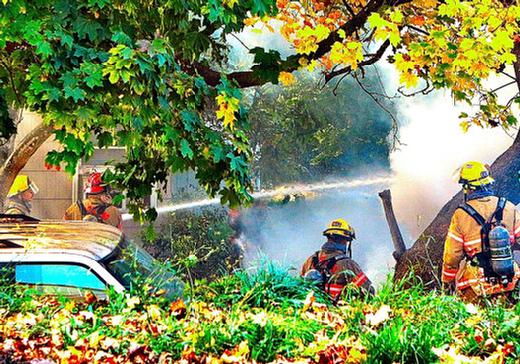 After the interior of the home was compromised, crews sprayed water into the blazing structure from the outside. (Photo by David F. Ashton)
Big blaze burns Brentwood-Darlington home
By DAVID F. ASHTON
For THE BEE
A thick plume of acrid smoke rose from a Brentwood-Darlington neighborhood home at 5112 S.E. Rex Street, just after 1p.m. on Hallowe'en, bringing 14 Portland Fire & Rescue units to the area.
Woodstock Fire Station 25's Truck Company was first to arrive, shortly followed by the Lents Station 11's Engine Company.
The searing flames quickly burned through electric power lines that fell and lay sparking on the ground, as firefighters made their way down the steep hillside to the blazing structure. Rooms on the lower level appeared to be completely engulfed in flames.
According to information from PP&R's Twitter account, no one was at home when the fire broke out. At 1:48 p.m., a Twitter message indicated that firefighters had been pulled from the residence's interior, due to concern about potential floor failure. The message added that flames had "caused significant damage" to the 1.5 story home.
After the fire was finally out, a PF&R Investigator was called to the scene. The results of that investigation have not been disclosed, nor has been the extent of the damage and possible cause. As of our press deadline, PF&R had failed to respond our information requests.
---
A witness to the incident told Central Precinct officers how he experienced the mêlée. (Photo by David F. Ashton)
Police and medics called to Westmoreland for couples' scuffle
By DAVID F. ASHTON
For THE BEE
After a fracas broke out near Westmoreland's "13 Virtues Brewing" on October 31, Portland Police Bureau (PPB) officers, Westmoreland Fire Station 20's Engine Company, and two AMR ambulances were called to the location at 9:24 p.m.
Within five minutes, five police squad cars were also at the scene; but the fire engine, and one of the ambulances, soon departed.
Officers conferred with a man in front of the establishment, who was describing the assailants. Before long, a woman departed the remaining ambulance with a bandaged hand – and the ambulance departed without a patient.
"Although it was dispatched as one, this turned out to not be a stabbing," reported PPB Public Information Officer Sergeant Kevin Allen.
"It was a physical fight between two couples who know each other," Allen told THE BEE. "The report suggests that no one went to the hospital by ambulance; it appears there were some cuts and scrapes.
"No arrests have been made, but an officer continues to work the case," Allen said.
---
---
Comments? News tips? Click here to e-mail us!

Note to readers: At some point in the future, this, our original Internet website, will probably be replaced at this web address by our new website, as part of the Community Newspapers group. At that time, you will still be able to access this older, but still operative, website, if you save this address: www.southeastPDXnews.com. Right now, it leads you to our new website. Eventually, it will lead you back to this old one! Both will be up to date and current, and you'll still have your choice of which one to visit!

READY TO MOVE ON TO THE EDITORIAL, AND THE "LETTERS TO THE EDITOR", ON PAGE 3? CLICK HERE!