T

HE
B

EE
COMMUNITY CLASSIFIEDS
THE BEE's "want ads" are named "Community Classifieds".


An important innovation is that classified ads placed in THE BEE may also be available at the special Community Classifieds website, at the HotLink below!

In addition, Community Classifieds now offer the additional service of in-column photographs of vehicles and homes for sale. The photos can not only appear in THE BEE, but on the website as well.

Community Classifieds appear each month in THE BEE, and can also reach up to a half million additional readers by being published in any combination of the 24 other newspapers in the "Community Newspapers" group, including the weekly Clackamas Review, Oregon City News, Lake Oswego Review, and West Linn Tidings; the monthly Sherwood Gazette, and Southwest Community Connection; the twice-weekly Gresham Outlook and Portland Tribune; and the other newspapers in the group.


To get information or place your classified ad by phone, here's the number to call:

503/620-7355

!


Now, click on the logo directly below, and read the Greenlight "Community Classifieds"!
INNER SOUTHEAST PORTLAND'S

BUSINESS NEWS!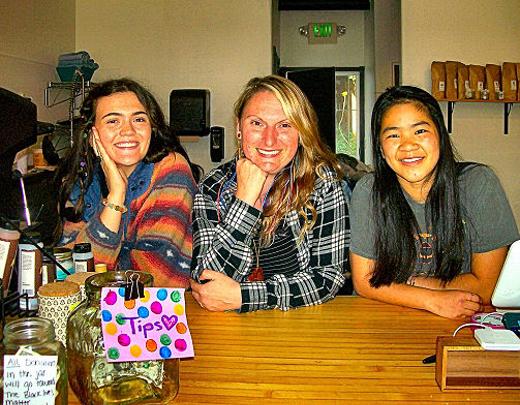 Serving customers at just-open "Awake Coffee and Art" in Westmoreland are owner Mandie Guth – shown at center – with baristas Phoebe, left, and Hannah, at right. (Photo by Rita A. Leonard)
'Coffee and art' opens in Westmoreland
By RITA A. LEONARD
For THE BEE
A new sort of coffee shop has opened at 7325 S.E. Milwaukie Avenue in Westmoreland, in a space which previously hosted a coffee shop that moved to Brooklyn (and whose coffee they are serving in the new café), and before that a toy shop. This coffee shop sets itself apart by including an artistic component, and kids are welcome.

"Awake Coffee and Art" had its soft opening under multicolored display flags in April, with an official Grand Opening on May 1. Owner Mandie Guth remarked to THE BEE, "I was a yoga teacher for eleven years, until the pandemic hit. . . [now] I've organized a coffee shop with regular drop-in kids' art classes!
"I'll read stories for preschoolers while their parents drink coffee and chat," Guth added, "And community members can teach art classes which they're comfortable with. It should be fun. Our motto is: 'Be the change you want'."

As for the coffee and food served, Guth says, "All our products are made locally and are fresh daily [the coffee is from "Rose City Coffee Company"] – we have bacon and poblano sandwiches from a bakery in St. Johns, delivered here daily. We offer seating for fifteen indoors, and two tables with seating out in front, as well as three tables with seating along the south side. My two baristas and I are happy to serve you in this bright, local, adventurous business."

"Awake Coffee and Art" is open seven days a week from 7 a.m. to 2 p.m., with variety of coffees, teas, espresso, hot chocolate, bagels, pastries – "and fresh sushi from Poke Box across the street."
Call them at 971/803-7122; and their website is – http://www.awakecoffeeart.com
---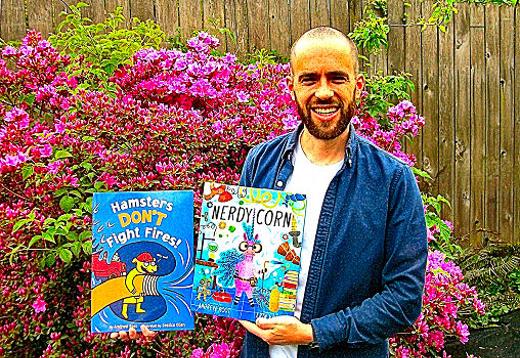 Creston-Kenilworth neighborhood author Andrew Root shows THE BEE his two published children's books to date. (Photo by Rita A. Leonard)
Creston-Kenilworth author publishes second children's book
By RITA A. LEONARD
For THE BEE
Creston-Kenilworth author Andrew Root has just published his second children's book, "NerdyCorn", through Simon & Schuster. His first book, "Hamsters Don't Fight Fires", was published by Harper Collins two years ago. "I enjoy talking to kids of all ages," he tells THE BEE, "Helping them to realize their strengths, and consider career paths."

"Hamsters Don't Fight Fires" told the tale of a hamster who wishes to be a firefighter. Although he's a bit too short to be successful, he finally proves his worth by rescuing a baby bird trapped in a tall tree.
Root's new book, "NerdyCorn", tells the story of a science-minded unicorn trapped in a world of rainbows, sparkles, and honeysuckle. Although her friends consider her a nerd, she finally earns their respect when she repairs an array of their party machines that have broken down. Each book encourages kids to follow their dreams, and be proud of their unique talents.
Root has been a community mental health adviser for 13 years. He earned a BA in Psychology from Western Washington Univeresity, and an MA in Mental Health Concerns from the University of Virginia. "My formal education, and work with youth and adolescent behaviors, led me to search for creative ways to make impressions on them. I decided that writing children's books would be a creative way to impart positive messages to kids. You've got to get 'em young!"

Root has two children of his own, and he says they both love books. "I visit the Woodstock Library and Wallace Books regularly with them, and I enjoy reading to them." He comments that he realizes the importance of a good book, both socially and academically.
"Great 'read-alouds' generally appeal to two age groups," he remarks; "Ages 2 to 8, and 9 to12-year-olds. I like promoting excitement about STEM [Science, Technology, Engineering, Math] choices, making sure that every kid has a world of opportunities."
Root explains that he considers ideas for new stories all the time. "I'm kind of an 'all-at-once' idea writer. I jot down notes and ideas until they seem to support a story. Then I write a first draft in a couple of days, revisit it about a week later, and then revise it with input from my agent. In general, I focus on a word count between 350-600 words, depending on the age range of the potential reader.
"I'm always working with my agent and with publishers on ideas for upcoming works."
---
Corey Guidry, owner of "Sellwood Union" – a vintage and modern clothing store, and the associated collective, on S.E. 13th Avenue. (Photo by Rita A. Leonard)
Collective replaces coffee shop and salon in big Sellwood space
By RITA A. LEONARD
For THE BEE
The name on the building is now "Sellwood Union", at the double storefront of 8011-8017 S.E. 13th Avenue. It has been a work in progress over the past year and a half. Owner Corey Guidry explains, "In October of 2019 we opened a vintage and modern clothing store in the space formerly occupied by The Ugly Mug.

"In July of 2020, we expanded into the adjacent space, formerly called Karma Bunny Salon. And, this past January, we added an additional vendor space – up a ramp in the back – which features books, art, and furniture. We plan to fix up the adjacent back garden."
Sellwood Union posts daily fashion offerings on Instagram – or you can obtain more information online at – http://www.sellwoodunion.com. On sunny days, racks of clothing are rolled out onto the sidewalk. They also carry some shoes, scarves, belts, purses, and other accessory items, although not any jewelry at present.
"We're a collective of 17 vendors in a sort of antique mall," Guidry explains. "Currently, we have three employees, and we are open Mondays through Saturdays 11 a.m. to 6 p.m., and Sundays from noon to 5 p.m. We specialize in vintage clothing at very reasonable prices, and have dressing rooms for trying-on.
"Although we're currently full, we'll always take vendor applications at 'SellwoodUnion' on Instagram; or you can phone us at 503/528-6404."
---
Conor Eifler, a bookseller at Wallace Books, has been awarded Oregon's 2021 Angus Bowmer Award for Drama. (Photo by Rita A. Leonard)
Sellwood-Moreland author receives drama award
By RITA A. LEONARD
For THE BEE
Sellwood-Moreland resident Conor Eifler has received the 2021 Angus Bowmer Award for Drama, presented on Sunday, May 2nd. He received the honor for a dark thriller he wrote last year about teens and technology, called "You Cannot Undo This Action". In addition to his writing, Eifler also works fulltime as a bookseller at Westmoreland's Wallace Books.
Eifler was educated at Cleveland High School, the University of Portland, and the Actors Theater of Louisville, Kentucky. He has previously written, and acted in, plays. "I always wanted to be a writer," he tells THE BEE. "I've written about two dozen plays so far, although most of them are shorter, and are comedies. I enjoy the story-telling aspect of both writing and acting."
Among his acting credits, Conor worked in "The Miraculous Journey of Edward Tulane" at the Oregon Children's Theater, "Vanessa Goodwin, the Adventures of a Thoroughly Modern Argonaut", a play of his own composition. At the University of Portland, he was an actor in "Waiting For Godot".
Eifler was nominated for the award he has just received by Matt Zrebski, Artistic Director of the "Teens West Project".

"The award consists of a cash prize and 'bragging rights'," Conor says with a smile. "I've had some offers to write other dramas, but the pandemic shut down those opportunities. Currently, I'm working on a science fiction novel."

You might meet him in person at Wallace Books, 7241 S.E. Milwaukie Avenue in Westmoreland.
---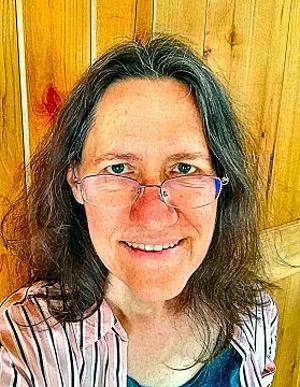 The AHB speaker on June 17th is Woodstock-based newsletter and publishing expert Becky Luening.
June's AHB meeting topic is "Use of newsletters and other tools": Becky Luening –based in Woodstock, and experienced in business communication as well as the tools of publication – specializes in newsletters, book production, and e-mail communications for nonprofits and small businesses. She will present an introductory overview of "book arts" and their application in producing standout communications; you'll find it useful! Plan to be there for this program, and to network with others who work at home or run small businesses. During the pandemic, the "Association of Home Businesses" monthly third-Thursday meetings are held virtually, on ZOOM, open to anyone interested, and without charge! In June, it's on Thursday, June 17. However, to attend, you will need the ZOOM link. E-mail your RSVP to – communications@ahboregon.org – or, call 503/232-2326.