T

HE
B

EE
COMMUNITY CLASSIFIEDS
THE BEE's "want ads" are named "Community Classifieds".


An important innovation is that classified ads placed in THE BEE may also be available at the special Community Classifieds website, at the HotLink below!

In addition, Community Classifieds now offer the additional service of in-column photographs of vehicles and homes for sale. The photos can not only appear in THE BEE, but on the website as well.

Community Classifieds appear each month in THE BEE, and can also reach up to a half million additional readers by being published in any combination of the 24 other newspapers in the "Community Newspapers" group, including the weekly Clackamas Review, Oregon City News, Lake Oswego Review, and West Linn Tidings; the monthly Sherwood Gazette, and Southwest Community Connection; the twice-weekly Gresham Outlook and Portland Tribune; and the other newspapers in the group.


To get information or place your classified ad by phone, here's the number to call:

503/620-7355

!


Now, click on the logo directly below, and read the Greenlight "Community Classifieds"!
INNER SOUTHEAST PORTLAND'S

BUSINESS NEWS!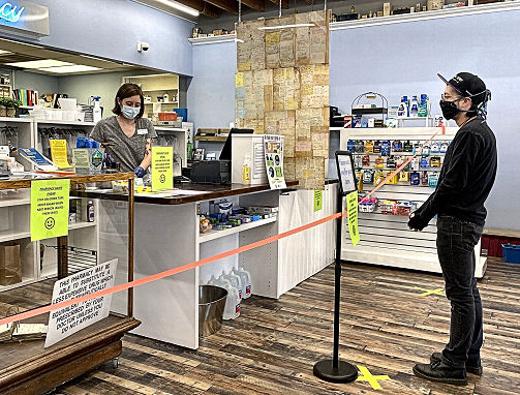 Brooklyn Pharmacy employee Tate Johnson helps a customer picking up a prescription, while both are following new social-distancing procedures, as part of Oregon's COVID-19 coronavirus response. (Photo by Paige Wallace)
Pharmacists, customers see big changes to prescription procedures
By PAIGE WALLACE
For THE BEE
COVID-19 coronavirus precautions have changed the way Southeast Portlanders obtain prescription medications. Gone are the days when customers simply walked up to the pharmacy counter for service – that model is currently replaced by curbside pickup, home delivery, and enforced distance between pharmacists and the public.
These changes came by order of the Oregon Health Authority in mid-March, following Gov. Kate Brown's statewide declaration of a public health emergency. Pharmacies hurried to enact social distancing measures to prevent the spread of the virus that causes COVID-19.
"Number one, we're trying to protect ourselves and our patients," said Pat Hubbell, owner of Brooklyn Pharmacy on S.E. Milwaukie Avenue, a half block south of Powell.

His pharmacy remains open for walk-in customers, but neon green signs and X-marks taped to the floor show customers where to stand. One by one, spread throughout the store, people wait on the green placeholders for their turn at the counter – except that the counter itself is cordoned off, so no customers can get within six feet of the register. Pharmacy staff lean over to receive payment with gloved hands, speaking slightly louder than usual to be heard through their face masks.
Personal protective equipment (PPE) is now standard operating procedure at local pharmacies, even though the Centers for Disease Control and Prevention website said that that "filling and dispensing prescriptions does not require use of PPE." But the recommendations do call for limiting the risks of infection, which has led to significant changes in the way pharmacies do business.
"We're wiping things down multiple times a day," reported Tyler Treharne, owner and manager of New Era Pharmacy, located near the intersection of S.E. McLoughlin and Holgate Boulevard. This effort continues, even though since March 23 he has shortened his business hours and eliminated the need for in-store service. Employees instead come outside to meet any patient who needs to drop off a prescription – although the pharmacy prefers getting those from doctors over the phone as much as possible. Once the prescription is filled, his staff delivers the product to the customer via curbside pickup, or sends it via one-day shipping.
Treharne says his clientele has been receptive to the adjustments. "It helps them out a lot, and just relieves some burden off their mind to realize, okay, I don't have to go to a crowded grocery store or retail place to fill my medicine."

New Era and Brooklyn are both independently-owned pharmacies. They report ongoing brisk business during the pandemic, which they attribute to their individualized customer service, such as knowing their customers by name.
Both of these pharmacies have seen an uptick in the number of people requesting an extra supply of their regular medications. "We're trying to get everyone emergency supplies that they can have on hand, not just for the coronavirus but if an earthquake or some other natural disaster were to take place, they'll have that," Hubbell said, noting that insurance companies may approve additional 30 or 90 day supplies in these circumstances.

Treharne said many of his customers have asked for a double supply of their medications, even paying out-of-pocket if insurance doesn't cover it. He thinks some people want to be prepared for future emergencies, while others simply hope to minimize their trips outside the home at a time when the risk of contracting the coronavirus remains high.
These two pharmacies aren't the only ones changing their business practices due to the COVID-19 pandemic. Southeast Portland's larger pharmacies have made adjustments, too. Many pharmacy chains have temporarily waived shipping fees for most prescription medications. These include Safeway, Walgreens, CVS, and Target.
At the new small Target store on S.E. Powell Boulevard, pharmacy customers are greeted by social distancing markers on the floor, indicating where to stand while waiting for service. Pharmacy employees wear masks and gloves. A large bottle of hand sanitizer sits on the counter beneath the pickup window, ready for the public and staff to use.
Sellwood's new CVS store on S.E. 17th Avenue at Tacoma Street placed a rectangular folding table in front of the pharmacy checkout counter, as a guide for customers to maintain their distance. The credit card machine rests at the end, so that the customer handles the entire payment process without ever having to hand over a card.
Signs on the front door of both Target and CVS remind customers that these stores are not CDC testing centers. Patients experiencing COVID-19 symptoms are urged to contact their primary care physician for instructions about whether and where to get tested.
At some pharmacies, services have expanded in new ways due to social distancing guidelines. Walgreens customers are now able to purchase non-pharmacy items using drive-thru windows at certain stores. Staff at the S.E. Holgate and Cesar Chavez Blvd. (formerly 39th) location confirmed that customers may call ahead to request a small quantity of household items such as cleaning products, baby supplies, or over-the-counter medications for drive-thru pickup. All of the requested items must fit through the small window opening, though – and some may be out of stock. On its website, Walgreens requests that customers "practice patience", as stores adapt to these new protocols.
Local pharmacists shared the sentiment that they're looking forward to the day when they can administer a vaccine to help prevent COVID-19. "I have no forecast of when this might be, but if they do come up with a vaccine, we will be ready to start giving vaccinations immediately as soon as we get it," Brooklyn Pharmacy's Hubbell said enthusiastically.
New Era's Treharne summed up a commonality between pharmacists and patients at this time: This pandemic has presented unique new challenges, and the changes haven't been easy for anyone – on either side of the pharmacy counter. "It has taken a big toll on us, and all of our staff, but we're happy to be here. And hopefully, we're helping out as much as we can, just to make the situation a little bit better for all of our patients."
---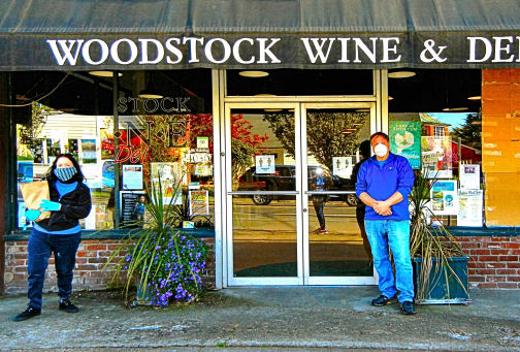 On Saturday, April 11th, at 5:15 p.m. in the midst of the state ban on dining-in, Sharon Norwood (left) was on her way out of Woodstock Wine and Deli with her take-out dinner as Matt (at right) was waiting his turn to go in and pick up his. (Photo by Elizabeth Ussher Groff)
Many restaurants in Woodstock still open for take-out
By ELIZABETH USSHER GROFF
For THE BEE
On April 7th, Oregon Governor Kate Brown (herself a Woodstock resident) announced that the March ban on in-person dining at restaurants and bars in Oregon, to avoid spreading the COVID-19 coronavirus, had been extended indefinitely until further notice.
"I wish I could say there was a 'date certain' when that [lifting the ban] could happen. But it would be irresponsible to lift these restrictions in the middle of this outbreak," remarked Brown on April 7th. In the meantime, many restaurants in the city are offering take-out and delivery.
In Woodstock, as in Sellwood-Westmoreland and other neighborhoods, a number of restaurants offering take-out are advertising the fact with signs in their windows.
So, in late March, Anne-Marie Anderson, a Woodstock resident and the Communications Chairperson for the Woodstock Neighborhood Association, took a drive along the boulevard between S.E. 41st and 57nd Avenues with her husband to do a "windshield survey".
Anderson then posted a list of the "open for take-out" restaurants, with their phone numbers, on the Woodstock Neighborhood Association website – http://www.woodstockpdx.org

Customers can see details for each of those restaurants online, but not everyone has Internet, and some who do may not hunt for restaurants on it, so a few of those still open are listed below.

Super Torta, at 5640 S.E. Woodstock, is open for take-out, and offers traditional Mexican food – including a breakfast burrito that Jassiel Cruz – an employee and the nephew of the owner – says is especially popular. As are the others mentioned, they are following guidelines from local health officials and CDC. Order take-out between 9:30 a.m. and 8 p.m., at 503/788-3650 – or http://www.supertortapdx.com
Woodstock Wine & Deli at 4030 S.E. Woodstock Boulevard is open 11 a.m. to 4 p.m. for take-out sandwiches. The especially big attraction has been barbeque, for which it is well-known. Traditionally its barbeque has been accessed from the parking lot, where it is grilled, but now people can pre-order over the phone and pick up pork ribs, smoked turkey breast, scalloped potatoes, and/or beans and coleslaw inside the deli between 5 and 6 p.m. for their dinner. Owner Gregg Fujino says the chairs have been stacked and set aside, so the spacious dining room can allow people "social distancing" while waiting in line. Customers are also pre-ordering wine and coming in for pickup, because the deli is less crowded than grocery stores. Some people prefer to stay in their cars, paying with a credit card, and it is brought to them. Call ahead to pre-order: 503/777-2208.
Otto's Sausage Kitchen, at 4138 S.E. Woodstock Boulevard, is continuing to sell all of its usual meats, sandwiches, beers and wines, as well as grilled sausages, from the sidewalk grill – by credit card only. Call in your order to 503/771-6714, and pick up inside the store (only 2 or 3 people are allowed in at a time), or curbside, delivered by an employee. Hours are Monday through Saturday, 10 to 5; Sunday 11 to 5. Their website has more information: http://www.ottossausage.com
One restaurant that is ALWAYS open for take-out, of course, is Papa Murphy's Pizza on S.E. 44th off Woodstock Boulevard, in the Woodstock Shopping Center around the corner from Papaccino's Coffee. Lori Donovan, longtime Manager, says people are happy to enter the store, only three at a time and "distancing", to watch their take-and-bake pizza prepared. She says they are sanitizing at least every hour, but more often when the shop starts to get really busy. They gently advise people who are not maintaining their distancing, either inside or outside. If customers prefer curbside or parking lot pickup, that's only available for online orders.
Tom Yum Thai Cuisine at 4309 S.E. Woodstock, #140, offers noodles, curries, won tons, pad Thai, soup, and other Thai dishes for take-out on weekdays 11 a.m. to 9:30 p.m., and on weekends noon to 9:30 p.m. Customers can pay over the phone with a credit card or pay with cash when they come in to quickly pick up their food. All coronavirus sanitation is practiced.
Laughing Planet, 4110 S.E. Woodstock, is offering take-out 11:00 a.m. to 9 p.m. – call 503/788-2921 – or order online.
In addition to take-out, some Woodstock restaurants also offer delivery. Bai Mint Thai at 4408 S.E. Woodstock, 503/719-5070, takes orders over the phone, and delivers free within three miles, with a minimum order of $20 – Monday through Friday 11 a.m. to 3 p.m. and 4:30-9:30 p.m. Saturday and Sunday, noon to 9:30 p.m.
Mehri's Café and Bakery, 6923 S.E. 52nd Avenue at Bybee, also delivers by Grubhub or Postmates. She is offering full breakfasts, lunch, and dinner, boxed up to go for take-out or delivery – Monday through Saturday 8 to 5, and Sunday 8 to 3. Mehri says they are still selling lots of pastries and special-order birthday cakes and cupcakes, too. To order or ask questions call 503/788-9600.
And that's just a sampling. Cruise the neighborhoods of Inner Southeast, and look for signs in the windows of those restaurants still open for take-out, in this unprecedented time of "social distancing".
---
Hoping to open several blocks north of here in June, Yoga Riot is still situated on the second floor of the Westmoreland former Masonic Temple just south of Bybee Boulevard. (Photo by Rita A. Leonard)
'Yoga Riot' to move north on Milwaukie Avenue in Westmoreland
By RITA A. LEONARD
For THE BEE
In spite of the current disruption to many businesses due the Governor's COVID-19 coronavirus restrictions, many construction projects are moving along. The site of the famous Iron Horse Restaurant, closed last year with the retirement of its proprietors, at S.E. Yukon and Milwaukie Avenue, is currently one of those projects – it's being remodeled into four new business spaces, two of which are to be converted into a new studio for Yoga Riot.
Annie Ory, who operates Yoga Riot on the second floor of the former Masonic Temple at 7126 S.E. Milwaukie Avenue a short distance south of Bybee, tells THE BEE she is looking forward to the move. "We hope to open a fulltime yoga boutique there, at 6032 and 6034 S.E. Milwaukie Avenue. We've always had a thriving business with about 500 members, but want to move to a ground-floor site with large windows.

"We hope to open a full-time yoga boutique there – selling fitness wear, aromatherapy items, and local kombucha."
Yoga Riot is a Bapstiste-inspired power yoga studio featuring an infra-red heating system. Classes help clients access vitality, power, and freedom, says Ory – covering postural foundations and alignment in connection with breathing. Both newcomers and seasoned yogis are welcomed. Ory is hoping to move into her new space in June.
The building which for decades held the Iron Horse Restaurant is owned by John Farley, who began cleaning out the structure in March. "We're remodeling the entire building," he remarks. "There are still two units for rent or lease. Call me at 503/704-5674 for information, if you're interested."
---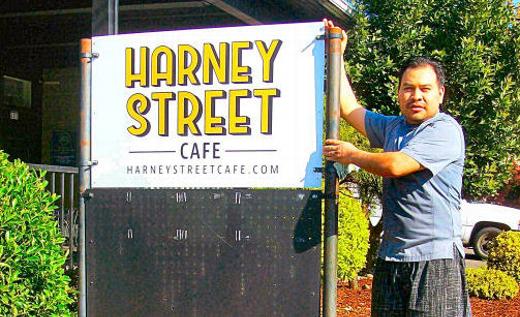 Veteran Chef Alex Ramirez has just opened the Harney Street Café, open daily at 8337 S.E. 17th Avenue in Sellwood – but, only for take-out right now. (Photo by Rita A. Leonard)
New café opens in Sellwood – just as 'social distancing' strikes

By RITA A. LEONARD
For THE BEE
Alex Ramirez, a professional cook for twenty years, had just signed a lease for what he calls "The Harney Street Café", when COVID-19 coronavirus fears shut down all on-site dining.

However, with outdoor seating for sixteen, and a take-out menu featuring breakfasts and lunches, Ramirez hopes to keep his new business going until the ban is lifted.
The Café, at 8337 S.E. 17th Avenue, is in the Sellwood space vacated by the recent retirement of the owners of Arugularium Creperie Bakery. It's a corner spot, with windows on two sides.

The menu offers a breakfast variety of granola, eggs, omelets, hash and eggs with sides, and beverages. "So far, omelets have been our most-requested breakfast items," owner Ramirez tells THE BEE. "Lunch favorites have been burgers and salads, which feature Cobb and Caesar salad, pear-bacon, & blackened chicken. Our sandwich menu includes Reubens, blackened or grilled chicken-breast sandwiches, roasted Portobello, and our Harney Street burger."
Currently, the Harney Street Café is open daily from 9 a.m. to 2 p.m. for take-out orders.

"We hope to be open 6 a.m. to 3 p.m. Monday through Friday, and 8 to 3 on weekends, as soon as possible," says Ramirez. "We'll have a staff of three, and seating for forty indoors – and a full menu of breakfasts and lunches."
For information, or to order take-out, call 503/234-2562. Their menu is online – https://www.harneystreetcafe.com
---
Banking responds to coronavirus: BEE Independent Sales Representative Sandy Hubbard advises, "OnPoint Credit Union on the corner of Tacoma and 13th is temporarily closed, although the ATM is still there and functional. The sign on the door is pointing people to the branch at Clackamas Promenade [east of S.E. 82nd]. Meanwhile, Umpqua Bank down the street is still open; they are letting patrons in one at a time, and coming to the door so you don't have to touch it. They have lots of hand sanitizer in there along with Kleenexes. They are encouraging people to use online banking, and are happy to show people how to set that up." THE BEE notices that the OnPoint branch in the Woodstock Safeway Store, and the Unitus Credit Union branch in Westmoreland, both seem also to be temporarily closed – but the Advantis Credit Union in Woodstock, and the majority of banks in Inner Southeast, are still open – while observing "social distancing" procedures.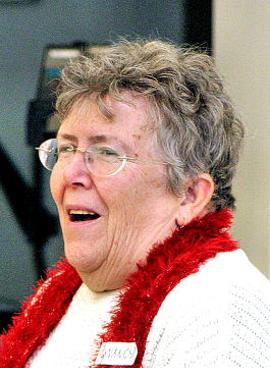 Nancy Chapin, well known in business circles in Portland, is the May speaker, on the 21st, on the Assn. of Home Businesses online ZOOM meeting starting at 6:30 p.m.; RSVP to attend. (Photo by David F. Ashton)
Business guru Nancy Chapin – staying 'up' in 'down' times: "What keeps us going in stressful times – a discussion" is the topic of the May meeting of the Association of Home Businesses, which normally meets in person once a month in Sellwood, but during this period of social distancing is meeting online via ZOOM, on the Third Thursday of the month. In May, that'll be the 21st – online at 6:30 p.m. Nancy, a Brentwood-Darlington home businessperson and a well-known consultant to many of the Business Associations in Portland, calls this "An opportunity to hear other people's mood lifters, and to share your own. Join us on May 21st for stories of hope, humor, and inspiration, just when we really need it." If you'd like to join this online meeting, please visit – http://www.ahboregon.org – for details, and to RSVP. No charge for attending; but without your RSVP you cannot obtain the link to join the meeting.
Saluting high school grads with lawn signs: A lawn sign may not really replace an actual live, formal graduation – but it is better than nothing, reasons Walter Sofko of the Brooklyn neighborhood Minuteman Press. He explains, "We put together an inexpensive yard sign program to celebrate high school seniors who are missing out on their celebrations this year." There are three sign options, with the signs created in colors appropriate to the high school. If interested, you can order online at – http://www.MinutemanTeam.com – and, Walt adds, "We offer parking lot pickup at 3382 S.E. 20th, or delivery can be arranged."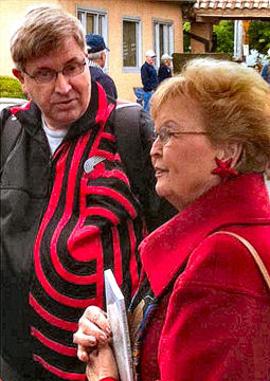 Governor Barbara Roberts holding Roy Widing's book, at the Rae Tomb.
Local author releases audiobook on "Rae Tomb": Roy Widing, a prolific local author, tells THE BEE, "I just released a non-fiction audiobook, with a Sellwood connection – it's about the intriguing Rae Tomb, 'Whispers From the Tomb', in Wilhelm's Portland Memorial Mausoleum. The story of my book has been featured on KOIN, KATU, and KGW. Parenthetically, another of my recent releases, also with a Sellwood connection, was featured not long ago on Fox News. Here's a picture of former Oregon Governor Barbara Roberts at the Rae Tomb, holding a copy of the printed version of my book."
Beer steps up for high school baseball: Cleveland High plans a new indoor baseball hitting practice facility on the northwest corner of the CHS football field, as reported in THE BEE previously. Now, owner Zach Vestal, owner of Westmoreland's Unicorn Brewing (and Portland U-Brew) at 6327 S.E. Milwaukie Avenue, announces that Unicorn Brewing's own "Home Run Hefeweitzen" beer – on tap, and available to go in growlers and 22-oz. bottles – will be sold with 20% of all its sales earmarked to help fund the construction of this CHS batting facility. Same-day delivery of Home Run Hefeweitzen is available to residents of Southeast Portland, when orders are called in by 4 p.m. to 503/943-2727, or ordered online – https://www.PortlandUbrew.com

---