T

HE
B

EE
COMMUNITY CLASSIFIEDS
THE BEE's "want ads" are named "Community Classifieds".


An important innovation is that classified ads placed in THE BEE may also be available at the special Community Classifieds website, at the HotLink below!

In addition, Community Classifieds now offer the additional service of in-column photographs of vehicles and homes for sale. The photos can not only appear in THE BEE, but on the website as well.

Community Classifieds appear each month in THE BEE, and can also reach up to a half million additional readers by being published in any combination of the 24 other newspapers in the "Community Newspapers" group, including the weekly Clackamas Review, Oregon City News, Lake Oswego Review, and West Linn Tidings; the monthly Sherwood Gazette, and Southwest Community Connection; the twice-weekly Gresham Outlook and Portland Tribune; and the other newspapers in the group.


To get information or place your classified ad by phone, here's the number to call:

503/620-7355

!


Now, click on the logo directly below, and read the Greenlight "Community Classifieds"!
INNER SOUTHEAST PORTLAND'S

BUSINESS NEWS!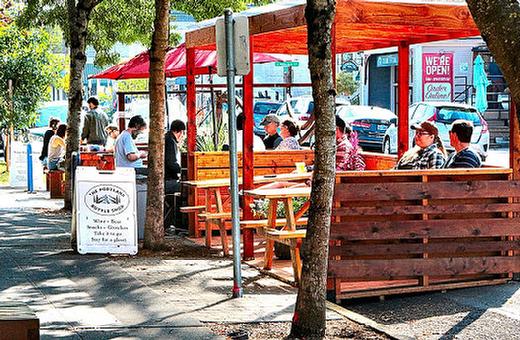 Dining on the street, in parking spaces, has proven quite popular, and has been a boon for many restaurants in Inner Southeast Portland. (Photo by David F. Ashton)
PBOT apparently expects to extend street dining until next June
By ERIC NORBERG
Editor, THE BEE
One of the lifelines many restaurants, and some other local businesses, have relied on during the COVID-19 pandemic is the opportunity to set up dining and display areas in designated parking spaces as well as on the sidewalk. In some cases parts of blocks have been closed to allow their use by businesses.
The permit process for such use of the streets has been extended once, but was expected to end on October 31. Without explicitly saying that these programs will continue past that, the Portland Bureau of Transportation on August 17 announced that its permitting process will: "PBOT's Healthy Businesses permit program to continue waiving fees through June 2022" was the headline on a press release from the agency on that date.

"Following the overwhelmingly positive public response to the program, the City Council allocated American Rescue Plan funding late last month to continue waiving permit fees through June 30, 2022," said the release.

"Across the city, these temporary outdoor spaces have allowed businesses to create space for social distancing, and to accommodate customers who prefer to shop and dine outdoors. PBOT requires permittees to follow specific design requirements and permit conditions. Among them are requirements for pedestrian accessibility, safe use of electrical cords and string lighting, and access for emergency vehicles."
So if the permits will remain free of fees to merchants through next June, presumably the permits themselves will continue! It is not clear from the release, though, whether merchants will have to apply for replacement permits by October 31 to continue using these street sites, a step that was required last time – but it might be wise for merchants currently in this program to make sure what they have to do before Hallowe'en.
---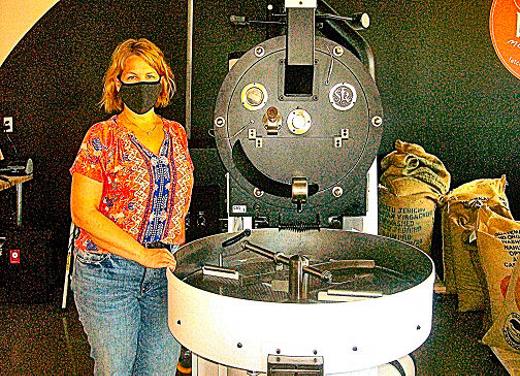 "Fetch" owner and coffee roaster Sarah Witter, standing by her roaster – adjacent to the new coffee shop's indoor seating area. (Photo by Rita A. Leonard)
New 'Fetch' coffee house opens in Westmoreland
By RITA A. LEONARD
For THE BEE
Just a half block south of the former location of the late, lamented Schoendecken Coffee House, and a block west of Westmoreland's Starbuck's, a new coffee house opened on Friday, August 6, at 1540 S.E. Bybee Boulevard. Called "Fetch Coffee Roasters", the new business roasts and sells its own six blends of coffee, and serves drinks and pastries to patrons both indoors and out.

The name "Fetch" has a dogly feel, so it is no surprise that the coffee house also regularly supports two organizations that help dogs in need. One of those will always be "Soi Dog Foundation" in Thailand, they say; and the other rotates through local Oregon institutions. Soi Dog Foundation has not only spayed and neutered hundreds of thousands of dogs, they were also instrumental in ending the dog meat trade in that country.
"Fetch" owner and roaster Sarah Witter, who founded Fetch in 2019, advises, "Our mission is to do something positive that also gives back to the community. Consequently, a dollar from every bag of coffee we sell goes to organizations that help dogs around the globe to be cared for and treated with love and compassion. We also ensure that our coffee is ethically-sourced from companies that not only provide the highest quality beans, but also ensure that farmers receive a fair price for their hard work producing them."
As you would hope, from this background, Fetch itself is a dog-friendly shop. "We currently have 28 seats indoors (for those wearing masks), and about 18 dog-friendly spaces along the sidewalks," says Witter. "We also have dog water bowls beside the doors.
"Currently we serve a variety of pastries from Bella Company, and are hoping to partner soon with some local businesses to also provide salads and sandwiches. If you have your dog with you, you can order from us with the 'Joe' app, and we'll bring everything out to you."
The shop also sells chai and kombucha, as well as their own specialty coffees. The bags have names such as Muddy Paws, Zoomies, Squirrel!, Cozy Afternoon, Sploot, and Muskrat Morning. "We had a lot of fun naming our different blends related to dog activities," remarks Witter.

"A local cartoonist and game creator named John Kovalic was the inspiration for 'Muskrat Morning' – a blend of specialty-grade coffees combined to bring out nuanced flavors of dark cherry and chocolate. Two dollars of every bag of this blend goes to dog service organizations. We've had people from as far away as Germany order it!"
"Fetch" has four baristas plus Witter, and is open Monday through Friday from 7 a.m. to 5 p.m., Saturday 8 to 5, and Sunday from 8 to 4. "Our phone number is 503/954-1865," says Witter, "And you can learn more about us online –

http://www.fetchroasters.com

".
If you're still trying to picture just where "Fetch" is – it's in the space formerly home to "The Bull and the Bee", before it moved to 7044 S.E. Milwaukie Avenue – and it's directly across the street, to the south, of the Sellwood-Westmoreland Post Office.
---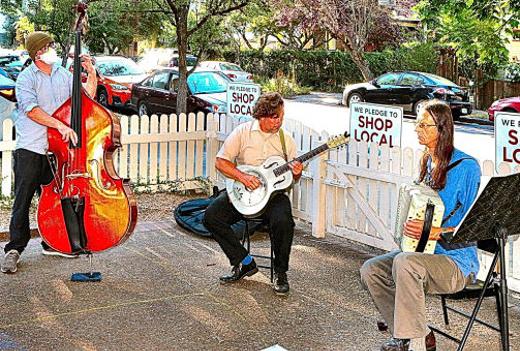 Providing live music for the festive evening mixer of the Sellwood-Moreland Business Alliance (SMBA) was a band called "The Linn Street Din", performing at the Sellwood Community House's pavilion. (Photo by David F. Ashton)
Sellwood Moreland Business Alliance hosts live, in-person meeting
By DAVID F. ASHTON
For THE BEE
For the first time, since the onset of the COVID-19 coronavirus pandemic – and shortly before the alarming rise of its Delta Variant – members of the Sellwood Moreland Business Alliance (SMBA) met face-to-face, on Monday evening, July 19, at the pavilion outside the Sellwood Community House on S.E. Spokane Street.
"We'd scheduled the SMBA get-together at the end of June; but, due to the extraordinarily high temperatures, we put it off until tonight," explained SMBA President Haley Percival, of Edward Jones Investments.
"It's wonderful for our organization to be getting back together in person," Percival told THE BEE. Because of COVID-19, we have not had a chance to get together and celebrate all of our small businesses here in the area."
The organization hasn't been idle during the pandemic, though, Percival said. "We've been doing a lot of work behind-the-scenes, getting ready to re-launch SMBA by building a new website – and we've been finding additional places to meet where we can network, and bring people together."
An easy choice for their first "live" meeting was at the Sellwood Community House's pavilion. "It's outdoors; and the space is gorgeous, and so accommodating," observed Percival. "We're planning to host future live meetings at different places, around our community, to give our members a opportunity to explore different places where they haven't been before."
Find out more about the Sellwood Moreland Business Alliance at their new website, online – http://www.sellwoodmoreland.com.
And for a sense of the festive evening, here's a brief BEE video . . .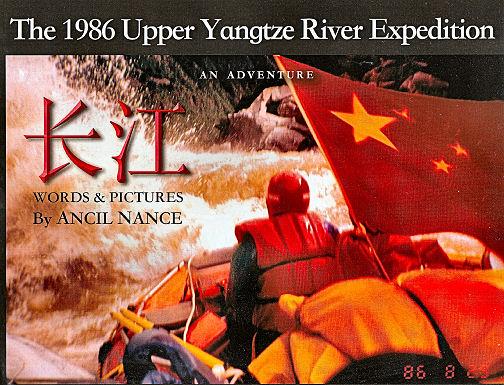 This is the cover of Ancil Nance's new illustrated true adventure book, now available at Wallace Books in Westmoreland.
Local author tells daring true adventure: Longtime Sellwood resident Ancil Nance has just published a high-quality glossy photo-filled soft-cover book telling the story of a rafting expedition down the Upper Yangtze River, from Tibet to China to Batang. Ancil explains that thirty-five years ago he took part in this expedition as backup photographer and climber; "But soon was rowing a raft and taking photos…due to the untimely death of the expedition photographer, and the subsequent quitting of three oarsmen and the team doctor, who left the expedition at Yushu, before actually running any big whitewater." The personal account is illustrated with over 100 photos. Copies of the book are now for sale at Wallace Books, 7241 S.E. Milwaukie Avenue in Westmoreland.
"Woodstock Gives Back" merchant promotion returns: On Sunday, September 19, participating Woodstock and Brentwood-Darlington business district shops will be raising funds for their favorite charity or nonprofit cause, as well as offering various sales and special offers for customers. "Woodstock Gives Back" is a unique opportunity to help support many charities and nonprofits in one great area of our city, while supporting local businesses. The Woodstock Community Business Assn. advises, "Each business supports the charity of their choice in their own unique way. Whether it's a furniture store that raises money for Friends of Trees, a pet store that raises money for a pet adoption group, or a grocery store that raises funds for the local food bank, each participating business will offer opportunities to their customers to give from their hearts to causes they cherish – with lots of fun activities, too, to appeal to families and people of all ages! Festivities will be centralized along S.E. Woodstock Boulevard between 40th and 57th, including tabling spaces for business located elsewhere in the two neighborhoods. Collect business cards from district merchants to exchange for raffle tickets, and enter to win great prizes donated by local businesses! For more information, e-mail – woodstockcommunitybiz@gmail.com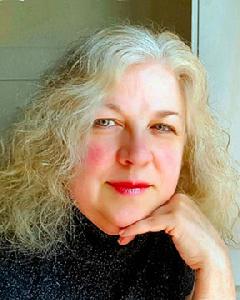 Bookkeeper and small business owner Lura Frazey promises "The inspiring side of bookkeeping, and what it can do for you" at the September 16 AHB meeting on ZOOM; everyone welcome.
At AHB this month – 10 Ways to Simplify Small Business Bookkeeping: At 6:30 p.m. on Thursday evening, September 16, the presenter at the monthly AHB virtual meeting is Lura Frazey – a full-charge bookkeeper, and owner of "Easy E-Office, LLC" – who offers ways for small and home businesses to simply their bookkeeping. She reminds, "Fourth quarter is just around the corner; have you laboriously and meticulously kept your bookkeeping up-to-date? Or will you, once again, be scrambling to get your books organized as best you can a few days before your taxes have to be filed?" On tonight's ZOOM meeting of the Association of Home Businesse, Lura Frazey will share practical strategies for handling your bookkeeping in less time, without losing your mind. You'll learn about how to streamline your bookkeeping systems to save yourself time and frustration; two critical accounting skills every business owner needs to know, even if you outsource your bookkeeping – and more. Everyone welcome, at no charge, during the pandemic – to RSVP and get the ZOOM coordinates, e-mail: Communications@ahboregon.org. Learn more, online – http://www.ahboregon.org.
Brooklyn neighborhood woman creates new rental service: Amina Moreau, a Brooklyn-based entrepreneur, recently founded "Radious" – an online marketplace for homeowners to rent out extra space, such as ADUs, in-law units, etc. – as day-use office space. "I love Portland, I love how inter-connected this community is, and how this neighborhood rallies around local business, and truly supports each other," says Amina. She points out that many remote workers are looking to safely escape the distractions of their work-from-home environments, and "find a greater sense of work-life separation". As companies shift to remote working models for the long term, offering micro-offices in people's neighborhoods is a really great way for businesses to support their teams without forcing them back to the traditional office. "This presents an opportunity to homeowners who have extra space," Amina explains. "Why not monetize an empty garage, a structure in the backyard, or even a living room with a TV for presentations, by renting it out to companies or individuals who are seeking workspaces outside of city center? It's a flexible way to earn extra income." For more information on this new business directed to businesspeople, go online – http://www.radious.pro.
---