T

HE
B

EE
COMMUNITY CLASSIFIEDS
THE BEE's "want ads" are named "Community Classifieds".


An important innovation is that classified ads placed in THE BEE may also be available at the special Community Classifieds website, at the HotLink below!

In addition, Community Classifieds now offer the additional service of in-column photographs of vehicles and homes for sale. The photos can not only appear in THE BEE, but on the website as well.

Community Classifieds appear each month in THE BEE, and can also reach up to a half million additional readers by being published in any combination of the 24 other newspapers in the "Community Newspapers" group, including the weekly Clackamas Review, Oregon City News, Lake Oswego Review, and West Linn Tidings; the monthly Sherwood Gazette, and Southwest Community Connection; the twice-weekly Gresham Outlook and Portland Tribune; and the other newspapers in the group.


To get information or place your classified ad by phone, here's the number to call:

503/620-7355

!


Now, click on the logo directly below, and read the Greenlight "Community Classifieds"!
INNER SOUTHEAST PORTLAND'S

BUSINESS NEWS!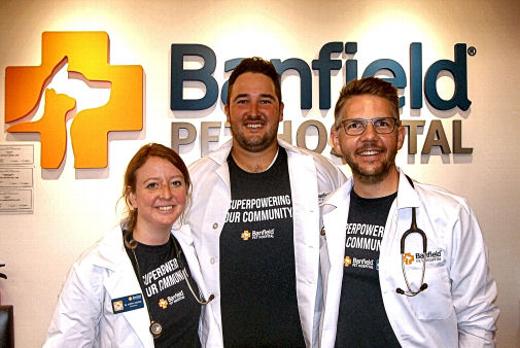 Veterinarians at Westmoreland's new Banfield Pet Hospital branch are, from left, Dr. Murphy Overton, DVM; Dr. David A. May, DVM; and Dr. Jeff Nickels, DVM. (Photo by Rita A. Leonard)
Banfield Pet Hospital opens a branch in Westmoreland
By RITA A. LEONARD
For THE BEE
The newest branch of the national Banfield Pet Hospital formally opened on Saturday, July 20, in a location which formerly had housed Westmoreland's 7-Eleven Store – 6207 S.E. Milwaukie Avenue. There are over a thousand similar sites across the nation.

Passersby on Milwaukie Avenue have been intrigued by the extensive remodeling of the former convenience store, and its new mural. The mural, done by local artist Nate Jensen, shows some of the pets that can receive treatment there.
The new site has three veterinarians: Dr. Jeff Nickel, Dr. David A. May, and Dr. Murphy Overton. There are also thirteen assistants, and four exam rooms. The pet hospital is open daily from 8 a.m. to 7 p.m., and is a full-service small-animal practice. They serve mostly companion animals such as dogs, cats, and some "pocket pets" – gerbils, rabbits, and some reptiles.
Dr. Jeff Nickel told THE BEE, "We mostly do preventive care here: Vaccinations, nutrition, parasite prevention, general surgery, behavior. Many of our pets are on wellness plans, with a package of preventive care. We also perform dental cleanings, spay and neuter services, and nutrition services. We can insert or read microchip information, and also sell some nutrition supplies."
Banfield's Shelter Services program provides "shelter pets" access to veterinary care, to remove barriers to their adoption. Information provided by the new Banfield Pet Hospital branch indicated that it had celebrated its opening by spending three days prior to the official Grand Opening providing free veterinary care to local dogs and cats from the Pixie Project and from Multnomah County Animal Services.
The first Banfield Pet Hospital in Portland opened in 1955. Now there are branches in five neighboring counties, as well as in Vancouver, Washington.
Call 503/963-9644 for information, or to make appointments.
---
"Fat Cupcake" bakery owner Anjelica Hayes stands at her front counter. (Photo by Rita A. Leonard)
Cupcake baker thrives in Mt Scott-Arleta neighborhood
By RITA A. LEONARD
or THE BEE
Cupcakes are a perennial sweet snack, and come in a wide variety of flavors and toppings. "Fat Cupcake', at 6011 S.E. 72nd Avenue, a half-block south of Woodstock Boulevard in the Mt. Scott-Arleta neighborhood, has been serving those with a sweet tooth for since 2016, at the former site of "His Bakery".
The company originated in 2014 in Oregon City, and has expanded to include two more sites – this one, and one in Happy Valley. The 72nd Avenue location, owned by Anjelica Hayes, features 15 different flavors of cupcakes daily in large and small sizes, and the shop also creates regular cakes for birthdays, weddings, and catering. Hayes' store bakes a special flavor for each month, dreamed up from staff ideas and suggestions from customers.
"When I opened this place," reveals Hayes, "I just wanted to have something different that you wouldn't typically see in a bakery. Some of our specialties include the 'Charlie Brown', which has a peanut butter cup baked inside chocolate cake; 'The Professional', which has a chocolate cream-filled cookie baked inside white cake; and the 'Lemon Doodle', which has a sugar cookie baked on top of white cake.
"Our specialty cake, also called the 'Fat Cupcake', is actually a cupcake-shaped cake that serves 10 to 12 people. You can order a cake from us one to three days ahead of a special occasion. You can also stop in and see a menu. We offer monthly cupcake decorating classes, and also hold tasting events for wedding cakes. We meet any dietary requirements.
"We're open Mondays thru Saturdays, 9 a.m. to 7 p.m. We also offer coffee, and seating for 12 people, if you choose to eat indoors. Call us at 503/775-0731, or go online to – http://www.fatcupcake.com".
---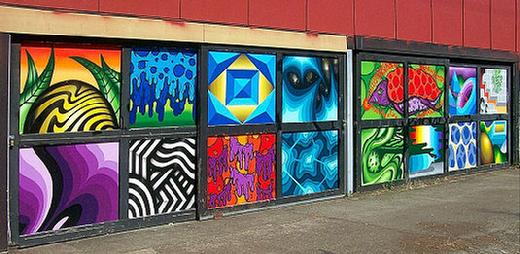 Here are some of the colorful new murals along the Watershed Building – facing S.E. Milwaukie Avenue, just south of the McLoughlin Boulevard overcrossing. (Photo by Rita A. Leonard)
Dominic Sigari's paintings grace Westmoreland's Watershed Building
By RITA A. LEONARD
For THE BEE
Several bright public paintings by Dominic Sigari have appeared on the west side of the Watershed Building at 5040 S.E. Milwaukie Avenue, at its McLoughlin Boulevard overcrossing.

The new geometric groupings add color and interest to what was formerly a dull-brown expanse of office walls and loading bays.
Sigari, a prolific self-taught artist, enjoys painting on Portland's sunny days. "I've loved to paint ever since I was young," he told THE BEE. "I paint several days a week – and also tend bar. I usually sketch out a basic idea, but it often changes during the painting process. I frequently paint with two others, under the umbrella [name] of 'Team Good Times'.

"We're just three friends who really enjoy painting together. Most of our public murals are self-funded."
Sigari paints under the name "dominatah" when working alone. When collaborating with others, the signatures vary. You can see more of his work online, at – http://www.instagram.com/dominatah/
---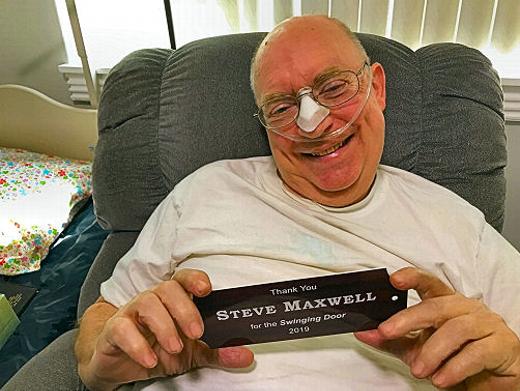 Woodstock resident Steve Maxwell, now stricken with ALS, had used the Woodstock Laundry for forty years when he decided to make his generous offer. (Courtesy of John Torrey)
Woodstock Laundry's swinging door a gift from a client and neighbor
By ELIZABETH USSHER GROFF
For THE BEE
These days, kindness sometimes seems to be too rare, and at a premium. But one recent neighborhood example gives hope about the goodness that is still out there.
For the two years that John Torrey has owned the Woodstock Laundry at S.E. 48th and Woodstock Boulevard, he has made a lot of improvements in the well-used facility – including installing new equipment and maintaining a much higher level of overall cleanliness.
But one thing that had continued to bother him was that the door on the east side opened in only one direction. He watched clients with full laundry baskets struggle to get out the door leading to 48th Avenue; some people could not manage to open the door and would have to set their basket down – only to be be struck by the door as it swung shut behind them.
He realized that a "full-swing door", like his door on the north side, could solve the problem. But after adding new machines and doing repairs, that kind of door was a stretch for his recent budget. Then, one day, a longtime Woodstock Laundry user stepped forward to help.
Steve Maxwell, a Woodstock resident who had used the self-service laundry once a week for forty years, was diagnosed last year with ALS – commonly known as "Lou Gehrig's Disease". As the disease progressed, he became more frustrated trying to get out the east door, and would have to use the north door.
Over the past few months Maxwell stopped driving and was no longer able to come to the laundry. Then one day, Woodstock Laundry owner John, who has a medical background, visited Maxwell at his home to discuss the details of ALS, and to help Maxwell find appropriate care – eventually, in an adult foster care home.
During that visit Maxwell said to John, "You know, since I have been disabled, I really realize how important that 'full-swing door' would be. Things are going pretty well for me, and you have done so much for Woodstock Laundry, I would like to offer you $2,800 for that door."
John was taken aback by the gracious suggestion, but also realized that this gesture of magnanimity fit well with the kind of person Maxwell is. A longtime member of Kiwanis – a nonprofit community service organization that helps children – Maxwell had always helped with fundraisers for the service group and contributed his time and energy.
Now, even though homebound, it gave Maxwell pleasure to be able donate the full-swing door for the self-service laundry that he had used for four decades.
John reports that in addition to being generous and "a really nice guy", Maxwell is a Vietnam Veteran, and has always kept a positive attitude about having ALS. He rarely complains, even nowadays when the disease makes it difficult to speak.
John has had a plaque made with Maxwell's name on it, and has placed on the wall of Woodstock Laundry next to that full-swing door.
---
Kate Swett, Manager at the Westmoreland "Collage" craft shop, coordinates the nearby free craft nights each month. (Photo by Rita A. Leonard)
Three businesses collaborate for crafts in Westmoreland
By RITA A. LEONARD
For THE BEE
Three shops that face each other across S.E. Bybee Boulevard, just west of Milwaukie Avenue, have gotten together to offer free family drop-in "craft nights".
The coordinator for the project is craft shop Collage. Nectar Frozen Yogurt and Collage combine resources to hold "First Tuesday Craft Nights" from 5 to 6:30 p.m. on the first Tuesday of each month at 1631 S.E. Bybee Boulevard, while Collage and Pizzicato Pizza hold free craft nights on the third Wednesdays of each month from 6 to 8 p.m. across the street at 1630 S.E. Bybee Boulevard.
At these sessions, supplies and instruction are free, and clear directions for simple and clever crafts that were addressed can be accessed online – http://www.collagepdx.com – if you miss one of these dates.
Collage's Manager, Kate Swett, tells THE BEE, "All of our sales associates here take turns coming up with our own craft ideas to teach, using supplies from Collage. It's fun & very fulfilling – we have a great little community here. We've had free craft nights for years at our three Collage stores – In Westmoreland, as well as on S.E. Division Street, and N.E. Alberta Street. But Nectar just recently put up a sign for us!
"Nectar is great," she continues with a laugh. "We have lunch over there almost daily. They change their frozen yogurt flavors nearly every day."
---
Local resident receives recognition for stage play: Sellwood jewelry designer Cari Quistberg's play "Hector of LA" has been selected as a finalist in The Garry Marshall Theatre 2019 New Works Festival. Quistberg tells THE BEE, "Simply making it into the small pool of finalists in this competitive competition of playwrights [in Burbank, California] is an exciting step." Quistberg says the play centers on a third generation Mexican-American named Hector; the story is set in the community of Boyle Heights in East Los Angeles, under the shadow of a concrete barrier known as The East Los Angeles Interchange. "Hector's struggles unfold inside the family-owned tailor shop, as his new Mexican wife Alegria disrupts his intention to follow his dream of becoming a United States Marine; the emotionally-charged play is set in the summer of 1990. An effort is underway to have the play presented in Portland, but there are as yet no details on a performance.
Westmoreland science teacher retires, sort of: Westmoreland-based science teacher Jane Kenney-Norberg has retired as the Lower School Science Specialist at Oregon Episcopal School – after more than a quarter century of service there, and after seeing many of her former students go on to prominent careers in science. However, she has also taught a large after-school Lego Physics program at O.E.S.; and, after setting up a company of her own called "L*go Physics Institute, LLC" to continue teaching with Legos, she has reached agreement with O.E.S to continue her program three afternoons a week there. As a result, her students will once again display their constructions from 11 a.m. to 4 p.m. inside the OnPoint Community Credit Union, 3403 S.E. Hawthorne Boulevard, during the "Hawthorne Street Fair" on Sunday August 25. It's free, and BEE readers are invited to stop by and enjoy the demonstrations.
"Sonic Drive-In" chain awards local teachers: The national Sonic Drive-In fast-food business, the national headquarters of which are in Oklahoma City, announces small cash awards to five Portland-area teachers for classroom supplies and teaching resources. One recipient teaches in Inner Southeast Portland – Jamie Williams, at Grout Elementary School on Holgate Boulevard, awardedfor "basic art supplies". Sonic reports that it made matching donations totaling $1.2 million to 3,937 teachers across the country this year. Chosen projects were selected from customer nominations.