T

HE
B

EE
COMMUNITY CLASSIFIEDS
THE BEE's "want ads" are named "Community Classifieds".


An important innovation is that classified ads placed in THE BEE may also be available at the special Community Classifieds website, at the HotLink below!

In addition, Community Classifieds now offer the additional service of in-column photographs of vehicles and homes for sale. The photos can not only appear in THE BEE, but on the website as well.

Community Classifieds appear each month in THE BEE, and can also reach up to a half million additional readers by being published in any combination of the 24 other newspapers in the "Community Newspapers" group, including the weekly Clackamas Review, Oregon City News, Lake Oswego Review, and West Linn Tidings; the monthly Sherwood Gazette, and Southwest Community Connection; the twice-weekly Gresham Outlook and Portland Tribune; and the other newspapers in the group.


To get information or place your classified ad by phone, here's the number to call:

503/620-7355

!


Now, click on the logo directly below, and read the Greenlight "Community Classifieds"!
INNER SOUTHEAST PORTLAND'S

BUSINESS NEWS!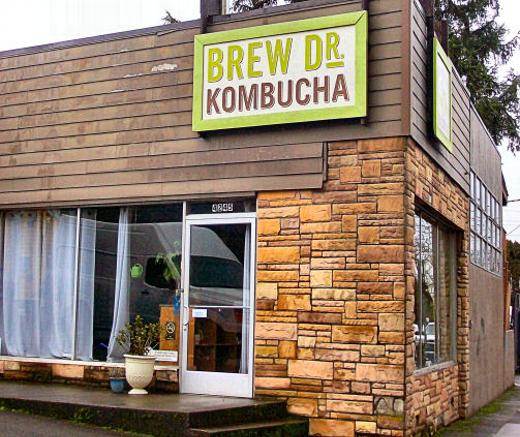 This landmark Brooklyn business is moving to Tualatin, and the Milwaukie Avenue property will be repurposed for a five-story apartment development. (Photo by Rita A. Leonard)
Apartments to replace 'Townshend's Tea' and 'Brew Dr. Kombucha' in Brooklyn
By RITA A. LEONARD
For THE BEE
Last fall, at a meeting of the Brooklyn Action Corps, representatives from "Brew Dr. Kombucha" and "Townshend's Tea Company" – till now located at 4245 S.E. Milwaukie Avenue – revealed their plans to leave the site, and the neighborhood, in 2020.
Matt Thomas, owner of the two businesses, remarked that by 2015 he'd realized that they had outgrown the space, and subsequently has found a place in Tualatin to move to, and this year will do so.
Meantime, the owner of the property, Jerry Baker, said he planned to sell the sloped property, which is bounded by S.E. Cora and Boise Streets, to a developer – "Ethos" – to build a four-story residential complex with retail business at street level along the Milwaukie Avenue side.
Subsequently, due to Portland Building Code changes, the planning firm Hacker Architects was able to design the new complex, tentatively called "brookLAND", as a FIVE-story, 160-unit apartment complex – accomplished by including "affordable" rental units, 42 auto parking spaces, and 240 bike spaces.
Since the shape of the lot is unusual, planners are hoping to mitigate the design by creating "connections to nature" – with entry notches into interior courtyards. Fifteen percent of the surface area is required to be dedicated to landscaping. Consequently, a large interior open-air courtyard with green spaces is planned to allow for more light and cross-ventilation. A café is planned for the northeast corner, and a fitness center is also planned. The 160 apartments will be comprised of 1, 2, and 3-bedroom units. The project's completion date is projected to be 2022.
There were concerns expressed by the Brooklyn Action Corps neighborhood association about sewage and stormwater from the site, but planners explained they were re-using all stormwater within the project. Concerns that top level residents would be able to look down into established neighbors' back yards was countered by a ten-foot setback from the property line.
The complex will feature a modern design that some Brooklyn residents felt would not blend in with existing home styles in the historic neighborhood. However, the addition of courtyard green spaces, elevators, ADA-accessible units, a gym, a common area lounge, work-space, and a rooftop viewing deck were considered commendable additions.

Brooklynites will miss the employment opportunities and the uniqueness of being the location of Townshend's Tea and Brew Dr. Kombucha, but the B.A.C. wished them well in their new Tualatin location.
---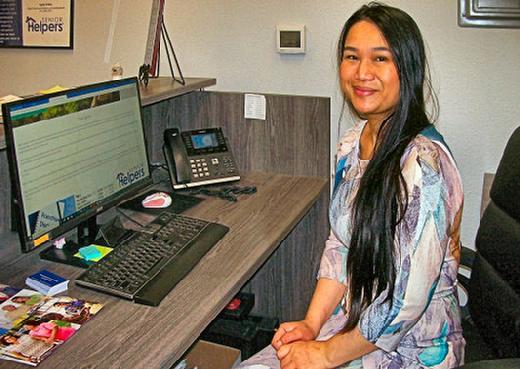 The Administrator at the new Inner Southeast office of "Senior Helpers" on Powell Boulevard is Sarina Pasomsouk. (Photo by Rita A. Leonard)
'Senior Helpers': A new business at S.E. 36th and Powell

By RITA A. LEONARD
For THE BEE
A new commercial in-home service for seniors, "Senior Helpers", has opened at 3620 S.E. Powell Blvd., Suite 202. Franchise owner Lance Hansen started the business in downtown Portland, but has moved to the Inner Southeast location "for better parking access". Office Administrator Sarina Pasomsouk tells THE BEE that they have a staff of about 65, including a traveling Registered Nurse.
"We offer a helping hand for seniors, with personalized daily plans that promote their independence and freedom," explains Pasomsouk. "We help with everyday living activities, social interaction, transportation, housekeeping, medical monitoring, general shopping, and errands, among other services.
"We focus on senior needs – such as personal and companion care, and concerns relating to dementia and Parkinson's."
The business' core values include "responding at a moment's notice, integrity without compromise, celebrating an improved quality of life, education, and fostering a positive attitude".

"Senior Helpers" is open Monday through Friday from 8:30 a.m. to 5 p.m., and is available by office phone at 503/892-1189; their 24-hour response line is 503/985-2116. You can also learn more about their services online – https://www.seniorhelpers.com/or/portland/west
---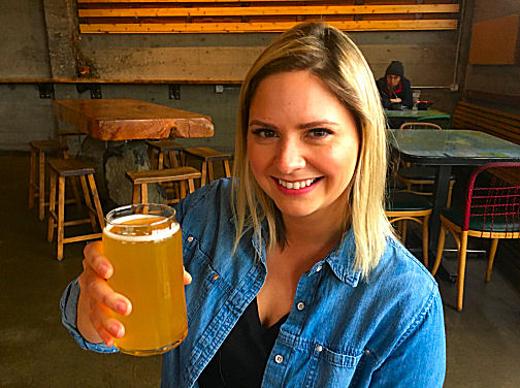 Wildland Kombucha founder, brewer, and Brentwood-Darlington resident Jillian Bohrer enjoys a glass of her own CBD Lemongrass "booch" at Base Camp Brewing, where it's available on tap. (Photo by Paige Wallace)
Brentwood-Darlington woman brews 'Kombucha' to help wildland firefighters
By PAIGE WALLACE
For THE BEE
Water alone may not serve to extinguish wildfires. It may take fermented tea, too.
Brentwood-Darlington resident Jillian Bohrer never expected her home-brewed Kombucha experiment to take off like wildfire – but it's appropriate that it did, because now that she's turned her hobby into a business, she's donating all of the profits to help wildland firefighters.
Bohrer knows the power of wildfires, because her husband – Luke Warthen – spends long summers fighting them. It was his absence that sparked her to try brewing Kombucha, a fermented tea drink that often includes ingredients like herbs and fruits. Her goal was to distract herself from worrying about her husband while he was deployed out of cell-phone range for weeks at a time.
Last summer she began brewing larger batches of Kombucha and delivering it to Central Oregon, where Warthen had taken a job fighting fires with the Redmond Hotshots. His fellow firefighters loved it.
Bohrer isn't sure when the business idea came to her, exactly; but at some point she decided to investigate what it would take to sell her Kombucha at farmers markets. "It was purely for fun – 'let's see if I can do it as an experiment'," she recalled. She immediately decided that if she made any money, she'd donate her profits to the Wildland Firefighters Foundation (WFF), which provides support to families of wildland firefighters killed or injured in the line of duty.
Her friends thought she was crazy. "Starting a Kombucha company in Portland is literally the worst idea, ever," Bohrer jokes. Indeed, there's stiff competition in the market, with multiple Oregon-based companies selling their product locally. But Portlanders often embrace locally-produced products; especially those that may have health benefits. Kombucha is thought to boost digestion and immunity, among other things.
Bohrer signed up for a booth at a Fourth of July celebration, and proved her friends wrong. "I was sold out in two and a half hours!"

After that, business ramped up quickly. She now sells her Kombucha regularly at the Woodstock Farmers Market during the summer months. It's also available at Bread and Roses Market at 6360 S.E Foster Road, as well.
In addition, Bohrer offers an old-fashioned delivery service, featuring reusable glass bottles! She said she wants to be "the Kombucha milkman." There's no minimum order for home delivery. Returning the company's reusable bottles to her (or even the same sort of bottles from a competitor) through the delivery program, or at a farmers market, earns a $1 refund.
Some local breweries have her "booch" – as it is often called by those in the industry – on tap. One of those is Base Camp Brewing Company, at 930 S.E Oak Street. General Manager Ross Putnam is a former wildland firefighter. He said he's always looking for quality non-alcoholic drinks to have on tap for 'designated drivers', other than typical soda options. He believes Wildland Kombucha is "on a great mission, and a no-brainer for us. I think the product's great."
The organization that Bohrer chose to receive her profits, WFF, is highly respected within the firefighting community. It's also listed as a gold-level nonprofit by Guidestar, which rates nonprofits based on how they use their funds. "I like contributing to something greater than myself," she explained, adding that many of the firefighters who battle wildfires are seasonal workers without health insurance, or with gaps in their coverage. "That's where the Wildland Firefighters Foundation comes in.
"I've had firefighters reach out on Instagram and say, hey, I got hit by a falling tree and busted my knee, and while I was out of work the foundation paid for my physical therapy or they paid for my lost wages," Bohrer said.
She has made several donations to the foundation since starting her business, and plans to make a larger lump sum gift after tax season, when she's figured out the total amount the company has made, minus expenses. She said each bottle of Kombucha earns roughly $3 profit out of the $5 price.
As for her ingredients, Bohrer wild-forages many of them, including juniper berries from Central Oregon for her Orange Juniper Kombucha, and bright green new growth from spruce trees for her Vanilla Spruce Tips recipe. Both of those are summer seasonal flavors.

Other ingredients include wild blackberries for Blackberry Sage Kombucha, rose petals for her Wildflower-flavored recipe, and homegrown lemongrass which gets combined with Oregon-grown CBD. All of her brews are started from a blend of black and green teas, and then fermented, "just like you'd ferment sauerkraut or kimchi."
Wildland Kombucha is prepared in a commercial kitchen Bohrer rents near her home – but she only uses the space overnight, not during the daytime. That's because she still works a fulltime job at a commercial real estate company. Late into the night, she handles almost all of the work by herself – except that her passion for the project has drawn her husband into the brewing process, too. When he's home from fighting fires they often work side by side. Warthen helps with bottling, delivering and even some sales. "He's doing the farmers market by himself, this shy man-of-the-woods, and he's digging it!"
Bohrer finds the long hours fulfilling. "The most rewarding thing is when I'm dog-tired on a Sunday night after working all day, all week, four farmer's markets, and fermenting 50 gallons, and bottling, and kegging – It's like, I just did that! It's this thing I started in my kitchen, and somebody bought it and they liked it. That's crazy!"
Someday she hopes someday to turn Wildland Kombucha into a nonprofit, when she has more time to focus on the technicalities of that process. For the time being, she's just pleased her little home experiment is working. "I like giving back, and helping the fire community. I think that will grow as we get bigger."
---
Lisa Loving is the speaker in February, on the 13th, at the Assn. of Home Businesses meeting in Sellwood, 6-9 p.m.
Lisa Loving helps businesspeople "write their rant": At the February 13 meeting of the Association of Home Businesses, Journalist Lisa Loving will present a "How to Write Your Rant" workshop for use on social media, or just to get things done. Loving asks, "Do you have a strong opinion about a political policy or issue? Do you need help turning that opinion into testimony before a government body or maybe a letter to the media? Participants will leave with a smart argument on an important issue, and ways to bring it with the world." Networking, this presentation, and a buffet supper, all occur 6-9 p.m. at SMILE Station, 13th and Tenino in Sellwood, a block south of Tacoma Street. Open to all! Meeting fee of $10 includes the buffet. Please RSVP to assist food preparation. RSVP at https://www.AHBoregon.org, or call Eric at 503/232-2326.
"Portland Bottle Shop" launches a Happy Hour:
The Portland Bottle Shop on S.E. 13th Avenue in Sellwood, introduced a new Happy Hour with a kick-off party on January 6. The new feature will be offered Monday through Thursday from 2-5 p.m., with dollar off draft beers, and $6 glass offerings of bubbles, white and red wines. "The star of the food menu will be our ever popular smash burger (plus bacon) served a la carte for only $6. Add a side of Old Bay or garlic parmesan fries for $3." There is also a chef's choice meat and cheese board, ham and gruyere sandwich, and a rotating vegetarian flatbread available – for $6 and under. The business is owned by the husband and wife team of Travis and Emily Motter, who tell
THE BEE
that "Friday nights remain our most popular evening, where for eight years running we've hosted a weekly wine tasting of regional or seasonal pours."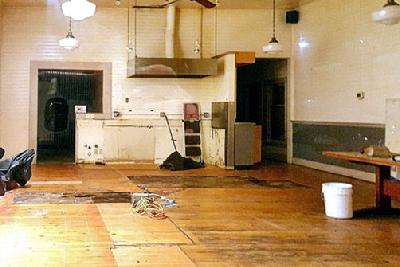 During its January repair, the Sellwood Grand Central Bakery stripped out the interior for remodeling and updating. (Photo by Sandy Hubbard)
Sellwood's "Grand Central Bakery" reopens in February: Community members noticed that Grand Central Bakery in Sellwood closed in January for "repairs". BEE historian Eileen Fitzsimons points out that its building on S.E. 13th "was an old grocery store, and maintains that appearance on the exterior. It looks like they are gutting the interior to make it easier to maintain and serve, and probably to improve their kitchen. Since it is reopening in February I'm not too worried. They aren't tearing it down!" In January, Sellwood and Westmoreland residents had the option of patronizing the Grand Central Bakery store on S.E. Woodstock Boulevard, which remained open.

New coffee shop on Foster Road: Rodrigo Baena opened his new business, Favela Café, late last year at 5300 S.E. Foster Road – serving traditional coffee, and Brazilian pastries and snacks. He says, "After eight years of organizing and producing Brazilian events for the community in Portland, we decided to have a space where we can have our old and new friends, while serving great coffee." For information, call 503/789-1291.
This is the notice posted for customers on the door of the Sellwood KeyBank branch. (Photo by Sandy Hubbard)
Banks come and go: Although Chase Bank, already a fixture in Woodstock, has been announced as planning a branch to be in the location of the former Dairy Queen in Westmoreland, Key Bank in Sellwood informed customers late last year that it would be closed by February 1, referring customers to its Woodstock and Milwaukie branches; and U.S. Bank closed its branch in Brooklyn last year – but its Westmoreland and Woodstock full-service branches remain.
WCBA sets its annual meeting and dinner in Woodstock: The Annual Woodstock Community Business Association Membership Meeting – also open to interested nonmembers – is set for Tuesday evening, February 11, 6-8 p.m., at Double Mountain Brewpub on Woodstock Boulevard, includes a dinner provided by the restaurant. There will be a no-host bar for those desiring libations. Tickets to the meeting and dinner are $15 for one, $25 for two. This can be paid at the door, but can also be paid in advance on the WCBA website – http://www.woodstockbiz.com
Special "meditation" class announced: In a special event, "Meditation for Regular People", at 8236 S.E. 17th in Sellwood, will hold a two-part meditation class for the public on February 2nd and 9th called "Map to Stillness – Creating your Personal Meditation Practice". The class is intended to help participants to create their own meditation practice, and teach a proven, easy technique that anyone can do at home. Snacks and beverages will be provided. Visit the business online for details and registration – http://www.Meditation4RegularPeople.com
---