T

HE
B

EE
COMMUNITY CLASSIFIEDS
THE BEE's "want ads" are named "Community Classifieds".


An important innovation is that classified ads placed in THE BEE may also be available at the special Community Classifieds website, at the HotLink below!

In addition, Community Classifieds now offer the additional service of in-column photographs of vehicles and homes for sale. The photos can not only appear in THE BEE, but on the website as well.

Community Classifieds appear each month in THE BEE, and can also reach up to a half million additional readers by being published in any combination of the 24 other newspapers in the "Community Newspapers" group, including the weekly Clackamas Review, Oregon City News, Lake Oswego Review, and West Linn Tidings; the monthly Sherwood Gazette, and Southwest Community Connection; the twice-weekly Gresham Outlook and Portland Tribune; and the other newspapers in the group.


To get information or place your classified ad by phone, here's the number to call:

503/620-7355

!


Now, click on the logo directly below, and read the Greenlight "Community Classifieds"!
INNER SOUTHEAST PORTLAND'S

BUSINESS NEWS!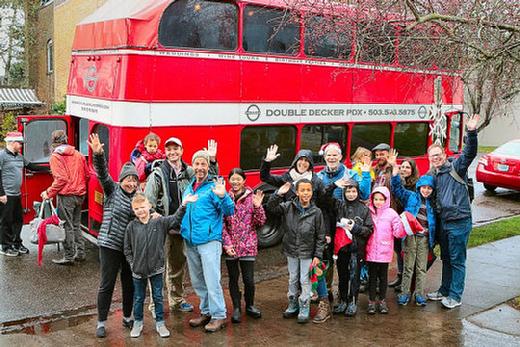 These "Decemberville" revelers wave for THE BEE before boarding the festive double-decker bus to discover more family fun elsewhere in the neighborhood. (Photo by David F. Ashton)
'Decemberville' brings merriment to Sellwood, Westmoreland
By DAVID F. ASHTON
For THE BEE
More than 80 members of the Sellwood Moreland Business Alliance (SMBA) business association again hosted "Decemberville" throughout the day on Saturday, December 7.
As always, it was more than just a sales promotion. The day featured 100 free activities, concerts, and crafts at numerous locations – from SMILE Station north through Sellwood and into Westmoreland.
Amid the light showers falling on "Decemberville", many of the hundreds of families who turned out for the fun ducked the raindrops by finding the seven giant snowflakes, tacked to telephone poles, marking stops for the festive Double Decker Bus throughout the district.
"Decemberville is a great community-building event, which brings residents from across the neighborhood out for a few hours, to participate in Holiday activates and festivities geared at connecting the local business community with the neighborhood," explained the current SMBA President, Hailey Percival of Edward Jones Company.
"The best part of this day, for me, has been the buzz that it brings to the neighborhood; I love the sense of community we all have, with events like this," Percival told THE BEE.
From the grins seen everywhere on that afternoon, Decemberville was an ideal way for families to get into the Holiday spirit, right in their own neighborhood.
Find out more about what all these local businesses have to offer by visiting the SMBA's website –

https://www.sellwoodmoreland.com
---
Amber Black, left, and Jessie Nelson are co-owners of Pacific Dance Academy in Sellwood – a "non-competitive and community-focused dance studio that promotes fitness and self-esteem through the art of dance". (Photo by Elizabeth Ussher Groff)
Pacific Dance Academy opens, thrives, in Sellwood


By ELIZABETH USSHER GROFF
For THE BEE
When Jessica Nelson and Amber Black were in elementary school, they met while taking dance classes at the Marvel School of Dance on S.E. 79th and King Road in Milwaukie.
Over the following twenty-seven years, the two women – now also mothers of young children – maintained their friendship and, this past February, opened the "Pacific Dance Academy" in Sellwood, where they are co-owners.
The two tell THE BEE that they were happy to be able to lease the location on S.E. 13th Avenue just south of Spokane Street. With volunteer help from their husbands and fathers, in January they constructed a new floor, and hung large attractive mirrors – turning the space into an elegant dance studio that has flourished in its first year.
Pacific Dance Academy, a non-competitive and community-focused studio, has seven instructors who teach an array of dance styles: Creative Movement, Ballet, Contemporary, Tap, Jazz, and Hip Hop are offered for children in the afternoons; and children's Hip Hop and Ballet also are held on Saturday mornings.
Adult classes offered in the evenings are Contemporary, Jazz, Hip Hop, and Ballet. In addition, Jazz, Hip Hop, and Hula classes are held monthly for adults – and an adult class for Yoga Fundamental is also held monthly on Wednesday evenings.
Nelson and Black say they want their students to learn dance as a hobby, or for recreation. Black comments, "We want our students to build confidence and comfort, and fall in love with dancing" – but they also recognize that families may need time for sports or other interests. Their Spring and Winter Showcases are just one hour long, so that the entire family, even very young children, can enjoy the performances.
They are enthusiastic about their instructors and interns. "They are an amazing part of our collaborative team. All of them love the children and their families," remarks Black. "The instructors are really creative in their music selections, making them appropriate for the age and the class."
To determine which dance style is desired by a child, "Kids can test out a different style each day for a week, so he or she can choose, before registering."
Both co-owners, who are also dance instructors at the academy, have extensive dance experience. Nelson, better known as Jessie, graduated from Milwaukie High – where she received All State Honors – and from Western Oregon State University, where she earned a degree in dance. She was principal owner of Pacific Dance Academy in Milwaukie for thirteen years, where she gained studio management experience and taught all forms of dance. She closed that academy last year and happily re-opened in Sellwood this past January as co-owner, with longtime friend Black.
Black taught dance at Pacific Academy in Milwaukie for nineteen years, and has trained and performed in major cities throughout the west coast, and in Portland. In addition to dance, she has a Master's degree in Occupational Therapy from Pacific University, and works part-time at Kaiser Permanente. She enjoys helping students learn how to integrate mind/body awareness into their dancing.
The co-owners emphasize building a community of dancers and families. Consequently, the studio space can be rented for birthday parties, in which entire families and friends can take a dance lesson together and celebrate. The space can also be rented by professional dance teams and companies.
Black and Nelson tell THE BEE they are excited to be located in such a cohesive and thriving community as Sellwood. They see their new location as offering a new opportunity to be creative and flexible, which includes taking input from the community about new classes or times that might be suggested.
Enrollment for the upcoming Winter/Spring session started in November. The "Winter Showcase" performance, to be held at Mt. Scott Community Center at S.E. 72nd and Harold Street, was held on December 14.
To learn more about Pacific Dance Academy classes, and to register, go online – https://www.pacificdanceoregon.com
---
Jessica and Justin Donais have opened "Pizza Doughnais" on S.E. Milwaukie Avenue in Brooklyn. (Photo by Rita A. Leonard)
New family pizza shop is open in Brooklyn


By RITA A. LEONARD
For THE BEE
On the street level of a new, narrow, four-story apartment building just completed on a single residential lot in the Brooklyn neighborhood, two residents of that neighborhood – Jessica & Justin Donais – have opened a new pizza parlor, Pizza Doughnais, at 3541 S.E. Milwaukie Avenue. The parlor's name is a play on their own surname.
"As two lifelong pizza lovers, we didn't always love the way we felt after eating it," remarks Jessica, "So we embarked on a three-year journey to create the 'pizza of our dreams' – a pie that was both delicious and digestible."
In 2017, Justin went to Italy to learn the gluten arts. Back home, he started experimenting with natural yeast for a sourdough starter, which is now used in their pizzas. "We bake each of our fluffy Sicilian pies at peak fermentation," explains Jessica, "which not only makes for 'a little bit of heaven in every bite', but ensures that each slice you eat doesn't weigh you down."
The restaurant's menu features Red Pies and White Pies, with unlimited add-ons from a list of 15. A variety of drinks – both alcoholic, and non – and salads are included on the list of selections. For dessert, they feature "The Brookie", described as "a fudgy brownie meets a chocolate chip cookie."
The couple belongs to the Greater Brooklyn Business Association, and says they are donating empty bottles and cans to the "Friends of Brooklyn Park" program.
The small restaurant seats five indoors and twelve outdoors; street parking is limited. The restaurant is open Monday 4:14 p.m. to 8 p.m., closed Tuesday, and open Wednesday through Sunday from 11 a.m. to 9 p.m. Their telephone number is 503/232-3434. You can also order online, for take-out – http://www.pizzadoughnais.com
---
Woodstock resident Geoff Bergman formerly taught fitness at Mt. Scott Community Center, but now is instructing five days a week at the new Sellwood Community House. (Photo by Elizabeth Ussher Groff)
'Versatile' exercise class moves from Mt. Scott to Sellwood
By ELIZABETH USSHER GROFF
For
THE BEE
If you are looking for a helpful and personalized approach to exercise and fitness, such a fitness class has moved from the Mt. Scott Community Center to the Sellwood Community House, formerly known as the Sellwood Community Center.
"Community Strength and Conditioning", taught by Geoff Bergman, has gained praise for its friendly and fun, supportive, educational, and body-positive environment. All of the exercises allow for modifications and progressions to fit each individual's fitness needs and level.
"I have spent the past four years working with everyone from teens to active adults, even into their 80's, in either class or one-on-one settings. I've worked with athletes, pre and post-natal clients, people recovering from injuries, people recovering from cancer, as well as stroke, MS, and Parkinson's clients," recounts Bergman.
Prior to 2015, Bergman worked for over a decade in a corporate desk job. That relatively sedentary occupation, along with some recurring injuries arising from running, sparked his interest in the human body and movement.
Deciding that he wanted to do something that would make a long term difference for his own body, that of his co-workers and family, as well as for the general public, he quit the corporate job and went back to school full-time at Portland Community College to earn a two-year Associates degree in Exercise Science.
His education in fitness training led him to a job at the locally owned Fulcrum Fitness, where he instructed group and semi-private training. During that time he also taught group exercise and one-on-one training sessions, first at the Southwest Community Center, and then at the Mt. Scott Community Center.
Having attended Linfield College for four years in the mid-90's studying theater, psychology, and education, Bergman valued the sense of community at the college, but didn't find it in his corporate job. So one of his goals in teaching body fitness classes was to create a sense of camaraderie in the classes.
"I've found building a fitness community around a 'be yourself' approach to be very successful," he says. "I meet every participant, wherever they are on their fitness journey, with no barriers for age, gender, race, fitness level, or ability."
Working full-time at Mt. Scott Community Center for three of the last four years, he taught numerous classes, did personal training, maintained fitness equipment, mentored other staff and instructors, and helped with some adult fitness programming. Then this past Summer Portland Parks & Recreation began cutting positions and programs, and his position was one of the first eliminated.
This change was unfortunate for his loyal class participants, who valued his approach to fitness. Mariko Ono, a class member commented: "Geoff is, hands down, the most encouraging and passionate fitness instructor and motivator I've encountered in working out. He is part life coach, community organizer, fitness researcher and instructor, health advocate, and all heart. It's very hard to wake up before work to go to class; and yet I just know I'll have a new workout to sweat to that was crafted with thoughtfulness and 'compassionate challenge' in mind."
This September, when the Sellwood Community Center was closed by PP&R and then taken over by a community nonprofit, Bergman was concerned about eliminated programs, and inquired about the need for class instructors to continue classes – at the Sellwood Community House.
Happily, the new location in Sellwood is close to Bergman's Woodstock residence, as well as to the homes of many of his Mt. Scott Community Center class participants.
Bergman's classes are held Mondays, Wednesdays, and Fridays, at 7:00 a.m., and Tuesdays and Thursdays at 8:00 a.m. You can pre-register monthly for $7 a class, or have a $10 "drop-in". To register, or for more information, contact the Sellwood Community House –
http://www.sellwoodcommunityhouse.net
– or drop in at 1436 S.E. Spokane Street in Sellwood, or call 503/894-9496.
---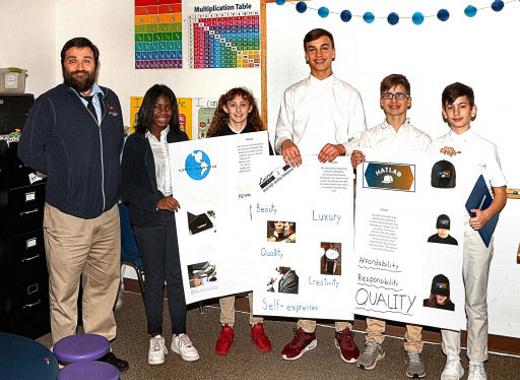 St. Agatha Catholic School Entrepreneurship Elective instructor Dr. Arnaud Prevot stands with student presenters Justine Pashley, Dani Smith, Grant Ellison, Brooks Coleman, and Finn Longstreet. (Photo by David F. Ashton)
St. Agatha Catholic School entrepreneurs reveal 'Business Plans'
By DAVID F. ASHTON
For THE BEE
While other students were likely daydreaming about the upcoming Thanksgiving holiday, on Wednesday afternoon, November 27, "Business and Entrepreneurship Elective" students at Sellwood's St. Agatha Catholic School were busy presented business plans for enterprises that they'd like to start.
Complete with written and bound business plans, the students used a poster to make their "stand up pitch" in front of instructor Dr. Arnaud Prevot, and the school's Principal Chris Harris.
The various proposed businesses presented were:

· One World – Selling T-shirts, coffee cups and water bottles, & donating a portion of their profits to charity projects
· Lucoro – Selling used, high-quality timepieces, like wrist watches
· Hat Lab – Recycling used hats by cleaning them, and then sewing on company logos
After students Justine Pashley and Dani Smith pitched their "One World" business, Smith told THE BEE, "This has taught us life skills that we would not have learned otherwise. I think we could actually make this into a business! What gives me confidence is all the things that our teacher taught."
While student Grant Ellison's partner was not at the presentation, Ellison himself ably represented their proposed business, "Lucoro". "A lot of times people think starting a business is something only adults can do; but, with a good teacher, it's not that hard!"
After Finn Longstreet and partner Brooks Coleman pitched their "Hat Lab" concept, Coleman remarked, "Kids can do more than just starting up a lemonade stand; this elective has taught us more advanced business concepts."
As for instructor Dr. Prevot, afterward he exclaimed to THE BEE, "The students were absolutely phenomenal; both in the questions they asked, and in demonstrating problem-solving. The spirit of entrepreneurship and ingenuity has really flowed out of the students, as they look forward to future business ownership."
Learn more about St. Agatha Catholic School online –

https://www.stagathaschoolpdx.us
---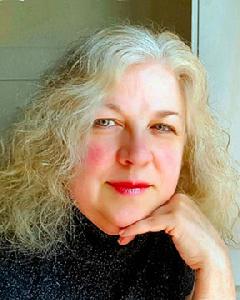 Kimberly Steele is the speaker in January, on the 16th, at the Assn. of Home Businesses meeting in Sellwood, 6-9 p.m.
Kimberly Steele of "Changing Places LLC" speaks to AHB in January: At the January 16 meeting of the Association of Home Businesses, Presenter Kimberly Steele of Changing Places, LLC, will talk about the importance of personal space and discuss approaches to the home office, and organizing your home office – how to set up a productive home office, and the best practices for using the space successfully. In addition to the talk, Sheldon Penner of Chris Cakes Northwest will flip pancakes spectacularly and host a complete "breakfast for dinner" buffet for all attending, 6-9 p.m. at SMILE Station, 13th and Tenino in Sellwood. Open to all; meeting fee of $10 includes the buffet. Please RSVP to assist food preparation. RSVP at

www.AHBoregon.org

, or call Eric at 503/232-2326.
Dog grooming business celebrates 16th:
Springtyme Osmer of "Sellwood Grooming" tells THE BEE she is celebrating its 16th anniversary, and has brought back "by customer request" $10 "U-washes". Also, in January to celebrate, the business "will be giving away $5.00 nail trims". Sellwood Grooming is open seven days a week, 9 a.m. until 4 p.m. For appointments, call 503/234-7989. The address is 7302 S.E. Milwaukie Avenue in Westmoreland.
Portland Memorial ends record-breaking ad:
Wilhelm's Portland Memorial, now owned by the Foundation Partners of Florida, as part of its re-evaluation of the business, has elected to end its monthly obituary list of names in
THE BEE
– an ad which prior ownerships have told us has run in every issue of
THE BEE
ever published, starting with the newspaper's founding in September of 1906. We have no way independently of confirming that; but if it is true, then probably that ad, at 113 years, is the longest continuously running advertisement in any American newspaper, ever. And we're sorry to see it go, as will be the readers who have referred to it to learn who in Southeast Portland has passed. However, the funeral home says it intends to continue advertising its periodic special events for which the public is welcome, such as its annual Memorial Day observance.
---