T

HE
B

EE
COMMUNITY CLASSIFIEDS
THE BEE's "want ads" are named "Community Classifieds".


An important innovation is that classified ads placed in THE BEE may also be available at the special Community Classifieds website, at the HotLink below!

In addition, Community Classifieds now offer the additional service of in-column photographs of vehicles and homes for sale. The photos can not only appear in THE BEE, but on the website as well.

Community Classifieds appear each month in THE BEE, and can also reach up to a half million additional readers by being published in any combination of the 24 other newspapers in the "Community Newspapers" group, including the weekly Clackamas Review, Oregon City News, Lake Oswego Review, and West Linn Tidings; the monthly Sherwood Gazette, and Southwest Community Connection; the twice-weekly Gresham Outlook and Portland Tribune; and the other newspapers in the group.


To get information or place your classified ad by phone, here's the number to call:

503/620-7355

!


Now, click on the logo directly below, and read the Greenlight "Community Classifieds"!
INNER SOUTHEAST PORTLAND'S

BUSINESS NEWS!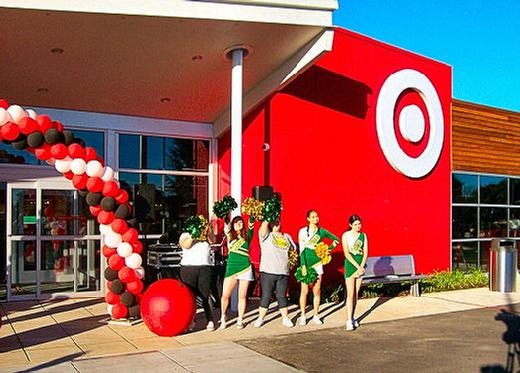 Cleveland High Cheerleaders from just west on Powell assisted at Target's "new store preview" in late October. (Photo by Rita A. Leonard)
'Small-format' Target store opens at 3031 SE Powell Blvd
By RITA A. LEONARD
For THE BEE
Just in time for the Holiday Season, the grand opening of Portland's first "small-format" Target Store took place late in October, preceded by a preview several days earlier. "Small format" refers to the store's size – 32,000 square feet – which, for a Target Store, is "small".
The new store, built in what used to be "AMF PRO 300 Bowling" offers products, we are told, tailored for local residents – including foods and beverages, grab-and-go items, family apparel and accessories, health and beauty products, electronic and tech products, and sports, home, and décor items. Services include a CVS Pharmacy, and Target Mobile and Order pick-ups.
Located at 3031 S.E. Powell Boulevard, just up the hill from Cleveland High School, the compact Target store offers sixty underground parking spaces that access the sales floor by elevator, plus twenty parking spaces in front. The store employs some seventy-five "team members" under the leadership of Anil Thundiyil, who performed the obligatory ribbon-cutting ceremony, assisted by Cleveland High Cheerleaders.
The new Powell Target opens on a red-tile entrance with five steps down and ADA access to the main floor. The mezzanine houses cosmetics, personal care items, cards and décor items, and the pharmacy. At the East end of the mezzanine there are three cashiers and five self-checkout stations. The main floor features groceries, household commodities, sports items, toys, clothing, office supplies, home hardware, and items for babies, and cats and dogs. Sales clerks in khaki pants and red shirts are deployed throughout the store.

"We are open Mondays through Fridays from 8 a.m. to 9 p.m., Saturdays 8 a.m. to 10 p.m., and Sundays 8 a.m. to 8 p.m.," Thundiyil told THE BEE. "After months of preparation, we welcome guests to explore our one-story showroom with the help of friendly Target staff. We're happy to answer any questions – in person, or you can call us at 503/821-8841."
---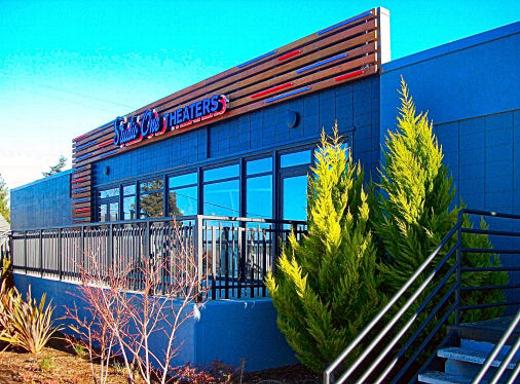 Exterior view of the new theater complex opening at 3945 S.E. Powell Boulevard. (Photo by Rita A. Leonard)
New theater complex coming to Powell Boulevard
By RITA A. LEONARD
For THE BEE
A new concept in theme-based movie viewing is coming – apparently, quite soon – to the business complex at S.E. Chavez Blvd (formerly 39th) and Powell.
Studio One Theaters, to be located on the northeast corner of that busy intersection, is owned by Rudyard Coltman and Shelly Stevens-Coltman. There will be seven small theme-based theaters; a performance stage in the lobby; a full-service kitchen; and servers for the drinks and meals available to visitors, prepared on-site.
The theater spaces are being remodeled by Tenant Improvement Solutions. Previously on the site was a facility of the Oregon Department of Vocational Rehabilitation. General Contractor Dennis Sallee told THE BEE, "We're hoping to open by mid-December. The 12,000-sq.-ft. space is a lot bigger inside than it looks!
"There will be four small theaters and three larger ones, each one serving about 200 people. A connecting hallway with a row of advertising TVs will feature a 'living wall', with vines and other plants; and the walkway will have fish under glass panels."
Co-Owner Shelly Stevens-Coltman remarked, "Each theater is designed to look like a penthouse, with custom furnishings that match a theme: New York, Paris, Portland, Rio, Tokyo, and Istanbul. Each has an electric fireplace and a variety of flooring materials and furniture. We feature Dolby-Atmos sound, and all of our projectors are laser projectors, which have high-definition colors.
"We'll show first-run movies – or, families can rent a space to show their own movies! Our high-tech lobby, with its built-in stage, can accommodate special shows and performances. We can also customize the area for presentations aimed at business people. It will be an immersive experience, coming here for date nights, families, and business presentations.
"But since we'll have a liquor license, ages under 21 can only remain on-site until 6 p.m. We'll serve fifty wines by the glass, and twelve beers on tap."
If they have met their time-line, the theater complex should be opening right about the time this issue of THE BEE arrives.
---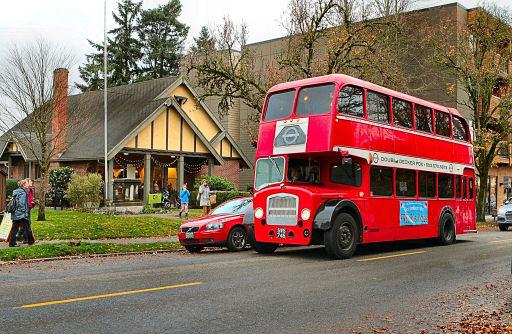 The special free double-decker bus made it easy to circle through the Westmoreland and Sellwood business districts at "Decemberville". (Photo by David F. Ashton)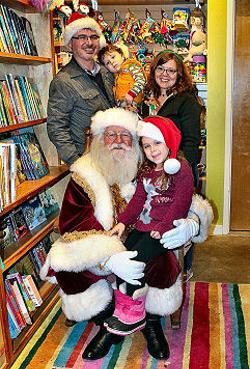 The Ryan family visiting a real live Santa Claus at "Oodles 4 Kids" on S.E. 13th Avenue. They were visiting Sellwood from the Mill Park neighborhood. (Photo by David F. Ashton)
SMBA's 'Decemberville' ushers in Yule Season
By DAVID F. ASHTON
For THE BEE
A recent annual tradition in the Sellwood and Westmoreland business districts – "Decemberville" – has turned into more than a retail promotion. It's fun – and also a benefit for worthy organizations.
The December first day-long event, organized by the Sellwood-Moreland Business Alliance (SMBA) business association, returned this year with a free movie showing, various foods to try at merchants, a visit with Santa Claus, and more.
"More than 75 businesses provided over a hundred activities – including crafts, games, prizes, and sweet treats. And again this year, there was a free double-decker bus on which to ride around the neighborhood," said SMBA organizer Rachel Ginocchio.
Decemberville also raised money for four nonprofit organizations: Raphael House, Westmoreland's Willamette Shelter, the Children's Book Bank, and UNICEF.
After a show presented by the Portland Puppet Museum at SMILE Station, the entertainment continued with Cleveland High School's "ClevelanDAIRES" – who were leading an a-cappella carol sing-along for a happy crowd.
Throughout the large neighborhood, 35 volunteer elves were on hand to make sure everything ran smoothly, Ginocchio smiled. "And our merchants say a big 'thank you' to our neighbors, who choose to shop locally!"
---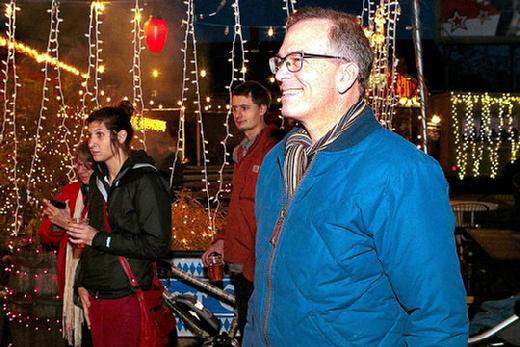 At the "Foster Road WinterFest", after enjoying the Holiday lighting ceremony at "Carts on Foster", City Commissioner Nick Fish told THE BEE he'll defend against efforts to homogenize our diverse Rose City, and its local neighborhood business associations. (Photo by David F. Ashton)
'WinterFest' and Commissioner Fish come to Foster Road
By DAVID F. ASHTON
For THE BEE
Kicking off the Holiday Season, the Foster Area Business Association (FABA) held a day-long festivity at several locations along S.E. Foster Road on Sunday, December 2.
With crafts, food specials, and other attractions, the day ended with the switching on of Holiday lights at "Carts on Foster" at dusk.
"We call our overall strategy to help promote businesses here 'Foster Forward', and part of it is our Holiday celebration, 'Foster WinterFest'. It ran all day today, with events on the hour," explained FABA President Allen Rowand of Gray Dog Digital.
The all-volunteer Foster Road boosters group is dedicated to community involvement, Rowand, told THE BEE.
"Our organization helps the community as well as our businesses to get involved with our neighborhoods – Foster-Powell, Mt. Scott-Arleta, and Creston-Kenilworth – by supporting programs like 'National Night Out' and 'Movies in the Park' for example," Rowand said.
After first doing some Christmas shopping at Foster Road stores, visiting Portland City Commissioner Nick Fish ended his day stopping by Carts of Foster, to lead the countdown to turning on the 20,000 lights put up there for the Holidays.
Recently, it has seemed that some Portland City Council members have been bent on obliterating neighborhood associations, which has caused many small business owners to wonder if neighborhood business districts might be next – but Commissioner Fish said he'll continue to champion these organizations.
"I am working with 'Venture Portland', particularly with [Executive Director] Heather Hoell and her team, to make sure that Portland's Neighborhood Business Districts are protected during the transition [in the City Council]", Fish said. "In fact, we're not even sure that Venture Portland shouldn't be taken out of the Office of Community & Civic Life altogether, and be given an individual status.
"As long as I'm the liaison to our 50 neighborhood business districts, I'll do the best I can to protect and nurture them; we have 50 unique business districts that do unique and important things in our city," remarked Fish.
"We look at our small businesses as one of the pillars of success of our community; we're not going to compromise that, as long as I am on the Portland City Council!"
As late afternoon faded into dusk, some forty people gathered to count down to the annual lighting of the festive lights at Carts On Foster – itself, a group of very small businesses that anchor the northwest end of the Foster Road district.
Find out more about the Foster Area Business Association online – https://www.fosterarea.com.
---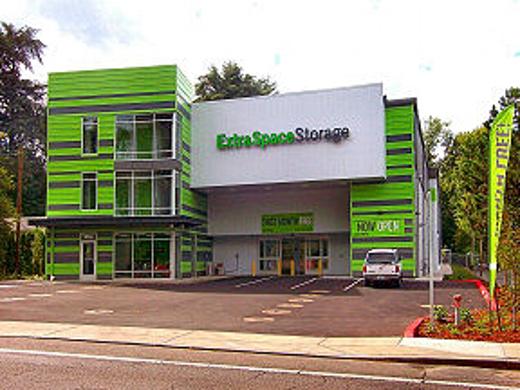 An "Extra Space Storage" building opened recently at 4403 S.E. Johnson Creek Boulevard in the Ardenwald neighborhood. (Photo by Rita A. Leonard)
New public storage options open in Southeast
By RITA A. LEONARD
For THE BEE
Along with the construction of many new apartment buildings in Inner Southeast neighborhoods, new self-storage facilities are being built.
Development plans for the former 7-Dees Plant Nursery at S.E. 61st at Powell Boulevard include high-end homes to the north – plus a storage area along the Powell side of the acreage. "Extra Space Storage" is reportedly developing that storage facility. In addition, three new self-storage facilities have recently opened in the Ardenwald, Brooklyn, and Hosford-Abernethy neighborhoods.
"Extra Space Storage", with its bright green company colors, is making inroads locally. A huge new four-story facility opened in July at 685 S.E. Division Place, adjacent to the Union Pacific and MAX tracks. They offer 24-hour security and keypad access to units ranging from 5' x 5' to 10' x 30' in size. As do many established storage businesses, they also sell bubble wrap, locks, packing tape, boxes, and protection kits for dishware and furniture. Call them at 1-877/532-7509 for information.
"Extra Space Storage" also opened a new facility at 4403 S.E. Johnson Creek Boulevard in Ardenwald. They offer elevator access to three stories of heated indoor units ranging from 3' x 5' to 20' x 20' in size, with the first month's rent free, in a current promotion. Security offered includes round-the-clock electronic gate access, and an on-site manager. Their information number is 1-866/467-4709.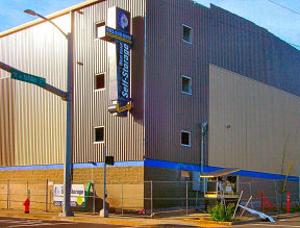 "West Coast Self-Storage" opened in December on the northwest corner of McLoughlin Boulevard and S.E. 17th Avenue. (Photo by Rita A.Leonard)
"West Coast Self-Storage" in Brooklyn, a three-story facility at S.E. 17th Avenue and McLoughlin Boulevard, built on the former site of a "Battery Factory" store, offers a variety of temperature-controlled units ranging from 5' x 5' to 10' x 30' in size. Contractor Lorentz Bruun completed the project in December.

They're open daily from 6 a.m. to 10 p.m., and offer free use of moving carts and dollies. They also rent moving trucks to their customers.

West Coast's rental office is at 4970 S.E. 16th Avenue. Phone them at 503/239-5555 for information.
---
Michelle Weisenbach, president of KeyBank of Oregon and Southwest Washington, was on hand to congratulate Marysville School fifth grader Minh-Thuy, at Junior Achievement's "Biztown". She was the 100,000th student served by the business-education program.
Southeast student named 100,000th served by "JA BizTown": Southeast Portland resident Minh-Thuy, a student at Marysville Elementary School south of Holgate Boulevard west of 82nd Avenue of Roses, was the 100,000 student to be served by Junior Achievement "BizTown" in Portland. Michelle Weisenbach, president of KeyBank of Oregon and Southwest Washington, was on hand to congratulate the "acting CEO" of KeyBank, fifth grader Minh-Thuy, who had interviewed and applied for the "CEO" role in the classroom. "BizTown" is an indoor city in the new Junior Achievement building on Foster Road. Students learn business skills in the hands-on program, and when they arrive each day, they have their choice of community workplaces in which to work: The bank, the newspaper, the television station, retail stores, a café, and even a simulated City Hall, where a Mayor elected by her or his peers governs for the day. JA BizTown in Portland sees 13,000 students come through the program each year.
Sellwood's "Meditation for Regular People" adds class: "Meditation for Regular People" opened as an all-meditation studio in August at 8236 S.E. 17th Avenue, and has been attracting people "who are looking to start a meditation practice or join group meditations". Melissa Mattern tells THE BEE, "Many of the students were intimidated by the mystery of meditation, or curious about the benefits. The studio has brought people together from all age groups and all experience levels, and formed a unique community. Many students have been asking for some light stretching classes that would incorporate movement into meditation. Dana Lawrence, a Sellwood resident, has joined the teaching staff and brings her signature class, 'Renew'. It's an hour of gentle stretching, with a 15 minute meditation incorporated. Dana has practiced yoga 15 years, and it has been her dream to bring a stretch and meditation class to the area. Her style is approachable and fun, and she takes time to work with each student individually." Cost is $10 per class. For more information, go online – http://www.Meditation4RegularPeople.com.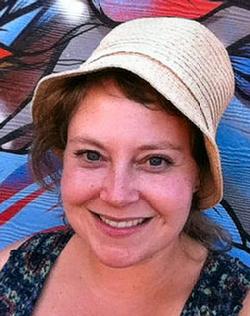 Local millennial entrepreneur Deirdre Morrison speaks at January's AHB meeting in Sellwood.
Millennial entrepreneur recounts frugal path to financial stability: The speaker at January's dinner meeting of the Association of Home Businesses is Deirdre Morrison, who will describe how the path to financial independence for the millennial individual requires ingenuity and grit. After 10 years working as a massage therapist and still paying education debt, she decided to reassess career and try to stabilize her income. Come to the meeting and find out how she's done it. The Association of Home Businesses meets on the third Thursday evening of each month at SMILE Station in Sellwood at 6 p.m. for three hours of camaraderie, networking, a buffet supper, and an interesting and relevant speaker. In January, that's the 17th. The dinner in January features "Breakfast for Dinner", this year presenting the meal that's as fun and entertaining as it is tasty – Sheldon Penner and his amazing pancake machine! Whether you're a home businessperson or not, you're welcome to attend. Door fee of $10 covers it all. RSVP requested for each attendee for meal planning. Call 503/232-2326 to RSVP. More information on the group is online – https://www.AHBoregon.org.