T

HE
B

EE
COMMUNITY CLASSIFIEDS
THE BEE's "want ads" are named "Community Classifieds".


An important innovation is that classified ads placed in THE BEE may also be available at the special Community Classifieds website, at the HotLink below!

In addition, Community Classifieds now offer the additional service of in-column photographs of vehicles and homes for sale. The photos can not only appear in THE BEE, but on the website as well.

Community Classifieds appear each month in THE BEE, and can also reach up to a half million additional readers by being published in any combination of the 24 other newspapers in the "Community Newspapers" group, including the weekly Clackamas Review, Oregon City News, Lake Oswego Review, and West Linn Tidings; the monthly Sherwood Gazette, and Southwest Community Connection; the twice-weekly Gresham Outlook and Portland Tribune; and the other newspapers in the group.


To get information or place your classified ad by phone, here's the number to call:

503/620-7355

!


Now, click on the logo directly below, and read the Greenlight "Community Classifieds"!
INNER SOUTHEAST PORTLAND'S

BUSINESS NEWS!
On the streets of Westmoreland, the Llewellyn Elementary School fifth-grade students in Marty Crouser's class delivered Valentine's Day cards to supportive business managers and owners. (Photo by David F. Ashton)
Llewellyn students deliver Valentines to merchants
By DAVID F. ASHTON
For THE BEE
Although it had happened before, many Westmoreland business owners and managers were surprised and delighted to be presented student-made Valentine Day greetings on February 14 – created and delivered by Llewellyn Elementary School fifth grade students.
The rain that day didn't dampen the enthusiasm of the students THE BEE followed on their stroll – all of them happened to be members of Marty Crouser's class. "When we could no longer have in-school Valentine's Day parties five years ago, we came up with this community service instead," he explained.
"All three of the school's fifth grade teachers, including Marty, Scott Rozell, and myself, really like this way to celebrate – and, at the same time, give back to – and show appreciation for – our local business community which supports us all year long," smiled teacher Madeline Prelosky.
Each custom-made greeting included Valentine's Day artwork, as well as a sentiment specific to the business being honored. "Our 75 kids made them on computers and printed them in color; so, it also gave students the opportunity to develop technical skills, while they developed their creativity," remarked Prelosky. "Beyond the creative exercise, it's a really good experience to interact with adults, in a business, without expecting anything in return!"
Even though they were wet and damp after their errand, the fifth graders converged on the Westmoreland Dairy Queen for a treat before heading west, back to school.
---
A visitor for the day, Oregon State Treasurer Tobias Read, was briefed by BizTown Mayor Carly Hernandez in City Hall. (Photo by David F. Ashton)
Foster-Powell's 'BizTown' has served 100,000 students
By DAVID F. ASHTON
For THE BEE
When a special learning place in the Foster-Powell neighborhood was opened by Junior Achievement (JA) of Oregon and SW Washington – along S.E. Foster Road, in May of 2007 – called BizTown, founders had thought that the 8,500 square foot indoor replica of an American city would be popular. And it has been.
So far, BizTown has served more than 100,000 upper-elementary school students, giving them the unique opportunity to take on the role of "adult" for a day, working in a business.
That's what THE BEE learned, speaking with JA's Vice President for Programs Gina Huntington.
"Having had that number of students here is a big milestone for us; and, we continue to reach about 13,000 students each year in this program," Huntington said. "Our own JA is part of a worldwide nonprofit organization that provides students – from kindergarten through 12th grade – financial literacy, workforce readiness, and entrepreneurship education!"
During the school year, teachers use this program of study in their classrooms. "As a capstone for their program, they spend a day at BizTown, putting to use such skills as apply for success in jobs, opening bank accounts, and 'running' one of the 19 businesses represented here – including City Hall," Huntington said.
Near the end of the day at BizTown on January 22nd, all of its "citizens" gathered in the Town Square, as their Mayor for the day, Carly Hernandez, welcomed Oregon State Treasurer Tobias Read, who had come to visit.
Many of the town's Business Managers gave a brief report, telling how many sales were made, accounts were opened, and citizens were served.
"Speaking as an individual, I think every Oregonian has a lot to be excited about, seeing what's going on here at BizTown – helping kids look forward to being future entrepreneurs, connecting with their community, and businesses, and having a successful future," Read told THE BEE.
---
Proudly showing off the business association's new website is SMBA President Lee Cannon of American Family Insurance, at the organization's January "Meet-and-Greet". (Photo by David F. Ashton)
'Alliance' helps Sellwood-Moreland businesses thrive
By DAVID F. ASHTON
For THE BEE
The winter Sellwood Moreland Business Alliance (SMBA) "meet-and-greet" meeting was a standing-room-only party at the new Sonny's Pizza restaurant in Sellwood on Tuesday evening, January 29.
Guests kept streaming in the door, not bothered by the rain-swept blustery weather, which kept Chris Custer, the proprietor of Sunny's Pizza and a Cena Restaurant and his staff busy, bringing out gourmet pies.
"Over the past two years that I've been SMBA President, we've been building a solid and exciting organization," remarked Lee Cannon, a Sellwood American Family Insurance agent.
"We brought on Rachel Ginocchio, our terrific Executive Director, who helped our hard-working Board members organize the 'Summerville' and 'Decemberville' promotions, the 'Monster March', and increase our 'SMBA Meet-and-Greet's to three times a year," said Cannon with evident pride.
While the social hour was going on, a video projector showed off pages from the organization's new, updated website.
"The new website was a huge undertaking, and, thanks to a matching grant from Venture Portland, it's live and we're very excited about it," Cannon smiled. "We're grateful to long-time member Eric Norberg for securing our new web address, www.SellwoodMoreland.com".
Even though he's busy with his business and his family, Cannon said he believes his time spent with SMBA is well spent. "The whole idea of having a business association is to make this a vibrant place for people to come, live, and do business; and, thanks to our Board members and business members, we're helping to increase the livability of our neighborhood."
Learn more about businesses and neighborhood amenities in the Sellwood and Westmoreland areas by visiting their new website: https://www.sellwoodmoreland.com
---
Thad Davis of "Payroll On Time, Inc." is the current President of the WCBA. (Photo by Becky Luening)
Woodstock businesses find unanimity at annual meeting
by BECKY LUENING
For THE BEE
Woodstock kneesocks, Kaleafa logo hats, pet food, succulent planters, gift cards galore...these and more were among the plethora of raffle prizes donated by Woodstock and Brentwood-Darlington businesses at the Woodstock Community Business Association's 2019 annual meeting, on Tuesday evening, February 5. The WCBA officially serves businesses in both neighborhoods.
For the third year running, KeyBank graciously opened its doors to host the dinner meeting, and plentiful food and beverage choices were contributed by local restaurants, cafés, and grocers, all of whom were publicly recognized at the gathering.
WCBA President Thad Davis presided over the casual meeting, pausing often for raffle-pulls, accompanied by rounds of laughter from the crowd, a mix of old-timers and newcomers. After self-introductions around the room came announcements and updates from Board Members and community partners, and finally the main order of business: The annual election of new and renewing members to the WCBA Board of Directors.
WCBA members in good standing unanimously approved the slate of people seeking two-year terms on the Board. Renewing members were Thad Davis (Payroll On Time, Inc.), Elisa Edgington (VCA Woodstock Animal Hospital), and Nancy Chapin (TSG Services). Those seeking to join the Board were Deb Barnum (KeyBank), Christopher Love (John L. Scott Real Estate), and Cydney French (Portland Family Health).
Rounding out the WCBA Board will be those currently in the middle of existing two-year terms, all of whom were present at the annual meeting: Eric Norberg (THE BEE), Ann Sanderson (Odango! Hair Salon, and FotoSnap), Susan Williams (KeyBank), Peggy McCafferty (New Seasons Market), and Stacey Lennon (Payroll On Time, Inc.). Longtime Board member Cory Hansen, who has served as WCBA Treasurer for the past year, announced he could not seek another Board term, as he has taken on increased responsibility at his company, Kahut Waste Services/City Sanitary.
WCBA maintains permanent Board seats for four community partner organizations, and representatives of those groups were also invited to make brief presentations at the meeting. Sage Jensen, Chair of the Woodstock Neighborhood Association; Chelsea Powers, Chair of the Brentwood-Darlington Neighborhood Association; and Peggy McCafferty, a longtime volunteer with the Woodstock Farmers Market, all provided updates on their respective activities.
Thad Davis ended the presentations with a statement on behalf of Angie Even, leader of the nonprofit Woodstock Stakeholders, a commercial property owners group that partners with businesses and neighbors on cleanup, beautification and improvement projects. The Stakeholders, now an independent nonprofit, began as a subcommittee of WCBA.
After successfully bringing more color to Woodstock in the form of murals and spray-painted trash receptacles, the Stakeholders group is now working with WCBA – which this year obtained a Venture Portland matching grant for the purpose – to create a few pocket parks, or "parklets", along Woodstock's commercial strip – attractively landscaped corners with seating, where pedestrians and shoppers might stop and rest while out and about.
Board member Ann Sanderson offered a few words of encouragement to those in the room who will be organizing this year's "Woodstock Gives Back", as she steps back from her leadership role in the successful charity event she instigated while President of WCBA. She recapped the successes of the last "Gives Back", and encouraged all businesses in both neighborhood to join the promotion in September.
The WCBA Board will elect 2019 officers to one-year terms at its next meeting, set for Wednesday, March 13, 5:30-6:30 p.m. at Woodstock Wine and Deli. Thad Davis stepped up to be WCBA President within a month of first joining the Board, after Ann Sanderson stepped down in mid-2017; and he was reelected in 2018.
When THE BEE asked Davis what he was proud of during his tenure, he pointed to increased collaboration with other organizations in the two-neighborhood business district. As someone who is both a resident of Woodstock neighborhood and a business owner with four employees, he said he knows firsthand the value of engaging with and caring about all of the stakeholders in the district; not just business people, but also residents, employees, and customers. "Having a focus around the people here, that's the best thing we've done in the last two years, and that's not just me."
The next "WCBA mixer" is slated for Wednesday, March 20, 5:30 p.m. at Proper Pint Taproom.
Find information about upcoming Woodstock Community Business Association events on its Facebook page @WCBApdx. Event listings and information about joining the WCBA, as well as a business directory, can also be found on its website – http://www.woodstockbiz.com
---
When the X-Ray machine started smoking, the dental clinic staff acted quickly and appropriately, Woodstock firefighters say – and prevented a fire. (Photo by David F. Ashton)
Woodstock dental office staff lauded for alert fire response
By DAVID F. ASHTON
For THE BEE
Bystanders were curious when Woodstock Fire Station 25's Engine and Ladder Truck companies pulled into the parking lot near an office building at S.E. 49th Avenue and Woodstock Boulevard, at 12:40 p.m. on Thursday, February 7.
They had been dispatched to the Woodstock Dentistry office, on the report of a possible equipment fire.
"When fire crews arrived at the dental office they found an X-Ray machine with an electrical short," explained PF&R Public Information Officer Lt. Damon Simmons.
"The staff at the office did everything right; they called 911, unplugged the machine and evacuated; and their quick action helped to keep everyone safe while minimizing damage," Simmons pointed out. "This incident shows that critical thinking is the key to success during any emergency."
---
The fence and barricades have finally come down at the now-completed, and already almost-fully-leased, nineteen-unit "Woodstock" apartment/townhouse complex near S.E. 53rd Avenue and Woodstock Boulevard. (Photo by Elizabeth Ussher Groff)
WDC properties opens new multi-family quarters on Woodstock Blvd
By ELIZABETH USSHER GROFF
For THE BEE
The "Woodstock" is the name given the nineteen new apartments and townhouses that were recently finished on the south side of Woodstock Boulevard, between S.E. 53rd and 54th Avenues. The official address is 6006 S.E. 53rd.
"We like to name our constructions after the streets where they are located," explained Mark Madden, developer and owner of WDC Properties. Madden also owns "EkoLiving", a property management company.
WDC, which stands for "Wander Development Corporation", has been building houses and apartments around Portland for over two decades – a total of fifty-four projects. The three levels of units in the "Woodstock" are all designed to be eco-friendly, according to Madden.
"We use eco-friendly materials and all energy-efficient appliances. The units have high ceilings with ceiling fans, fireplaces, vinyl wood flooring, washer-dryers, and full kitchens. Most bathrooms have tubs," said Madden.
In the center of this new complex is a 20 by 100 foot interior courtyard that will have picnic tables and a barbeque.
The nineteen units include four studios, four one-bedroom apartments, six two-bedroom townhouses with one-and-a-half baths, three three-bedroom townhouses with two baths, and one four-bedroom townhouse with two baths. The one-bedroom apartments start at $1,295 per month. Madden remarks, "WDC builds at the threshold of affordability."
As with most recent developments, there will be no off-street parking since the city does not require any in most cases, but there will be bike racks.
Prior projects by WDC in THE BEE's readership area include the "Harold" apartments at 5490 S.E. Milwaukie in Westmoreland, the "Sellwood" at S.E. 6th and Spokane, and the "Powell" at 3754 S.E. Powell Boulevard.
WDC also has renovated the three-bedroom, one-bath older home at 6015 S.E. 51st Avenue, just one block west of the 7-Eleven convenience store on the corner of 52nd and Woodstock. The empty lot that borders Woodstock Boulevard next to the 6015 house will eventually contain four new apartments constructed by WDC that will collectively be named "Stock" – short for Woodstock, since the company already used Woodstock for their new apartments just five blocks east!
Almost all the apartments and townhouses at the S.E. 53rd Avenue "Woodstock" complex have already been leased, but you can check availability at 503/221-2900.
---
Tony Guerrero, owner of Westmoreland's Scrumptious Crumpets, hands a freshly-baked crumpet topped with marionberry jam to local customer Karlyn Love. (Photo by Ellen Spitaleri)
Westmoreland shop offers genuine crumpets, British style
By ELLEN SPITALERI
Special to THE BEE
A crumpet is neither a scone nor a biscuit, and while it might resemble a small pancake, it is not a flapjack either. So what is a crumpet?
"A crumpet is a crumpet," says Tony Guerrero, owner of the Scrumptious Crumpets café on S.E. Milwaukie Avenue, a bit south of Bybee Boulevard in Westmoreland. He curls his lip at any attempt to suggest they resemble English Muffins, which are made with dough – rather than batter, as are crumpets. ("Taste a crumpet," one of his customers tells THE BEE, "And you'll lose your enthusiasm for English Muffins!")
Guerrero goes on to describe his crumpets as "round and sponge-like", and further points out that they is not baked, but rather are cooked on a flat-top griddle. The batter is hand-poured into a custom-made ring, and the resulting crumpet is nearly half an inch thick.
"The texture, after being toasted, is more complex than a scone. The flavor, texture, and things you can do with a crumpet, are much wider than most baked goods," Guerrero says.
So how does this American know crumpets? In the late 1980s, Guerrero was a cook at the Tea and Crumpet Shop in San Francisco. "This was in between my skateboarding and late night punk and rock and roll days as a musician," he remarks.
Fast forward to 2017, when Guerrero, now a Sellwood resident, started making crumpets for friends and family. "They pushed me into the idea of selling them, so here we are," he says.
He opened his café in October 2017, and also began wholesaling crumpets to other cafés. "I wanted to try and do a few things with crumpets to prove to myself, and to show other small coffee shops that they don't need a large kitchen in order to serve a lot of variations around a crumpet."
He comments that crumpets make a really good and interesting base to work with, and they freeze well for a longer term, unlike most baked goods. (And if you are not going to have yours right away, you had better freeze them, since Guerrero does not use preservatives in his recipe.)
"We also have a unique robotic coffee machine that does a nice, freshly-ground pour-over coffee. I figured that if we were going to do something different, we may as well go all out," he smiles. "We've become a cool little breakfast/brunch/snack café, filling a void in Westmoreland."
Guerrero always tells people trying a crumpet for the first time to keep it simple: Just go with a toasted crumpet, butter, and jam, and after that, go crazy. The most popular menu items are an egg-and-bacon crumpet – or, just butter and a spread. "A lot of times, people will come in and order some variation of an egg crumpet, then also get a sweet one as well."
He has also come up with an apple pie crumpet, which consists of a toasted crumpet, butter, apple butter, and sliced apples, all topped with whipped cream. "I dot a little maple syrup on top to add a hint of maple flavor, and to give it a little bit of an aesthetic," he says.
And then there is "The Elvis". "It has peanut butter, sliced bananas, and bacon, just like the sandwiches that Elvis used to make!"
Most Americans don't know what a crumpet is, and so people admit to Guerrero that they often pass by his place for months, before deciding to go in and see what the café is all about. "We really rely on word of mouth. We have been known to stand on the corner of Milwaukie and Bybee and hand out samples – because we are also off the beaten path, tucked away in the back lobby of the Galaxie apartment building, two blocks south of Bybee," he explains.
Guerrero says that his "Scrumptious Crumpets" is, as far as he knows, the only crumpet café in Oregon. He also believes he is probably the only "crumpetier" who has served the delicious treat to The Who – when that band played in Portland.
Scrumptious Crumpets' official address is 7414 S.E. Milwaukie Avenue, and it's open Thursday through Sunday, 8 a.m. to 2 p.m., at present – and closed Monday through Wednesday. The shop also closes early when he's sold out of the crumpets, which he makes himself. The café will also be closed for spring break, March 24-31. For information, call 971/808-1462, or go online – http://www.scrumptiouscrumpets.com
---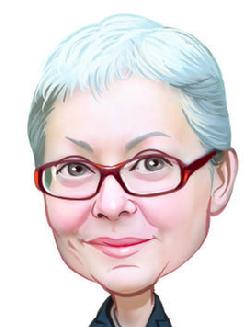 An experienced assistant to many professionals, Zoe Morrison helps you "Polish your PowerPoint", at this month's AHB meeting on March 21 in Sellwood.
"How to impress, with a polished PowerPoint presentation": March's dinner meeting of the Association of Home Businesses features a practical guide to make a persuasive and impressive PowerPoint presentation, by the President of AHB, Zoe Morrison. AHB meets on the third Thursday evening of each month at SMILE Station in Sellwood at 6 p.m. for three hours of camaraderie, networking, a buffet supper, and an interesting and relevant speaker. In March, that's the 21st. Whether you're a home businessperson or not, you're welcome to attend. Door fee of $10 covers it all. RSVP requested for each attendee for meal planning. Call 503/232-2326 to RSVP. More information on the group is online – https://www.AHBoregon.org
Wilhelm's Portland Memorial increases tours of famous Mausoleum:
Although previously offering tours of its fabled Mausoleum only on special occasions, Wilhelm's Portland Memorial announces it will now offer these guided tours weekly to the public. Malory Wolf, Location Manager, tells
THE BEE
: "We are making this change to start giving back to our community, and to be more accessible to our neighbors. Our tours are every Wednesday and Friday, starting at 3 p.m. They are free to the public; all you need to do is show up in the main entrance of the funeral home by 3 p.m. to join the tour group. Tour groups are limited to 20 guests, and only one tour will be given in an afternoon. We encourage guests to arrive at least 15 minutes early for the tour to ensure they secure a spot in that afternoon's tour group. The tour is 45 minutes to an hour long, and will consist of highlighting some of the historical aspects of our Mausoleum – including marble sculptures, Tiffany stained glass, and unique architecture throughout the building. Photography is allowed, as long as the names of people placed in the mausoleum are not visible in the photos. Comfortable shoes and a jacket are encouraged, as the mausoleum is very large, and stays pretty cold in the cooler months." For more information or questions, call 503/236-4141, or walk in to Wilhelm's on S.E. 14th at Bybee Boulevard, in Westmoreland.
The nonprofit Ronald McDonald House provides quarters for families whose children are in the hospital, and periodically John L. Scott Woodstock realtors volunteer to fix meals for them.
Woodstock realtors again cook for Ronald McDonald House residents: The John L. Scott real estate office in Woodstock once again prepared dinner for 25+ children and families at the N. Commercial Street nonprofit Ronald McDonald House on Tuesday, January 22. The menu included BBQ ham sandwiches with pickles and coleslaw, tater tots, green salad, and brownies – made by agents Michelle Maida, Chris Love, Cassandra Marks, Vlanda Weber, and Alex Roy.
Sellwood gallery announces exhibition by Isreal Hughes: Starting March 1, the Roll Up Gallery in Sellwood features painter, collage artist, and native Oregonian Israel Hughes – in an exhibition of new mixed-media artworks "that celebrate layers, lines and edges. Motivated by formal relationships of shape, color, texture and visual themes, Hughes has created an ensemble of singular abstract works and series under such rubrics as 'Roman Ruins', 'Figures', and 'Clocks'." Gallery hours are Friday and Saturday, 12 to 5 p.m., and by appointment. Roll Up Gallery is found at 1715 S.E. Spokane Street. Call 503/267-5835 for more information, or go online – http://www.rollupspace.com
New Central Eastside Industrial District E.S.D.: The Central Eastside Industrial Council, centered north of OMSI, completed a two-year effort to create an Enhanced Services District with unanimous City Council approval for it in February. Brad Malsin, President of the Central Eastside Industrial Council and the ESD Steering Committee, says, "We have big goals – increasing cleanliness, improving safety for all, managing parking and transportation demand, supporting innovation in all forms and ensuring Central Eastside is a great place to create, innovate, work, live and visit." With nearly 1,200 commercial parcels, Central Eastside's ESD will generate $1.2 million in Property Management License Fee assessments in its first year, and an estimated $4.1 million over the three-year life of the ESD (2019-2021). Funds will be spent on six distinct services including Sidewalk Operations, Parking and Transportation Management, Streetscape Improvement, Workforce and Community Innovation Fund and Advocacy/ Administration, including a Financial Reserve. Services for the homeless in the area are included.
New Naturopathic doctor in Westmoreland: Naturopathic Doctor Dr. Kara Noe, new to the Springwater Wellness Center at 6214 S.E. Milwaukie Avenue, announces Open House from 4:00-7:30 p.m. on Wednesday afternoon, March 20, to introduce the community to her practice and herself, and to offer a Spring Cleanse Program. Special guests from Sellwood's "Meditation4RegularPeople" will also offer a free guided meditation to attendees. Raffle prizes include a three-month membership to Meditation4RegularPeople, free participation in the Spring Cleanse Program with Dr. Kara Noe, and more. Open to all; light snacks and refreshments will be served.
---