T

HE
B

EE
COMMUNITY CLASSIFIEDS
THE BEE's want ads are named "Community Classifieds".


An important innovation is that classified ads placed in THE BEE may also be available at the special Community Classifieds website, at the HotLink below!

In addition, Community Classifieds now offer the additional service of in-column photographs of vehicles and homes for sale. The photos can not only appear in THE BEE, but on the website as well.

Community Classifieds appear each month in THE BEE, and can also reach up to a half million additional readers by being published in any combination of the 24 other newspapers in the "Community Newspapers" group, including the weekly Clackamas Review, Oregon City News, Lake Oswego Review, and West Linn Tidings; the monthly Sherwood Gazette, and Southwest Community Connection; the twice-weekly Gresham Outlook and Portland Tribune; and the other newspapers in the group.


To get information or place your classified ad by phone, here's the number to call:

503/620-7355

!


Now, click on the logo directly below, and read the Greenlight "Community Classifieds"!
INNER SOUTHEAST PORTLAND'S BUSINESS NEWS!
A popular feature of Decemberville this year, and an easy way to tour the entire Sellwood-Westmoreland business districts, was a free double-decker bus. (Photo by David F. Ashton)
Shoppers frolic during Sellwood-Westmoreland 'Decemberville'
By DAVID F. ASHTON
For THE BEE
This year's "Decemberville" promotion held on December 2, by the newly-renamed Sellwood Moreland Business Alliance, turned out to be a fun-filled community event for many area families.
"About 100 business activities and offerings were offered throughout the Sellwood and Westmoreland business districts," said the event's organizer, Rachel Ginocchio of Rumpus Events.
SMILE Station in Sellwood was a major center of activity, with a choir concert, and a puppet show put on by the Portland Puppet Museum, as well as crafts all day long.
And, if looking in shops, participating in activities, and riding the double-decker bus around the area, made shoppers hungry, fifteen restaurants provided lunch specials.
"This sure is fun, especially getting the Christmas light necklaces," smiled Joshua Mason, after he and his parents received thsee colorful novelties from a trio of Cleveland High School students in Westmoreland.
With so many people decked out with multihued flashing neckwear around the area, it's clear that "Decemberville" put a lot of folks in the Holiday spirit, while supporting local merchants.
---
A four-story mixed-use development is rising at the long dormant corner of S.E. 52nd and Holgate Boulevard. It will be called the "Lenox Addition". (Photo by Elizabeth Ussher Groff)
'Lenox Addition' rises at S.E. 52nd and Holgate
By ELIZABETH USSHER GROFF
For THE BEE
Much has recently been written about the large apartment houses being built in Sellwood and Westmoreland, adding a substantial number of new housing units to that neighborhood, with more to come.
But the boom is not exclusive to that neighborhood. Six months ago, a building started to rise on the long-dormant northwest corner of S.E. 52nd and Holgate Boulevard.
The development is called the "Lenox Addition", a 64-unit apartment complex with approximately 3,000 square feet of retail space on the ground floor.
With three stories of apartments above three ground-level retail spaces, it will be the highest building of mixed residential commercial use in the immediate area. Officially a part of the Creston-Kenilworth neighborhood, it shares a boundary with the Woodstock neighborhood.
The apartments – 19 studios, 39 one-bedrooms, and 6 two-bedrooms – will be "market rate" units.
"I like the property because it's a little more affordable than Hawthorne-Division. It's good 'intermediate stock'," says David Chatfield, multi-family investment broker for Norris & Stevens Property Management.
The approximate square footage for these apartment units: Studio 435 sq.ft., one-bedroom 555 sq.ft., and two-bedroom 770 sq.ft. All units will feature quartz countertops, stainless steel kitchen appliances, and washers and dryers. The complex will include an interior courtyard at the ground level.
The street-level retail space is projected to have a restaurant and possibly a coffee shop. Several apartment units will share the ground floor, and are planned to allow business owners both to work and live on-site. Chatfield observed that the development is still underway, so the number of retail spaces could change.
Architects for the development are Chris Bixby and John Weil, formerly of Allied Works Architecture. The two are best known for their design of the Wieden + Kennedy headquarters, and the new home of the Pacific Northwest College of Art.
There will be parking for retail use, but no off-street parking for residents. The development is on the east-west TriMet bus route #17; and bus #71 runs north and south. The building is nine blocks south of Powell Boulevard, and ten blocks north of Woodstock Boulevard.
The apartment complex is named after the locality's historical name, Lenox – based on earlier plat maps. Apartments and retail space are projected to be available in April 2018. To see photos and floor plans, go online – http://www.lenoxaddition.com.
---
Sellwood "Wow & Flutterville" owner Deanna Cohen, at center, stands between teacher assistant Raghad Farhood (left), and teacher Pollyanna Beckford. (Photo by Rita A. Leonard)
'Wow & Flutterville' in Sellwood offers Parents' Night Out
By RITA A. LEONARD
For THE BEE
Since last spring, Sellwood has been home to a Waldorf-inspired childcare center called "Wow & Flutterville Global Play Gardens", at 8722 S.E. 17th Avenue. Open from 7a.m. till 6 p.m. for children ages 6 weeks to Kindergarten age, the center has a very small teacher-to-child ratio. Its logo features bright mushrooms with wings – reflecting nature studies, and the constant movement of children. And they tell THE BEE they now offer "Parents' Night Out" programs for children up to age 10.
Created by Sellwood resident Deanna Cohen, this is Portland's fourth Wow & Flutterville Playgarden Center. Each one offers open-ended nature play, multicultural organic foods, weekly French and music classes, and an "anti-bias curriculum". The Centers are all situated near parks, allowing children to explore the outdoors every day.
"The program also has a mission to provide meaningful work and childcare teacher training for refugee and immigrant women," explains Cohen, "to celebrate diversity and promote a culture of inclusion. When I began to create childcare centers, I wanted to staff them with multicultural immigrant and refugee women who were looking for career paths working with children.
"I approached the Immigrant and Refugee Community Organization (IRCO), asking that they recommend some women to me for training. I now have a partnership with IRCO, and we also do fundraising to support IRCO's work. Half of our assistants here are in teacher-training programs, and love working with the children. Some seek to be teachers, and others to be assistants."
The Sellwood location's Director, Emily Haworth, advises parents interested in the "Parents Night Out" program to check online for events and activities at – http://www.wowandfluttervilleplaygardens.com.

"Our curriculum is based on a system of empathy and kindness, addressing the needs of children to be immersed in a joyous world of play and wonder," she smiles. "We also offer snacks and crafts. Registration paperwork is required prior to acceptance, so check with us first – at 971/302-6139."
---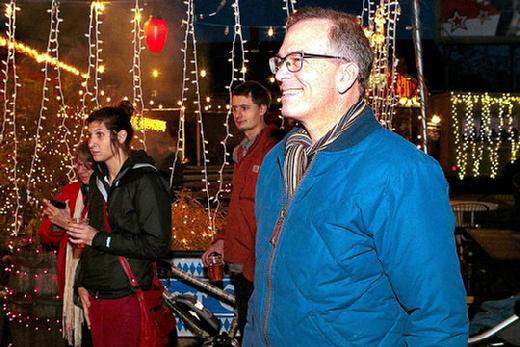 Outgoing FABA President Matthew Micetic, owner of Red Castle Games, greeted incoming president Allen Rowand of Gray Dog Digital, in front of "Twiggy the Traveling Winter Tree". (Photo by David F. Ashton)
Holiday festivities brighten Foster Road
By DAVID F. ASHTON
For THE BEE
Many who drove by tiny Laurelwood Park, nestled next to the intersection of S.E. Holgate Boulevard and Foster Road, slowed to look at festivities taking place there on Tuesday evening, November 28.
Canopies ringed the parameter of the diminutive park, illuminated with strings of lights – inviting people to gather for the third annual "Winter Tree Lighting" festival hosted by the Foster Area Business Association (FABA).
"Every year, we've improved this – and even with today's threatening weather, it's turning into a wonderful activity," commented ever-affable FABA President Matthew Micetic, owner of Red Castle Games, and also Vice President of Venture Portland.
"The highlights each year are partnering with the Southeast Community Food Pantry, our focus on 'Giving Tuesday', and seeing how many neighbors we have coming to this event," Micetic told THE BEE.
Although his term as President of FABA is now just ending, Micetic said he's still so enthusiastic about the business climate of the Foster Road community that he's negotiating to buy a building there. "This means I will truly be here for the long run," he smiled.
"Many businesspeople are looking forward to the implementation of the 'Foster Road Streetscape'; it will be truly transformational for the business owners on the street," Micetic said. Incoming FABA President, Allen Rowand of Gray Dog Digital, agreed, adding, "It's an exciting time for Foster Road."
Families who came to the celebration enjoyed hot cocoa, carols, face painting, and a free winter activity book.
Some of the evening's volunteers were from the Foster-Powell Neighborhood Association. Brian Bella, the association's Chair, commented, "Our neighborhood is filling in, in a uniquely 'Foster way'. Our neighborhood has its own, unique character. In the new year, we'll be watching the development of the neighborhood very closely."
After a brief remarks, a tree in the small park was lit up with Holiday lights, sending cheers up from the ebullient crowd.
If you're shopping at the merchants or enjoying the establishments along Foster Road, keep your eye open for "Twiggy the Traveling Winter Tree" – which is moved to a new location every week during the season.
For more information about the Foster Area Business Association, go online: https://www.fosterarea.com.

Business Consultant Jason Stein returns to AHB by request for a program called "It's All in the Asking" on January 18 at SMILE Station in Sellwood.
Assn. of Home Businesses serves breakfast for dinner in January: The annual "Breakfast For Dinner" meeting of AHB will feature Jason Stein, Business Coach and Consultant, speaking on "It's All in the Asking – an Entrepreneur's Guide to More Collaboration, Clients, and Cash." That talk, and the usual networking and meal, are all part of the January monthly meeting of the nonprofit business association for those who work from home, the 25-year-old Portland-area "Association of Home Businesses". The meeting will be held on the evening of January 18 – it's always the third Thursday of the month – 6-9 p.m., at SMILE Station, S.E. 13th at Tenino Street, one block south of Tacoma, in Sellwood. Guests pay the member's door fee of $10, which includes the buffet supper. Call 503/232-2326 to RSVP, please, for meal planning; include any food restrictions. More information online at: http://www.AHBoregon.org.
Wells Fargo out, and OnPoint in: The closing of the Wells Fargo branch in the Woodstock Safeway Store, at 4515 S.E. Woodstock Boulevard, was seen as an opportunity by OnPoint Community Credit Union, formerly known as Portland Teachers – and, on December 8, OnPoint opened its newest branch in the same space. This branch augments the service to Inner Southeast that it has offered in Sellwood at S.E. 13th and Tacoma Street. The new Woodstock branch hosted a grand opening celebration on December 16 from 9 a.m. to 1 p.m. For more information on OnPoint, including career opportunities, go online – http://www.onpointcu.org/onpoint-careers.
Larry (left) and Ken Haynes grew up in Brooklyn and still make music recorded there; this photo was taken for their new album, "Devices".
Inner Southeast brothers release new album: Ken Haynes and his younger brother, Larry, grew up in the Brooklyn neighborhood, attending both Sacred Heart Elementary and Cleveland High School; both still reside in Portland. Both make music and release record albums – the latest of which emerged in the first week of December. Ken tells THE BEE, "I have called Eastmoreland home since 1971. I started writing and performing folk rock in the '70s, while Larry went into rock music in the '80's. We both started to play and write together a few years ago, which led to our first album release in 2012. We hope to start performing at a few small venues in the future, and we are already working on material for the next album. Our new album is entitled 'Devices'; it carries on our acoustic folk pop tradition. Our last two albums were 'Acoustic Avenue', released in 2012, and 'It's All Relative', released in 2015. All three albums can be previewed on iTunes, CDbaby, Amazon, Spotify, Napster, and http://kenandlarryhaynes.hearnow.com, as well as on our website, http://www.kenandlarryhaynes.cf". They invite you to listen.
Last show held at "12x16 Gallery" in Sellwood: Founding members Israel Hughes and Lee Ann Slawson exhibited new works at the "12x16 Gallery" from November 30 through December 17 in Sellwood. Hughes and Slawson, an art couple, were the last artists to show, as the Gallery is closed its doors on December 17 after twelve years. Founder and Director Cary Doucette announced, "On behalf of our current and former members, 12x16 Gallery has closed for good on December 17. We would like to thank the countless guest artists, loyal supporters, and 'friends of the gallery' for making the past twelve years possible. We are not going away. Our members and guest artists will continue to create art, show in other venues, and create new spaces. We ask for your continued support for our members in their future endeavors. It has been a pleasure. Thank you."
---