Eric Norberg, Editor & General Manager
Cheryl Duval, Advertising Design
Molly Filler, Supervisor of Page Design
Jerrin Sipe, Accounting

News Reporting & Display Advertising:
503/232-2326
fax: 503/232-9787

"Community Classifieds" want ads: 503/620-7355
Circulation/subscriptions: 503/620-9797
Accounting/Billing: 971/204-7712
Composition: 971/204-7836
Community Newspapers, Inc.

Editorial and Sales Address:
1837 S.E. Harold St, Portland, OR 97202-4932
Remit bill payments to:
Accounts Receivable Department
P.O. Box 22109, Portland, OR 97269-2109

e-mail: ReadTheBee@myexcel.com



THE BEE IS LOCALLY OWNED BY THE PAMPLIN MEDIA GROUP
February 2019 -- Vol. 113, No. 6
Scroll down to read this issue!

Memories of THE BEE's first 100 years!
In 2006, THE BEE celebrated its centennial of serving Southeast Portland! A special four-page retrospective of Inner Southeast Portland's century, written by Eileen Fitzsimons, and drawn from the pages of THE BEE over the previous 100 years, appeared in our September, 2006, issue.
Click here to read this special retrospective!
_________________________________________
BEE SUBMISSION AND AD DEADLINES...
The next BEE is our March issue, with a deadline of February 14.
(The March issue has an ad and copy deadline of February 14.)
INTERESTED IN ADVERTISING? CLICK HERE FOR RATES AND INFORMATION!
Want to subscribe to receive the PRINT version of THE BEE?
E-mail circulation@CommNewspapers.com -- or telephone 503/620-9797, during weekday business hours.
The 12-issue annual subscription rate is $14 per year for addresses located in Multnomah County, Oregon; and $24 for anywhere else in the U.S.(it's based on the differential postage rates for our class of postage). For international rates, inquire via the e-mail address or telephone number just above!
_________________________________________________________________________
Daily news!


The all-new daily PORTLAND TRIBUNE website is updated throughout the day, every day, when news breaks out. Click

the banner at left

to keep up to date on the banner news throughout the Rose City!



THE BEE has a second website -- it's searchable for past stories. The content for the current month is similar to this one, presented in a different format. To visit the other website, click

the banner at right!



GDPR NOTICE: The owner of this website, ReadTheBee.com, collects no information on this site from any reader, and never has.
Bullseye Glass Company Co-Owner Daniel Schwoerer takes a look at part of their filtration system, which exceeds the new "Cleaner Air Oregon" regulations. (Photo by David F. Ashton)
Bullseye and plaintiffs settle class-action lawsuit
By DAVID F. ASHTON
For THE BEE
At a community meeting in February of 2016, when Oregon Department of Environmental Quality (ODEQ) air toxics specialist Sarah Armitage publicly stated "… yes, we're confident it's Bullseye [Glass Company]" being the source for pollutants in the Brooklyn neighborhood", neighbors were alarmed.
Fueling the flames of concern later in February of that year was a notice from the Multnomah County Health Department, advising people near the manufacturer's facility not to eat vegetables from their gardens.
THE BEE's early investigation of these statements led us to report at the time that these early concerns did not seem to be supportable; but nonetheless, those early comments triggered a Seattle-based law firm to file a $1.2 billion class-action lawsuit against Bullseye Glass Company (Bullseye).
In mid-January of this year, the lawsuit plaintiffs reached a "settlement agreement" that "resolved all outstanding issues between themselves and Bullseye".
"The settlement ends the lawsuit without any proof of harm; these types of lawsuits are usually settled to avoid exorbitant legal costs and continuing litigation for both parties," remarked the company's Manager, Jim Jones.
He reminded that, as covered in THE BEE, the company has spent about $2.2 million to install a state-of the-art emissions control and monitoring system that has been operating since the fall of 2016. "These advanced environmental devices ensure that Bullseye far exceeds the new 'Cleaner Air Oregon' regulations," Jones said.
Company officials, and their legal team, have reviewed more than 300 soil tests performed by independent companies, DEQ, and the U.S. Forest Service.
"We believe that any such testing will firmly establish there has been no contamination, related to Bullseye, that poses any health risks," Jones told THE BEE. "Nonetheless, we support reimbursing neighbors for the past expenses they incurred, after public officials made alarming announcements that caused them to do soil-testing and to buy home air purifiers; and, we are encouraging neighbors, who have not tested their soil, to resolve any lingering concerns about property contamination by having it tested."
The legal agreement creates a $6.5 million "Qualified Settlement Fund", to pay for air quality monitoring, to reimburse for soil testing, soil cleanup, and residential air purifiers – and to pay the Seattle firm's attorney fees.
Specifically, this fund provides:
$2.4 million (37% of the settlement) be paid to the plaintiffs' law firm;

$1 million to pay for two years of air monitoring in Southeast Portland;

Up to $500 per household for soil testing and reimbursement for soil testing already done;

Up to $300 per class member for an air purifiers; and,

Up to $5,000 for soil remediation, if any metal concentrations of cadmium are shown to be above DEQ Risk-Based Concentrations, or if arsenic and hexavalent chromium are shown to be above ATDSR screening levels.
What the extensive environmental monitoring in the area has actually discovered, Jones observed, is a high level of diesel particulates in the air – which are not related to Bullseye's operation.
"We support a two-year air monitoring plan for diesel particulates in our Southeast neighborhood, and we have requested that the comprehensive air monitoring include the monitoring of diesel," Jones explained.
About the company's Civil Rights lawsuit against the Oregon Governor's Office, the Oregon Health Authority, the Oregon DEQ, and Multnomah County, Jones told us that this legal action is ongoing.
"We're continuing our lawsuit against these agencies in an attempt to discover why the government took such unprecedented action based on erroneous assumptions, lies, and half-truths, and why they concealed material facts from the public and Bullseye," Jones said. "Our hope is that this lawsuit will create transparency around the government's actions related to the toxic air scare."
---
Just before Christmas, police cited this man – Adam M. Eisenberg – for DUII and Reckless Driving, after he ran into a guardrail on S.E. McLoughlin Boulevard at Harold Street and flipped his car. (Photo by Eric Norberg)
Impaired driver flips car on McLoughlin Blvd
By DAVID F. ASHTON
For THE BEE
Southbound traffic on S.E. McLoughlin Boulevard came to a standstill for about two hours, two days before Christmas – forcing detours through Westmoreland on Sunday, December 23, at 2:42 p.m.

That was when a speeding driver swerved, lost control, and smashed into the leading edge of a steel guardrail just south of Harold Street in his silver two-door sports car.
The guard rail was ripped from its mounting and pulled out into the street; the car skidded some distance further south before coming to rest on its top sideways in the middle of the highway.
The driver, the car's only occupant, apparently wasn't badly hurt in this single-vehicle smash-up. He was walking around and talking with emergency first responders as a wrecker prepared to flip his wrecked car upright and haul it away. Eventually, he was cuffed and cited by officers at the end of the investigation.
"In this incident, Adam M. Eisenberg was cited for Driving Under the Influence of Intoxicants, and Reckless Driving," Police Traffic Division Sergeant Brad Yakots told THE BEE about the spectacular crash.
---
The trucks will be disappearing from this site on S.E. McLoughlin Boulevard. (Photo by Jonathan House)
'Ross Island Sand & Gravel' closes its concrete division
By JOSEPH GALLIVAN
The Portland Tribune
Special to THE BEE
The Ross Island Sand & Gravel Company announced to its workers on Tuesday, January 15, that it was closing its ready-mix concrete division, and laying off around thirty personnel – including laborers, operators, and drivers of the familiar bright-yellow cement mixer trucks.
Randall Steed, President and Chief Operating Officer of Ross Island Sand & Gravel, said the following day that closing the division was a long-term business decision – made to focus on the company's contract dredging operation. That side of the business works the length of the western seaboard, and has jobs in California, as well as locally along the Columbia River.
In addition to dredging, the company "will also put additional focus on loose aggregate sales – that is, selling sand and gravel to other customers," Steed said. "We'll be selling the assets of the ready-mix concrete division, including the trucks – and, in the long term, the concrete batch plants we operate."
The closure will not affect other operations at Ross Island itself, which – like Pamplin Media's Portland Tribune and Community Newspapers, Inc., which includes THE BEE – is owned by the R.B. Pamplin Corporation.
Ross Island Sand & Gravel operates locations just north of the Ross Island Bridge, under the Fremont Bridge, and on North Marine Drive, all of which will be closing. However, the administrative headquarters just north of Holgate Boulevard at 4315 S.E. McLoughlin, will remain open.
According to the company, many workers from the ready-mix concrete division will be absorbed into the dredging and aggregate production businesses.
---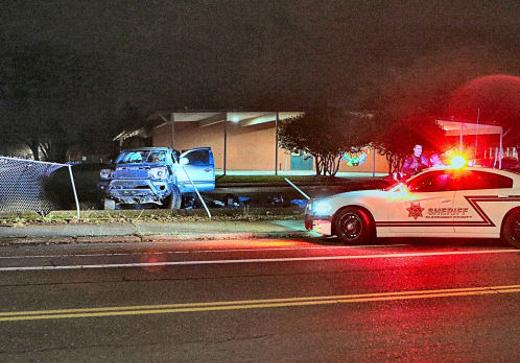 After he wrecked the Toyota Tacoma he was driving in front of Woodmere Elementary School in the Brentwood-Darlington neighborhood, the armed suspect made an unsuccessful run for it. (Photo by David F. Ashton)
Wanted man crashes, bolts; arrested on Glenwood Street
By DAVID F. ASHTON
For THE BEE
Deputies from the Clackamas County Sheriff's Office were in hot pursuit of a wanted suspect Friday evening, January 7 – and, at 9:34 p.m., they put out a call for backup to Portland Police Bureau (PPB) officers.
After careening through often-narrow neighborhood streets in both the Lents and Brentwood-Darlington neighborhoods, the suspect – driving a dark grey 2013 Toyota Tacoma was eastbound on S.E. Duke Street when he smashed into a Toyota Corolla sedan at 78th Avenue. Fortunately, the driver of the struck car was uninjured.
Leaking fluids and dropping parts, the pickup truck lurched over the curb, flattened 35 feet of steel chain-link fence at Woodmere Elementary School, and ground to a stop, facing north.
"Shortly after the crash, the suspect exited the vehicle and ran into the neighborhood," reported PPB Public Information Officer Sgt. Chris Burley.
A PPB district officer told THE BEE that another individual in the truck had stayed behind, and had cooperated with law enforcement officers from both jurisdictions.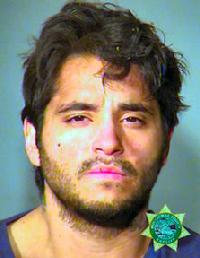 32-year-old Andrew Joseph Hernandez faces both felony and misdemeanor charges, as well as a hold for parole violation, in the two-county incident. (MCDC booking photo)
From the passenger, officers and deputies learned that the suspect was likely armed; ammunition found inside the truck underscored the likelihood that an armed man was rampaging through the neighborhood.
"Because the suspect was reportedly armed with a firearm and had made threats to harm officers, members of the Special Emergency Reaction Team (SERT) and Crisis Negotiation Team (CNT) were dispatched to perform a neighborhood search for the suspect," Burley told us.
A police dispatcher put out an all-points-bulletin for the wanted man, who by this time had been confirmed as 32-year-old Andrew J. Hernandez.
It wasn't long until 35 police units had arrived to search – including two Canine Teams, and the PPB Air One "eye-in-the-sky" plane circling overhead. For a little over three hours, SERT officers made a coordinated and meticulous search, street-by-street and yard-by-yard, between S.E. Duke and Cooper Streets, between 80th and 82nd Avenues.
Finally, at 12:45 a.m., a police K-9 sniffed out Hernandez hiding in a basement about two blocks due south of the crash site, in the 8100 block of S.E. Glenwood Street. "Preliminary information suggests Hernandez unlawfully entered the residence and was hiding, when members of the SERT team found him," Burley said.
Andrew Joseph Hernandez was booked into the Multnomah County Detention Center at 4:15 a.m. that morning on multiple charges, including Assault in the Second Degree-Domestic Violence, Unlawful Use of a Weapon, two counts of Strangulation, and two counts of Menacing.
At his arraignment later that day in Multnomah County Court, Hernandez learned he'd face the charges on which he was booked, with combined bail set at $280,000; but the bail is irrelevant in this case, because he is also being held without bail in Multnomah County's Inverness Jail for Parole Violation.
---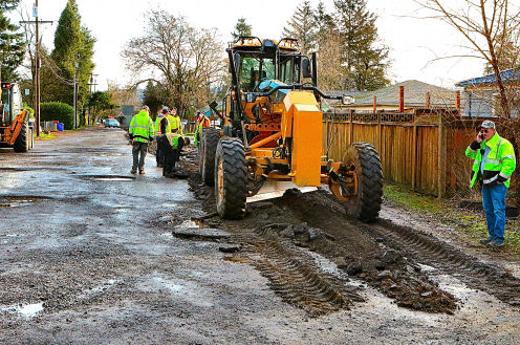 PBOT demonstrated their new "Gravel and Grade Service" plan for Portland's many unpaved streets on this stretch of deeply-potholed S.E. Harney Street. (Photo by David F. Ashton)
PBOT 'Gravel Streets Service' reaches Brentwood-Darlington
By DAVID F. ASHTON
For THE BEE
Residents expressed concern when heavy road-building equipment arrived in the Brentwood-Darlington neighborhood early on January 7, and began excavating an unpaved section of S.E. Harney Street, between 60th and 62nd Avenues.
Neighbor Hank Jacobs looked on, as the road grader's huge steel teeth tore into the mud, dirt, and gravel as deep as two feet, creating deep furrows in the road.
"See that big pothole [the implement] just tore through?" Jacobs pointed out to THE BEE. "That one's damaged my truck; and, one of my neighbors broke an axle in it, even though she was driving very slowly," he said, seeming amazed to see that his rutty street was getting attention.
To the relief of neighbors, this wasn't an unannounced "Local Improvement District" for which they would be charged. Instead, it was a new program of the Portland Bureau of Transportation (PBOT) called the "Gravel Streets Service" – provided at no cost to those who live on Portland's 60+ miles of unpaved roads.
Brentwood-Darlington Neighborhood Association Chair Chelsea Powers told THE BEE, with a sunny smile, "We are thrilled; this is a long time coming. It's a significant first step by the city to bring up the level of infrastructure in our historically under-served neighborhood!"
This new program had already manifested itself on roads at the west end of Linn Street and Ochoco Street in Sellwood, and in two unpaved blocks of S.E. 18th in north Westmoreland; and, as it moved into Brentwood-Darlington, the city chose to unveil the program and reveal what it consists of.
This new service goes far beyond just shoveling dirt into potholes, assured PBOT Public Information Officer Dylan Rivera. "During the winter months, when we're not rebuilding roads, our crews are using their equipment and expertise to dig down – deep enough to be underneath the potholes, and even these large 'street craters' that people know all too well in these neighborhoods!"
A PBOT road engineer said the reason potholes really can't be addressed just by filling them in with gravel and dirt is because of the resulting different levels of roadway material compaction. Vehicle tires kick out the gravel – and deepen the hole. "Whereas, when we dig it all up, grade it all level, and then roll it out before topping it with gravel – the roadway all has the same level of compaction, which tends to keep the street in better condition for a longer period of time."
Portland City Commissioner Chloe Eudaly, who oversees PBOT, was present in Brentwood-Darlington to tell the assembled group that, in a planned three-year cycle, this program will continue to improve the miles of unpaved streets in Portland.
"I just like to say that it comes as much a surprise to me as anyone else that I am really loving working with our Transportation Bureau," Eudaly announced. "When I heard about this gravel-and-grade project, I became really excited about it – who knew how exciting gravel could be?" she chuckled.
---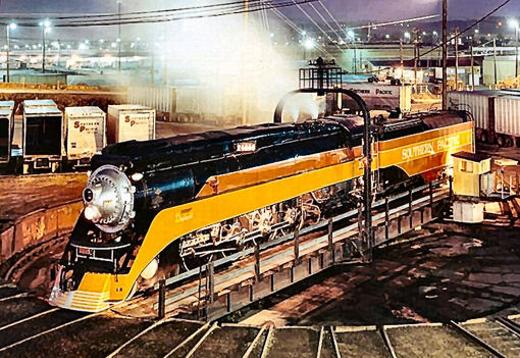 The famous and historic Portland-owned Southern Pacific 4449 steam locomotive, as it once sat on the turntable at the Union Pacific Brooklyn Yard's former roundhouse. The fully-restored locomotive is now housed in the Oregon Rail Heritage Center, where the same turntable will be reinstalled. (Courtesy of Doyle McCormack)
New Southeast plan to 'turn this train around'
By JIM REDDEN
Portland Tribune
Special to THE BEE
The Oregon Rail Heritage Center needs to raise up to $2 million to install something they've already got – a railroad turntable -- at its train center and museum near the Oregon Museum of Science and Industry, just north of the Ross Island Bridge.
A turntable – or wheelhouse – is a large in-ground rotating device for turning locomotives and railcars around in one spot, so they can go back the way they came – or go onto sharply-adjoining rail lines.
The volunteer-run center and museum currently houses three historic city-owned steam locomotives, three diesel-electric locomotives, and a variety of vintage railcars. It already has the vintage turntable that it needs to better move them into, out of, and around the facility – it's a massive 102-foot diameter piece of machinery obtained from the Union Pacific Brooklyn Rail Yard in Southeast Portland.
"It will be a part of history you won't be able to see hardly anywhere else," says Greg Fitzgerald, Executive Director of the nonprofit Oregon Rail Heritage Foundation (ORHF), which operates the center and museum.
Turntables once were a common feature in all rail yards with maintenance facilities. They were needed because steam locomotives cannot back up efficiently, and they needed help getting pointed in the right direction after leaving the so-called roundhouses where repairs were made.
Almost all of the turntables in the country were dug up and discarded when newer diesel electric locomotives came into use in the 1940s, replacing virtually all steam locomotives by the mid-1950s. When it is installed, the Heritage Center turntable will be one of the few working ones open to the public in the entire country.
Built in 1924 by the American Bridge Co., probably in Astoria, the turntable was installed the following year and served the former Brooklyn Roundhouse when it was active. That was where the Heritage Center's locomotives were stored and maintained before the new facility opened just east of OMSI in 2012.

The tracks are embedded in a foundation set in a large circular hole in the ground that pivots around a central post, driven by electric motors under each end. It replaced a smaller turntable that became obsolete as the size of steam locomotives increased in the early 20th century.
"The railroad said we could have it, if we dug it up and hauled it away. Otherwise, they were going to scrap it when the roundhouse was torn down after we moved. So we took it all!" says Heritage Center President Doyle McCormack.
The 94-year-old turntable was pulled out of the ground, disassembled, cleaned, and currently is sitting on a flat railcar and on the ground at the Center. Plans call for digging a new circular hole in the ground and reinstalling it – aligned with the main track through the Heritage Center Enginehouse, where the locomotives are on display and maintained.
Additional radial tracks will be laid once construction is complete, to serve as spur lines for storing even more pieces of rail-related equipment at the Center. The original massive 50-horsepower motors will be upgraded with more energy-efficient 25-horsepower units.
"We could never run the turntable at anything but the slowest speed; otherwise it was just too fast," McCormack says of the original motors, which could not be phased in like the new ones.
Once installed, the turntable is expected to last at least another fifty years, with periodic maintenance. Like the locomotives and related equipment at the Center, the turntable will be maintained by volunteer mechanical crews. Needed parts will either be fabricated in the Center's machine shop, or purchased.
In addition to installing the turntable and its supporting equipment, the project will require reconfiguring security fencing, relocating the center's main entrance gate and walkway, and new landscaping and hardscape.
Although the project always had been planned, the timing is now right for it to move forward. The Heritage Center has paid off the $1 million debt it incurred during the move, two of the three steam locomotives are in regular service, and more and more people are visiting the unique and free Rail Museum.
The charitable Murdock Foundation recently awarded the heritage center a $500,000 matching grant to support the project. The first $250,000 already has been received, and the remaining $250,000 will be awarded if the center can raise $500,000 from other sources to match it.
The actual construction schedule has not yet been set. The organization has just begun applying to the city for the required permits, which may take some time to figure out, because it is such a unique project.
The Center is situated at an ideal location to learn about rail history – adjacent to TriMet's OMSI/S.E. Water Avenue transit center, where MAX trains, Portland Streetcars, and buses converge at the east end of the Tilikum Crossing bridge. Heavy rail lines cross the area from north to south, including those connecting to the Center.
According to the Pacific Railroad Preservation Association, the Oregon and California Railroad first established a presence in the Brooklyn neighborhood in the 1870s. Southern Pacific built a roundhouse with 12 stalls in 1912. An adjacent four-stall annex was built in 1948, and the original roundhouse was taken out of service in 1956 and demolished three years later.

The annex, then known as the Brooklyn Roundhouse, then sited on the north side of Holgate Boulevard at the west end of the rail yard viaduct, eventually housed the city-owned locomotives until the Heritage Center was completed.
To learn more and donate to the project, go to the Oregon Rail Heritage Foundation website – http://www.orhf.org – and click on the link that says, "Support the Installation of the Historic Brooklyn Turntable."
---
Comments? News tips? Click here to submit!
Trying to remember or locate a BEE advertiser? Click here to e-mail us, and we'll help!
Fair warning: We have so many great photos on page 2 this month, it may take a while to load on slower connections! If that applies to you, click the link below, then go get refreshment, come back, relax, and prepare to enjoy what we have for you on page 2!
READY TO TURN TO PAGE 2 -- FOR "MORE NEWS"? Click here!
Note to readers: At some point, this, our original Internet website, will be replaced at this web address by our new website, as part of the Community Newspapers group. At that time, you will still be able to access this long-established and smartphone-friendly website, if you save this address:
www.readthebee.mobi
. You'll still have your choice of which one to visit!

Entire contents © 2019, THE BEE; all rights reserved.