Eric Norberg, Editor & General Manager
Cheryl Duval, Advertising Design
Molly Filler, Page Design
Jerrin Sipe, Accounting

News Reporting & Display Advertising:
503/232-2326
fax: 503/232-9787

"Community Classifieds" want ads: 503/620-7355
Circulation/subscriptions: 503/620-9797
Accounting/Billing: 971/204-7712
Composition: 971/204-7836
Community Newspapers, Inc.

Editorial and Sales Address:
1837 SE Harold St, Portland, OR 97202
Remit bill payments to:
PO Box 22109, Portland, OR 97269

e-mail: ReadTheBee@myexcel.com



LOCALLY OWNED BY THE PAMPLIN MEDIA GROUP
January 2018 -- Vol. 112, No. 5

Memories of THE BEE's first 100 years!
In 2006, THE BEE celebrated its centennial of serving Southeast Portland! A special four-page retrospective of Inner Southeast Portland's century, written by Eileen Fitzsimons, and drawn from the pages of THE BEE over the previous 100 years, appeared in our September, 2006, issue.
Click here to read this special retrospective!
_________________________________________
BEE SUBMISSION AND AD DEADLINES...
The next BEE is our February issue, with a deadline of January 18.
(The March issue has an ad and copy deadline of February 15.)
INTERESTED IN ADVERTISING? CLICK HERE FOR RATES AND INFORMATION!
Want to subscribe to receive the PRINT version of THE BEE?
NOW -- subscribe securely, online -- by clicking HERE!
But, if you would rather not do it online, you can E-mail circulation@CommNewspapers.com or telephone 503/620-9797 during weekday business hours. The 12-issue annual subscription rate is $14 per year for addresses located in Multnomah County, Oregon; and $24 for anywhere else in the U.S.(it's based on the differential postage rates for our class of postage). For international rates, inquire via that e-mail address just above!
_________________________________________________________________________
Daily news!


The all-new daily PORTLAND TRIBUNE website is updated throughout the day, every day, when news breaks out. Click

the banner at left

to keep up to date on the banner news throughout the Rose City!



THE BEE has a second website -- it's searchable for past stories. The content for the current month is similar to this one, presented in a different format. To visit the other website, click

the banner at right!



Workers employed by a certified remediation contractor dug out contaminated soil that surrounded a drywell at the Bullseye Glass Company. (Courtesy of Bullseye Glass Co)
Bullseye Glass settles issue of 'dirty rainwater'
By DAVID F. ASHTON
For THE BEE
On November 21, the Oregon Department of Environmental Quality (DEQ) reached a settlement with Bullseye Glass Company in Brooklyn that includes a $15,600 fine for releasing contaminated water from its building's roof into a drywell on its own property. Bullseye went on to clean up the contaminated site.
The heavy metals in the rainwater are believed to have settled on the factory roof before Bullseye installed the extensive air filtration systems THE BEE reported in a previous issue, and were carried into the drywell by further rain.
A drywell is an underground structure where stormwater runoff is directed from a specific location, to allow it to dissipate slowly; they are commonly found at near large buildings and in parking lots.
"On a scale of 1 to 10, with '10' being the Portland Harbor Superfund Site, and '1' being a leaking heating oil tank in an homeowner's yard, this falls in the range of a '3' to a '4', Paul Seidel, said the acting manager of DEQ's Northwest Region Cleanup Program in a conversation with THE BEE.
"Overall, for the Oregon DEQ, the technical work of this remediation – while very important – can be considered to be routine," Seidel said.
This matter started, for Bullseye, with soil and groundwater testing from September 1, 2016, through February, 2017, at the Bullseye glass factory, done by the DEQ.
From the testing results, a "Mutual Agreement and Order" – a contract between the DEQ and Bullseye – was written up that specified that all "contaminated dirt" be dug out and properly disposed of, and new groundwater "testing" wells be installed at the site by the end of the year.
However, Bullseye moved quickly, having a certified contractor excavate dirt in and around the drywell, well in advance of the state deadline.
"When we constructed additional buildings at the factory, the City of Portland Bureau of Environmental Services required us to install the drywell at that time, which we did," explained Bullseye Vice President Jim Jones. "I asked at the time if the rainwater runoff need to be tested, and we learned that there was no requirement for testing.
"When it came to our attention there were metals found in the rainwater runoff, we had certified contractors come here and dig it all out, and are installing 'test wells' to check for future contamination," Jones said.
While some companies fight the DEQ, taking such issues to court, it should be noted that Bullseye reacted immediately to resolve the situation.
"We've always cared about the environment, and we care about Inner Southeast Portland; many of our employees live close by," Jones said. "We want to be good citizens and good neighbors."
While not yet finalized at deadline, Jones said that DEQ regulations allow for a portion of their fines, such as the one levied on Bullseye, to be directed to "supplemental environmental projects".
"In this case, it is possible that $12,400 of the fine we paid will go to support the work of the Johnson Creek Watershed Council," he said.
---
A police Forensics Division criminalist photographs the front of the MAX train that reported spotting a dead man at the tracks near the McLoughlin-S.E. 17th intersection, and then remained stopped there for hours during the investigation. (Photo by David F. Ashton)
Pedestrian dies on MAX Orange Line tracks
By DAVID F. ASHTON
For THE BEE
A man died on the TriMet MAX Orange Line Light Rail tracks at McLoughlin Boulevard and S.E. 17th in the predawn darkness, early Friday, December 1; but just how he died, and who he was, have still not been publicly disclosed.
At 6:11 a.m. that morning, emergency first-responders responded to the location, including Central Precinct officers, when 9-1-1 dispatchers received a call from a MAX train operator reporting having seen a person near the tracks who appeared to be deceased.
The ensuing investigation closed the right-turn lane of northbound McLoughlin Boulevard at the intersection for several hours – which significantly backed up rush-hour traffic down through the City of Milwaukie – and stopped northbound traffic on 17th Avenue at the McLoughlin intersection.
During the investigation, the front end of a southbound MAX train remained stopped about 10 feet north of the 18th Avenue dead-end on the north side of McLoughlin. The track crossing signal at 17th sounded continuously and the crossing arm remained down for hours, even though the rear of the train was almost clear of S.E. 17th Avenue.
The PPB Traffic Division Major Crash Team was investigating the incident; and a Forensics Evidence Division criminalist was at the scene, photographing the stopped train.
"This incident remains under investigation; however, preliminary information indicates that the person killed was lying on the tracks prior to being struck by a MAX train," reported PPB Public Information Officer Sgt. Pete Simpson. "A second MAX train operator came upon the deceased, and called 9-1-1.
"Investigators are continuing to gather information to determine how the person came to be lying on the tracks, including whether or not it was an intentional act," Simpson said; adding that the incident is still under investigation. At deadline, TriMet hadn't responded to our request for information.
---
After rallying from their burglary losses, with the help of generous donations from the community, the Boy Scout Troop 351 Christmas Tree lot remains open in Westmoreland. (Photo by David F. Ashton)
Thieves strike Scouts' Westmoreland tree lot; benefactors step up
By DAVID F. ASHTON
For THE BEE
It was expected to be a bright Holiday Season for the families who volunteer to support the Christmas Tree sales of Boy Scout Troop 351, at the lot set up in the Wells Fargo Bank parking lot in Westmoreland, when they closed for business the evening of December 7.
But, when they reopened for business on the evening of Friday, December 8, they discovered that thieves had used wire cutters to snip away the edge of the steel chain link fence that surrounds the compound and, once inside, they made off with about $2,000 worth of essential supplies – including a generator, a computer tablet with a "Square" reader for taking credit cards, a sound system, and a chainsaw.
"They even took stuff of virtually no value, like an empty cash box," sighed volunteer Patty Fink, as she fashioned plastic bins into a makeshift till.
"This lot – and our other one up on S.E. 42nd Avenue and Powell Boulevard, at St. Ignatius, where the troop is based – supports all of the activities of the boys do, from camping, to hiking, to boating, to rock climbing; the families don't pay for their Scouts to participate, we do fundraising instead," Fink told THE BEE.
"When we discovered the burglary, it was a really 'hard hit' for us – and hurt our morale more than anything else," Fink said.
"But then – it's really warmed our hearts, honestly, and put tears of joy in our eyes – the community has really come out to support us," added Fink.
Taking a quick break from helping customers, Assistant Scoutmaster Tom Ustach explained they they'd been worried how the burglary could impact the Scouts' activities in the coming year, because the tree lot is their main fundraiser.
"But then, we've gotten donations of equipment and substantial funds; families have been coming in buying trees and wreaths, and also donating money because they said they felt badly about what had happened," Ustach said.
"What I've learned from this experience is how much people support Scouting, and the programs the Boy Scouts provide that help young people learn and grow," Ustach commented; "and, I've also learned that there's more good than bad in this world!"
---
Portland Fire & Rescue Lieutenant Nicholas Weichal and Firefighter Rian Fitzpatrick show off the Type 2 emergency medical rescue vehicle now posted to serve neighborhoods in Inner Southeast Portland from the reopened Fire Station 23. (Photo by David F. Ashton)
Fire Station 23 reopens at Powell and Milwaukie for Inner Southeast
By DAVID F. ASHTON
For THE BEE
To respond to Inner Southeast Portland's increasing population and businesses, Portland Fire & Rescue (PF&R) has reopened Station 23 – on the northeast corner of S.E. Powell Boulevard and Milwaukie, at 2915 S.E. 13th Place – on Thursday, November 16.
While an auxiliary fire engine is located there, to be used in case another rig in the area breaks down, the actual purpose of opening the fire station is to accommodate a two-person crew and a rescue vehicle, transferred there from Station 19 on East Burnside Street.
"The crew in Station 23 is assigned to a 'Type 2 Rescue Vehicle', primarily designed to provide emergency medical services," explained PF&R spokesperson Capt. Louisa Jones.
"Depending on the condition of the patient, and where other crews are distributed at the moment, these firefighter/paramedics will be taking calls as far south as the Reed and Woodstock neighborhoods, as well as of course the Brooklyn neighborhood," Jones told THE BEE.

The facility is well-known for its multi-story concrete firefighter training tower which looms over the busy intersection on Powell.
---
Ian Brunswick, the head of programming at "Science Gallery Dublin", explains a "Motion Aftereffect Illusion" at the opening of "ILLUSION: Nothing Is As It Seems" at OMSI. (He helped create it.) [Photo by David F. Ashton]
'World of Illusion' explored in new OMSI exhibit
By DAVID F. ASHTON
For THE BEE
It's not just run-of-the-mill optical illusions. The new exhibition that opened at the Oregon Museum of Science and Industry (OMSI) on November 18, called "ILLUSION: Nothing Is As It Seems", provides a mind-blowing maze of sensory experiences.
"This is one of the exhibitions of which I was the head researcher, when it was created at Science Gallery Dublin in Ireland, in 2013," remarked Conor Courtney, as he adjusted "Columba" – the illusion of a young girl, created through the manipulation of light and optics in OMSI's Featured Exhibit Hall.
"What I hope people take away from this show is a kind of a sense of how the world around us has so many illusory components," Courtney explained. "Because we're looking at the cognizant gestalt of how we understand the world around us, and process information continually, our brain likes to take 'shortcuts' – grouping like things together as a category.
"By exploring this show, my hope is that people get a feel for the fact that, while you can know that an illusion is a trick, it is still absolutely true for your brain – because that is how your brain works!"
His favorite display is entitled "Delicate Boundaries" – which creates a space where the animated bugs in a digital display seemingly crawl off the screen, and onto the visitors' bodies.
"This piece probes the modern relationship between virtual forms, and physical forms. Although it's a really neat graphic projector trick, it gets people to consider that digital life-forms now have a place in our society and in our reality, and are just as real as anything else we may come across in our physical world," Courtney said.
And, those are only two of the more than forty fascinating exhibits at this unique show...
"This exhibit helps fulfill the mission of OMSI, because we're all about inspiring curiosity, and asking questions," smiled OMSI President Nancy Stueber at the exhibit's opening. "There is so much creativity here! I hope it sparks the creative imagination of all of us. Even more, perhaps, for our future scientists, artists, and perhaps even illusionists."
Should you always believe what you see? Can you trust your senses? Is anything really as it seems? Find out – at "ILLUSION: Nothing Is As It Seems", open now through February 19. And more good news: It's included, with OMSI's general admission fee.
The museum is on the east bank of the Willamette River on S.E. Water Street, under the east end of the Marquam Bridge. For information, go online – https://www.omsi.edu.
---
Being held in lieu of $250,000, on a felony assault charge involving a crossbow, is 24-year-old Cecilia Leigh Bruinsma. (MCDC booking photo)
Riverfront Park 'arrow assault' suspect found, arrested
By DAVID F. ASHTON
For THE BEE
An assault investigation that began in November 5 at Sellwood Riverfront Park – in which a woman was injured after having been struck in the neck an arrow – has led to an arrest.
Following up on this story, reported in last issue of THE BEE, officials now say the woman was shot with a crossbow "bolt" – an arrow-like projectile.
On December 7 at 8:26 a.m., Portland Police Bureau (PPB) Central Precinct officers arrested 24-year-old Cecilia Leigh Bruinsma in connection with the assault.
"Investigating officers learned that Bruinsma was involved in a verbal dispute with the victim, and officers believe Bruinsma fired a bolt from a handheld crossbow at the victim, injuring the victim," said PPB Public Information Officer Sgt. Chris Burley.
While officers believed that suspect had left the crime scene in a gold Honda Civic with an adult male, at that time Bruinsma was not located.
After her December 7 arrest, Bruinsma was lodged at the Multnomah County Detention Center on a charge of Assault in the Second Degree, a Class B Felony. At her subsequent arraignment in Multnomah County Court, Bruinsma learned that her bail had been set at $250,000, and she continues to be incarcerated in lieu of making bail.
Anyone with more information about the incident is asked to contact Detective Christopher Traynor at 503/823-0889 – or, e-mail him at Christopher.Traynor@portlandoregon.gov.
---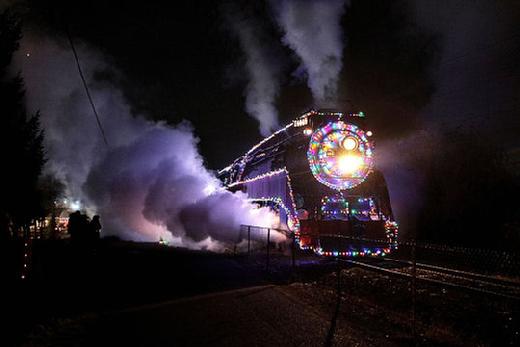 For four weekends starting at Thanksgiving every year, and ending before Christmas, the huge and historic Southern Pacific #4449 locomotive powers "Holiday Express" excursions north from Oaks Park, beside the Willamette River. (Photo by David F. Ashton)
'Holiday Express' along the river still delights riders
By DAVID F. ASHTON
For THE BEE
Over four weekends, starting in late November, thousands of people arrived at the parking lot of Oaks Amusement Park – not to enjoy the carnival, but instead, to catch the "Holiday Express" train and ride in historic railroad passenger cars, pulled by the Southern Pacific 4449. The engine is the only remaining operable "streamlined" steam locomotive of last century's Art Deco era.
On a clear evening, one can hear the 6,500 horsepower #4449 locomotive at quite a distance, as it sounds its mournful steam whistle and chugs from Oaks Amusement Park, along Oaks Bottom, up to Portland's Industrial Eastside and back.
Oregon Rail Heritage Foundation Vice President Ed Immel, left, and Oregon Pacific Railroad Company President and General Manager Richard A. Samuels greeted Holiday Express riders. (Photo by David F. Ashton)
As one of the hourly excursions returned to the Oaks Park Station, riding the rails owned and operated by Oregon Pacific Railroad Company – that firm's President, Richard A. Samuels, smiled as he watched the happy families disembark.
"It's fun to see all the kids coming – and it's really good to be able to share this with people who look like they really enjoy the experience," Samuels told THE BEE.
"For us, it's also a little nerve-wracking, because the 4449 locomotive weighs about three times more than one of our diesels; it's hard on the track! We spent about a month tamping, adjusting, and evaluating the track, to make sure that it holds up under that weight," Samuels confided.
The very first year of these Holiday Express runs, the train departed from the then-unimproved site of the Oregon Rail Heritage Center opposite OMSI. Nowadays that railroad museum is built and open, under the S.E. MLK Boulevard viaduct, recalled Oregon Rail Heritage Foundation (ORHF) Vice President Ed Immel – but the departure is now down at The Oaks.
"With parking being scarce at the Rail Heritage Center, and frequent delays when crossing the TriMet MAX Orange Light Rail Line, having the station at Oaks Park just made more sense," remarked Immel. "Here, the ramps are in place, there's plenty of parking, and the folks here at Oaks Park are good people. We really enjoy working with them."
Our interview was interrupted for a moment by the loud hiss of the locomotive's engineer "clearing the cylinders" and "blowing down the boiler" – opening valves to empty the drive pistons of built up water, and to expel residue from the bottom of the boiler.
This year, some 150 volunteers signed up for duties on the railroad excursions – ranging from hosting passengers on the train, to working in the station, and helping in the parking lot. "We love our volunteers, and there certainly wouldn't be a 'Holiday Express' without them," Immel mused.
These hour-long round trips comprise the only fundraiser of the year for the nonprofit Oregon Rail Heritage Foundation, Immel pointed out. "We don't charge admission to the Center [typically open Thursday through Sunday], though donations we receive there help us keep the lights on.
"Right now, our emphasis is on our big next capital campaign – to put in [a roundhouse] turntable, and a second floor in the building. The turntable, alone, is a $1 million project!"
At that point, another group of enthusiastic riders headed out of the station and up to the waiting train, ready for the unique Holiday train ride by the river – which included a visit with Santa.
For more information about Rail Center, ORHF, or the Holiday Express, go to their website – http://www.orhf.org/the-holiday-express.
---
Comments? News tips? Click here to submit!
Trying to remember or locate a BEE advertiser? Click here to e-mail us, and we'll help!
Fair warning: We have so many great photos on page 2 this month, it may take a while to load on slower connections! If that applies to you, click the link below, then go get refreshment, come back, relax, and prepare to enjoy what we have for you on page 2!
READY TO TURN TO PAGE 2 -- FOR "MORE NEWS"? Click here!
Note to readers: At some point, this, our original Internet website, will be replaced at this web address by our new website, as part of the Community Newspapers group. At that time, you will still be able to access this long-established and smartphone-friendly website, if you save this address:
www.readthebee.mobi
. You'll still have your choice of which one to visit!

Entire contents © 2018, THE BEE; all rights reserved.