Eric Norberg, Editor & General Manager
Sandy Hubbard, Independent BEE
Advertising Representative
Cheryl Duval, Advertising Design
Molly Filler, Supervisor of Page Design
Jerrin Sipe, Accounting

Eric Norberg: Sandy Hubbard:
503 / 232-2326 971 / 407-7942
fax: 503/232-9787

"Community Classifieds" want ads: 503/620-7355
Circulation/subscriptions: 503/620-9797
Accounting/Billing: 971/204-7712
Composition: 971/204-7836
Community Newspapers, Inc.

Editorial and Sales Address:
1837 S.E. Harold St, Portland, OR 97202-4932
Remit bill payments to:
Accounts Receivable Department
P.O. Box 22109, Portland, OR 97269-2109

e-mail: ReadTheBee@myexcel.com



THE BEE IS LOCALLY OWNED BY THE PAMPLIN MEDIA GROUP
January 2020 -- Vol. 114, No. 5
Scroll down to read this issue!

Memories of THE BEE's first 100 years!
In 2006, THE BEE celebrated its centennial of serving Southeast Portland! A special four-page retrospective of Inner Southeast Portland's century, written by Eileen Fitzsimons, and drawn from the pages of THE BEE over the previous 100 years, appeared in our September, 2006, issue.
Click here to read the special centenary retrospective!
_________________________________________
BEE SUBMISSION AND AD DEADLINES
Next BEE is our February issue, with a deadline of January 16.
(The March issue has an ad and copy deadline of February 20.)
INTERESTED IN ADVERTISING? CLICK HERE FOR RATES AND INFORMATION!
Want to subscribe to receive the PRINT version of THE BEE in the mail?
E-mail circulation@CommNewspapers.com -- or telephone 503/620-9797, during weekday business hours.
The 12-issue annual subscription rate is $14 per year for addresses located in Multnomah County, Oregon; and $24 for anywhere else in the U.S.(it's based on the differential postage rates for our class of postage). For international rates, inquire via the e-mail address or telephone number just above!
_________________________________________________________________________
Daily news!




The Portland Tribune is updated a number of times every day, to bring you the latest news of the Portland area and Oregon.

Click on the banner at left to read the Tribune online!



THE BEE has a second website -- searchable for past stories. The content for the current month is similar to this one, presented in a different format.

To visit our newer website, click the banner at right!




GDPR NOTICE: The owner of this website, www.ReadTheBee.com, collects no information on this site from any reader, and never has.
While the Eastmoreland Historic District nomination is stalled, the fiercely partisan campaign signs supporting and opposing the contentious nomination, have slowly disappeared from residents' lawns. The only sign in this photo is a stop sign. (Photo by David F. Ashton)
Eastmoreland 'Historic District' decision stalled months longer
By DAVID F. ASHTON
For THE BEE
It looks like those hoping for the contentious "Eastmoreland Historic District" nomination to finally be decided, one way or the other, are going to be disappointed. The process is now expected to drag on well into 2020, THE BEE learned in early December.
The nomination process, started back in May 26, 2016, when the staff of the Oregon State Historic Preservation Office (SHPO) – a division of the Oregon Parks and Recreation Department (OPRD) – attended a meeting sponsored by the Eastmoreland Neighborhood Association to answer questions about the "National Register" process.
Eastmoreland neighbors rapidly became polarized over the issue, and took opposite sides – those in favor of the historic district designation, and those opposed to it being so designated.
In July 2017, National Parks Service (NPS) National Register staff returned the subsequent nomination of a section of the neighborhood for Historic status for "procedural errors"; and a month later SHPO asked the NPS for clarification on the agency's procedures for resubmitting the nomination.
The Oregon Department of Justice gave direction for counting owners and objections to the SHPO in February 2018; and later that year, after a very few residents transferred ownership of their properties to thousands of new trusts – the process again slowed down.
In May 2019, nomination for the proposed Historic District was sent by the SHPO to the National Park Service for a final decision; and, it was again rejected by NPS, citing "continuing uncertainties" related to the counting of votes, pro and con, by owners within the proposed district boundaries.
Asked by THE BEE for a year-end update, Chris Havel, Associate Director of Communications, Oregon Parks and Recreation Department filled us in about the nomination's current status.
"While we will continue to process other nominations to the National Register, we have no plans to reconsider the Eastmoreland nomination until after we go through a formal process to update Oregon State rules for the program," Havel said.
"That rule review and amendment process will happen in 2020, and will take several months – with a joint internal/external team drafting language leading to a final recommendation, by or before fall," reported Havel. "Rulemaking involves a public comment period, [so] expect some news when it gets to that stage."
---
Pulling out load after load, firefighters do their best to salvage items from the two burned storage lockers, after quickly putting out the intense fire. (Photo by David F. Ashton)
Two-alarm Brooklyn storage fire quickly quelled
By DAVID F. ASHTON
For THE BEE
A fire erupted in two large units of "The Stor-Room Mini Storage" facility at 4515 S.E. 18th Avenue, on the south end of Building "X", just south of Holgate Boulevard, on Saturday morning, November 30.
It was dispatched as a "Commercial Fire" at 9:03 a.m., and quickly brought 13 Portland Fire & Rescue (PF&R) units to the scene.
First to arrive were crews riding both Woodstock Fire Station 25's Engine and Ladder Companies, who reported seeing heavy smoke and fire as they approached.
Once there, the PF&R Incident Commanders requested a "Second Alarm" to bring about double the personnel and equipment available to help fight the fire, and to prevent further damage to the many other storage units in the complex. But the Second Alarm call was soon cancelled, as the fire was swiftly brought under control.
Firefighters had to cut their way inside the heavy steel security doors of the two affected units to access the fire. With the flames extinguished, fire crews began a laborious "overhaul" of the contents – removing burnt, charred, and melted items from fire site.
A PF&R official later said that, of 20 units in Building X, only two "were determined to be affected by flames and heat"; however, the contents of the immediately adjacent units did experience varying levels of smoke and water damage.
Information about what caused the fire has not yet been publicly released, but fire investigators that morning were checking the entry and exit records of the storage facility, which is accessed through motorized gates with individual passwords which are recorded – along with the times at which they were used.
---
A grocery store holdup on S.E. 122nd led to a two-day series of pursuits, ending with the suspect crashing and being arrested in the Woodstock neighborhood on December 7. (Courtesy of KATU-TV-2)
One-man crime wave stopped with a police crash in Woodstock
By ERIC NORBERG
Editor, THE BEE
On Thursday, December 5, East Precinct officers responded to a Safeway store at 3527 S.E. 122nd Avenue on the report of a holdup. Officers learned from store personnel that the suspect had brandished a gun during the robbery, and then had left the area in a car that turned out to have been stolen. Officers conducted an area check but could not find the suspect at that time.
But, on the following day, Friday, December 6, Officers came across the suspect vehicle and a traffic pursuit ensued. The officers terminated the pursuit after speeds exceeded 100 miles per hour.
The day after that, Saturday, December 7, officers following up on the case once again found, and attempted to stop, the suspect's car. The driver failed to stop, and another traffic pursuit took place. Officers once again terminated the pursuit once speeds exceeded 100 miles per hour.
A short time later on the same day, Officers were able again to locate the stolen car, and another traffic pursuit ensued. During this third pursuit, the suspect vehicle rammed and disabled a police car at the intersection of S.E. 60th Avenue and Woodstock Boulevard. The suspect managed to drive away, but an officer used his patrol car to ram and stop the suspect's vehicle near S.E. 57th Avenue and Insley Street in the Woodstock neighborhood. The suspect's stolen car was disabled, and officers were able to take him into custody.
30-year-old Jeremy Lowell Cannon is in jail charged with robbery, stealing a car, recklessly endangering in three different pursuits, and several other felonies. He was caught when an officer deliberately crashed his squad car into Cannon's vehicle. (MCDC booking photo)
One officer suffered minor injuries in the incident and was taken to the hospital. The suspect was also transported to an area hospital as a precaution before being taken to jail. Detectives from the Portland Police Bureau's Robbery Detail responded to assume the investigation.
The accused bandit and car thief, 30-year-old Jeremy Lowell Cannon, was booked into the Multnomah County Detention Center (MCDC) on December 7 at 6:33 p.m., on charges of Robbery in the First Degree, Robbery in the Second Degree, Unauthorized Use of a Motor Vehicle, Recklessly Endangering Another Person, three counts of Attempting to Elude By Vehicle, two counts of Attempted Assault in the First Degree, and three counts of Reckless Driving.
He remains in jail in lieu of $577,500 combined bail.
---
Front and center, it's The Hydra – the Women's Flat Track Roller Derby Association's World Championship trophy, in the trophy case in The Hangar at Oaks Park. It is designed like a Roller Derby skate, and is named after one of the original founders of WFTDA, who skated under the name "Hydra". (Photo by Paige Wallace)
Southeast's Rose City Rollers celebrate 'World Championship' win
By PAIGE WALLACE
For THE BEE
Southeast Portland now boasts of a four-time world championship sports team – and it displays the trophy that goes along with that title.
Portland's Roller Derby all-star team "Wheels of Justice" (W.O.J.) clinched the 2019 championship on November 17 against New York's "Gotham Girls". The tournament took place in Montreal, and featured teams from as far away as Argentina and Australia.
This win marks Portland's fourth Women's Flat Track Derby Association (WFTDA) world title in the last five years. As a result, the championship trophy, called The Hydra, will remain on display at the team's current home track inside The Hangar at Oaks Amusement Park in Sellwood.
"We played exceptionally well, and are really proud of our performance," exclaimed team Co-Captain Nicole Williams, who skates under the name "Bonnie Thunders".
Portland dominated the championship game, with a final score of 145-65. Williams attributes the win, in part, to her team's strategic style of play, and training sessions four to five times a week.
"We are in awe of what a great job our skaters did," RCR Executive Director Kim Stegeman told THE BEE. "They left it all on the track. They were one smooth-moving unit. They depended on each other; they trusted in their teammates, and they had great communication."
W.O.J. is the all-star team associated with Portland's Rose City Rollers (RCR) league. In addition to the all-stars, the league consists of four other competitive adult teams, two youth teams, and a recreational roller derby program. RCR is a nonprofit organization, with more than 500 participants.
Stegeman and Williams encourage Southeast Portland residents to attend RCR's upcoming intra-league season, which runs January through June. The first game is Saturday, January 4, at The Hangar. She said the bouts provide the fans with excitement and accessibility.
"You are literally ten feet from the action in this sport, and you can go up to the world's very best athletes, say hi, take a photo with them," Stegeman said.
Fans hoping to watch the all-star "Wheels Of Justice" team will have an opportunity to witness a rematch of the world championship bout when "Gotham Girls" come to Portland in May. Williams said crowds can expect that exhibition match to be "some of the most competitive derby that you could see here in the Portland area".
Both Williams and Stegeman recommend that the public buy tickets well in advance of any game – often, it's best to get tickets several weeks ahead. They expect especially high demand for the rematch against New York.
Meanwhile, RCR continues its lengthy struggle to find a new home. The organization needs to relocate after the Portland City Fire Marshal created a rule that effectively forces RCR to move to a different facility – one that is equipped with fire sprinklers, and can accommodate safely crowds of the size the team tends to draw.
The Fire Marshal has granted RCR a temporary variance, which allows the team to stay at The Hangar through June, Stegeman said. After that, RCR will need to file for another extension, if it has not yet located a satisfactory new facility.
Stegeman's ideal new space would be in Southeast Portland. She's looking for around 25,000 square feet that's available either to lease or buy.
"I have looked at probably 100 possible locations, and I'm very realistic about how difficult what we're trying to do is. So we're still looking," she said.
The league recently filed a letter of intent for an empty lot at N.E. 82nd Avenue of Roses across from Madison High School, but Stegeman said it will likely be some time before she hears back about whether that location is a viable option.
Stegeman also pointed out that RCR maintains a good relationship with the Fire Marshal, and would not be able to stay in the Oaks Park location on a variance if crowds were at risk. "People need to know that there's nothing dangerous about our current venue."
---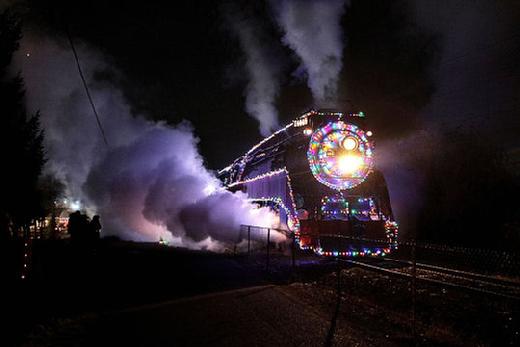 A steam "blow off" partially shrouded the SP 4449 steam locomotive as it chugged away from the station, taking off on another "Holiday Express" journey. (Photo by David F. Ashton)
Aboard, and enjoying their "Holiday Express" ride, were these Woodstock neighbors, the Turners – Kristin, Dillon, and Patrick. (Photo by David F. Ashton)
Historic steam engine again pulls 'Holiday Express' revelers thru Oaks Bottom
By DAVID F. ASHTON
For THE BEE
Around the region, several historic railroad groups run Holiday train pleasure trips this time of year.
But none of the other excursion trains are pulled by the mighty Southern Pacific 4449 steam locomotive, which drew the Bicentennial Train around the United States in 1976 – nor are they located right here, in Inner Southeast Portland – other than the "Holiday Express", operated by the Oregon Rail Heritage Foundation (ORHF).
Saturdays and Sundays through December 15, the powerful #4449 "steamed up" at the station at historic Oaks Amusement Park, and clickety-clacked early Twentieth Century railroad carriages filled with Holiday-spirited riders up the tracks of the Oregon Pacific Railroad Company, along the Willamette River, to the Ross Island Bridge and OMSI, and then back.
"This is our 15th season of running the 'Holiday Express' between Thanksgiving and Christmas," remarked ORHF President Roy Hemmingway on the opening day, Friday, November 29.
"Because of Thanksgiving being so late in the calendar, we've only three weekends this year," Hemmingway told THE BEE. "We added one extra passenger car this year, so, in total, we can accommodate as many guests as we have in the past."
Some 240 guests on each train got a great Willamette River view in the daytime, and saw Portland's downtown lights at night – and Santa Claus and his helpers came by to visit everyone and hand out candy canes.
In total, about 300 volunteers rotated through shifts during this Holiday event that is also a fundraiser for the nonprofit ORHF and the Portland Rail Center and Museum, Hemmingway pointed out.
"Whether they've come to ride the 'Holiday Express', or just watch as the 4449 departs the station, this gives us the opportunity to meet people, and introduce them to our historic railroad equipment, live and in person!" Hemmingway grinned.
Through the evening of December 15, Inner Southeast Portland residents near and far were hearing, each weekend, the lonesome steam whistle blowing on "Holiday Express" rides along the Oaks Bottom tracks – taking riders on each nostalgic ride up beside the Willamette River, and back.
---
28-year-old Jacob Anthony Baker is accused of having stolen a police "bait package" in a sting to discourage package theft this time of year – and he's now in jail facing a federal felony charge. (MCDC booking photo)
Southeast 'package theft' mission snags thief on SE 82nd
By ERIC NORBERG
Editor, THE BEE
On Tuesday, December 3, members of East Precinct's Neighborhood Response Team partnered with the Portland Postal Inspector and began a mission to help combat package thefts. With permission from homeowners, officers deployed bait packages equipped with GPS transmitters on porches in targeted locations.
On Thursday, December 5, at 1:57 a.m., Officers were alerted that one of the packages had been stolen. Officers tracked the package, and located the suspect on foot near S.E. 82nd Avenue of Roses, and Ramona Street. The suspect was taken into custody.
28-year-old Jacob Anthony Baker was lodged into the Multnomah County Detention Center (MCDC) on felony charges related to mail theft. Mail theft is a federal crime.
The police were careful not to define the extent of the area involved in their package theft mission – and the mission has not ended! Let would-be "porch pirates" be warned.
---
Comments? News tips? Click here to submit!
Trying to remember or locate a BEE advertiser? Click here to e-mail us, and we'll help!
Fair warning: We have so many great photos on page 2 this month, it may take a while to load on slower connections! If that applies to you, click the link below, then go get refreshment, come back, relax, and prepare to enjoy what we have for you on page 2!
READY TO TURN TO PAGE 2 -- FOR "MORE NEWS"? Click here!
Note to readers: At some point, this, our original Internet website, will be replaced at this web address by our new website, as part of the Community Newspapers group. At that time, you will still be able to access this long-established and smartphone-friendly website, if you save this address:
www.readthebee.mobi
. You'll still have your choice of which one to visit!

Entire contents © 2019, THE BEE; all rights reserved.