Eric Norberg, Editor & General Manager
Cheryl Duval, Advertising Design
Molly Filler, Supervisor of Page Design
Jerrin Sipe, Accounting

News Reporting & Display Advertising:
503/232-2326
fax: 503/232-9787

"Community Classifieds" want ads: 503/620-7355
Circulation/subscriptions: 503/620-9797
Accounting/Billing: 971/204-7712
Composition: 971/204-7836
Community Newspapers, Inc.

Editorial and Sales Address:
1837 S.E. Harold St, Portland, OR 97202-4932
Remit bill payments to:
Accounts Receivable Department
P.O. Box 22109, Portland, OR 97269-2109

e-mail: ReadTheBee@myexcel.com



THE BEE IS LOCALLY OWNED BY THE PAMPLIN MEDIA GROUP
October 2019 -- Vol. 114, No. 2
Scroll down to read this issue!

Memories of THE BEE's first 100 years!
In 2006, THE BEE celebrated its centennial of serving Southeast Portland! A special four-page retrospective of Inner Southeast Portland's century, written by Eileen Fitzsimons, and drawn from the pages of THE BEE over the previous 100 years, appeared in our September, 2006, issue.
Click here to read the special centenary retrospective!
_________________________________________
BEE SUBMISSION AND AD DEADLINES
The next BEE is our November issue, with a deadline of October 17.
(The Thanksgiving/Dec issue has an ad and copy deadline of November 14.)
INTERESTED IN ADVERTISING? CLICK HERE FOR RATES AND INFORMATION!
Want to subscribe to receive the PRINT version of THE BEE?
E-mail circulation@CommNewspapers.com -- or telephone 503/620-9797, during weekday business hours.
The 12-issue annual subscription rate is $14 per year for addresses located in Multnomah County, Oregon; and $24 for anywhere else in the U.S.(it's based on the differential postage rates for our class of postage). For international rates, inquire via the e-mail address or telephone number just above!
_________________________________________________________________________
Daily news!


The all-new daily PORTLAND TRIBUNE website is updated throughout the day, every day, when news breaks out. Click

the banner at left

to keep up to date on the banner news throughout the Rose City!



THE BEE has a second website -- it's searchable for past stories. The content for the current month is similar to this one, presented in a different format. To visit the other website, click

the banner at right!



GDPR NOTICE: The owner of this website, www.ReadTheBee.com, collects no information on this site from any reader, and never has.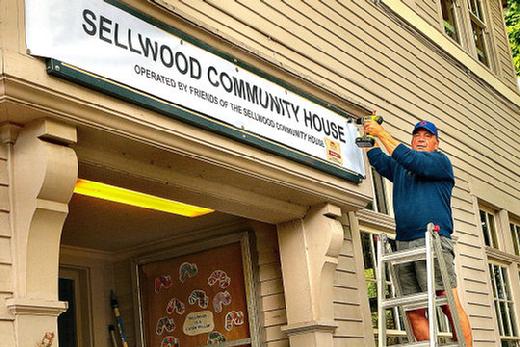 Making the building's name change official, volunteer Bob Burkholder – a SMILE Board Member – put up the new "Sellwood Community House" sign over the front door. (Photo by David F. Ashton)
Scrubbing the second floor hallway of the building on the cleanup weekend of September 7-8 were the father-and-son team of Mike Birenbaum and Charlie. (Photo by David F. Ashton)
'Sellwood Community House' opens after a cleanup
By DAVID F. ASHTON
For THE BEE
The preschool, and after-school, programs at the newly-renamed Sellwood Community House – formerly known as the Sellwood Community Center – did indeed start on September 3, but not in the building. Technical issues delayed the takeover of the century-old structure by the new nonprofit, established by SMILE, from Portland Parks and Recreation.
For that first week, preschool was held at the nearby SMILE Station; and the afterschool program took place at Sellwood Park, in and around the historic Pool House. The weather was good in the park that week, just before the autumn rains began.
"You might say the first week of September didn't go exactly as planned; we thought we'd have access over the (Labor Day) holiday weekend, but Portland Parks determined that their contract with the union for the building extended through Wednesday, September 4," said Friends of Sellwood Community House Gail Hoffnagle.

"And also, we learned that PP&R could not execute the lease until our new nonprofit running the Community House had obtained a City of Portland business license."
The snag with the business license, she said, was that the wrong box on the license application had been ticked. "We learned that we had to 'uncheck' that box, walk it through the licensing office, and then start to change over the utilities billing," Hoffnagle told THE BEE.
The historic hundred-year-old building was abuzz with volunteer activity on the weekend of September 7 and 8, with some 35 people coming each day to clean, paint, move furniture – and put up the new sign over the front door.
"They've been working so hard," reflected Hoffnagle. "Every room has been scrubbed down from top to bottom; the deep cleaning has given it a lot of sparkle and spiff that it hasn't had for decades, and it even smells better!"
Several of the volunteers told THE BEE that a side benefit of coming to help was they'd been able to tour all parts of the building – from the attic to the basement – including places they've never seen there before.
"And now, we also have a new website, thanks to our I.T. person, Kevin Palmer, who has also helped us upgrade our computers and phone system," Hoffnagle smiled. "This grand house is coming back; we're on our way!"

Other community programs formerly found in the Sellwood Community Center will begin starting back up in October. Get more details, and potentially sign up for a program, at that new website – https://sellwoodcommunityhouse.org.
---
Standing at the edge of the Oaks Bottom bluff in his back yard, Westmoreland homeowner Byron Twyman says that the second fire, originating below and ignited using materials stolen from his outbuilding, made it most likely arson. (Photo by David F. Ashton)
Westmoreland neighbor fears Oaks Bottom Bluff fires were set
By DAVID F. ASHTON
For THE BEE
A relatively small grass fire appeared in Westmoreland along the Oaks Bottom bluff, just off the northwest corner of Wilhelm's Portland Memorial Funeral Home, at 9:18 p.m. on Wednesday, August 14.

Because a 911 caller who reported the fire said it was in the empty lot north of the mausoleum owned by Wilhelm's, and south of Llewellyn Elementary School, Portland Fire & Rescue (PF&R) crews responded to S.E. 14th Avenue, pulling water lines across the empty lot to put it out.

But that was not the end of the story: It was followed by a larger wildland fire in the same location, just one week later – at 1:28 a.m. early Tuesday morning, August 20.
The nearby Portland Memorial Mausoleum and the school grounds were not damaged by either fire, but the second blaze came within thirty feet of a neighbor's home atop the Oaks Bottom bluff.
After the first fire was extinguished, homeowner Byron Twyman later told THE BEE, he began walking along the back of the vacant lot, and came upon a person behind a large metal portable storage container. The individual left – but not without comment.
"We're not sure how the first fire started, but we're quite certain that the second fire was arson," Twyman said.
"On August 20, we were awakened around 2 a.m. by the sound of firefighters putting out another brush fire – but this time, the flames were shooting right up over the top edge of the bluff, thirty feet from our house, having started quite a distance down below."
After the sun arose, Twyman went outside, looked down over the bluff, and saw several containers, and checked his outbuilding. "A relatively empty gas can, two full small propane bottles, and a bag of charcoal were missing – and all of those items were down below, near where the fire started.
"So this looks like arson – especially when you see that whoever was involved with this also dumped a recycling can over the edge, and used its contents to build the fire."
Although it apparently hasn't been investigated as such, this debris field at the point of origin below the bluff's edge at Twyman's home suggests it may have been an intentionally-set fire. (Photo by David F. Ashton)
A PF&R Arson Investigator arrived to speak with Twyman on the morning after the second fire, telling him he'd follow up. "I haven't heard from the Fire Bureau since; the Portland Police Bureau's advice was to file a 'stolen property report' for the stolen items; but – as for the fire itself – they said that was something the Fire Bureau would deal with."
Requests by THE BEE to the Fire Bureau for more information about these fires have, so far, gone unanswered.
"We're quite certain these are not accidental fires, and our concern is that this could happen again – perhaps catching the large overhanging trees in our back yard on fire, and setting our house on fire," Twyman said. "Also, Portland Fire did a good job putting out the two fires; and our local firefighters came out during the day to look at the site, and plan how to access the area, should this happen again."
Since those two fires, the homeowner reports he has installed bright floodlights to illuminate the lot, and he now also wets down the back of the property every evening.
About that vacant lot, Twyman said that the management of Wilhelm's Portland Memorial had a crew with a "brush hog" cut down bushes and foliage on the lot which blocked the view from the street. "This shows that they are aware of the situation, and are being responsive."
When we asked about the additional security steps they've taken, Wilhelm's Portland Memorial Director Malory Wolf told THE BEE, "We now have a security person on the property all night, every night. We've had issues in the past, and having security personnel present, to approach people after hours, does help."
---
Keeping a "fire watch" on the house where the fire started (the one on the right), firefighters made sure the blaze didn't rekindle. Vehicles, trash, and other materials added to the difficulty of extinguishing the intense fire. (Photo by David F. Ashton)
Brentwood-Darlington house fire chars two homes
By DAVID F. ASHTON
For THE BEE
When fire broke out at a Brentwood-Darlington neighborhood house on September 4, dispatched to Portland Fire & Rescue (PF&R) stations at 12:36 a.m., the arriving firefighters found a home at 5950 S.E. Harney Street to be "fully involved" in fire.
Crews had a difficult time accessing the fire, which appeared to have started in or near the attached garage, because the driveway was filled with vehicles and trash.
The fire burned so hot and fast that it also ignited a corner of the adjacent house to the south, at 8411 S.E. 60th Avenue. PF&R spokesperson Lt. Rich Chatman told reporters, "This is a danger when structures are built close to one another."
Fire personnel were at the scene throughout the night, snuffing out hot spots. "There is so much stuff in the 'burn house,' it's difficult to extinguish all of the embers," a firefighter remarked to THE BEE early the next morning.
According to Portland Bureau of Development Services records, the originating house that burned had been the subject of several complaints, starting in April of 2016, including "trash, debris, and garbage in front of property"; and the Fire Bureau was last at the property on August 26 of this year.
The house at which the fire originated appeared pretty much destroyed; the adjacent home received substantial damage, also. Two families were displaced due to the fire.
---
Every day officers patrolling their districts are frequently challenged by those with mental health issues, East Precinct Commander Hager told us, during our ride-along. (Photo by David F. Ashton)
East Precinct Commander reflects on law enforcement challenges, in 'ride along'
By DAVID F. ASHTON
For THE BEE
Having been named the Portland Police Bureau's Commander for East Precinct a few months ago, Tashia Hager has been thinking about how her experiences as a cop for the past 25 years has helped prepare her for this assignment.
While touring several of the neighborhoods of Inner Southeast Portland, between S.E. 82nd Avenue of Roses and Chavez Blvd (the former 39th, the western boundary of East Precinct) with THE BEE on a mid-August afternoon, Commander Hager shared her thoughts on law enforcement.
"I grew up in Stayton, and I've been interested in helping protect communities for a long time. I started out as a Police Cadet when I was 16," Hager began.
"Originally I thought I'd be in law enforcement in some type of federal job, but it didn't turn out that way; I kept working for a local police department instead," Hager recalled. "I would say, for me, it was always like 'a calling'; I've never considered doing anything else but this."
Hager worked for thirteen years as a patrol officer with the Portland Police Bureau before considering any promotions; then, she spent six years as a Sergeant before being promoted to Lieutenant – serving for four or five years in East Precinct – before becoming a Captain, and then relatively quickly being promoted to the rank of Commander this spring.
But, she didn't study law enforcement in college. "My Bachelor's degree is actually in psychology, and my minor is in business; but, I took every law enforcement class that was available."
Mental health challenges increase
Asked if having an education in psychology is helpful as to her a cop, Hager responded, "Today, officers are called, more and more, to interact with people exhibiting psychological difficulties – actually, more than they are to respond to individuals committing crimes.
"When I started out in my career, it would be 95% 'crime' calls to 5% 'disturbance' calls," she said. "I don't know that I want to put a percentage on [such a ratio today]; but, during a good percentage of our calls, officers must deal with someone who has an altered mental state – whether that's mental health, or drugs and alcohol – it's often kind of hard to determine.

"A unique thing is about East Precinct is that we most likely have the most diverse population of people [in the city]; many here are struggling, economically," Hager reflected.
"It's interesting, about Portland, that [crime related issues are] not necessarily about whole neighborhoods – but, more often, are just street-by-street.
"All it takes is one residence from which drugs are being sold, or which is operating like a flophouse, to bring issues to that area of the neighborhood; and every street in East Precinct has potential for this happening," Hager said.
The "houseless" continue to be a challenge
"One of the things really impacting Portland as a community is our 'houseless' community," Hager commented. "We haven't well-addressed 'houselessness', which is really a symptom of a multitude of other kinds of problems [which includes] mental health, alcohol and drug addiction, and economic disparity.
"And, some 'houseless' people are service-resistant, and do not want to get help," Hager added.
The Commander said she hopes the newly-opened Laurelwood Center in the Foster-Powell neighborhood will be successful for the community.
As for the Springwater Corridor, "Crime along the Springwater Trail is due to the criminal element that exists in that community – like in any community: Those who commit crimes," Hager remarked. "Honestly, and legitimately so, crimes along the trail do have an impact on people's perception of safety. And as crime picks up, we establish more of a police presence, to help make it safer."
Understaffing another challenge
"The problem we're having right now is that we're severely understaffed; so, while we're trying to be 'all things to all people', with our staffing shortage it's a challenge – the priority is to make sure that we're available to answer 911 radio calls," explained Hager.
Currently, East Precinct is running about 25 to 30 officers short of what would normally be considered fully-staffed, she told us, as we continued the ride-along.
"Looking back over my 25-year career, the best part is that I have not been bored!" Hager acknowledged. "No two days are alike; while many calls are similar, this job is full of surprises, every day.
"But above that, I like knowing that I am having a positive impact on the community," Hager said. "Yes, the most satisfying thing for me is knowing that I have had a positive impact."
You can contact East Precinct Commander Tashia Hager at 503/823-4800, or via e-mail at Tashia.Hager@portlandoregon.gov.
---
Russell Carter, now age 96, sold his Ford Roadster for display at the Ford Building, S.E. 11th and Division – and here, at noon on September 19, he was on hand to see it leave the garage where it had recently been stored, before its short trip over to the Ford Building. (Photo by Eric Norberg)
Shiny green 1930 Ford Roadster installed in 'Ford Building'
By ERIC NORBERG
Editor, THE BEE
As has been reported previously in BEE historical articles, the former Multnomah County building on the southwest corner of S.E. 11th and Division Street a century ago was a Portland Ford Motor Company plant, building Model T's.
And, since the County moved out of the place, it has been renamed the Ford Building, and a variety of shops now ring the building at street level.
Building owner Mike Tevis has just bought a mint condition green Ford Roadster as an attraction for visitors in the building's "common area hallway".
It was built in 1930, but first licensed in 1931, as reflected on its Oregon license plate.
The car had recently been housed in a commercial garage just two blocks away in Ladd's Addition; and, on Thursday, September 19, it was placed carefully on a flatbed tow truck for the short trip to its new public display location.
On hand to witness its trip was a man who described himself as the original owner of the car – he's also the man who sold it to Tevis – Russell Carter, who had turned 96 just the day before.
Although clearly the car has been treated more as a showpiece than as a means of transportation, Carter recalled driving it to Timberline Lodge to participate in the historic lodge's 50th anniversary celebration – and, he said, he'd driven it in parades over the years; in Tualatin, and several times in West Linn, where he lives. He also displayed it repeatedly at an annual car gathering on S.E. Hawthorne Boulevard.
And, he said, the 1930 Ford Roadster still runs just fine. You might want to go see it for yourself.
---
Comments? News tips? Click here to submit!
Trying to remember or locate a BEE advertiser? Click here to e-mail us, and we'll help!
Fair warning: We have so many great photos on page 2 this month, it may take a while to load on slower connections! If that applies to you, click the link below, then go get refreshment, come back, relax, and prepare to enjoy what we have for you on page 2!
READY TO TURN TO PAGE 2 -- FOR "MORE NEWS"? Click here!
Note to readers: At some point, this, our original Internet website, will be replaced at this web address by our new website, as part of the Community Newspapers group. At that time, you will still be able to access this long-established and smartphone-friendly website, if you save this address:
www.readthebee.mobi
. You'll still have your choice of which one to visit!

Entire contents © 2019, THE BEE; all rights reserved.