Eric Norberg, Editor & Gen. Manager
Brian Monihan, Publisher
Sandy Hubbard, Independent BEE
Advertising Representative
Cheryl Duval, Supervisor of Ad Design
Molly Filler, Supervisor of Page Design
Jerrin Sipe, Accounting

Eric Norberg: Sandy Hubbard:
503 / 232-2326 971 / 407-7942
fax: 503/232-9787

"Community Classifieds" want ads: 503/620-7355
Circulation/subscriptions: 503/620-9797
Accounting/Billing: 971/204-7712
Composition: 971/204-7836
Community Newspapers, Inc.

Editorial and Sales Address:
1837 S.E. Harold St, Portland, OR 97202-4932
Remit bill payments to:
Accounts Receivable Department
P.O. Box 22109, Portland, OR 97269-2109

e-mail: ReadTheBee@myexcel.com



THE BEE IS LOCALLY OWNED BY THE PAMPLIN MEDIA GROUP
May, 2021 -- Vol. 115, No. 9
Scroll down to read this issue!

Memories of THE BEE's first 100 years!
In 2006, THE BEE celebrated its centennial of serving Southeast Portland! A special four-page retrospective of Inner Southeast Portland's century, written by Eileen Fitzsimons, and drawn from the pages of THE BEE over the previous 100 years, appeared in our September, 2006, issue.
Click here to read the special centenary retrospective!
_________________________________________
BEE SUBMISSION AND AD DEADLINES
Next BEE is our June issue, with a deadline of May 20.
(The July issue has an ad and copy deadline of June 17.)
INTERESTED IN ADVERTISING? CLICK HERE FOR RATES AND INFORMATION!
____________________________________

Want to subscribe to receive the PRINT version of THE BEE in the mail?
E-mail circulation@CommNewspapers.com -- or telephone 503/620-9797, during weekday business hours.
The 12-issue annual subscription rate is $19 per year for addresses located in Multnomah County, Oregon; and $29 for anywhere else in the U.S.(it's based on the differential postage rates for our class of postage). For international rates, inquire via the e-mail address or telephone number just above!
_________________________________________________________________________
Daily news!




The Portland Tribune is updated a number of times every day, to bring you the latest news of the Portland area and Oregon.

Click on the banner at left to read the Tribune online!



THE BEE has a second website -- searchable for past stories. The content for the current month includes what is on this one, presented in a different format.

To visit our newer website, click the banner at right!




GDPR NOTICE: The owner of this website, www.ReadTheBee.com, collects no information on this site from any reader, and never has.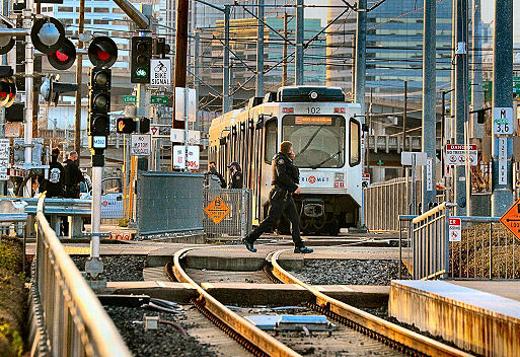 TriMet's MAX Orange Line train service was shut down for over two hours, when a man walked in front of an oncoming train at S.E. Milwaukie Avenue and Clinton – apparently intentionally – and died. (Photo by David F. Ashton)
Man killed by MAX train at Milwaukie Avenue
By DAVID F. ASHTON
For THE BEE
A man was struck and killed by a TriMet MAX Light Rail "Orange Line" train on Wednesday, March 31, on S.E. Milwaukie Avenue at Clinton Street, just north of the Brooklyn neighborhood. Police and paramedics were dispatched at 6:14 p.m.
As first-responders arrived, the rear car of the southbound MAX train was stopped partly blocking Milwaukie Avenue.
The Portland Police Major Crash Team was sent to investigate; both the Police Bureau and TriMet referred us to the Multnomah County Sheriff's Office (MCSO) for official information about the fatal pedestrian incident.
"The individual was walking a bicycle on a multi-use pathway that parallels the MAX line, on the south side of the tracks," MCSO Communications Director Chris Liedle told THE BEE. "The man approached a pedestrian crosswalk just west of S.E. Milwaukie Avenue. At the south entrance to the crosswalk, there are two gates, about waist high, that prevent pedestrians from walking across the tracks; and these gates were closed.
"In addition to the gates being closed – because a train was approaching – warning lights and audible sounds were activated; all of these functions were in operation.
"As the train approached, the individual opened the gates and walked onto the tracks, turning in the direction of the oncoming MAX train, which was traveling southeast towards the Clinton Street /12th Avenue MAX Station," Liedle reported.
"Unfortunately, the individual did not survive his injuries. The fatal collision is being investigated as a suicide." The name of the victim was not released.
After a two and a half hour stoppage of Orange Line MAX service in both directions, and extensively snarled traffic in the vicinity from the stopped train, both rail service and normal street traffic resumed by about 8:45 p.m. that evening.
---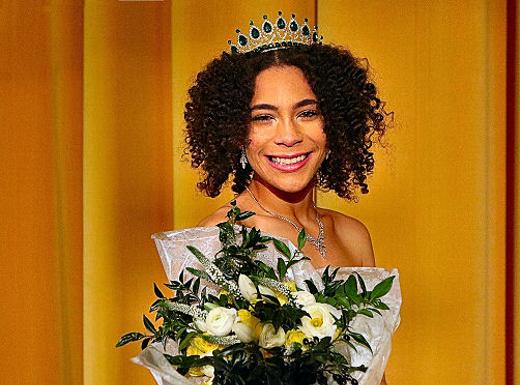 Last year's Cleveland High Portland Rose Festival Princess, Zoey Weesner, places the tiara on the head of newly-named 2021 CHS Princess Rena Marthaler, as members of her court looked on. (Photo by David F. Ashton)
Cleveland High names 2021 Rose Fest Princess in open-air ceremony
By DAVID F. ASHTON
For THE BEE
Weather forecasters promised showers for April 8, but for all those invited to the front steps of Cleveland High School (CHS) that afternoon, there was only cool spring sunshine for the announcement of the school's 2021 Portland Rose Festival Princess.
Carefully following COVID-19 safety protocols, guests and participants stood in assigned spaces, as the ceremony began promptly at 3 p.m.
The CHS "Princess Court" – Hannah Crouser, Zoie Dalton-Smith, Pallas Lake, and Rena Marthaler – all took their places on the lower steps; the podium was set up at the top of the stairs near the school's entrance doors.
The four candidates were formally introduced by Jackson Weinberg, CHS's Deputy Student Representative on Portland Public Schools' District Student Council.
Then, Portland Rose Festival Foundation President-Elect John O'Hanlon stepped up to explain, "The theme of the 2021 Rose Festival is 'Hope Reigns'." He went on to introduce dignitaries and guests at the ceremony.
Last year's Cleveland High Portland Rose Festival Court Princess, Zoey Weesner, spoke for a moment before revealing this year's selection. "I thank the Portland Rose Festival for giving me such a unique opportunity; because of them I was able to meet more people to share this amazing experience with. I also thank Cleveland High School.
"I know any of these four amazing young women would do a fantastic job at representing us this year," Princess Zoey commented before opening the envelope and revealing Rena Marthaler as the school's 2021 Portland Rose Festival representative, and then placing the CHS Princess's tiara on her head.
Cleveland High Principal Jo Ann Wadkins stepped up to present Princess Rena with a bouquet of roses as the ceremony concluded.
Immediately after that announcement, newly-crowned Princes Rena gave an interview to THE BEE, mentioning that she and her family, who live in Eastmoreland Heights, read this newspaper every month.
"Before Cleveland, I attended Sellwood Middle School; and before that, Duniway Elementary School," said Princess Rena. "The most important thing about representing the CHS Warriors, to me, is becoming part of a group of amazing young women who will be representing their community. I feel very lucky that I can be the one to representat Cleveland High School," she affirmed. "I'm so looking forward to meeting the other Princesses on this year's Portland Rose Festival Court, and connecting with community leaders as well."
She disclosed that originally she had been unsure if she should even apply. "But now, after going to the whole process, and having had made it this far, it's been such a positive learning experience for me. Just one example would be learning how to write speeches that are true to myself and my values.
"I'd definitely encourage a person to apply, to put their heart in it, and go for it!" she exclaimed.
Cleveland's Principal, Jo Ann Wadkins, was all smiles behind her pandemic mask. "Indeed any one of these four students would've made a fantastic Princess; I'm super proud of them all."
As Princess Rena nears the end her junior year at CHS, she said she plans to earn her full International Baccalaureate credential, as well as the high school diploma.
Then, with the help of the $3,500 scholarship she will receive, as all Portland Area Rose Festival Princesses do, from The Randall Group, she plans to earn a Masters degree in a STEM field, such as environmental engineering – with a double major in either music or social justice.
The 2021 Portland Rose Festival Queen will be selected from among all of this year's Princesses and crowned the Queen of Rosaria, at the Queen's Coronation in the International Rose Test Garden in Washington Park, which is now slated to be held at 10 a.m. on Friday, June 18.
To find out more about what will and will not be part of the 2021 Portland Rose Festival, go online – http://www.rosefestival.org
---
Eliyana Camara was named Franklin High's 2021 Portland Rose Festival Princess in a ZOOM online ceremony on March 9. (Photo by David F. Ashton)
2021 Rose Fest Princess revealed online by Franklin High School
By DAVID F. ASHTON
For THE BEE
Due to the onset of the COVID-19 pandemic – for the second year in a row, Franklin High School's Portland Rose Festival Princess disclosure ceremony was held online, instead of in person in their beautiful theater.
During a ZOOM online meeting, on the afternoon of March 9, FHS Vice Principal Scott Burns welcomed everyone to the online program. "Franklin has a long history of selecting candidates who have gone on to become crowned Queen of Rosaria," he reminded.
Portland Rose Festival Court Committee Co-Chair Linda Gunselman was on hand to thank all of those involved with the program, and to introduce dignitaries in attendance – including the Royal Rosarians' Lord High Sheriff John Jackson, who will be this year's FHS Princess Escort.
As she ended her reign, last year's Franklin High Rose Festival Princess Doré Young recalled, "My Rose Festival Court experience started with me being announced on Google Hangouts about a year ago; it's astonishing that even now, a year a later, I'm still introducing the next Princess on a 'video chat' platform.
"Congratulations on being part of the program," Princess Doré went on. "It's going to be an uplifting experience, and something you'll take with you for the rest of your life, because you'll always be a Princess from Franklin High. I'm excited to see how this experience will help you on your life journey," she said in part.
Then, Princess Doré introduced the 2021 Portland Rose Festival FHS Princess – Eliyana Camara.
Princess Eliyana said she was proud of how the Portland Rose Festival has helped maintain a sense of community in Portland, even during the difficult time of COVID-19. "It's a more than 100-year-old tradition; it's still carrying a sense of normality for everyone."
FHS Principal Chris Frazier commended Princess Eliyana, "You now stand with a large group of ambassadors, who have well-represented Franklin High School."
In her biography, Princess Eliyana wrote, "In my high school career, I am most proud of building bonds and maintaining friendships with my peers, and having close relationships with them."

Although she had a busy schedule, Princess Eliyana said she made the effort to apply to represent her school as a Rose Festival Princess because, "With all the chaos going on in the world today, I felt as if this would be the perfect opportunity to really get to know other people from around the city, and be able to build new friendships. It is important to me to be able to represent Franklin's characteristic of being a school that is welcoming to everyone."
An Honor Roll senior at Franklin High, Princess Eliyana said she'd like to become an architect or interior designer. Her education at Portland State University – she's planning a major in architecture and minor in Spanish – will be assisted, as it always is for each selected member of each year's Rose Festival Court, by a $3,500 scholarship grant from The Randall Group.
The 2021 Portland Rose Festival Queen will be crowned "the Queen of Rosaria" at the Queen's Coronation, in the International Rose Test Garden in Washington Park, now scheduled to be held at 10 a.m. on Friday, June 18.
Learn more about the 2021 Portland Rose Festival online – http://www.rosefestival.org
---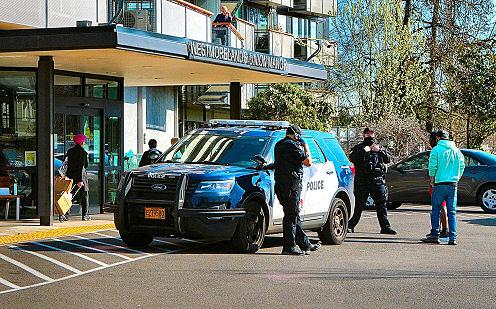 Responding to a "Disturbance" call at Westmoreland's Union Manor, officers found that the imbroglio was over two vehicles stolen in Sellwood. (Photo by David F. Ashton)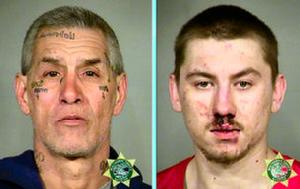 Found in one stolen car with drugs, and facing a variety of charges, 54-year-old Gary Allen Spencer (left) was arrested near Oaks Park; while 22-year-old Eric Sergey Sainsus (right) was arrested for several felonies after a tussle with a stolen truck's owner near Westmoreland's Union Manor. Both were released without bail, by a friendly judge confident they'd show up for their trials. (MCDC booking photos)
Stolen Sellwood vehicles lead to Westmoreland disturbance – and arrests
By DAVID F. ASHTON
For THE BEE
When dispatchers sent Central Precinct officers to respond to a routine "Disturbance – Priority" call at Westmoreland's Union Manor, at 3:27 p.m. on March 23, four officers responded to the entrance of the property.
Portland Police spokesman Sgt. Kevin Allen, looking into the incident for THE BEE, reported that, "There is much more to this story than a minor disturbance."
The story actually began at 6:40 a.m. that morning, about two miles south, when officers were dispatched to "The Car Lot" – a car dealership just north of the Sellwood Les Schwab store, in the 8040 block of S.E. McLoughlin Boulevard at Tacoma Street.
"The gate of the car lot was destroyed by a suspect stealing a car – a Black 2014 VW Jetta – from the secured lot," Allen said. "The suspect then stole a White 2020 Chevrolet Silverado Pickup from the lot, also."

A bit later, an officer doing the follow-up investigation found the stolen VW Jetta near Oaks Amusement Park – and arrested a man in the passenger seat. 54-year-old Gary Allen Spencer was booked into the Multnomah County Detention Center (MCDC) at 3:17 p.m. that afternoon on multiple charges – including the Felonies of Possession of a Stolen Motor Vehicle, and being a Fugitive; and the Misdemeanors of Possession of Cocaine, Possession of Methamphetamine – and two counts of Furnishing False Information to a Police Officer.
However, without even being required to post any bail, Spencer was released from custody by a friendly judge on March 25. Release Reason: Court Ordered Release.
Tussle over stolen pickup truck
As the officer set about trying to find the stolen Chevy pickup truck, the "Disturbance" call came out – the one that originally alerted THE BEE to this incident. The report concerned people fighting near S.E. 23rd Avenue and Tolman Street, near Westmoreland's Union Manor. Actually, the truck's owner had found and was trying to recover his vehicle.
"The officer developed 'probable cause' to arrest another suspect in this case, the one that was fighting the pickup truck's owner," Allen recounted. "That man ran off, but officers found him up a tree nearby, where he had climbed to hide."
Officers arrested 22-year-old Eric Sergey Sainsus; he was booked into the MCDC at 5:38 p.m. that evening on seven Felony charges, including breaking into the car dealership, theft of the two vehicles – and also a warrant for a "County Hold".
However, the "County Hold" warrant and Felony charges non withstanding, Sainsus was also released back into the community by a friendly judge the next morning, March 24. Release Reason: Released on Own Recognizance.
Wrapping up the police incident report for THE BEE, Sgt. Allen added, "It's worth noting that the officer worked this case for nearly his entire shift, and was able to solve it through perseverance and dedication."
---
Shortly before the grand reopening of Oaks Park on April 17, we noticed Jason Kiyabu operating the controls of the "DISKO" attraction – while his fellow ride-operator trainees took a spin in it! (Photo by David F. Ashton)
Oaks Amusement Park has 'limited opening'
By DAVID F. ASHTON
For THE BEE
UPDATE TO THE BELOW STORY:
Emily McKay at Oaks Park notified us after this issue of THE BEE went to press that, "Our operations have had to change for this weekend (May 1 and 2) to two 3-hour time blocks of just 100 people per time block. The current mandate is only in effect through May 6, so we're hoping to get back to 15% mandates next weekend, but we will see what the Governor announces Tuesday, May 4.

"We've also had to cancel all Open Skate Sessions through May 6 due to the change in the county status. We will be offering an extended schedule of 6-person private rentals while the public skating is cancelled."


After being shut down for the entire season in 2020 by the COVID-19 coronavirus pandemic, the staff of the nonprofit Oaks Park Association finally was able to have a limited opening historic Oaks Park on Saturday, April 17. Now, they'll be open on weekends – and then all week long (except Mondays) – this summer.
"We've reopened our amusement park – Including the rides, miniature golf course, and Midway games, for the 2021 season!" exclaimed Marketing and Events Director Emily MacKay.
"We believe our reopening is cause for a city-wide celebration, especially after last year's cancelled season!" MacKay enthused. "This was the only season the park has ever been closed since it first opened on May 30, 1905."
For several weeks before the opening, core staff members had been taking "ride gondolas" out of storage, polishing up the attractions, and stocking the concession stands as they prepared to recommence operations.
"With the reopening, we've resumed our place as a major employer in the Sellwood neighborhood," MacKay affirmed. "After reducing our staff from 250+ to only a dozen while we were closed, Oaks Park is rebuilding our team for the 2021 season by hiring for over 200 positions."
In the week before opening day, amusement ride staff members went through safety, basic maintenance, and operation orientation. While one worker operated a ride, the others in each class experienced the thrill of spinning, dipping, and looping on each attraction.
One of the attractions on which the staff trained was Oregon's most extreme thrill ride to date – called "AtmosFEAR". It replaced the "Scream'n Eagle", and was constructed last summer in the same spot – but until now, no visitor had ridden it!

You can still see a time-lapse video showing its complex assembly on-site at Oaks Park, shot last year by this reporter, in a YouTube video posted at the end of this article, below.
On "AtmosFEAR", the more-timid folks can opt for just a pendulum ride – similar to "Scream'n Eagle", but on a larger scale. However, all the brave and hearty riders can choose to ride the "full terror", over-the-top, 360° experience – as the gondolas soar to a height of 100' in full-swing, over-the-top loops. Can you say "upside down"…?
You can still see a time-lapse video showing its complex assembly on-site at Oaks Park, shot last year by this reporter, at
"Yes, I have ridden AtmosFEAR, operating in 360° mode -- so I can confirm that it is a truly a thrilling, sensational experience!" grinned The Oaks' Rides Manager, Celeste Walker.
Of course, all guests and staff are required to follow Multnomah County COVID safety protocols – including wearing masks and social distancing. Plus, Oaks Park staff is performing increased sanitation throughout the park.
Tickets MUST be purchased in advance
To regulate the number of guests in the park, in keeping with Multnomah County COVID mandates, a limited number of "Rides and Attraction Tickets" per day are available on a first-come, first-served basis. These tickets must be purchased online, in advance.To buy your tickets, and to get complete information – including the days and hours of park operation, COVID safety requirements, attraction information, and ticket prices – visit the official Oaks Amusement Park website – https://www.oakspark.com

Comments? News tips? Click here to submit!
Trying to remember or locate a BEE advertiser? Click here to e-mail us, and we'll help!
Fair warning: We have so many great photos on page 2 this month, it may take a while to load on slower connections! If that applies to you, click the link below, then go get refreshment, come back, relax, and prepare to enjoy what we have for you on page 2!
READY TO TURN TO PAGE 2 -- FOR "MORE NEWS"? Click here!
Note to readers: At some point, this, our original Internet website, will be replaced at this web address by our new website, as part of the Community Newspapers group. At that time, you will still be able to access this long-established and smartphone-friendly website, if you save this address:
www.readthebee.mobi
. You'll still have your choice of which one to visit!

Entire contents © 2021, THE BEE; all rights reserved.