Eric Norberg, Editor & Gen. Manager
Brian Monihan, Publisher
Sandy Hubbard, Independent BEE
Advertising Representative
Cheryl Duval, Advertising Design
Molly Filler, Supervisor of Page Design
Jerrin Sipe, Accounting

Eric Norberg: Sandy Hubbard:
503 / 232-2326 971 / 407-7942
fax: 503/232-9787

"Community Classifieds" want ads: 503/620-7355
Circulation/subscriptions: 503/620-9797
Accounting/Billing: 971/204-7712
Composition: 971/204-7836
Community Newspapers, Inc.

Editorial and Sales Address:
1837 S.E. Harold St, Portland, OR 97202-4932
Remit bill payments to:
Accounts Receivable Department
P.O. Box 22109, Portland, OR 97269-2109

e-mail: ReadTheBee@myexcel.com



THE BEE IS LOCALLY OWNED BY THE PAMPLIN MEDIA GROUP
February 2020 -- Vol. 114, No. 6
Scroll down to read this issue!

Memories of THE BEE's first 100 years!
In 2006, THE BEE celebrated its centennial of serving Southeast Portland! A special four-page retrospective of Inner Southeast Portland's century, written by Eileen Fitzsimons, and drawn from the pages of THE BEE over the previous 100 years, appeared in our September, 2006, issue.
Click here to read the special centenary retrospective!
_________________________________________
BEE SUBMISSION AND AD DEADLINES
Next BEE is our March issue, with a deadline of February 20.
(The April issue has an ad and copy deadline of March 19.)
INTERESTED IN ADVERTISING? CLICK HERE FOR RATES AND INFORMATION!
Want to subscribe to receive the PRINT version of THE BEE in the mail?
E-mail circulation@CommNewspapers.com -- or telephone 503/620-9797, during weekday business hours.
The 12-issue annual subscription rate is $14 per year for addresses located in Multnomah County, Oregon; and $24 for anywhere else in the U.S.(it's based on the differential postage rates for our class of postage). For international rates, inquire via the e-mail address or telephone number just above!
_________________________________________________________________________
Daily news!




The Portland Tribune is updated a number of times every day, to bring you the latest news of the Portland area and Oregon.

Click on the banner at left to read the Tribune online!



THE BEE has a second website -- searchable for past stories. The content for the current month is similar to this one, presented in a different format.

To visit our newer website, click the banner at right!




GDPR NOTICE: The owner of this website, www.ReadTheBee.com, collects no information on this site from any reader, and never has.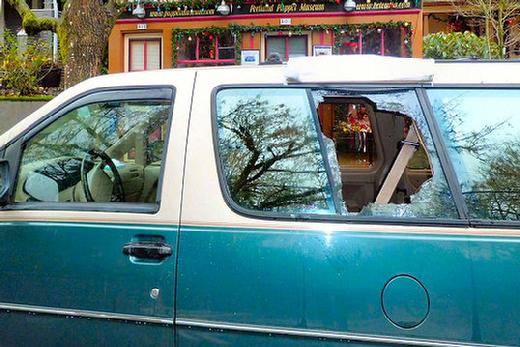 The Portland Puppet Museum's van was one of the many vehicles in the neighborhood suffering smashed windows in the New Year's rash of vandalism in Sellwood. Somebody's brass telescope was also hurled through its rear window and was found inside. (Photo by David F. Ashton)
Widespread vandalism sweeps Sellwood on New Year's Eve
By DAVID F. ASHTON
For THE BEE
Uncomfortably cold and windswept rain kept many New Year's Eve revelers indoors after their midnight celebrations. But, what appears to have been a band of vandals started sweeping through Sellwood, wreaking havoc, a short time later, in the 2 a.m. hour on January 1.
"After I'd gone to bed, at about 2 a.m. someone smashed the windows in our van," said Steve Overton of the Portland Puppet Museum, located near the corner of S.E. 9th Avenue and Umatilla Street. "When we saw the damage that morning and called it in, a Portland Police Bureau (PPB) came to investigate, and said he was looking into many calls.
"The officer pointed out that the vandal hit the driver's side back window, first denting the frame, before breaking it," Overton told THE BEE. "Then, the person stood a ways back the vehicle, and launched an object through the back window of the van, kind of like a javelin throw."
The officer pointed out that the object doing the damage, now lodged behind the front passenger's seat, was a heavy brass telescope. The officer took it for evidence.
North of Tacoma Street, there were several other acts of vandalism.

Sellwood resident Ryan Meaney says his family later sewed up this knife-slit Santa, and the inflatable figure will return to their yard next Holiday Season. (Photo by David F. Ashton)
Santa slashed, decorations broken
The bright and colorful Holiday display at the home of Ryan Meaney, near S.E. 9th Avenue and Lambert Street, was wrecked by the vandals.
"I spend about 40 or 50 hours putting up the 10,000 lights and 15 or 16 inflatable characters, because the neighbors seem to enjoy it so much every year," Meany told THE BEE. "So yes, I was really upset that morning when I'd seen that someone had slashed my big inflatable Santa, broke our decorations, and smashed some of our lights.
"But then, when I looked around and saw several of my neighbors sweeping up glass from broken vehicle windows up and down the street, I feel I got off relatively easy and cheap – we were able to sew up Santa for next year, and replacing bulbs is nothing compared with having to replace a car window," Meany mused.
He pointed out a minivan with a smashed a window; and a truck where vandals first missed smashing the window, and dented the side of the vehicle; and another small SUV with its back window smashed in.
"My neighbor told me that he woke up, hearing noise about 3:30 a.m. that morning, looked out and saw three or four kids, perhaps in their late teens, running toward Sellwood Park where we later learned a new house, under construction, had a big window smashed," Meany said. "I sure hope [the vandals] don't live in our neighborhood."
Few report vandalism
After checking the records, PPB Public Information Officer Sergeant Kevin Allen told THE BEE that, of all this vandalism that took place early New Year's Day, only three victims had actually filed police reports.
"If there are more cases, please encourage the victims to make reports, even if there is no suspect information," Allen requested of THE BEE. "These reports can sometimes help us solve these cases – or solve other ones."

THE BEE has heard of several recycling bins having been set on fire and melted in Westmoreland, too – but it is unclear if that was part of the same crime wave, or a separate incident.
It's not too late for victims or witnesses to call "Police Non-Emergency" at 503/823-3333, or to report this, or any other crime, online – https://www.portlandoregon.gov/police/cor
---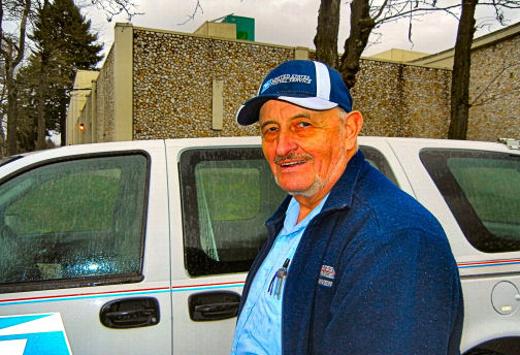 Woodstock letter carrier Glenn Forayter has worked for the U.S. Postal Service for fifty years. Carrying treats for dogs, and keeping an eye out for neighbors' welfare, he and his service are being publicly celebrated on Sunday, February 9th. (Photo by Elizabeth Ussher Groff)
Woodstock mailman's 50 years of service to be celebrated February 9th
By ELIZABETH USSHER GROFF
For THE BEE
Glenn Forayter was inspired at a very early age to be a letter carrier. His inspiration was the mailman who came to his house in Oregon City each day – where his family had moved, from Woodstock, while he was in fifth grade.
Of that letter carrier, Forayter says, "I really admired him. He was a very nice man who walked up and down from the falls to the Canemah Bluffs. He didn't use a vehicle. It was strenuous."
Consequently, Forayter took the postal test right after graduating from Oregon City High School, and started working for the USPS when he turned eighteen. But his career there was interrupted by military service during the Vietnam War.
As a Marine veteran who had to kill people in Vietnam, letter carrier Glenn Forayter was tormented and full of rage, when he returned to Oregon and resumed delivering mail.
At that time in the 1980s he didn't have the seniority to have his own route, so he delivered in a variety of neighborhoods. He describes himself back then as "A good heathen, and an angry man."
His postal superintendent and people on his route didn't know the turmoil that was buried deep inside him. "In the 1980's, I wanted to kill people. I said it under my breath." He didn't, of course; and he is altogether a different man now.
Having worked for the U.S. Postal Service for fifty years, his delivery route today is #4 in Woodstock, in the 97206 ZIP Code. And these days he has been fully freed from that long-ago rage and frustration – which ruled his life over thirty years ago.
"I was filled with fear. Fear that I would never find a wife and have children," he confides. His fear lasted many years, until he found peace by immersing himself in religion. He describes his transformation as "having found the Prince of Peace". And, on his postal route, he met the woman who became his wife.
"She used to part the curtains and peek at me from the window," he recalls. "She wondered if I were married or not." Now he has step-great-grandchildren in Vancouver, Washington, and again is living near to where he grew up until 4th grade – on S.E. 51st and Duke Street, in the Woodstock neighborhood.
After nearly a year off from delivering the mail in ZIP 97206, due to a knee injury, Forayter returned to his route this past December – and now is a little anxious about a neighborhood celebration that is planned for him, coming up on Sunday, February 9th.
"I am a little embarrassed, to tell you the truth," he reflects. Humbled by his past, and heartened by his current life filled with relating to people ("I like people") – and dogs ("I befriend dogs by delivering dog treats") – he has resigned himself to being the focus of the upcoming celebration.
The party is being hosted by Sara Kirschenbaum, a 28-year Woodstock resident who was married for the second time a few years ago, and who has a special reason for appreciating Mr. Forayter: "I lost my wedding ring [while gardening], and was in the 'dog house' because Peggy and I had been married only a year!" she relates. "I went through the entire green recycling bin looking for it!"
The ring is of rose gold, and was designed by Paloma Picasso (Pablo Picasso's daughter; Kirschenbaum is an artist and writer). She had ordered it from Tiffany's. Kirschenbaum says she was about to order a replacement ring, when one day she found it right on her doorstep.
"I'd noticed it in the dirt of the flowerbed at Sara's house, so I knocked on the door and no one answered," remembers letter carrier Forayter. "So I put it on the porch."
That night Kirschenbaum wrote in her gratitude book about her joy at finding the ring, after being without it for a month, and the kindness of the postman – although she was curious about one thing: "How does it feel to find a wedding ring [for marriage] between two women?" Kirschenbaum recently asked Forayter, knowing that his religion probably frowns on gay marriage.
"It doesn't make any difference. I don't judge other people," commented Forayter. "God loves everybody."
Kirschenbaum had long been aware that Forayter is a "very nice man" who looks out after the neighbors on his route. So, she says, "I decided to have a celebration of his fifty years with the Postal Service – because, in our world right now, there is so much division and fighting. Glenn is a role model of kindness and decency. Many people have responded to the idea, saying how much they love and admire him. Some responded not just to attend, but to help organize."
And you're invited too. The party will be held Sunday, February 9th, 2 to 4 p.m., in the Parish Hall of All Saints' Episcopal Church, 41st Avenue at Woodstock Boulevard. There will be fill-in name tags for all who come, and a map of route #4, with pushpins for attendees to indicate where they live.
Everyone who admires Forayter is welcome, says Kirschenbaum. People can bring stories of how he has helped or related to them – and to their dog
---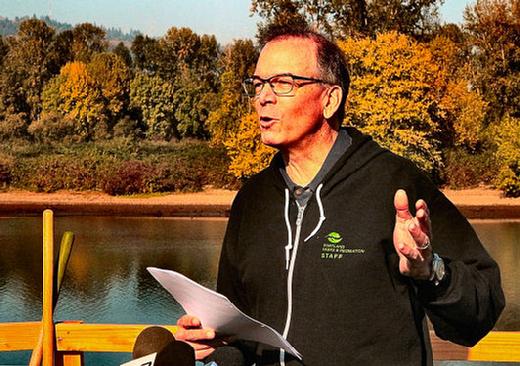 On October 22, 2018, not long after having had the Parks Bureau reassigned to his portfolio, Nick Fish commended all who had completed the major "Oaks Bottom Tidal Restoration Project". (Photo by David F. Ashton)
Friend to Southeast, City Commissioner Nick Fish succumbs to cancer

By DAVID F. ASHTON
For THE BEE

After announcing his need to retire as a Portland City Commissioner for health reasons on New Year's Eve, Nick Fish lost his fight against stomach cancer and died just two days later, on January 2.
According to Sonia Schmanski, who worked in Commissioner Fish's office, "He passed away peacefully at home, surrounded by his loved ones. The family wanted me to convey publicly their thanks for all the words of love and encouragement sent to Nick since his resignation. Nick called his 11 years of service on the Portland City Council 'the great honor of my life'."
Fish was diagnosed with stomach cancer in 2017. On this past December 31, Fish released a public statement saying that he was no longer able to carry out his work as a Commissioner, and announced his plan to resign upon the election of a successor.
Born Nicholas Stuyvesant Fish in September of 1958, he moved to Portland in 1996 after his wife, Patricia Schechter, was offered a teaching position in the History Department at Portland State University. He worked as an attorney at a downtown law firm, primarily in employment law.
With a lifelong interest in politics and public service, in 2004 Fish ran for a seat on the Portland City Council – but lost that year to Mayor Vera Katz's Chief of Staff, Sam Adams, who later went on to became Portland's Mayor.
After newly-elected Commissioner Erik Sten abruptly resigned his post, Fish ran in a special election in 2008, handily winning the position with 61.4% of the vote. He was re-elected to a full four-year term in 2010 by a landslide margin.
Fish served as Commissioner-in-Charge of the Portland Housing Bureau and Portland Parks & Recreation; and, in 2011, beamed with pride when the Parks Bureau was presented the National Gold Medal Award for "Best Park System in the Nation".
When the Bureaus were reassigned by Mayor Charlie Hales in 2013, Fish became Commissioner of the Portland Bureau of Environment Services and the Portland Water Bureau, and was also placed in charge of the Regional Arts & Culture Council.
At his last press event in Southeast Portland – the groundbreaking of the Leach Botanical Garden Upper Garden and Tree Walk, last August 1 – Fish, once again reassigned to the Parks Bureau, told those assembled how proud he was that the City of Portland had provided some of the funding for the project.Afterward, he told us, "I've loved all of the people and projects at all of the Portland Bureaus I've worked with, but my heart is with the Parks Bureau."
It seemed, to us, typical of the Commissioner that he did not let go of his city responsibilities until what turned out to be the very eve of his untimely death.
---
A new website warns drivers when a freight train blocks the railroad crossings near S.E. Division Street. The website posts a simple "yes" or "no", and includes a counter on how long the crossing has been blocked. Portland company "DevelopmentNow", based at the intersection, created the website. (Photo by Paige Wallace)
Finish of 'the train made me late' excuses, thanks to new website
By PAIGE WALLACE
For THE BEE
It's the railroad crossing Southeast Portlanders dread: S.E. 11th and 12th Avenues, between Powell Boulevard and Division Street. Several times a day, trains block traffic along those routes for significant periods of time.

But now, a website is offering drivers, cyclists, and pedestrians advance warning about when a train is present there.
The website –

http://www.isatrainblocking11th.com

– simply shows the answer to that question, yes or no, in large type. A ticker displays how long the crossing has been blocked. It's the brainchild of "DevelopmentNow", a 14-year-old Portland company that moved into the Ford Building at S.E. Division Street and 11th last summer—and quickly learned what they were up against. "A lot of us would get blocked on the way to work, sometimes for a minute, sometimes for an hour," remarked DevelopmentNow CEO Ben Strackany, who commutes to work from Westmoreland. His team at the digital agency decided to brainstorm ways to solve their train troubles. "It really began as an internal project where we wanted to try out some cool technology, and see if we could solve a real-world problem."
Strackany says the "Is a Train Blocking 11th" website is based on technology called machine learning, and uses a camera aimed down from DevelopmentNow's office windows onto the street. His team programmed the system to detect when traffic backs up, and to assess when that slowdown is likely to be caused by a train. Strackany admits it's not 100% accurate, but they're working on the bugs, and may add extra cameras to "make it smarter."
The public reaction to the website has surprised Strackany. "I've rarely seen this kind of outpouring," he said, explaining that DevelopmentNow receives dozens of e-mails a day from people expressing appreciation for the website, with comments like, "I love you," and, "This is the best thing ever!"
The longest blockage Strackany has seen at the railroad crossing lasted more than two hours. "Obviously, it's a huge problem," he said, pointing to lost productivity, carbon emissions from idling vehicles, and the stress levels of drivers and others who simply want to get across the tracks. Amongst drivers, that frustration is common.

"I probably get stuck there because of a train three to four times a week," agreed Jesse Cunningham, a delivery driver for nearby Minuteman Press at S.E. 20th Avenue and Powell Boulevard. "It's stupid. That's a main thoroughfare!" He also complained about the lack of good alternative routes around that area.
Brooklyn resident Ruth Ann Tsukuda isn't a fan of that crossing, either. When THE BEE asked her feelings about getting stuck there, she responded, "You can't print them!" She said her husband won't even take those roads anymore; but she remains hopeful, and still sometimes attempts those routes anyway – often, with ill effects. "God forbid you have to go the bathroom," she said with frustration.
Strackany said his team created the "Is a Train Blocking 11th" website so that it would work well on mobile devices, but the larger plan is to release a similar mobile app in the next few months. He said an app will offer several benefits, such as allowing users quicker access to the information.
Cunningham thinks an app would be of benefit to people like him, who drive for a living. "If you could have an app running in the background and then it popped up with an alert like: TRAIN! That would be cool," he said.
Tsukuda thinks that railroad crossing does have one positive aspect – it creates a bond amongst Southeast Portland residents, because frustration creates a near-universal rant. "It's probably one of the most repeated conversations we have in the neighborhood."Strackany wants the community to know that he and his team are happy to be providing a useful service. "We appreciate that people are enjoying it, and getting some use out of it. We read every single e-mail you guys send. If you have something to say, or a suggestion, please let us know."
The e-mail address for website comments is – ohgodnotagain@isatrainblocking11th.com
---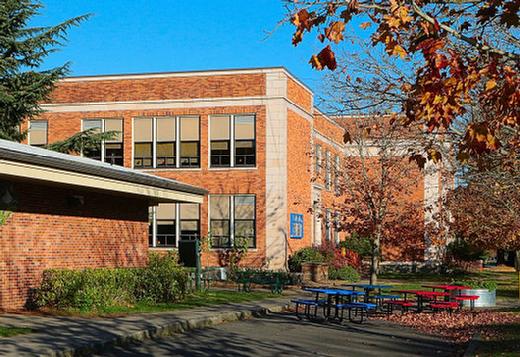 Arleta Elementary School, at 5109 S.E. 66th Avenue, has an interim Principal through May after Principal Diana Kruger was reassigned elsewhere by Portland Public Schools. (Photo by David F. Ashton)
Arleta Elementary 'powder' incident costs Principal her job
By ERIC NORBERG
Editor, THE BEE
As reported in the December BEE, parents of some students at Arleta Elementary School staged prominent protests about the handling of the same-day announcement by Principal Diana Kruger of the discovery that a third-grader had offered another third-grader a powder during school hours.
According to Portland Public Schools, the powder was later identified as crack cocaine. The student who was offered – and allegedly tasted – the powder, was examined by a doctor the same day and found to be healthy. There has been no public indication of how the third-grader with the powder came by the substance, nor any indication that the Principal was aware of the incident until after it had happened. Both PPS and the Portland Police conducted investigations in the wake of the incident.
Nonetheless, apparently as a response to the parental protests, Ms. Kruger has been reassigned elsewhere in Portland Public Schools; and, while the organization seeks another Principal, retired Principal Jack Horn – who last led Lents Elementary School until 2013 – is in the Principal's office at Arleta through the end of the current school year.
---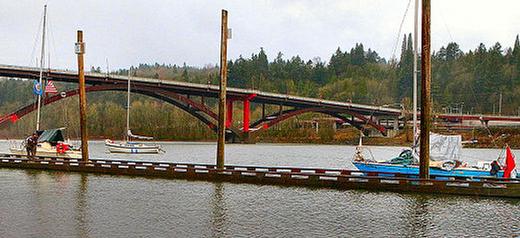 Although watercraft are only permitted to tie up at Portland Parks docks for a maximum of four hours, it appears some itinerant boaters have taken up permanent residence along the Willamette River – like these, at Sellwood Riverfront Park. (Photo by David F. Ashton)
'Aquatic squatters' return to Sellwood Riverfront Park
By DAVID F. ASHTON
For THE BEE
Once again, in December, at least one – and probably more – of the same "boat campers" who last August were tied up for days at the Sellwood Riverfront Park dock along the Willamette River, were again moored there – again, and yet again.
"They get chased away – but soon, sometimes a day later – the boats are back, tied up again to the dock," neighbor Eli Roberts told THE BEE in late December. "I run my dog here in the park almost every day, and I watch the people living on these boats treat the dock like their own moorage. And I wonder what they're dumping into the river, from buckets, in the morning."
To find out more about the situation, THE BEE contacted Portland Parks & Recreation Public Information Officer Mark Ross to ask what Park Rangers can do to keep the same "river campers" from returning to, and tying up to, the same docks, in the same parks.
"Portland Park Rangers strive to educate park visitors on the rules," Ross began. "Park sites are for everyone, and the rules on docking boats are meant to maintain access for all.
"For serious violations, Park Rangers may issue park exclusions, with the support of Multnomah County Sheriff's Office; and, PP&R Security works closely with Department of State Lands (DSL) regarding vessels on PP&R property," Ross remarked. "DSL has a policy in place to permit towing vessels which are out of compliance for an extended period; however, our desired outcome is that the boater remove their vessel and follow park rules."
According to regulations, boats can be tied up at PP&R park docks for no longer than four hours at a time, Ross said.
Monitoring docks, and having boats removed, can take PP&R staff away from other duties. "With more than 200 parks and natural areas spread over 11,500 acres, any persistent issue is going to tap into our limited Ranger staff capacity," Ross reflected.
Contact Park Rangers
For emergencies, such as crimes in progress, call 9-1-1. "And the Parks Bureau welcomes problem reports from park-users for any non-emergency issue in a city park, via e-mail – RangerCallCenter@portlandoregon.gov – or call 503/823-1637," Ross told THE BEE.
For issues centering on livability, and/or related to homelessness [anywhere on city land, not just in a park], use Portland's "One Point of Contact" system: https://www.portlandoregon.gov/toolkit/70039
---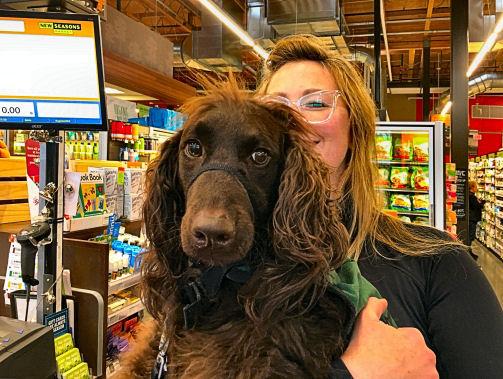 Micaela Kennedy carries Vera, an autism service dog in training, through the checkout line at the Woodstock New Seasons store. Kennedy often teaches future service dogs to handle distracting situations by taking them to local businesses. (Photo by Paige Wallace)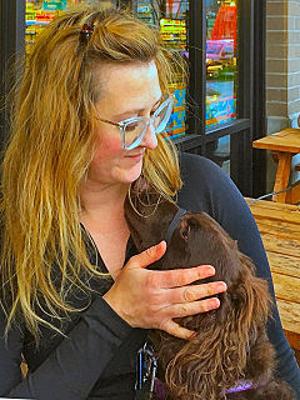 Micaela Kennedy pauses during a training session outside the Woodstock New Seasons store to offer affection to Vera, a labradoodle puppy she's training to become an autism service dog. (Photo by Paige Wallace)
Woodstock woman trains Service Dogs; changes lives
By PAIGE WALLACE
For THE BEE
It's hard to miss the very tall blonde woman leading an energetic labradoodle puppy down the aisles of the Woodstock New Seasons store. The dog, Vera, wears a green vest that foreshadows her future. The woman, Micaela Kennedy, will spend two years transforming that excited puppy into a steadfast service dog.
Kennedy is a Certified Animal Behaviorist who lives in the Woodstock neighborhood, where she runs a business called "At Your Service Dogs". Kennedy trains dogs to serve people with autism, diabetes, seizure disorders, mobility limitations, PTSD, and sometimes other conditions. She'll spend hundreds of hours working with each animal, starting when the pup is eight weeks old. Demand for these service dogs is so high that Kennedy estimates she receives 20 inquiry e-mails a day.
Her work with animals began in childhood. Kennedy would often sneak strays into her pet-free home, and she knew from a young age that she would have this kind of career. "I've wanted to be an ambassador for animals my whole life. And I've wanted to have an impact on the world, and help people," Kennedy explained, about her passion for training service dogs. "It makes complete sense to utilize this incredible, beautiful bond that humans and animals have."
Kennedy also works as lead trainer for the local nonprofit Autism Service Dogs of America (ASDA). Vera, the labradoodle, is part of that program. ASDA dogs live with volunteer "puppy raisers" who teach them basic commands. Meanwhile, Kennedy trains them in more advanced skills.
On January 5, seven of ASDA's future service dogs gathered in Tigard for a team training session. Kennedy stood at the front of the group, exuding both authority and kindness as she explained how to expose the young animals to new situations. Kennedy often cites the science behind her techniques, so she talked about how dogs reset from stress by shaking – the same shaking they do after a bath. She instructed everyone to watch for this behavior and reward it with a treat. "That teaches the dogs to help themselves get calm. That's a good thing."
Part of Kennedy's training process involves taking the dogs out to local businesses, farmers markets, parks, and museums. The public exposure teaches them to stay calm around other animals, loud noises, and unfamiliar people. Two of her favorite public training spots are Crystal Springs Rhododendron Garden, and Sellwood Pet Supply. Kennedy sees these excursions as opportunities to develop good relationships with her community, too. "We're ambassadors, so the businesses will be learning to welcome and respect service dogs," she pointed out.
In these locations she also relishes opportunities to teach the public how to respond to service animals. She encourages people not to pet them, because someone with disability is going to rely on them. "The dog could get distracted and miss an opportunity to help their person. It actually could be life-saving support that they're offering. So it's dangerous," Kennedy explained.
ASDA dogs are trained to stay close to their person, and are often connected to children with autism via a short leash, as a safety precaution. "Keeping the dog tethered to a child keeps the kid from running away, getting lost, or getting injured," Kennedy said. ASDA dogs also learn to lie on top of their person in times of distress – a technique called Deep Pressure Therapy. Kennedy likens it to the calming effect humans feel from a weighted blanket, because the dog's heft and warmth help reduce feelings of anxiety or being overwhelmed.
Eventually, almost all of the dogs complete Kennedy's training program and move on. After the group event on January 5, ASDA held a graduation dinner for Tucker, a large but gentle golden retriever. The time had come to hand him over to his new person, Austin Andrew, a 21-year-old college student with autism. Attendees included trainers, puppy raisers, ASDA leadership, and the Andrew family. They gathered at a restaurant to share stories about Tucker, and other dogs brought up through the program. Afterward, everyone walked outside to pose for photos.
Those who'd helped get Tucker to this point formed a pack around him. Until this moment, they'd been his family. Tucker's fluffy golden tail wagged, while tears welled up in the humans' eyes. Although Tucker's "puppy raiser" couldn't attend, one of the volunteers pulled up FaceTime and held the phone in front of the dog, so the woman who had shared her home with him for several years could say goodbye from afar.
Then Kennedy squatted down and wrapped her arms under the 80-pound dog's barrel chest. "She's going to pick him up," someone in the crowd said. When Kennedy stood up to her full height, she was barely visible behind the big retriever. She gave Tucker a kiss on the head and held him there for a minute, saying nothing—at least, nothing anyone but the dog could hear. Then she gently lowered Tucker to the ground and handed the leash to Andrew.
Just a few weeks later, Holly Andrew is seeing her son building a better life with his new service dog. "Austin and Tucker are already in love with each other. They're creating a great bond and becoming a great team. It's pretty remarkable." she smiled. She added that Tucker eases her motherly worry, because she knows he will help her son feel safe in settings that would otherwise seem intimidating. The whole family agrees that college and a career are now real possibilities, thanks to Tucker.
Kennedy sees these positive outcomes all the time, but they still touch her. "It's like watching magic happen," she said of the moment when one of her service dogs begins working with a family. Letting go will always feel poignant, she said, but also incredibly rewarding.
"You get to know that you are fundamentally changing someone's life for the better."
To learn more about Kennedy's work with service dogs, go online –
Comments? News tips? Click here to submit!
Trying to remember or locate a BEE advertiser? Click here to e-mail us, and we'll help!
Fair warning: We have so many great photos on page 2 this month, it may take a while to load on slower connections! If that applies to you, click the link below, then go get refreshment, come back, relax, and prepare to enjoy what we have for you on page 2!
READY TO TURN TO PAGE 2 -- FOR "MORE NEWS"? Click here!
Note to readers: At some point, this, our original Internet website, will be replaced at this web address by our new website, as part of the Community Newspapers group. At that time, you will still be able to access this long-established and smartphone-friendly website, if you save this address:
www.readthebee.mobi
. You'll still have your choice of which one to visit!

Entire contents © 2019, THE BEE; all rights reserved.