Eric Norberg, Editor & General Manager
Cheryl Duval, Advertising Design
Molly Filler, Supervisor of Page Design
Jerrin Sipe, Accounting

News Reporting & Display Advertising:
503/232-2326
fax: 503/232-9787

"Community Classifieds" want ads: 503/620-7355
Circulation/subscriptions: 503/620-9797
Accounting/Billing: 971/204-7712
Composition: 971/204-7836
Community Newspapers, Inc.

Editorial and Sales Address:
1837 SE Harold St, Portland, OR 97202
Remit bill payments to:
PO Box 22109, Portland, OR 97269

e-mail: ReadTheBee@myexcel.com



LOCALLY OWNED BY THE PAMPLIN MEDIA GROUP
May 2018 -- Vol. 112, No. 9

Memories of THE BEE's first 100 years!
In 2006, THE BEE celebrated its centennial of serving Southeast Portland! A special four-page retrospective of Inner Southeast Portland's century, written by Eileen Fitzsimons, and drawn from the pages of THE BEE over the previous 100 years, appeared in our September, 2006, issue.
Click here to read this special retrospective!
_________________________________________
BEE SUBMISSION AND AD DEADLINES...
The next BEE is our June issue, with a deadline of May 24.
(The July issue has an ad and copy deadline of June 21.)
INTERESTED IN ADVERTISING? CLICK HERE FOR RATES AND INFORMATION!
Want to subscribe to receive the PRINT version of THE BEE?
NOW -- subscribe securely, online -- by clicking HERE!
But, if you would rather not do it online, you can E-mail circulation@CommNewspapers.com or telephone 503/620-9797 during weekday business hours. The 12-issue annual subscription rate is $14 per year for addresses located in Multnomah County, Oregon; and $24 for anywhere else in the U.S.(it's based on the differential postage rates for our class of postage). For international rates, inquire via that e-mail address just above!
_________________________________________________________________________
Daily news!


The all-new daily PORTLAND TRIBUNE website is updated throughout the day, every day, when news breaks out. Click

the banner at left

to keep up to date on the banner news throughout the Rose City!



THE BEE has a second website -- it's searchable for past stories. The content for the current month is similar to this one, presented in a different format. To visit the other website, click

the banner at right!



Five residents vote as 5,000
Eastmoreland 'Historic District' denied by state
By DAVID F. ASHTON
For THE BEE
The Eastmoreland Historic District process imbroglio reached its peak in late April, leading to a ruling released on the morning of April 25, hours away from when this issue of THE BEE would go to press, by the Oregon State Historic Preservation Office (SHPO).

Before the SHPO deadline for receiving objections, Historic District opponent Tom Brown, a member of "Keep Eastmoreland Free", told THE BEE that he'd dropped off 5,000 notarized objections at the SHPO office, in keeping with rules provided by the federal and state agencies.
"According to the rules, we learned that one property could be divided into separate trusts, and each of these trusts would count as a vote," Brown said. "Three additional property owners did this, as did Patrick Cummings, the first person [to divide a property ownership into multiple HBD trusts]."
Patrick Cummings did not respond to a request for an interview with THE BEE.
The new state ruling, which itself might now become the subject of a lawsuit by proponents, validates that unusual tactic by opponents: Turning a single property into 1,000 "trusts", and thus – in this case – turning five opponents into 5,000 objectors, and overwhelming what previously appeared to be a small majority of property owners in Eastmoreland favoring the Historic District plan.
The original nomination for the District was received in February of 2017, and was reviewed by the State Advisory Committee on Historic Preservation, a volunteer group of people with interest and skill in Oregon history. The committee recommended listing Eastmoreland in the National Register based on its historic qualities. Deputy State Historic Preservation Officer Christine Curran agreed, and the nomination was submitted to the NPS in May of 2017.

However, Curran asked that the nomination be returned to the office due to unresolved problems determining the number of owners in the proposed district boundary. Without an accurate count of owners, the SHPO was unable to calculate the percentage of objections. The nomination was returned in June 2017.
Federal rules did not clearly answer how to resolve complications arising from deceased owners (under some circumstances, it turns out, they can still "vote") and trusts, among other things, so Oregon SHPO staff requested guidance from federal and state officials. The SHPO received guidance from the NPS in November 2017 and advice from the Oregon Department of Justice (DOJ) in January 2018 – before the device of turning one property owner into 1,000 by creating that many trusts for a single property had turned up.
Proponents decry 'objection trusts'
Himself in favor of establishing the Historic District, "Historic Eastmoreland Achieving Results Together" (HEART) co-founder Derek Blum commented before the new ruling on the action of individuals creating "1,000 objection trusts" from their property: "Thus far, the SHPO or NPS have not stated whether such a scheme is permissible or will be allowed, but they haven't said that it is not," Blum said. "Until I hear otherwise, I would assume that these objections will be counted."
When asked if proponents of the Historic District nomination might use the same strategy, Blum replied, "I believe supporters could use a similar technique, but these kinds of tricks and loopholes have not been exploited by supporters."
Further, Blum didn't have kind words for the state office involved with historic neighborhood designations. "Beyond this obvious abuse of process [by opponents], the Oregon SHPO is also complicit; by neglecting to perform their duties last year, they have broken the process and created the conditions that increased the likelihood of this abuse, which I had foreseen.
"SHPO is now operating without very much transparency," Blum went on. "They have stopped answering questions, and now fall back on their default statement that they are simply following the guidance of the NPS and DOJ."
Blum said that SHPO officials either cannot, or will not, provide answers to questions, "which suggests that they are ill-equipped to administer the national register program in Oregon".
Objectors 'live in fear'
As for the opponents, the Historic District nomination has left neighbors divided, Brown said. "Many 'Keep Eastmoreland Free' people have 'stepped back' from taking public positions on this issue, due to the abuse they've received from their neighbors. Following the rules, we've done all that we can."
---
TriMet personnel look over their LIFT bus, stuck in a ditch northbound along S.E. McLoughlin Boulevard. (Photo by Eric Norberg)
TriMet LIFT bus swerves off McLoughlin into ditch
By DAVID F. ASHTON
For THE BEE
After nearly colliding with a wayward car, a TriMet LIFT bus left northbound McLoughlin Boulevard and came to an abrupt stop in a drainage ditch, on Saturday, April 10, at 12:22 p.m., near the north end of the Eastmoreland Golf Course, a block south of S.E. Reedway Street.
Portland Fire & Rescue paramedics arrived, and began carefully removing the driver and two passengers from the crashed bus through an emergency window, because the doorway was blocked by the muddy ditch. Central Precinct police officers closed off northbound McLoughlin Boulevard for a time, both for the rescue, and then to permit to tow trucks to remove the disabled car that had caused the crash, and to pull the small bus out of the ditch.
"The two passengers were transported to area hospitals for treatment of what was believed to be non-trauma injuries," reported Portland Police spokesman Sgt. Chris Burley.

"Officers learned the driver of a blue Honda Element had experienced mechanical problems with the vehicle's steering system, and collided with the median road barrier, and caused the TriMet LIFT bus to leave the roadway and roll on its side."
The driver of the Honda Element cooperated with investigators and was not injured during the crash. No citations were issued.
---
In front of the Community Budget Forum's meeting hall, Woodstock's Dawn Haecker showed her support for Portland's small community centers, along with Arlo and Kari Haecker and Karen Schumaker, who live near the Sellwood Community Center. (Photo by David F. Ashton)
Community Centers draw support at Budget Forum
By DAVID F. ASHTON
For THE BEE
When Mayor Ted Wheeler and the Portland City Council held their only east-of-the-Willamette-River "Community Budget Form", on the evening of April 3, the spacious room at David Douglas High School was filled to its legal capacity.
In fact, after security guards at the door counted 847 people inside it – that's its stated capacity, according to the State Fire Marshall – late-arrivers were barred from entering, until after some of the attendees had spoken and left, during the meeting.
"Tonight is one of our Community Budget Forums, at which the Mayor and Portland City Council members hear from the community their priorities for the upcoming budget process," explained City of Portland City Budget Director Andrew Scott. "I think these forums are really helpful to Council members as they are going through the budget process.
"At this point, and things change all the time, we're looking at a $1.5 million dollar deficit for the City on an ongoing basis, and also, about a $24 million one-time surplus," Scott told THE BEE.
The key decision for City Council, Scott remarked, is how to allocate budget money "in order to fund some of the housing, public safety, livability, and resiliency issues that the Mayor has put forward – and where we need to make some 'realignments' in the city budget to do so."
Before the meeting THE BEE asked Portland City Commissioner Amanda Fritz, the Parks Commissioner, if she has hope for keeping the Woodstock and Sellwood Community Centers open.
"Oh absolutely!" she replied. "People love and need their Community Centers; it's a very strong budgeting item – but still, there's not enough budgeting to fund all the things that the Mayor wants to fund."
In his opening remarks, Portland Mayor Ted Wheeler said that, although the economy seems strong, costs are outpacing revenues.
"There are key challenges facing our community. For example, increasing housing options remains important, as does homelessness," Wheeler commented. "Also, maintaining critical infrastructure, enhancing livability, and ensuring public safety and police accountability, pursuing innovation, and pursuing resiliency – all of them continue to be important priorities.
"We asked Bureaus to submit budget options to give the Council a realistic look of what it takes to maintain 'mission-critical' programs, while also prioritizing investments that address key challenges facing our community today," Wheeler said. "Last year we spent about $27 million on addressing the homeless crisis, including homeless prevention, homeless interventions, emergency subculture services, addiction treatment, mental health services, and transitioning into housing."
Many testify for Woodstock and Sellwood Centers
One of the first to testify at the Community Budget Form was Dawn Haecker, who told the City's elected officials, "I understand you have received postcards sent in the past week or so, as long as well as a petition with several thousand signatures.
"You probably also heard we had a rally on St. Patrick's Day. On short notice, more than 300 supporters came to the Sellwood Community Center," Haecker continued. "And when we went to the streets with our petition, every person we spoke to said how obvious it was that resources like our Community Centers are non-negotiable.
"Why do we have to be in opposition every year?" Haecker rhetorically inquired.
Also having arrived early, Sellwood resident Julie Kern, who identified herself as a working mother of three, testified, "I'm here to oppose the proposed closure specifically of the Sellwood and Woodstock Community Centers, as well as the other small centers."
She pointed out that these Community Centers provide affordable after-school care, which is so popular that these programs have a waiting list.
"We need to be increasing services instead of decreasing them," Kern continued. "With the closure of the [Westmoreland] Boy & Girls Club in 2016, nothing has come along to replace it. There is no 'Plan B' for me, or for hundreds of other families in the area."
Several individuals testified for their own causes before Oregon Representative Rob Nosse District 43 (D), whose district includes the Woodstock neighborhood.
"I've been receiving e-mails from concerned constituents who say they need public indoor space, and asked me if I could do something about it, which prompted me to come to this forum," Nosse acknowledged. "I want to highlight how crucial it is to support public indoor spaces. This is a place for parents and children to come and be active while being protected from the elements – as you may notice, it rains here a bit."
Peter Adams, the Financial Manager of the nonprofit Friends of the Woodstock Community Center, gently shamed city leaders for considering closing the centers, and ended his testimony paraphrasing Oscar Wilde: "It seems that we're involved in a process in which we know the cost of everything, but the value of nothing!"
Two days later, when Commissioner Amanda Fritz was a guest at the Brentwood Darlington Neighborhood Association meeting, she remarked on the potential closing of the Woodstock Community Centers and others: "I think, after the magnificent showing on Tuesday at the Community Budget Forum, I would be astonished if my colleagues on the Portland City Council would vote to close the [Woodstock and Sellwood] Community Centers."
Into the evening at the budget hearing, testimony continued. One more such public forum remained – this one in North Portland – before, beginning in May, public hearings move to City Hall chambers. And, on June 7, the Portland City Council will adopt a budget.
---
In their pit area, the "Metal Beavers" Team Captain and driver JR Surban checked their robot's programming with the co-driver, home-schooled student Jacob Purvis. (Photo by David F. Ashton)
Southeast high school robotics teams compete, score
By DAVID F. ASHTON
For THE BEE
Although two area high school robotics teams – the Metal Beavers and the Pigmice – went head-to-head early in this year's FIRST Robotics Competition (FRC) matches, they later teamed up to take on the state champions together.
The action took place at the 2018 FRC District Event for the Pacific Northwest Regional District, hosted by the Oregon Robotics Tournament & Outreach Program (ORTOP), and held again at Lake Oswego High School.
Both after-school robotics club teams have deep roots in the community. These teams are financially supported by donations and grants.
Acknowledged as Portland's first high-school-based robotics club, FRC Team 1432 ("the Metal Beavers"), were kicked out of Franklin High School in 2010 for reasons still unknown, but the nonprofit club moved into the basement of Knights of Pythias Ivanhoe Lodge #1 in Lents, where it continues to this day.
"Pigmice" computer-aided-engineering lead Isabelle Rinehart, programming team member Chrisse Hung, and programming team captain Flora Abrams, stand with their robot in the pit area. (Photo by David F. Ashton)
Cleveland High School's FRC Team 2733, "The Pigmice", was created by many of the students who were involved in the 2007 FIRST Lego League Robotics World Champion team of the same name when they were attending Brooklyn's Winterhaven School.
At the competition, the small-but-plucky Metal Beavers team worked on their robot in the pit area between matches.
"A friend of mine recommended it, and found that I really liked the whole idea of First Robotics Competition, and how everything is goal based," said the team captain, JR Surban, a junior at Franklin High School. "After working with the team, I found that I like putting stuff together; making something that works out from small pieces, which can do things that meet a goal."
In addition to building robots, Surban added, "Doing this, I've learned how to communicate better both within our team and with other teams, and learned how to work better together."
Across the aisle in "pit row" was the FIRST Robotics Team 2733, the Pigmice.
"We're an entirely-student-led team with 43 members, who have the help and guidance of ten mentors," remarked the team's computer-aided-engineering lead, Isabelle Rinehart, a junior at Cleveland High School.
"I really like mathematics and physics, so this is a good way to incorporate those skills in a real-world application," Rinehart said. "And, working among our teams, we learn valuable communication skills, helping our project all come together in the end."
ORTOP Executive Director David Perry provided an overview of the event comprised of 36 teams from high schools in Oregon, Washington and Alaska.
"This year's FRC game is called 'Power Up', and is based on classic 8-bit video games," Perry told THE BEE. "The robots score points by putting 'power cubes' on balance beams; and, in the final 30 seconds, the robots attempt to climb cords, hoisting themselves up to score more points."
The FRC competition is important in education today, Perry commented. "And, like in other sports, students are learning about teamwork and working together, solving real-world engineering problems together in just six weeks."
In addition to math, science and engineering challenges, ORTOP Development Director Cindy Lebeau pointed out that the teams are also run like businesses. "They have to fund-raise, get sponsors, and promote – using skills such as public relation, graphic design, business, accounting, and budgeting."
During the games, three teams are assigned to either the red or blue "alliance" putting six robots on the playing field at one time.
In mid-afternoon, for Match 24, the Metal Beavers were assigned to the Blue Alliance; the Pigmice to the Red Alliance.
Both teams played valiantly; and at the end, the Metal Beavers' robot scored as it hoisted itself over the other machines.
The Metal Beavers earned a spot as Alliance Captain, in the elimination rounds the following day, giving them the right to select two other teams to join them.
"They selected the Spartan Robotics team from Corvallis, and the Pigmice," said the Cleveland High's team coach Cindi Carrell after the event. "We were really honored to be selected by our neighbors!"
The alliance won their first quarter finals, and advanced to semifinals, where they lost to the number one ranked alliance, which later won the event.
While the Metal Beavers didn't gather enough points to move on to qualify for the District Championship at Veterans Memorial Coliseum on the following weekend, the Pigmice did qualify to advance.
"Pigmice also were honored with the FRC 'Engineering Inspiration Award', the highest judged award the team has ever earned," Carrell reported.
This year, Pigmice finished the season ranking 43 out of 64; and they look forward to the next year's competition, as do the Metal Beavers.

After the District Championships, Carrell said, when all points were totaled, Pigmice finished the season ranking 48 out of 154 – and are looking forward to next year's competition.
---
ODOT District 1 Community Affairs Manager Shelli Romero, taking a break from writing down public comments during the East Portland open house. (Photo by David F. Ashton)
Portland road-toll options rolled out at open house
By DAVID F. ASHTON
For THE BEE
In April, Oregon Department of Transportation (ODOT) held several open houses to discuss imposing tolls on local freeways – or, as they call it, adding "congestion pricing" – as a strategy to improve travel times and reliability on Interstate 5 and Interstate 205 in and around Portland.
Their only open house on the east side of the Willamette River was on April 14 at Ron Russell Middle School, and THE BEE was there.
ODOT started looking into taxing segments of freeways after the Oregon Legislature approved HB 2017, "Keep Oregon Moving", last year, which committed $5.3 billion to a wide range of transportation investments.
The bill directed the Oregon Transportation Commission (OTC) to pursue federal approval for "congestion pricing" on all, or parts, of Portland-area freeways.
"We've had a huge amount of very engaged citizens come out to join us and discuss what they think about the possibility of tolling different segments of the local interstate highways," commented ODOT spokesperson Dave Thompson. "With more people moving here, and more cars arriving, we can never simply 'build our way out' of traffic congestion.
"We need take steps to help people understand the role they play in adding to this congestion, and ask themselves, as individuals, what they can do to be part of the solution."
The last major freeway in the Portland area was completed about 1980. "But we've added lanes or fixed congestion traffic congestion problems in certain sections within last year, [and in past years]; but some people don't recognize this," reflected Thompson.
At the open houses, ODOT invited comments on five options for tolling. These could include adding toll lanes, tolling an existing lane, or even tolling an entire highway segment.
Even though interstate highways don't run directly through Inner Southeast Portland, Thompson pointed out that many residents probably use I-205 when going to the airport or Vancouver.
"Most of the driving options might be along I-5 where we're talking about tolling the High Occupancy Vehicle lane, and people in this area would be affected by this," Thompson said.
However, anyone who lives near a freeway might be concerned by the tolling plan, due to the possibility of drivers getting off to avoid the toll and cutting through the neighborhoods, perhaps at a high rate of speed, conceded Thompson. Much needs to be studied, he said, to avoid unintended consequences from the tolling plan.
When "congestion pricing" is instituted, don't expect to see toll booths, Thompson remarked. "In the United States, there are more than three dozen 'congestion tolling' projects that we can look at to learn which kinds of electronic and/or license plate recognition technology would work the best here."
The online comment period closed on April 30; ODOT is to deliver a recommendation to the OTC this summer; and by December 31, the OTC will submit its "congestion pricing" proposal to the Federal Highway Administration.
---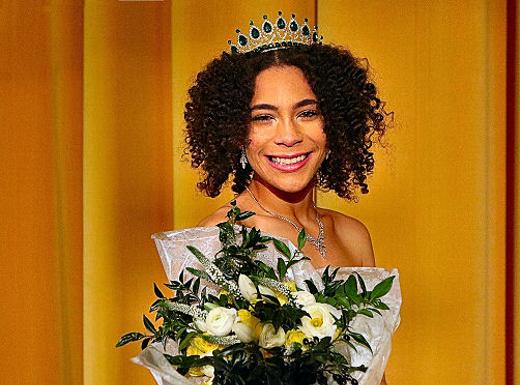 2018's Portland Rose Festival CHS Princess, Sydney Toops, receives her tiara from outgoing 2017 Princess Biftu Amin. (Photo by David F. Ashton)
Introducing Cleveland High's Rose Festival Princess
By DAVID F. ASHTON
For THE BEE
After Cleveland High School (CHS) classes were over for the day on the afternoon of March 18, students gathered in the auditorium to learn who would represent the Warriors during the 2018 Portland Rose Festival.
"Both our student candidates are hard-working and ambitious; and more than that, they want to do right by our community," remarked Principal Ayesha Freeman before the program got underway. "Our candidates are amazing and wonderful young women; and I'd be thrilled for either one of them to represent our school!"
Both seniors, candidates Elise Anderson and Sydney Toops were warmly welcomed as they walked on stage.
2017 Portland Rose Festival CHS Princess Biftu Amin had returned for the ceremony to address the candidates. "Congratulations to both of you for making it this far; you should be very proud of yourselves.
"I want you to look at this moment not as a competition, but as a chance to make a difference and make memories, along with other amazing individuals like yourselves," Amin said – and then advised, "Most importantly stay true to yourself, and what you stand for and who you are."
When CHS Vice Principal Katie Wagner made the announcement that Sydney Toops had had been selected, smiles abounded.
After thanking everyone for their support, Princess Sydney received gifts, and posed for photographs.
"When I heard my name read, so many emotions went through my head," Princess Sydney confided to THE BEE. "After not being selected when I participated last year, now I'm feeling excitement, joy, and I am almost overwhelmed!"
Princess Sydney said she's a life-long Inner Southeast Portland resident, having attended Meriwether Lewis Elementary School in Woodstock, Sellwood Middle School, and now she will be the third generation of her family to graduate from Cleveland High.
Away from school, Princess Sydney is a lifeguard and swim instructor at Mt. Scott Community Center, and she also volunteers as a Special Olympics coach.
"I look forward to meeting all the other Princesses and getting to know them, being a good representative for my school, and learning from my mentor," she said.
Princess Sydney plans to attend Portland State University to pursue a career as a Special Education teacher. Her educational aspirations will be aided by the $3,500 scholarship she receives, provided by The Randall Group.
Wave to her during the Portland Rose Festival Starlight Parade on the evening of June 2; and cheer her on at the Queen's Coronation on June 9 at 8:30 a.m., in Veterans Memorial Coliseum.
For information about Portland Rose Festival, go online: http://www.rosefestival.org.
---
This conceptual rendering of possible Gideon Street Bridge options was provided by TriMet. (Courtesy of TriMet)
Gideon Street overcrossing planned by TriMet and city
By RITA A. LEONARD
For THE BEE
At the March 28 meeting of the Brooklyn Action Corps neighborhood association, residents learned that a new bike and pedestrian bridge to the Hosford-Abernethy neighborhood is being planned to replace the wooden one torn down to make way for MAX Orange Line construction.
The new "Gideon Overcrossing" will extend from S.E. 14th Avenue in the Hosford-Abernethy neighborhood, across both MAX and Union Pacific Railroad tracks, to connect with S.E. 13th Place at Gideon Street. The bridge will be in line with the Portland Fire Bureau Station 23's crossing access to nearby S.E. Powell Boulevard.
Construction of the new bridge was deferred in 2010 when Federal funding for the project came in below earlier expectations. Now, TriMet has successfully secured approval from the Federal Transit Administration to construct a new truss-style bridge at the location, using the remaining Portland-Milwaukie Light Rail Transit Project funds.
Roberta Alstadt, Media Relations &Communications Manager at TriMet, explains, "The images shared at the Brooklyn meeting were just design options or ideas; there will be refinement." The design process with TriMet and the Portland Bureau of Transportation is now in progress.
The old bridge at the site, remembered for its former skateboard park on the north side, was eliminated due to the addition of MAX Orange Line tracks. The new 24-foot-tall bridge will be serviced by stairs and two elevators, similar to those at the S.E. Lafayette Street bridge crossing. The Gideon Overcrossing enhances neighborhood connections, and reportedly completes the city's vision of the "Clinton to the River" project.
The new bridge will be located within the city's public right-of-way to minimize impact to neighboring businesses. Its proximity to the light rail station (which is about 300 feet to the west), is thought to make it an attractive option for commuters on foot crossing the rails to this MAX Station. When completed, the bridge will be owned and operated by the City of Portland.
TriMet and the City are planning and designing the 103-foot-long truss-style bridge and stairs, and hope to begin construction in the fall of 2019. The new bridge will likely be open at the top, similar to that at the Lafayette Street Bridge. The estimated cost of the project is $7.5 million.

One longstanding promise – one of over twenty years' duration – that has yet to be fulfilled is the pedestrian and bicycle crossing for north Westmoreland, from the western to the eastern Reedway Street alignment, across the MAX and Union Pacific tracks, that was the original basis for the planning for what was known as the "Harold Street Station" – not built, and for the same reason: That shortfall of federal funds for the MAX project in 2010.
The Reed, Eastmoreland, and Sellwood-Westmoreland neighborhoods have all passed resolutions asking that the Reedway Bridge be built, to connect these neighborhoods to each other and to MAX service, but TriMet has so far been unreceptive to constructing it. The city has shown some interest in possibly building it on its own, however, for the same purposes.
---
Comments? News tips? Click here to submit!
Trying to remember or locate a BEE advertiser? Click here to e-mail us, and we'll help!
Fair warning: We have so many great photos on page 2 this month, it may take a while to load on slower connections! If that applies to you, click the link below, then go get refreshment, come back, relax, and prepare to enjoy what we have for you on page 2!
READY TO TURN TO PAGE 2 -- FOR "MORE NEWS"? Click here!
Note to readers: At some point, this, our original Internet website, will be replaced at this web address by our new website, as part of the Community Newspapers group. At that time, you will still be able to access this long-established and smartphone-friendly website, if you save this address:
www.readthebee.mobi
. You'll still have your choice of which one to visit!

Entire contents © 2018, THE BEE; all rights reserved.