Eric Norberg, Editor & Gen. Manager
Brian Monihan, Publisher
Sandy Hubbard, Independent BEE
Advertising Representative
Cheryl Duval, Supervisor of Ad Design
Molly Filler, Supervisor of Page Design
Jerrin Sipe, Accounting

Eric Norberg: Sandy Hubbard:
503 / 232-2326 971 / 407-7942
fax: 503/232-9787

"Community Classifieds" want ads: 503/620-7355
Circulation/subscriptions: 503/620-9797
Accounting/Billing: 971/204-7712
Composition: 971/204-7836
Community Newspapers, Inc.

Editorial and Sales Address:
1837 S.E. Harold St, Portland, OR 97202-4932
Remit bill payments to:
Accounts Receivable Department
P.O. Box 22109, Portland, OR 97269-2109

e-mail: ReadTheBee@myexcel.com



THE BEE IS LOCALLY OWNED BY THE PAMPLIN MEDIA GROUP
April, 2021 -- Vol. 115, No. 8
Scroll down to read this issue!

Memories of THE BEE's first 100 years!
In 2006, THE BEE celebrated its centennial of serving Southeast Portland! A special four-page retrospective of Inner Southeast Portland's century, written by Eileen Fitzsimons, and drawn from the pages of THE BEE over the previous 100 years, appeared in our September, 2006, issue.
Click here to read the special centenary retrospective!
_________________________________________
BEE SUBMISSION AND AD DEADLINES
Next BEE is our May issue, with a deadline of April 15.
(The June issue has an ad and copy deadline of May 20.)
INTERESTED IN ADVERTISING? CLICK HERE FOR RATES AND INFORMATION!
____________________________________

Want to subscribe to receive the PRINT version of THE BEE in the mail?
E-mail circulation@CommNewspapers.com -- or telephone 503/620-9797, during weekday business hours.
The 12-issue annual subscription rate is $19 per year for addresses located in Multnomah County, Oregon; and $29 for anywhere else in the U.S.(it's based on the differential postage rates for our class of postage). For international rates, inquire via the e-mail address or telephone number just above!
_________________________________________________________________________
Daily news!




The Portland Tribune is updated a number of times every day, to bring you the latest news of the Portland area and Oregon.

Click on the banner at left to read the Tribune online!



THE BEE has a second website -- searchable for past stories. The content for the current month includes what is on this one, presented in a different format.

To visit our newer website, click the banner at right!




GDPR NOTICE: The owner of this website, www.ReadTheBee.com, collects no information on this site from any reader, and never has.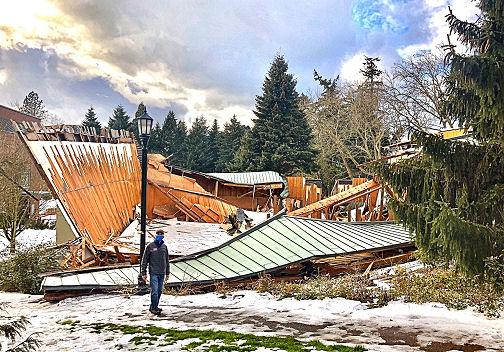 Michael Lombardo, Reed's Director of Athletic, Fitness, and Outdoor Programs, stands before the ruins of Reed College's Gym I and Gym II after their collapse in February. (Courtesy of Carrie Baldwin-Sayre & Reed College)
As the roof fell in on Reed College's Gym I and Gym II, the side walls buckled under the strain. (Courtesy of Gary Granger & Reed College)
Ice, snow collapse both gyms at Reed College
By DAVID F. ASHTON
For THE BEE
Because its campus has been closed to the public for months during the pandemic, word was delayed of another major Inner Southeast Portland casualty of the record-setting February winter snow and ice storm – hidden away at Reed College.
"The roofs of our Gym I and Gym II collapsed as a result of the storm," confirmed Reed College Director of Communications Kevin Myers. "Our school does have insurance; and they've already been involved in a 'forensic demolition' of the structure. Ice blocked the gutters; water built up, and came in through the roof."
For more details, he referred us to Chris Lydgate, Director of Editorial Services at Reed College…
A campus safety staff member received the alert from the building's electronic monitoring system at 2:38 a.m. on February 15, Lydgate told THE BEE. As staffers gathered, their first look into the buildings revealed that the basketball court was flooded. It wasn't long until they heard the sound of cracking timbers above them – which influenced their decision to beat a hasty retreat out of the structure.
Even in the darkness, the staffers could clearly see the walls of the building bulging.
"The roof over Gym I and Gym II fell apart at approximately 7:59 a.m.," reported Lydgate. "The impact pulverized the basketball court, the ping-pong tables, the kickboxing zone, and the COVID-19 testing area," he said. But no one was injured in the collapse.
At this time it is unclear when the rest of the Reed College Sports Center – such as the swimming pool, lockers, weight room, outdoor center, dance studio, and cardio room – will once again be available for students to use.
As far as any timeline for rebuilding the two gyms – Reed College officials say they don't want to speculate on that, since much remains to be decided.
---
After a weekend of cleaning up debris around the dozens of sunken boats, workers still had quite a ways to go – to remove the collapsed steel roofing and supporting timbers from the docks at the Portland Rowing Club moorage, just south of the Sellwood Bridge. (Photo by David F. Ashton)
Sellwood moorage residents cleaning up from winter's ice storm
By DAVID F. ASHTON
For THE BEE
The front page story of the THE BEE's March issue told about what happened to Sellwood moorages along the Willamette River during February's winter storm.
After longtime floating-home resident Renee Morgan at the Portland Rowing Club (PRC) saw the story, she contacted us to tell about the subsequent cleanup efforts.
"The storm damage was devastating. Under the extreme weight of the ice and snow, the covered boat-slip roofs collapsed onto 40 boats," Morgan recounted. "The Portland Rowing Club has weathered a lot of storms and floods since its establishment in 1879, but this was the worst since the 1996 Flood."
Balancing act keep homes afloat
When snow and ice up built up in three layers on the roofs of the nearby floating homes, they became unstable and started to tilt, Morgan recalled. "They all sit on 'floats' that are made of huge logs; so, as the weight would become off-center, more ice would build upon one side of the roofs – they would tend to start tipping to one side.
"Groups of us moved from home to home, jumping on the opposite side of the deck, helping to bring the home back to level.
"It would be okay for a while, then they started to tip another direction. So, for the better part of two days, neighbors sere helping each other balancing their houses from tipping, and preventing them from striking the floating home next door," Morgan commented. Indeed, none of the floating homes sank or were severely damaged.
"Living as a 'river rat', as we call ourselves, one person's problem, is everyone's problem," Morgan explained.
Land-lubber neighbors to the rescue
Feeling overwhelmed with the clean-up task ahead, Morgan said, "We put the word out to the community that we really needed their help out here to save our moorage; and, wonderfully, many volunteers came.
"Although it wasn't an 'official call-out', some volunteers were members of the Sellwood Neighborhood NET Team, who came on their own; others were from what we call the 'River Rat Cooperative' – river dwelling people along the Columbia and Willamette – all pitched in to help.
"The boater who decorates his craft as a big fire engine, Richie Rich, came immediately and started giving us help and advice."
After the storm cleared, volunteers hand-carried and carted four tons of wood and 20-foot-long sheets of metal roofing up the steep moorage ramp and dumped them into waiting dropboxes.
Due to the cost of repairing the docks and moorages, it's unlikely they'll be able to build another roof over the boat slips, Morgan told THE BEE.
River-living residents grateful
"Some people think that we are an 'elite and wealth conclave' of homeowners here; but that's not the fact," Morgan pointed out. "We're a very mixed community here – some homes are large, many others are modest – and we have a volunteer-run moorage association that's not rolling in money.
"The community effort here not only 'lifted the roofs', but also really raised the spirits of all the residents and boaters, after the storm's devastating blow to the historic moorage," Morgan said.
---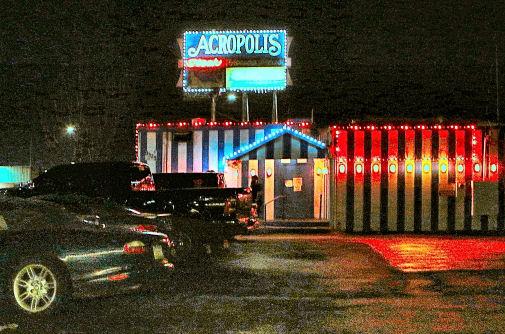 A Saturday night at this Inner Southeast Portland establishment turned deadly, when gunshots led to the deaths of two men. (Photo by David F. Ashton)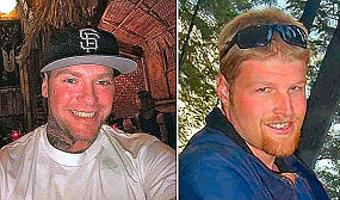 Officials say that 39-year-old Williams Peters, left, died at the scene; 36-year-old Adam David-Lawrence Arrambide, at right, passed away at the hospital the following day. (Family-provided photos)
Two die in shooting at McLoughlin Blvd's Acropolis Steakhouse
By DAVID F. ASHTON
For THE BEE
Shots fired at the Acropolis Steakhouse, on the eastern edge of the Sellwood neighborhood at S.E. McLoughlin Boulevard at Umatilla Street on Saturday night, February 27, left one man dead at the scene – and a second shooting victim died the following day in a hospital.
Central Precinct officers were dispatched to the scene that evening at 11:29 p.m. So far, PPB officials have revealed very little about this shooting incident. Presumably more information will be released if and when there is an arrest in the case.
"The Oregon State Medical Examiner determined the cause of both deaths was from a gunshot wound, and the manner of both deaths a homicide," a Portland Police official said. "The victims in this Sellwood shooting have been identified as 39-year-old Williams Peters of Portland, who died at the scene; and 36-year-old Adam David-Lawrence Arrambide, of La Pine, Oregon, who died on February 28, at the hospital."

At last report the suspect was still at large. Anyone with information about the incident is asked to contact Detective Scott Broughton – Scott.Broughton@portlandoregon.gov, or phone 503/823-3774. Alternatively you may contact Detective Eric McDaniel – Eric.McDaniel@portlandoregon.gov, or call 503/823-0833.
---
Alexander Hess perfects his "figure roller skating" form under the direction of his coach (and mom), Abbigail Hess. (Photo by David F. Ashton)
'Competition skaters' cheer Oaks Roller Rink's reopening…again
By DAVID F. ASHTON
For THE BEE
As in most indoor activities, closures due to the COVID-19 coronavirus pandemic have created repeated disappointments for the recreational and competition roller skaters across the Portland area who regularly skate at Oaks Park's famed Roller Rink.
Back on November 4th they were teased with a reopening of the historic roller rink – the nation's premier roller skating facility, and the largest rink west of the Mississippi – only to see it shut down again a mere ten days later, by governmental COVID-19 rules.
However, recently, skaters were elated when Oaks Park Association Marketing and Events Director Emily MacKay happily announced, "Oaks Park Roller Rink is reopening for limited public Open Skate Sessions starting March 1.
"While we don't have any assurances that we won't have to close down again, we feel confident, with the improving numbers in Multnomah County, that we may be able to operate on an ongoing basis, moving forward through 2021."
Oaks Skate Club rolls again
Having the rink closed was an inconvenience for casual roller skaters – but it was devastating for members of the Oaks Skate Club, whose members train at the rink for competitive "roller figure skating" and speed skating.
"I'm so glad we can be back here training on Saturday mornings," smiled the certified USA Roller Sports skating coach of 22 years, Abbigail Hess. "Getting back on the hardwood – well, this is my happy place, where, no matter how crazy the rest of the world is, it's just me, and the floor, and the music!"
Her student that morning happened to be her own son, Alexander Hess, a seventh-grader at Connections Academy. "Mom says I learned to walk at six months old, and they put skates on me at seven months old – so the Oaks Roller Rink is my skating home!" he told THE BEE.
Although it's unlikely there will be any regional or national competitions which Alexander can enter at his age, he still trains as if he were going to be competing next week. "Roller skating is more than a sport to me; it is a lifestyle," Alexander observed. "So, being back in the rink allows me to practice this lifestyle in the right place."
Meantime Bobby Hamblin, who is also the youngest to train in competition "figure roller skating" in his own family, was elsewhere on the floor, under the watchful eye of coach George Kolibaba, who's been training champions at The Oaks since 1970.
"Getting back into the rink restores a sense of normalcy for me," said Hamblin, a freshman at Roosevelt High School. "It's really – I mean really – nice to be able to skate again! I'm looking forward to next season when, hopefully, we can be getting back into competitions – and doing it without having to wear face masks! I'm really looking forward to it."
Bobby's mom, who is also a coach at the Oaks Park Roller Rink, said that the Oaks Skate Club once had more than 100 members. "Right now we have about 20 active figure skating club members.
"We're still working to put a safe plan in place for the speed-racer portion of our club to be able to come back and practice," Hamblin told THE BEE. "By the way; we're actively recruiting new skaters! Anyone interested should visit the Oaks Park website for contact information."
At our deadline, we asked Emily MacKay about rumors that Oaks Amusement Park itself might reopen, at least partially, this season. "We're optimistic that we'll be able to resume the operation of at least the rides and mini golf, albeit with capacity limitations, at some point this summer – but right now, it's too soon to say."
For information about both recreational and competition roller skating – including restrictions, ticketing, and costs, go online – http://www.oakspark.com
---
Outside the Oregon Museum of Science and Industry, a guest stops to photograph this giant beast, a full-sized Tyrannosaurus Rex, posted there as a signal that the new exhibition "Dinosaurs Revealed" is now on display inside. (Photo by David F. Ashton)
During the pandemic, OMSI unveils 'Dinosaurs Revealed'
By DAVID F. ASHTON
For THE BEE
As guests walk into the latest exhibition at the Oregon Museum of Science and Industry (OMSI), they're met with loud growls, thundering snarls, and deep roars. It's not dangerous. It's "Dinosaurs Revealed", and it's now open to the public in the main exhibition area.
Creating the din are 26 lifelike and life-size animatronic dinosaurs – sounding, and looking, as if they're ready for lunch. But have no fear, these ancient beasts are securely anchored in place, and will neither pounce nor chomp.
As visitors wind their ways through the exposition, they'll discover and learn about dinosaurs in successive periods in Earth's history – specifically, the Triassic, Jurassic, and Cretaceous Periods.
"One of the things that makes this special for us is that it focuses specifically on North America's dinosaurs – in the Mesozoic era – right in the place we now call the Pacific Northwest!" the exhibit's local manager, OMSI educator Jennifer Powers, remarked during a sneak preview we attended just before it opened, on Friday, March 19.
"Also, 'Dinosaurs Revealed' is a great way for all of us to 'travel back in time' and experience the evolution of our environment, as well as that of the dinosaurs and other animals," Powers told THE BEE. "And, it's a great way for us to start conversations about the changing climate, and the environment that we are now experiencing."
High hopes it can stay open this time
This wasn't a great year for OMSI, with their "Exquisite Creatures" exhibition closing prematurely; with "BODY WORLDS & The Cycle of Life" being shuttered only ten days after it opened; and with "The Life & Legacy of Genghis Khan" being shut down by COVID-19 governmental restrictions, just as it was opening. At least you saw pictorial coverage of all three of those here in the pages of THE BEE.
"We'd be so jazzed if we are allowed to keep this exhibit open for at least three weeks – and we'd be really thrilled if it can continue into September!" grinned Powers.
"We have all of our COVID-19 safety procedures in place," she assured. "And, we are currently limiting our capacity to about 25% of what it normally would be; but we expect our allowed capacity to grow, as conditions improve."
Although experiencing "Dinosaurs Revealed" is free for OMSI members (there is an additional charge for non-member visitors), Powers said that nonetheless, they're asking everyone to order tickets in advance of arriving. "By providing 'timed tickets' to everyone, we can safely space out the guests arriving throughout the day – making sure we have small groups of people who can 'safety distance' throughout the exhibit."
As the allowed conditions in Multnomah County change, OMSI will update their admission policies, Powers said.

Here's a quick look – and listen! – at what you'll see and hear, when you visit this exhibition at OMSI – http://youtu.be/jQ8ch3Hg0Ic
"Dinosaurs Revealed" is scheduled to be on display through Labor Day, September 6, at the Oregon Museum of Science and Industry – OMSI – on the east bank of the Willamette River, on S.E. Water Street, just north of the Ross Island Bridge.

To learn more, as well as to get those required advance tickets, go online – http://omsi.edu/dinosaurs-revealed
---
Comments? News tips? Click here to submit!
Trying to remember or locate a BEE advertiser? Click here to e-mail us, and we'll help!
Fair warning: We have so many great photos on page 2 this month, it may take a while to load on slower connections! If that applies to you, click the link below, then go get refreshment, come back, relax, and prepare to enjoy what we have for you on page 2!
READY TO TURN TO PAGE 2 -- FOR "MORE NEWS"? Click here!
Note to readers: At some point, this, our original Internet website, will be replaced at this web address by our new website, as part of the Community Newspapers group. At that time, you will still be able to access this long-established and smartphone-friendly website, if you save this address:
www.readthebee.mobi
. You'll still have your choice of which one to visit!

Entire contents © 2021, THE BEE; all rights reserved.