Eric Norberg, Editor & General Manager
Sandy Hubbard, Independent BEE
Advertising Representative
Cheryl Duval, Advertising Design
Molly Filler, Supervisor of Page Design
Jerrin Sipe, Accounting

Eric Norberg: Sandy Hubbard:
503 / 232-2326 971 / 407-7942
fax: 503/232-9787

"Community Classifieds" want ads: 503/620-7355
Circulation/subscriptions: 503/620-9797
Accounting/Billing: 971/204-7712
Composition: 971/204-7836
Community Newspapers, Inc.

Editorial and Sales Address:
1837 S.E. Harold St, Portland, OR 97202-4932
Remit bill payments to:
Accounts Receivable Department
P.O. Box 22109, Portland, OR 97269-2109

e-mail: ReadTheBee@myexcel.com



THE BEE IS LOCALLY OWNED BY THE PAMPLIN MEDIA GROUP
December 2019 -- Vol. 114, No. 4
Scroll down to read this issue!

Memories of THE BEE's first 100 years!
In 2006, THE BEE celebrated its centennial of serving Southeast Portland! A special four-page retrospective of Inner Southeast Portland's century, written by Eileen Fitzsimons, and drawn from the pages of THE BEE over the previous 100 years, appeared in our September, 2006, issue.
Click here to read the special centenary retrospective!
_________________________________________
BEE SUBMISSION AND AD DEADLINES
Next BEE is our Pre-Christmas/January issue, with a deadline of December 5.
(The February issue has an ad and copy deadline of January 16.)
INTERESTED IN ADVERTISING? CLICK HERE FOR RATES AND INFORMATION!
Want to subscribe to receive the PRINT version of THE BEE?
E-mail circulation@CommNewspapers.com -- or telephone 503/620-9797, during weekday business hours.
The 12-issue annual subscription rate is $14 per year for addresses located in Multnomah County, Oregon; and $24 for anywhere else in the U.S.(it's based on the differential postage rates for our class of postage). For international rates, inquire via the e-mail address or telephone number just above!
_________________________________________________________________________
Daily news!


The all-new daily PORTLAND TRIBUNE website is updated throughout the day, every day, when news breaks out. Click

the banner at left

to keep up to date on the banner news throughout the Rose City!



THE BEE has a second website -- it's searchable for past stories. The content for the current month is similar to this one, presented in a different format. To visit the other website, click

the banner at right!



GDPR NOTICE: The owner of this website, www.ReadTheBee.com, collects no information on this site from any reader, and never has.
In the Franklin High School administrative office, holding her award plaque for being named "Oregon's Teacher of the Year", is Special Education teacher Mercedes Muñoz. (Photo by David F. Ashton)
Franklin High instructor named Oregon 'Teacher of the Year'
By DAVID F. ASHTON
For THE BEE
In early October, Franklin High School (FHS) Special Education teacher Mercedes Muñoz was wondering why she'd been told to make sure she attended an all-school assembly in their gymnasium.
It didn't take long for her to find out why. As she sat in the audience, Portland Public Schools (PPS) Superintendent Guadalupe Guerrero, surrounded by School Board members and officials, announced before the student body that Muñoz had been selected as "Oregon's Teacher of the Year".
"We are a better school community because of the dedication and hard work of Mercedes Muñoz," declared FHS Principal Chris Frazier,
Not long after the hoopla surrounding the assembly subsided, Muñoz spoke to THE BEE about her award, in one of the classrooms in which she teaches. "This will be my seventh year at Franklin High School; I started here in 2013 – I started here, and stayed here.
"I teach Special Education – which means I teach a little bit of everything; and provide 'push in support' in classrooms for English language arts," Muñoz explained. "To me, teaching is about giving back, and maximizing relationships with students, so they are empowered to make some choices about what they want to do for their future."
About being awarded, Muñoz commented, "First of all, receiving the 'Oregon Teacher of the Year' is a big deal, clearly; but [since receiving it], up until just a couple of days ago, I've been – a little bit – in shock, teaching and going about my regular business of working the day-to-day stuff and not focused on the award, or what's down the road.
"Since it was announced, a couple of past Oregon Teacher of the Year recipients have reached out to me and told me that I'd be in for a whirlwind, as I became the 'face of education in Oregon', which started my thinking about what I love and value about this craft."
As she's come to learn, Muñoz confided, she will serve as a spokesperson and representative for all Oregon teachers. Additionally, she'll attend the "Washington Recognition Week for Teachers of the Year" in Washington, D.C. this spring – In addition to receiving year-long professional development and networking with other state Teachers of the Year.
Now, she looks forward to "sharing the joy, and passion – the rough stuff" with other educators.
"Teaching is not an easy job; sometimes people might think (she waved her hand like in a magical gesture) that abracadabra, things just fall together. But, teaching is a lot of hard work, it takes a lot of patience, and perseverance and being willing to try new things, looking for methods and ways to better teach," elucidated Muñoz. "That's what I want to communicate about this job."
When asked by THE BEE about what she feels is the best part of teaching at Franklin High (an outburst of laughter occurred at that moment from the hallway), her response was to nod her head and smile broadly, "You hear the laughter and enthusiasm from the students?
"And, I love my colleagues here, which is why I've stayed put; it's now a nurturing environment," Muñoz went on. "Here, I've been able to develop strong relationships, and collaborate with other people who are connected with, and invested in, children – and are passionate about making a positive difference here, every day."
An example of just one of many staffmembers whom Muñoz commended for collaboration was 33-year FHS veteran Pamela Garrett, who told us. "She's the bomb; when I came, she 'wrapped her heart around me', answering my many pesky questions that I had, and, still have."
Directly addressing parents of Franklin High students, Muñoz expressed, "I want you to know that we appreciate your collaboration. I know that parents invest in their children, and have a lot of dreams for them, and want to see their children's talents come to fruition.
"Please, continue being partners, continue 'showing up', continue asking for what you need; and, if you can't 'open one door' successfully, try another – because your kids are that important, and they matter."
---
These "fuel pumps" dispense 100% renewable electric energy from PGE, says Project Manager Rob Schulberg. (Photo by David F. Ashton)
Southeast's first electric car chargers installed
By DAVID F. ASHTON
For THE BEE
Until now, people with all-electric vehicles who live or work in Southeast Portland have had to "fuel up" at home – or just hope to find a charger near their destination.
But, on Saturday morning, October 26, Portland General Electric (PGE) officials – along with representatives from TriMet, the City of Portland, and Multnomah County – cut a ribbon to officially open the new Eastport Plaza "Electric Avenue" charging station. Eastport Plaza stretches north from S.E. Holgate Boulevard at 82nd.
A battery-operated TriMet bus, and a variety of electric vehicles – including scooters – were part of the celebration.
"At an 'Electric Avenue' charging station, motorists can come, plug in, and charge their cars for an affordable rate," remarked PGE's Project Manager, Rob Schulberg, as the grand opening was getting underway.
"Here at Eastport Plaza, along S.E. 82nd Avenue of Roses, there's a lot of vehicle traffic and accessibility to Inner Southeast Portland drivers; we're trying to make charging cars as convenient as possible," Schulberg told THE BEE.
Depending on how quickly a driver desires to "fuel up", the charge is $3 for a slower "Level 2" charge, or $5 for a speeder "Level 3" charge, Schulberg pointed out. PGE also offers a monthly subscription rate of $25.
"These charging stations are important to the mission of PGE, because we are committed to doing our part in solving global warming and Climate Change," commented the company's President and CEO, Maria Pope. "We're working with great partners, like TriMet, to help alleviate one of the largest sources of carbon emissions in our transportation sector, by providing the first 'all-wind-powered' bus line in the United States!"
TriMet Engineering & Construction Executive Director Steve Witter acknowledged, "There are not any twirling wind turbines on the electric buses. Actually, the buses charge at night when there is a surplus of wind-generated energy from PGE; we've partnered with PGE to take advantage of the cleanest energy we have in the region."
District 3 Multnomah County Commissioner Jessica Vega Pederson told the gathering of about 75 people, during the ceremony, "My district covers a lot of Southeast Portland, which is why I'm so pleased to have this investment here today.
"This is a good thing for Southeast Portland; I thank PGE for the great partnership and leadership in making the investment to expand accessibility for electric vehicles and electric transportation."
After speeches, officials gathered to cut the ceremonial ribbon, and many of the guests took the offered opportunity for electric vehicle test drives – including rides on "Lime" electric scooters.
To learn more about PGE, and electric vehicles, visit their webpage – http://www.portlandgeneral.com/plugin
---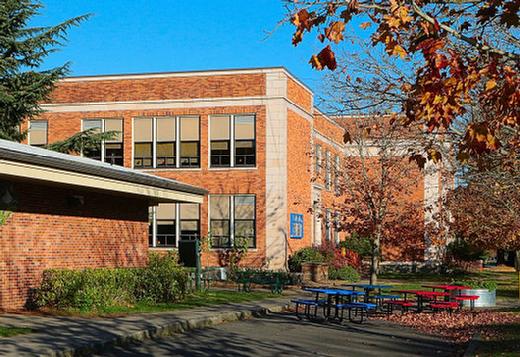 Outside Arleta School, parents held an impromptu press conference, expressing their concern that a young student allegedly induced another to ingest an unknown powder. (Courtesy of KOIN-TV-6 News)
Rumors of 'drugged child' vex Arleta School parents
By DAVID F. ASHTON
For THE BEE
Apparently, an Arleta Elementary School third-grader offered to another student a white powder in class on Monday, October 28; a teacher and two parents alleged that they were later told by Principal Diana Kruger that it might have been crack cocaine.
No officials, including the Portland Police Bureau, have officially confirmed whatever the "white power" actually was, however.
The affected student was "monitored by our health assistant until their family could arrive", and was then taken for a checkup by a doctor, according to a message sent to parents by Kruger.
Her message also stated, "The student showed no immediate signs of physical distress." The missive also contained assurances that "student safety is our highest priority. We will continue to be in touch with families. Our concern is for the privacy of these very young students."
Irate parents attended the Portland Public Schools Board meeting on Tuesday evening, November 5, where a group, identifying themselves as "Arleta Parents", submitted a letter about the incident.
The letter writers asserted that "neither Poison Control nor 911 was called" when the alleged crack cocaine was ingested, and complained about "the school environment" after Kruger's arrival.
School Board members got an earful from parents who complained of a lack of answers to questions they've asked. Eventually, PPS Board Chair Amy Kohnstamm let parents know that complaints about employees must be addressed to PPS Superintendent Guadalupe Guerrero instead of them.
There is an investigation into the incident, Portland Public Schools, wrote District spokeswoman Karen Werstein, in a prepared statement that read:
"A group of Arleta parents began contacting our Deputy Superintendent/Chief of Schools and Regional Superintendent, beginning last Friday evening and continuing throughout the weekend. Our Regional Superintendent responded to every parent during the weekend, and offered her mobile phone number in case parents wanted to talk immediately. Beginning yesterday, Arleta has had a retired school principal on campus to provide administrative leadership support, and the school's Area Senior Director has been on campus as well."
"I'm not at all satisfied that the school district is doing all that it can to protect my children who go to school at Arleta," groused parent Esther Jameson. "Sure, they have the responsibility of educating our kids; but, at the most basic level, keeping them safe is of utmost importance," she said.
Again, there has been no public disclosure from any authority about whatever the powder actually was, or where the child who had it had obtained it.
---
After ditching their car in a Reed College parking lot, two suspects take off into the campus; the female hands off the backpack to the male as they run. THE BEE was there. (Photo by David F. Ashton)
'Strangulation' leads to Reed College foot pursuit
By DAVID F. ASHTON
For THE BEE
What ended up with a young couple dashing through the Reed College Campus with Portland Police Bureau (PPB) officers in hot pursuit, in late October, actually began a couple of days before.
"This involved a domestic disturbance earlier in the week, where a male was reported to have 'strangled' a female in a vehicle," said PPB Public Information Officer Sgt. Kevin Allen. "Those involved were not located at that time."
On October 29, just after 3 p.m., officers who were following up on the non-lethal strangulation case spotted the involved vehicle, an older brown Volvo station wagon, and began following it. The driver hit the accelerator and the old Volvo lurched forward, sideswiping a vehicle along S.E. Division Street, after which it headed south.
With a hit-and-run charge now added to the previous incident, the sergeant on duty authorized a PIT maneuver to stop the fleeing car. But, officers didn't get the opportunity to use it as the vehicle sped away.
The Volvo careened west on S.E. Woodward Street, then south on Chavez Boulevard (formerly 39th), west on Steele Street, and then south – parking in the north Reed College dormitory parking lot, at which point its occupants fled.
PPB officers ringed the campus, keeping an eye out for the pair – described as a young Asian female and an Hispanic male – running along Reed College pathways.
"The female suspect was identified as a 17 year-old runaway; the male driver was eventually apprehended after a K-9 track," Allen told THE BEE. "He was identified as a juvenile with a felony warrant; officials are assessing appropriate charges."
---
Having won the honor in the Llewellyn Auction, members of the Andres-Notley family (and friends) were up front of the huge crowd, carrying the "Monster March" banner this year. (Photo by David F. Ashton)
Sunny day sparks extra-big 'Monster March' crowd in Westmoreland
By DAVID F. ASHTON
For THE BEE
Trying to describe the "Moreland Monster March" to someone who has never experienced it is difficult.
It's not quite a parade – but more than a thousand people were parading in the streets of Westmoreland, mostly in Hallowe'en costume, during the Monster March again this year, on Sunday afternoon, October 27. The turnout was even better than usual, since unlike many years, the sun was shining down on the marchers.
No one 'marches"; families leisurely mosey along the 14-block loop – led by Portland Police Traffic Division officers and the Sellwood Middle School Marching Band – starting and ending at Llewellyn Elementary School at S.E. 14th and Tolman, with kids collecting candy and goodies from merchants and neighbors along the way.
"Well, I'd call it a … I mean, it's more like a …" neighbor George King reached for words, as he and his family prepared to step off, heading east on Tolman Street, the first leg of the march. "It's really not like anything else; the 'Monster March' is a unique community event."
The Monster March was started by a couple of families of Llewellyn students in the fall of 2001, who wanted to have a joyful event to counterbalance the sadness of the New York City and Washington D.C. terrorist attacks on September 11 of that year, and has continued ever since.
"The Sellwood Moreland Business Alliance [SMBA] has been involved with it for about 15 years, helping," remarked business association member Tom Brown, as he and his daughter unloaded cases of apple cider, and more than 1,000 cookies, at the school playground for an after-march snack, provided by Westmoreland QFC Market.
From cute to kooky, simple to elaborate, the mass of costumed "marchers" wandered south on Milwaukie Avenue, then west on Bybee, and north again on 14th, collecting candy along the way, on the way back to the starting point – where again, as is usually the case, the start of the parade caught up with its departing end.
---
These were the presenters at this year's "What Will Winter Be Like" AMS meeting at OMSI on October 26: From left, Kyle Dittmer, Columbia River Intertribal Fish Commission; Tyree Wilde, National Weather Service, Portland; Kelley Beyern, KOIN-TV-6; Mark Nelson, KPTV-12 and KPDX-49 Television; and guest speaker Dr. Cliff Mass of the University of Washington. (Photo by Eric Norberg)
Wishy washy winter this year? Maybe; but expect some snow
By ERIC NORBERG
Editor, THE BEE
For 27 years, the crowd attending the annual "Winter Weather Forecast Conference" of the Oregon Chapter of the American Meteorological Society has grown each year – as word of this genial prognostication party has spread. In fact, this annual meeting held in the OMSI Auditorium in late October must get some of the credit for this local chapter having the most members of any chapter in the country; annual dues are just $10, and members are signed up at the back of the auditorium during the meeting.
The date was October 26 this year, and the two-hour meeting expanded to three this year only, to accommodate a lively illustrated lecture on the "Pacific Blob" by Dr. Cliff Mass of the University of Washington, before the winter forecasts got underway.
Dr. Mass explained that this large area of warm water in the North Pacific Ocean appeared in 2014, and returned this past summer. The "Blob" of warm water is caused by an area of persistent high pressure in the eastern Pacific, he explained, and reduces the mixing of water at different depths of the ocean, warming its surface. This has the moderating effect we all noticed this summer of warming the overnight lows in western Oregon and Washington summers, while moderating extremes of high temperatures in the daytimes – although the overall temperature trend is higher in these summers.
He went on to address the question about whether such summers could worsen the wildfire risk in the Northwest. Using intricate, high-resolution computer modeling he has explored this question, and finds that "Blob" summers could actually reduce the fire risk a bit, by reducing the incidents of gusty east winds which usually fan such fires. However, since higher temperatures increase the risk of wildfire, he said that it is hard to quantify the overall effect on fire risk. But higher temperatures may not worsen it, in any event.
After Dr. Mass concluded his talk and answered questions, the regular "What Will Winter Be Like" meeting got underway as it always does – with Meteorologist Mark Nelson of KPTV and KPDX television summarizing how the last winter turned out. Mark remarked that the past winter was the most boring one he could remember – until February and March. That's when snow and the interesting weather blew in, and snow levels returned to normal for the season in western Oregon.
Nelson added ruefully that some of the snow forecasting in February sounded apocalyptic – but weather does change as it approaches, and forecasters eventually realized that the massive snow event they saw coming was swinging away from Portland, and walloped Eugene and Roseburg instead. But, he pointed out, those early forecasts were being repeated and amplified on "social media" long after the forecasts had been corrected, and what was being gossiped about was no longer going to happen. People still cleaned out the grocery stores here in preparation for what did not happen.

Then came the new winter forecasts from three forecasters. First was Tyree Wilde from the National Weather Service office at the Portland Airport, who pointed out what all the Meteorologists acknowledged – unlike last winter, when "El Nino" caused a drier than usual season, this year appears to be "neutral", and neither "El Nino" nor "La Nina" oceanic warming conditions apply in the western Pacific Ocean. In such years, there is no strong weather trend, but there can be a lot of variability in the winter weather. So, even though the NWS prediction is for average temperatures and average rain and snow, it might get interesting at times, and it could be a decently snowy year.
The second forecaster was Kyle Dittmer, Hydrologist and Meteorologist for the Columbia River Intertribal Fish Commission, who has presented a forecast each year at the conference for the past two decades. As with most Meteorologists at this conference over the years, Dittmer selects "analogue years" from the past in Portland to project what we might see this year. Dittmer is an advocate of including the sun's sunspot cycle in this selection, and chose 1964, 1975, 1985, and 2009, as the years be believes are most analogous to 2019. He expects normal winter temperatures in Portland, with January wetter and perhaps slightly warmer than usual, and a wet April and May. He predicts seven snow events in Portland starting in December – "two medium, and five minor" – with a season snow total in Portland of 7.5 inches.
Kyle Dittmer always presents the most thoroughly-detailed forecast for the upcoming winter – and the hardest one to read, on his slide, due to the very small lettering such details require. But, he said, it should be a pretty average winter, with some decent snow in the city. (Photo by Eric Norberg)
The final forecaster was Kelley Beyern of KOIN-TV-6 who, it was noted, was the first female private forecaster ever to present a winter forecast at this conference, although the National Weather Service had previously also been represented by a female forecaster. More women are entering the field, and more female participation is expected.
Beyern chose her own analogue winter years as a guide – all of them years following El Nino summers – and she expects 9.2 inches of snow for the season in the City of Portland (and, like the other two forecasters, she also expects a good snow year at Mt. Hood) – even though this would be the fourth good snow year here in a row, and we've never before had four good snow years in a row.
Her specific snow forecast for Portland is for an inch in November, four inches in December, three inches in January, and one inch in February. She also predicted near-normal rainfall levels here (which would be better than we experienced last winter); and perhaps a sizeable windstorm at some point.
At the conclusion of the conference, all the presenters sat at the edge of the stage in the auditorium at the Oregon Museum of Science and Industry and answered audience questions. The concluding question was directed to Dr. Cliff Mass, who began the morning with his featured talk on the "Pacific Blob": To what extent is the generally rising trend in temperatures a result of natural processes, and a result of man-made influences? He responded that, in his view, up to the last few years the predominant influences were natural; at present, he thinks the influences have become about equal; and by the end of this century, man-made influences will predominate.
However, he said, there are many influences in weather, and there are many legitimate views about these influences, and he encouraged everyone present to thoroughly consider all points of view, and maintain an open mind – "in weather, and in everything else."
For that, he received a hearty round of applause.
---
Comments? News tips? Click here to submit!
Trying to remember or locate a BEE advertiser? Click here to e-mail us, and we'll help!
Fair warning: We have so many great photos on page 2 this month, it may take a while to load on slower connections! If that applies to you, click the link below, then go get refreshment, come back, relax, and prepare to enjoy what we have for you on page 2!
READY TO TURN TO PAGE 2 -- FOR "MORE NEWS"? Click here!
Note to readers: At some point, this, our original Internet website, will be replaced at this web address by our new website, as part of the Community Newspapers group. At that time, you will still be able to access this long-established and smartphone-friendly website, if you save this address:
www.readthebee.mobi
. You'll still have your choice of which one to visit!

Entire contents © 2019, THE BEE; all rights reserved.