Eric Norberg, Editor & Gen. Manager
Brian Monihan, Publisher
Sandy Hubbard, Independent BEE
Advertising Representative
Molly Filler, Page Design
Jaime McCaslin, Accounting

Eric Norberg: Sandy Hubbard:
503 / 232-2326 971 / 407-7942
fax: 503/232-9787

"Community Classifieds" want ads: 503/620-7355
Circulation/subscriptions: 503/620-9797
Accounting/Billing: 971/204-7712
Composition: 971/204-7836
Community Newspapers, Inc.

Editorial and Sales Address:
1837 S.E. Harold St, Portland, OR 97202-4932
Remit bill payments to:
Accounts Receivable Department
P.O. Box 22109, Portland, OR 97269-2109

e-mail: ReadTheBee@myexcel.com



THE BEE IS LOCALLY OWNED BY THE PAMPLIN MEDIA GROUP
October, 2021 -- Vol. 116, No. 2
Scroll down to read this issue!

Memories of THE BEE's first 100 years!
In 2006, THE BEE celebrated its centennial of serving Southeast Portland! A special four-page retrospective of Inner Southeast Portland's century, written by Eileen Fitzsimons, and drawn from the pages of THE BEE over the previous 100 years, appeared in our September, 2006, issue.
Click here to read the special centenary retrospective!
_________________________________________
BEE SUBMISSION AND AD DEADLINES
Next BEE is our November issue, with a deadline of October 14.
(The Thanksgiving (Dec.) issue has an ad and copy deadline of November 11.)
INTERESTED IN ADVERTISING? CLICK HERE FOR RATES AND INFORMATION!
____________________________________

Want to subscribe to receive the PRINT version of THE BEE in the mail?
E-mail circulation@CommNewspapers.com -- or telephone 503/620-9797, during weekday business hours.
The 12-issue annual subscription rate is $19 per year for addresses located in Multnomah County, Oregon; and $29 for anywhere else in the U.S.(it's based on the differential postage rates for our class of postage). For international rates, inquire via the e-mail address or telephone number just above!
_________________________________________________________________________
Daily news!




The Portland Tribune is updated a number of times every day, to bring you the latest news of the Portland area and Oregon.

Click on the banner at left to read the Tribune online!



THE BEE has a second website -- searchable for past stories. The content for the current month includes what is on this one, presented in a different format.

To visit our newer website, click the banner at right!




GDPR NOTICE: The owner of this website, www.ReadTheBee.com, collects no information on this site from any reader, and never has.
Health advisory lifted for Ross Island Lagoon and the Holgate Channel

The Oregon Health Authority (OHA) has lifted the recreational use health advisory issued for Ross Island Lagoon and the Holgate Channel in the Willamette River in Portland. These waters are in Multnomah County. OHA issued the advisory on August 31, and it was announced on THE BEE's websites all September.
Water monitoring has confirmed that the level of cyanotoxins in Ross Island Lagoon and the Holgate Channel are below recreational guideline values for people. However, levels detected are still above OHA's educational guideline values for dogs, and owners should still keep their pets away from these areas.
OHA advises recreational visitors to continually be alert to signs of cyanobacteria blooms. This is because blooms can develop and disappear on any water body at any time when bloom conditions are favorable. Be aware that only a fraction of waterbodies in Oregon are monitored for blooms and toxins, so it's important for people to become familiar with signs of a bloom, exposures and symptoms by visiting OHA's Cyanobacteria Harmful Algae Bloom website at

http://www.healthoregon.org/hab
When recreating, people and especially small children and pets should avoid areas where the water is foamy, scummy, thick like paint, pea-green or blue-green, or whenever thick brownish-red mats are visible, or bright green clumps are suspended in the water. If you see these signs, avoid any activities that could cause you to swallow water or inhale droplets, such as swimming or high-speed water activities -- and keep pets out of the area.
Cyanotoxins can still exist in clear water. When a bloom dies, toxins released may still reach into clear water around the bloom. Blooms can be pushed into other areas, leaving behind the toxins released. There also are species of cyanobacteria that anchor themselves at the bottom of a water body, live in the sediment, or can grow on aquatic plants and release toxins into clear water. So continue to be watchful.
For health information or to report an illness, contact OHA at 971/673-0482.
---
At a mechanic's shop, waiting for her Honda CRV to be repaired again – after it was stolen a second time – this is Reed neighborhood resident Robyn Crummer-Olson. Photo by David F. Ashton)
Neighbors: 'Stolen car ring in transient camp'
By DAVID F. ASHTON
For THE BEE
When the topic of stolen vehicles comes up, most Portlanders shrug it off as a crime that happens to "someone else", in some other neighborhood. And most would agree that the Reed neighborhood is considered to be a safe, quiet residential area, with little crime.
That's what Robyn Crummer-Olson, a Portland resident since 2001, thought when her family moved into that neighborhood twenty years ago. She now thinks differently – and sent her complaints, with photographs, to THE BEE and other media outlets, and copied the Portland Police Bureau.
THE BEE has received many complaints and comments about crimes in the recent past, but many were not documented, and some relied on the dubious accuracy of social media for the facts alleged. This one was different: Robyn was specific, was herself a repeated victim, and provided solid documentation. We responded, to discuss with her the problem she was alleging.
"Our family has experienced three vehicle thefts during the past 15 weeks," Crummer-Olson told us. "Most recently, on September 13, criminals smashed the driver's-side window of our 2006 Honda Element, and they were using another car to push it away down the street when I came out and yelled at them – causing them to speed away.
"I drove down to S.E. 28th and Raymond Street with a friend, and I saw a car which appeared to be the same one I saw pushing my Element earlier that day," Crummer-Olson went on. "And, our 2000 Honda CRV has been stolen twice in the past 15 weeks – plus another time back in 2017. We have recovered it ourselves each time, with the assistance of 'NextDoor' posts and vigilant neighbors."
The first time it was stolen, the CRV sustained $1,500 damage, she said – the car had been stripped of its battery, its catalytic converter, and its exhaust system. Most recently, she added, it was dumped near S.E. 157th Avenue at Division Street in Outer East Portland stripped of its battery, and with a ruined ignition switch.
She reported these crimes to the Portland Police Bureau, and an officer responded to take her stolen-vehicle report each time. She says she is concerned about the transient encampment that occupies both sides of S.E. Raymond Street from 26th to 28th Avenues, where she says she has repeatedly observed what she believes are men stripping vehicles for parts.
Another "parking lot" for stolen vehicles, she alleges, is along S.E. Colt Street, just east of 28th Avenue. "I've witnessed men arriving with cars having no license plates, parking them, rifling through them, pulling parts, and then leaving," Crummer-Olson told THE BEE.
"I e-mailed the NRT officer, writing how I believe that these people are processing stolen vehicles in broad daylight with no consequences, and wondering how to get anybody else to care or do anything about it." She did get a response. The Central Precinct Neighborhood Response Officer told her:
"That sedan [you reported seeing] is a regular at that camp, and so are most of the vehicles located there, unfortunately. I try to go through the area twice a day to check for any new vehicles that pop up, and run license plates and VIN numbers to check for stolen vehicles. We did recover a stolen vehicle there last week, and ran some VINs to make sure there were not any more stolen vehicles left behind.
"The Police Bureau is not allowed to move campers/camps any longer. The City entity that is now responsible for doing that is called One Point of Contact. If you go to their website it will give you several different ways to file a report to get them to respond to see if it fits their protocols for cleanup. I know it has been cleaned up several times before, but they just move to a new block.
"I will continue to go through the area, as will the district Officers, to check for stolen vehicles."
Although police do regularly check at this transient camp along S.E. Raymond Street for stolen vehicles, there is little officers can do under current Oregon law to curb car thefts. (Photo by David F. Ashton)
Checking the PPB's "Crime Statistics" webpage, we gathered the following information:
Vehicle Theft, Year to Date, ending July, 2021:
| | |
| --- | --- |
| Brentwood-Darlington | 46 |
| Brooklyn | 20 |
| Creston-Kenilworth | 55 |
| Eastmoreland | 08 |
| Foster-Powell | 39 |
| Mt. Scott-Arleta | 36 |
| Reed | 31 |
| Sellwood/Westmoreland | 46 |
| Woodstock | 32 |
A car theft is far more to the victim than just a crime statistic, Crummer-Olson stated. "I feel really violated, intruded upon, and unsafe.
"They stole the Honda my daughter drives, just before her first day going back to Cleveland High School; that car is how she gets to her job, and to after-school activities, too.
"And, I've had to spend countless hours tracking down and recovering our own stolen cars, filing insurance claims, working with a mechanic – repeatedly! – within the last 15 weeks."
Why thieves can get away with auto theft
We asked PPB Public Information Officer Carlos Ibarra why it is so difficult to arrest vehicle thieves, even when they are actually caught in the act.
"In a stolen vehicle investigation in Oregon, the investigating officer must have 'probable cause' to believe the suspect was aware that the vehicle was being driven without permission from the owner," Ibarra informed us – not just driving a vehicle that had been reported stolen, which is usually enough in many other states.
Officer Ibarra didn't comment on this, but according to Oregon court rulings, even a smashed window and a screwdriver jammed in the ignition, in and of itself, is not enough to prove "probable cause".
"Proving it can be accomplished through various investigative techniques, which vary depending on the circumstances," Ibarra continued. "If officers cannot reach the threshold that is required by law, the subject cannot be charged with that crime."
When told about Oregon's "probable cause" rules for vehicle thefts, Crummer-Olson looked exasperated as she replied, "I can't claim to know about how this works. What it comes down to for me is this: 'Who is supposed to care about this happening?'"
The ruling quoted arose in the state judicial system. "Caring" about the problem, which in our experience officers certainly do, does not permit them to ignore the restrictions of a court ruling. It would be up to the Oregon State Legislature to change the laws which police are allowed to enforce. Ms. Crummer-Olson, and others victimized by vehicle theft, would be well advised to pursue this issue with their state senators and representatives.
In the meantime, such precautions as locking a car's steering wheel with "The Club", and taking similar anti-theft steps, are urged by local law enforcement as a means of discouraging car theft.
---
The ONPA awards this year were presented online; the restrictions of the COVID-19 pandemic precluded presenting a live conference – so here is the screenshot that announced the award presented to THE BEE. (Courtesy of ONPA)
THE BEE wins an award

By ERIC NORBERG
Editor, THE BEE

"ONPA" is the acronym for the Oregon Newspaper Publishers Association, and most Oregon publications – in print, and online – are members. Daily and weekly newspapers are regular members; THE BEE, as a monthly, is an "Associate Member".
Once a year, awards are presented in many aspects of publishing – and, for Associate Members, there are a few awards also. In September, for the first time, THE BEE was chosen as top winner in the "General Excellence" category for Associate Members. We are very pleased and humbled by this recognition.

Although the editor's name is mentioned with the award, we must make it very clear that everyone associated with the newspaper is embraced in this honor – particularly the freelance correspondents who submit most of our content – and our publisher, and our graphic designer.

So, the credits: Correspondents David F. Ashton, Rita A. Leonard, Elizabeth Ussher Groff, and Paige Wallace; and our two "Southeast History" contributors, Eileen G. Fitzsimons and Dana Beck. Our Publisher is Brian Monihan; our graphic designer is Molly Filler. Assisting the editor with advertising sales is Sandy Hubbard.
THE BEE is the second oldest regional neighborhood newspaper, having begun in 1906; for the last two decades the paper has been owned by Pamplin Media's group of Oregon publications, and Eric Norberg has been editor. It is not widely known that THE BEE has the second largest circulation of any Pamplin publication – 45,000 readers a month – exceeded only by the company's flagship, the Portland Tribune, which has far more. And THE BEE mails more issues than any of them. THE BEE is the dominant and most cost-effective advertising medium concentrating entirely on Inner Southeast Portland.

THE BEE was the first newspaper in our group to begin a website version of a newspaper, and today has the distinction of offering two differently-presented but fully up-to-date websites – the newer company-provided site, www.TheBeeNews.com; and the original website, which readers tell us is easier to access and to read on wireless phones – www.ReadTheBee.com. You have your choice of which to read.
We are proud of this honor, and it motivates us to redouble our efforts to keep you completely informed on what happens right here, in Inner Southeast.

But it is your honor too, since if you weren't reading THE BEE, and responding to our advertisers, the paper could not exist as a free service for this part of town. So congratulations, and thank you!
---
Investigators from the Portland Police Bureau's Major Crash Team here were looking over the Hyundai; the victim's body dented its fender, and smashed into its windshield. The crash was fatal to the person struck; but the driver just got out of the car, and walked away without a shirt. (Photo by David F. Ashton)
If you recognize this man – allegedly the driver who walked away from a hit-run accident that killed a pedestrian, at McLoughlin and Holgate Boulevards – please let the police know immediately. (Courtesy of KOIN-TV-6 News)
Pedestrian slain in McLoughlin-Holgate hit and run
By DAVID F. ASHTON
For THE BEE
After a pedestrian was hit and killed in the southbound lanes of McLoughlin Boulevard at eastbound Holgate Boulevard – reported at 9:49 a.m. on Thursday, September 2 – the intersection was closed down for most of the day while the death was investigated; the resulting traffic jam lasted for hours. The identity of the victim had not yet been made public as this issue of THE BEE went to press.
According to workers at the Shell gas station on the corner, the driver of a black Hyundai sedan – with its windshield caved in, from the impact – nervously walked away leaving the wrecked car in the center of McLoughlin. It's unclear how the vehicle then was moved to a spot near the curb on S.E. Holgate Boulevard, in front of the La Carreta restaurant.
A dozen Portland Police Bureau (PPB) officers fanned out over the area, looking for the hit-and-walk-away driver, who quickly departed on foot not wearing a shirt.
Witnesses gave members of the PPB Major Crash Team a good description of the suspect: A man in his 30s, shirtless, with long hair pulled into a bun on the top of his head.
A cell phone photo, taken by an alert driver at the scene, clearly showing the face of the driver exiting the area, was widely circulated – but at this time, the suspect has yet to be located and taken into custody.
If you have information about the whereabouts of this subject or who he is, please e-mail what you know to crimetips@portlandoregon.gov and reference Case No. 21-244301. And, if you see him, call 9-1-1.
---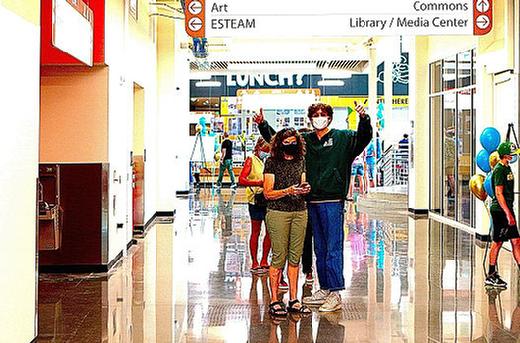 These two visitors gave the new Kellogg Middle School a big "thumbs up". (Photo by David F. Ashton)
Rebuilt Kellogg Middle School opens its doors
By DAVID F. ASHTON
For THE BEE
After its former building was razed to the ground, Portland Public Schools (PPS) constructed an entirely new campus for Kellogg Middle School along S.E. Powell Boulevard.
In due course the community was invited to celebrate the opening of the $45 million new school, sited on its six acre lot, on Saturday morning, August 28.
"I'm here because it's important that yet another modern, healthy, and safe building is opening up for Portland Public Schools. This represents a dedicated facility for many middle grade students here in Southeast Portland," announced PPS Superintendent Guadalupe Guerrero that day.
"I'm excited for educators and our students to have access to modern facilities, science labs, technology, and wonderful places to eat, and gather, and learn in this state-of-the-art learning environment," Guerrero told THE BEE.
"When one attends a 'comprehensive' middle school, one can really focus on exploring a range of courses. It also means having youth development, and a time to develop what pathway they might want to pursue when they get to high school," Guerrero declared.
As dignitaries arrived for the opening celebration, the Franklin High School Band, under the direction of Jason Owens, performed as if they'd been playing together for months.
"This day is important to me, personally, because our students finally get to attend a modern school," said Principal Richard Smith. "Our students will get to experience opportunities that they would not otherwise have, to help them move forward into their futures."
Taking a self-guided tour, THE BEE explored the performing arts area, with a large stage that opens into a capatious gymnasium; and, a "STEAM" learning center.
On the main floor, the Cafeteria and Commons area serves as the heart of the new school, offering space for student gatherings and after-school activities. However, we understood that students would be required to eat and gather outside, for the time being, because of COVID-19 considerations.
"Learning suites" – designed to promote greater collaboration among groups of classrooms – are connected together on each floor, provided what the designers called "extended learning areas".
Kellogg grads approve
In the third floor "Learning Suite" lobby area, we came across Tomiye Shioshi – and two of her five adult daughters, Judy and Carol – admiring the rebuilt school. "All five of us girls went to Kellogg, from the 1950s through early 1970s, when back then it was a kindergarten through eighth grade school – before we went on to Marshall High," Judy informed.
"Because we ran a grocery store nearby on Powell, our family was one of the 'prime donors' to school activities," Judy recollected.
Tomiye smiled as she looked around. "Although we do miss the old school, this is fabulous; it's amazing how the rooms and areas are set up. I think it's worked out very nicely."
As we ended our tour of the new school building on Powell Boulevard, we learned that between 680 and 746 middle school students will be attending school there – and in fact are doing so, now that the school year is well underway.
Now, take a brief video tour of Portland's newest middle school – on the day of its grand opening!
Entering the Brentwood-Darlington neighborhood, the 2021 "Hood to Coast Relay" participants head toward their exchange point in the Ardenwald-Johnson Creek neighborhood. (Photo by David F. Ashton)
Naomi Smith gets the hand-off from incoming runner Jae Heilig – both of them part of a team called "Shake and Bake". (Photo by David F. Ashton)
Thousands run thru Southeast in the 'Hood-to-Coast Relay'
By DAVID F. ASHTON
For THE BEE
The first "Hood to Coast Relay" – which organizers call "The Mother of All Relays" – took place on August 7, 1982, on a full moon, with eight teams of ten runners each. Since then it's steadily grown in participants. So much so that in 2000, for logistical reasons, organizers capped enrollment at 1,000 teams.
Hood to Coast Relay Chief Operating Officer Dan Floyd reflected that the 2020 relay was not held, due to COVID-19 concerns, but despite the pandemic it did return in full force this year on August 27.
That day, a Friday, starting in mid-afternoon and on through the evening, runners headed west along the Springwater Corridor Trail, crossing into Inner Southeast Portland at 82nd Avenue of Roses, and thence into the Brentwood-Darlington neighborhood. Runners then continued west into the Ardenwald-Johnson Creek neighborhood.
At the exchange point, along S.E. Johnson Creek Boulevard at 45th Place, runners handed off their team's "slap wrist band" to the next runner, who would sprint the next five miles into and through Sellwood, then turning and heading north at Oaks Amusement Park, bound next for downtown Portland.
After handing off to her partner, Lisa Kudos commented, "Coming down this leg was easy, and relatively flat; but I stayed in a 'pack' with others – whom I could have easily outpaced – because some people in the 'camps' along the trail were, well, a bit scary," she told THE BEE as she caught her breath.
However, there were no accounts of any crimes committed upon participants as they ran through Southeast Portland. On into the evening hours, relay race runners streamed through the area, on their way to the endpoint in Seaside, on the Oregon Coast.
---
Comments? News tips? Click here to submit!
Trying to remember or locate a BEE advertiser? Click here to e-mail us, and we'll help!
Fair warning: We have so many great photos on page 2 this month, it may take a while to load on slower connections! If that applies to you, click the link below, then go get refreshment, come back, relax, and prepare to enjoy what we have for you on page 2!
READY TO TURN TO PAGE 2 -- FOR "MORE NEWS"? Click here!
Note to readers: At some point, this, our original Internet website, will be replaced at this web address by our new website, as part of the Community Newspapers group. At that time, you will still be able to access this long-established and smartphone-friendly website, if you save this address:
www.readthebee.mobi
. You'll still have your choice of which one to visit!

Entire contents © 2021, THE BEE; all rights reserved.