Eric Norberg, Editor & Gen. Manager
Brian Monihan, Publisher
Sandy Hubbard, Independent BEE
Advertising Representative
Cheryl Duval, Advertising Design
Molly Filler, Supervisor of Page Design
Jerrin Sipe, Accounting

Eric Norberg: Sandy Hubbard:
503 / 232-2326 971 / 407-7942
fax: 503/232-9787

"Community Classifieds" want ads: 503/620-7355
Circulation/subscriptions: 503/620-9797
Accounting/Billing: 971/204-7712
Composition: 971/204-7836
Community Newspapers, Inc.

Editorial and Sales Address:
1837 S.E. Harold St, Portland, OR 97202-4932
Remit bill payments to:
Accounts Receivable Department
P.O. Box 22109, Portland, OR 97269-2109

e-mail: ReadTheBee@myexcel.com



THE BEE IS LOCALLY OWNED BY THE PAMPLIN MEDIA GROUP
March, 2020 -- Vol. 114, No. 7
Scroll down to read this issue!

Memories of THE BEE's first 100 years!
In 2006, THE BEE celebrated its centennial of serving Southeast Portland! A special four-page retrospective of Inner Southeast Portland's century, written by Eileen Fitzsimons, and drawn from the pages of THE BEE over the previous 100 years, appeared in our September, 2006, issue.
Click here to read the special centenary retrospective!
_________________________________________
BEE SUBMISSION AND AD DEADLINES
Next BEE is our April issue, with a deadline of March 19.
(The May issue has an ad and copy deadline of April 16.)
INTERESTED IN ADVERTISING? CLICK HERE FOR RATES AND INFORMATION!
Want to subscribe to receive the PRINT version of THE BEE in the mail?
E-mail circulation@CommNewspapers.com -- or telephone 503/620-9797, during weekday business hours.
The 12-issue annual subscription rate is $14 per year for addresses located in Multnomah County, Oregon; and $24 for anywhere else in the U.S.(it's based on the differential postage rates for our class of postage). For international rates, inquire via the e-mail address or telephone number just above!
_________________________________________________________________________
Daily news!




The Portland Tribune is updated a number of times every day, to bring you the latest news of the Portland area and Oregon.

Click on the banner at left to read the Tribune online!



THE BEE has a second website -- searchable for past stories. The content for the current month is similar to this one, presented in a different format.

To visit our newer website, click the banner at right!




GDPR NOTICE: The owner of this website, www.ReadTheBee.com, collects no information on this site from any reader, and never has.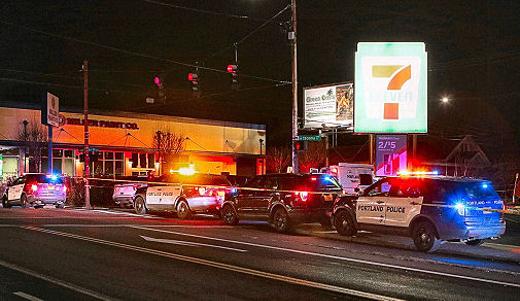 S.E. 17th Avenue in Sellwood was closed for an extended investigation on the evening of February 14, when a truck pulling into the 7-Eleven store parking lot ran over and killed a man who was sitting or lying in the driveway. (Photo by David F. Ashton)
Man sitting on Sellwood sidewalk hit and killed by truck
By DAVID F. ASHTON
For THE BEE
A man on the sidewalk at the parking-lot driveway of the 7-Eleven store at S.E. 17th Avenue at Tacoma Street, was killed when run over by a utility truck in Sellwood in the early evening of Friday, February 14.
A large number of Central Precinct officers as well as Portland Fire & Rescue units, were dispatched to the location at 7:24 p.m. There, they found an unresponsive man on the sidewalk near the store. Paramedics worked to revive the victim, who witnesses said had what appeared to be a head injury, for more than 20 minutes before he was pronounced deceased.
The PPB Major Crash Team responded and assumed investigation of the accident. The driver of the utility "bucket truck" involved remained after the incident, and spoke with investigators.
"I saw it happen; it was a tragic scene," Phoebe Janis told THE BEE; she added that she had frequently seen that man at the 7-Eleven store.
"He usually sits near the store, and eats at the corner there," said Janis told reporters. "I think he was sitting there – and I don't think he was seen by [the driver of the] truck that pulled in and hit him."
"Initial information suggests that the [driver of the] truck was pulling into the convenience store parking lot when he ran over the victim; investigators have not determined the exact position of the victim at the time of the crash," a PPB spokesperson later reported.
"The driver of the truck stayed on-scene and cooperated with the investigation; officers did not note any signs of impairment on the part of the truck driver, and there have been no arrests or citations issued at this time," the police official confirmed.
The investigation of the tragedy lasted until the following morning, and involved some two dozen officers. The identity of the victim was released by the Portland Police Bureau on the morning of Saturday, February 22: "The deceased person is identified as Stacey A. Eaton, 42. His family has been notified of his death."
---
Holding their trophies and their robot, these "Amazing Walri" had a good season, say teammates Hunter Boyer, Calvin Beall, Korbin Towne, Eli Bates, Frances Springgate, and Jenna McComas. All are Winterhaven School eighth graders. (Photo by David F. Ashton)
The 'Pigmice' mentor robotics team 'Walri' at alma mater
By DAVID F. ASHTON
For THE BEE
It was back in 2007 when a robotics team at Winterhaven School – the Science, Technology, Engineering, Arts and Math (STEAM) "focus option" school in the Brooklyn neighborhood – achieved world-wide acclaim by winning the FIRST Lego League International Championships.
Many of that team, always known as the "Pigmice", went on to Cleveland High School, and there began competing in the FIRST Robotic Championships.
Now, wanting again to have their own team as they continued to participate in robotic competitions, the students at Winterhaven started a new team, "The Amazing Walri": FIRST Lego League Team #39834.
Among their mentors were some of the members of Winterhaven's original "Pigmice" team, who are now busy in their 2020 "build season" at Cleveland High School – but who took time to help the new team at Winterhaven get started.
As for "The Walri"? Winterhaven team members admit they made up that fanciful pseudo-Latin pluralization of the word, "walrus" (Odobenus rosmarus) – the large flippered marine mammal.
"Our [new] robotics team went to the qualifying tournament at Catlin Gabel School, where we won "Best Core Values" – an award for demonstrating that we work well together as a team, and utilize innovation in our problem-solving," said spokesperson and Winterhaven eighth grader Frances Springgate.
Their "problem challenge" was finding a cost-effective and efficient means of "improving the interactions between the transport of goods and the movement of people at the most problematic of rail crossings in Inner Southeast Portland" – along S.E. 11th and 12th Avenues. (A software company actually came up with a solution to that vexing problem, as reported in the February BEE.)
"From there, we moved on to the State tournament, held at Liberty High School, in Hillsboro," Springgate told THE BEE. "There, we won the first place 'Innovation Project Award for Research' for our project that we called, "The Crossing Conundrum"," she added.
"This is because we did a lot of research about this problem, including reaching out to both neighbors and experts on the topic, to find good answers and solutions," informed Springgate.
On the State level, "The Amazing Walri" came in 18th place among 57 school teams in the robotics game, after improving their overall score from 220 to 355 points during that competition on January 18 and 19.
Although they didn't move forward from that competition, Springgate said she and her Walri teammates value the program. "FIRST Lego League is important because it gives kids and teens hands-on experience in solving real problems in the community. We are actually doing real research, learning from experts, and building robust solutions for problems."
Several members of the team who will be attending Cleveland High in the fall said they plan to join the "Pigmice" team next year.
---
After the head-on crash, S.E. Johnson Creek Boulevard was closed so PPB Traffic Division investigators could get to work. No official finding has been announced that excessive speed by the Chevy was a factor, but those at the scene suggested it as a strong possibility. (Photo by David F. Ashton)
Vehicle crashes head-on into TriMet bus on Johnson Creek Blvd
By DAVID F. ASHTON
For THE BEE
Motorists heading eastbound on S.E. Johnson Creek Boulevard from McLoughlin Boulevard were re-routed through the Ardenwald-Johnson Creek neighborhood on Thursday afternoon, January 23, after a car drove head-on into a TriMet bus.
Portland Police Bureau officers and Portland Fire & Rescue paramedics raced to the location, near S.E. 36th Avenue, at 3:34 p.m. Traffic on Johnson Creek Boulevard was blocked as the first-responders pried the driver out of a badly-smashed Chevy Cruze, while others treated riders on the bus for minor injuries.
And both lanes of the busy boulevard remained closed east to 42nd Avenue, as crash investigators investigated the crash as the evening rush hour began.
An officer at the scene told THE BEE that, based on their preliminary evaluation, it appeared as if the westbound Chevy Cruze was speeding, had drifted out of its lane in the sharp curve, and then experienced an offset head-on crash with the bus.
The responsible driver was taken to a local hospital with serious injuries. An emergency worker said that the engine of the Chevy Cruze had been pushed all the way into the passenger seat, at the front of the car, by the impact.
---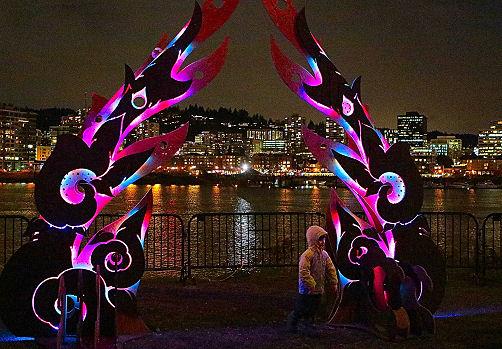 With downtown Portland for a backdrop, people stopped along the Willamette River's East Bank Esplanade to see works like this one – "Mihly's Gate". (Photo by David F. Ashton)
Southeast Portland artist Kay Sims showed off her flaming artwork called "Crystal Evolution" – it took herself and her partner a full year to make it. (Photo by David F. Ashton)
Fifth 'Winter Light Fest' again brightens winter nights
By DAVID F. ASHTON
For THE BEE
Early in February, thousands of people strolled by the Willamette River to take in a new tradition – the three-evening Portland Winter Light Festival. This year the dates were February 6 through 8, and the location again was on the East Bank Esplinade, near the Oregon Museum of Science and Industry (OMSI).
After sunset each of the three evenings, a hundred artists used "video projection mapping", "fire sculpture", and live performances to give visitors to an expression of the announced theme, "Into the Dreamscape".
"Although this is our fifth year, there's been a dedicated group of volunteers working to bring it about long before that," commented Willamette Light Brigade Board Member Marianne Zarkin, Co-chair of the festival's Development Committee.
"It's exciting to have such a lively event outdoors in Portland in the wintertime, when most people are stuck at home, and there is little to do," Zarkin told THE BEE.
Artist Kay Sims, who has a studio in Southeast Portland, displayed "flaming art" which she entitled "Crystal Evolution". "My partner and I made it in stages over about a year.
"We're glad it's been pretty clear this year – but even on evenings when it's raining and cold, to be able to come outside and view beautiful light art, make new friends, and be able to walk around outside at night in the dark, is fun, too – many people tell us it's 'magical' to be here."
Visitors were dazzled by temporary pop-up art installations by local design and architecture firms – including an immersive 2,500-square-foot "light forest". Moreover, those who attended were treated to troupes performing fire dancing, as well as circus acts, throughout the festival.
"It's wonderful to have an event like this. When people gather at our festival, it builds a sense of community among Portlanders," Marianne Zarkin commented. "We're grateful for our artists, volunteers, and especially our sponsors, all of whom work together to put on such fantastic, and totally free, party for the people of Portland!"
---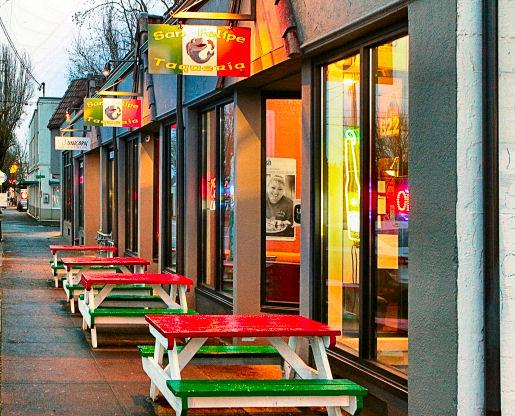 A customer who accidently added a huge tip to his tab here, at San Felipe Taqueria in Westmoreland, was located through the efforts of the restaurant, and was refunded in full. (Photo by David F. Ashton)
Being made whole by the restaurant, after accidently leaving a $5,000 tip at San Felipe Taqueria in Westmoreland, David House was all smiles. (Courtesy KATU-TV-2 News)
Westmoreland taqueria's accidental 'big tipper' found – and refunded
By DAVID F. ASHTON
For THE BEE
After buying a beer at the well-known restaurant San Felipe Taqueria in Westmoreland on January 25, customer David House accidentally paid $5,007 for the beverage and the tip. He didn't even realize he'd done it until he later discovered that his bank account was bare.
Meantime, looking over transaction records for the weekend, the restaurant's owner, Oniel Ortiz, said he'd spotted the unlikely transaction, and started checking surveillance videos and making phone calls to find who had done it. He assumed that it probably was a mistake.
Several local television stations ran with the story; and before the end of the week, House had seen the reports and gotten in touch with Ortiz to work things out.
"We gave him all of his money back, including the beer – the beer was on me!" Ortiz said.
As for House himself, he commented, "This worked out well; you can see me smiling. I think they handled this very well."
He added that the taqueria's effort to find him, and its refund of his five grand, had "restored his faith in humanity".
---
Comments? News tips? Click here to submit!
Trying to remember or locate a BEE advertiser? Click here to e-mail us, and we'll help!
Fair warning: We have so many great photos on page 2 this month, it may take a while to load on slower connections! If that applies to you, click the link below, then go get refreshment, come back, relax, and prepare to enjoy what we have for you on page 2!
READY TO TURN TO PAGE 2 -- FOR "MORE NEWS"? Click here!
Note to readers: At some point, this, our original Internet website, will be replaced at this web address by our new website, as part of the Community Newspapers group. At that time, you will still be able to access this long-established and smartphone-friendly website, if you save this address:
www.readthebee.mobi
. You'll still have your choice of which one to visit!

Entire contents © 2019, THE BEE; all rights reserved.